These golden brown apple fritters are as delicious as they are easy! No yeast and no deep frying! Just mix, stir and pan fry like your would do with pancakes! This easy apple fritters recipe is a snap to make!
Serve these delicious fritters with homemade Chai Tea Latte!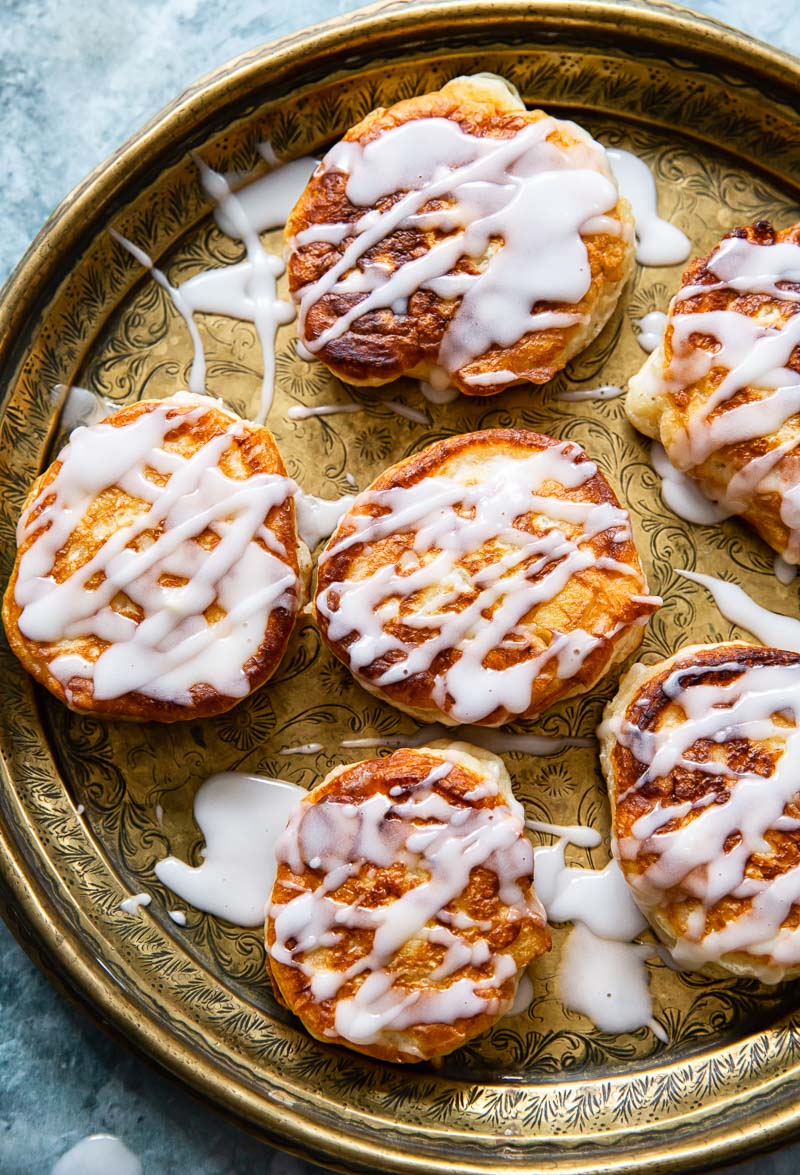 I love to spoil my kids a little bit now that they are staying home and making special breakfast is one of the ways to do it. Our favourite breakfast ideas usually include these European Style Cinnamon Buns, Russian Sweet Cheese Fritters 'Syrniki" or Lemon Blueberry Muffins. And I am about to add another treat to our regular rotation.
Homemade Apple Fritters
Old-fashioned apple fritters may sound fiddly to make at home but it's not entirely true. I have found a way to avoid the fuss! My easy homemade apple fritters are made without yeast and are NOT deep fried.
Yet they come out thick and fluffy, a truly scrumptious apple dessert or brunch treat. Crispy on the outside, soft and spongy on the inside, studded with fresh apple chunks and drizzled with sweet vanilla glaze!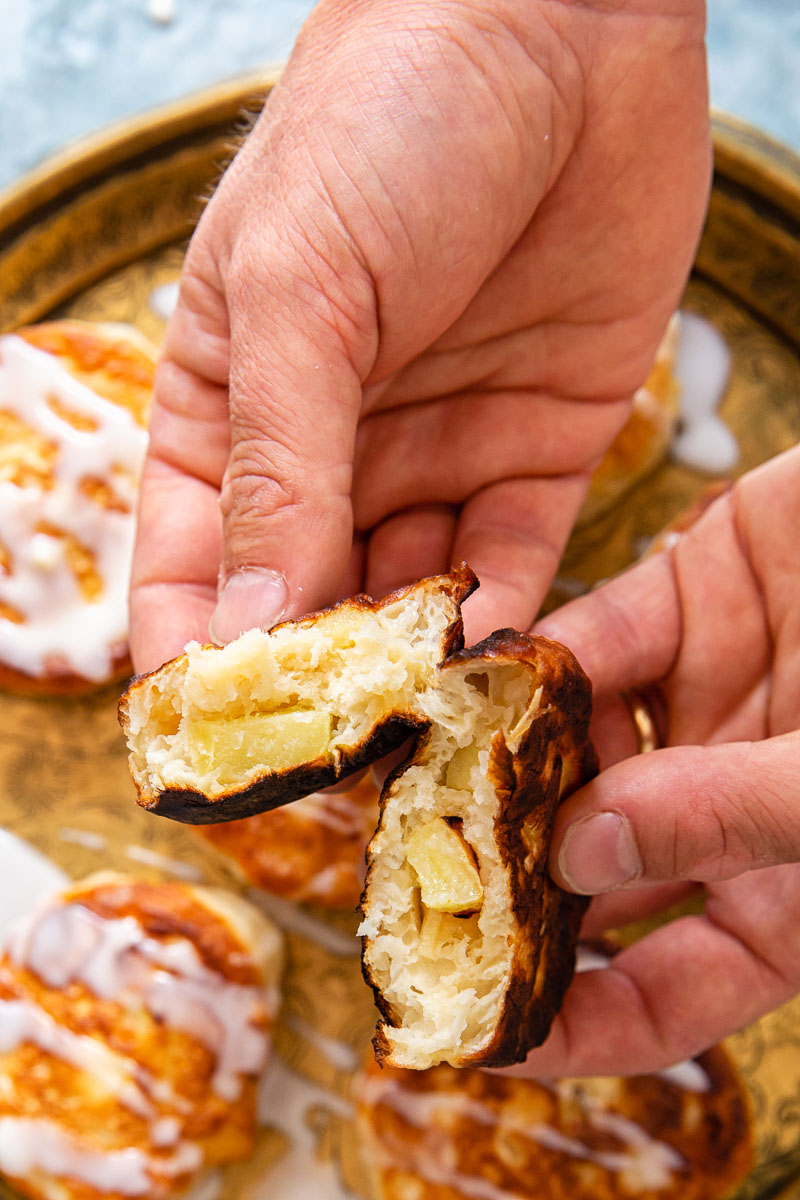 The fritter batter is not too different from a regular pancake. To avoid yeast I am using my favourite magic ingredient. My secret weapon. Kefir.
Kefir a dairy drink similar to yogurt. It has a tangy, sour taste and can be a bit gritty due to the influence of good bacteria.
It contains beneficial bacteria that does good things for digestion. It is also a great cooking ingredient with a pleasingly complex taste! Kefir is widely available in most supermarkets.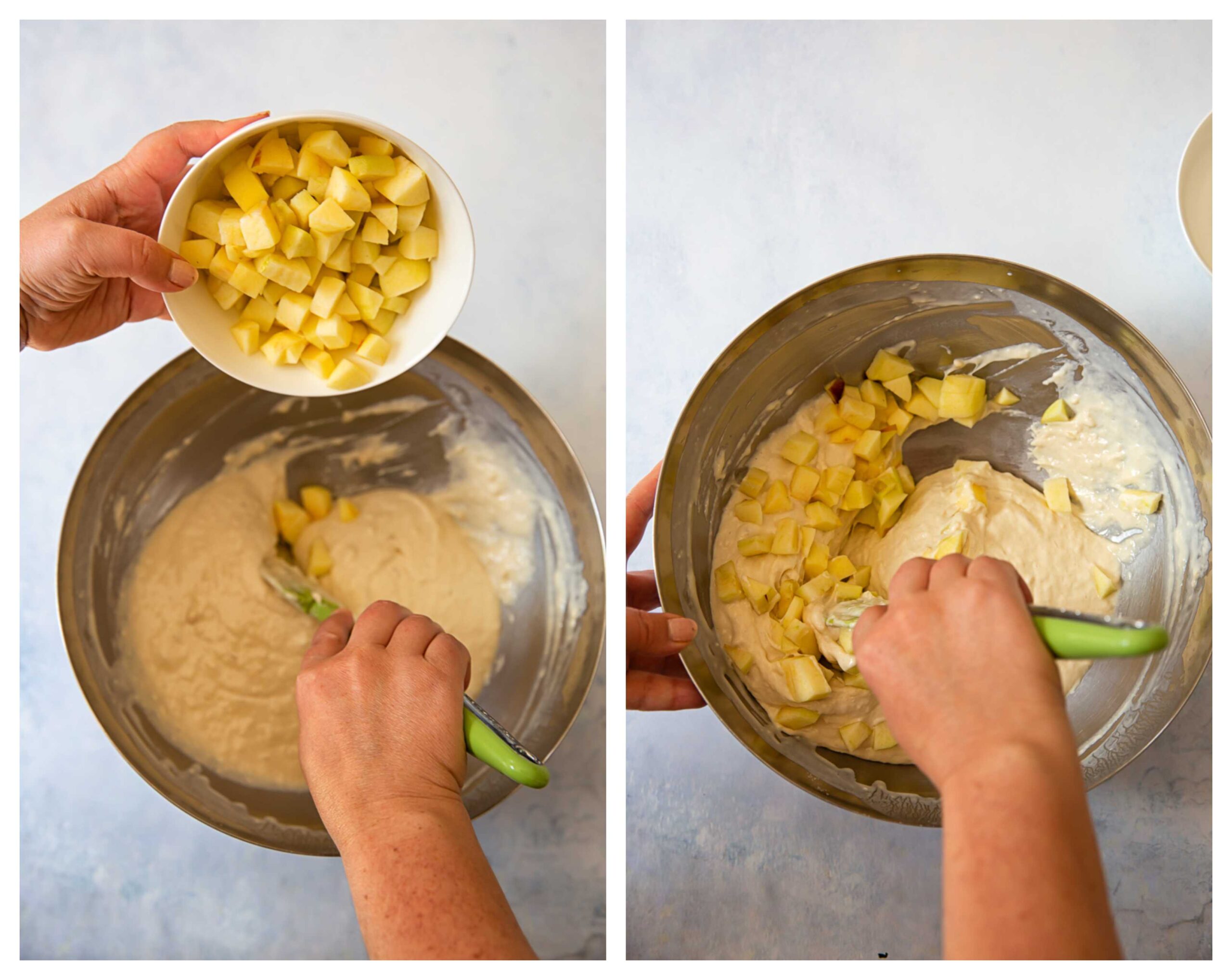 As a naturally fermented product it replaces the yeast and gives these fritters an incredible rise without the need for rising time. The rest of the ingredients in this easy recipe are standard for pancakes, waffles and fritters.
All-purpose flour, eggs, a touch of sugar and baking soda will be combined in a mixing bowl. The list of basic ingredients is very short, which makes this recipe so easy! You can also add a small amount of cinnamon to the batter or leave it out.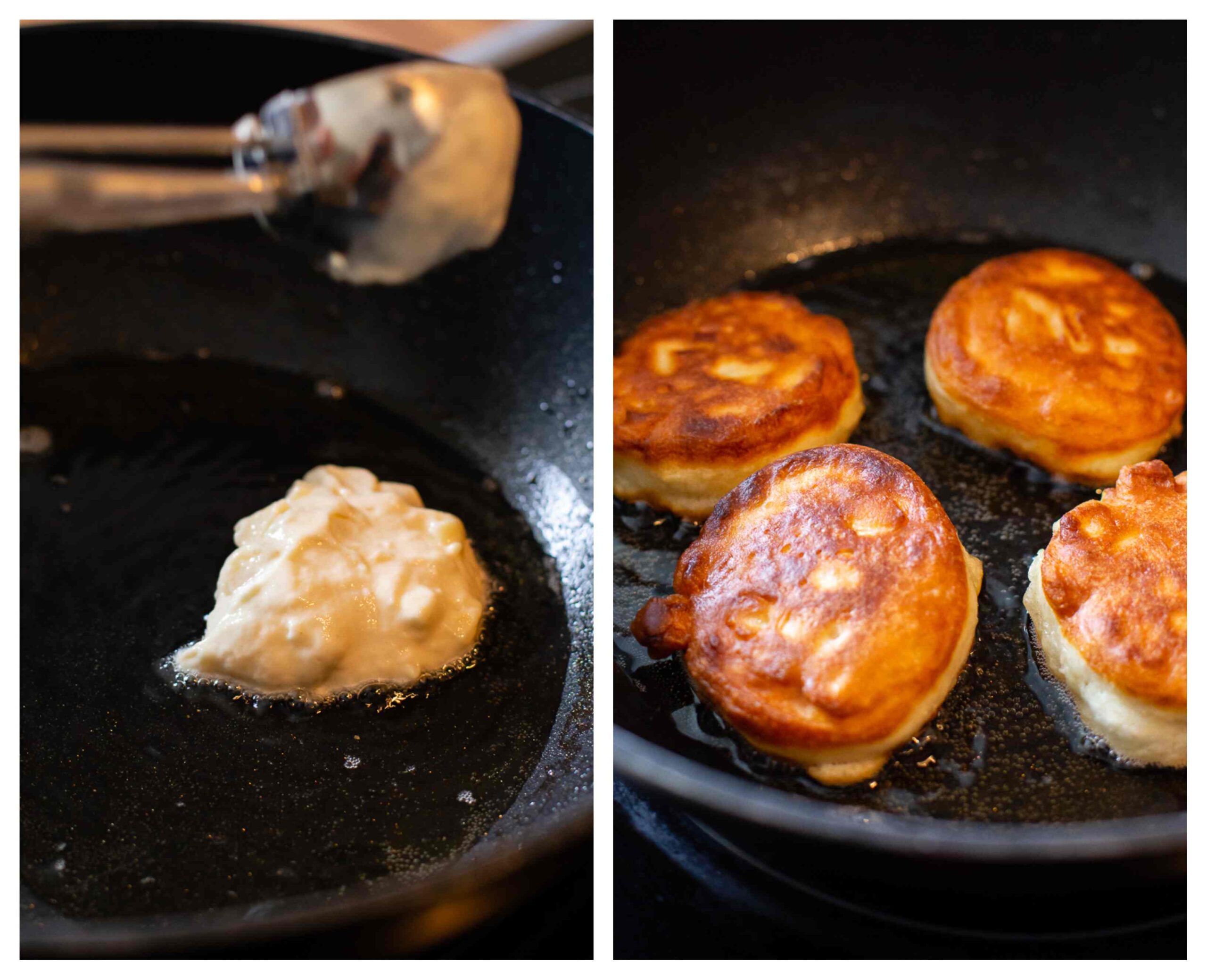 What apples to use
I don't think you need to be too fussy about the type of apples you choose. Use what you have at home but definitely peel them before adding to the batter. I dice mine but you can also grate them on a vegetable grater.
Shredded apples will incorporate easier into the batter and will taste cooked while chunks of apple will remain uncooked.
It's up to you what you choose but I personally like a bite of fresh apples in my fritter, like in apple pie filling! You'll want them evenly distributed so combine it all together well in a medium bowl.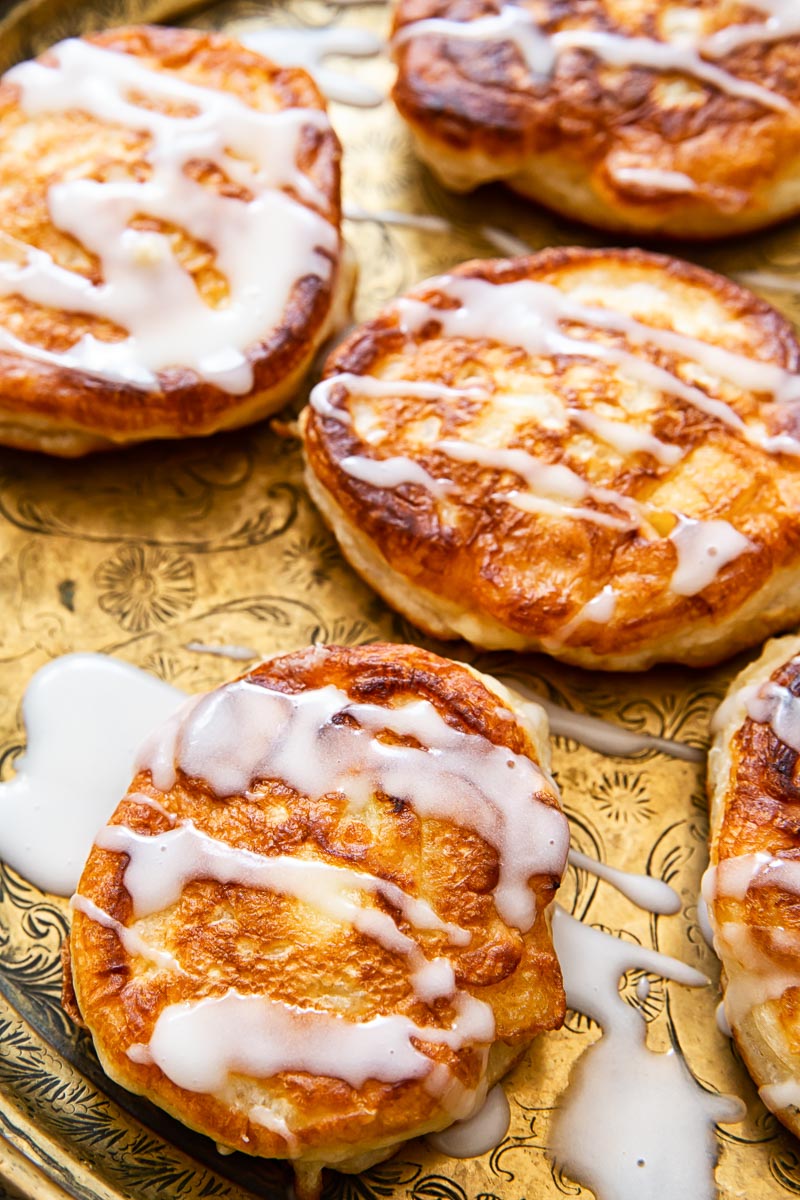 Serving suggestions
When first taken from the frying oil, I usually place the fritters on paper towels placed over a wire rack to absorb any excess oil. The best way to remove them from the oil is with a slotted spoon to avoid taking too much extra oil with them.
I like to drizzle fried apple fritters with a sugar glaze before serving. Simply mix icing sugar with a small amount of juice. You can use apple, lime or lemon juice here. Then scoop the simple glaze with a teaspoon and drizzle from a height all over.
Or try serving with vanilla ice cream, a sprinkling of cinnamon sugar, or any other topping that strikes your fancy!
Recipe tips and notes
There are two ways to cook apple fritters. You can deep fry them in oil, which will give you a more traditional look of rounded fritters. Or you can shallow fry them as I did. This way you use much less oil but the shape will be flat like the ones you see in pictures.
Make sure the fritters are not too big, otherwise they will take too long to cook all the way through and might burn on the outside. Using an ice cream scoop will give you fritters of the right size and will help give you a consistent amount of apple fritter batter.
If you choose to pan fry your fritters, make sure you use medium heat and allow the pan and that you have the right temperature of hot oil before dropping the batter onto it. It is a good idea to test by sprinkling a tiny amount of flour. If it sizzles, the oil is hot enough for frying.
I do not recommend using olive oil due to the low smoke point. Vegetable oil or canola oil are better choices.
If your pan and oil temperature is too hot, the fritters will turn golden quickly and will look done but will remain raw inside. Pop them in the microwave for 30 seconds if that happens to you. Nobody needs to know!!
Buttermilk can be used in place of kefir. There is no need to change quantities and the flavour profiles of both are similar enough that it won't greatly change the taste of the fritters.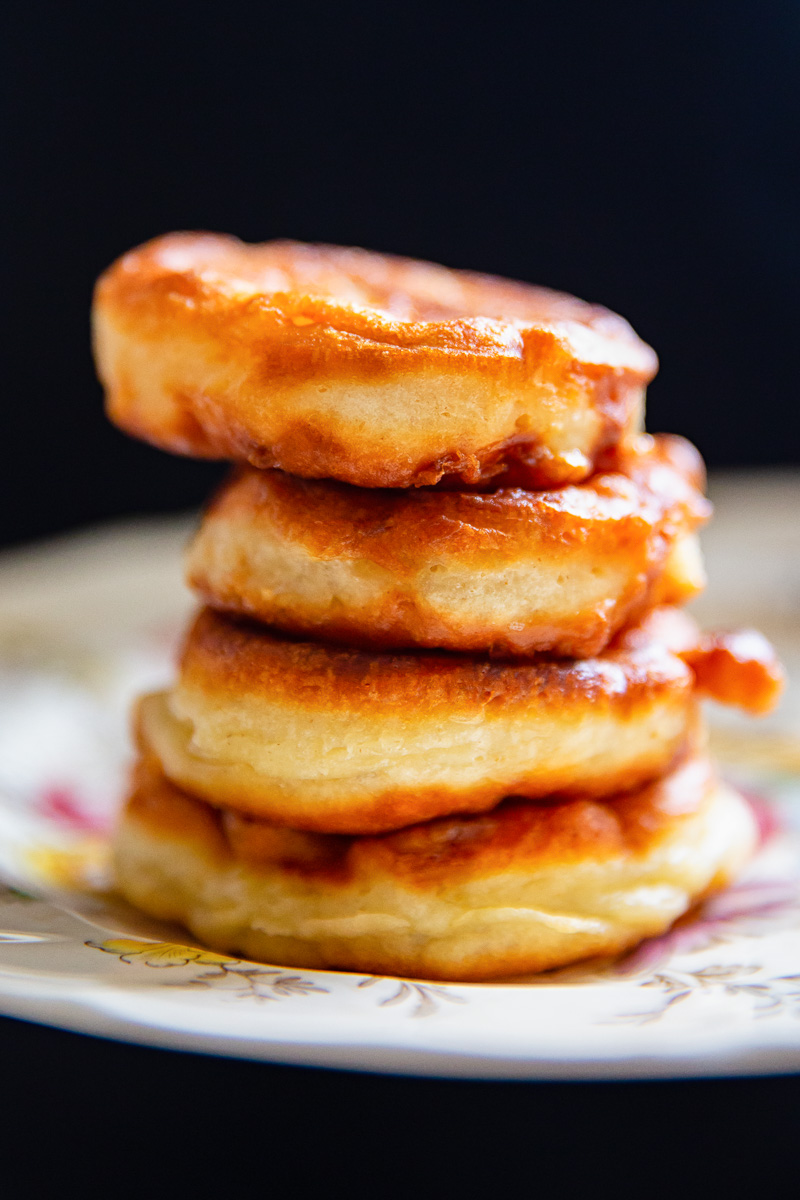 Storage and leftovers
These apple fritters are best when served hot. But if you do have leftovers they can be kept at room temperature for two days, in the fridge for five, or in the freezer for up to three months.
Make sure they are kept in an airtight container. To heat them up, pop them in a microwave for 30 seconds to reheat before eating, or in a 190C/375F degree oven for five minutes or they are hot throughout. They can also be warmed in an air fryer, with the time required changing depending on your model.
More breakfast treat recipes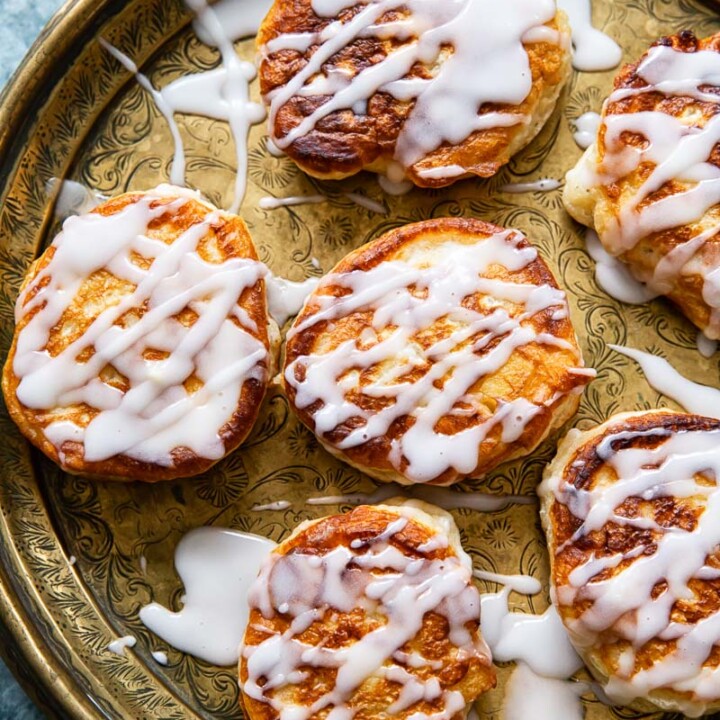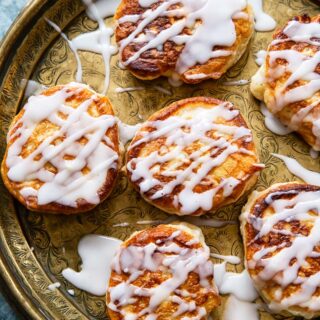 Easy Apple Fritters
These apple fritters are as delicious as they are easy! No yeast and no deep frying! Just mix, stir and pan fry like your would do for pancakes! They are a snap to make!
Ingredients
2

apples

medium, peeled and cut into ¼ inch dice

500ml/2 cups

kefir

or buttermilk

1

egg

large

2

tbsp

sugar

350g/ 2 ¼ cup

all purpose flour

½ tsp

baking soda

½

tsp

salt

2-3

tbsp

vegetable oil for frying
For the sugar glaze
100g/1/2 cup

icing sugar

2

tsp

lemon or lime juice

or apple juice
Instructions
Peel the apples, core them and cut into ¼ inch dice. Set aside.

In a large bowl combine the kefir, one egg, sugar. In another bowl mix the flour, salt and baking soda. Add the wet ingredients to the dry and stir to combine. Stir in the diced apples and let it sit undisturbed for 20 minutes.

Add the oil to a non-stick frying pan to cover the bottom up to ¼ inch/1 cm deep and heat it over medium heat. Test if the oil is ready by sprinkling a tiny amount of flour. If it sizzles, the oil is hot enough for frying.

Stir the batter to ensure an even distribution of the apples throughout. Scoop a small amount with either a spoon or an ice cream scoop and drop a fritter no larger than 2 inches in diameter into the hot oil. Let it cook until golden brown then flip and cook on the other side. The fritters will puff up as soon as they are flipped. Each batch takes 4.5-5 minutes to cook on medium heat. Continue until the batter is gone. You may need to add more oil throughout the process.

In a small bowl combine the icing sugar and lemon juice, stir with a spoon until you have a smooth glaze. Drizzle the glaze with a teaspoon all over the apple fritters before serving.
Notes
You can substitute kefir with buttermilk.
Nutrition
Calories:
427
kcal
Carbohydrates:
78
g
Protein:
10
g
Fat:
9
g
Saturated Fat:
6
g
Cholesterol:
38
mg
Sodium:
355
mg
Potassium:
137
mg
Fiber:
3
g
Sugar:
31
g
Vitamin A:
243
IU
Vitamin C:
3
mg
Calcium:
121
mg
Iron:
3
mg