These European style cinnamon buns will become the hit of every gathering and give you the reason to wake up in the morning! Watch my video tutorial on how to shape them into gorgeous sugary knots.
For another delicious sweet roll recipe, take a look at Chocolate Almond Rolls. Or use the same dough recipe and make Hamburger Buns!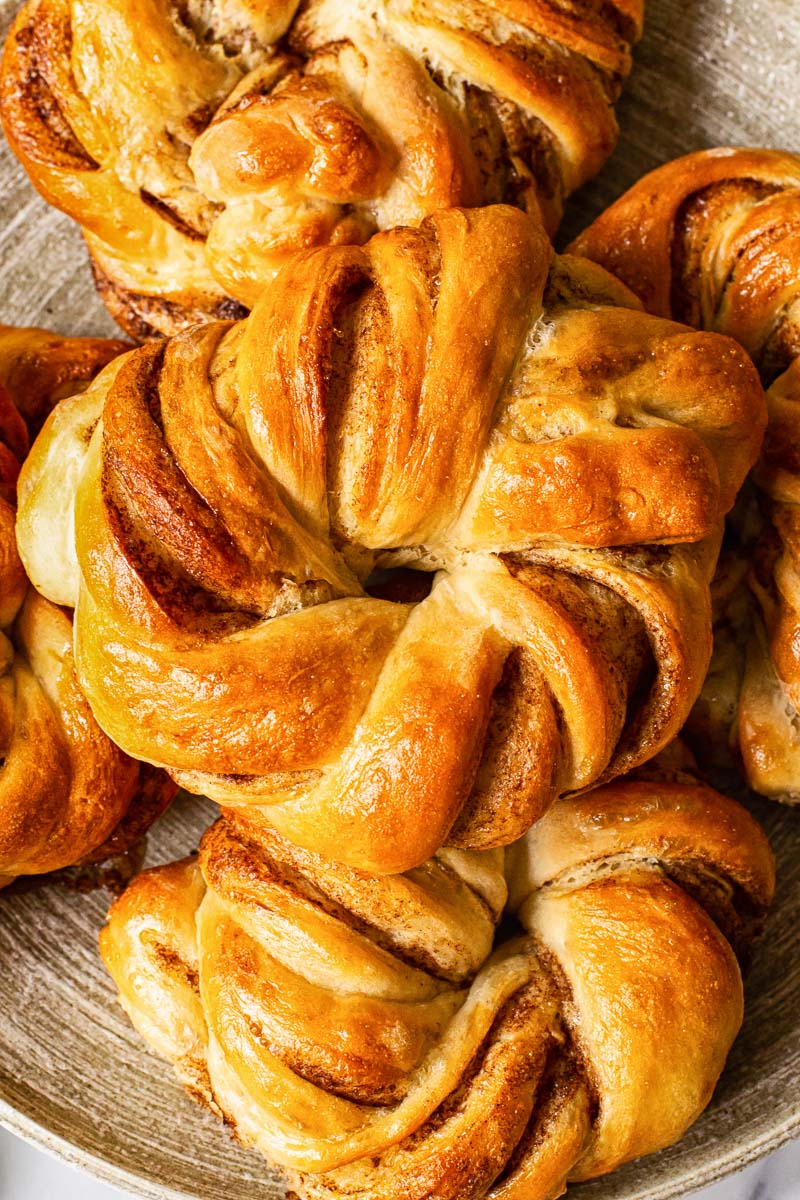 Cinnamon Bun Recipe
The recipe for these cinnamon knots comes straight from my mother, and I am thrilled I finally get to share it with you. You see my mom is known for her cinnamon buns or plushki as they are called in Russian.
Her buns are so good she uses them as currency. She tops up her payment with "plushki" when a builder is doing work on her flat, entices a nephew to fix her computer with promises of sweet buns.
And no birthday celebration goes without them! Her famous cinnamon buns are her secret weapon and she knows it full well.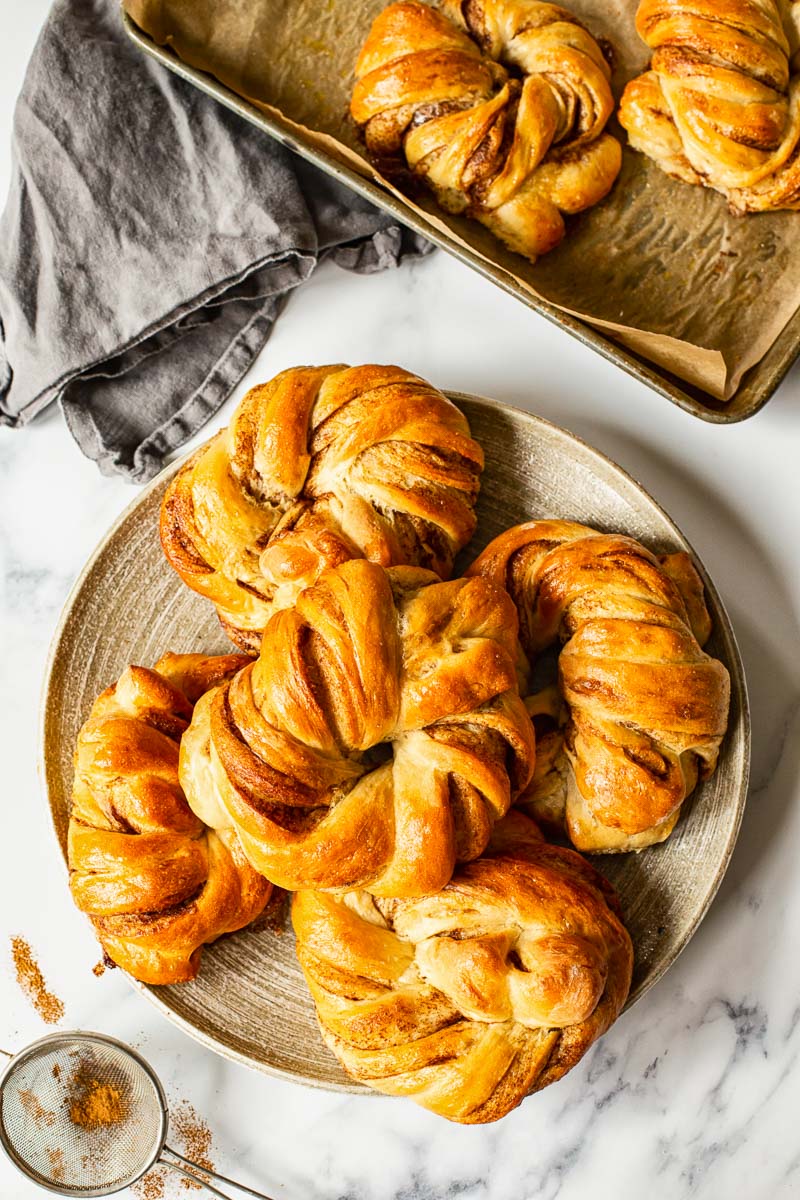 I've wanted her incredible recipe for years but as with every Russian mom, her recipe is not a detailed written one. She makes her stellar cinnamon rolls by eye!
So after she finally shared it with me in very loose terms I had to do several tests to nail down the exact measurements and baking time. I also made a video, so you could see how I roll them because a picture or in this case a video is worth a thousand words!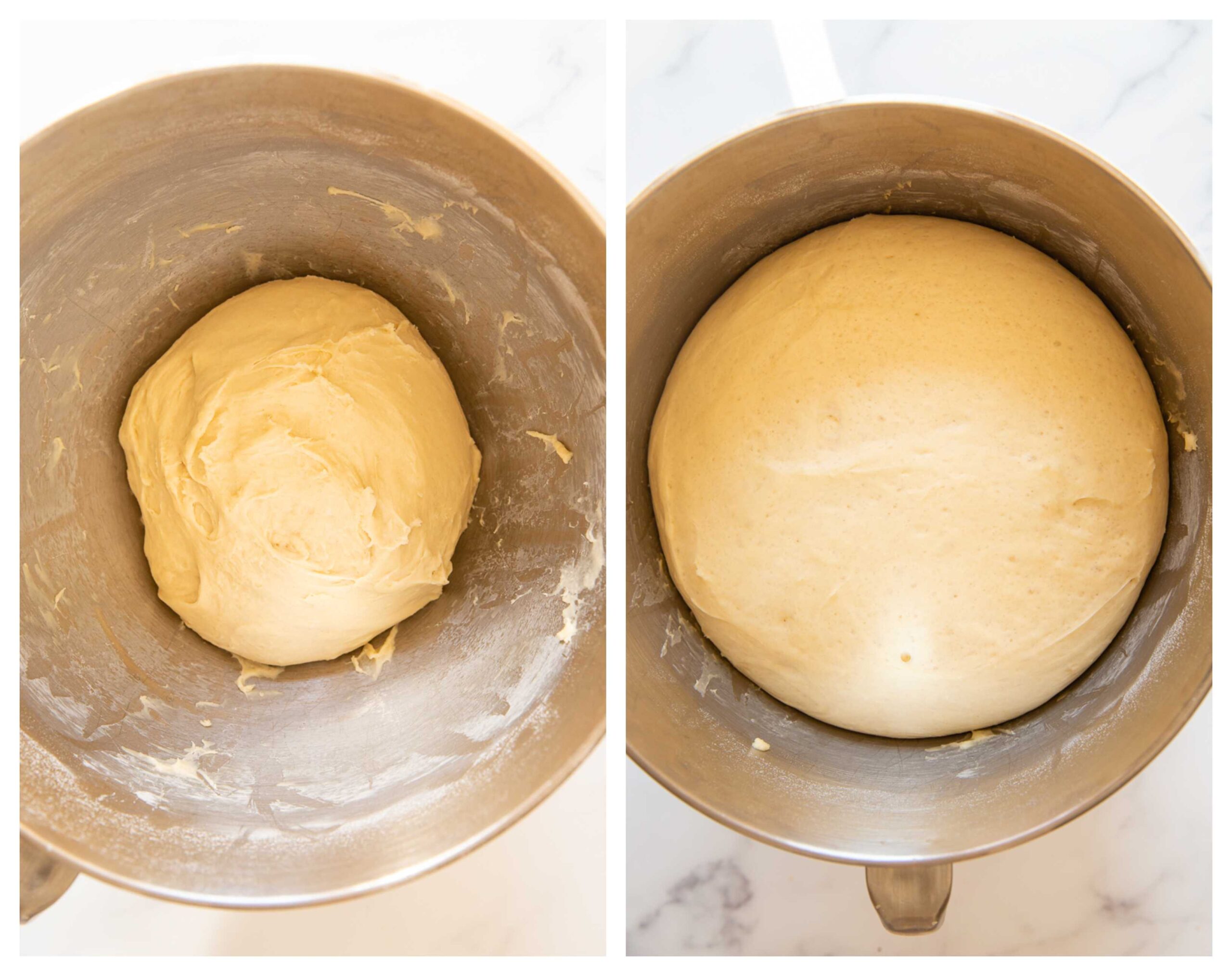 How to make them from scratch
I won't beat around the bush and tell you the main secret straight away why these cinnamon buns are so fluffy. The yeast. My mother's recipe calls for a lot of yeast. That makes them rise very quickly and expand in the oven to incredible heights.
She also uses fresh yeast instead of the more common dry variety sold in supermarkets. Fear not, I've adapted her recipe to suit our needs using dry active yeast.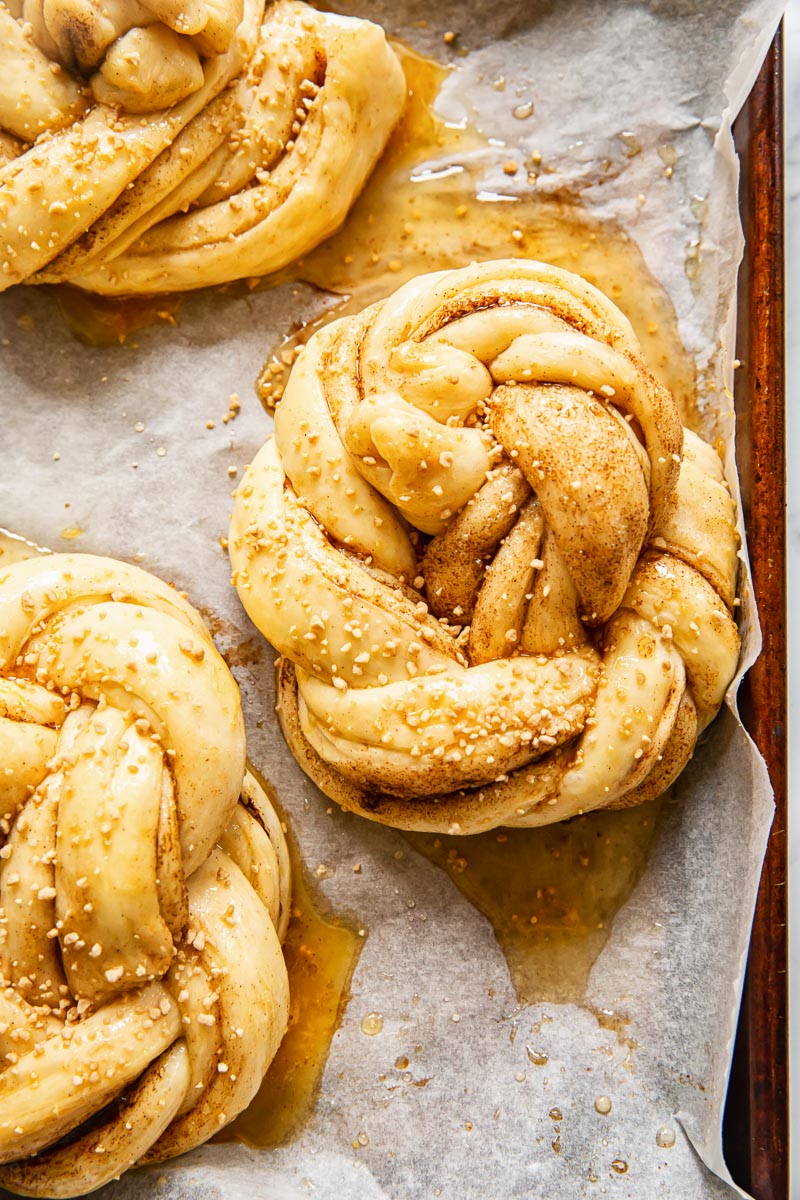 What makes them so soft and buttery is the eggs, milk and vegetable oil in the dough. Other than that the recipe is very straightforward. Just mix all ingredients in a bowl, knead briefly until you get a soft and elastic dough.
Let it rise for 45 minutes to 1 hour in a warm spot in your house until the dough more than doubles in bulk. Then shape, another shorter rise, bake!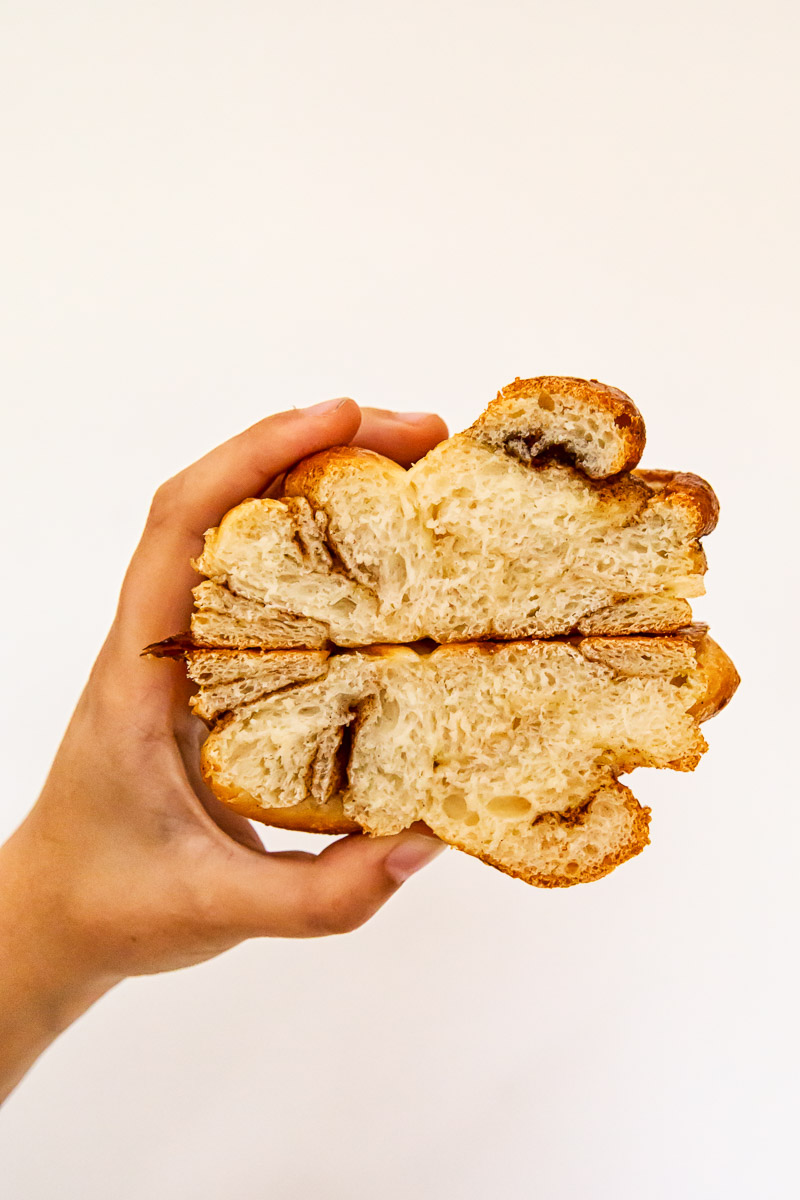 If you are looking at these buns and thinking right now that they look too intimidating, and are surely difficult to make, I want to stop you right there.
They are NOT difficult to make! The trickiest part of this recipe is actually shaping them to make them look like they came straight from a bakery. And that is why I made a video for you.
The truth is they are also very easy to roll and shape. You just need to see how it's done!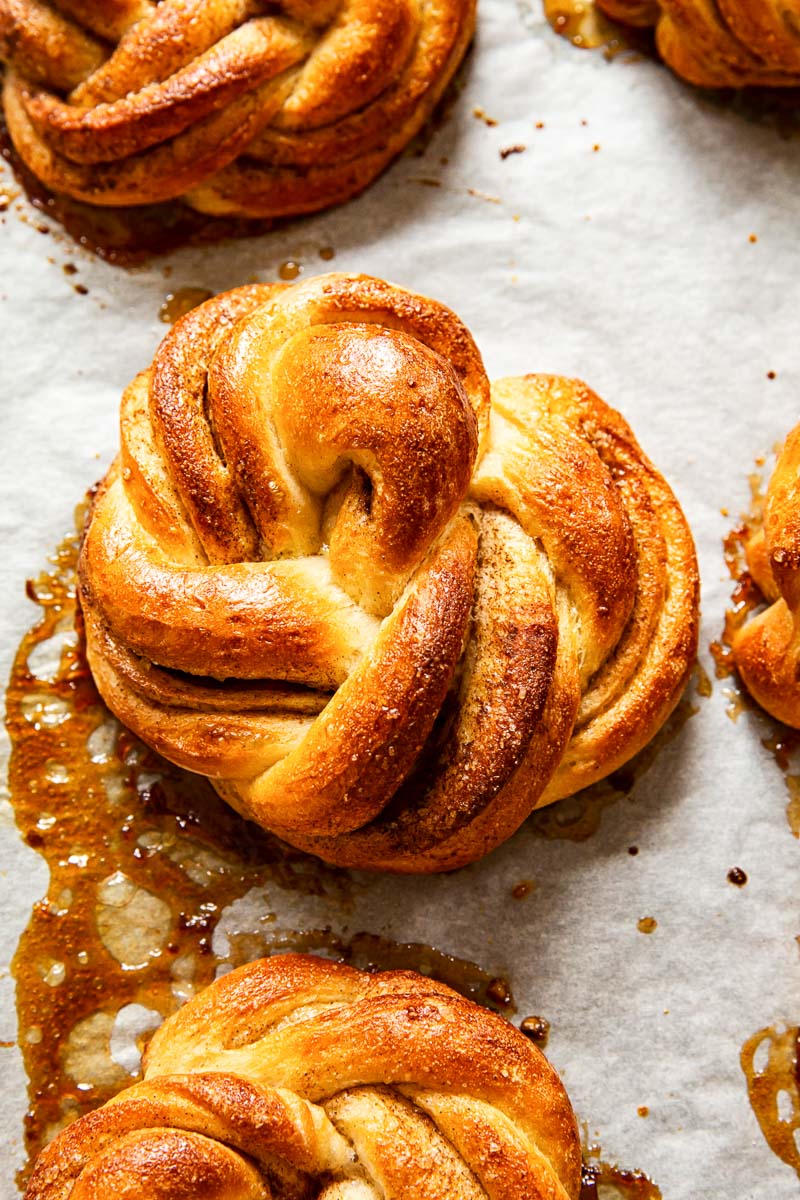 How to shape cinnamon buns
Shaping a simple piece of dough into something beautiful is my favourite part of cinnamon bun making. There are so many ways of doing that and different countries have their signature shapes. My mom makes hers into roses, which is very pretty and traditional.
I decided to do something slightly different. So I cut my dough into strips, twisted them, then tied them into knots. The gif below demonstrates it pretty well!
You can use this recipe to make traditional cinnamon rolls. They turn out incredibly fluffy when baked together in a rectangular 9X13 inch pan.
You will get two of those out of the recipe. My kids absolutely adore that type. Whichever way you decide to shape your cinnamon buns, make sure you brush them with egg wash for that golden look!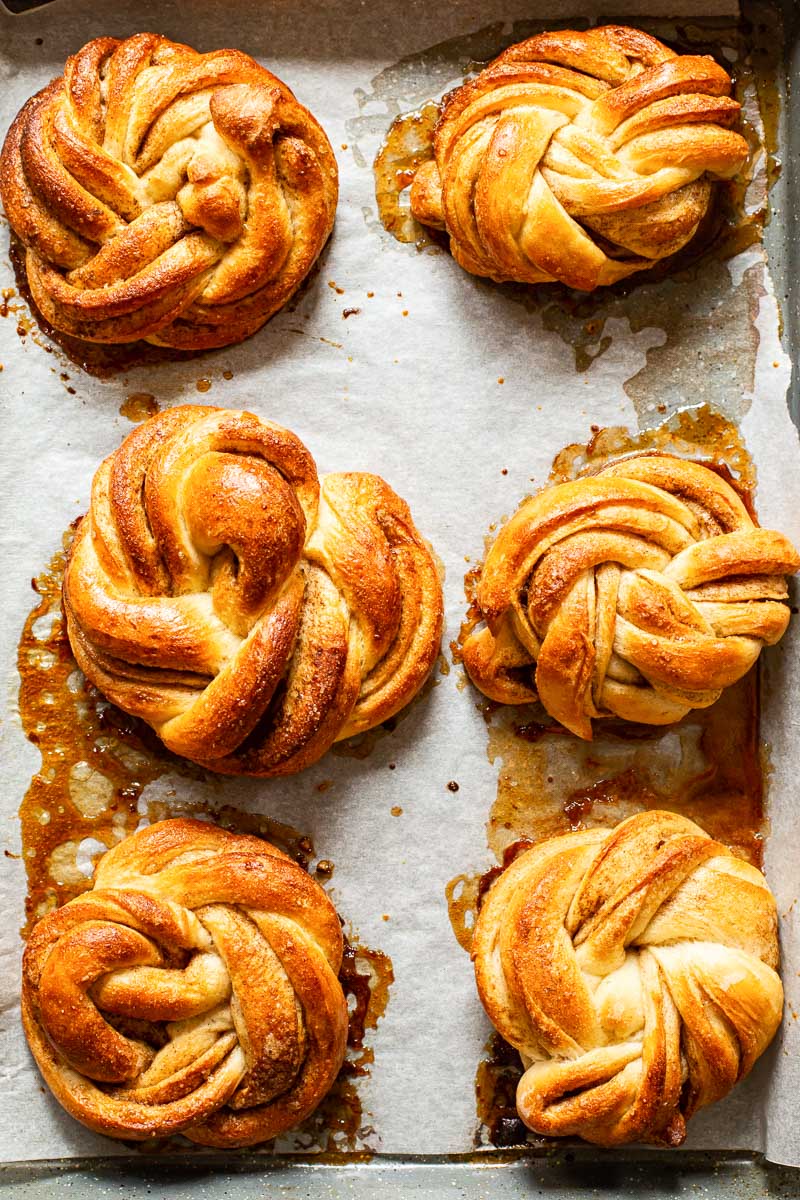 How to make a cinnamon bun filling
The filling is nothing more but a combination of butter, sugar and cinnamon. I've changed my mother's recipe a tiny bit as she uses oil instead of butter. I wanted to use butter for more flavour.
Butter also helps to keep the strips of dough together when you are shaping them into buns while oil makes it more difficult to work with.
If you get tired of cinnamon buns, you can fill your dough with a combination of sugar and poppy seeds, which is very traditional for Russia. Or use Nutella!
More recipes using yeasted dough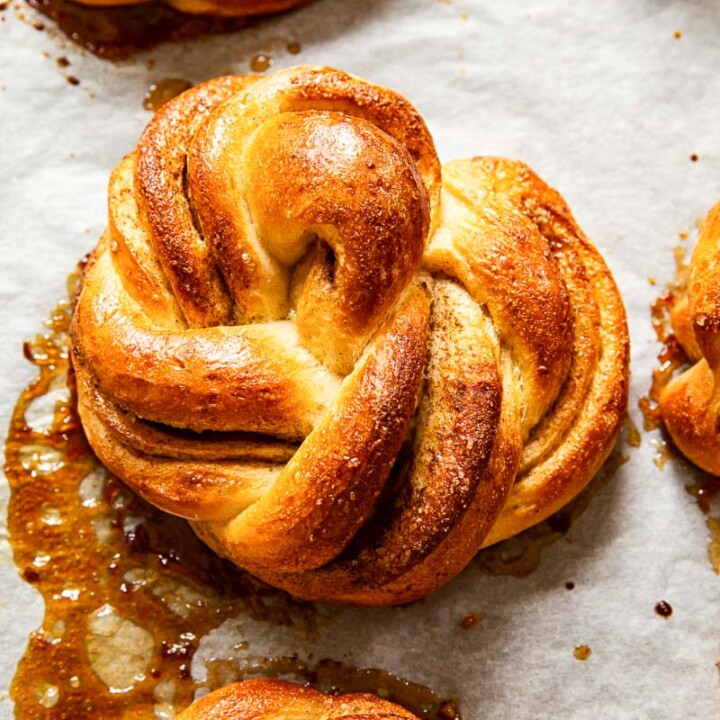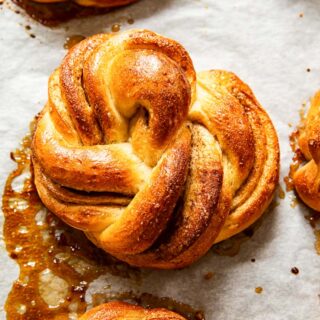 Cinnamon Buns
These European style cinnamon buns will become the hit of every gathering and give you the reason to wake up in the morning!
Ingredients
14g/ 1.5 Tbsp

active dry yeast

or 50g fresh yeast if available

175ml/3/4 cup

warm water

3

Tbsp

sugar

250 ml/1 cup

warm milk

1

egg

large

85ml/1/3 cup

vegetable oil

1

tsp

salt

700g/5 ⅓ cups

strong bread flour

125g/1/2 cup

butter

unsalted and softened

100g/1/2 cup

granulated sugar

2

Tbsp

cinnamon

1

egg

for brushing
Instructions
In a small bowl combine the warm water, yeast and sugar and let it stand for 5 minutes. Then add the warm milk, oil, salt and 1 egg. Mix with a fork.

Add the liquid to the flour, mix until rough dough forms, then take it out of the bowl onto a floured surface and start kneading until smooth and elastic dough is formed for approximately 8-10 minutes. If using a stand mixer, knead using a dough hook attachment for 1 minute on low speed, then switch to medium and kneed for 4 minutes longer.

Take the dough out of the bowl and rub the bowl with vegetable oil, then return the dough to the bowl, cover with plastic wrap and a towel and let it rise for 45 minutes to 1 hour in a warm place until doubles in size.

Meanwhile preheat the oven to 180C/350F. Mix the softened butter with sugar and cinnamon with a mixer. Set aside until later.

Take the dough out of the bowl and place it on a floured surface. Dust the top with a bit of flour and roll out into a large rectangle until the dough is no more than 1 inch thick. Dab the sheet of dough with the butter mix all over, then spread in even layer going all the way to the edges. Eyeball ⅓ of the dough, carefully lift it off the surface (use a dough bench scraper to help you along) and fold it over itself, then take the opposite side and repeat the process. (Watch the video for visual guidance.) Then take your rolling pin and roll the folded dough out to a 1-1.5 inch thickness.

Divide the dough into 12 equal strips. Take each dough strip, cut it lengthwise until you have two thin strips. Twist them together, then tie into a knot. Place on a parchment lined baking sheet. Repeat the process with the remaining dough. Place each cinnamon bun 2 inches apart. Cover with a tea towel and let them rise for 30 minutes.

Before baking brush them with a beaten egg and bake in the preheated oven for 20-25 minutes until golden. Cool on a wire rack.
Notes
You can use all purpose flour if bread flour is not available.
Nutrition
Calories:
390
kcal
Carbohydrates:
58
g
Protein:
8
g
Fat:
14
g
Saturated Fat:
9
g
Cholesterol:
52
mg
Sodium:
290
mg
Potassium:
117
mg
Fiber:
3
g
Sugar:
13
g
Vitamin A:
334
IU
Calcium:
52
mg
Iron:
3
mg