These sweet and pillowy soft Vatrushka buns are filled with the most delicious strawberry cheesecake filling. A coffee time dream come true!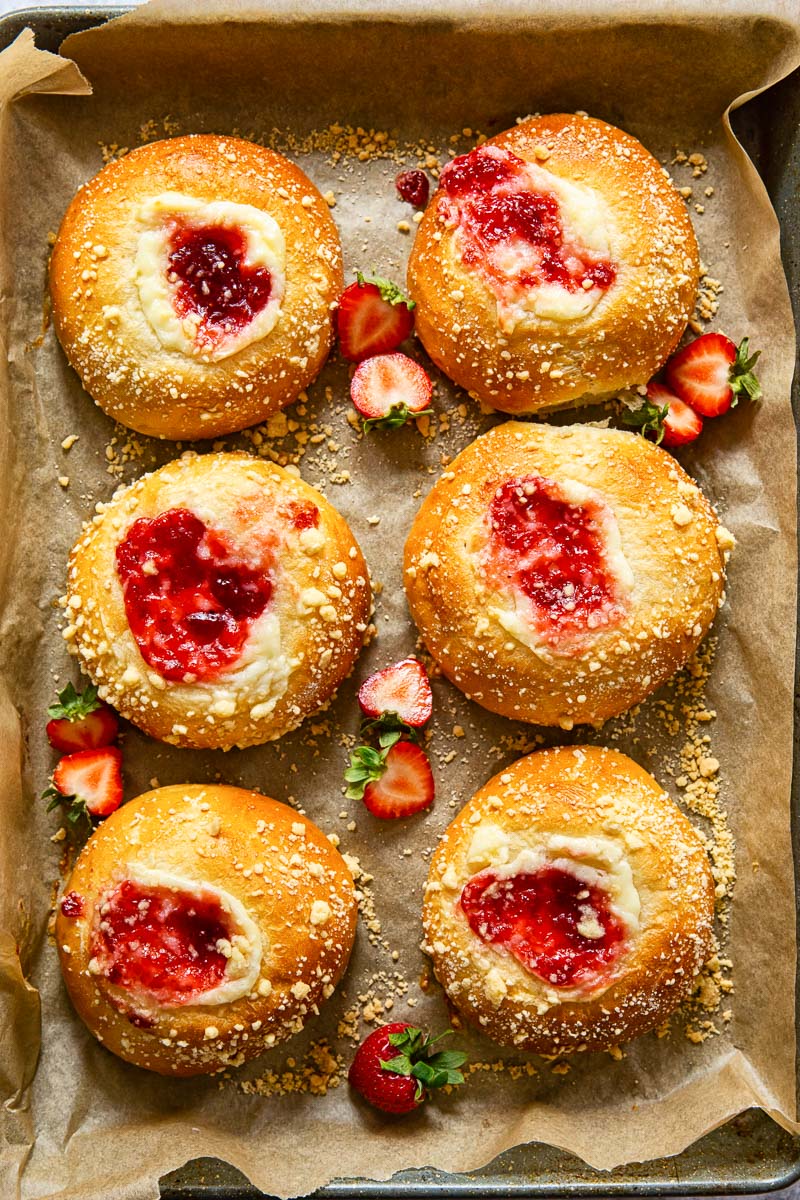 (Thank you Ball® for sponsoring this recipe. All opinions remain my own.)
Today I am bringing you a sweet bun recipe, which comes straight from my childhood. These sweet cream cheese filled brioche buns have been my favourite treat for ages. I am so thrilled to finally share this recipe with you.
Vatrushka Recipe
Russian vatrushka (pronounced vat-roosh-ka) are buns made with enriched yeasted dough and filled with sweet curd cheese similar to Italian ricotta, sometimes known as farmers cheese. The filling could also be fruit or fruit jam. In my recipe I use cream cheese and top it with strawberry jam.
These buns are not exclusive to Russia, similar pastries are popular in Czechia and are known as kolaches.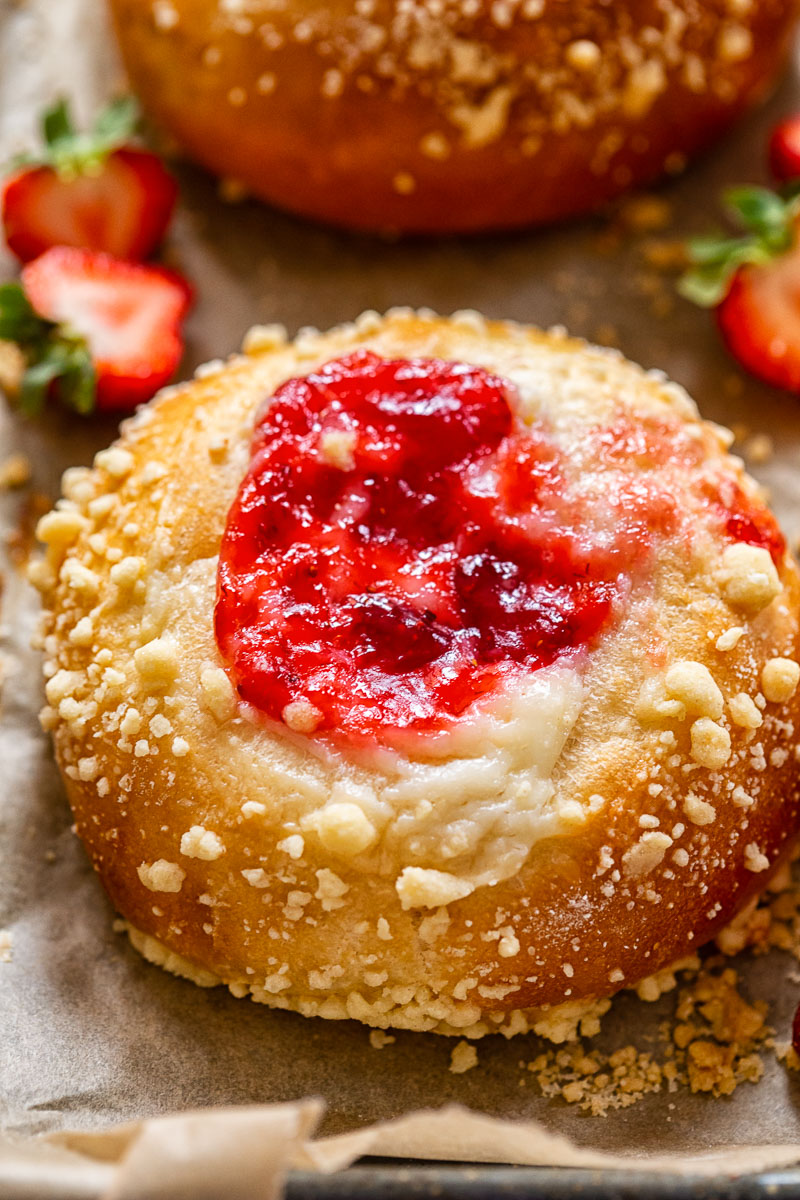 The Filling
I am a big fan and supporter of seasonal eating and sustainable food sourcing, so I decided to fill these buns with my homemade strawberry jam.
I am sensing you are so impressed with my homesteading abilities at this point but it was actually my first time making jam and I am happy to report it was easier than easy.
After a trip to my local farmers market I picked up a couple kilos of Kent grown strawberries. They were so ripe and delicious but there was no way we could eat them all.
Jam immediately entered my mind. I was itching to find out how my homemade jam would stand up to my favourite shop bought brand.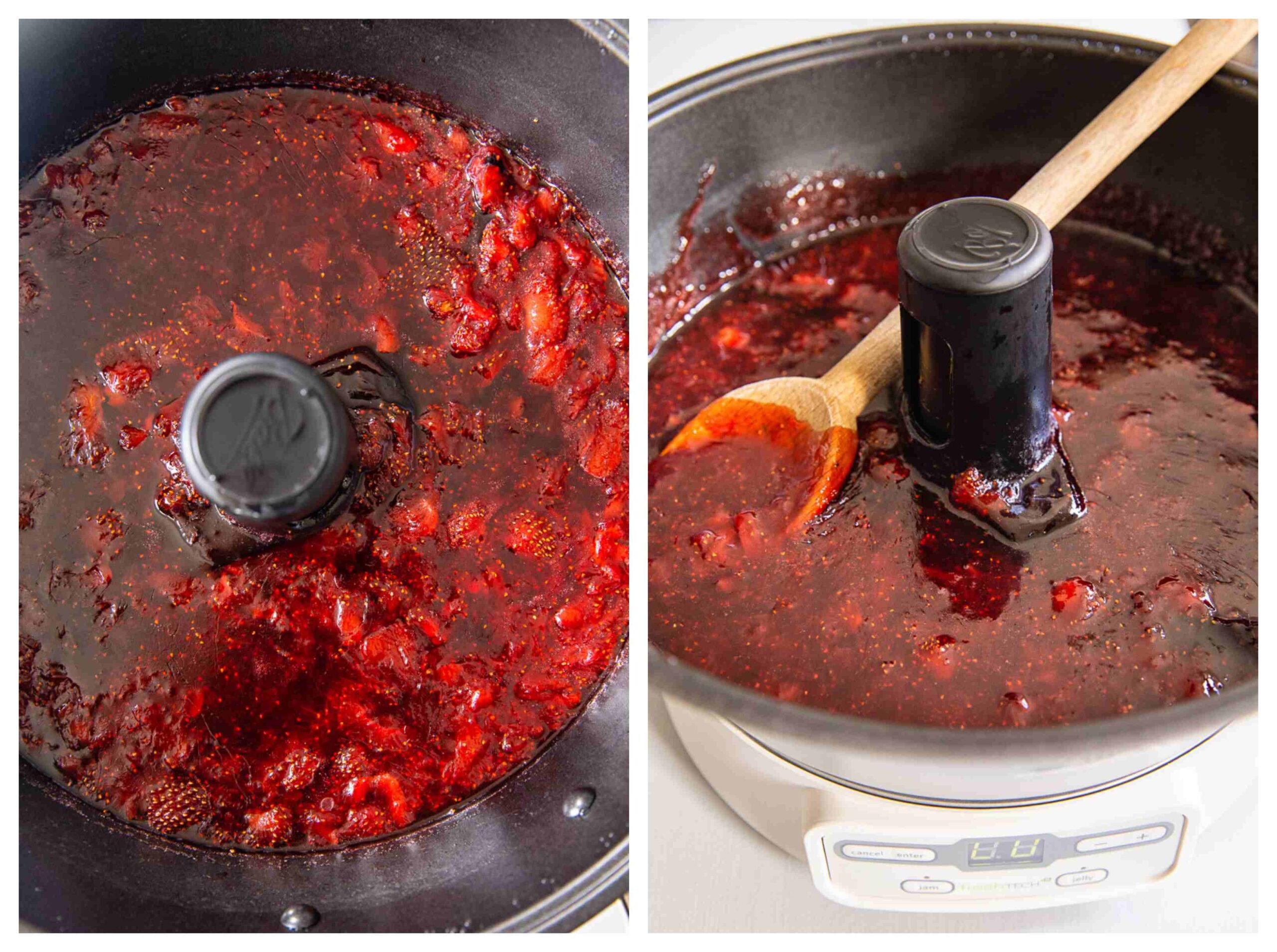 Strawberry Jam
The whole process took slightly less than 30 minutes. At the end of it I was in possession of the most fragrant and delicious jam I've ever tasted. Memories of my grandmother's summer kitchen flooded straight in. Happy days!
I have to admit one of the reasons it was so easy is because I used Ball® FreshTECH Automatic Jam & Jelly Maker, which makes the process a snap. All you need to do is to load it up with Ball® pectin, crushed fruit, sugar and hit the 'Jam' button for the jam making session to begin.
As it is fitted with an automatic stirrer, it does all the work for you. Everyone knows stirring jam is the most tedious part of the job, not to mention hot!
The appliance comes with a pre-set timing for jam and jelly making, taking the guesswork out of the equation. What I also loved about it is all important parts are dishwasher safe. Another bonus.
Lastly, for all you technophobes out there, the jam and jelly maker is not difficult to operate. It only has 4 important buttons like Jam|Jelly|Enter and Cancel.
Why make your own jam you might ask? It tastes miles better, it allows you to control the ingredients and sugar content. You can easily process buckets of fresh produce from your allotment without wasting a drop. The Ball® freshTech Automatic Jam and Jelly Maker also comes with a book of recipes and handy tips which is great if you're making jam for the first time.
Finally, everyone loves a guest who comes over with a jar filled with homemade jam. What a brilliant hostess gift!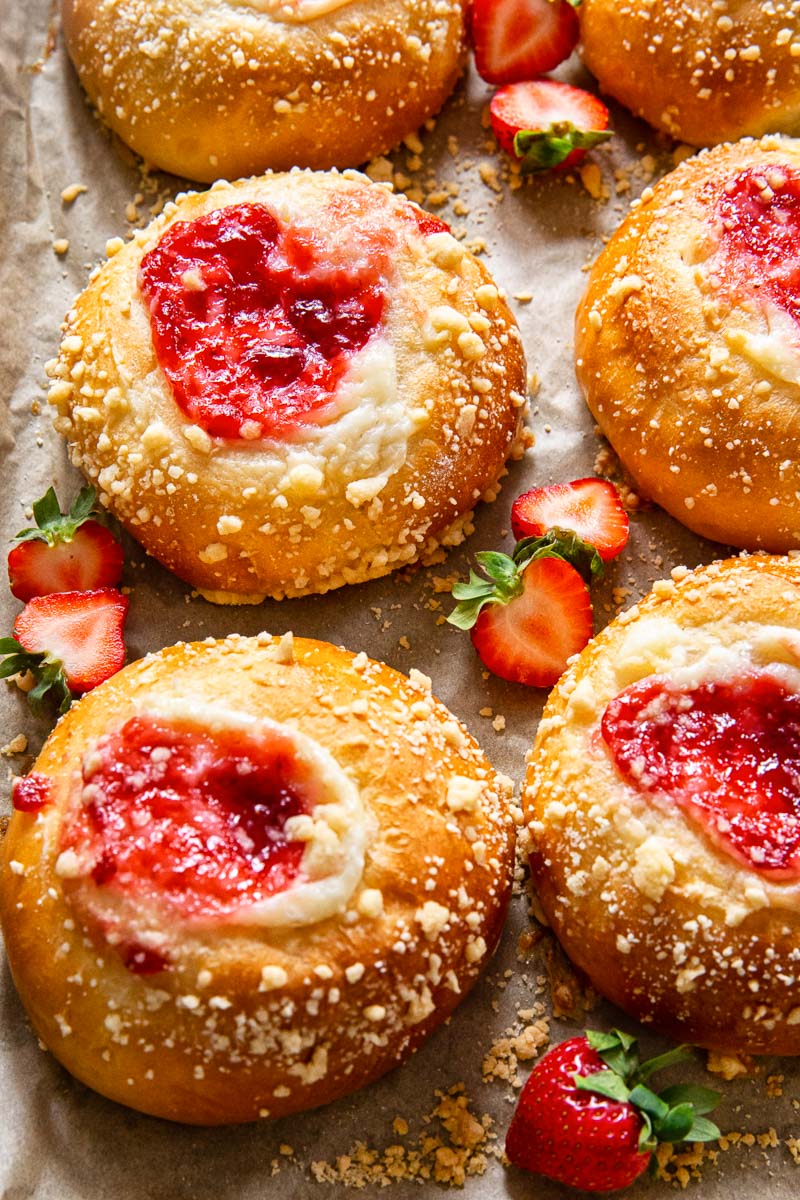 How to Make Strawberry Jam and Cream Cheese Filled Buns
Considering how amazing these buns look they are actually quite simple to make. Even if you are not a pro at yeasted dough bakes, my recipe will set you up for success.
There are three parts to the recipe. The dough. The filling, which I partially covered above. And the streusel topping.
The dough for the vatrushka buns is my master dough, which I also used in this Cinnamon Bun recipe. It's soft, slightly sweet and pliable. It rises within an hour making this recipe a relatively quick one for yeasted bakes.
Once the dough is ready, it needs to be divided into 12 equal parts and shaped into balls. I prefer using my scale to make sure the buns are all the same size. After the buns have been shaped, they need to rise for 30 minutes.
Make Strawberry Jam
To make the strawberry jam with the Ball® freshTECH Automatic Jam & Jelly Maker, wash 750g/3 cups of strawberries, drain and remove stems and hulls. Crush them with a potato masher. Sprinkle 3 tbsp pectin over the bottom of the pot of the Jam Maker fitter with a stirrer.
Add the crushed strawberries in an even layer over the pectin, then add a half teaspoon butter to reduce foaming. Press JAM button and ENTER. Once the machine beeps, add 600g/3 cups of sugar and cover with the lid. Once the cycle is complete, press CANCEL and take the lid off. Preserve the jam immediately.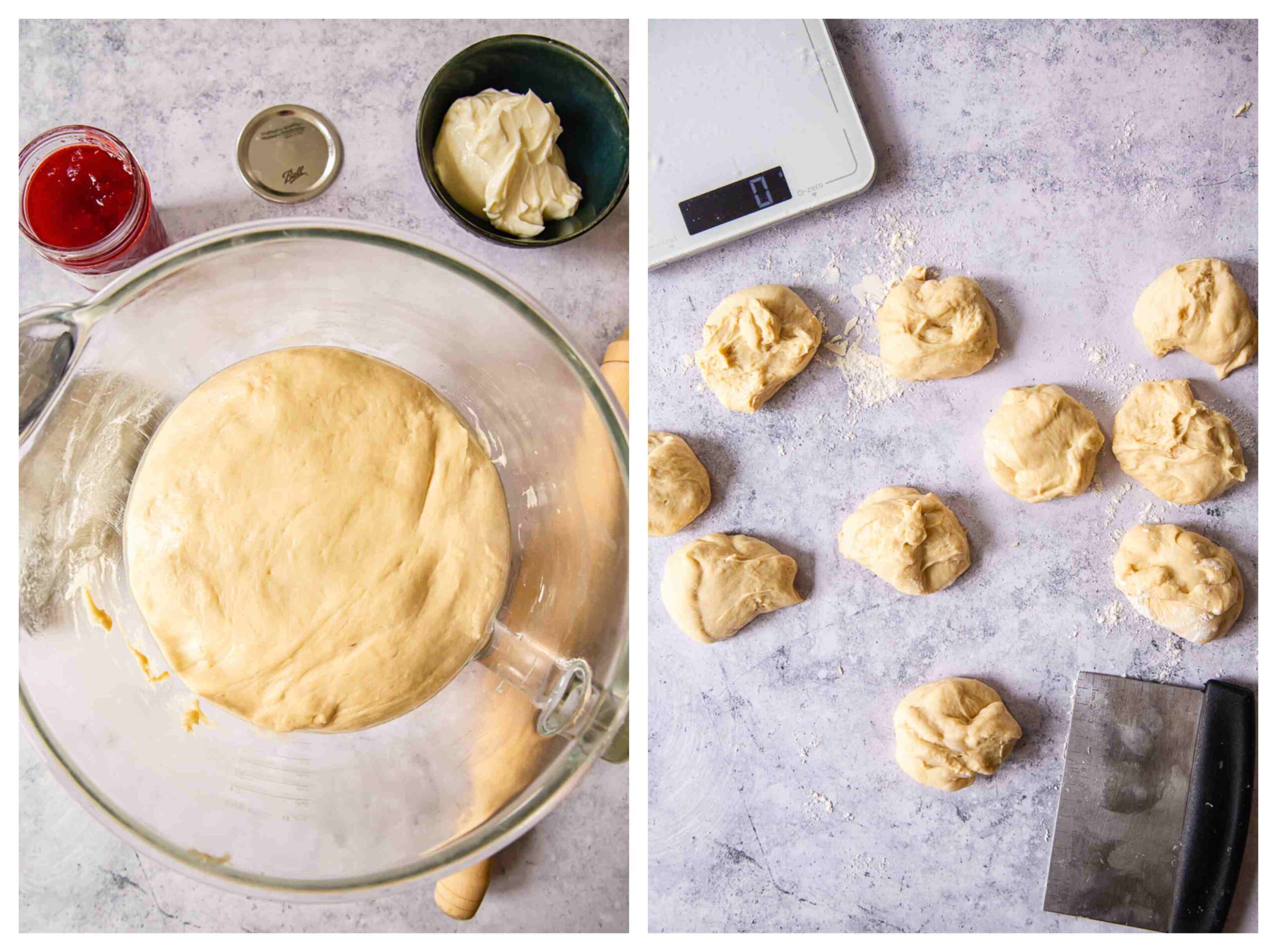 While the jam is being made use that time to prepare the cream cheese filling and the streusel topping. After the rising time, make deep wells in the buns by pressing a glass just in the middle of it. This is where your cream cheese and jam filling will go.
Brush the side of the buns with a beaten egg and sprinkle with streusel topping, bake for 20 minutes at 350F/180C and enjoy!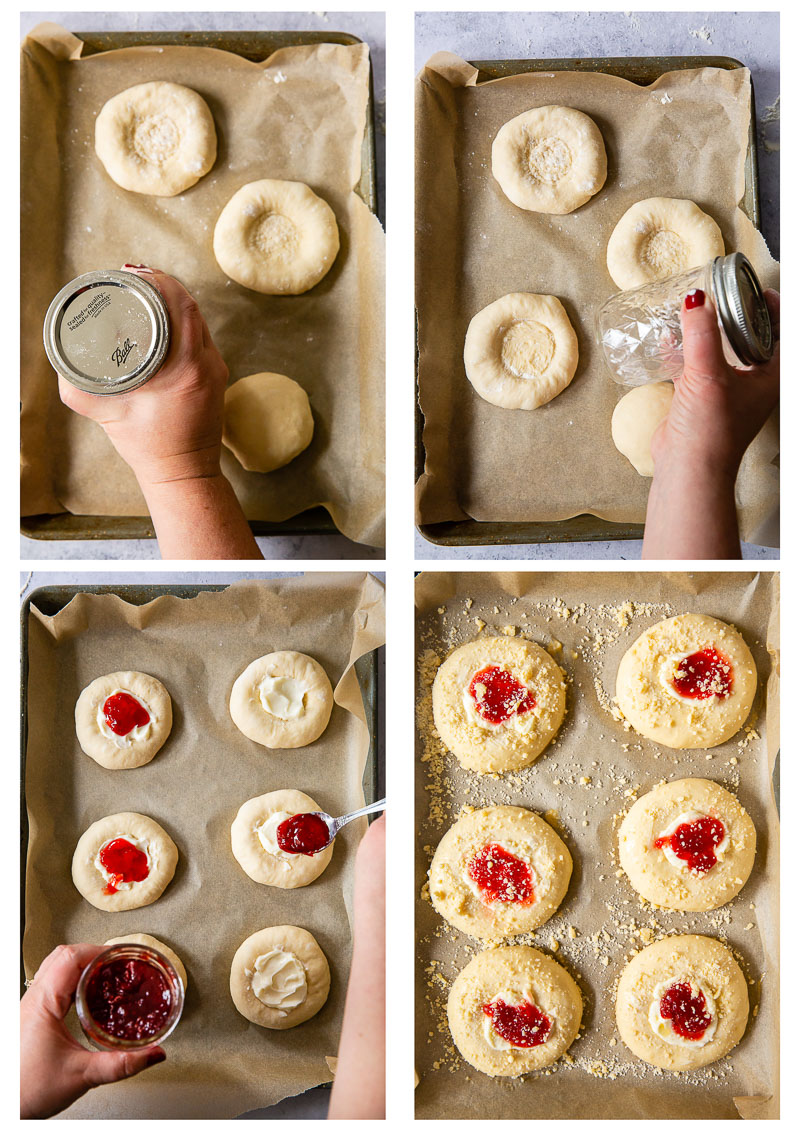 Julia's Tips
Traditionally vatrushka buns are perfectly round, so to avoid them merging together and losing their shape, place them at least 2 inches apart in a pan.
When creating a depression in the pieces of dough, make sure they are deep and wide enough to hold 2 tablespoons of the filling.
More favourite summer fruit bakes: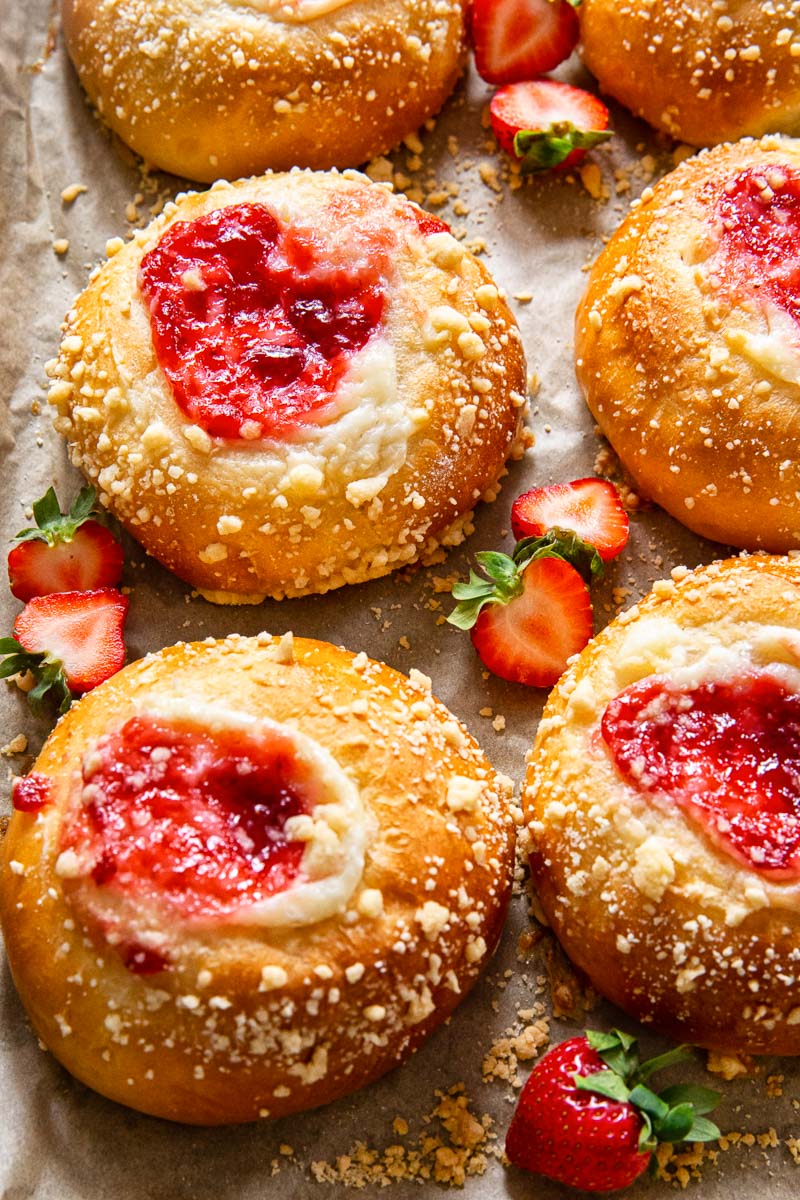 Ingredients
For the dough
220ml/1 cup

warm milk

full fat or skimmed

7g/1 tbsp

active dried yeast

½

tbsp

granulated sugar

85ml/1/3 cup

vegetable oil

1

egg

0.5

tsp

salt

400g/3 cups + 2 tbsp

bread flour
For the filling
125g/4 oz

cream cheese

full fat

2

tbsp

granulated sugar

125ml/1/2 cup

strawberry jam

or any jam of your choice
For the streusel topping
2

tbsp

flour

1

tbsp

butter

1

tbsp

granulated sugar

1

egg for brushing
For the strawberry jam
750g/3 cups

ripe strawberries

crushed

3

tbsp

Ball® Jam setting mix with Pectin

0.5

tsp

butter

660g/3 cups

granulated sugar
Instructions
For the dough
In a small jar combine the warm milk, yeast and sugar and let the yeast bloom for 5 minutes. Then add an egg and vegetable oil and mix with a fork.

In a large bowl of a stand mixer combine the bread flour with the salt. Add the liquid ingredients and starting mixing using the dough hook attachment on slow for 1 minute, then turn up the speed and continue mixing for 10 minutes until you have a very soft and pliable dough. Alternatively, you can mix and knead the dough by hand for about 15 minutes. Take the dough out of the bowl and brush the same bowl with a bit of vegetable oil, then put the dough back in, flip it over, so the oily side is on top. Cover with a tea towel and let it proof for 1 hour in a warm spot of the house. At the end of proving time the dough should more than double in bulk.

When the dough is ready take it out of the bowl and weigh it. This will make it easier to divide the dough into 12 equal parts. You should have 12 pieces approximately 60g each. If no scale is available, simply divide the dough into two equal parts. Then each part into 6 parts.

Take a dough piece and starting tucking sides of it under itself until you have a rough ball, then roll it in a circular motion on a lightly floured surface until you have a tight ball. Place the ball on parchment paper lined baking pan. Repeat with the rest of the dough. Make sure your dough pieces are at least 3 inches apart. Use two pans if necessary. (The space between them will shrink after they have risen and flattened.) Cover with a clean tea towel and let them rise for 20-30 minutes depending on the temperature of your house. The dough balls won't double in size but will expand.
For the filling
Meanwhile, in a small bowl combine the cream cheese with granulated sugar and set aside until needed. (The sugar should completely dissolve in the cream cheese by the time it's ready to go inside the buns.)
For the streusel topping
In another small bowl combine the firm but not fridge cold butter, the flour and sugar with a fork. The streusel should have a sandy texture with a few clumps in.
To shape and fill the vatrushka buns
Using either the bottom of a jar or your fingers press firmly in the center of each bun to create a well deep and wide enough to hold 2 tablespoon of the filling. Fill each bun with 1 tablespoon of the sweetened cream cheese. Then make an indentation in the middle of the cream cheese filling with the back of a spoon to create space for the jam. Then drop a spoonful of jam on top of it.

Brush the sides of each buns with a beaten egg, then sprinkle with the streusel topping. Bake in the preheated oven at 180C/350F for 20 minutes or until the buns are golden.
For the strawberry jam
Wash the strawberries, drain, remove stems and hulls. Crush them with a potato masher.

Sprinkle pectin over the bottom of the pot of the Ball® freshTech Automatic Jam and Jelly Maker fitted with a stirrer. Add the crushed strawberries in even layer over the pectin, then add the butter, which will reduce foaming. Press JAM button and ENTER. Once the machine beeps twice, add the sugar and cover with the lid. Once the cycle is complete, press CANCEL and take the lid off. Preserve the jam immediately.
Notes
To maintain the traditional round shape, make sure the buns are spaced far apart in the baking pan.
Any fruit jam is suitable for this recipe.
You can omit the cream cheese filling and use the jam only or vice versa.
Nutrition Facts
Strawberry Cheesecake Vatrushka Buns
Amount Per Serving
Calories 248
Calories from Fat 72
% Daily Value*
Fat 8g12%
Cholesterol 43mg14%
Sodium 161mg7%
Potassium 96mg3%
Carbohydrates 37g12%
Protein 7g14%
Vitamin A 239IU5%
Vitamin C 1mg1%
Calcium 42mg4%
Iron 1mg6%
* Percent Daily Values are based on a 2000 calorie diet.