Take the fear out of rye bread making by following this clear, step-by-step recipe. Baking with rye flour opens up a whole new world of flavour and texture. We tested this recipe multiple times, so you don't have to!
For another delicious homemade bread recipe, check out our popular No Knead Farmhouse Bread.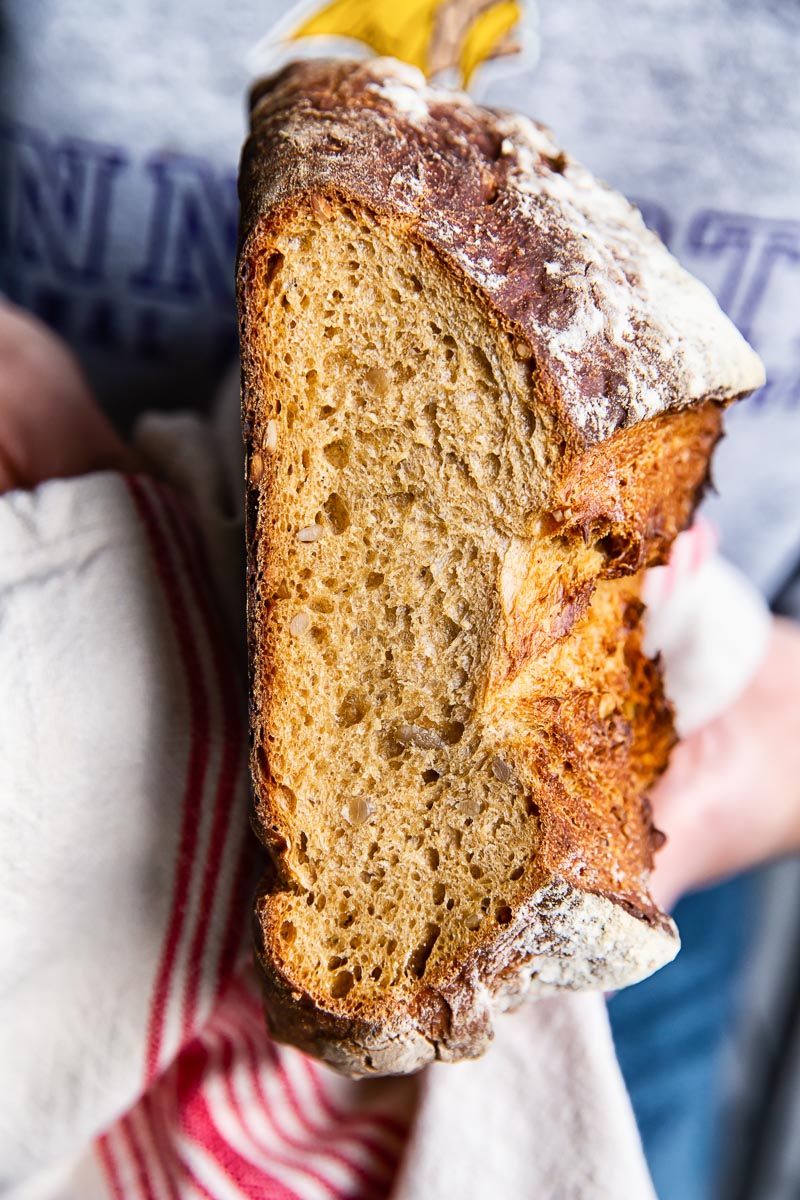 It seems like it's been ages since we posted our first ever bread recipe yet it's been only 5 years. In this short time we went from never making our own bread to making it weekly and experimenting with different flours.
Spelt flour, buckwheat flour and today we bring you a recipe for a loaf made with rye flour.
Developing a recipe for a good and dark rye bread has been a desire of ours for a while. It's no surprise since Julia grew up in Russia, where this type of bread is quite common.
As much as we wanted to make our own rye bread we were intimidated by the process as we always heard that rye flour is difficult to work with. Well, let us share with you what we found and whether the rumours were true.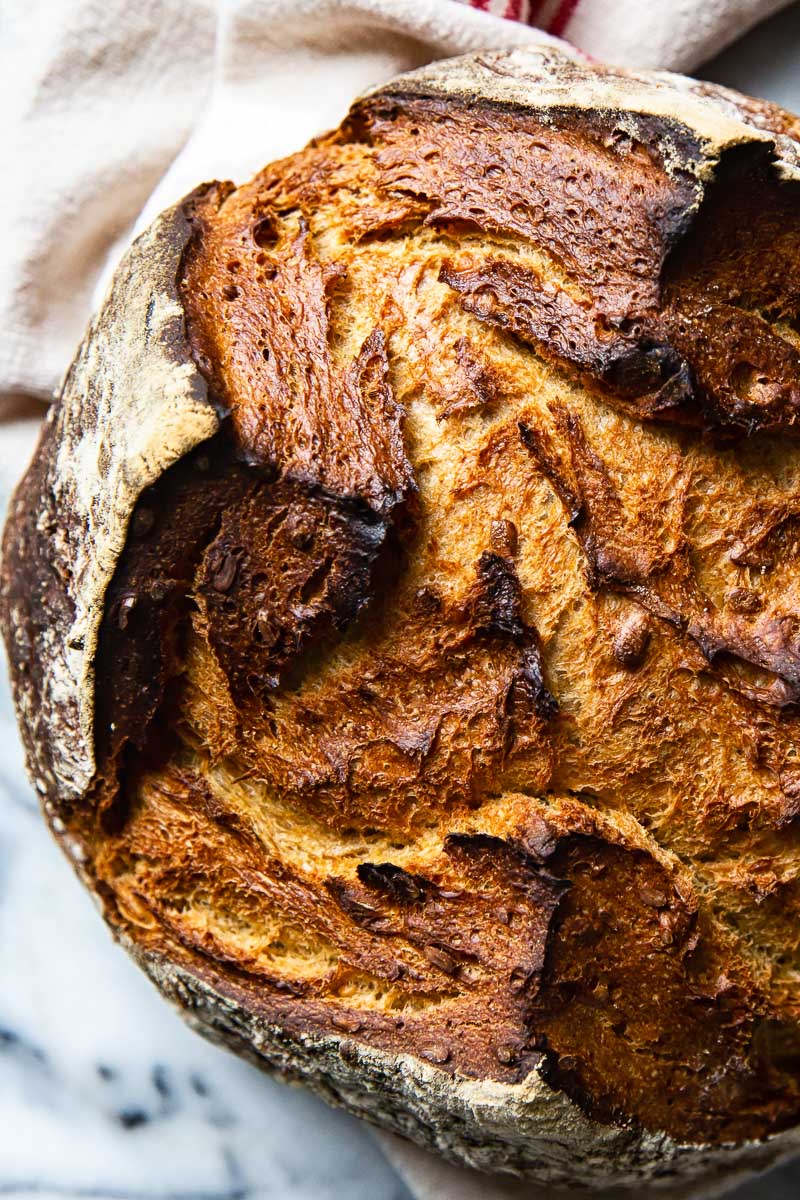 What does dark rye bread taste like?
We would like to start by saying that there are many types of rye bread and we are covering just one today. Baking with rye flour is quite popular in Scandinavia, Germany, Russia and many other Eastern European countries.
And although the results might taste somewhat similar, the recipes vary by the flour proportions, method as well as other ingredients added to enhance the flavour. There are different types of rye flour as well. Most common are light and dark. We've tested with both and decided that we prefer using a light rye flour for a softer, less dense crumb.
Before we got into baking with rye flour we always assumed that the dark colour comes from the flour itself. Now we know it's not entirely true.
What are the ingredients?
The rye flour makes the bread slightly darker, however the rich, dark colour mainly comes from the additional components, which are also responsible for the taste. Barley malt extract and molasses (or black treacle in the UK) are the ingredients that make this bread so special.
We also added ground coriander to our recipe, which reminds us of the flavour of the famous Russian Borodinsky bread. Fragrant and slightly sweet with a distinctive sour note, this bread is extremely delicious.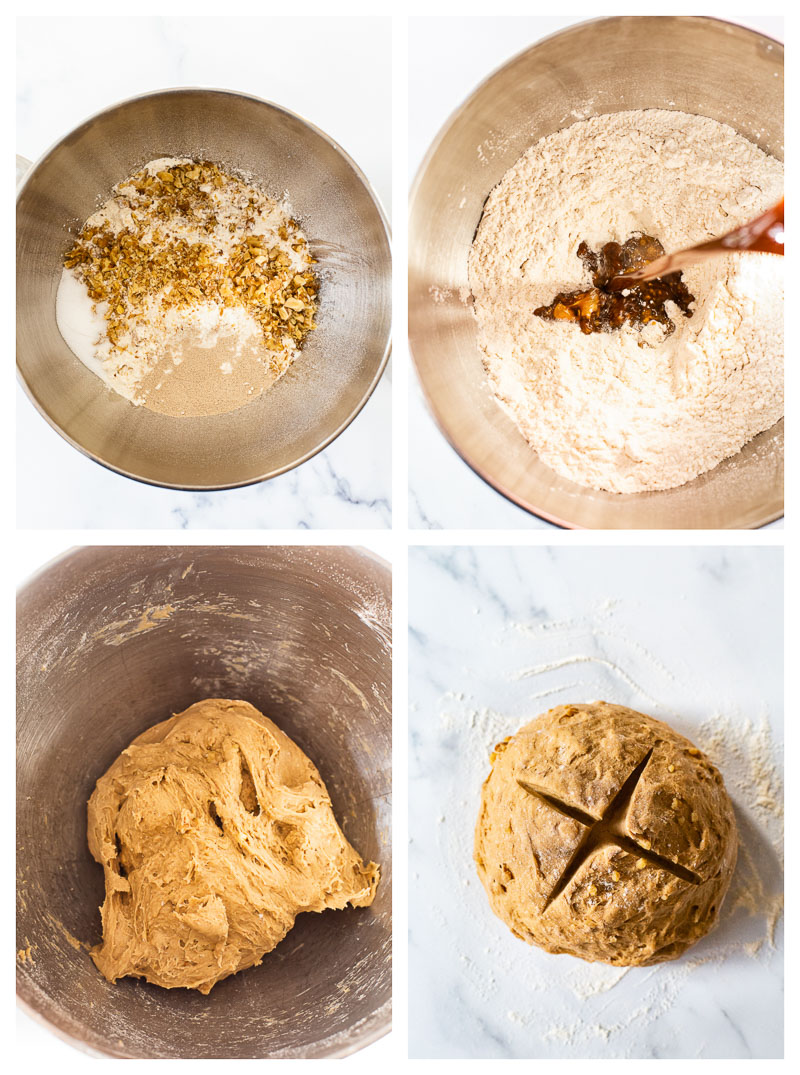 How to make the best bread with rye flour
The bread recipe we are sharing today is made with a mix of light rye flour and white wheat flour in equal parts. It is possible to make a loaf that consists entirely of rye flour but it will have a very different texture and a different recipe.
Bread made with 100% rye flour is more dense, gummy and sticky than most people are used to. It will also not rise quite as much as the bread made with an addition of wheat flour since rye flour is much lower in gluten.
The bread recipe we are sharing today is a bit of a hybrid of the taste of rye bread Julia grew up with and the texture of hearty Europeans bread. That is why two flours were mixed and certain flavourings were added.
To add to the texture of our bread we also like to include either sunflower seeds or chopped walnuts but this addition is optional.
The method for rye bread is not too different than a Dutch Oven Wheat Bread we shared. Just mix all ingredients together and let it rise in a warm place. Having the dough proof in a warm, draught free place is very important. We noticed a considerable difference when the house temperature dropped. The bread came out denser.
This rye bread does require a little kneading but a stand mixer can take care of it if you have one. It is baked in a dutch oven as we find this method improves the crust texture and aids the rising of the bread itself.
Is rye bread healthier than wheat bread?
Rye flour is very rich in vitamins and minerals but it is no different to any other wholegrain flour. However what is great about rye flour is that it naturally contains more fibre. I love that! It is also lower in gluten.
What goes well with it?
Rye bread is an excellent addition to your bread basket served at a lovely dinner party or a holiday meal. It's also great in sandwiches as it adds so much extra flavour. It goes well with soups, stews or simply smeared with a bit of butter or topped with a slice of sharp cheese.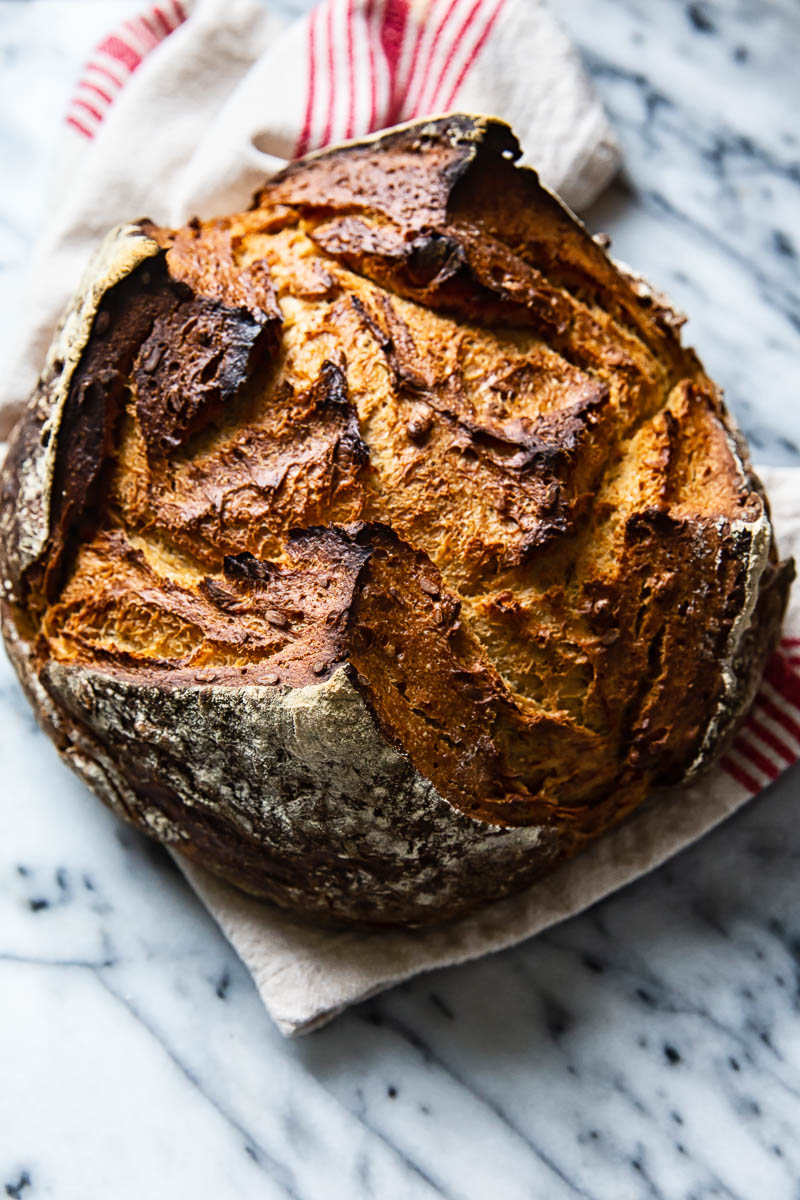 More unusual bread recipes to try: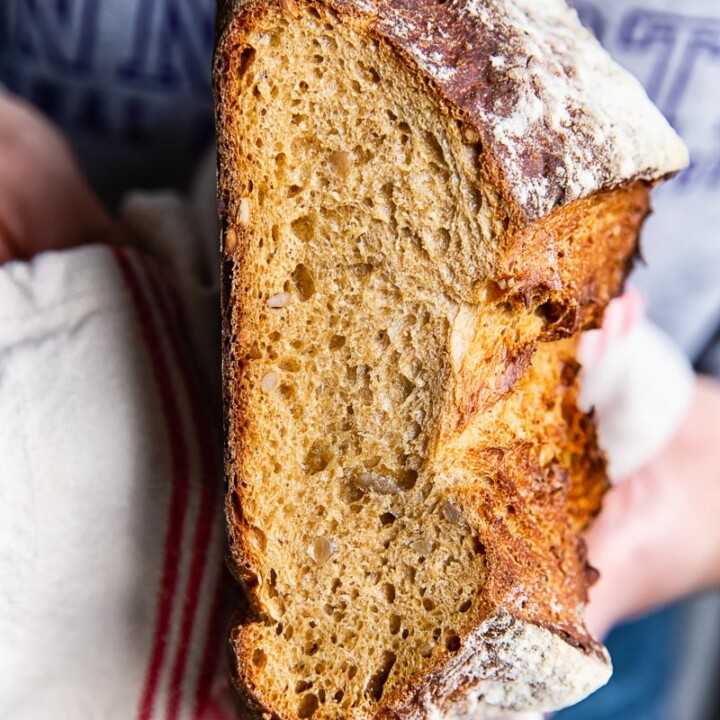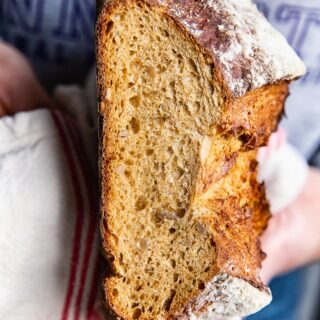 Rye Bread Recipe
Take the fear out of rye bread making by following this clear, step-by-step recipe.
Ingredients
100ml/1/2cup

boiling water

3

tbsp

black treacle/molasses

2

tbsp

barley malt extract

1

tsp

ground coriander

240g/2 cups

light rye flour

240g/2 cups

white bread wheat flour

7g/2 tsp

dry active yeast

2

tsp

salt

50g/1/2 cup

sunflower seeds or chopped walnuts

2

tbsp

vegetable oil or rapeseed oil

250ml/1 cup

tepid water
Instructions
In a cup combine boiling water, black treacle or molasses, barley malt extract. Then in a mixing bowl mix both flours, yeast, salt, ground coriander and sunflower seeds or chopped walnuts. Create a well in the center and pour in the liquid mixture together with oil and ⅔ of the tepid water. Mix well adding more water if the mixture if too dry. (It will vary depending on the humidity in the house.)

Rest for 5 minutes, then knead for 1 minute. Take it out of the bowl and knead it for at least 5 minutes on a floured surface. Then cover with a cloth and let it rise for 1.5 hours in a warm place.

Shape the dough into a boule (ball) using a simple stretch and fold method. Lightly stretch each side of the dough and keep tucking them in until you've form a ball. Place it on a floured surface seams side down, sprinkle with more flour, cover it and let it rise for another hour.

Preheat the oven to its maximum temperature (260C/500F) with the Dutch oven in it.

Before placing the dough in the preheated Dutch oven slash a cross on top with a sharp knife. Carefully drop the dough in the Dutch oven, cover with a lid and baked covered for 20 minutes. Then take the lid off and bake for 15-20 minutes until dark and the top is crispy. Cool on a wire rack before slicing.
Nutrition
Calories:
245
kcal
Carbohydrates:
42
g
Protein:
7
g
Fat:
6
g
Saturated Fat:
3
g
Sodium:
467
mg
Potassium:
244
mg
Fiber:
4
g
Sugar:
4
g
Calcium:
45
mg
Iron:
3
mg