An easy no-knead recipe for wholesome rosemary spelt bread. You will be surprised you can make this delicious, bakery worthy bread at home!
This bread is amazing when used for Ham and Cheese Toastie!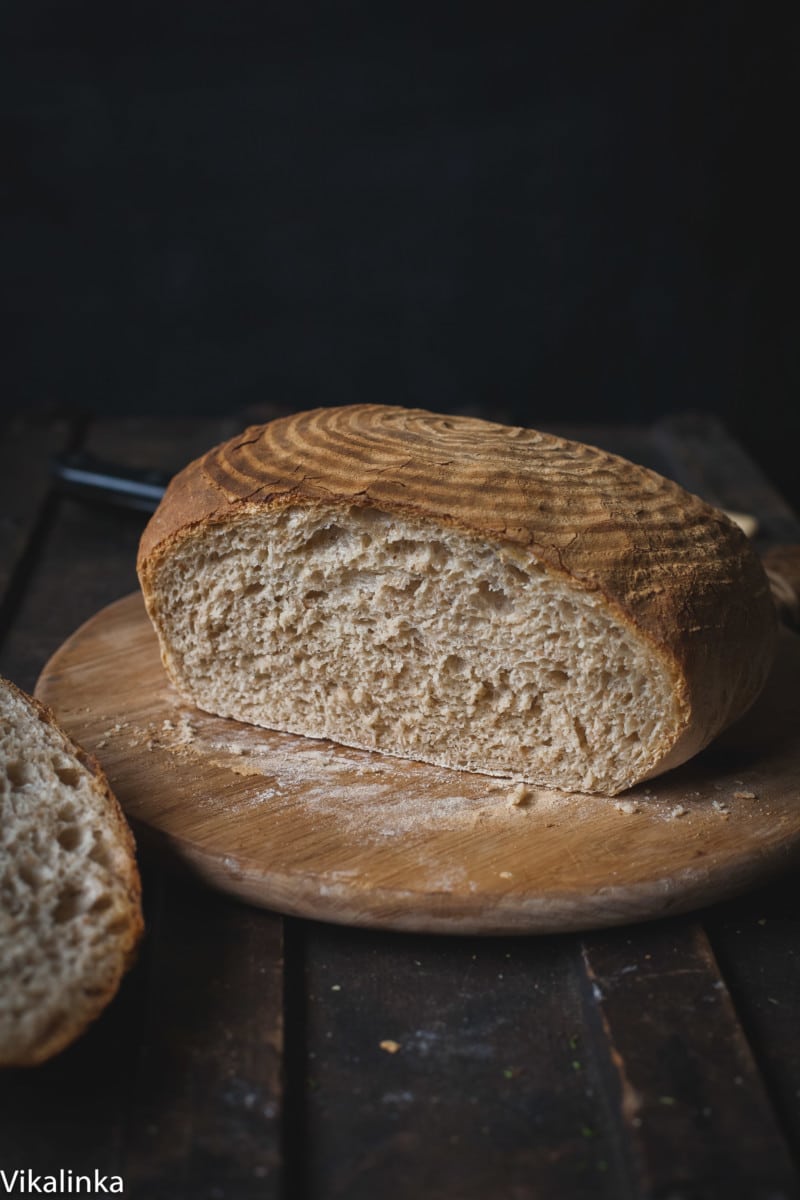 Sometimes is the simple things that make life so amazing. Take a loaf of homemade bread for example. There are not a lot of other things that make my family as excited as a hot, fresh loaf of bread on the kitchen counter.
I used to keep bread at a distance because it never seemed worth the trouble of endless kneading and so much time. But the discovery of no-knead bread has meant that making our own bread is here to stay.
The standard bread recipe is quite forgiving and gives endless options for experimentation. Here I have adapted it to include wholesome spelt flour for a rich, nutty taste, along with aromatic rosemary.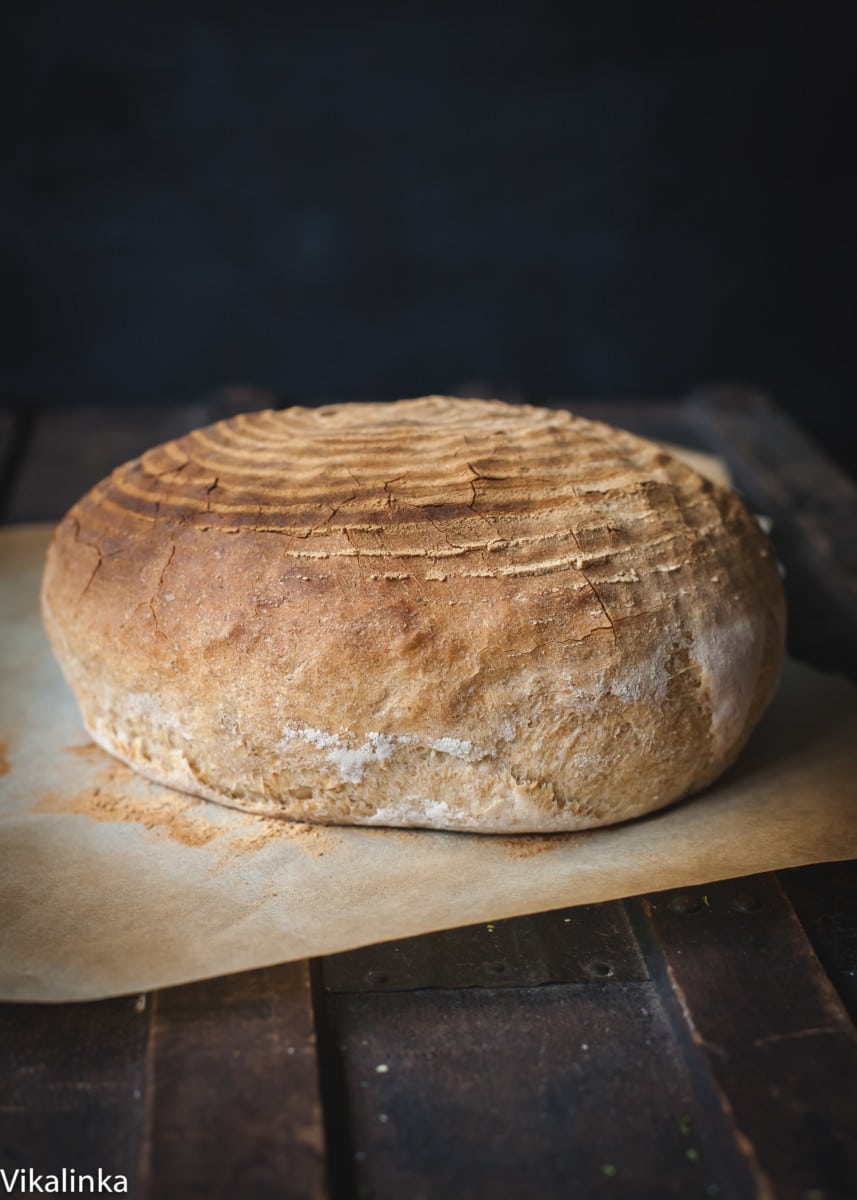 Spelt bread at home
Bread making is one of those amazing activities with a couple of big benefits. It's a great way to work out some anxiety while making dough and getting fresh homemade bread as a result of it. It's a win-win!
Homemade bread tastes infinitely better than store-bought and you can be confident that only good ingredients have gone into it. You can also flavour it in any way you like. I added chopped rosemary to my spelt bread but you can experiment with your favourite herb or even cheese.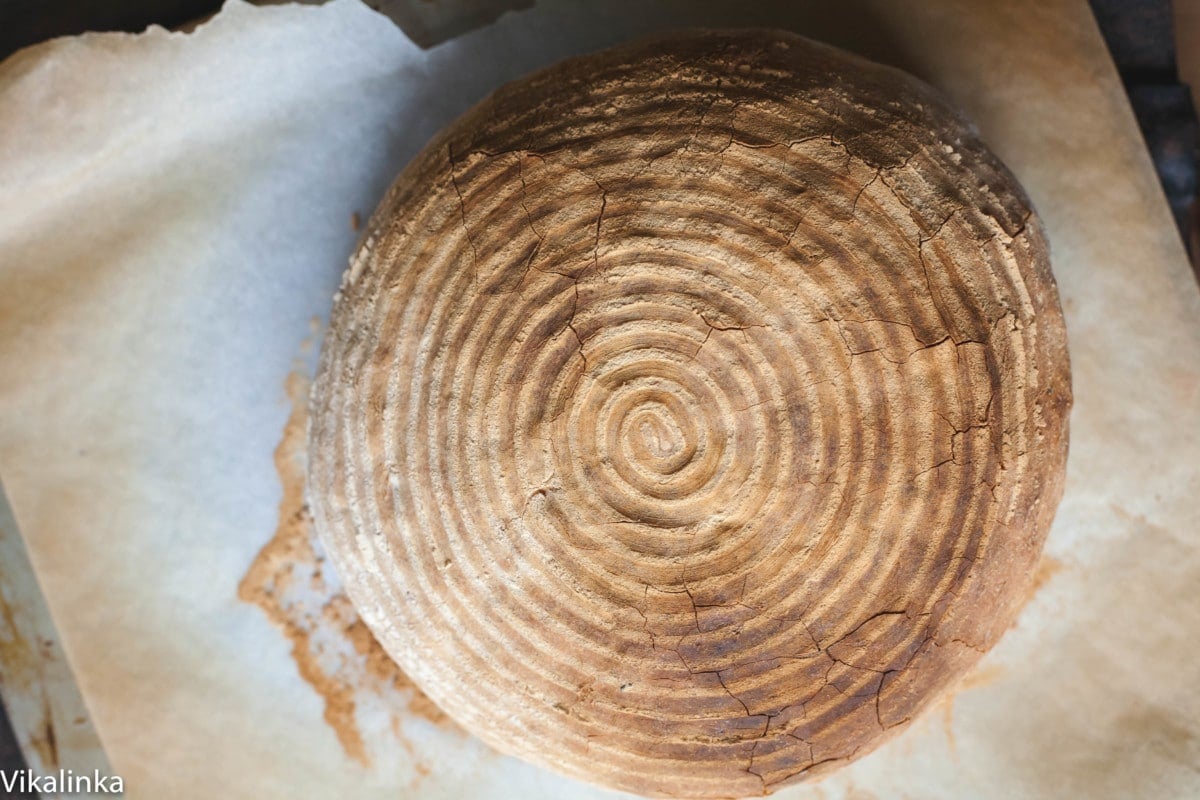 What is bloomer loaf?
British Bloomer is quite traditional, and one of the most common sandwich breads you will find in any local bakeries and cafes in the UK. The name comes from the method of baking.
The dough is left to "bloom" as it rises and is baked without the constraints of a loaf pan. It's quite beautiful!
The bloomer uses simple ingredients – water, yeast, salt and flour – with no frills. This loaf gets its dark colour from whole-grain spelt flour. Feel free to use whole-wheat flour if you can't find spelt.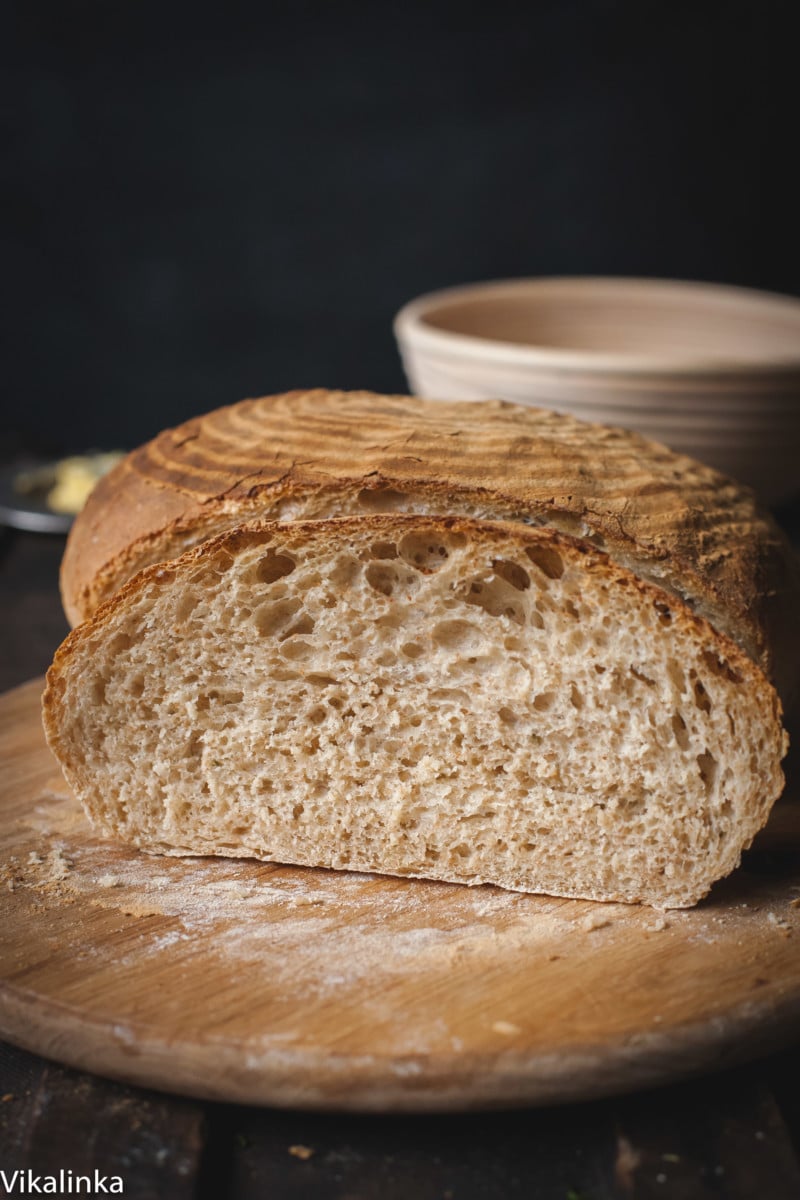 Spelt flour
Spelt is an ancient grain that was consumed by our ancestors but somehow fell out of favour in the last couple of centuries. It's a type of wheat that grows quite well in wet conditions, which is why it became popular in parts of northern Europe in past centuries.
Spelt has very strong European roots and used to be a staple in most European countries. It's even mentioned in one of Pushkin's poems!
It can be consumed as a grain in salads or porridges or as a flour in baked goods.
It is experiencing a bit of a renaissance at the moment due to its health benefits and a delicious nutty taste, so I had to give it a try.
Recipe tips and notes
Not all bread flour is made the same. High protein flour, like Canadian flour, is easier to work with and provides the best results.
All yeast will expire at some point, so make sure to check the expiry date before using. It will usually be fine for some time after the expiry date listed, but it does become a bit risky. Yeast that is too old will mean that the dough will not rise.
Spelt flour does contain gluten and is therefore not suitable for people with gluten intolerance.
The rosemary can be left out to make a classic spelt bread.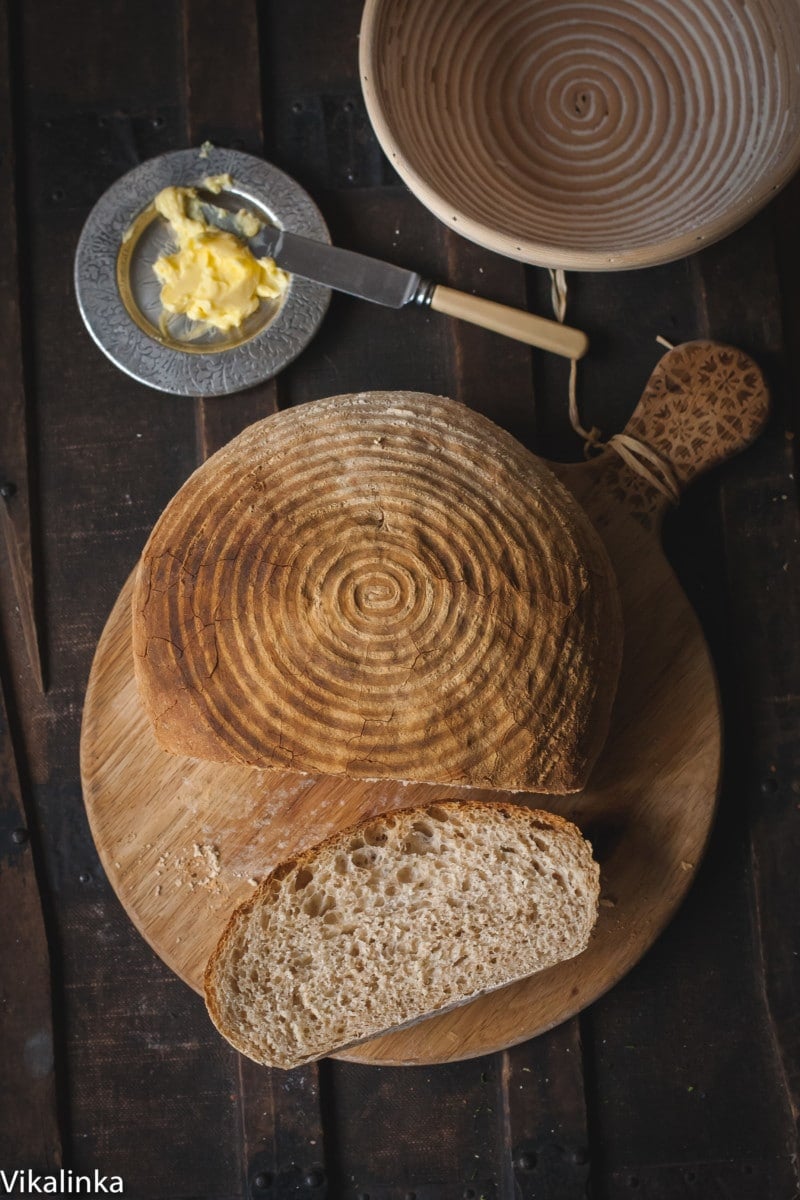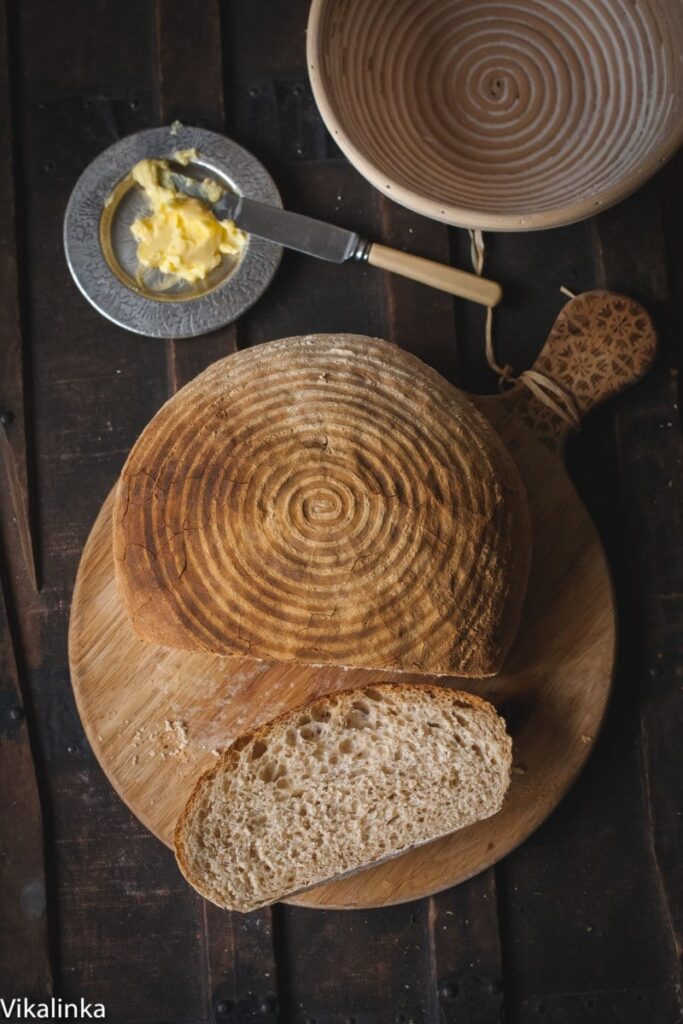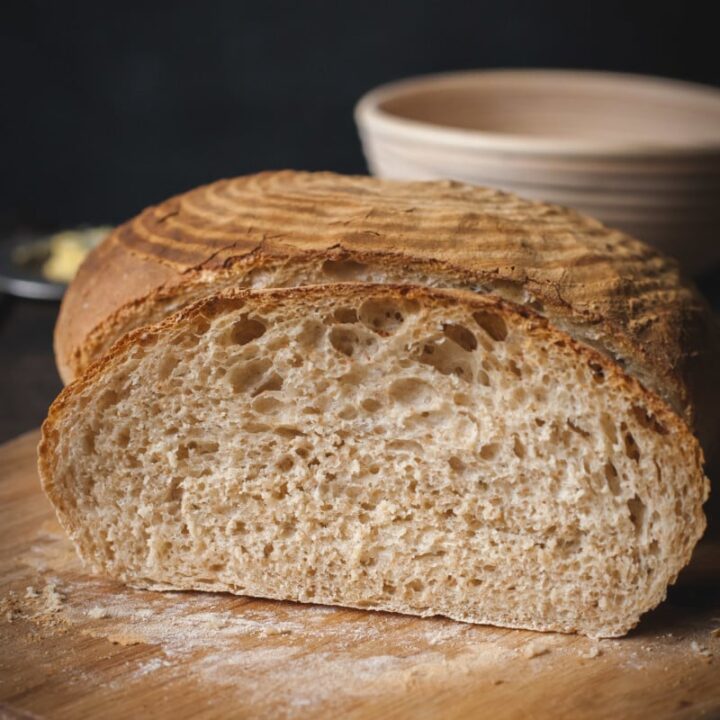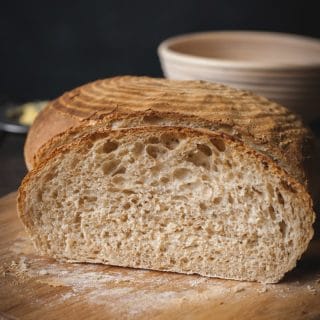 Rosemary Spelt Bread
An easy no-knead recipe for wholesome rosemary spelt bread. You will be surprised you can make this delicious, bakery worthy bread at home.
Ingredients
500ml/2

cups

warm water

7g/1 packet

instant dried yeast

110g/1

cup

whole grain spelt flour or whole-wheat flour

400g-450g/3

cups

bread flour

1

tbsp

sea salt

1

rosemary sprig

leaves chopped (optional)
Instructions
Dissolve yeast in warm water. Mix both flours, salt and chopped rosemary in a large bowl. Add yeasted water and mix with your hand just until a dough forms. You don't need to knead. Cover the bowl with a plastic wrap and a towel and put somewhere warm to rise for 2 hours.

Turn your dough out on a floured surface and form into a ball. If using a banneton dust it with flour and put the dough in to rise for another hour, cover with a tea towel. If not using a banneton put it on a baking sheet lined with parchment paper dust with more flour and cover with a tea towel.

Preheat your oven to 450F/250C and set two racks, one in the lower bottom and the other one in the middle of the oven. Place a deep baking pan filled with 1" of water on the bottom rack to produce steam, which contributes to better crust.

If you are using a banneton carefully turn your dough out on a parchment lined baking sheet and put in the oven for 30 minutes. If your bread was rising on a baking sheet, take the tea towel off and put the bread in the oven for 30 minutes.

When the bread is baked, take it off the baking sheet immediately and cool it on a wire rack.
Nutrition
Calories:
92
kcal
Carbohydrates:
18
g
Protein:
3
g
Sodium:
350
mg
Potassium:
22
mg
Fiber:
1
g
Calcium:
4
mg
Iron:
0.5
mg