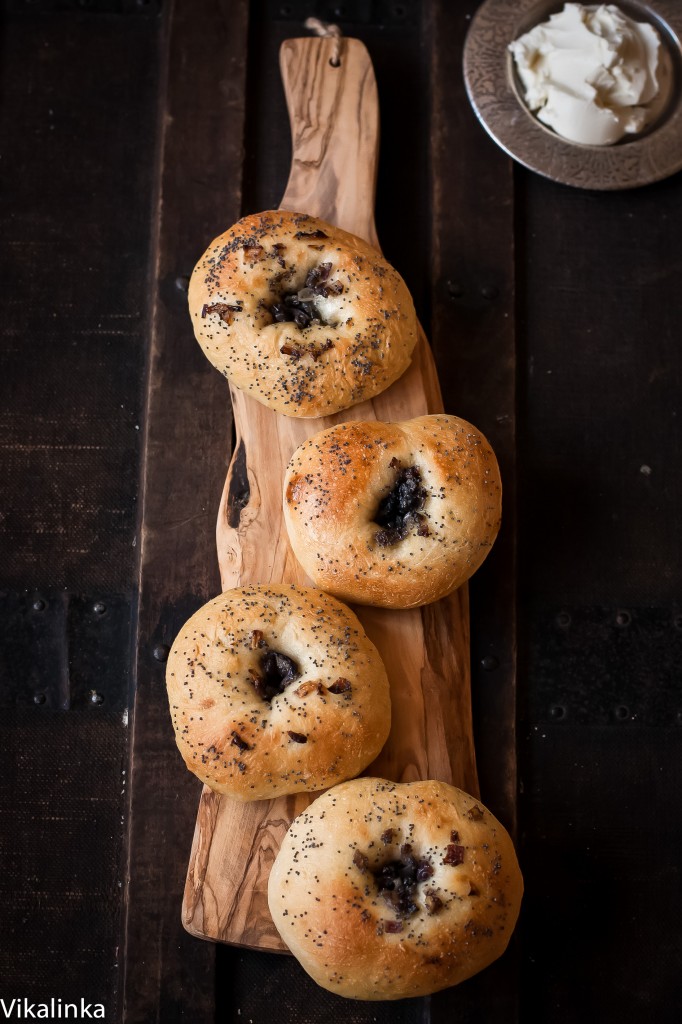 Out of all things I miss from home bagels are in the top 5. It will come as no surprise that the first thing I ate as soon as my feet touched the ground in Canada this past Christmas was an everything bagel with herb and garlic cream cheese.
Bagels have a special place in my heart. When I first moved to America I was absolutely appalled by the bread I found everywhere-white, spongy and weightless-it got stuck to the roof of my mouth when I ate. I missed real crusty bread that is both slightly chewy and pillowy soft but I lived in a college dorm with no access to an oven and, worse of all, I had no clue how to bake bread!
So little did I know that when a friend made a stop at a local bagel shop I was in for a real treat. I never heard the word "bagel" before but when I bit into it there was no doubt in my head I knew what it was and I've had it before!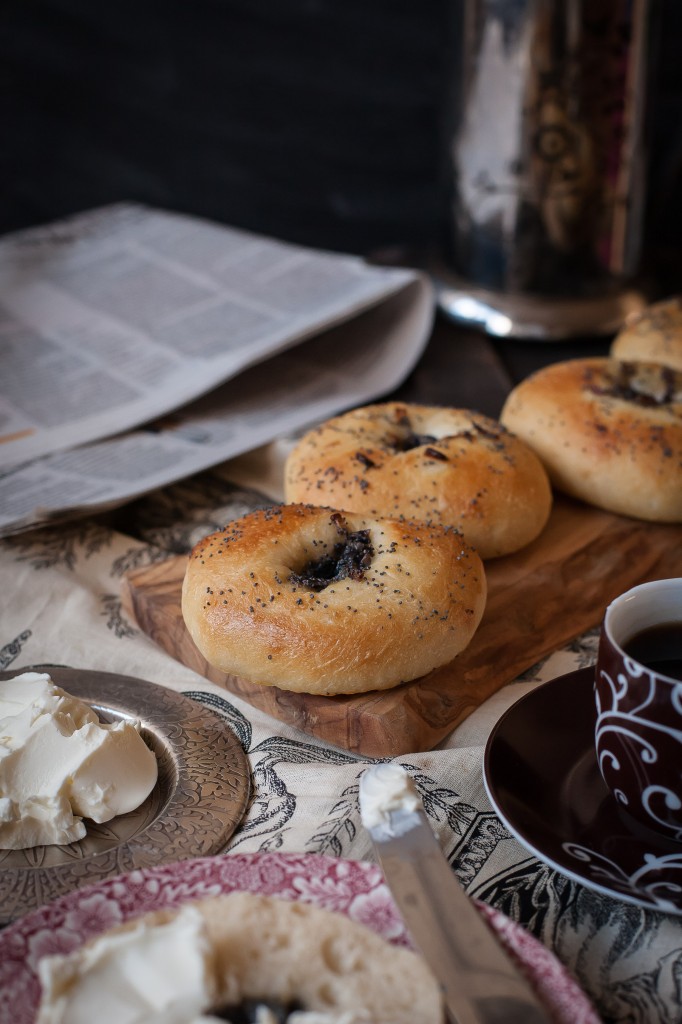 Bagels are usually associated with New York City because that's where Jewish immigrant communities made them popular. The thing is though – and let me make a disclaimer here that I am not about to start a "new world vs. old world" war – but New York city is not where bagels originated. Jewish immigrants came from Eastern Europe where bagels, or as they are known in Russia "bubliki" or "baranki" or a handful of other names in Polish, Ukrainian, Chech etc., were born. We own bagels.
National Geographic photo shows a bubliki street stand in 1970s Moscow.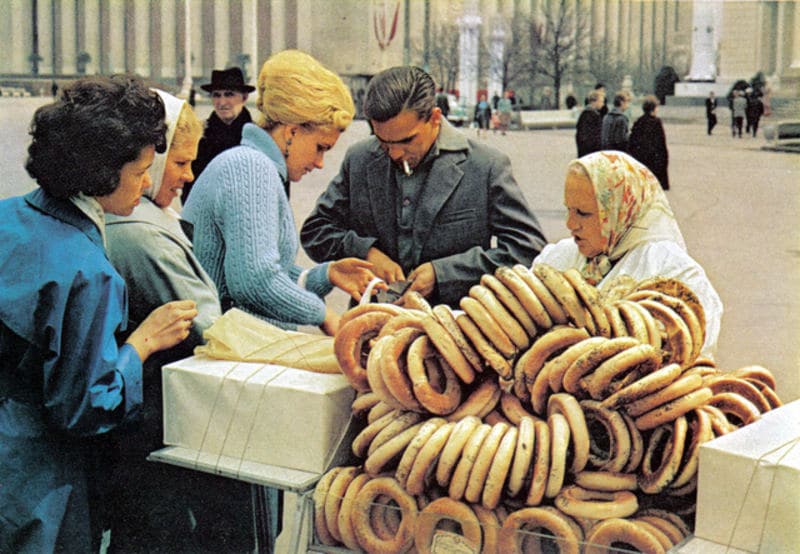 Anyway, you are probably wondering what a Bialy recipe I've got here has anything to do with bagels. Well, these savoury onion and poppyseed buns are bagels' cousins but…they are so much easier to make at home, stay fresh for days (unlike bagels that are only good for 24 hours) and are MADE for sandwiches. They are also delicious with cream cheese and a fresh cup of coffee in the morning.
I really wanted to reproduce that chewy crust that is easily achieved in commercial ovens because steam gets trapped, which is responsible for that wonderful "chew" we all love so much. Unfortunately my oven is smaller than small…think 2/3 of a standard North American oven…but there is something you can still do if you are in the same situation. Place a rimmed baking sheet filled 1/3 with water on a lower rack of your oven. The water will produce steam while buns are baking, which will result in deliciously chewy crust.
The dough for Bialy is so easy to make and produces very airy buns with slightly chewy crust. Pure beauty! We destroyed about half the batch as soon as they got out of the oven but luckily the recipe makes about 18 so we had plenty for the rest of the week. As I mentioned Brad made sandwiches to take to work and even on day 4 they were absolutely delightful!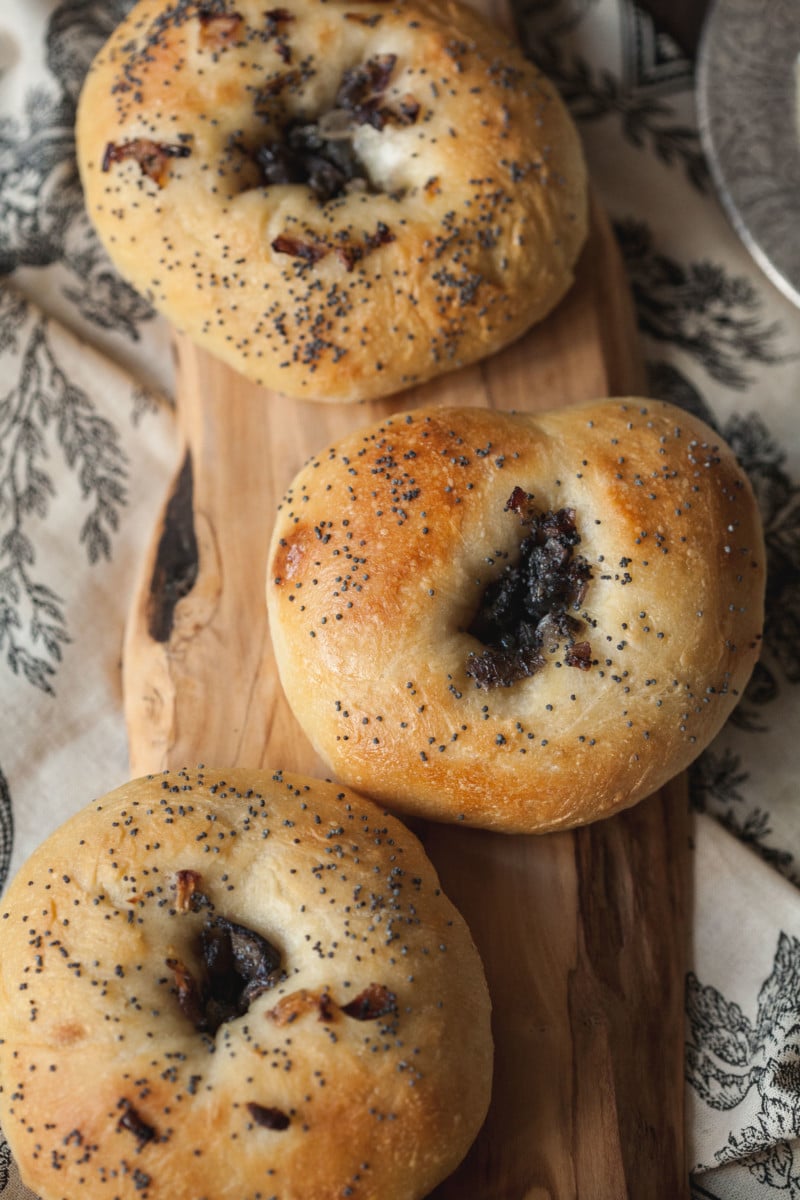 Ingredients
7.5

cups

bread flour

I used Canadian bread flour

5

tsp

sea salt

2

tsp

dry yeast

3

cups

water
For the filling
2

tbsp

olive oil

1

large onion

I used red onion

1

tbsp

poppy seeds
Instructions
Whisk the flour, salt and yeast together in a bowl of a stand mixer fitted with a dough hook attachment and mix for a few seconds.

Add the water and mix until it forms an elastic dough for about 5 minutes. By the end of it the dough should come away from the walls of your mixing bowl.

Cover with a plastic wrap and let it rise in a warm place for 2 hours. it should double in size.

Turn your dough out on a floured surface and form it into a ball.

With a sharp knife portion your dough into golf ball-sized pieces.

Cover and let rest for 1 hour.

Meanwhile make the filling. Heat the oil in a large pan and cook the onion over low heat for 7-10 minutes. Add poppy seeds and mix. Take off the heat.

Preheat the oven to 500 F/260C.

Put a dough ball on your floured surface and make an indent in the middle with your thumb, then gently pull the opposite sides of ball to stretch. The indentation should be very thin but make sure not to tear.

Fill the middle of each bun with 1/2 tsp of the onion filling.

Transfer bialys on parchment lined baking sheets and sprinkle with more poppy seeds.

Fill 1/3 of a rimmed baking sheet with water and place in the lower rack of your oven.

Place the baking sheet with bialys on a rack positioned in the middle of the oven.

Bake for 8-12 minutes and cool on a wire rack.

Repeat until all bialys are baked.