Learn to make thin and delicate Russian crepes Blini, that will become a family favourite and the biggest brunch attraction. Our easy, no fail recipe that's been tested over the years will guarantee success every time!
If you are a crepe enthusiast, you might want to check out my Crepe Cake with Blood Orange Ricotta Cream!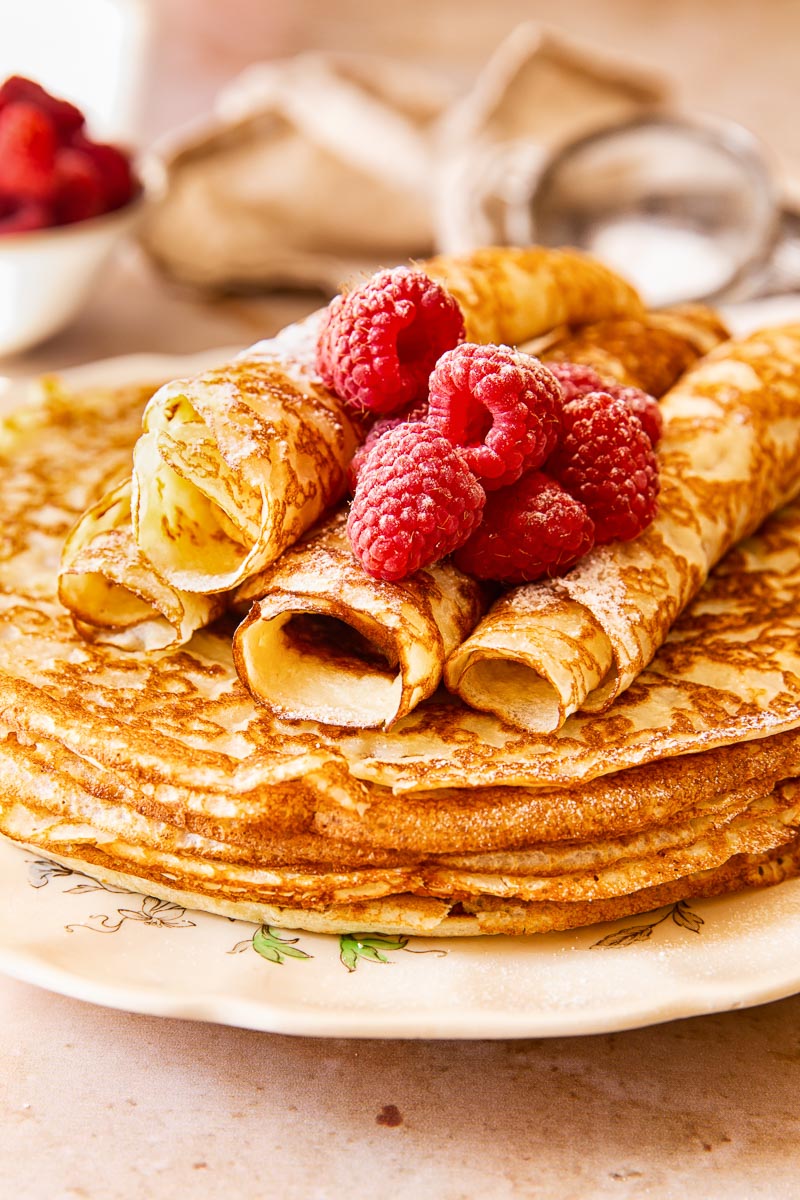 Where are blini from?
Blini's origin is in Russia. The country where they are so popular, there is a whole week fully dedicated to them. Maslenitsa or "Butter Week" is the holiday that takes place right before a 40-day fast preceding Easter.
It's the time of the year when diets get thrown out of the window. And people feast on food, so rich and delicious, that a fast is truly welcome to counteract the effects of too many pancakes drenched in butter!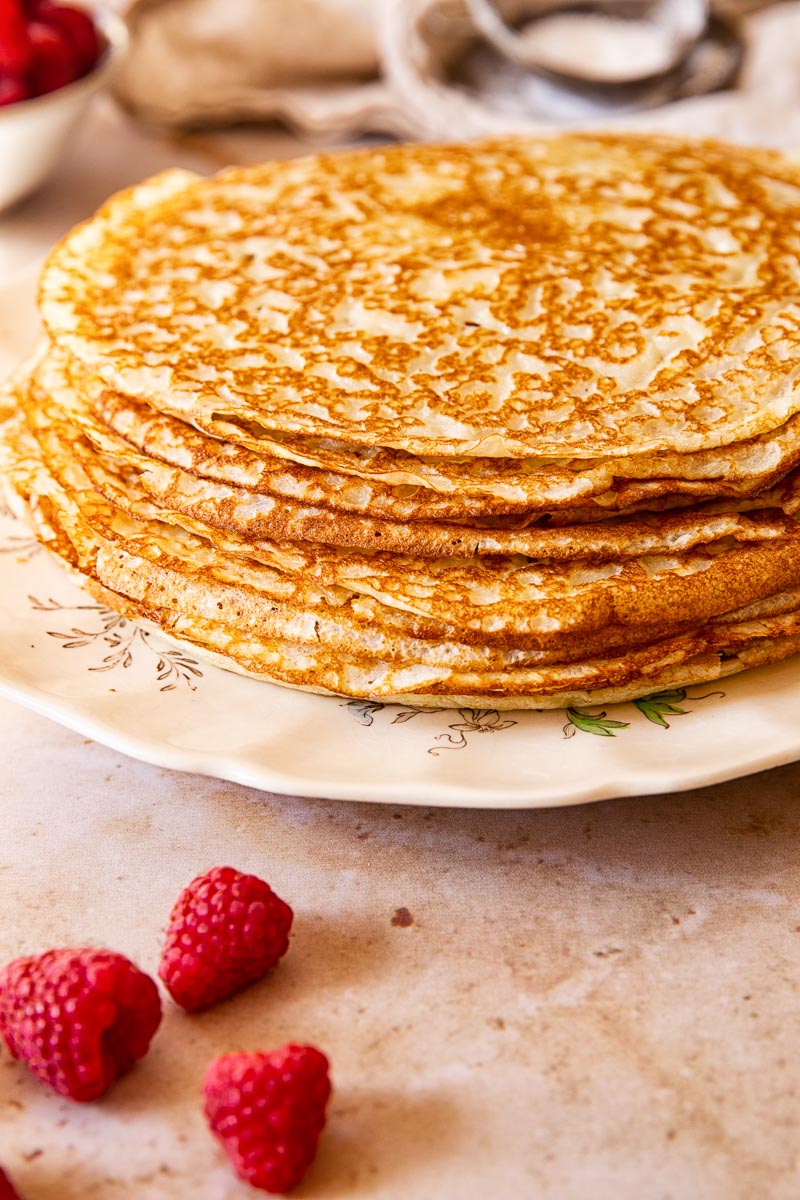 Blini or Blinis?
What is the right way? Blini or Blinis? It depends. Blini in Russian are actually plural. One singular crepe is Blin. However, they've been dubbed Blinis in English, and also got reduced in size but either way you are speaking of the same devil.
What exactly are Blinis? They are large, thin, crepe-like pancakes. That's right, Russian blini are not small rounds you usually see served in Russian Tea Rooms or at posh events. They are full size crepes.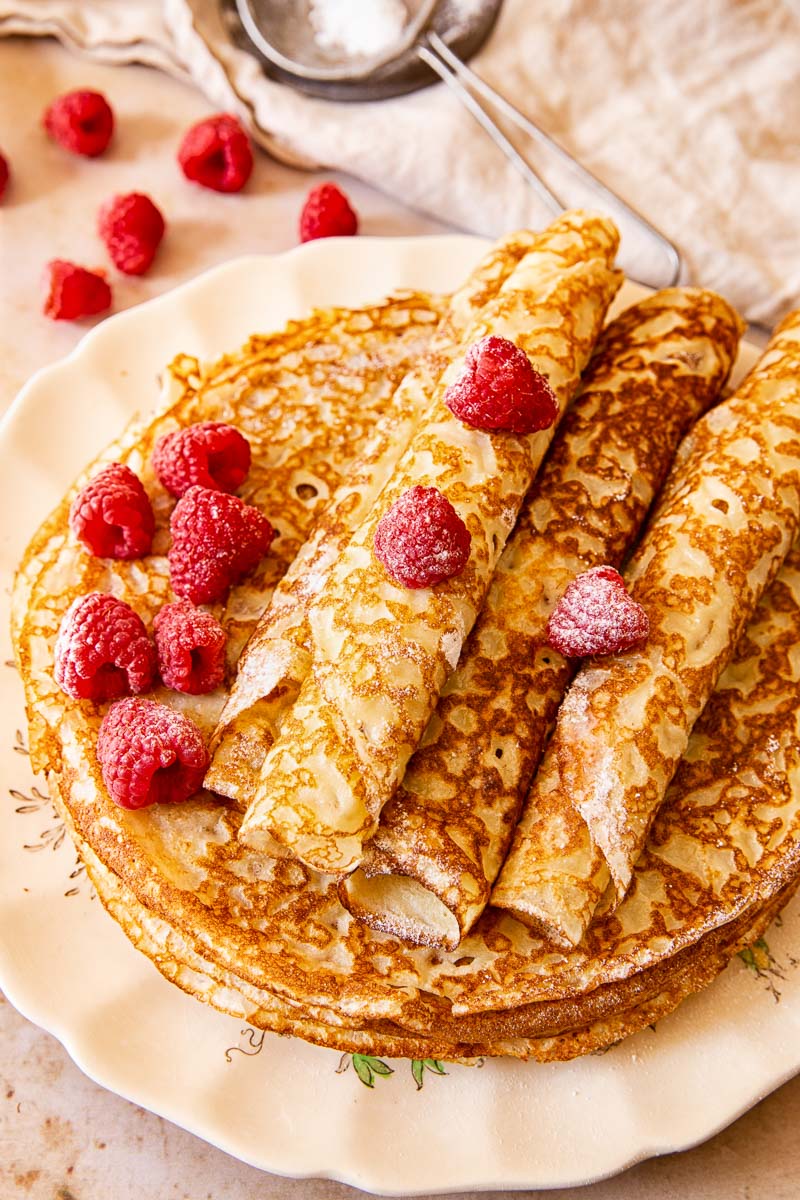 Ingredients
Blini recipe is quite standard to crepes although each cook has their own ingredients proportions.
The basic components are flour, milk, eggs, oil or butter. The batter should be quite runny, so it can spread easily to the side of a pan to form thin crepes.
Traditional toppings for Russian Crepes
Russians eat their blini with jam, honey, and sour cream. They also stuff them with sweet or savoury fillings. A family favourite is blini stuffed with sweet cheese filling also known as blintzes.
Savoury fillings could include chicken, mushrooms, buttered hard boiled eggs with scallions, etc.
Outside of Russia the most popular topping is smoked salmon, which is absolutely divine! Our Christmas table never goes without blini topped with a touch of creme fraiche and smoked salmon adorned with a sprig of dill.
Blini and Caviar
You can also top your blini with caviar! However, that way of enjoying blini dates to about 18th-19th century Russia. Modern Russians prefer their blini toppings sweet, which incidentally is delicious and affordable!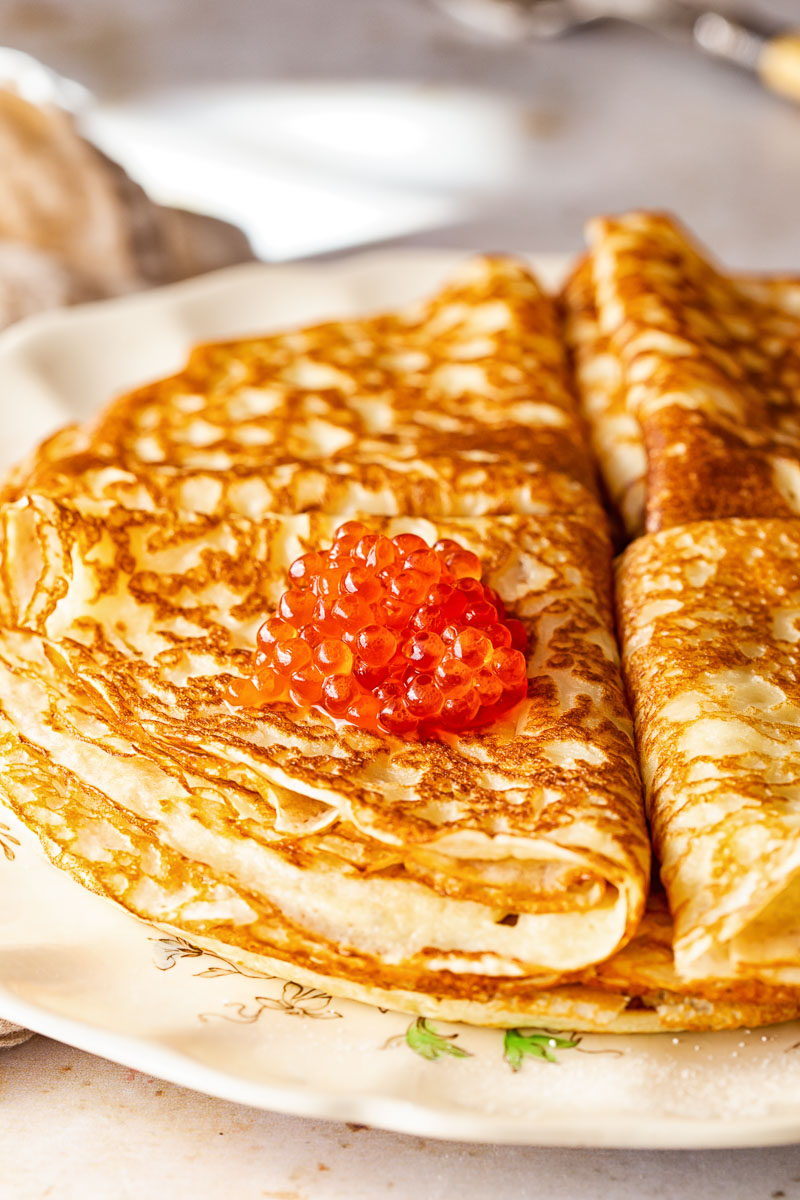 How do I make Russian pancakes?
I have always thought that my mum's crepes were the best I ever tasted. That opinion is probably biased but I stick to it.
However, I found the task of re-creating that taste almost unsurmountable. The main reason is the absence of the recipe. You see, most Russian women cook without recipes, they just sort of throw things together.
There is a famous Russian saying "The first pancake is always a lump". You would hear it all the time if a new venture doesn't work out. Someone would look at you kindly and say, "Don't worry, the first pancake is always a lump" meaning "it's still early days, you will eventually figure it out".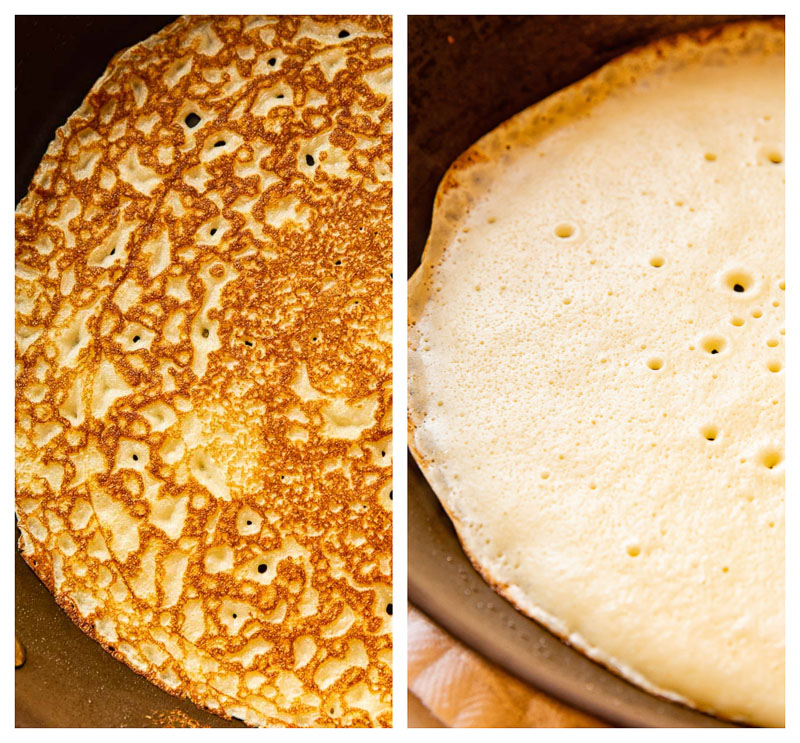 Well, the origin of that saying became obvious when I decided to create the recipe. I was hoping to write the recipe that would help to avoid the harsh truth of that famous proverb. The recipe my readers could use and succeed with it.
Let me tell you, it was one of the hardest things I ever did. I mixed the batter and fried the first blin. Sure enough, it was a dud and I had to scrap it.
More flour. Second try was better but still not "it". More flour. Third try. Sigh and close to tears. In the end, after many, many, MANY adjustments I conquered it and came up with the version that was the closest to my mum's.
Tips for making Russian crepes
Her two main secrets were using kefir instead of milk and always frying blini on a cast iron pan.
It's now possible to find kefir in London but I wanted the recipe to be more accessible for everyone. So I decided to substitute it with buttermilk.
Use a blender if available for an easy and lump free batter. Or add liquid gradually to avoid lumps forming in the batter.
Always add a tiny pinch of baking soda to achieve that famous lacy texture.
Another important trick worth mentioning is waiting until the batter is completely dry before flipping a crepe. See photos above for reference.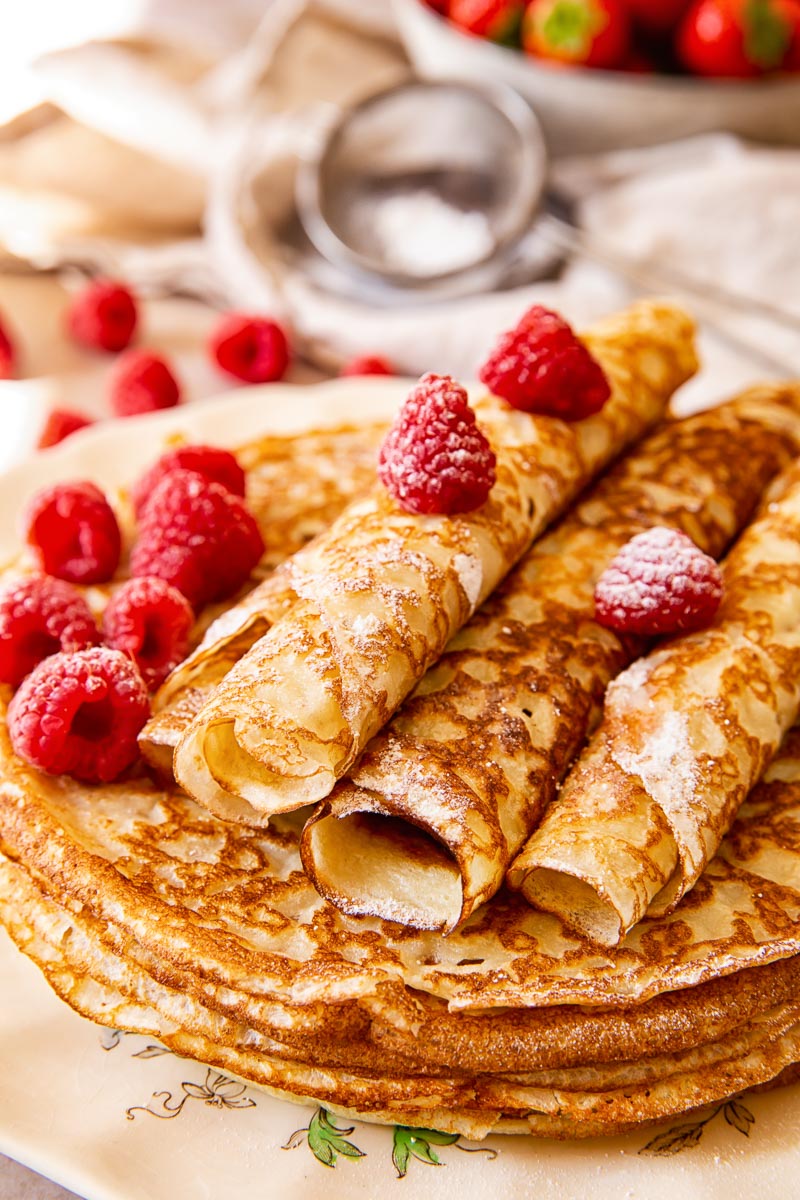 More pancake recipes to try:
Recipe originally published in 03/2013. Updated with new photos, text, recipe and video in 07/2020.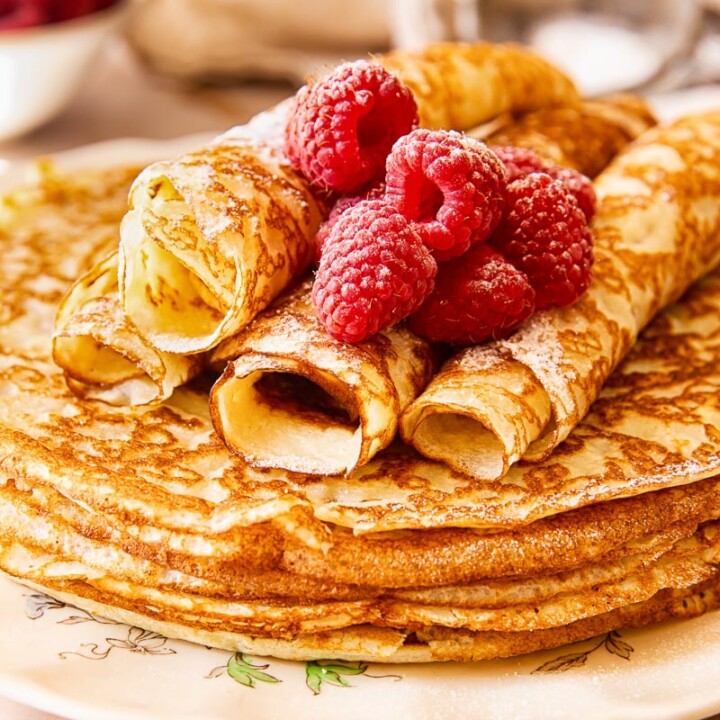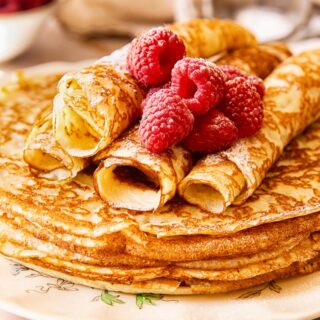 Ingredients
220g/2 cups

flour

875ml/3.5 cups

buttermilk or kefir

2

eggs

3

tbsp

vegetable oil

0.5

tsp

baking soda

1

tbsp

sugar

1

tsp

salt
Instructions
For the Blender Method
Add all ingredients in the order listed to the blender and blend until smooth.
For the bowl and whisk method
In a large mixing bowl mix eggs, flour, 1 cup of buttermilk, baking soda, oil, sugar and salt with a whisk. It's important to incorporate liquid gradually to avoid lumps. When the mixture is smooth and lump free, add remaining buttermilk.
Cooking Bini
The consistency of the batter should be the same as of heavy cream. Let stand for 20 minutes. You should see small bubbles on the surface of your batter.

Preheat your non-stick frying pan on medium heat and grease it with an odourless oil. ( I usually put some oil on a paper towel and rub the frying pan with it to ensure even coating.)

With a ladle or a measuring cup pour ½ cup of batter in the pan and tilt the pan slightly so batter runs to the edges forming a thin and round crepe. Cook it until the top of the crepe looks dry, then flip with a spatula and cook for 1 minute longer. (See photos in post for reference.)

Remove to a platter and spread a little butter if desired. Repeat with the next crepe and continue cooking until all batter is used. Stack the crepes on top of each other.
Video
Nutrition
Calories:
325
kcal
|
Carbohydrates:
41
g
|
Protein:
11
g
|
Fat:
13
g
|
Saturated Fat:
9
g
|
Cholesterol:
70
mg
|
Sodium:
661
mg
|
Potassium:
254
mg
|
Fiber:
1
g
|
Sugar:
9
g
|
Vitamin A:
310
IU
|
Calcium:
175
mg
|
Iron:
2
mg