You can whip up an indulgent brunch time treat on a whim with this cinnamon sourdough French toast with maple crème fraiche. All the ingredients needed are probably already waiting for you in your kitchen, so there's no need to leave the house. Put a stack of slices together in around ten minutes without even changing out of your pjs. Your lazy weekend just started.
Fancy making your own bread for French toast? Give my Sourdough Recipe for Beginners a try!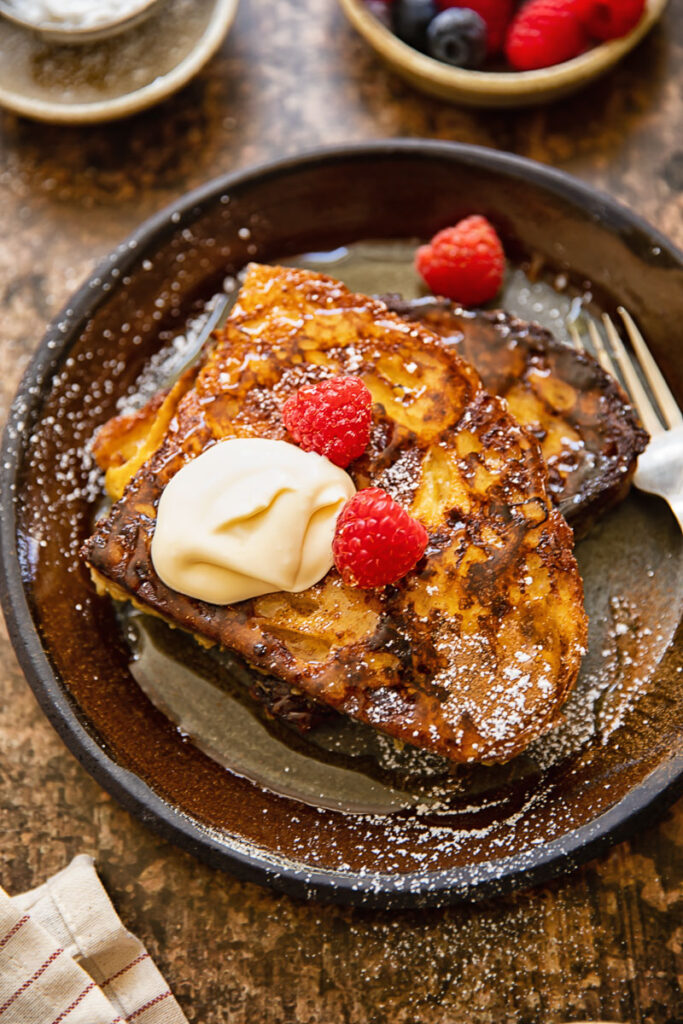 For an equally celebratory, but less eggy breakfast treat, try these Belgian waffles. It's another topping free-for-all!
I constantly find myself persevering to finish a sourdough loaf. I will eat sourdough toast until my teeth shatter. I will crumb stale slices until the freezer is full. I will cast croutons into soup well beyond soup weather.
Until now. Sourdough French toast is a revelation that has changed my life. OK, a bit of an overstatement, but it is a big deal!
What is French toast?
Despite its obviously French title, the first French toast recorded was, in fact, in Rome. The French adopted it as 'Roman Bread' and eventually renamed it pain perdu, as it's known there today. The exact translation is 'lost bread', alluding to the idea that the bread is stale, or worthless.
And that is what makes your never-ending sourdough loaf the ideal bread for a French toast recipe. As fresh bread is moist and bouncy, adding it to egg turns it to mush and on frying it pure disintegrates into little eggy islands in butter. Yuck. A firm and stale sourdough will hold the egg and its shape resulting in a deliciously sweet or savoury mouthful.
Beautifully golden French toast can be achieved with other breads or other bread products, like stale brioche or crumpets. But for me, sourdough is the answer to my stale bread prayers.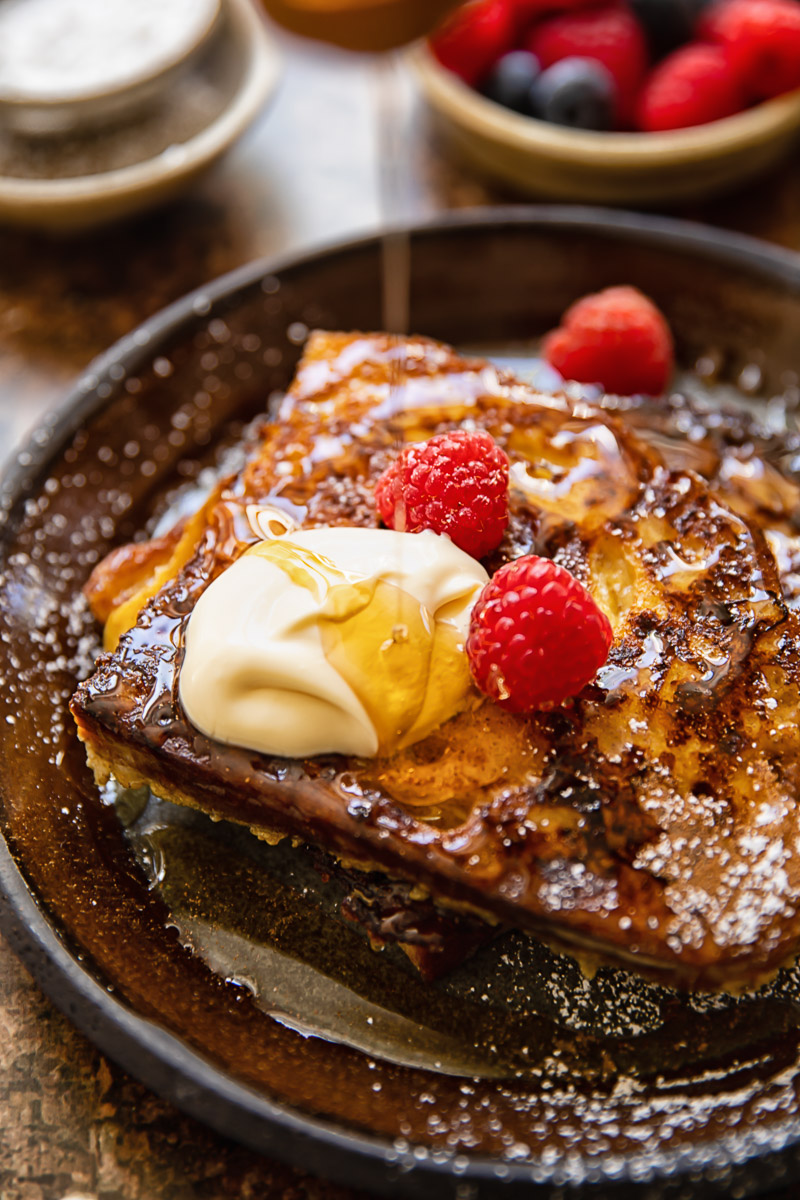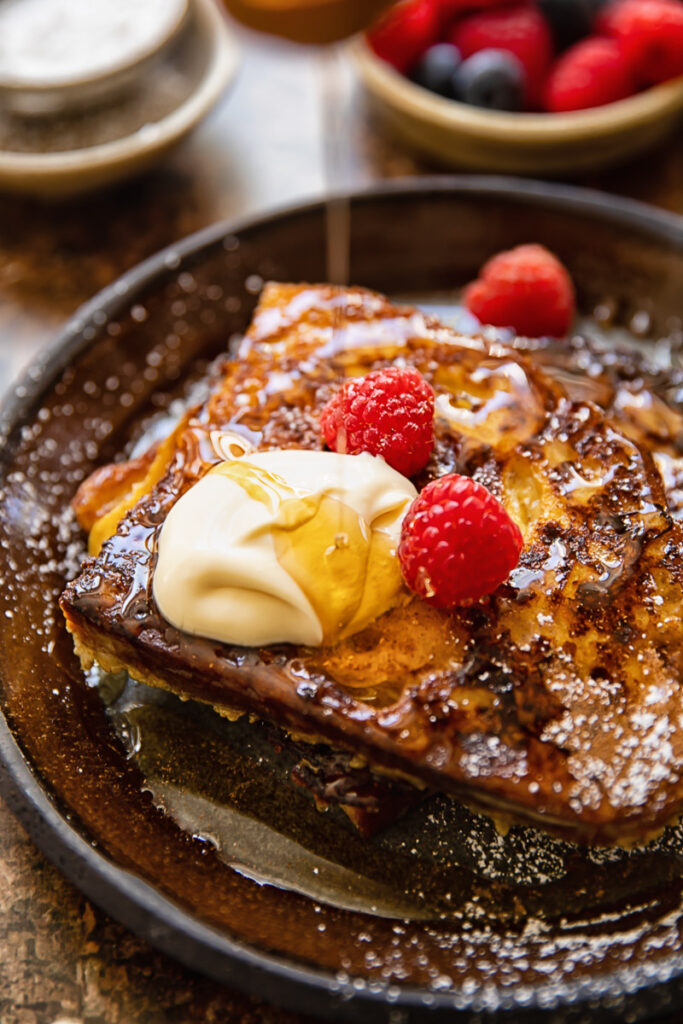 How to make it
The main skill required for making French toast is the art of multi-tasking. Once you have your bread sliced, egg mixture mixed, crème fraiche swirled with maple syrup and your frying pan hot, it's focus time. The last thing you want is your first slice of French toast to be cold at the point of eating.
So, get organised. Decide whether you are going to plate up and garnish yourself, or if you're going family-style with the crème fraiche, fruit and extra maple syrup on the table. Then set up your production line: bread, egg, pan, plate.
Let's do a walk through: one slice of bread goes in the egg. It soaks for one minute on one side and then flip for up to two or three depending on the thickness of the slice and just how stake it is! The egg-soaked slice goes into the hot butter in the frying pan. And you go back to the start (bread in the egg).
Keep an eye on the slice in the pan. When it is a tempting golden brown, flip it. A treacle-tinted, crispy edged toast is what's desired. Move the first slice to a plate, the second to the pan, and the third to the egg mix.
If you have loads of hungry folk to feed, pre-heat your oven to 170F/80C and stash the cooked ones in there.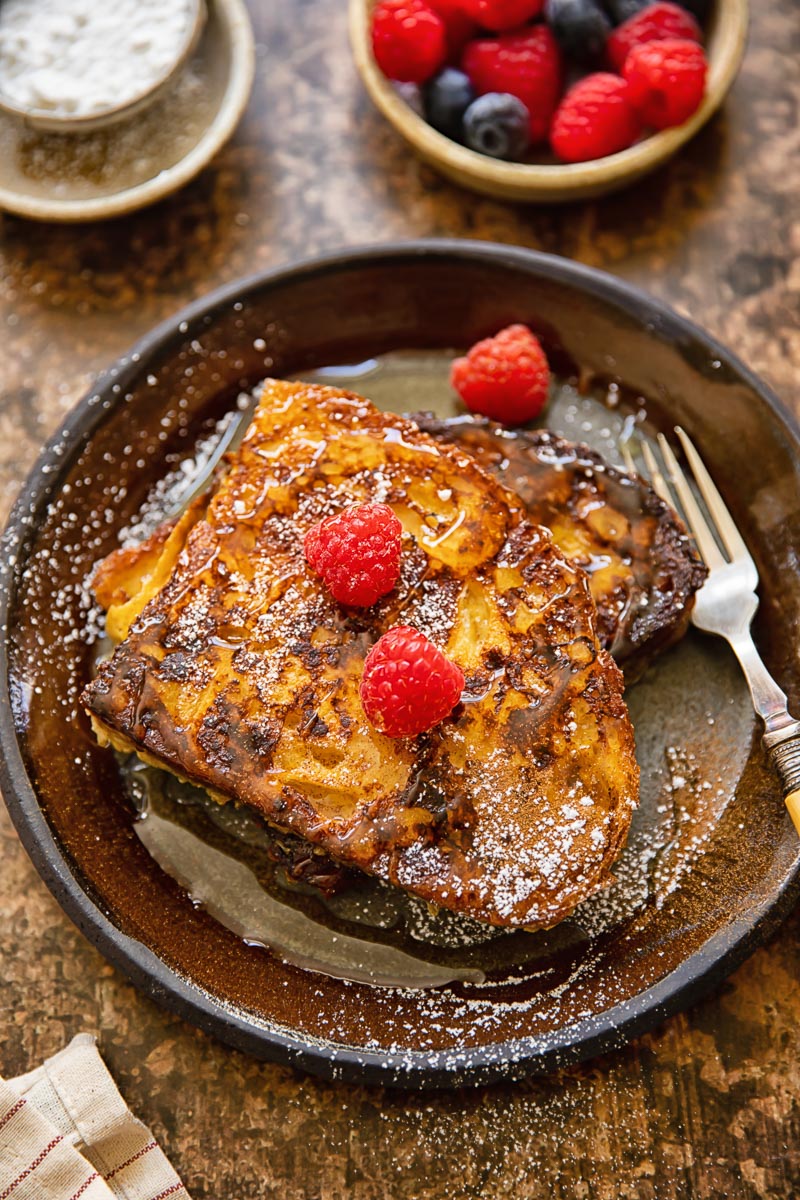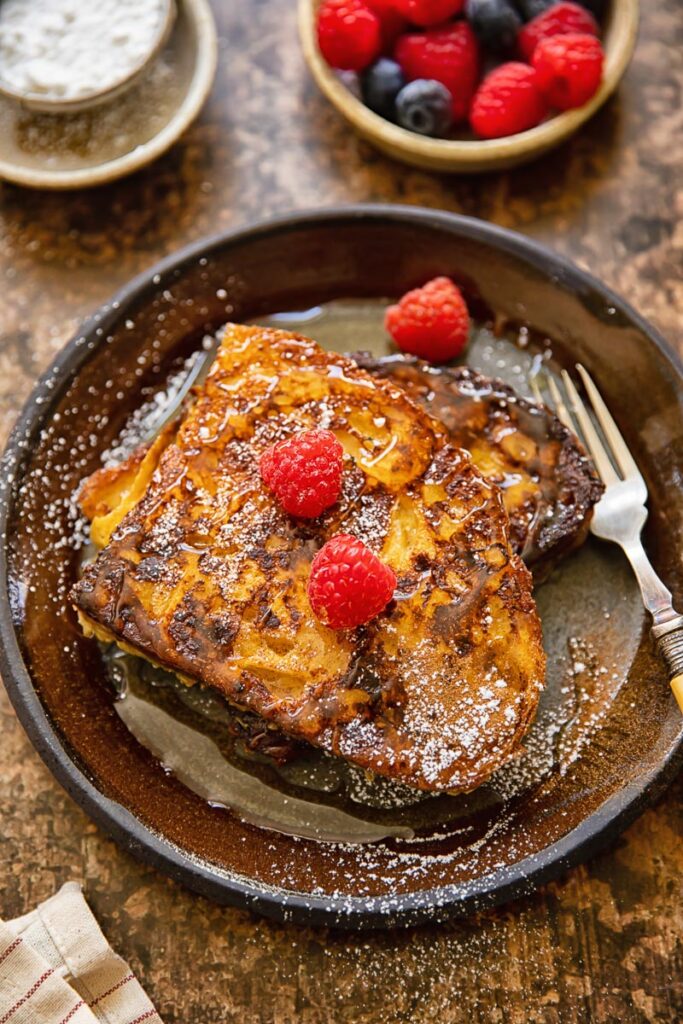 Recipe variations
There is a danger of over ambition here. A towering edifice of banana, peanut butter, chocolate sauce, whipped cream, sliced strawberries, sprinkles and a cherry on top is going to result in more than a little discomfort and a filling.
So, my formula for a restrained yet satisfying French toast topping is: a hero, or star of the show, in this case maple crème fraiche. The love interest, I've employed red berries. And a sidekick; an extra dousing of maple syrup.
Nominees for each category are:
Hero: breakfast meats, like bacon or sausage; soft cheeses like ricotta; or cream; or ice cream.
Love interest: fresh fruits, or spreads like hazelnut chocolate; cookie spread; jam etc.
Sidekick: syrups; sauces; or extras like chopped nuts; sprinkles; or chocolate chips.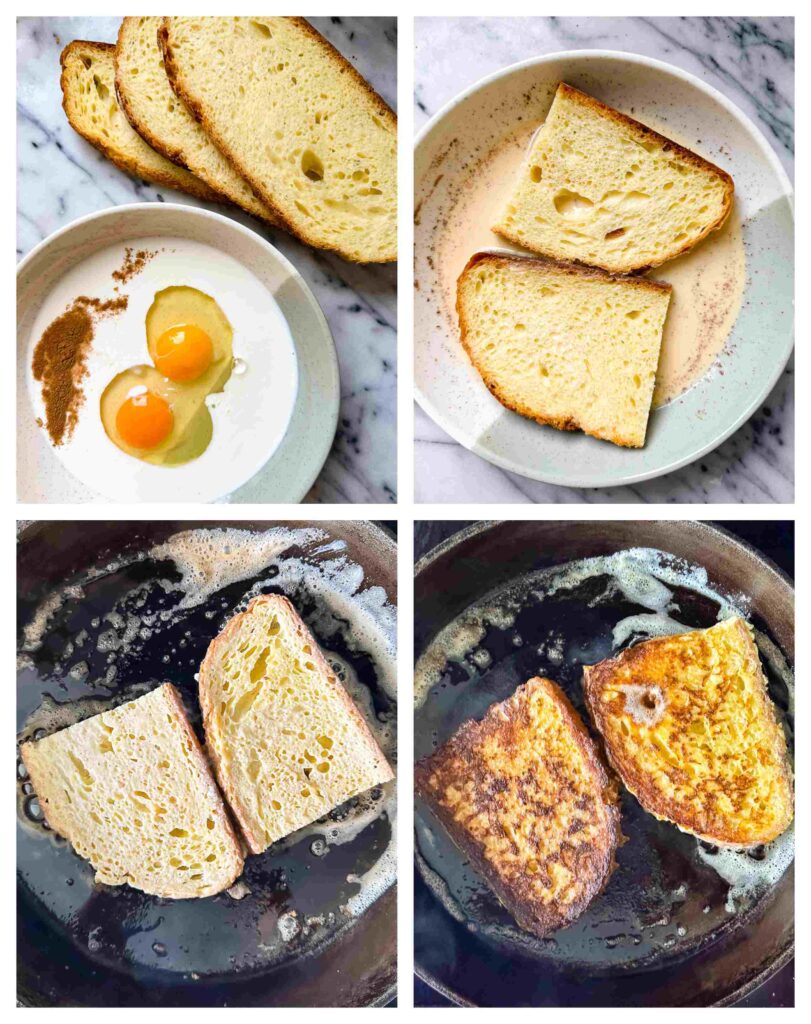 Recipe tips and notes
Slice your sourdough on the thick side.
Give each slice a good 2–3-minute soak in the eggy mixture.
I've used vanilla and cinnamon in mine, but there is no need to follow my lead when there are so many delicious spices out there. Popular choices are nutmeg, cardamom or pumpkin pie spice.
You'll need a large and shallow dish to dunk the sourdough in. I use a square or rectangular one. A dinner plate won't cut it.
The window between 'toasted to perfection' and 'burnt toast' is narrow. Watch your slice while frying.
If it does turn out a little on the dark side, disguise it with icing sugar (powdered sugar (US)). No-one will ever know.
Soak and fry and fry and soak. Get a production line going so everyone can enjoy their French toast hot!
Crème fraiche and berries are not the only toppings. If you're letting loose and having French toast, you can throw caution to the wind and put just about anything on it.
Storage and leftovers
As if you needed any excuse- it all has to go! Leftover cold eggy bread is not a good thing. Don't spoil it for yourself. Get it while it's hot!
Other breakfast recipes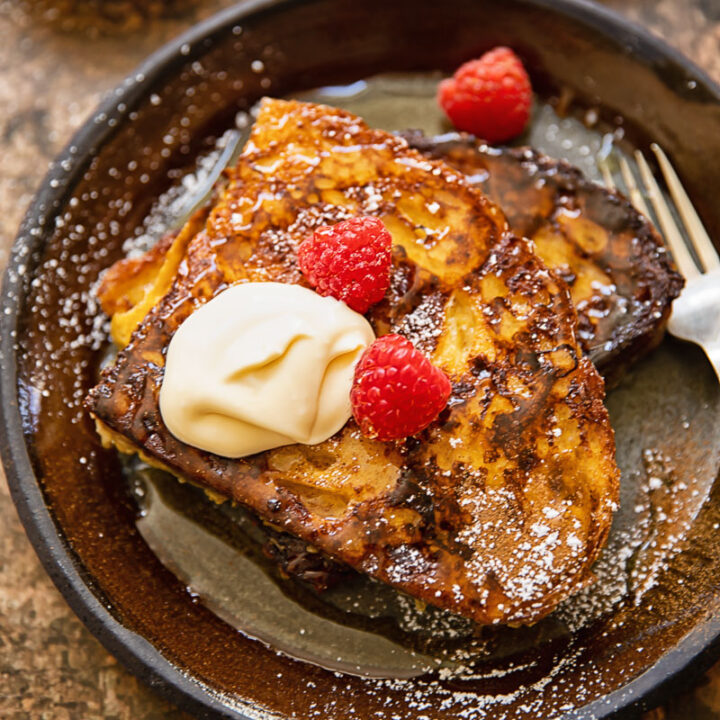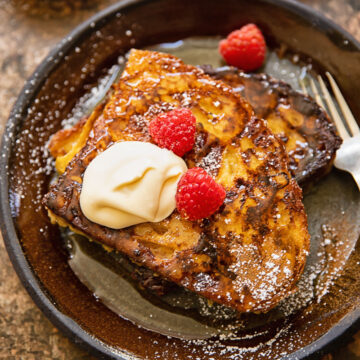 Cinnamon Sourdough French Toast with Maple Creme Fraiche
You can whip up an indulgent brunch time treat on a whim with this cinnamon sourdough French toast with maple crème fraiche.
Ingredients
4

slices

stale sourdough bread

2

large eggs

⅓

cup

whole milk

¼

cup

single/heavy cream

¼

tsp

cinnamon

1

tsp

vanilla

3

tbsp

butter

divided

½

cup

creme fraiche

2

tbsp

maple syrup

Berries (optional)

Icing sugar and cinnamon for dusting
Instructions
In a large and shallow bowl or in a square baking dish whisk the eggs with whole milk, heavy cream, cinnamon and vanilla.

Preheat a frying pan with 2 tbsp of butter until hot. Meanwhile soak 2 slices of bread in the egg mixture for 2-3 minutes total. (Start on one side for 1 minute, then flip over and continue until the bread is saturated with the liquid like a sponge. Sourdough bread can soak up a lot of liquid. Fry in butter on both sides till golden. Repeat the process with the remaining bread.

In a small bowl mix the creme fraiche and maple syrup with a whisk or a fork. Serve alongside the French toast and berries.

Drizzle the French toast with maple syrup or any syrup of your choice before serving.
Nutrition
Calories:
424
kcal
Carbohydrates:
43
g
Protein:
11
g
Fat:
23
g
Saturated Fat:
13
g
Polyunsaturated Fat:
2
g
Monounsaturated Fat:
6
g
Trans Fat:
0.4
g
Cholesterol:
140
mg
Sodium:
507
mg
Potassium:
212
mg
Fiber:
1
g
Sugar:
11
g
Vitamin A:
745
IU
Vitamin C:
0.4
mg
Calcium:
125
mg
Iron:
3
mg