Making succulent filet mignon at home is much easier than you think! Here is our reliable method for the fillet steak and a delicious sauce to serve alongside.
Enjoy this king of steaks with our fabulous Hasselback Potatoes and a selection of Crostini for a starter.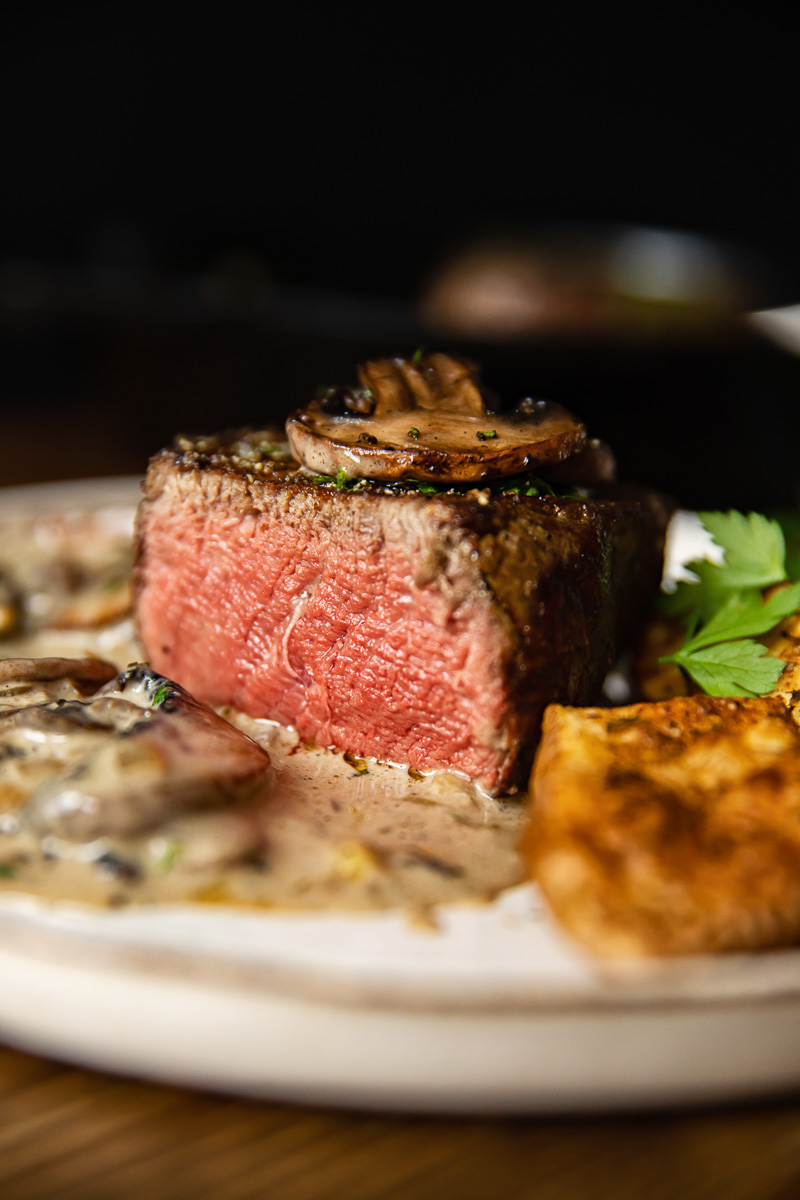 Filet Mignon is quite possibly the most elegant of steaks, so no wonder it is often associated with a special occasion of sorts. This cut of beef is impossibly tender. The texture is often described as if it melts in your mouth.
This steak is especially delicious when enjoyed with a sauce since filet mignon is so lean, it benefits from a bit of extra fat added in.
It's no secret that because this steak is highly revered, it is also priced accordingly. High. No one wants to buy an expensive piece of meat, then ruin it by incorrect cooking.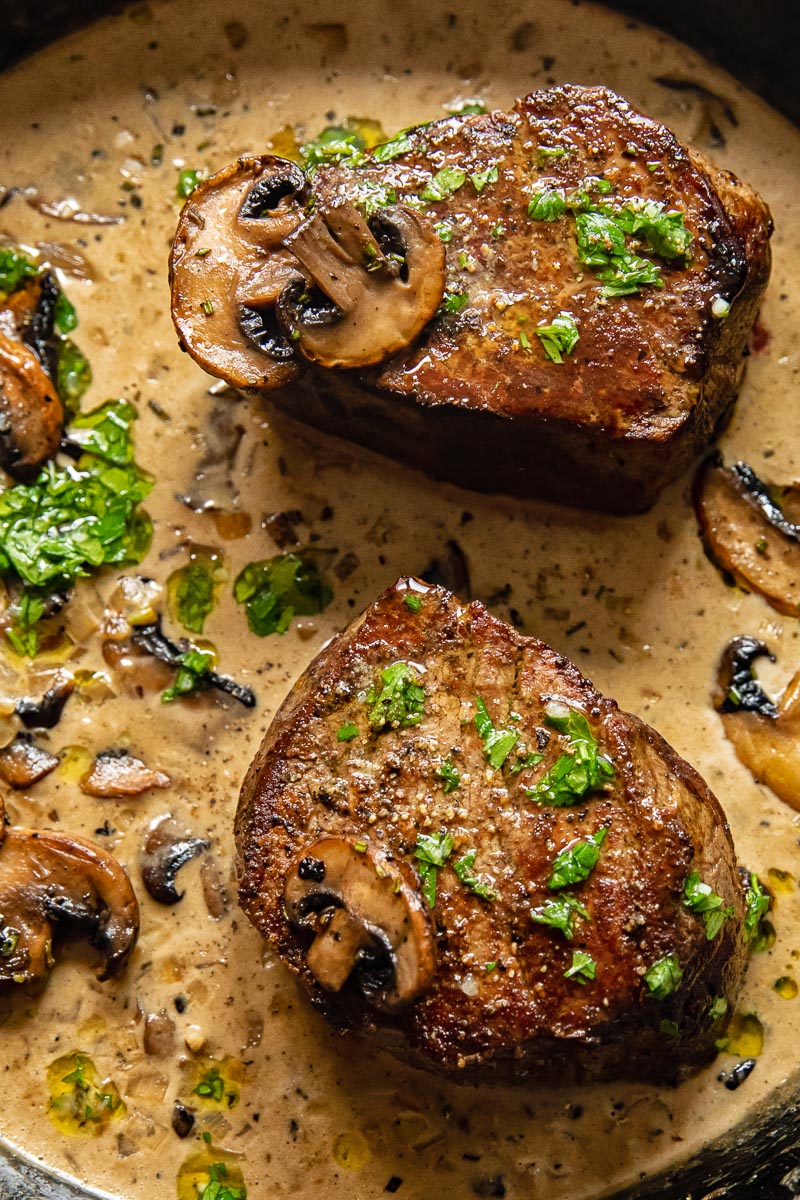 That might be the reason why people often order it in a restaurant instead, trusting a trained chef to deliver the best experience. While I have nothing against this strategy, I just want to point out that restaurant mark up could be quite painful, considering that filet mignon is already an expensive item.
Let me show you a fail proof method for cooking this cut of beef at home. But firstly, let's look at what it actually is.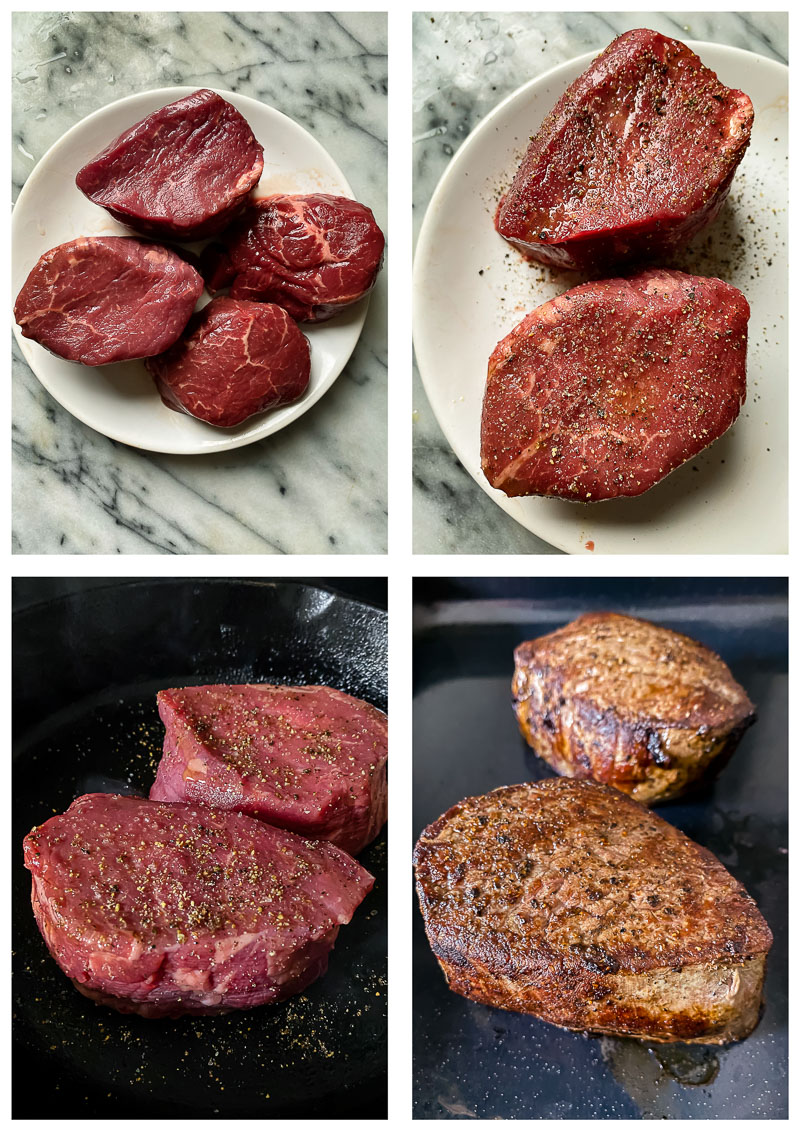 Filet Mignon vs Fillet Steak
Known by two different names in the US and UK, it is the same cut of beef, which comes from the tip of a beef tenderloin aka beef fillet. Once again the same thing, two different names.
These steaks are quite thick, as you can see in the photos above. So if a ribeye steak can be perfectly cooked on a grill or in a pan, the fillet steaks often need to be finished in the oven.
That being said, they do come in different sizes. For example, there are two sizes, that are shown in the first photo of the collage, 4 oz and 8 oz.
The 4 oz or 5 oz steaks could be easily cooked in a pan. While the 8 oz steaks will absolutely need a few minutes in the oven to achieve the perfect degree of doneness.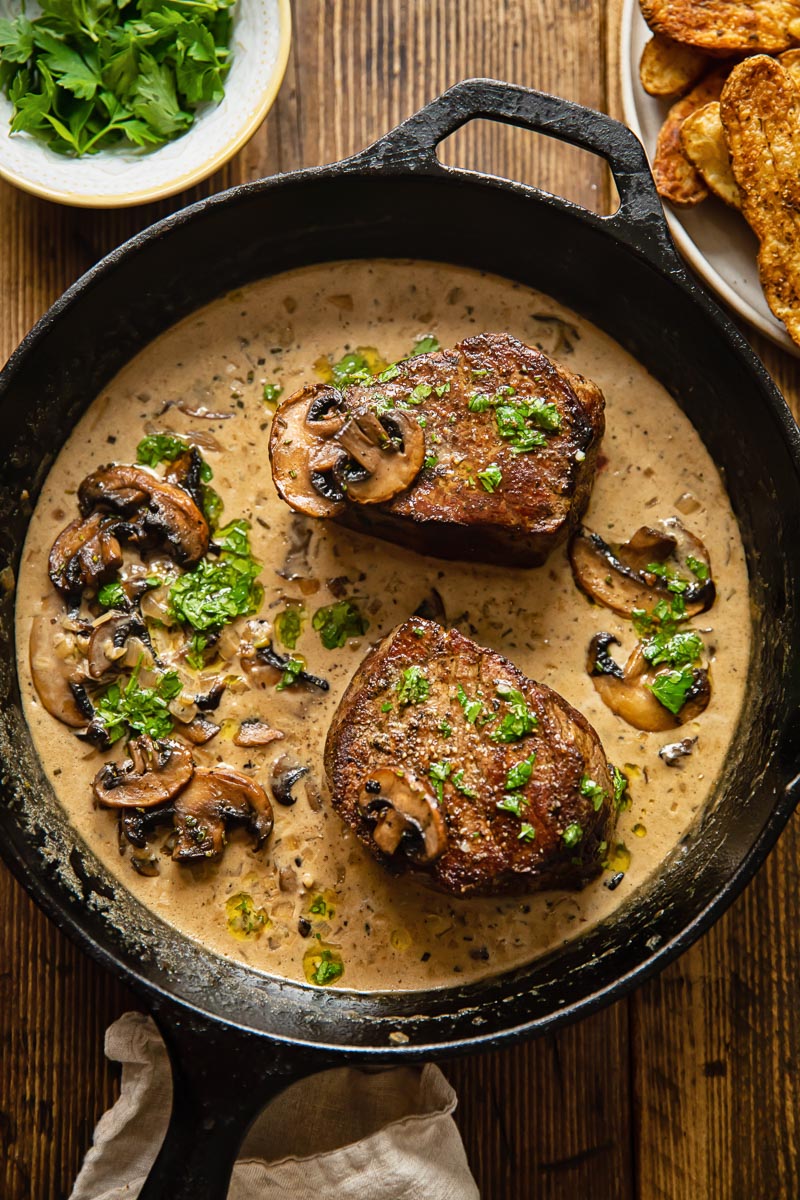 Recipe Tips and Notes
Take filet mignon steaks out of the fridge 30 minutes before cooking them. Bringing the meat to room temperature allows for a more even cooking.
Make sure to pat them dry with a paper towel. We want the surface to be dry for searing instead of steaming.
Season simply with coarse salt and pepper, then press the seasoning into the meat with the palm of your hand of a spatula.
Cast iron pan is ideal for this type of cooking but another heavy bottom frying pan will do.
Timings are giving for 2 X 8 oz/225 g steaks. The time in the oven will produce medium rare steak. If you prefer your steak medium increase the time to 7-10 minutes. For best results, use a meat thermometer to know exactly when your steaks are done.
Always rest filet mignon for 10 minutes before cutting it.
I share our very popular Mushroom Marsala Sauce recipe to go alongside this fillet steak but I also include a list of other amazing sauces for you to choose from.
Best Sauces for Filet Mignon
As I mentioned above, this steak is incredibly tender but lean. In my opinion, a sauce of some kind is absolutely necessary for the best experience.
You can make our mushroom Marsala sauce, as the recipe suggests, but another classic to serve with filet mignon is Bearnaise sauce. It's famous for being a little tricky and labour intensive.
And because I want you to succeed I created an easier version. It takes less than 10 minutes to prepare and is done using a blender!
Other creamy sauces, which I highly recommend are Cognac Mushroom Steak Sauce and White Wine and Mustard Sauce. For those of you avoiding cream, try this fantastic Sicilian Lemon Herb Sauce Salmoriglio. If you love chimichurri, you will love this one even more!
More marsala recipes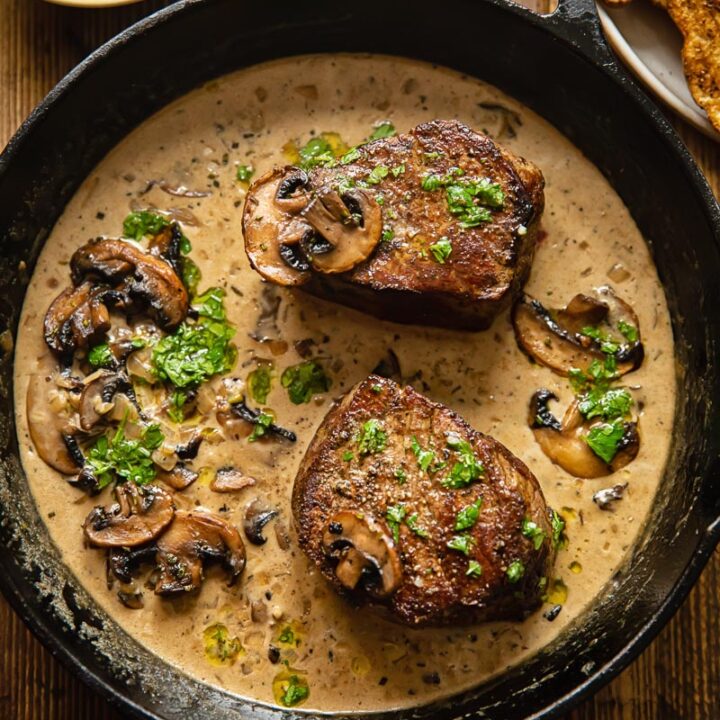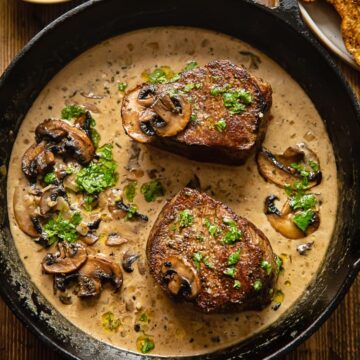 Perfect Filet Mignon with Mushroom Marsala Sauce
Making filet mignon at home is easier than you think! Here is our reliable method for the fillet steak and a great sauce to serve alongside.
Ingredients
2 X 8 oz/225 g

filet mignon/ fillet steaks

coarse salt and pepper

1

tbsp

vegetable oil
For the sauce
1

tbsp

olive oil

½

onion

1-2

cloves

garlic

100g/ 1 cup

mushrooms

sliced

2

tsp

fresh rosemary or thyme

chopped

1

tbsp

flour

125ml/1/2 cup

Marsala wine

250ml/1 cup

chicken or beef stock

125ml/1/2 cup

heavy/double cream

salt and pepper to taste

1

tbsp

fresh parsley for garnish

optional
Instructions
Preheat your oven to 200C/400F.Take the steaks out of the fridge 30 minutes before you intend to cookt hem. Preheat a cast iron pan or another heavy bottomed pan for about 5 minutes until screaming hot. (Make sure to have your extractor fan on or crack open a window.)

Pat the steaks dry with a paper towel, then brush with a little oil on both sides, generously season with coarse salt and pepper.

Place on a hot pan and gently press on the steaks for maximum contact with the surface of the pan, sear for 2 minutes on each side without moving the steaks. Make sure you sear the top, bottom and the sides equally. Once the searing is done, move to a small pan and finish in the preheated oven for 5-8 minutes until the temperature reaches 55C/130F for medium rare and 57C/135F for medium.

Take the filet mignon out of the oven and cover with foil, let stand for 10 minutes before serving. (These timings work for 8 oz steaks, reduce the oven time or skip it altogether if your steaks are smaller. 4 oz steaks do not need to go in the oven.)

Make the sauce while the steaks are in the oven and resting. In the same pan, heat the olive oil and saute the chopped onions over low heat for 5-7 minutes, then add the garlic and cook briefly for 30 seconds while stirring. Add the mushrooms with a pinch of salt, pepper and chopped rosemary and brown over medium heat until golden.

Sprinkle the mushrooms with flour and stir to coat. Deglaze the pan with the Marsala wine and let it bubble away for about 5 minutes until it's reduced by a half. Then add the stock and cook for 5 minutes longer. At the end stir in the double/heavy cream and let it warm through. Taste for seasoning and add more salt if needed, then take off the heat. Sprinkle with fresh parsley before serving if using. Serve filet mignon with the sauce.
Nutrition
Calories:
796
kcal
Carbohydrates:
22
g
Protein:
57
g
Fat:
45
g
Saturated Fat:
21
g
Polyunsaturated Fat:
3
g
Monounsaturated Fat:
18
g
Cholesterol:
235
mg
Sodium:
1500
mg
Potassium:
1249
mg
Fiber:
1
g
Sugar:
9
g
Vitamin A:
926
IU
Vitamin C:
4
mg
Calcium:
112
mg
Iron:
5
mg