The recipe for roast pork tenderloin, flavoured with rosemary and wrapped in balsamic maple bacon, comes together in 30 minutes. Quite possibly the speediest roast dinner you can enjoy!
These succulent tenderloin slices will go beautifully with our Hasselback Potatoes.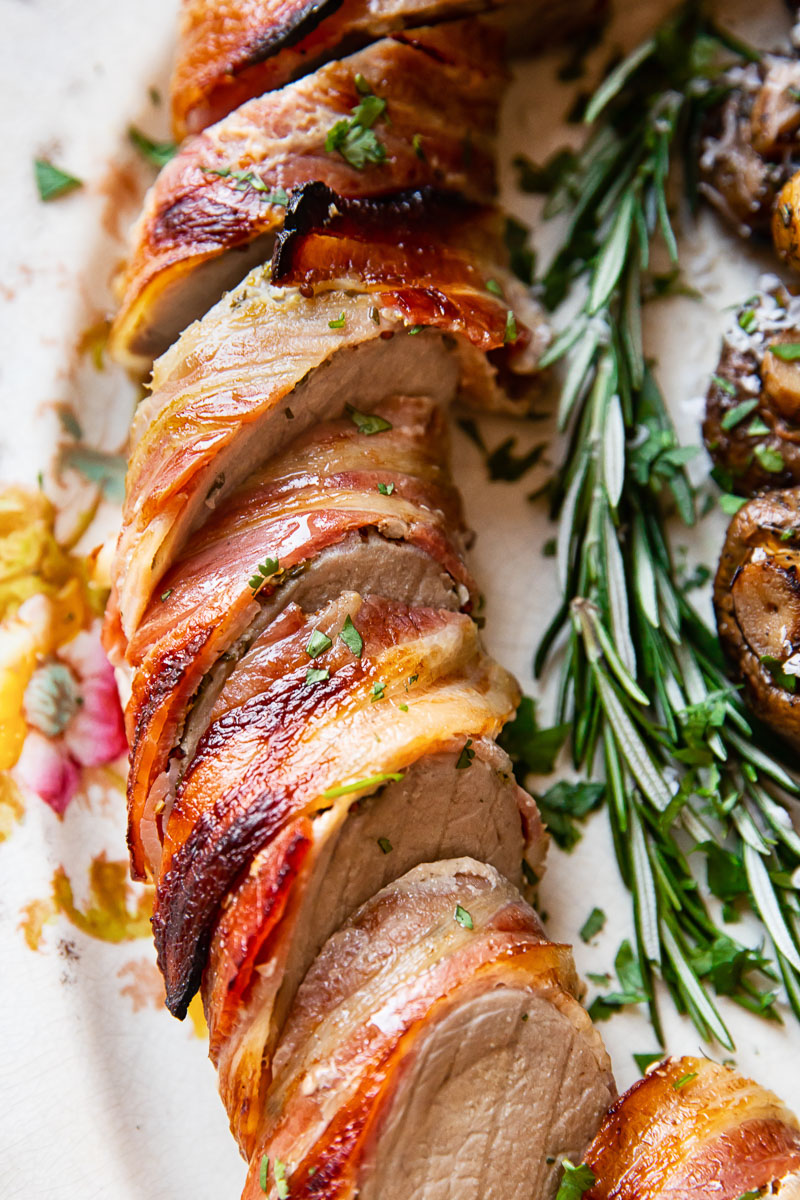 I am not sure what has taken me so long to share my tenderloin recipe. God knows we eat it a couple of times a month. It's such an easy way of getting dinner on the table, which feels a bit luxurious but takes half an hour to throw together.
And if you add a couple of equally fast and easy sides, you will feel like you are enjoying a proper roast dinner in the middle of the week.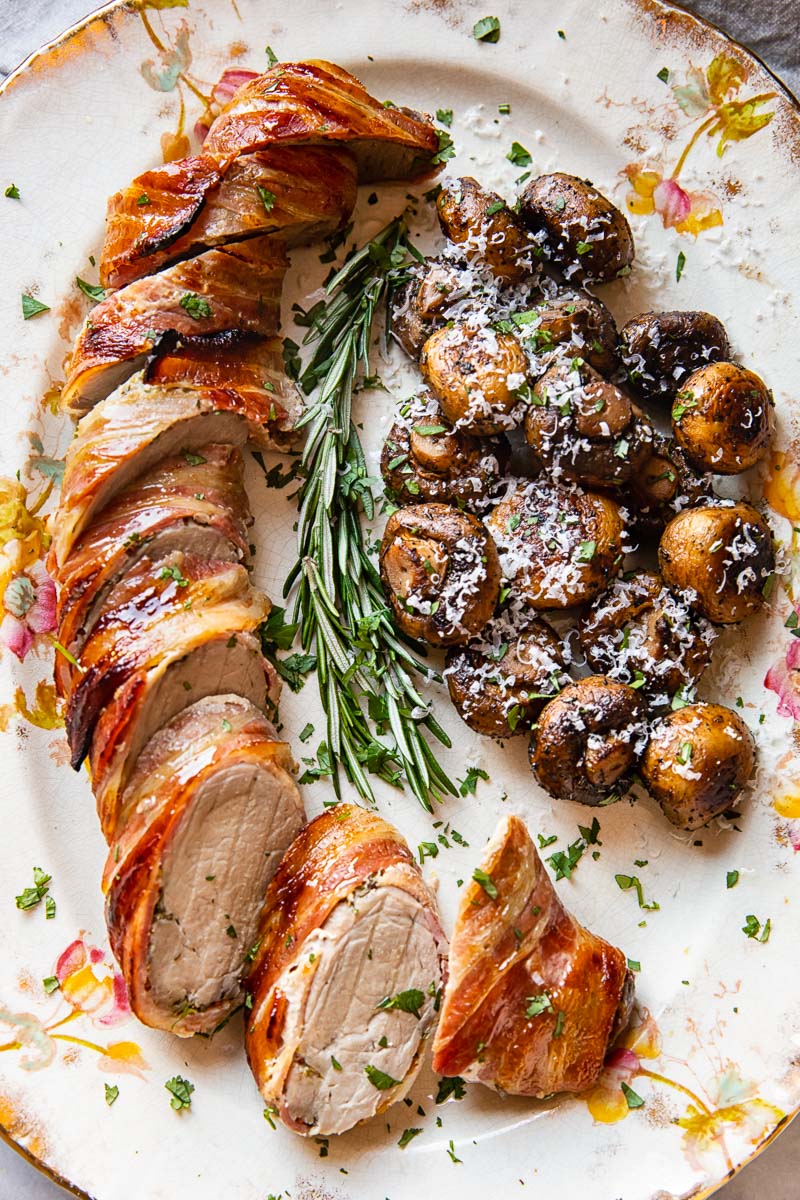 What to serve with tenderloin
On a regular weekday I don't fuss with the sides and often serve this dish either with boiled and buttered baby potatoes or with a big and chunky salad.
I go for the baby potatoes because they take barely any time to cook and you don't need to peel them. However, if you have more time than half an hour, try my Spiced Roasted Baby Potatoes…flavour explosion.
Another quick side dish, that is so complimentary to the roasted pork tenderloin, is pan fried mushrooms with Parmesan. They are both flavoured with rosemary and are absolutely delicious together.
What is Pork Tenderloin?
Pork tenderloin is a very similar to beef tenderloin. It is also called pork fillet. Yes, just like its beef counterpart. It is the most tender part of the animal, and also the leanest.
If you are a big chicken breast fan, you will love pork tenderloin as well. Just as lean and so delicious. It also requires short cooking times, which is a bonus.
Pork tenderloin and pork loin are NOT the same thing and could not be used interchangeably in recipes. If you need to know how to cook pork loin with the best gravy, here is my pork loin roast recipe.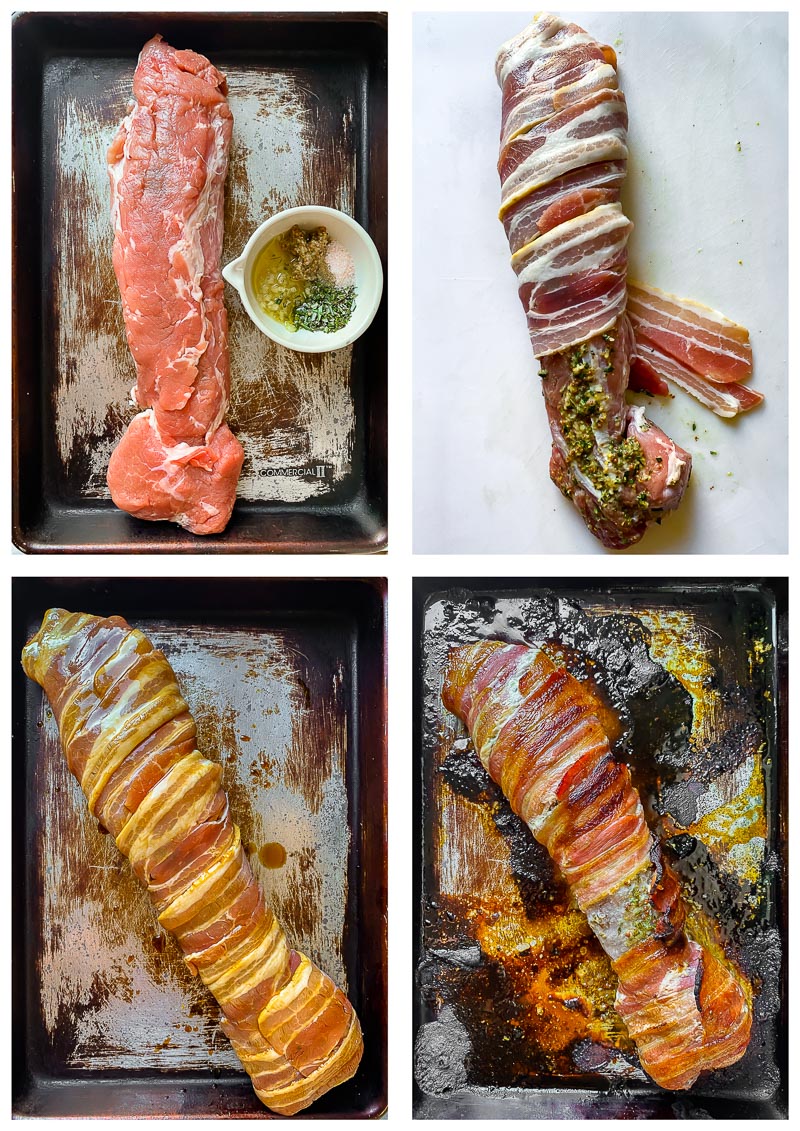 Recipe Tips and Notes
My most important tip is NOT to overcook this tiny meat joint. It might not look like 20-25 minutes of roasting it in the oven is not enough but just trust the recipe.
Pork tenderloin is long and extremely thin in diameter, therefore cooking time should be adjusted accordingly. It is also called 'tenderloin' for a reason. This cut of pork is very tender but can get tough and rubbery if overcooked.
Because this cut is very lean and doesn't have fat to rely on for flavour, it's beneficial to give it a flavour rub of sorts. I coated mine with a mix of chopped rosemary, mustard and olive oil, then wrapped it in bacon.
While it's not necessary to wrap the tenderloin in bacon, it does give it another layer of flavour and a nice smoky touch. If you want to keep this recipe as lean as possible, substitute bacon with Parma Ham (Prosciutto).
I also glazed the bacon with a mix of sweet maple syrup and acidic balsamic vinegar. The sugar in the maple syrup causes bacon to caramelise even more than usual and gives the dish a more complex flavour.
Favourite Pork Recipes to Try: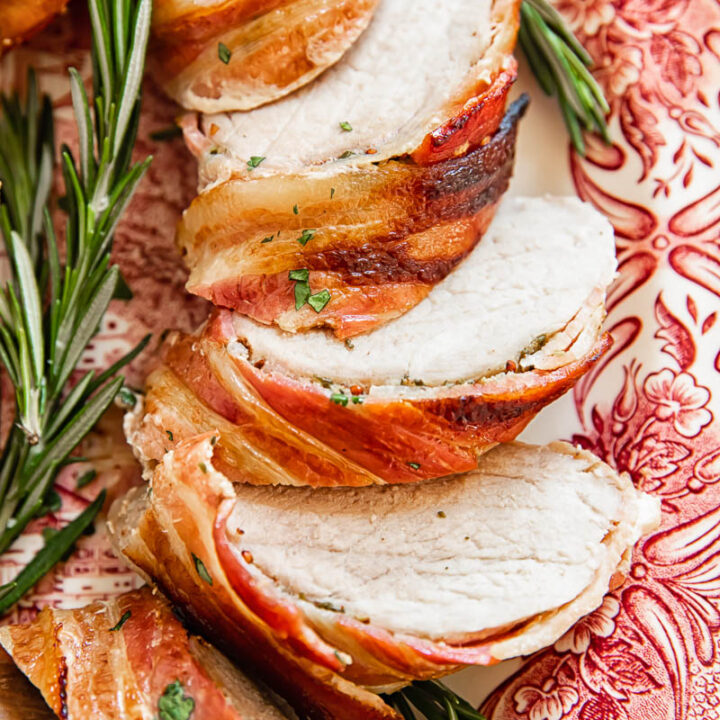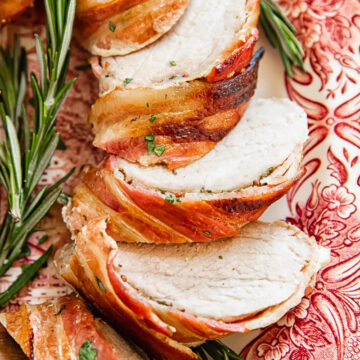 Bacon Wrapped Pork Tenderloin
The recipe for roast pork tenderloin wrapped in bacon comes together in 30 minutes. Quite possibly the speediest roast dinner you can enjoy!
Ingredients
2

cloves

garlic

grated or pressed

1

tbsp

fresh rosemary

chopped

1

tsp

wholegrain mustard

½

tsp

salt

1

tbsp

olive oil

1-1.5

lbs

pork tenderloin

5-6

strips

bacon/streaky bacon in the UK

1

tsp

maple syrup

1

tbsp

balsamic vinegar
Instructions
Preheat the oven to 200C/400F. In a small bowl combine the grated garlic, finely chopped rosemary, mustard, salt and olive oil.

With a sharp knife remove as much sinew from the tenderloin as possible. Rub the tenderloin with the paste, then wrap it with bacon strips overlapping them slightly, so they stay secure. Brush with the mixture of maple syrup and balsamic vinegar.

Place in the oven for 20-25 minutes until the internal temperature reads 65C/150F for the juiciest pork. If the bacon is not crisp enough, finish it under the broiler/grill (UK) for 3-5 minutes or as long as needed. Let rest for at least 10 minutes before slicing.
Nutrition
Calories:
190
kcal
Carbohydrates:
3
g
Protein:
24
g
Fat:
9
g
Saturated Fat:
2
g
Polyunsaturated Fat:
1
g
Monounsaturated Fat:
5
g
Trans Fat:
1
g
Cholesterol:
75
mg
Sodium:
367
mg
Potassium:
465
mg
Fiber:
1
g
Sugar:
2
g
Vitamin A:
18
IU
Vitamin C:
1
mg
Calcium:
15
mg
Iron:
1
mg