A sophisticated and versatile side dish to accompany literally hundreds of main courses. Slim discs of crispy fried potatoes, balanced with juicy mushrooms and golden caramelised onions, c'est bistro chic! Ooh la la!
Serve as an accompaniment to this French-inspired dish; chicken in wine and mustard sauce or enjoy as a vegetarian main dish!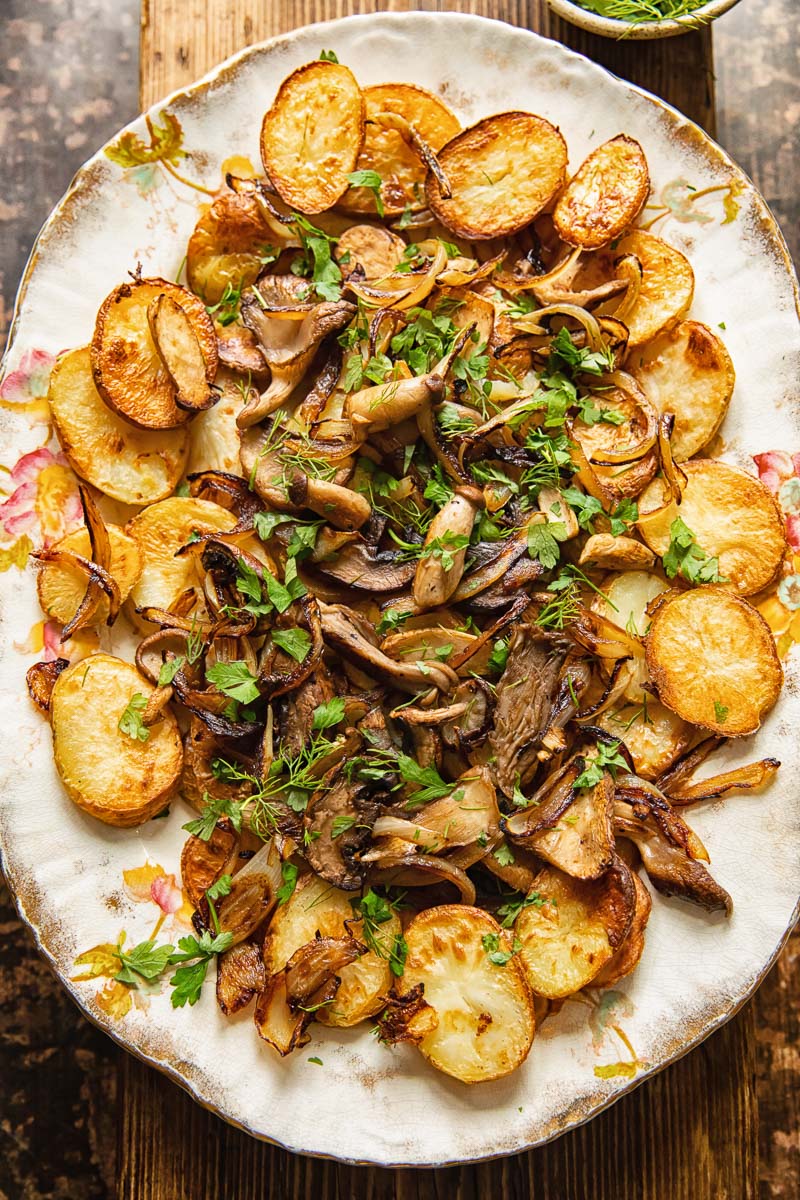 French fries, or chips in the UKS, are such a worthy dinner staple and a busy parent's best friend. An unfailing table-pleaser and quick to prepare, either from scratch or from the freezer. But do you ever get the 'fries again' guilt?
As tempting as fries themselves, and with a sneaky dose of goodness in both the onions and mushrooms, these fried potatoes are guilt-free. Not to mention the je ne sais quoi.
Fried potato methods
There is definitely more than one way to fry a potato. Your method of choice will probably be based on how much time you have and how health-conscious you're feeling on the day.
This recipe calls for oven 'frying' and takes 35 minutes. The beauty of this method is you can just slide them into the oven and leave them to cook while you get on with the rest of the recipe.
Frying on the stove is more labour intensive and requires more oil. Plus you'll have to keep an eye on your potatoes so they don't catch and burn. And in this case, you will need your stove to cook your mushrooms and onions too.
Finally, the air fryer. Less oil is needed and they cook in just 20 minutes. It's foolproof. Take a look at my crispy air fryer potato recipe.
So, how are you feeling today?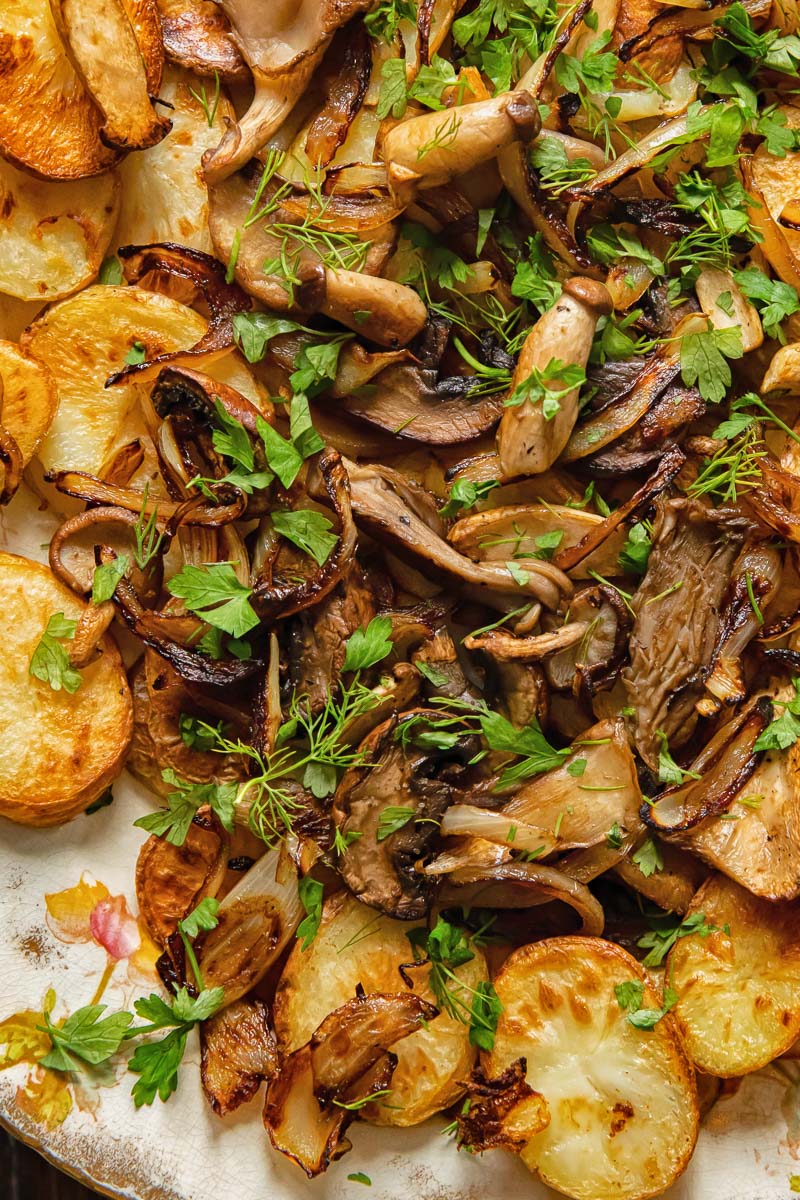 Which mushrooms to use
The variety of mushrooms is incredible! They differ so wildly in appearance, flavour and texture it can be difficult to make the right choice. So here are a few suggestions:
In keeping with the French theme, you can use chanterelles (also called girolles). These are fruity and peppery and have a slightly chewy texture. They're also kind of elegant to look at. Or is that just me?
Or go further afield. Italian portobello mushrooms are large and fairly flat. They are rich and earthy in flavour with a toothsome bite.
This is where you can get really adventurous: shiitake. Earthy, smoky, buttery. All the flavours. Although they sound exotic, they are available in most big supermarkets.
Finally, oyster mushrooms. More delicate in flavour, so a good choice for non-fungi-enthusiasts!
Caramelised onions
The key to caramelised onions is patience. And a heavy-based pan. Cook them low and slow until the onions are soft and you get a gorgeously silky consistency.
The sweetness and softness offers a pleasing contrast to the crispiness of the potatoes.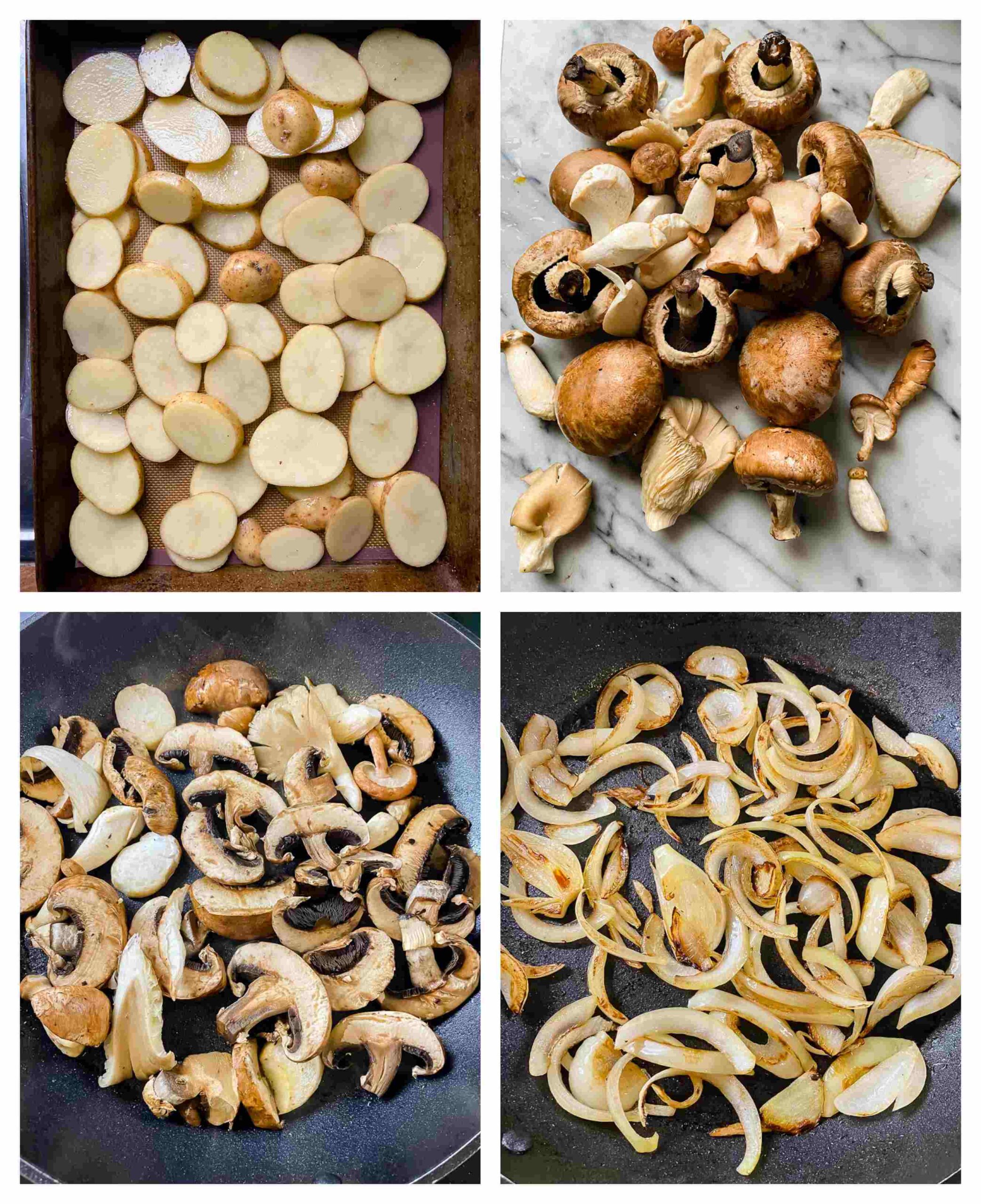 Recipe tips and notes
There are lots of approaches to 'frying' your potatoes. My recipe suggests oven 'fried', as I find that most convenient. You can use a skillet on the stove, or an air-fryer for hyper-convenience.

Button and chestnut mushrooms are readily available, but offer little flavour against the caramelised onions. Mushrooms like oyster and chanterelle add an exotic aesthetic to the dish. Chunky portobellos or shiitake will offer satisfying substance. Take your pick!

Caramelising takes time! 20 minutes over a very low heat will give you the golden colouration you're looking for.

If you have some, sprinkle with a chopped fresh herb, like parsley or dill. The green will brighten the dish in every way.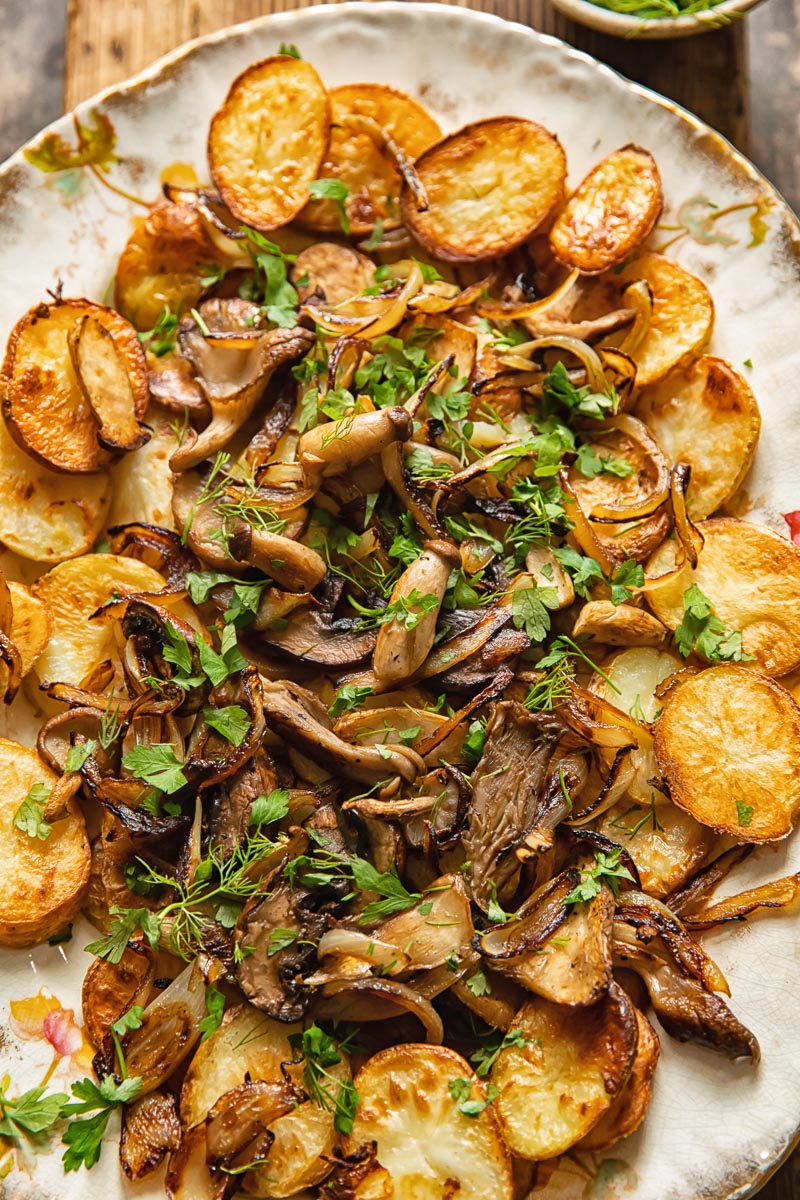 Storage and leftovers
Fried potatoes are moreish side dish that is hard to resist, it's unlikely you'll have any leftovers! If you do, and you can't bear to waste them, transfer to an airtight container and keep in the fridge for up to two days.
To reheat, set the oven to about 400F/ 200C, spread out on a lightly oiled baking tray and cook for 10-15 minutes. Add another 5 minutes if you want them crispy!
More Potato Recipes to Try: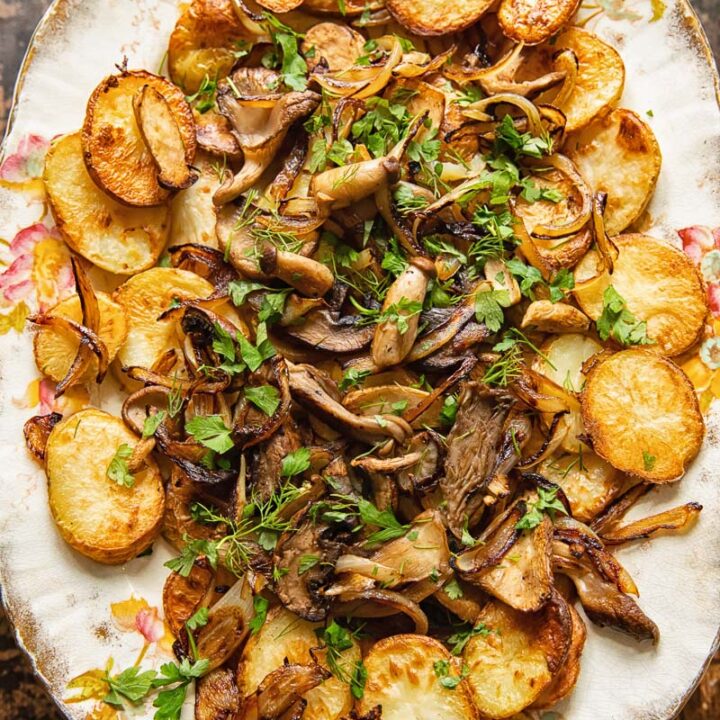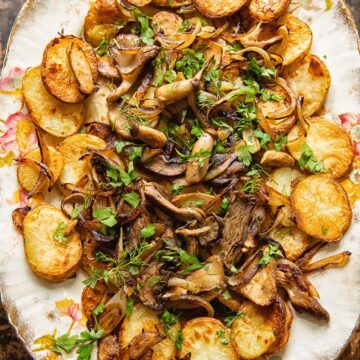 Oven Fried Potatoes with Mushrooms and Onions
Slim discs of crispy fried potatoes, balanced with juicy mushrooms and golden caramelised onions, c'est bistro chic!
Ingredients
3

tbsp

olive oil

1

tsp

salt

½

tsp

garlic powder

5

potatoes

sliced thickly

300

g

mixed mushrooms or button mushrooms

1

onion

2

tbsp

chopped parsley and dill
Instructions
Preheat the oven to 425F/220C. Slice the unpeeled potatoes thickly (¼ inch) and arrange the slices on a rimmed baking sheet, drizzle with 2 tbsp of the olive oil, then sprinkle with the salt. Roast in the oven for 35 minutes or until golden on the outside and cooked all the way through. If the potatoes are cooked but not golden, turn the broiler/grill on and move the rack closer to the element, broil for 3-4 minutes or until golden. Alternatively the potatoes could be cooked in an air fryer. (Recipe link in notes)

25 minutes before the potatoes are done, start on the mushrooms and onions.( They could be cooked in two different pans to save time or one after another to save dishes! ) Slice the mushrooms and sauté them in 1 tbsp of olive oil until golden over medium high heat, once the liquid is evaporated, season with salt and garlic powder, remove from the pan and keep warm.

To the same pan add the sliced onion, if the pan is too dry add a touch of oil, cook over low heat for 15-20 minutes until cooked all the way through and caramelised.

Take the potatoes out of the oven and transfer to a serving platter, top with fried mushrooms and onions. Serve sprinkled with chopped parsley and dill.
Notes
Nutrition
Serving:
4
portions
Calories:
327
kcal
Carbohydrates:
53
g
Protein:
8
g
Fat:
11
g
Saturated Fat:
2
g
Polyunsaturated Fat:
1
g
Monounsaturated Fat:
8
g
Sodium:
605
mg
Potassium:
1513
mg
Fiber:
7
g
Sugar:
5
g
Vitamin A:
174
IU
Vitamin C:
57
mg
Calcium:
55
mg
Iron:
3
mg