These bacon wrapped chicken thighs are pure magic!! I stuffed them with my favourite things like mushrooms and goat cheese but you can choose whatever you like!
A friend once pointed out to me that Russians like to stuff food inside other food. Hmm…I had to think for a minute but I was quickly convinced in the truth of her observation after considering what we eat.
Piroshki, Cabbage Rolls, Stuffed Peppers, Pelmeni, Vareniki-all these dishes is what makes Russian cuisine and all of them involve food inside more food.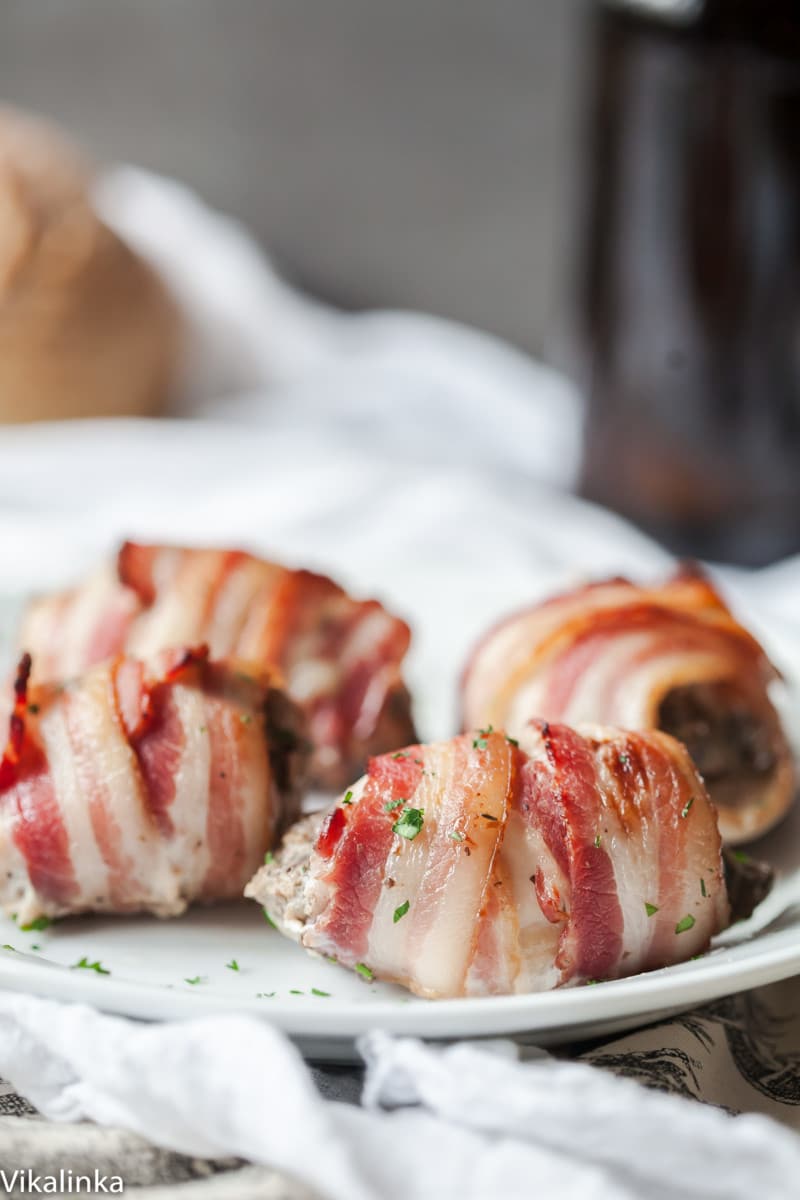 So it might come as no surprise to you that when I dreamt up a new recipe, it would be something stuffed like bacon wrapped chicken thighs stuffed with mushrooms and goat cheese.
Then I decided to wrap them in bacon to keep that stuffing safe and secure like little swaddled babies and because…well it's delicious.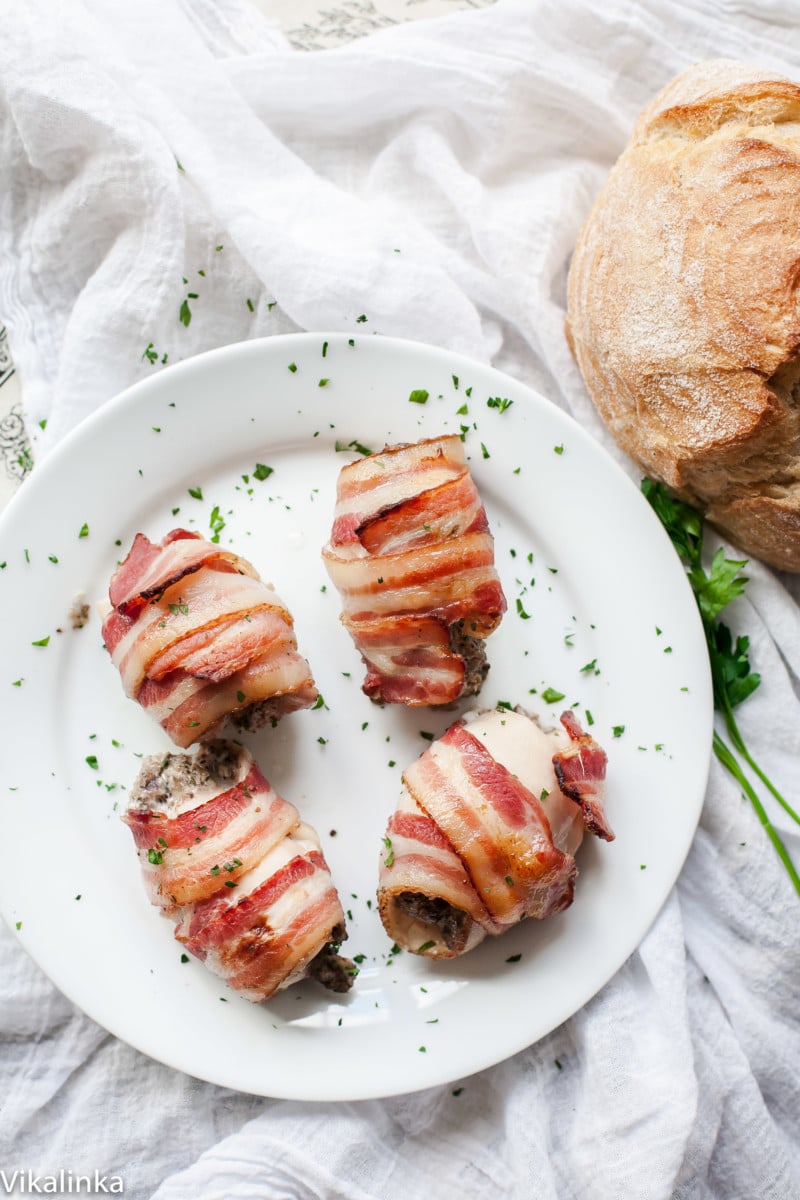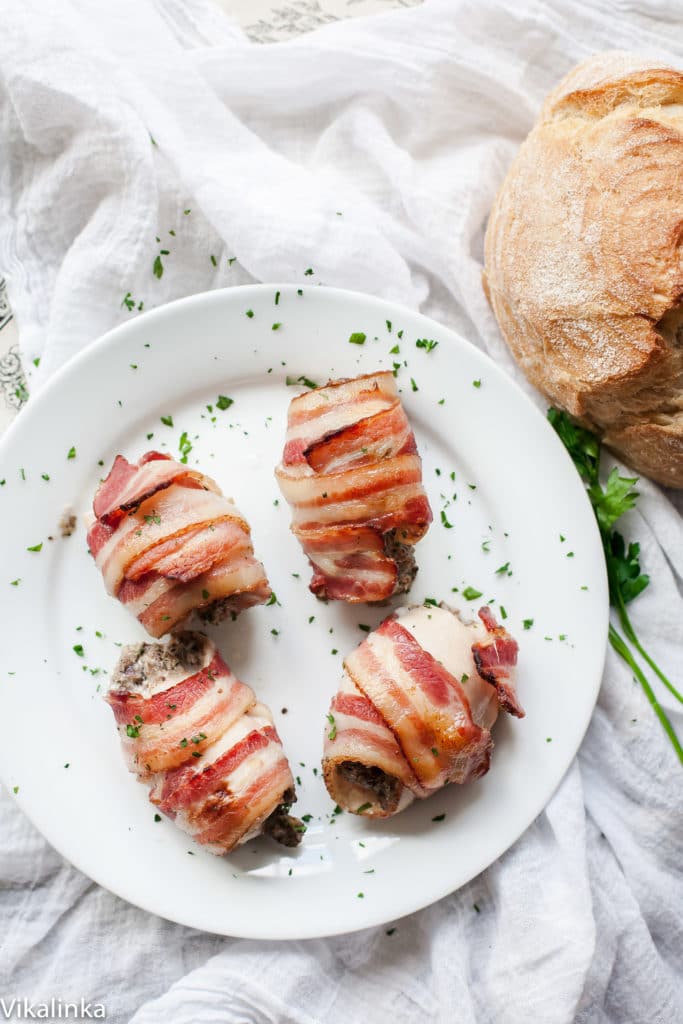 I've done something similar with pork chops and instagrammed it during our holiday in Yorkshire. So many of you loved the sight of it. I knew I had to blog it but that day when I woke up thinking about those chops, it occurred to me that skinless boneless chicken thighs, and not pork chops, are perfect for stuffing.
Why boneless chicken thighs are perfect for stuffing
They already have that natural cavity from where the bone used to be,
They are more affordable than skinless, boneless chicken breasts.
They remain juicy when cooked in the oven.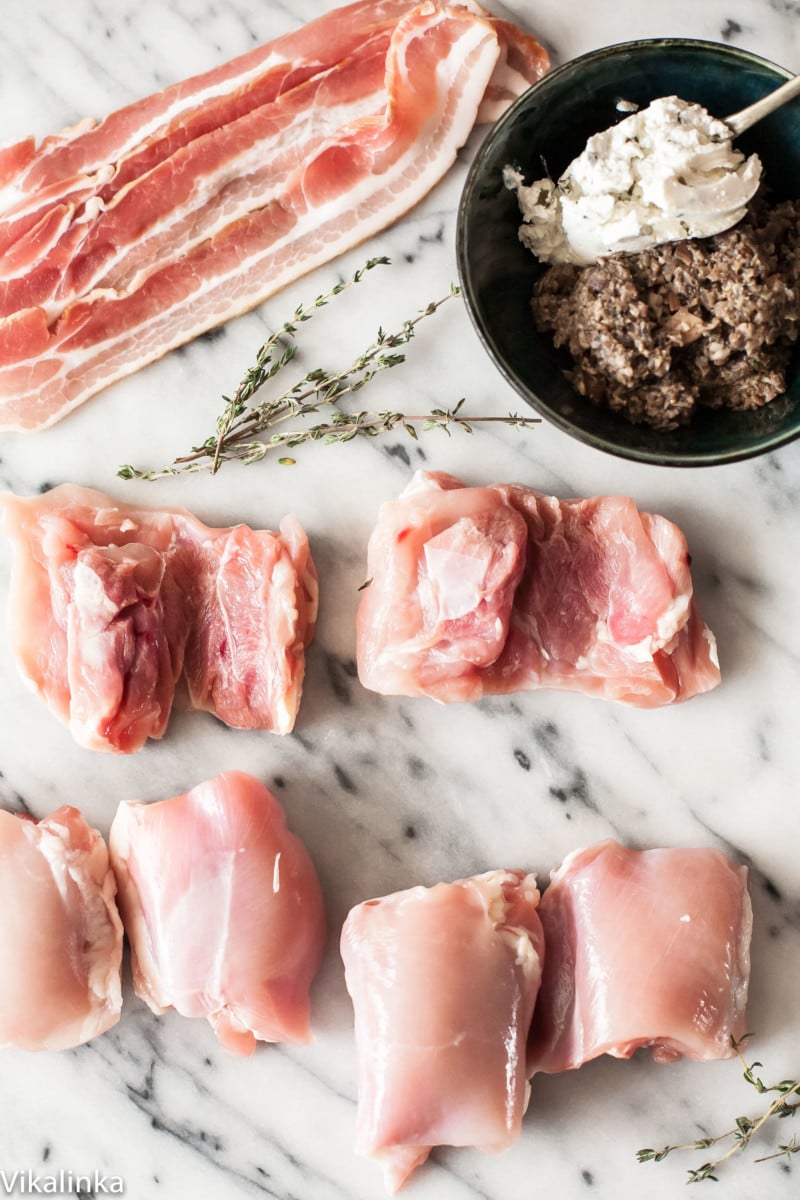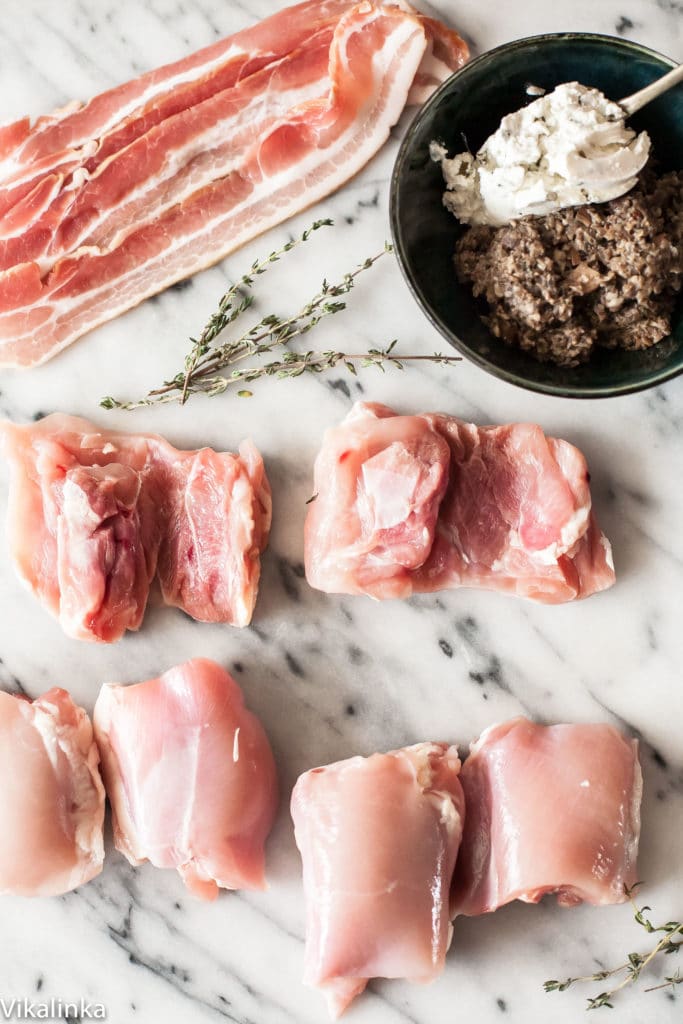 What can I stuff chicken thighs with?
There are so many delicious things that could be used for stuffing chicken breast or chicken thighs.
If you want to go the traditional route, you can stuff your chicken thighs with a mixture of breadcrumbs and herbs or add chestnuts and sausage.
Tradition is great but I thought of something that would be even more fun. How about mushrooms with caramelised onions and herbs mixed with creamy, tangy goat cheese? Doesn't that combination sound divine?
If the answer is yes, scroll to the bottom to the recipe. But if those ingredients are not your thing, don't worry, I give a list of substitutions below!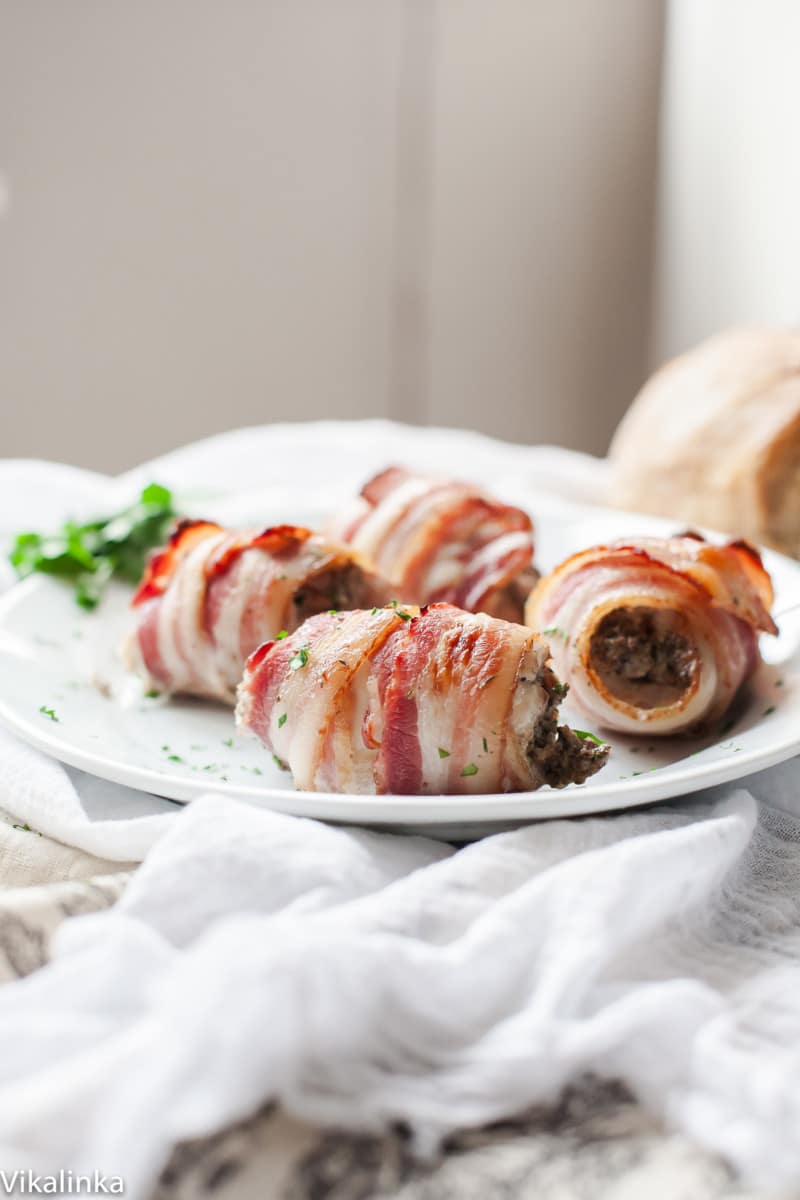 Substitutions for bacon wrapped chicken thigh recipe
You can easily substitute chicken thighs with chicken breast. Just cut a 3 inch pocket into the thickest part of the chicken breast for stuffing.
You can replace goat cheese with cream cheese.
If you are not a mushroom fan, you can easily use chopped canned artichokes or cooked spinach.
Finally prosciutto slices can work well in this recipe instead of bacon.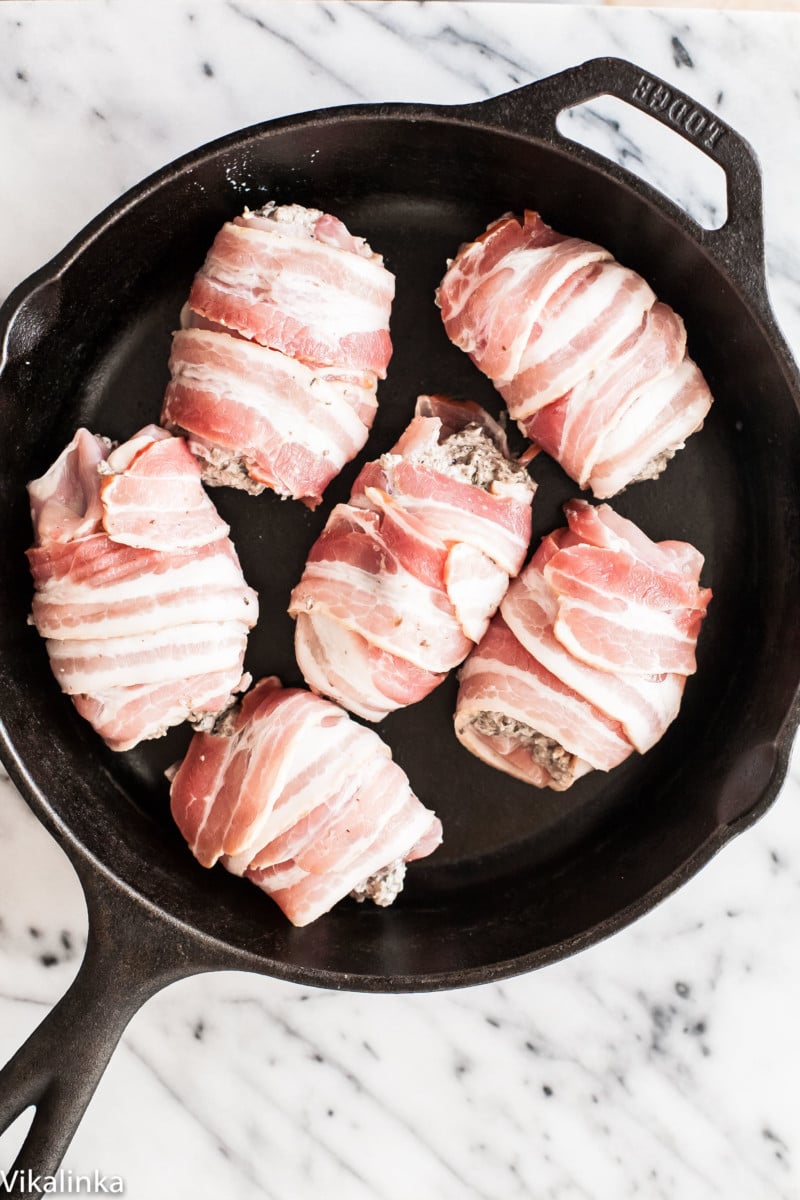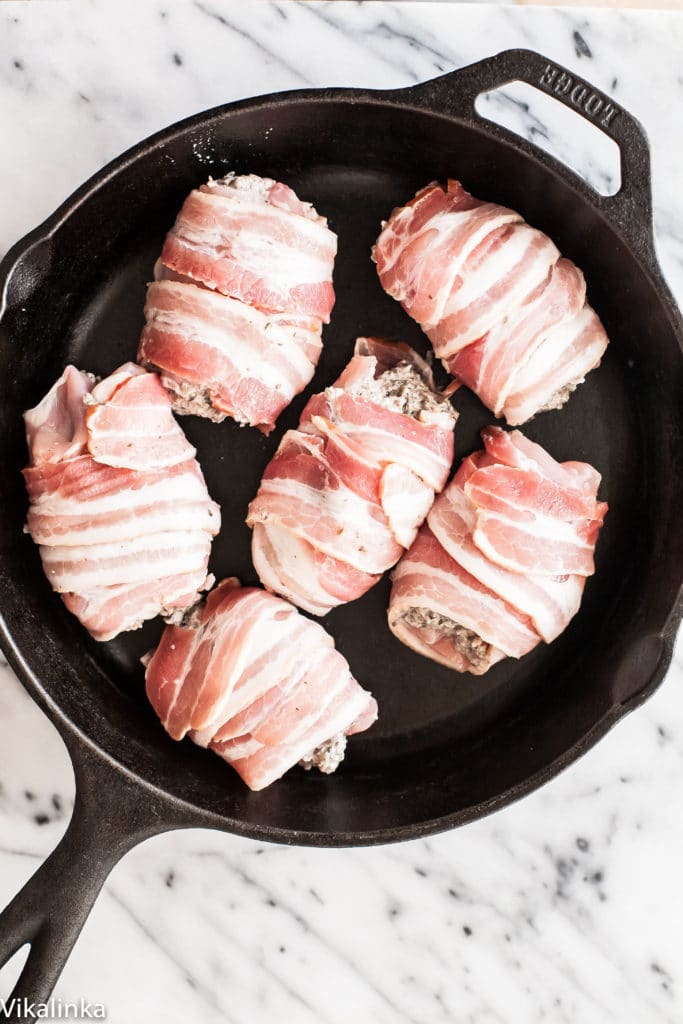 I hope you are not thinking right now that you'd love someone else to make them for you because they look too fiddly. I promise you the most difficult part about making these little parcels of yum is wrapping bacon around chicken.
The oven does all the work! Just imagine juicy chicken and creamy mushroom bites with smoky bacon to be your reward at the end. If you serve it at dinner party your guests will be SO impressed!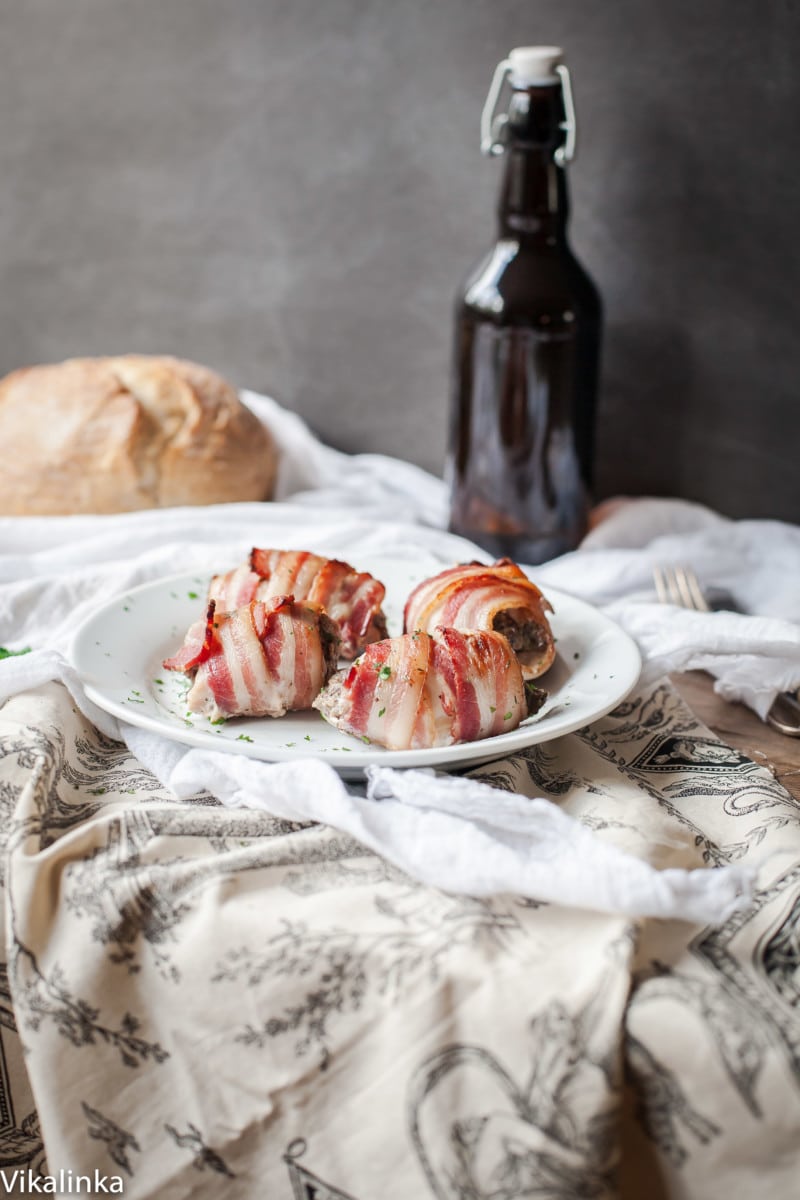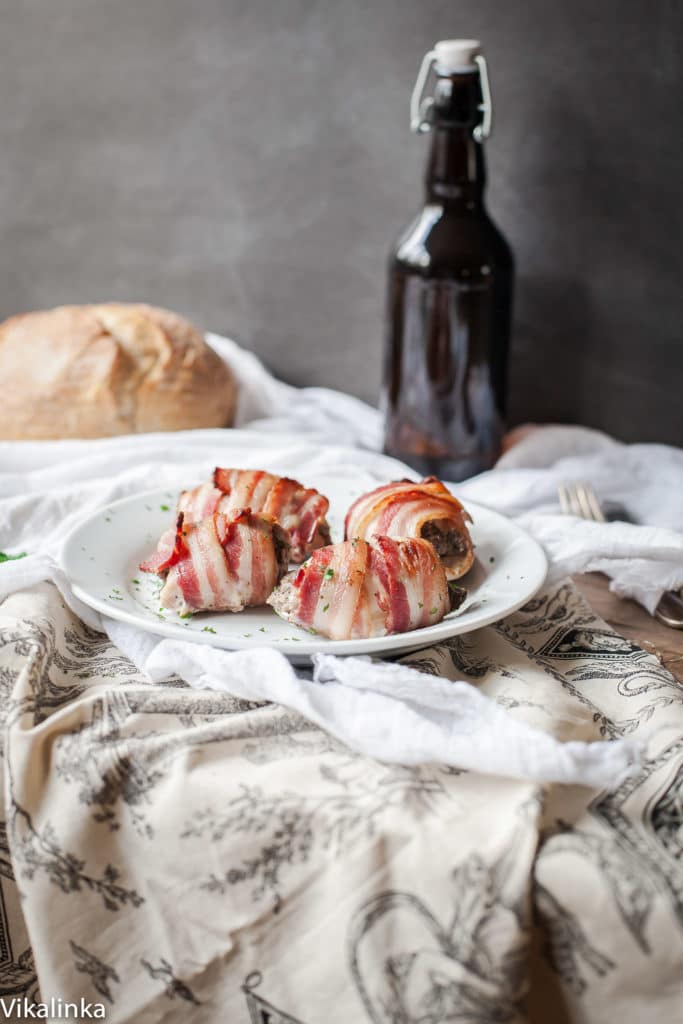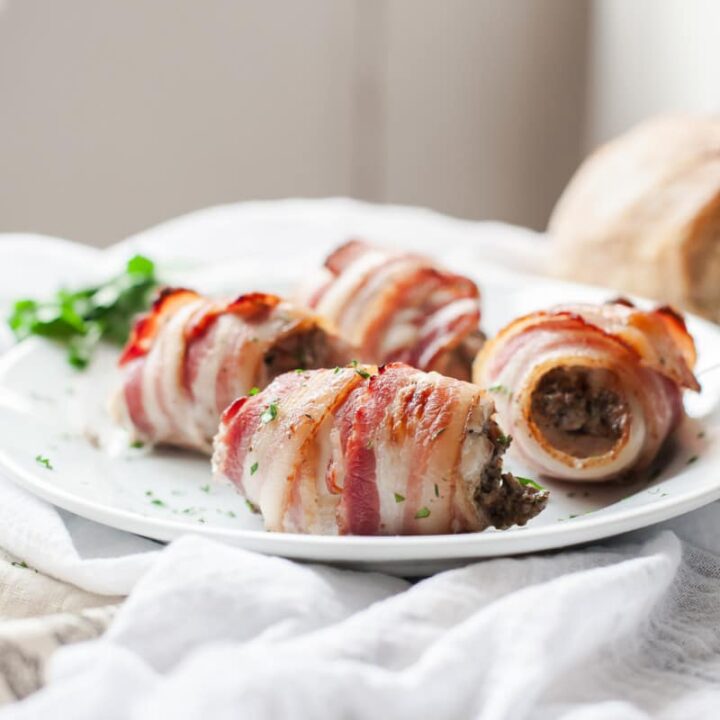 Chicken Thighs Stuffed with Mushrooms and Goat Cheese
Bacon wrapped chicken thighs stuffed with mushrooms and goat cheese and cooked in the oven.
Ingredients
2

tbsp

olive oil

100

g

chestnut mushrooms

chopped

1

medium onion

chopped

2-3

sprigs of thyme

salt and pepper

2

tbsp

soft goat cheese

6

skinless boneless chicken thighs

12

strips of streaky bacon
Instructions
Preheat oven to 450F/220C.

Heat olive oil in a medium pan and cook the onion until tender over low heat for 5 minutes, add mushrooms, thyme leaves, a pinch of salt and pepper and continue cooking for 10 minutes.

Put cooked mushrooms and onions in a food processor or blender and process until it's the same consistency as olive tapenade. Cool for 10 minutes.

Mix mushroom and onion mixture with goat cheese.

Lay out the chicken thighs flat on a cutting board smooth side down and spread 1 tbsp of mushroom and goat cheese mixture on each thigh and then wrap it tightly.

Wrap two bacon strips around each chicken thigh and transfer it on baking pan seam side down.

Bake in the oven for 35 minutes, then turn the oven to broil/grill and broil for 2 more minutes until bacon is crispy.
Nutrition
Calories:
382
kcal
Carbohydrates:
3
g
Protein:
28
g
Fat:
27
g
Saturated Fat:
8
g
Cholesterol:
138
mg
Sodium:
410
mg
Potassium:
465
mg
Sugar:
1
g
Vitamin A:
90
IU
Vitamin C:
1.6
mg
Calcium:
26
mg
Iron:
1.3
mg