This beet and sauerkraut salad aka Salat Vinegret is a staple in all Russian homes, and is an ideal vitamin booster in cold winter months!
Serve on the side of our Porcupine Meatballs in Creamy Tomato Sauce (Tefteli) or explore our Russian Recipe Collection for more inspiration.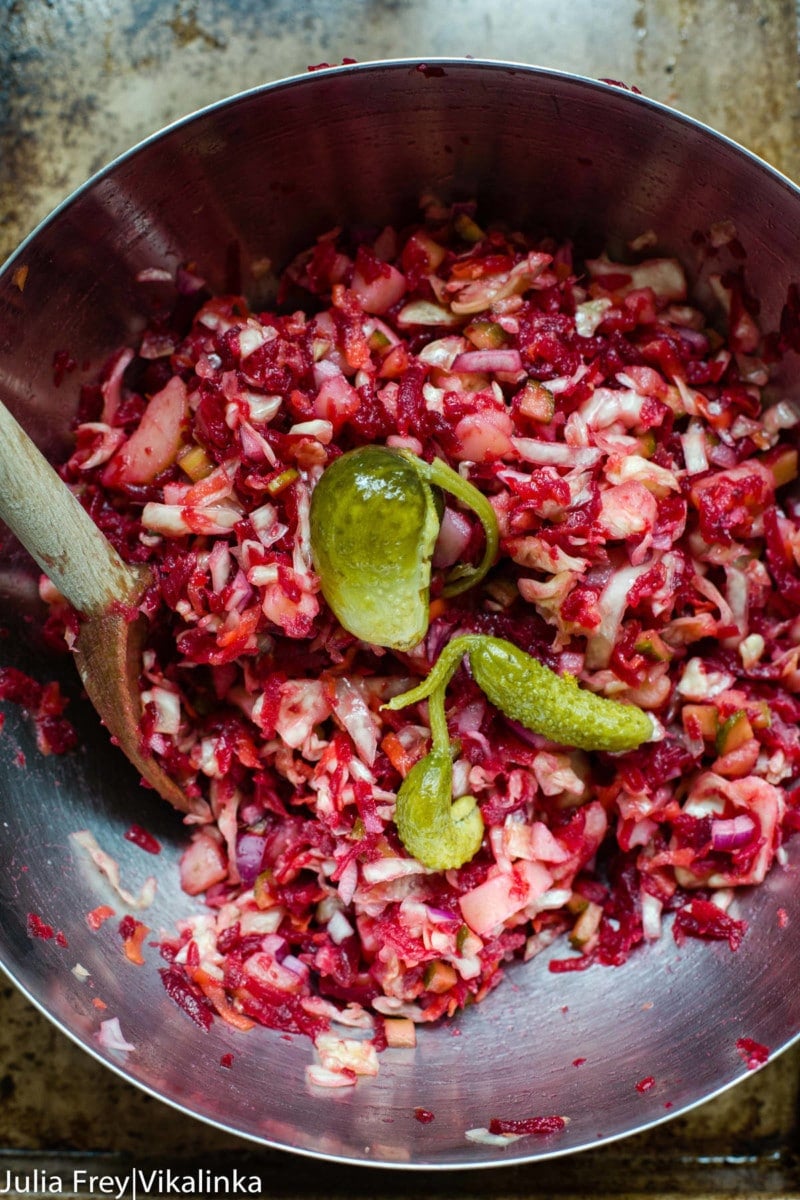 I've been waiting to write about this salad for months and it's finally the right time of year when it's appropriate!
What is in Russian Salad Vinegret?
Truth is this salad is great in any season but since it heavily relies of preserved vegetables like pickles and root vegetables, it's eaten more often in cold months. It's only fair that we eat fresh vegetables in the summer and cooked root vegetables and preserves now.
What is so special about this salad you might ask? Its main component is homemade sauerkraut, an incredible source of probiotics, which are so beneficial for a healthy gut!
I wrote about this magic ingredient in detail in other post providing the recipe and the personal connection.
This salad is an autumn and winter staple in every Russian and Ukrainian household, better known by the name "Salat Vinegret". It's absolutely delicious when served on a side of meat, fish or beans.
Why Salad Vinegret works
The unique mix of ingredients provide sweet, sour and salty notes as well as a healthy dose of vitamins, nutrients and probiotics!
Just what our bodies so desperately need in the long winter months! I personally love the vibrant look of the glut of vegetables it's made of!
It's dressed with olive or sunflower oil since the pickles have plenty of vinegar in them already!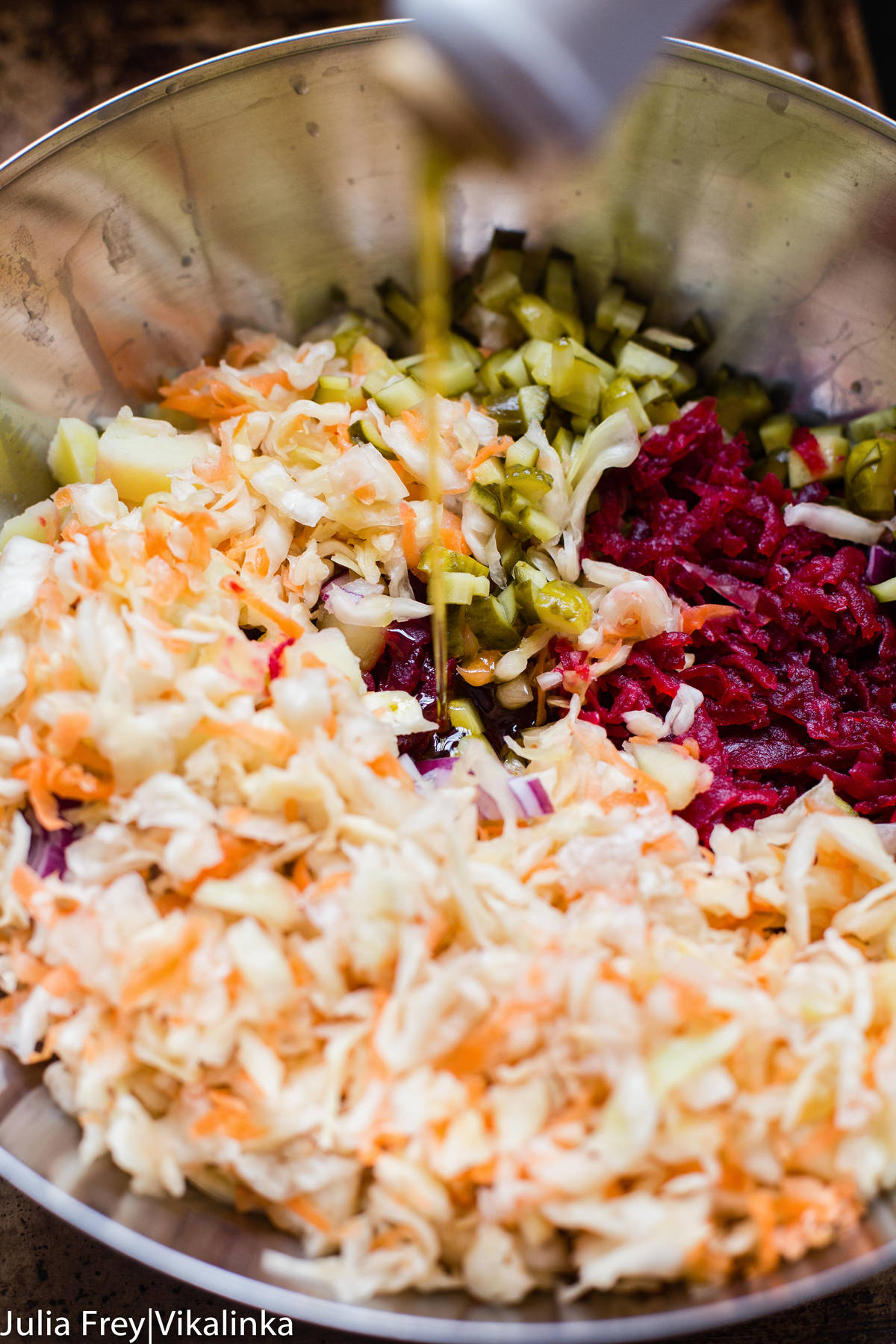 What substitutions can I make?
If you don't feel like making your own sauerkraut you can purchase it in specialty stores or online. You can also make this salad using fresh cabbage with an addition of 1 tablespoon of white wine vinegar.
I hope it will become one of your favourites as well!!
More Classic Russian Salad Recipes: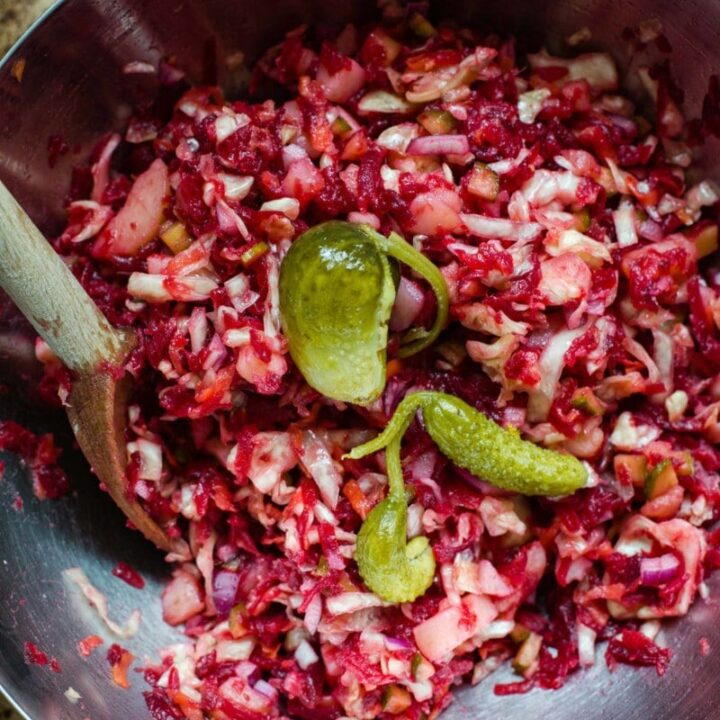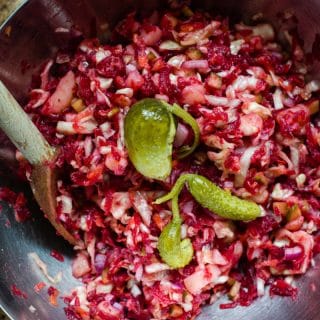 Ingredients
2

cups

sauerkraut

2

beets

boiled or roasted

1

red onion

small

2-3

medium potatoes

boiled

1

medium tart apple

4

medium dill pickles

3

tbsp

extra virgin olive oil

salt and pepper to taste
Instructions
Put unpeeled potatoes in a pot filled with water and bring to a boil, then cook for approximately 15 minutes until fork tender. It's important that the vegetables are cooked yet firm. Boil unpeeled beets for approximately 40-45 minutes depending on the size in a separate pot. Cool until safe to handle, then peel and dice the potatoes and grate the beets.

Dice the red onion, pickles and the apple and set aside.

Take the sauerkraut out of the liquid it's packed in and drain well by squeezing out the liquid with clean hands.

In a large bowl combine sauerkraut, diced potatoes, onions, apple, pickles and grated beets, then dress with the olive oil, taste and add salt and pepper if necessary as the pickles and sauerkraut contain quite a bit of salt already.

Chill the salad to allow the flavours to meld for an hour.