Your favourite sandwich reimagined! Philly Cheesesteak Loaded Fries are deliciously indulgent. Juicy steak strips, green pepper and onions are piled high on top of golden fries, then smothered with melty cheese. Perfect for a game night!
If you love this loaded fry recipe, take a look at my Beef Tacos. Another great idea for a fabulous party!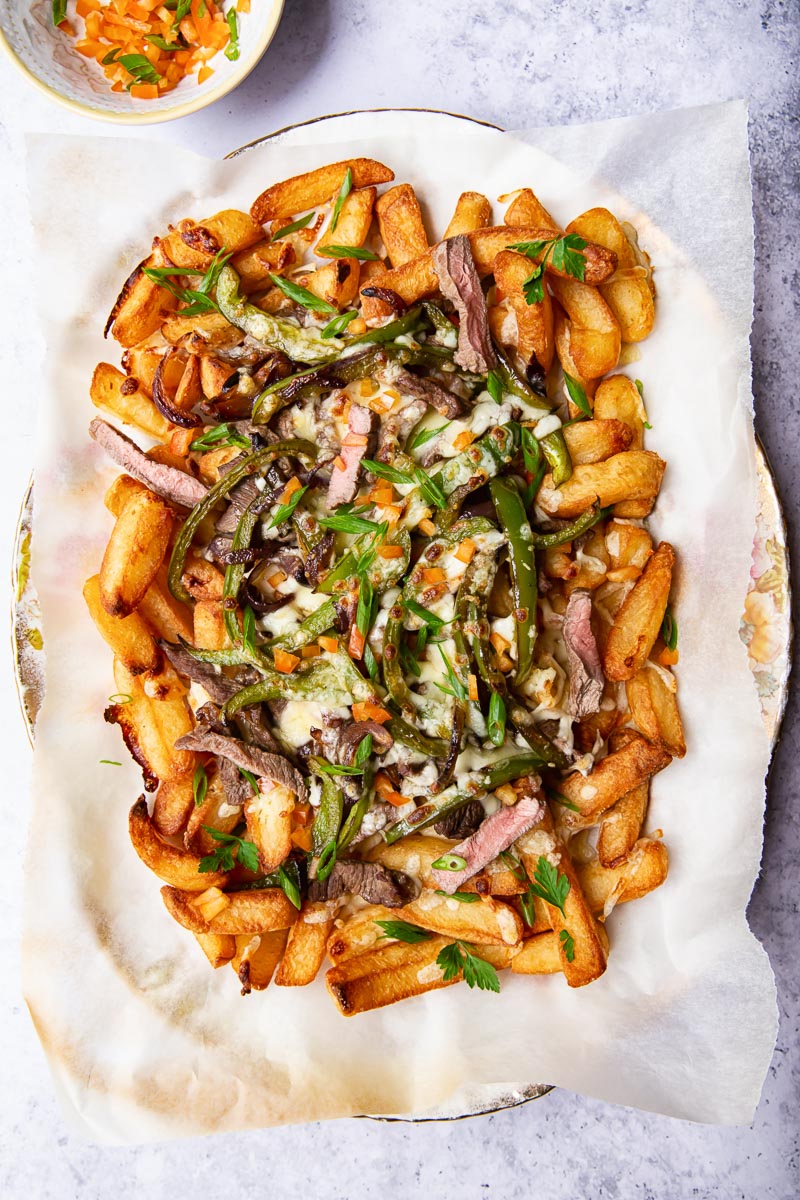 We are heading into the holiday and party season and I feel it's my duty to share a few ideas for you festive table. This recipe for loaded fries is ideally suited for a game night or a casual party. You can even make it for your own family as a treat. I won't judge you!!
What are Loaded Fries?
Loaded Fries or as they also are called Dirty Fries are nothing more than French fries topped with a variety of toppings with melted cheese often being one of them. Sometimes they are also called cheesy fries.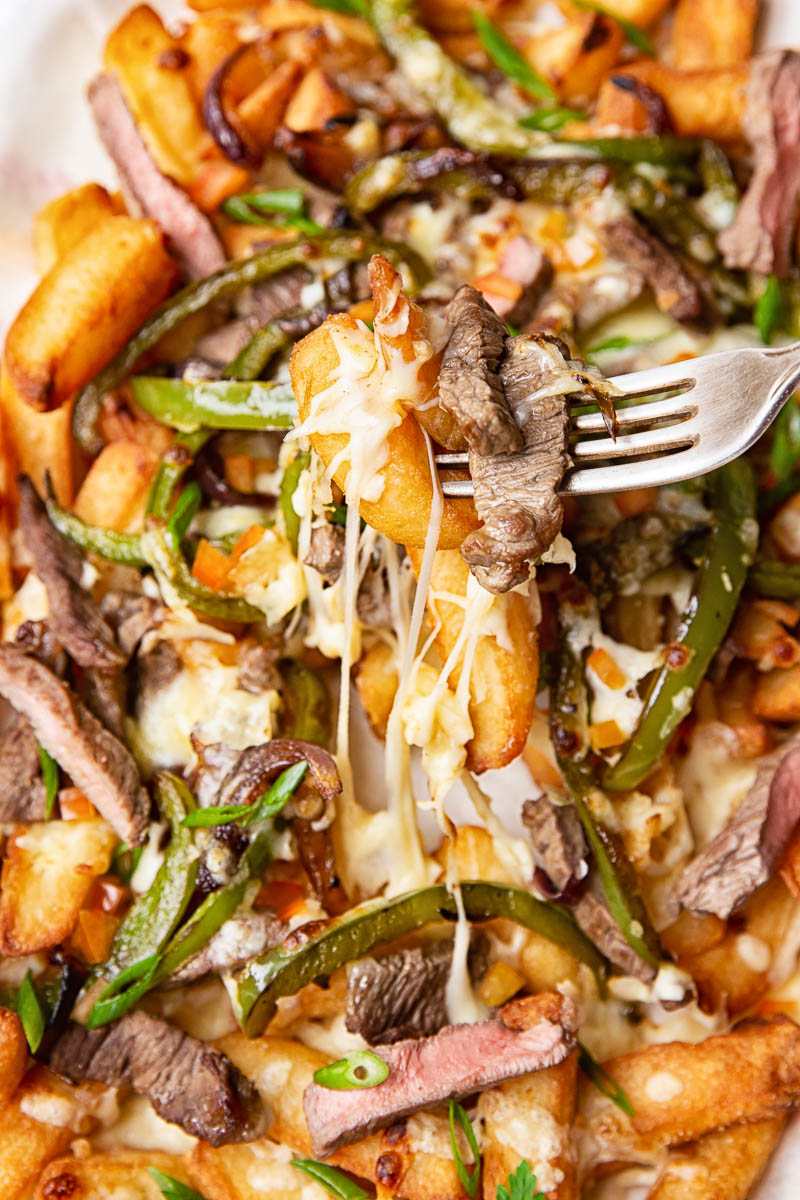 What topping can I put on French fries?
Let your imagination run wild. There are no wrongs when it comes to toppings since it's all about personal taste. Spiced ground beef, pulled pork or chicken, bacon, tomatoes, olives, you name it!
The idea I want to share with your today was inspired by my affection for Philly Cheesesteak Sandwiches.
I just love the delicious combination of grilled steak, green peppers and onions topped with melty cheese. Don't you?
The mix of stringy when melted mozzarella and sharp cheddar works wonders on humble fries!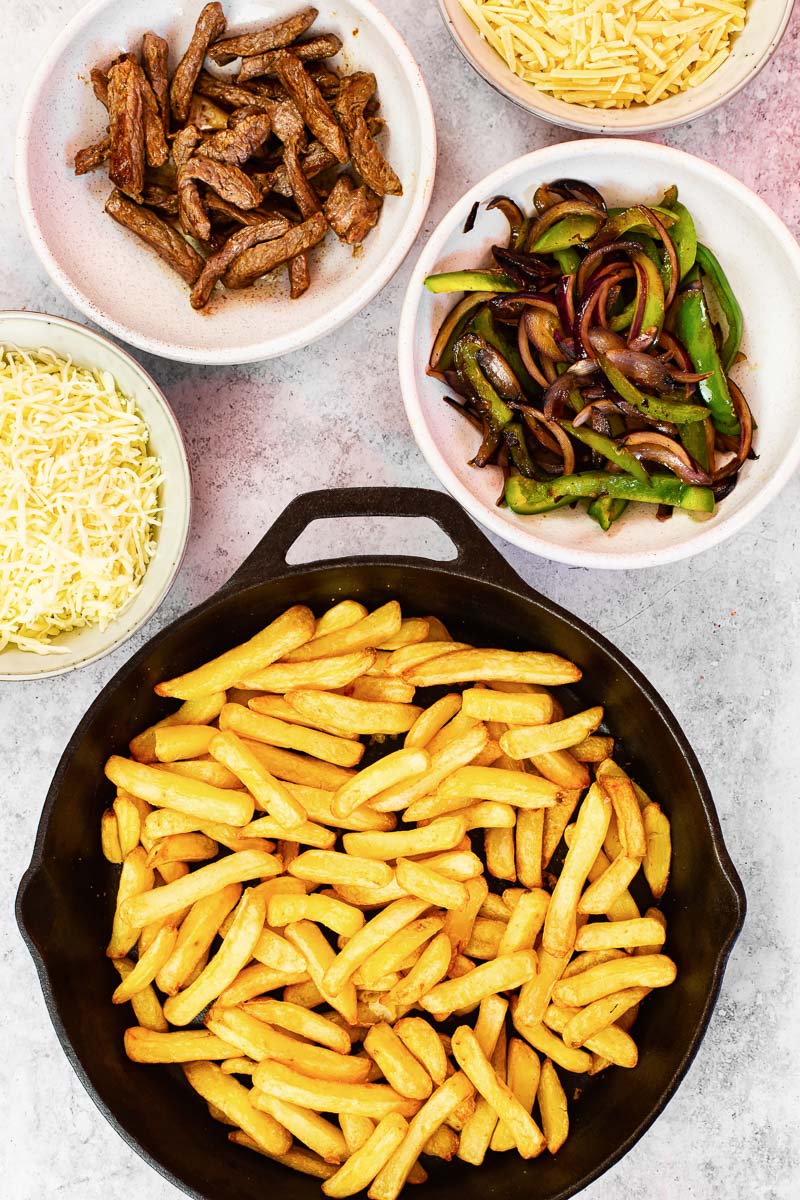 What French Fries can I use?
You can cut your own and either oven bake or deep fry them. Personally I dislike deep frying anything, so I use an air fryer, which uses a tiny amount of oil to transform a large bunch of cut potatoes into crispy fries.
If using frozen French fries, skip the oil as it's already added by a manufacturer but do season with salt! You can also bake them in the oven according to package instructions.
Whatever option you end up going with, make sure to choose thickly cut or chunky fries as thin ones will dry out after being in the oven twice. First time for cooking and the second time for melting cheese.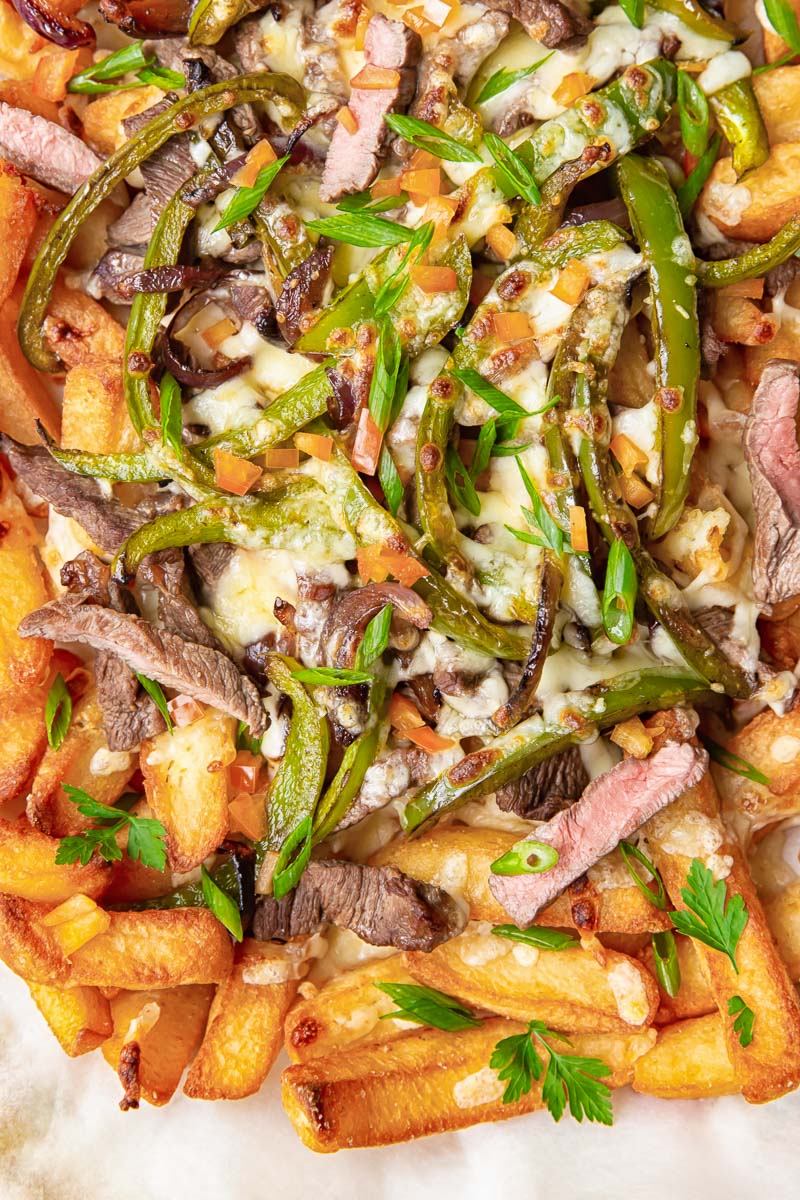 More Favourite Party Food Recipes: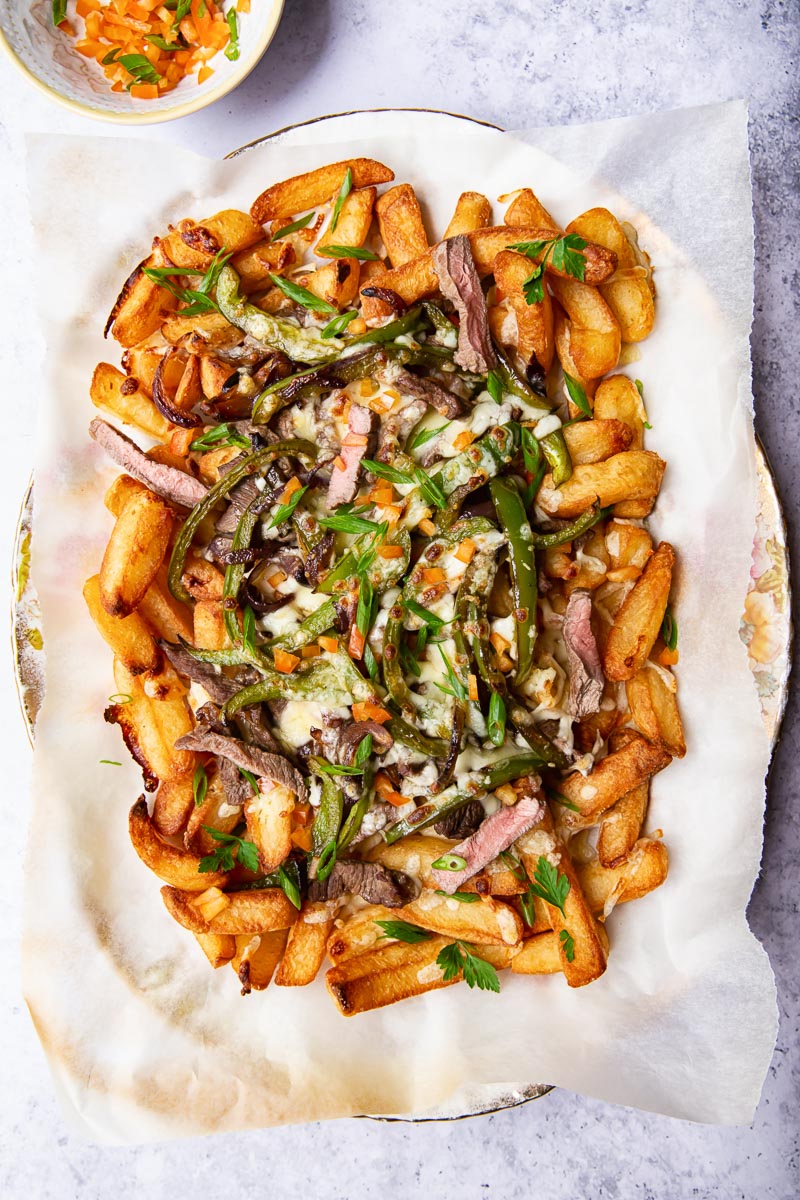 Ingredients
1 ½ lbs

frozen French fries/frozen chips in the UK, thick cut

2

tbsp

olive oil, divided

200g/8oz

sirloin steak or steak of your choice

1

onion, sliced

1

green pepper, sliced

100g/1 cup

mozzarella cheese, grated

100g/1 cup

cheddar cheese, grated

2

green onions, sliced
Instructions
Cook the fries according to package instructions in an oven or air fryer until crispy.

Trim the steak off visible fat and cut into strips, season with salt and pepper and sear in 1 tbsp of olive oil until nicely browned. Don't overcook the steak or it will be tough! Remove to a plate and set aside.

To the same pan add another tablespoon of olive oil and saute sliced onions and green pepper over medium heat for about 4 minutes. Remove to another plate and set aside.

When fries are cooked till golden, spread them on a large cast iron pan or a sheet pan, top with half of the cheese mixture, then top with steak strips, green peppers and onions and add the remaining cheese. Broil for 2-3 minutes until the cheese has melted. Watch closely not to burn. Sprinkle with sliced green onions and serve.
Nutrition Facts
Philly Cheesesteak Loaded Fries
Amount Per Serving
Calories 381
Calories from Fat 216
% Daily Value*
Fat 24g37%
Cholesterol 38mg13%
Sodium 588mg26%
Potassium 531mg15%
Carbohydrates 28g9%
Protein 14g28%
Vitamin A 295IU6%
Vitamin C 19mg23%
Calcium 173mg17%
Iron 2mg11%
* Percent Daily Values are based on a 2000 calorie diet.