So the BIG GAME is approaching and it kills Brad and I that we can't watch it with the rest of the world. It's tough for football-loving folks to be in a different time zone. Okay, okay I am not the biggest fan but I do live with one. Also, it's amazing how many things you learn about something you don't really care about, even if it's played in the background!
I am however the biggest Superbowl party food fan! Love, love, love! We've had our little Superbowl party every year since we moved to England. In the middle of the night. Just stuffing our faces with chips and dips, chicken wings and potato skins. It's glorious! Check out Smoked Cheddar Southwestern Dip I made last year. Proud to say that it is a 100% Vikalinka invention.
I love all kinds of party food but chips and salsa is my base line.  What kind of football party doesn't serve chips and salsa? I know, I know you guys who live in the US and Canada have some tasty choices in your supermarkets but here in England we have only two. It's either salsa that tastes like canned tomatoes or salsa that tastes like barbecue sauce.  Not muy caliente. Not at all.
This salsa is my go-to, everyday recipe that requires 5 minutes. Just throw everything in the blender and blitz! It's so fresh and so flavourful and doesn't make you feel like you ate too much because it's all veg. 😉
Enjoy with tortilla chips, tacos, burritos or anything else you can think of! Next morning drizzle it on top of your eggs. YUM!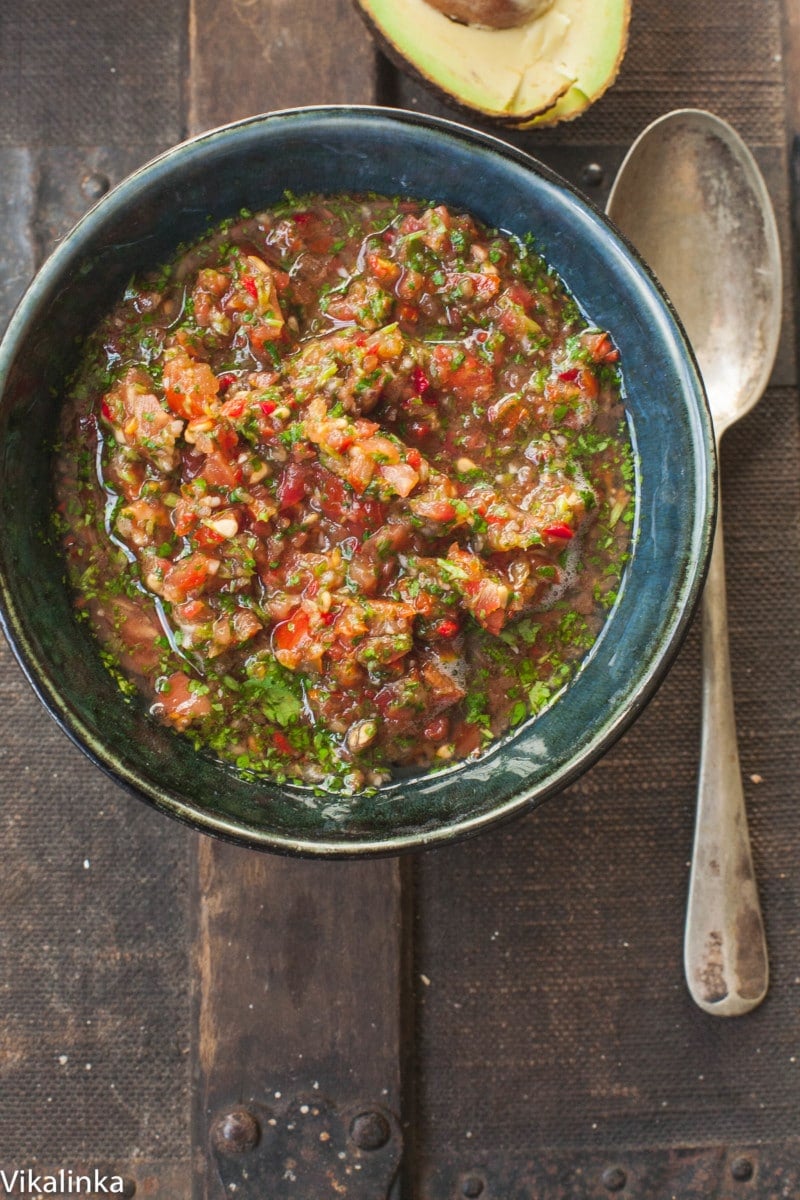 Ingredients
Red Onion- 1 medium

Red Chilli- 1/2-1 depending on your taste

Cilantro/Coriander- 1/2 bunch

Garlic- 2 cloves

Lime juice- from 1/2 lime

Tomatoes-4 large

Salt-1/4 tsp.
Instructions
Add a quartered onion, garlic, cilantro and a fresh, deseeded chilli to the bowl of a blender or a food processor and pulse until roughly chopped.

Add tomatoes, salt and lime juice. Pulse until desired consistency.