This Chicken Chilaquiles will take care of ALL your problems. Trust us. We are professionals!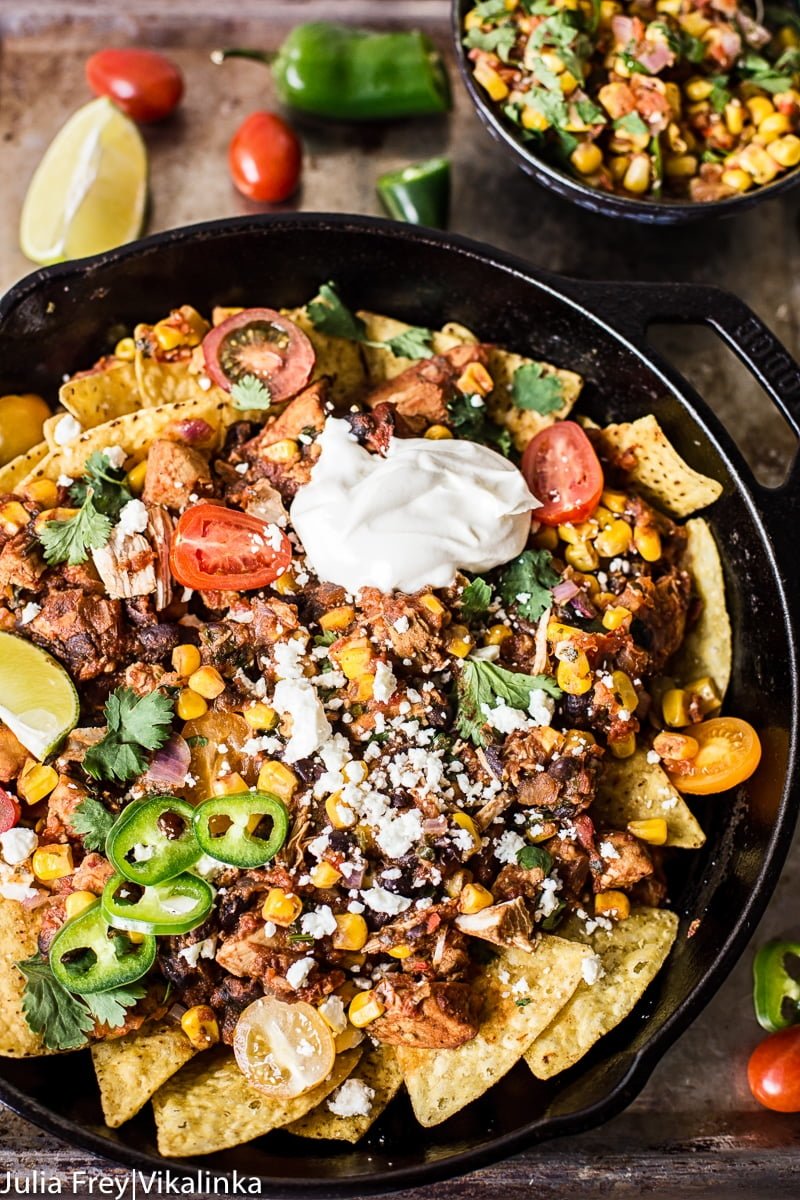 We've been back from Russia for a couple of days but we are still recovering after a three week trek through the largest country in the world! We've covered a lot of ground in those three weeks and saw a lot of things and people!
What impressed us most through all of it is our kids. Not a word of complaint of tiredness or boredom as they were being dragged through countless palaces, museums and people's houses! Not even a hint of bad attitude or irritation.
What can I say…at their tender age of 11 and 12 they are already well-seasoned travellers! Still to say "thank you" for making it so easy on us, we've decided to treat them to their favourite meal, which is usually Mexican in the form of burritos.
Little did they know I've got something even more impressive up my sleeve. Chicken Chilaquiles!!
What are chicken chilaquiles?
This Mexican bake is like the ultimate nacho plate your dreams are made of! It's got tortilla chips smothered in spicy chipotle sauce with tender chicken and black beans.
Served with warm corn salsa and sour cream! Seriously, this meal is so delicious and epic, you will want to make it every Friday night! Or maybe every night if that's how you roll.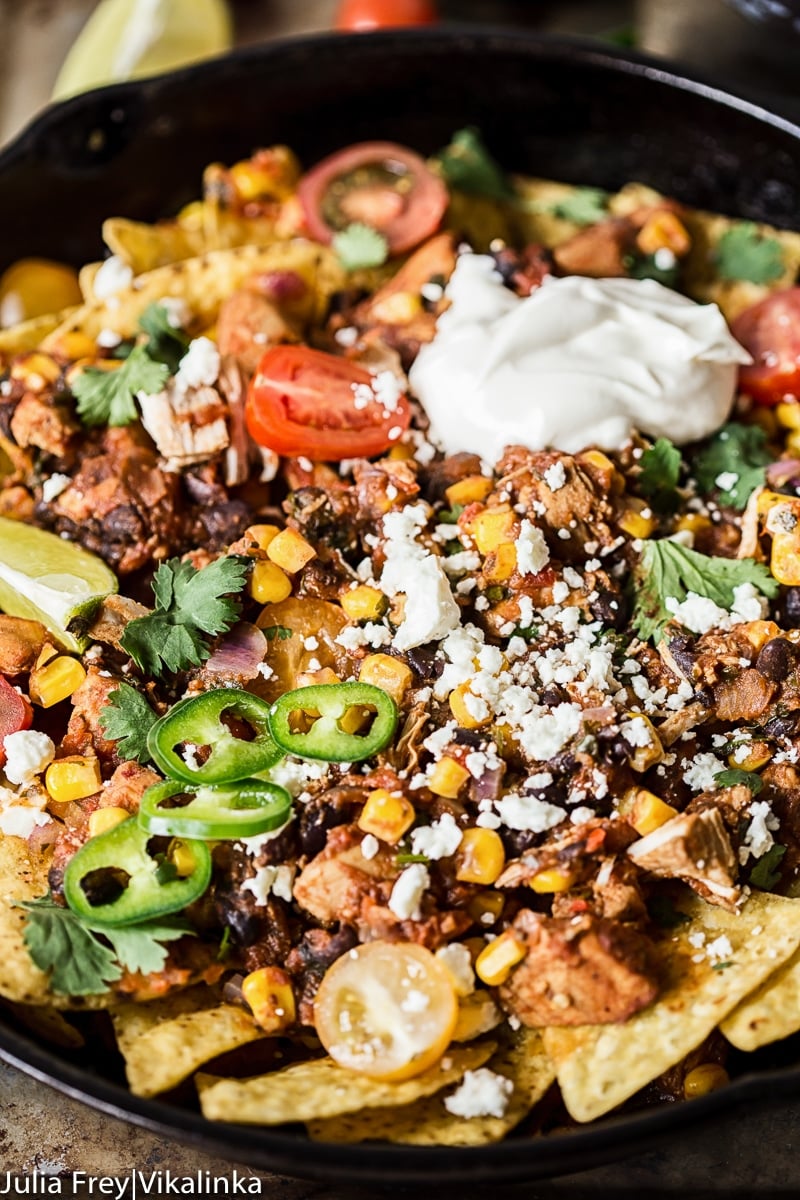 How do you make chilaquiles?
It's also incredibly easy to pull off, especially if you choose to use a rotisserie chicken and a ready made pico de gallo! This recipe was given to me by a friend but, as usual, I had to play with it a bit to make it my own.
First of all, rotisserie chickens are not very common in British supermarkets, so I cooked chicken breasts instead. Neither is pico de gallo, so I had to make my own.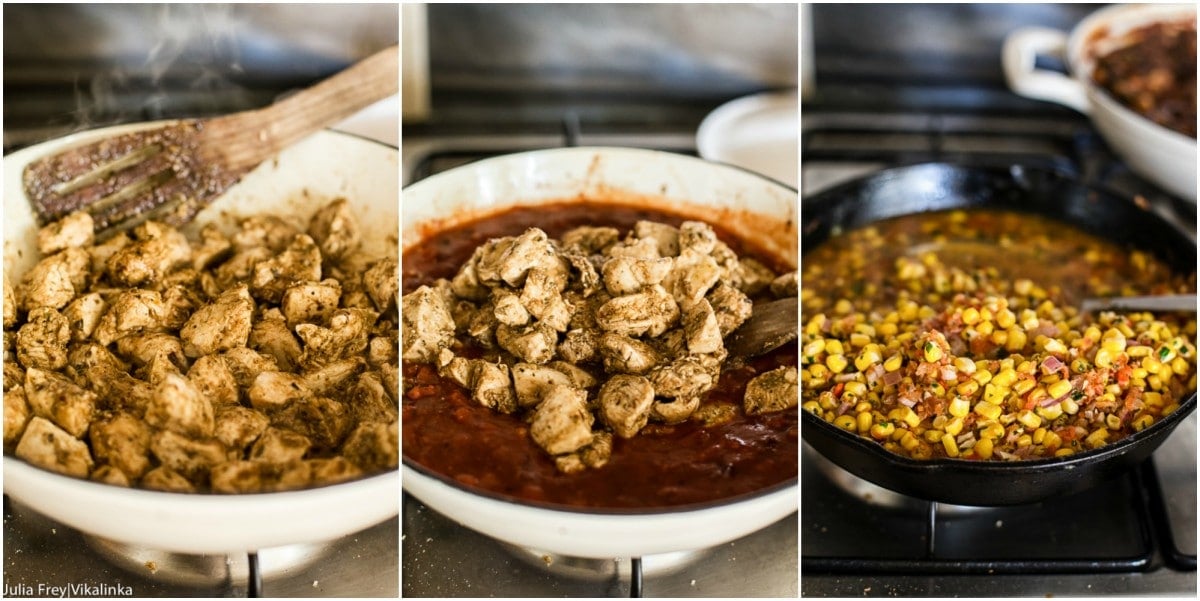 I also added a bunch of spices because that's how we like it. The recipe that was given to me suggested serving the chicken in bowls and tortilla chips on the side but I decided to bake it because that's how I remember I first learned making it from someone who lived in Mexico.
Anyway, let's get to it!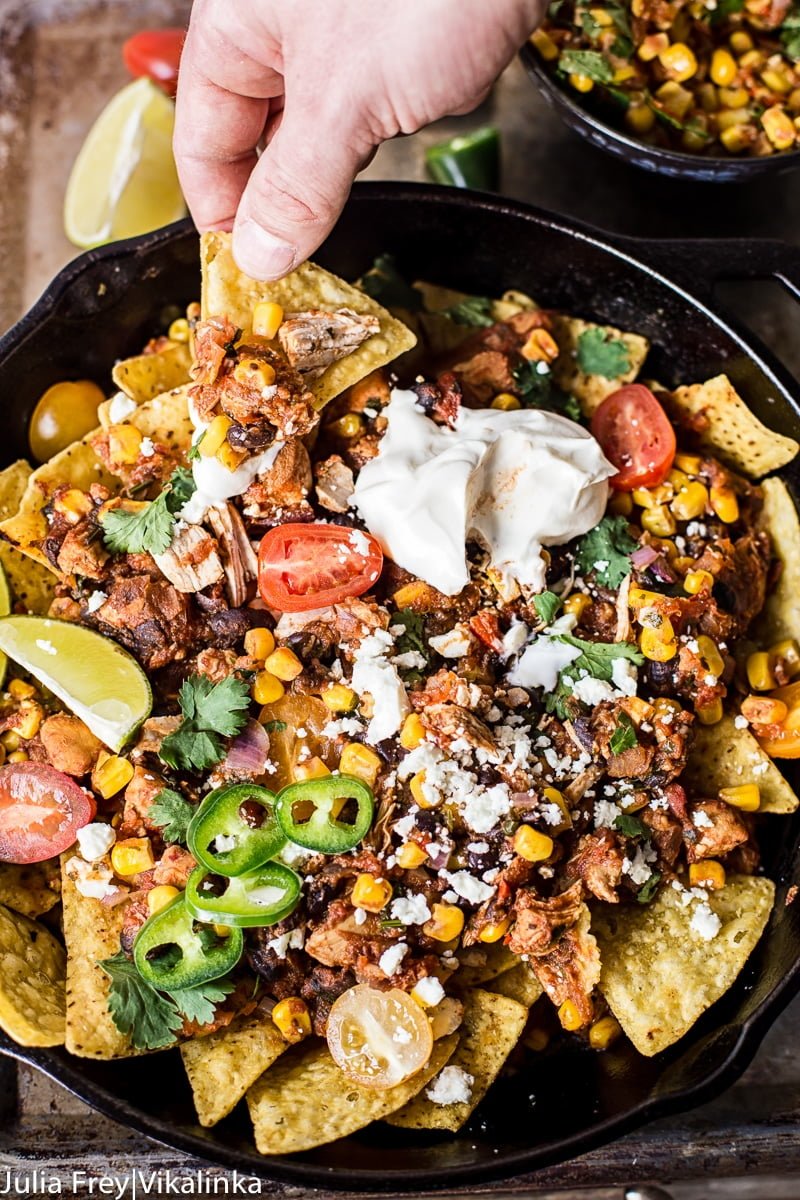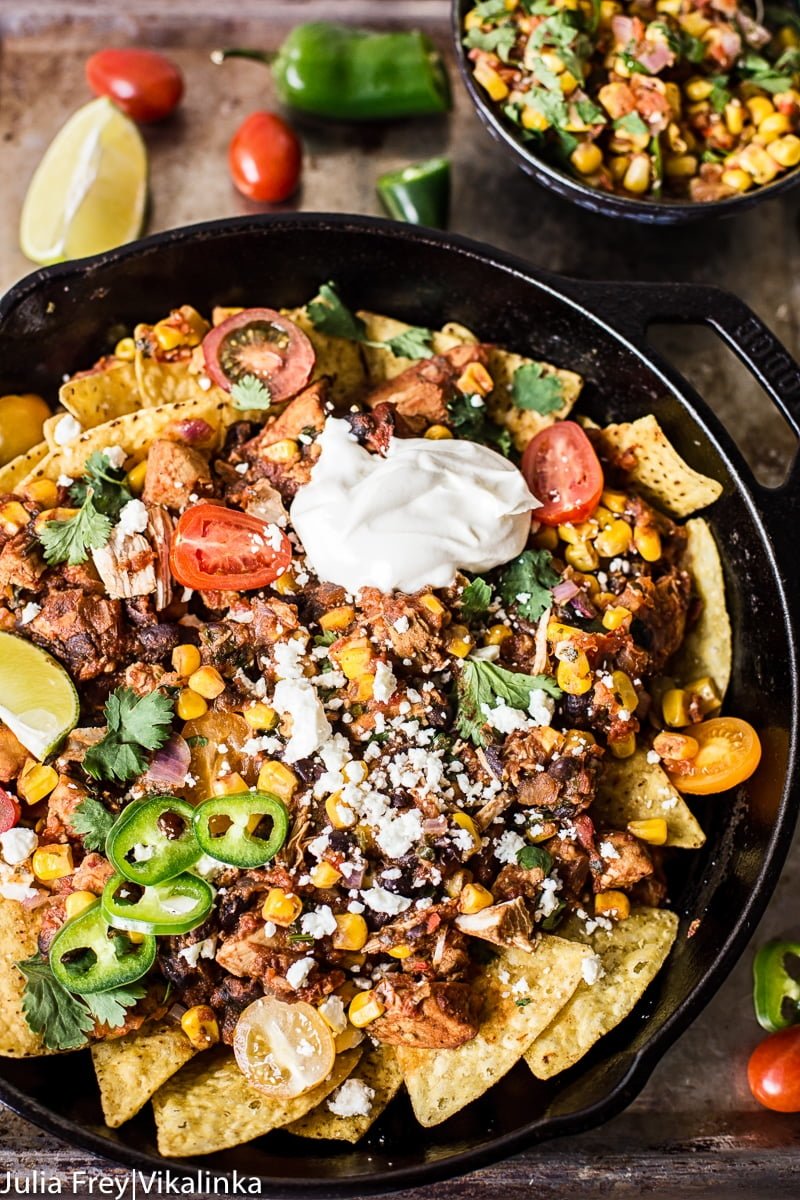 Ingredients
1

tbsp

olive oil

1.5

lbs

chicken breasts

chopped in bite-sized pieces

1

tbsp

ground cumin

2

tsp

chilli powder

1

tsp

oregano

salt

1

onion

chopped

4

cloves

garlic

2

X14 oz/400g cans of chopped tomatoes

¼

cup/100g chipotle paste

1

X14 oz/400g can of black beans

1

cup

cilantro

chopped
For the warm corn salsa
1

red onion

medium

1

red chilli

1

cup

cilantro/coriander

4

cloves

garlics

divided

lime juice

from ½ lime

4

tomatoes

large

salt to taste

1

tbsp

olive oil

2

cups

frozen corn
Add-ins
1

or 2 bag of tortilla chips

Cotija cheese

or soft feta as a substitute

sour cream

cherry tomatoes

avocados/guacamole

spring onions

green chilli

sliced
Instructions
In a large frying pan heat olive oil and brown chicken breast pieces over medium-high heat with cumin, chilli powder, oregano and salt until sealed but not cooked all the way through for approximately 5 minutes. Remove to a bowl.

To the same skillet add chopped onion and cook over low heat for 5 minutes, then add garlic and continue cooking for 2 minutes, then add cans of chopped tomatoes and chipotle paste, stir, turn the heat up and bring to a boil. Return the chicken back to the pan, add black beans, cover with a lid, lower the heat and let it simmer for 10-15 minutes.

Meanwhile in a food processor or a blender make Pico de Gallo by combining all salsa ingredients but olive oil, corn and 2 cloves of garlic, pulse for a few seconds.

In another skillet saute garlic in olive oil for a minute, then add frozen corn and cook until the corn is warmed through for about 2-3 minutes. Take it off the heat and combine with the previously made Pico de Gallo. Adjust seasoning to taste.

Now stir in fresh cilantro into the chicken and take off the heat.

Preheat the oven to 350F/180C

To assemble Chicken Chilaquiles layer tortilla chips and the spicy chicken mixture in a deep skillet or a sheet pan with rims. You can do either one or two layers of each chips and the spicy chicken mixture and top with cheese of your choice. Bake in the oven for 10 minutes.

Serve with additional toppings suggested in the ingredient list.