It's time to pull out your slow cooker and make these delicious pulled lamb birria tacos! This post is sponsored by Crock-Pot. All opinions are mine alone!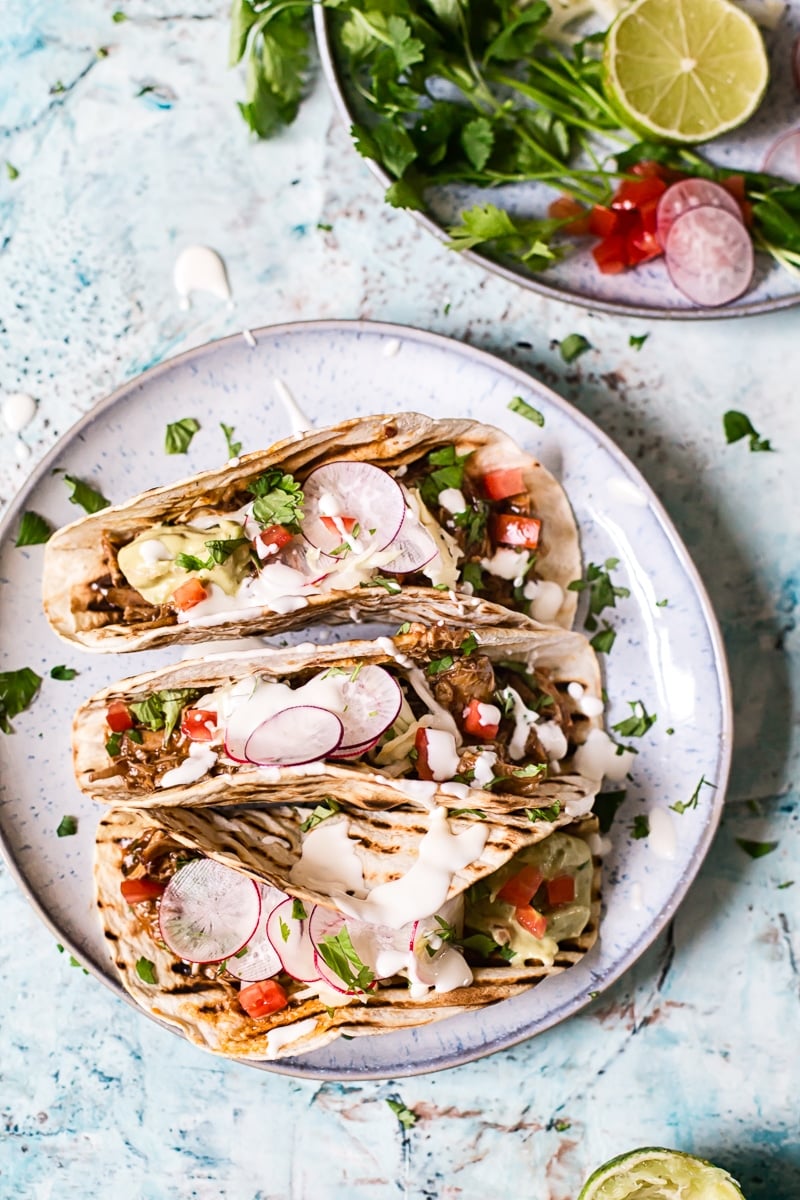 I've had busy three weeks, friends. And by busy, I mean I haven't had a weekend in three weeks. I know I'd told you those days were over when I quit my day job. But the reality of a freelancer is we get jobs when they are offered because we never know what is coming next!
I am not complaining because I still absolutely love what I do but I could sure use another cup of coffee today! My busyness wasn't helped by the fact that it was Canadian Thanksgiving this past weekend, and as usual we invited friends over to celebrate with us.
Although we've lived in the UK for a while, we still celebrate the holiday every year, which keeps us connected to our home.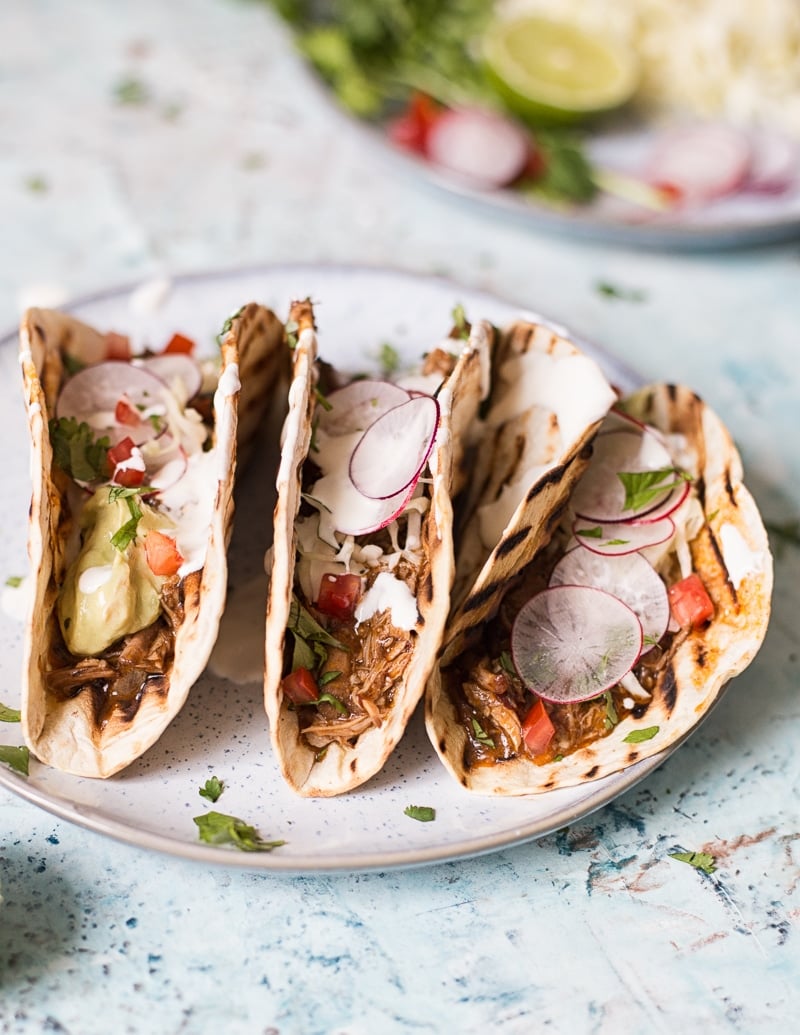 As if cooking a giant turkey dinner for two days wasn't enough, I remembered we made dinner plans with another set of friends for the following day.
When Monday morning alarm went off, I wasn't at all ready to get up and face the day. The kitchen was still covered with a slew of unwashed dishes, unfinished pies and an array of cookbooks.
I looked at the disaster zone I was standing in and the thought of making another meal made me want to shut the kitchen door and head back to bed.
Oh yeah, one of the friends, who was coming round, was an actual chef! Let's talk about pressure here. I went over all of my star dishes in my head that could possibly impress him, but in all honesty I just couldn't muster up the energy. So I decided to go to my "always winner" of a meal. Tacos!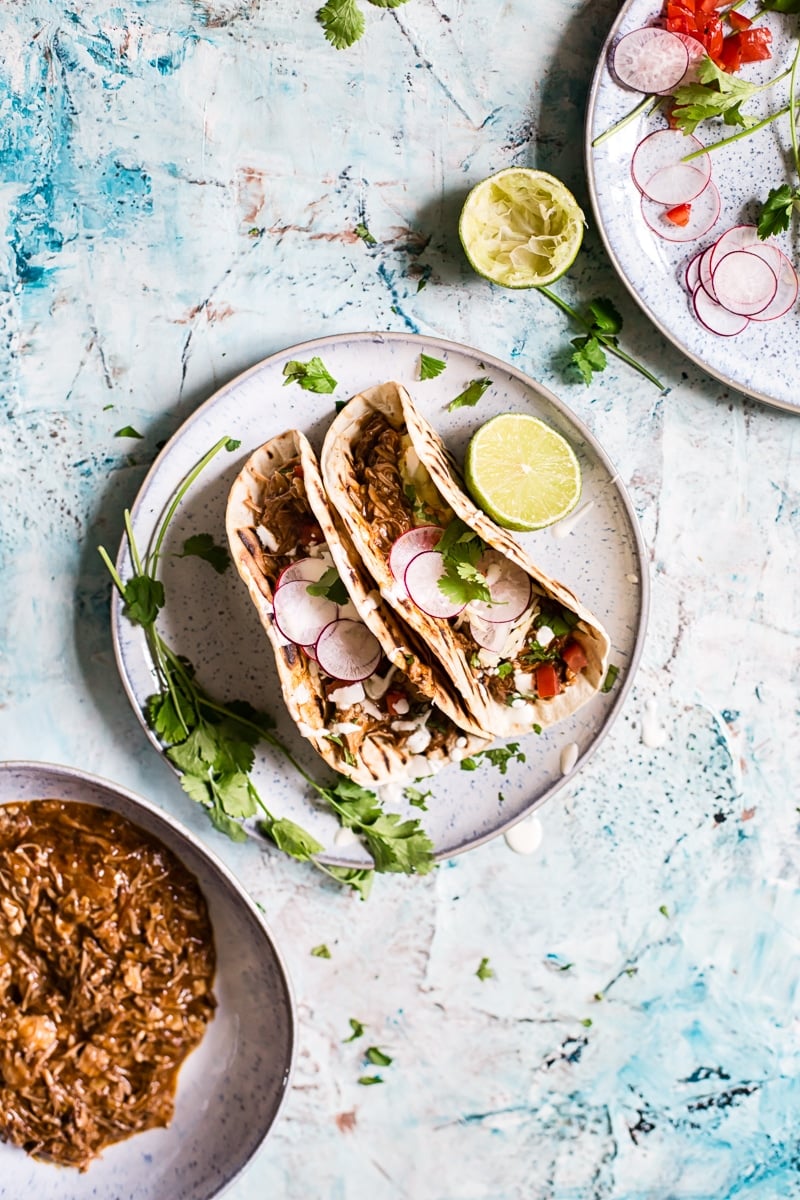 And the reason why I felt okay about it is because it's #Crocktober, a month long celebration of slow-cooking! I knew most of the work will be done in my trusty Crock-Pot. Slow cookers are MADE for the type of a meal I was planning and Crock-pot is the original one that's been doing it for over 40 years! I used their latest DuraCeramic model.
My plan was to cook a shoulder of lamb on low and slow with an array of spices until it's easily pulled apart with two forks, then stuffed into tacos with all the toppings!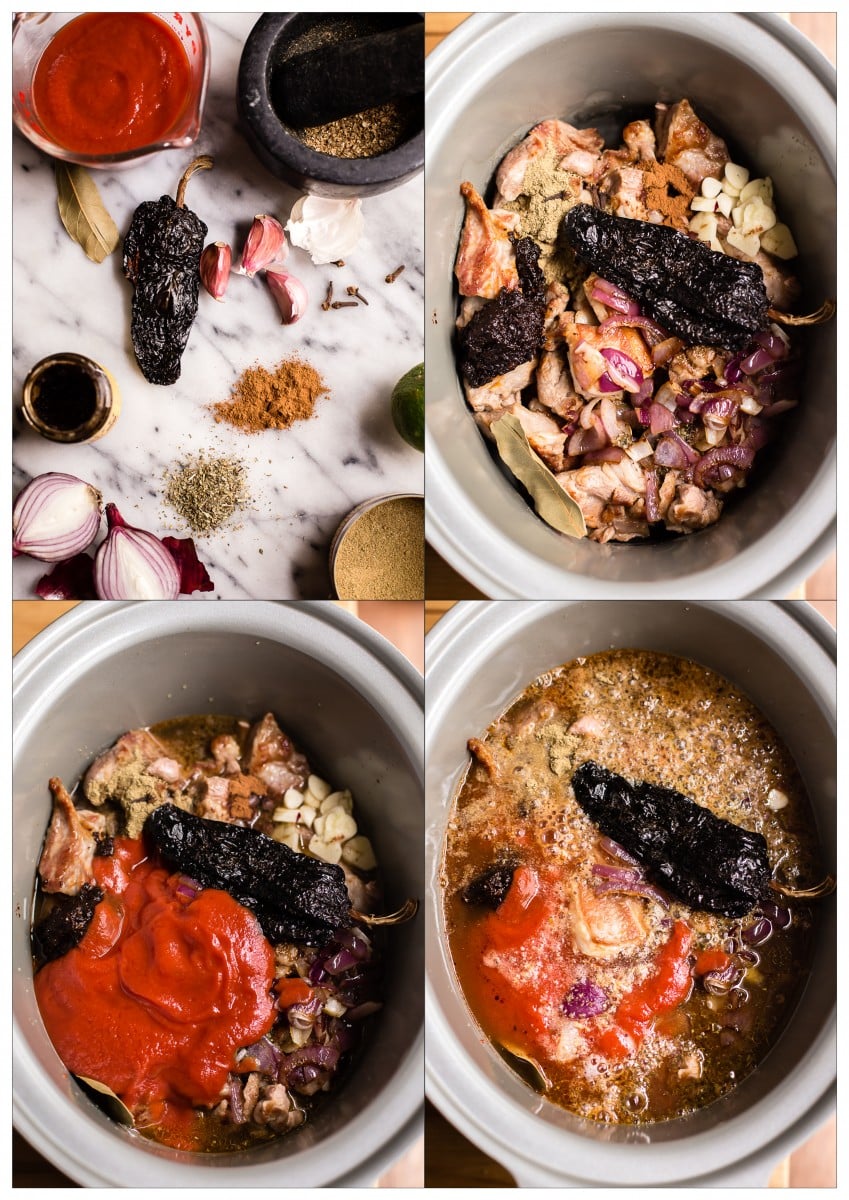 The recipe I am sharing today for Lamb Birria was developed by a celebrity chef Neil Rankin, which I slightly adapted.
It's a traditional Mexican stew, which could also be successfully made with beef or pork. Sure we could eat as it is but I knew my kids, and possibly our guests, would have a lot more fun with Pulled Lamb Birria TACOS! So I took it even further into the 21st century.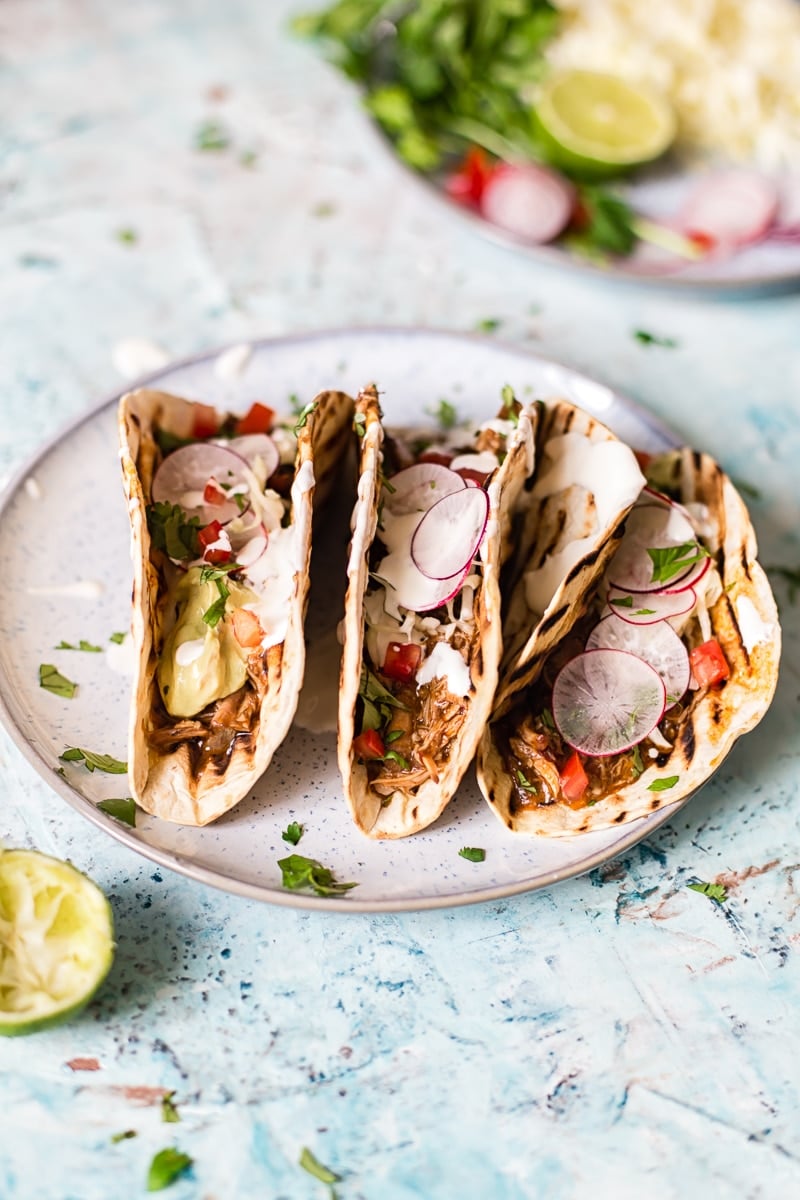 I loaded my Crock-Pot with all the ingredients and pressed START. Then I went on to clean that mess of a kitchen, had a shower, got dressed, went shopping, came home and had a bit of snooze (I was dead tired!), had another cup of coffee all the while my lamb birria taco filling was cooking away!
Six hours later I pulled out the most tender and flavourful lamb for my tacos. Needless to say, my chef friend was very impressed. Mission accomplished!
Serve these Pulled Lamb Birria Tacos with my 5-minute blender salsa fresca, my perfect guacamole, and this cabbage slaw! Other possible toppings include thinly sliced radishes, grated cheese and lime juice spiked creme fraiche.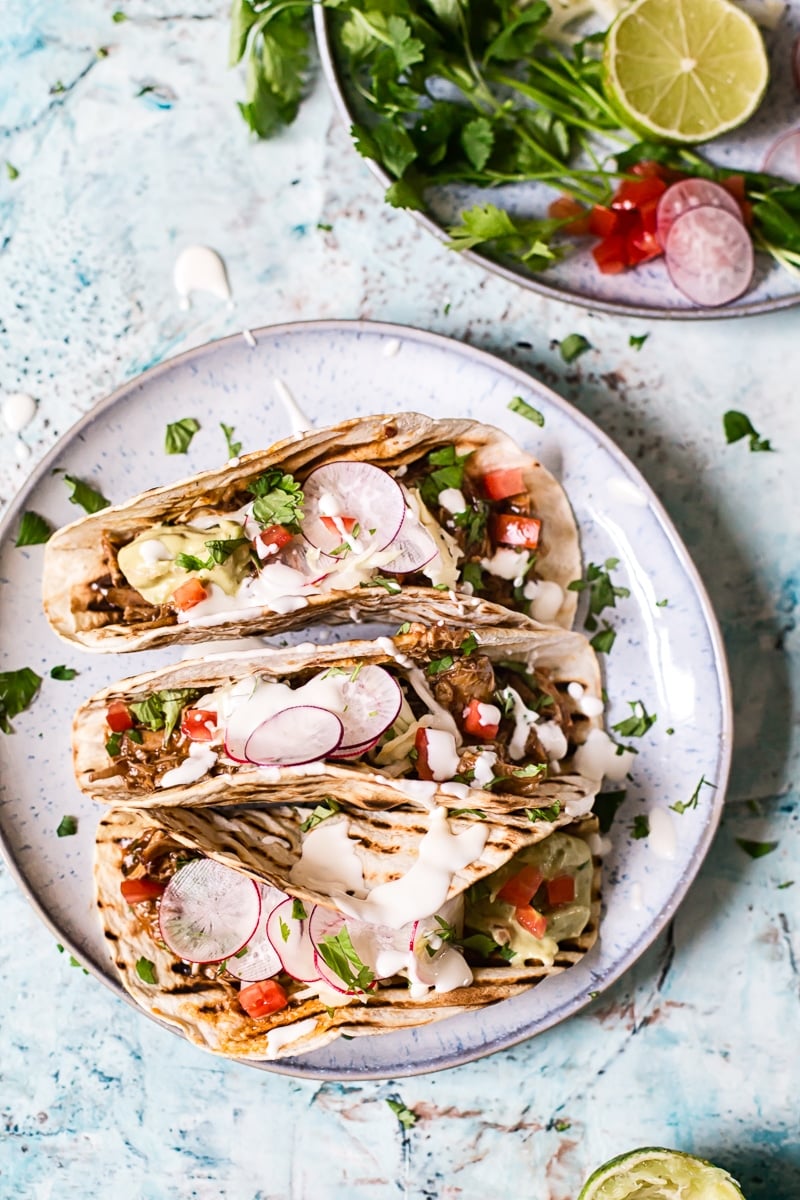 Ingredients
For Pulled Lamb Birria
20

ml/1 tbsp vegetable oil

2.5-3

lbs

boneless lamb shoulder

1

onion sliced

200

ml/1 cup tomato passata

1

bottle of light beer

1-2

tbsp

chipotle paste

1

tsp

cracked coriander coriander seeds

1/2

tsp

cinnamon

1/2

tsp

nutmeg

3

cloves

1

tbsp

cumin

1

dry ancho chilli

1

bay leaf

1

tbsp

oregano

3

garlic cloves

sliced

2

tsp

cornflour

salt to taste
For Pulled Lamb Birria Tacos
tacos

salsa

guacamole

cabbage slaw

cheese

sliced radishes
Instructions
Set your crock pot to high (for 4 hour cooking) or low Recommended (for 6 hours).

Slice the lamb into chunks and brown in the inner aluminium dish of the Crock-pot. Remove then add the sliced onion. Cook down till soft then add the spices and cook for a minute.

Add the onion to the lamb and the rest of the ingredients apart from the salt and cornflour to the Crock-Pot and cook until the lamb is easily pulled apart with two forks. With a slotted spoon remove all the lamb chunks to a large platter and shred the meat with two forks.

Add the salt to taste and if the mixture needs thickening, mix the cornflour with a little water and add to the mix. Cook until thick (taste if you transfer to a pan and bring to the boil, then return the lamb to the mixture.

Serve with tacos and the recommended in the post toppings. (Links included in the post).