It's time to pull out your slow cooker and make these delicious and effortless pulled lamb birria tacos! Use leftovers in our delicious quesadilla recipe.
Take a look at our pulled pork tacos or beef tacos if lamb is not your style!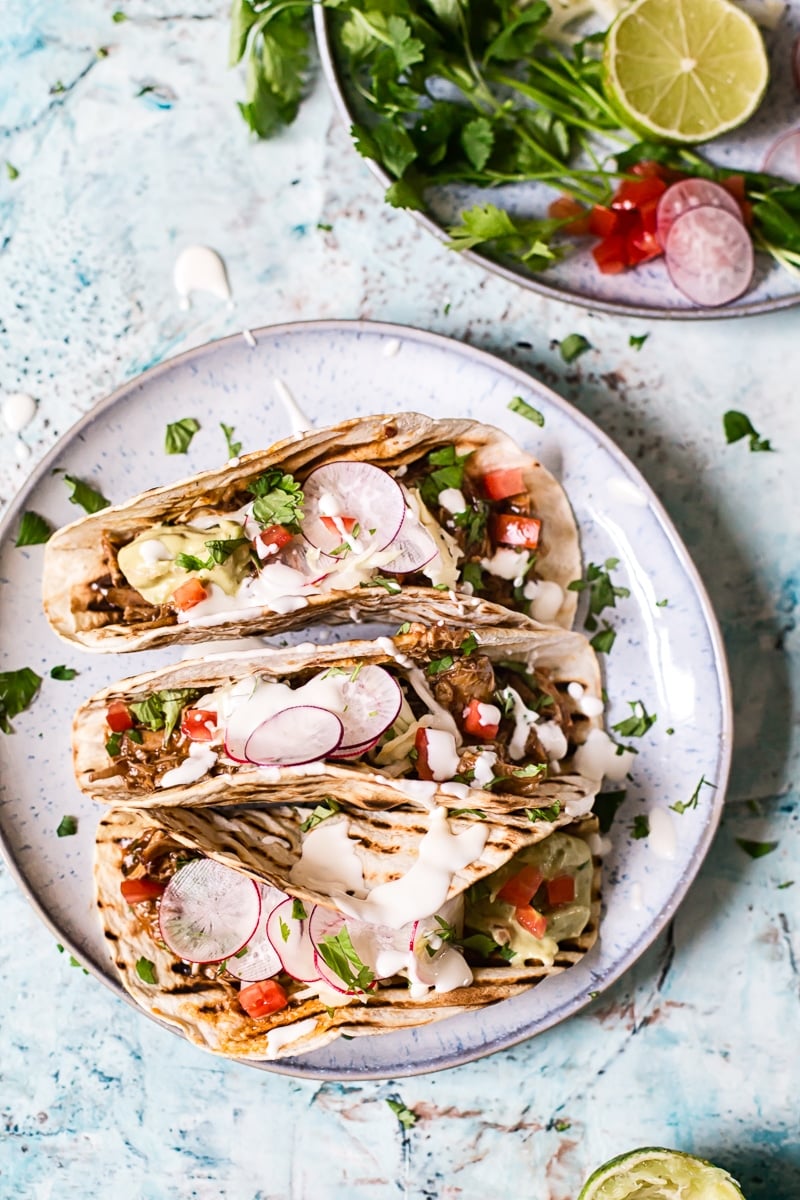 Winter months are the slow cooker months! It's so easy and convenient to load up that trusty crock pot during colder spells when we tend to hibernate and move a bit slower.
The recipe I am sharing today for Lamb Birria was developed by a celebrity chef Neil Rankin, which I slightly adapted. It's a traditional Mexican stew, which could also be successfully made with beef or pork.
Sure we could eat as it is but I knew my kids would have a lot more fun with Pulled Lamb Birria TACOS!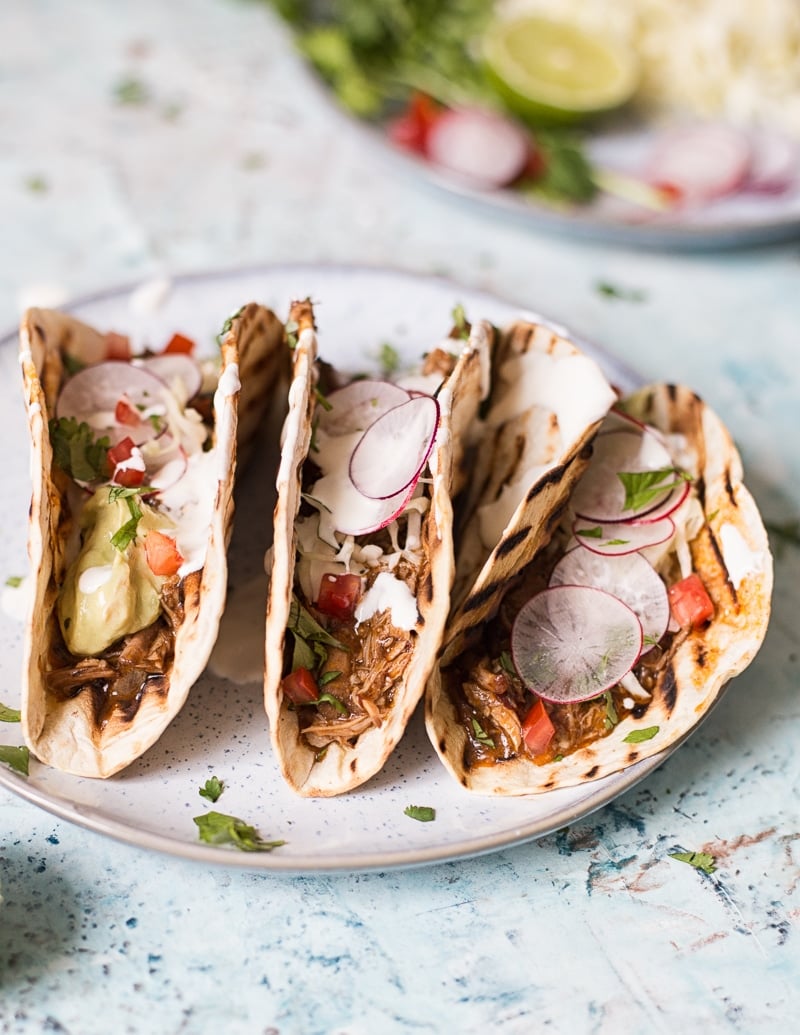 What is Lamb Birria?
Birria is a traditional Mexican dish usually made of goat but could also be made with lamb or pork. The meat is flavoured with a variety of spices.
A large number of spices was originally used to cover up the strong smell of the goat meat. Whatever meat you choose, make sure it is a fatty, boneless piece that lends itself well to slow cooking.
Birria can be eaten as a stew or a as a filling for tacos, which is what we are doing today.
I cooked a shoulder of lamb on low and slow with an array of spices until it's easily pulled apart with two forks, then stuffed into tacos with all the toppings!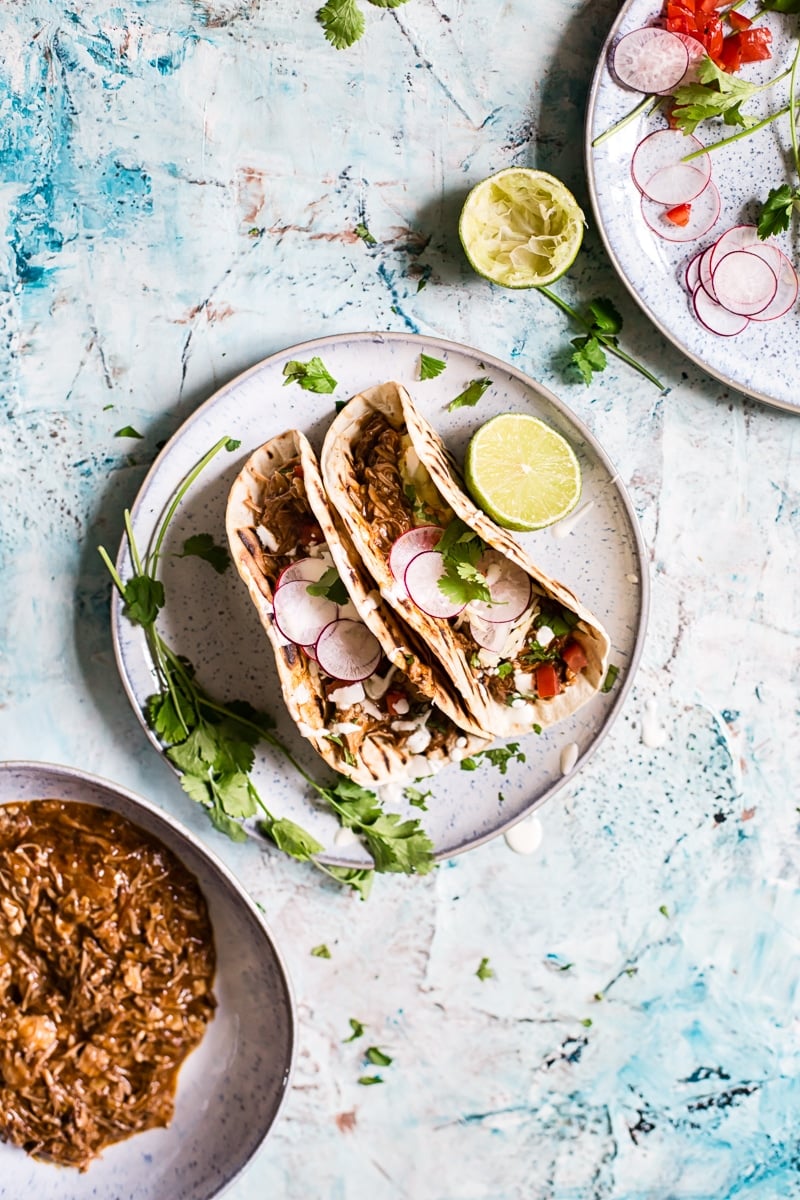 Recipe Tips
The recipe uses beer, which increases the flavour of the meat and the sauce. Feel free to substitute with non-alcoholic beer. Dr Pepper is another suitable substitute.
Cut your meat joint into large pieces, then brown them well all over prior to adding to a slow cooker. This step will increase the flavour of the birria as well as help with rendering the fat.
Load up your slow cooker with the browned meat and the rest of the listed ingredients.
I use both chipotle paste and ancho chillies but you can choose one or the other if they are difficult to source in your area.
Slow cook on High for 4 hours or better yet on LOW for 8 hours until the lamb is easily pulled apart.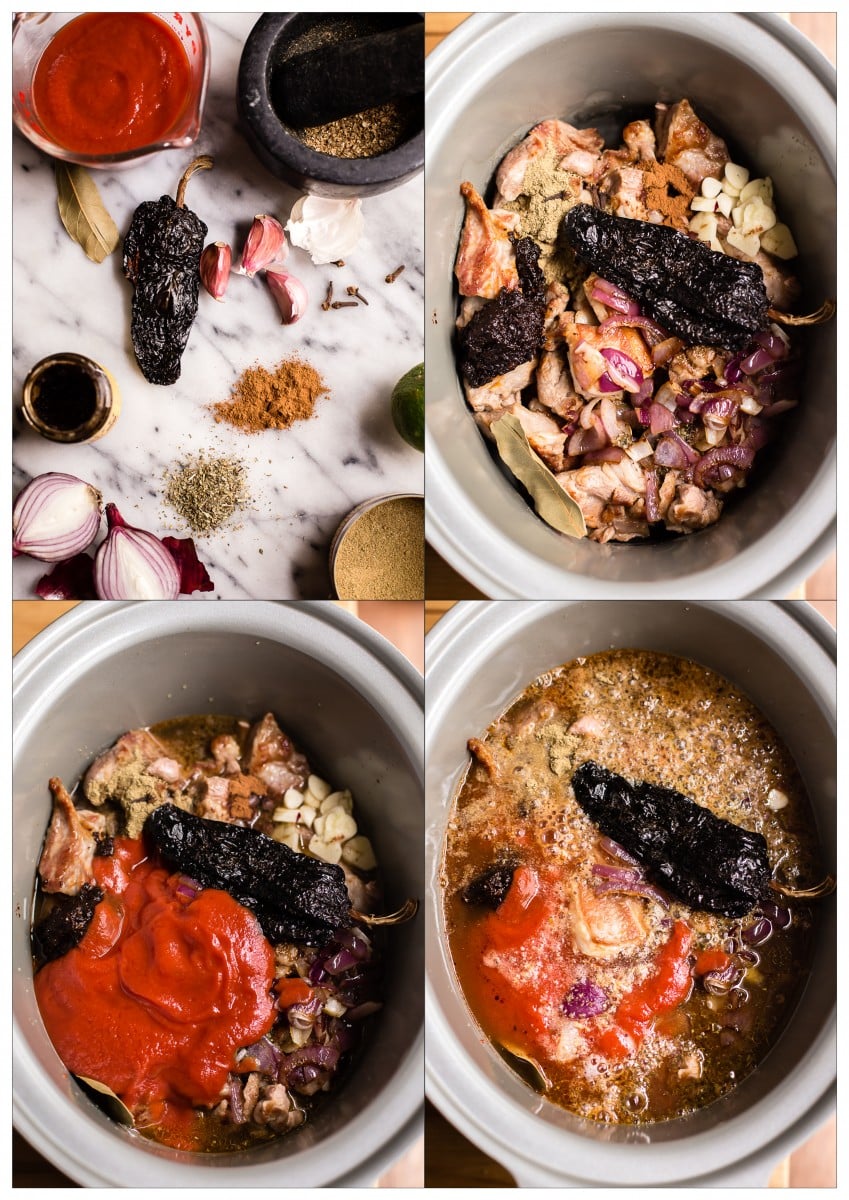 At the end of the cooking time, you will have tender and flavourful meat submerged in a lot of sauce. The sauce is a big part of what makes this dish birria, so do not discard it. It is also a huge flavour maker!
However, the sauce will be thin because it's been cooked in a slow cooker and they tend to produce watery dishes. Don't worry it's easy enough to fix.
Simply thicken the sauce with a cornstarch and water slurry. If your slow cooker insert is metal and made to be used on a stovetop, set directly on the stove.
Then proceed with the recipe and add your cornstarch. Bring to a boil and continue simmering over medium heat until desired consistency.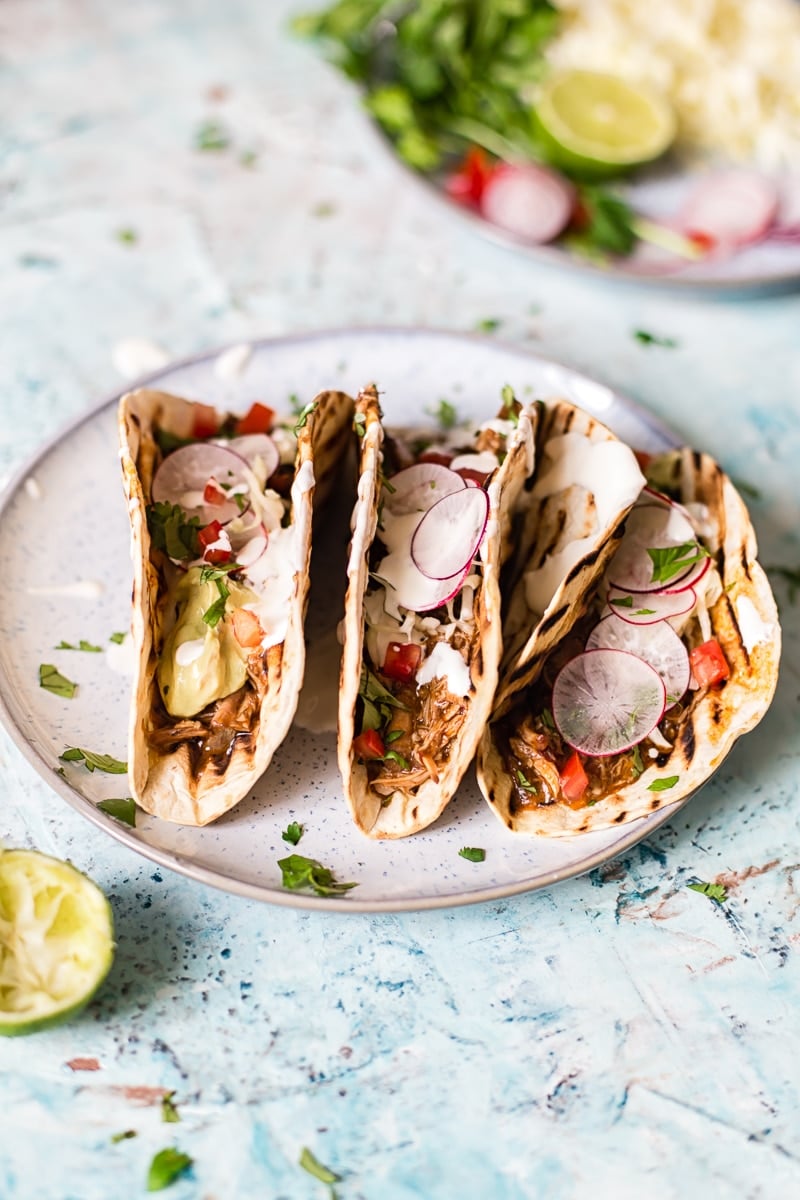 Taco Topping Suggestions
Birria Taco shells are often fried, however I skipped that step and used soft corn tacos here.
Best toppings for the lamb birria tacos:
Other possible toppings include thinly sliced radishes, grated cheese and lime juice spiked creme fraiche.
This recipe was originally published in 10/2017. Updated and republished in 02/2021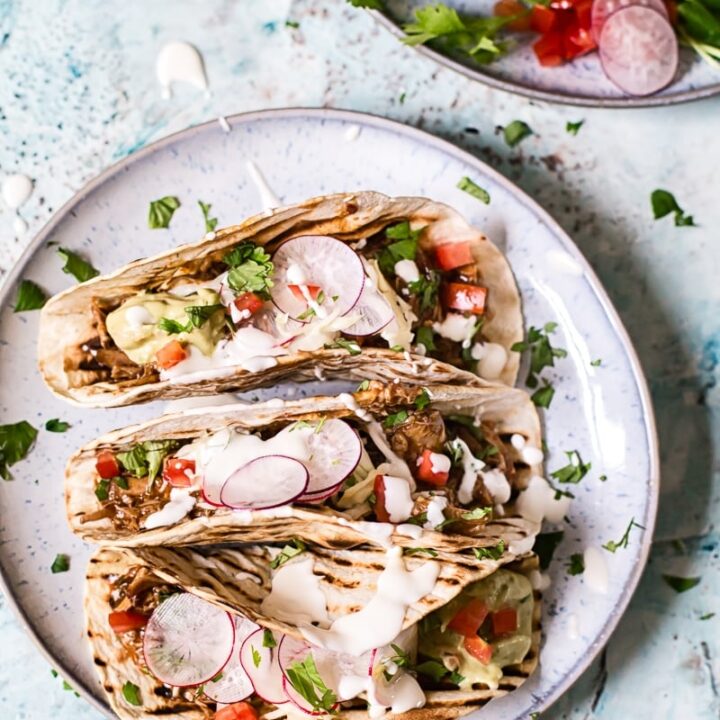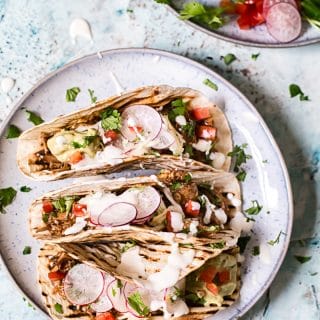 Pulled Lamb Birria Tacos
Slow cooker pulled lamb birria tacos.
Print
Pin
Rate
Ingredients
For Pulled Lamb Birria
1

tbsp

vegetable oil

2.5-3

lbs

boneless lamb or pork shoulder

1

onion sliced

200ml/1 cup

tomato passata or crushed tomatoes

330ml/11 oz

bottle of light beer

1-2

tbsp

chipotle paste

1

tsp

cracked coriander coriander seeds

½

tsp

cinnamon

½

tsp

nutmeg

3

cloves

1

tbsp

cumin

1

dry ancho chilli

1

bay leaf

1

tbsp

oregano

3

garlic cloves

sliced

2

tsp

cornflour

salt to taste
For Pulled Lamb Birria Tacos
tacos

salsa

guacamole

cabbage slaw

cheese

sliced radishes
Instructions
Set your crock pot to high (for 4 hour cooking) or low Recommended (for 6 hours).

Slice the lamb into chunks and brown in the inner aluminium dish of the Crock-pot or a frying pan. Remove then add the sliced onion. Cook down till soft then add the spices and cook for a minute.

Add the onion to the lamb and the rest of the ingredients apart from the salt and cornflour to the slow cooker and cook on LOW for 8 hours until the lamb is easily pulled apart with two forks. With a slotted spoon remove all the lamb chunks to a large platter and shred the meat with two forks.

Add the salt to taste and if the mixture needs thickening, mix the cornflour with a little water and add to the mix. Cook until thick (taste if you transfer to a pan and bring to the boil, then return the lamb to the mixture.

Serve with tacos and the recommended in the post toppings. (Links included in the post).
Nutrition
Calories:
465
kcal
|
Carbohydrates:
9
g
|
Protein:
25
g
|
Fat:
35
g
|
Saturated Fat:
16
g
|
Cholesterol:
103
mg
|
Sodium:
423
mg
|
Potassium:
565
mg
|
Fiber:
3
g
|
Sugar:
4
g
|
Vitamin A:
1308
IU
|
Vitamin C:
6
mg
|
Calcium:
57
mg
|
Iron:
4
mg