Elevate your roasted asparagus by serving it with elegant Mornay sauce, topped with herb and garlic breadcrumbs.
This delicious spring side dish will go beautifully with Honey Glazed Ham, don't you think?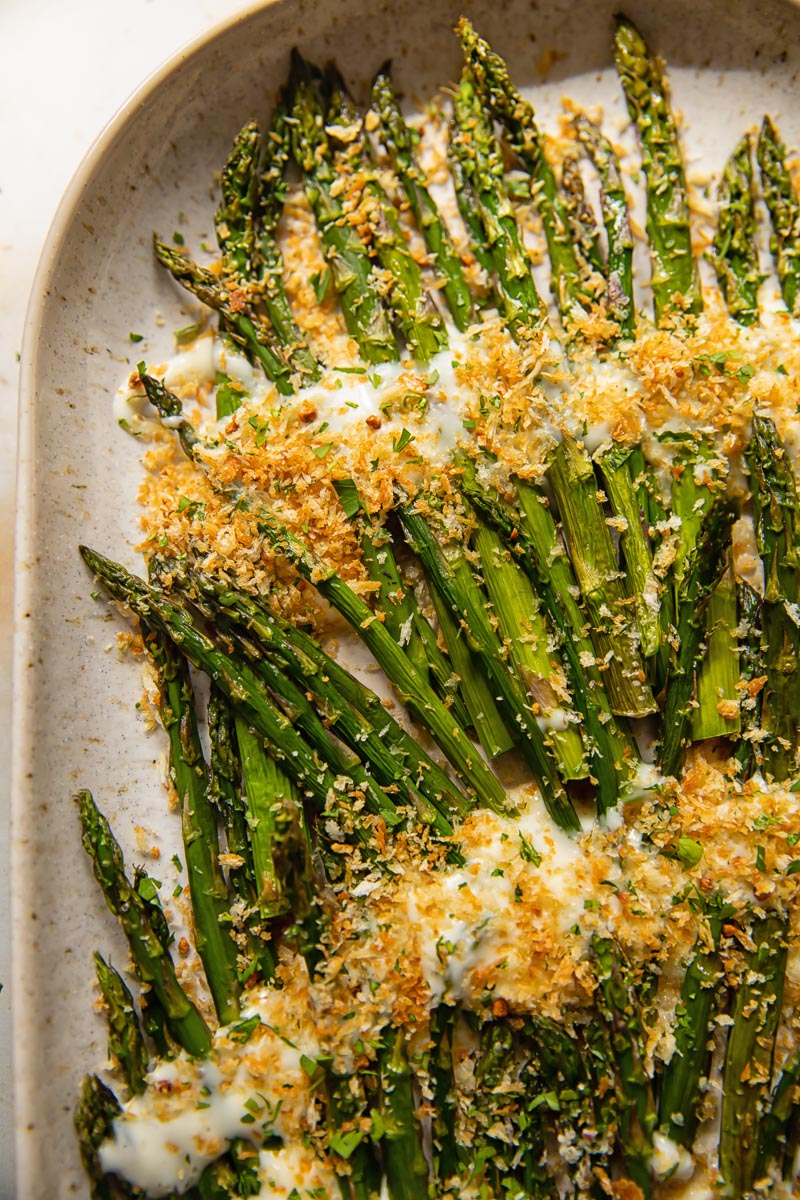 When asparagus is in season, my fridge is always stocked with these vibrant green bundles. It is so incredibly versatile I never seem to get tired of it.
I serve it as a side dish, add it to risottos, curries, you name it! The other day I ordered sushi from my local restaurant and what do I find inside the rolls? Asparagus! It is everywhere.
Roasted Asparagus
While I am perfectly happy eating simply steamed asparagus with a bit of salt, the favourite cooking method of mine is definitely roasting.
I love what oven does to vegetables. It deepens their flavours and brings out natural sugar to the front. I am amazed how only a short time in the oven makes the stalks silky soft and the ends slightly charred!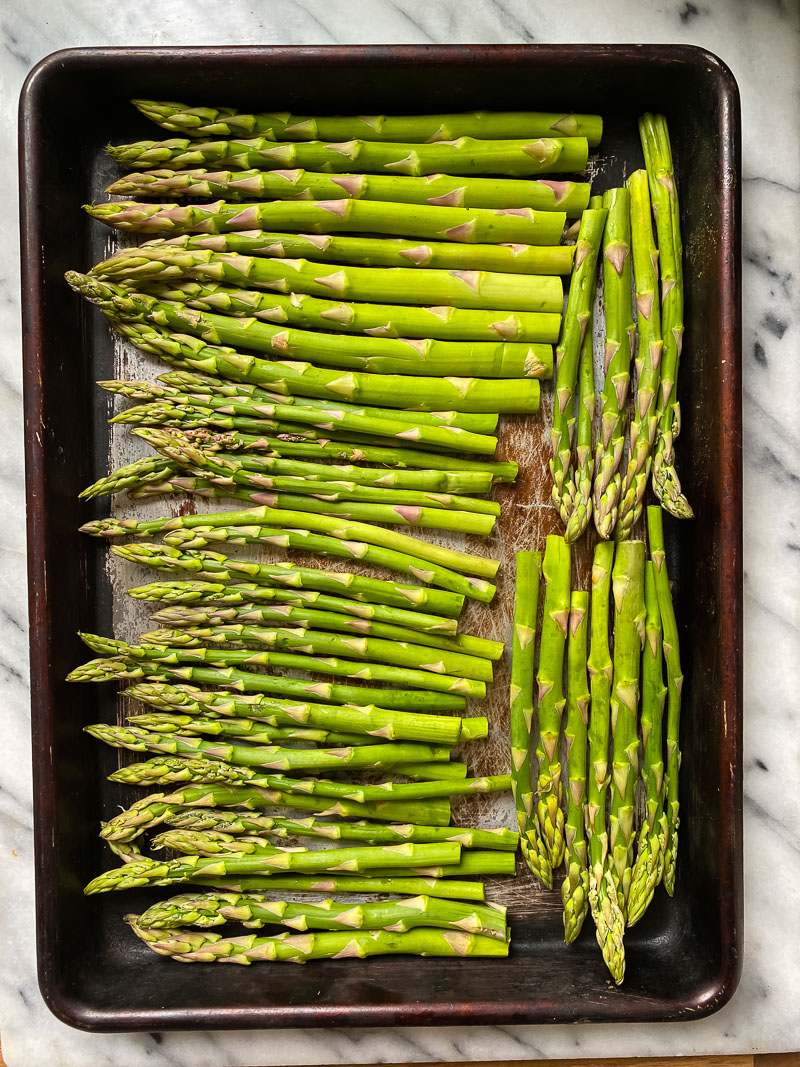 You don't need a lot of seasoning either, just a drizzle of olive oil and salt! This way of preparing asparagus is so easy and if you set your timer for 10 minutes, no need to worry about overcooking asparagus!
The Sauce
Of course, you might want to add a sauce on the side to make this dish extra special. The sauce is especially desirable for a holiday table.
One of the most traditional sauces to be paired with asparagus is hollandaise sauce. If you need an easy recipe take a look at my blender hollandaise sauce or blender bearnaise sauce.
Both are French classics. Rich and delicious. Mustard vinaigrette is another great and super easy sauce to throw together. It takes only 5 minutes to shake up in a mason jar!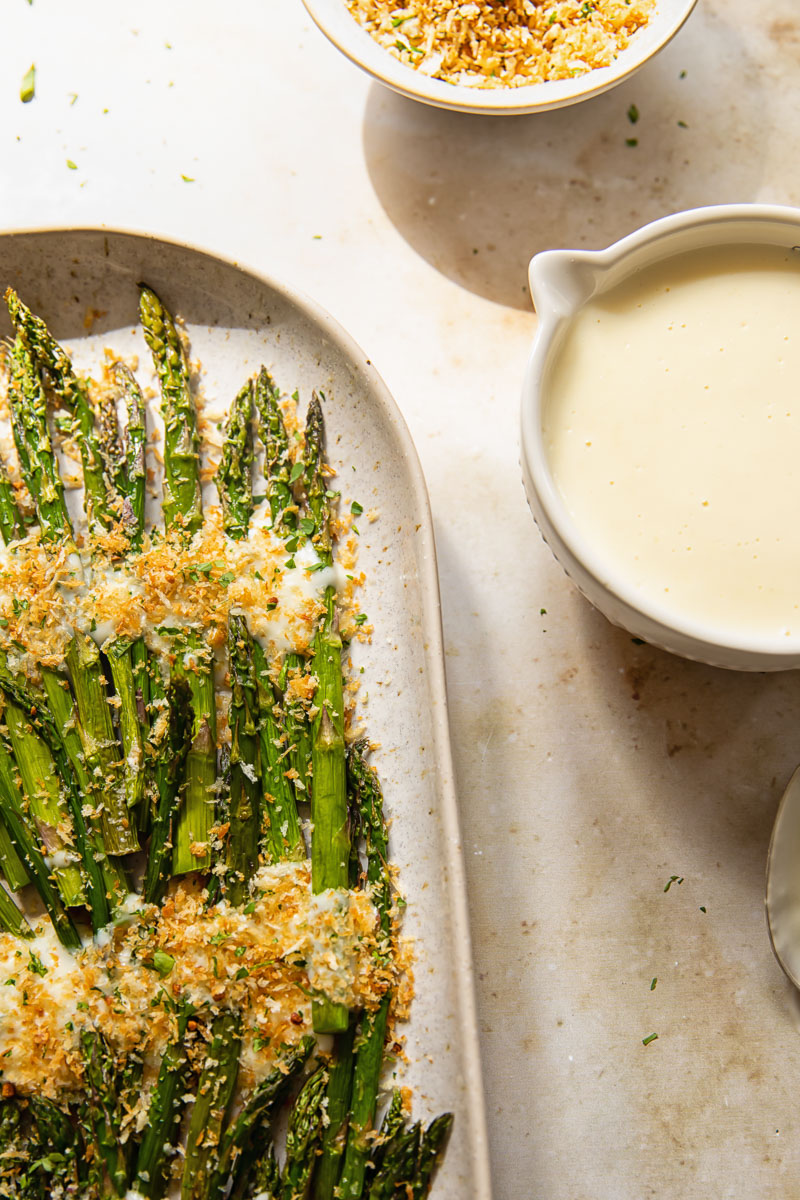 However, today I want to introduce you to Mornay sauce, another French sauce you should be able to master in no time. The good news is if you know how to make Bechamel sauce, you are already halfway there.
Mornay sauce is nothing more but Bechamel sauce with an addition of Gruyere cheese. Yes, it's simply a cheese sauce done the French way.
Recipe Tips and Notes
Choose very fresh asparagus. Avoid the stalks, which look shriveled up. They will taste dry and woodsy once cooked. Always trim the ends, even if your asparagus comes trimmed already, to avoid dry bits.
Generally asparagus should be fully roasted after 15 minutes at 200C/440F but if you have extra thin (extra fine asparagus in the UK) reduce the time to 10 minutes. For extra thick asparagus increase to 18 minutes.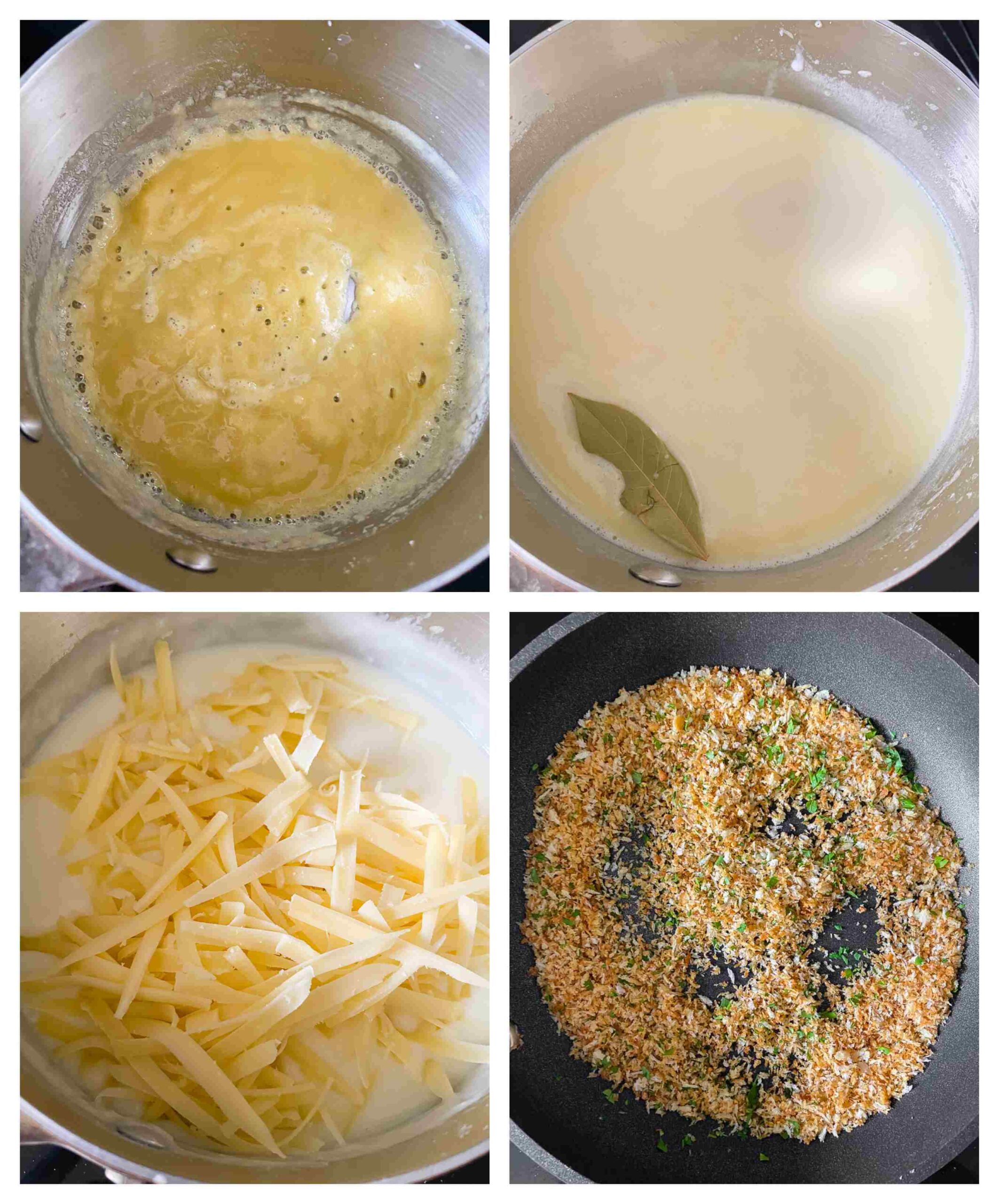 Classic Mornay sauce is made with Gruyere cheese, which I absolutely adore but I also know it's not to everyone's taste. If you are one of those people, feel free to swap for a mix of Parmesan and extra mature Cheddar.
Bechamel sauce can get a little chunky if you are not stirring it constantly and even then it's not always as smooth. If you desire a silky smooth sauce, push it through a sieve or run through a blender.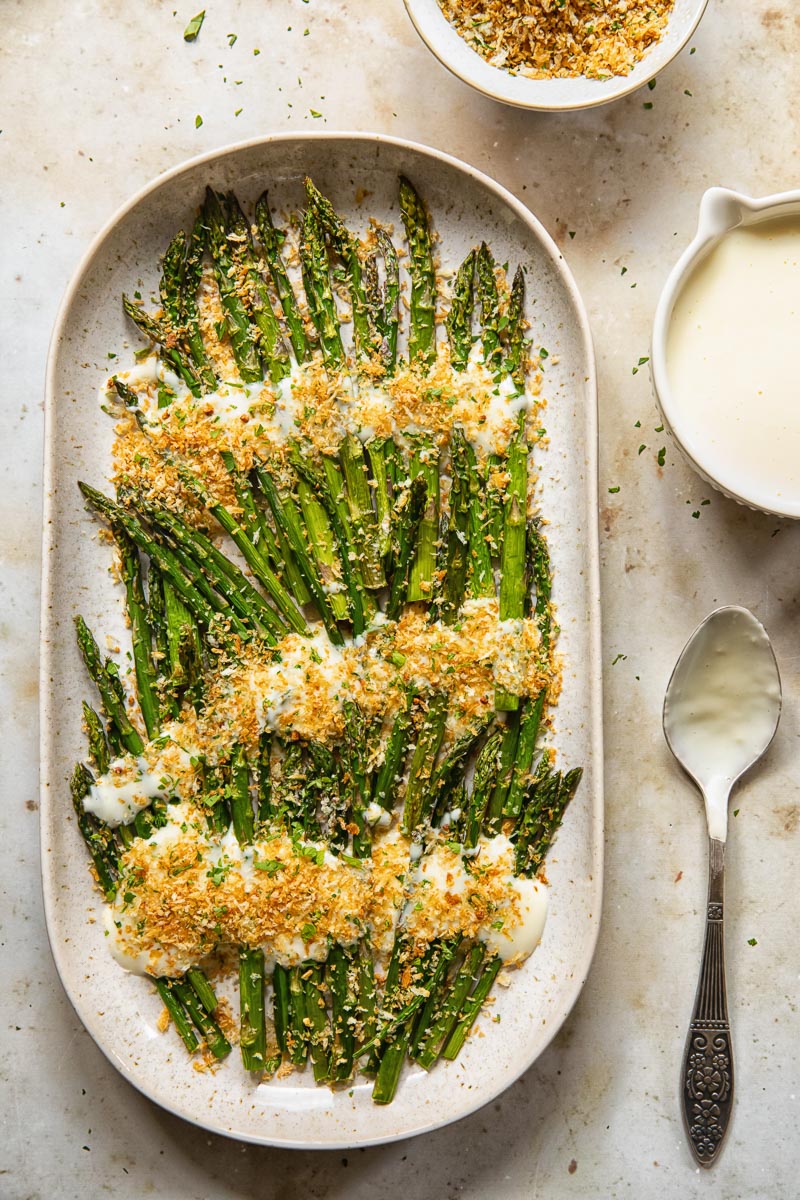 Also, never use pre-grated cheese. It's packed in anti-caking agent like starch, which makes sauce grainy.
For the herb and garlic breadcrumbs with the best texture, use Panko. So light and crispy! And for the best flavour, use real garlic instead of garlic powder.
More Side Dishes to Try: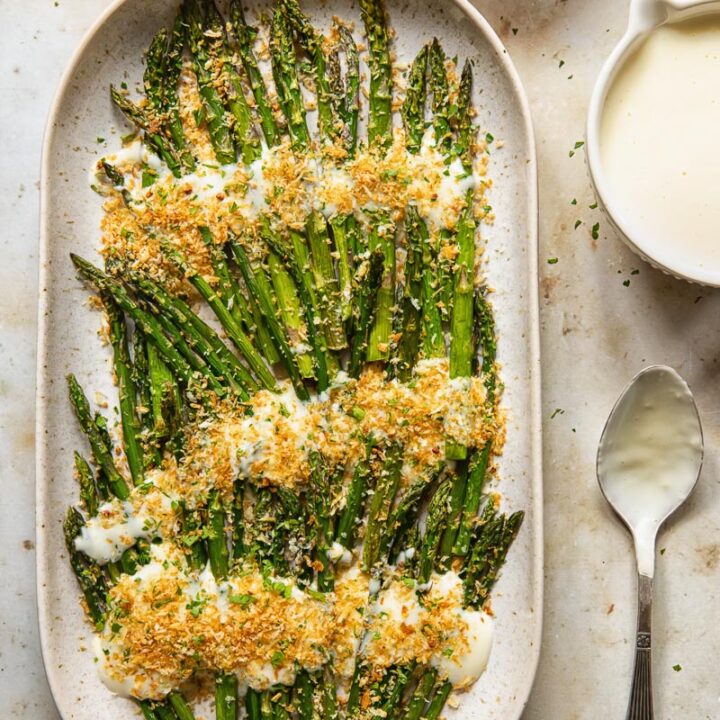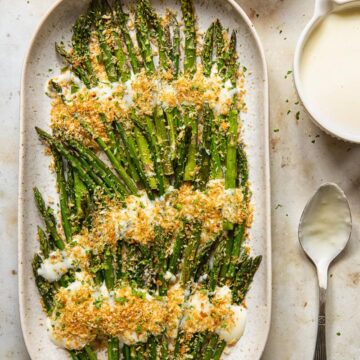 Roasted Asparagus with Mornay Sauce and Breadcrumbs
Elevate your roasted asparagus by serving it with elegant Mornay sauce, topped with herb and garlic breadcrumbs.
Ingredients
1

lbs

asparagus

1

tbsp

olive oil

salt
For Mornay Sauce
3

tbsp

butter

3

tbsp

flour

500ml/2 cups

whole milk

1

bay leaf

120g/4 oz

gruyere cheese

grated

salt to taste
For Herb and Garlic Breadcrumbs
60g/1/2 cup

Panko breadcrumbs

1

tbsp

butter

1

clove

garlic

1

tbsp

fresh parsley

chopped
Instructions
Preheat the oven to 400F/200C. Arrange trimmed asparagus on a roasting pan, sprinkle with olive oil and salt. Roast in the oven for 10-15 minutes depending on the thickness of the stalks. Remove the asparagus from the pan and keep warm.

Meanwhile make the sauce by melting the butter in a saucepan, then adding the flour. Stir to combine, then continue cooking the mixture while stirring until it smells slightly nutty. Gradually pour in milk while whisking to avoid lumps, season with salt, then add the bay leaf. Cook the sauce over low heat until thickens for about 10 minutes. You can either strain your sauce to get silky smooth results or run it through a blender. Then return to the the saucepan and add the grated gruyere cheese. You might need to reheat the sauce lightly for the cheese to fully melt and blend in.

Next prepare the breadcrumbs by melting butter in a frying pan and adding 1 clove of crushed garlic. Sauté over low heat for 30 seconds, add breadcrumbs and chopped parsley, cook until the breadcrumbs are slightly toasted.

Arrange the roasted asparagus on a platter, drizzle the sauce over, then sprinkle the breadcrumbs. Serve the remaining Mornay sauce in a small jug and allow your guests to help themselves to more sauce.
Nutrition
Calories:
173
kcal
Carbohydrates:
13
g
Protein:
6
g
Fat:
11
g
Saturated Fat:
6
g
Polyunsaturated Fat:
1
g
Monounsaturated Fat:
4
g
Trans Fat:
1
g
Cholesterol:
26
mg
Sodium:
442
mg
Potassium:
234
mg
Fiber:
2
g
Sugar:
5
g
Vitamin A:
781
IU
Vitamin C:
4
mg
Calcium:
144
mg
Iron:
2
mg