This breakfast bagel sandwich with herbed cream cheese and smoked salmon, then topped with a runny egg will make you craving it every day. Choose a healthy whole grain bagel for a nutritious start of the day!
Eggs are my favourites to serve for breakfast, so if you have a crowd to feed, make my Overnight Breakfast Casserole with Chorizo Sausage and Eggs. Similar concept but all baked together!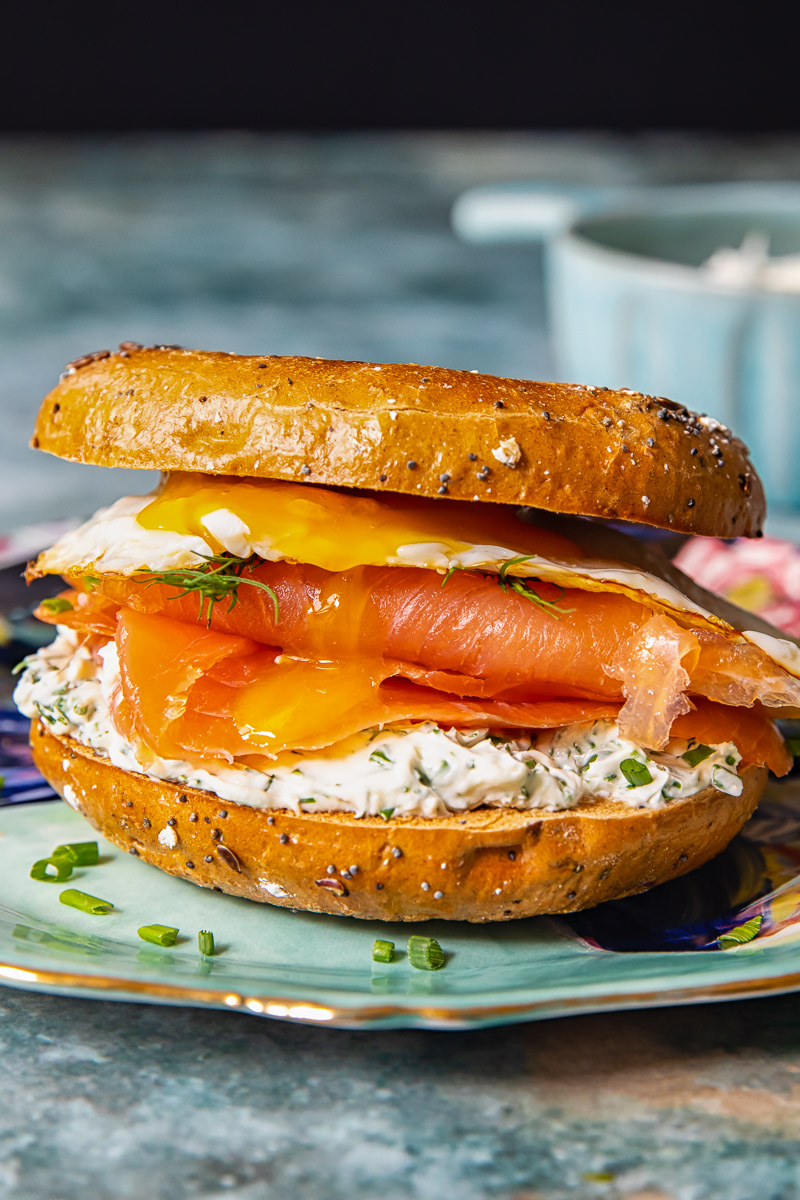 If I could write a poem about my love for bagels, I would. Alas, I have no talent for it and I am sure you have no patience to read it. So if I must use plain prose, let me tell you I adore bagels.
Thick and chewy, they are the perfect vehicle for any flavour you desire! I would eat a freshly baked bagel for breakfast every day if they were readily available to me but they are not.
It's true I could bake my own if only they weren't so fiddly! I did bake a simpler version of a bagel once or twice, its cousin Bialy to fill the void.
One of the best things about bagels is they are equally delicious when enjoyed with savoury or sweet fillings. I love cinnamon raisin bagels with plain cream cheese if feel like eating something sweet in the morning. But more often than not I will go for a savory version of everything bagel with herb and garlic cream cheese.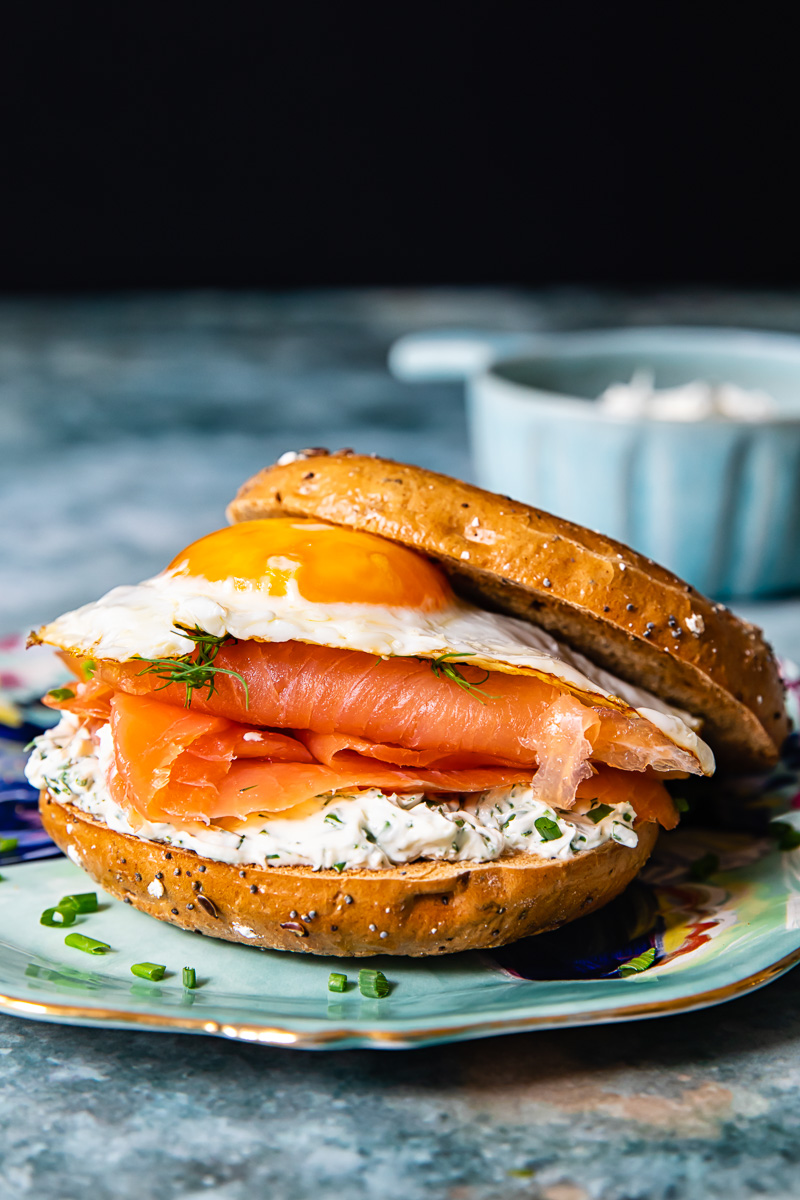 Bagel Sandwich with Egg
The recipe I am sharing today is for a slightly upgraded version of a morning bagel with cream cheese. It's a breakfast egg sandwich served in a whole grain bagel.
This rendition of a breakfast sandwich is next level delicious. Plain cream cheese, whipped with chopped chives and dill, then smeared on a bagel, adds a level of freshness and flavour you simply won't find in a tub of premade Philadelphia herbed cream cheese.
It only takes a couple of minutes to chop up fresh herbs and the end result is well worth the effort!
Recipe Tips and Notes
I used whole grain bagels here because I love extra fibre in my breakfast while seeds provide a nice texture, not to mention an added nutritional bonus.
If your bagel is very fresh, use it as is. Otherwise, toast it before using it in a sandwich!
For the cream cheese spread I used plain Philadelphia cream cheese. You can choose any brand you prefer, full fat or reduced fat will both work.
Feel free to change up your herb selection. I love chives and dill here as they are both classic flavours to pair with smoked salmon. However, soft herbs like tarragon or parsley will also taste delicious.
For an extra delicious bagel sandwich and that iconic deli look, pile your salmon high and fold your slices creating pleats, so it does sit flat on your bagel.
Top with a fried egg. I adore a runny yolk, so eggs sunny side up are always my preference. But if it's not yours, do it your way. Poached eggs or a thin omelette will also be so delicious!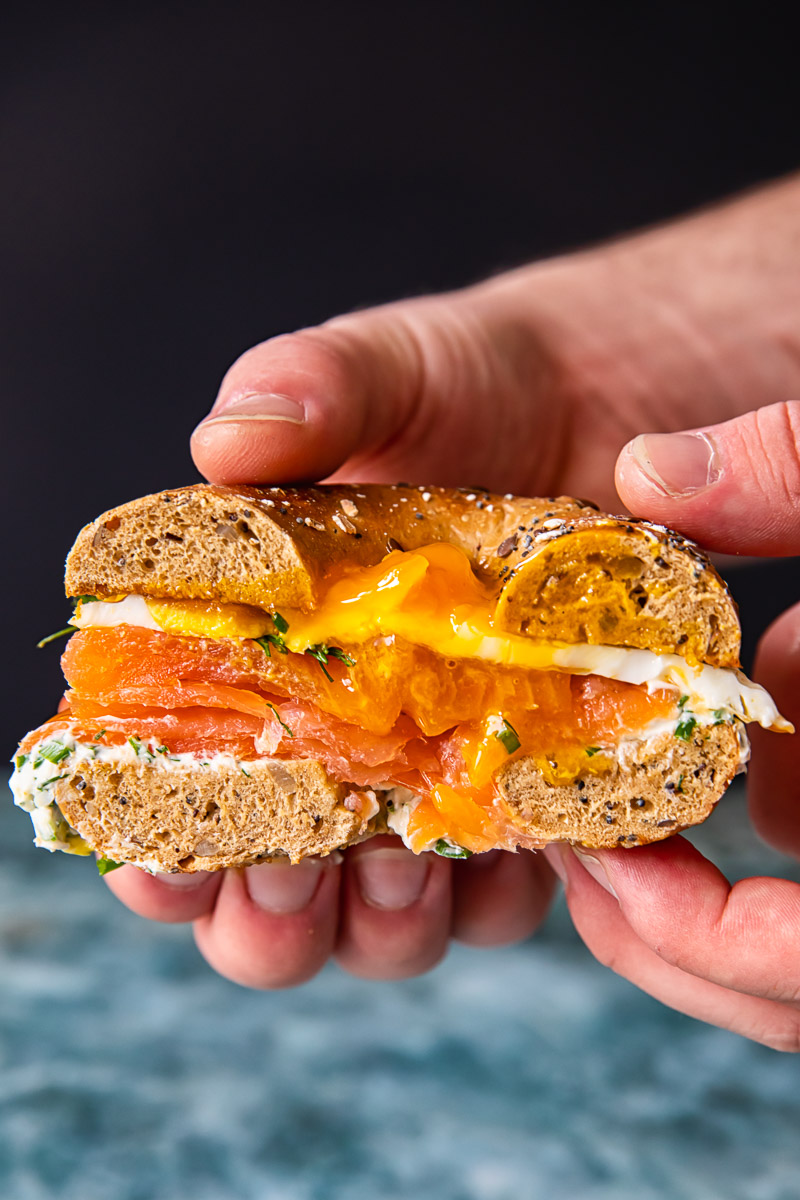 More Bagel Sandwich Filling Ideas
Just because bagels are traditionally served for breakfast, don't let it stop you from eating them for any meal of the day. I think lunch bagel sounds delicious and here are some ideas for the sandwich fillers.
sliced ham or turkey (smoked turkey will be even more delicious!)
any type of cheese
giant grilled portobello mushroom
bacon
avocado
sliced tomato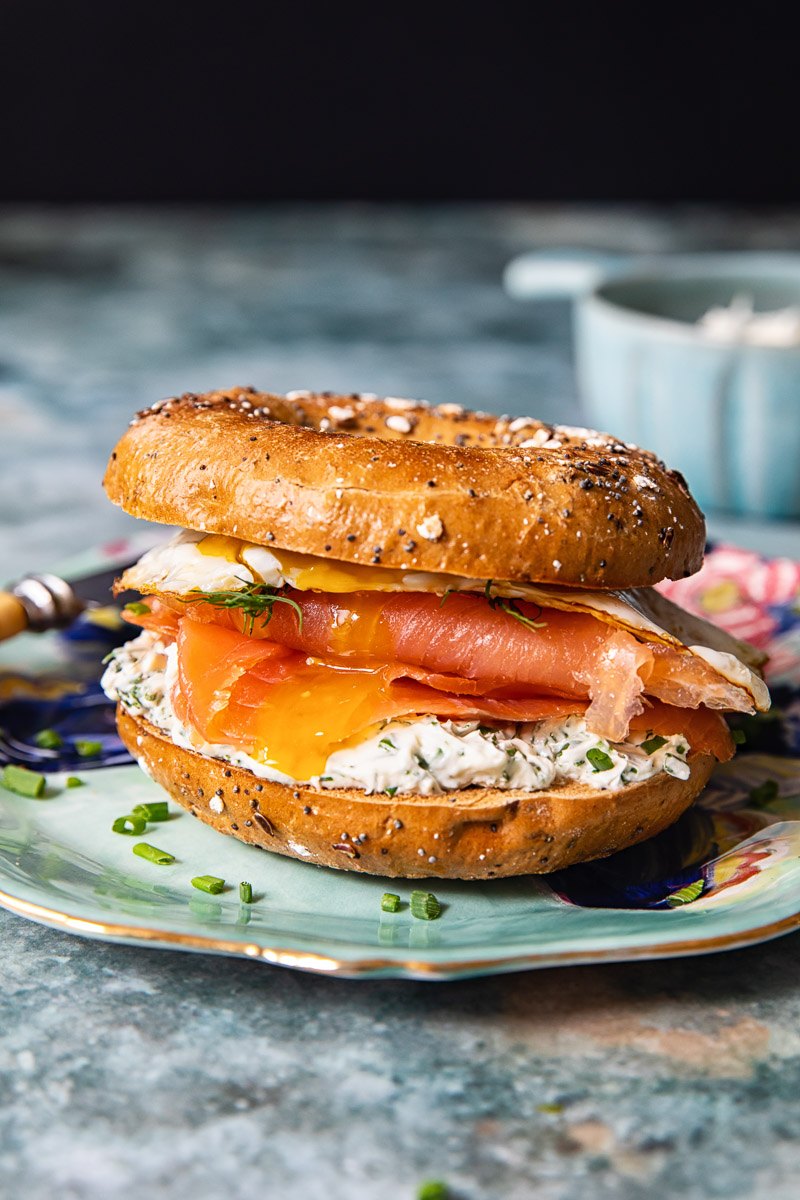 More Egg Breakfast Recipes: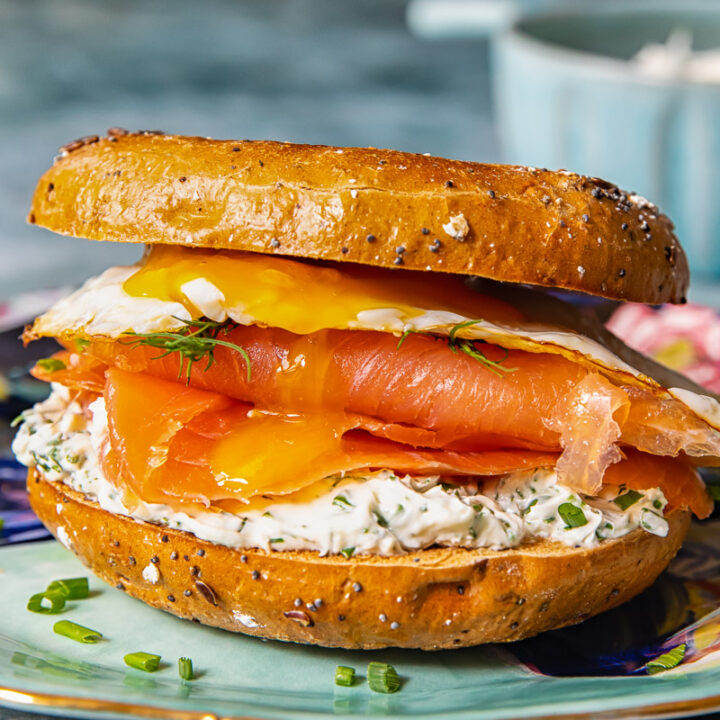 Breakfast Bagel Sandwich with Smoked Salmon
This breakfast bagel sandwich with herbed cream cheese and smoked salmon, then topped with a runny egg will make you craving it every day.
Ingredients
125g/1/2 cup

plain cream cheese

10g/ 2 tbsp

fresh chives

chopped

5g/ 1 tbsp

fresh dill

chopped

1

tbsp

olive oil

4

eggs

8

slices

smoked salmon

4

bagels
Instructions
In a small bowl mixed together with a fork plain cream cheese, chopped chives and dill, cover with cling wrap and put in the fridge till needed.

Fry 4 eggs in 1 tbsp of oil or butter. While the eggs are frying, slice the bagels in half and toast the them.

To assemble the bagel sandwiches, spread 2 tablespoons of the herbed cream cheese on the bottom of a bagel half, top with 2 slices of smoked salmon and a fried egg, cover with the top half of the bagel. Serve immediately.
Nutrition
Calories:
462
kcal
Carbohydrates:
59
g
Protein:
26
g
Fat:
12
g
Saturated Fat:
5
g
Polyunsaturated Fat:
2
g
Monounsaturated Fat:
4
g
Trans Fat:
1
g
Cholesterol:
190
mg
Sodium:
1084
mg
Potassium:
319
mg
Fiber:
2
g
Sugar:
2
g
Vitamin A:
518
IU
Vitamin C:
1
mg
Calcium:
96
mg
Iron:
3
mg