Yes, there IS something in the fridge! Take a look. I bet all the ingredients for this filling and protein-rich potato and onion frittata with Taleggio (or other) cheese are in there. Perfect any time of the day, warm or cold, this recipe is the answer to the end-of-the-week issue of "There's nothing in the fridge!"
For a more colourful variation, try this Broccoli Frittata with Aged Cheddar and Bacon.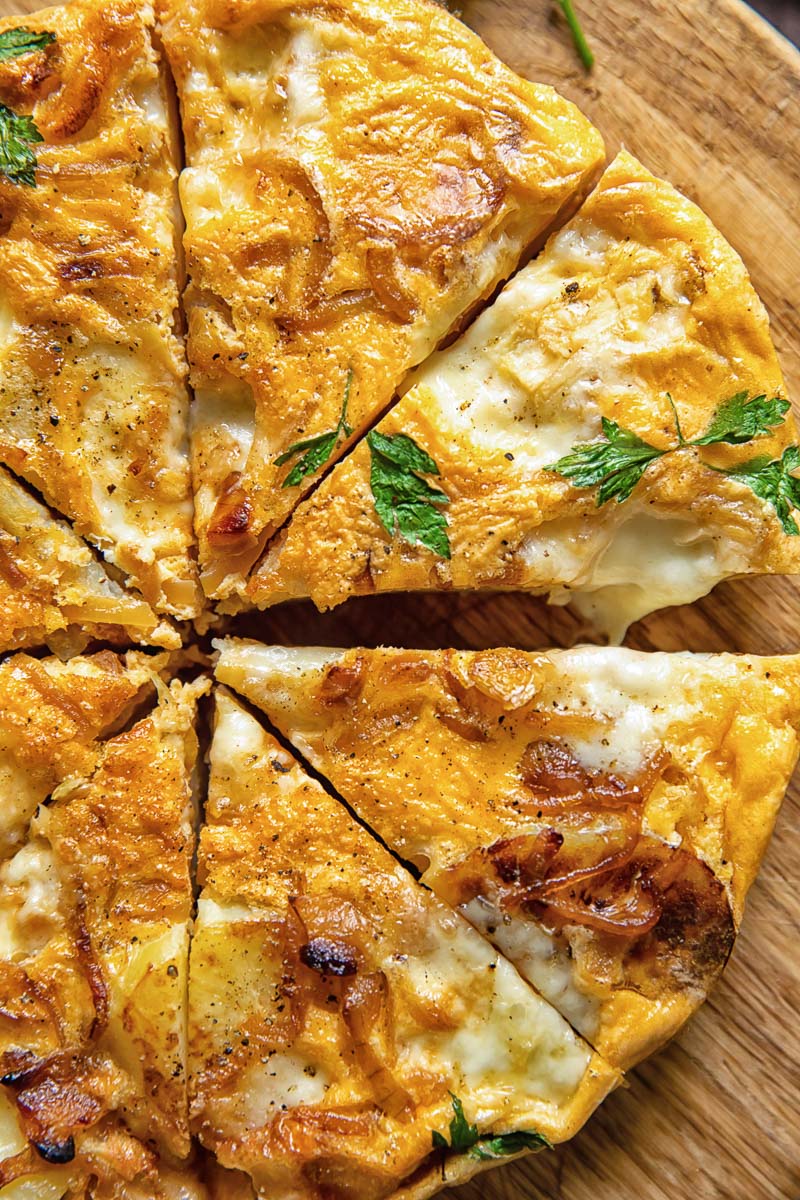 We've all stared hopelessly into the fridge at the three odd potatoes, the unopened pot of cream that's inching closer towards its use-by date, and the eggs that get bought weekly but never used up and thought "Nothing to eat here." Well, actually, there is…
What is frittata?
Frittata is Italy's contribution to the omelette genre. Its basic recipe is eggs with milk or cream, like so many of its eggy brunchy friends from around the world. But unlike the others, it's prepared in two parts: fried on the stove top and then puffed up into light bubbles in the oven.
The beauty of the frittata, as opposed to a Spanish omelette, is its openness to other ingredients. It welcomes meat, cheese, vegetables and herbs. There are endless frittata recipe possibilities meaning this flexible dish can be easily adapted to your taste.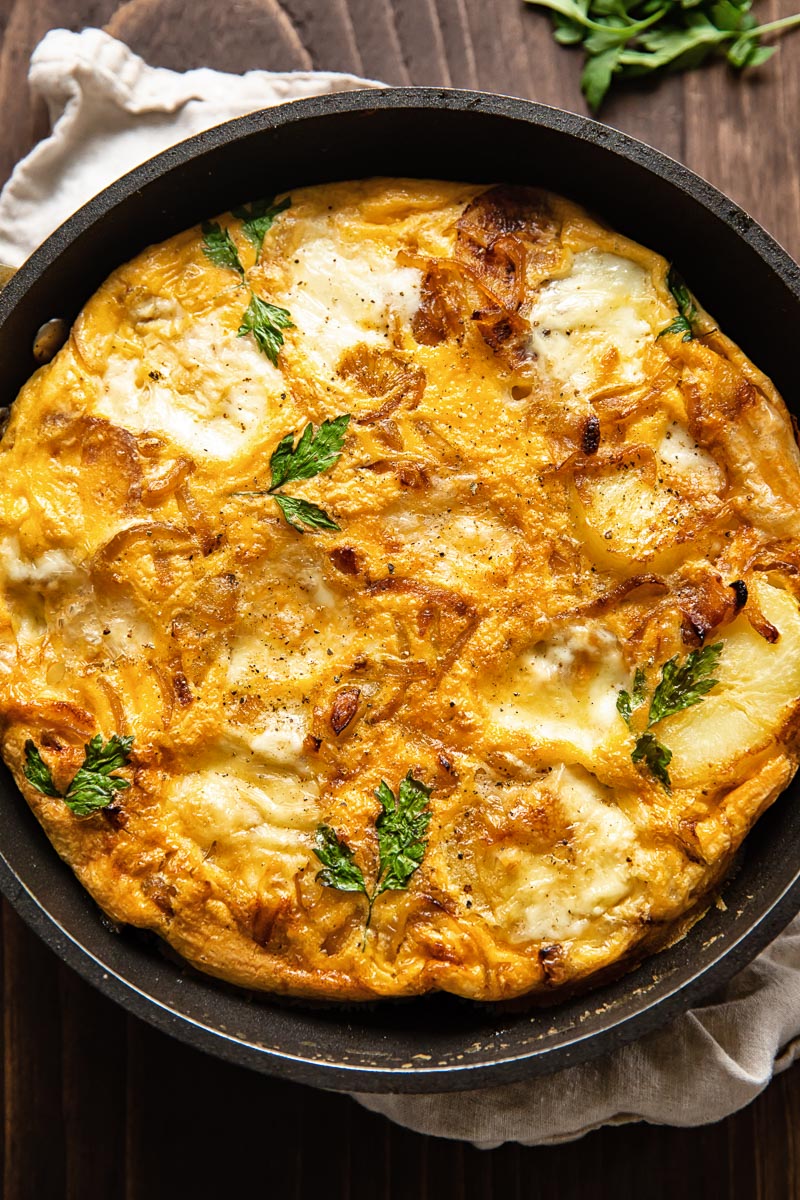 Italian potato frittata vs Spanish tortilla
Besides their country of origin, there are essentially two bold differences between these contrasting characters.
Number one: there is no dairy in a Spanish tortilla. It's eggs, onions and potatoes. And it doesn't like to be messed with. While it's more amenable cuz contains cream or milk and in this case, cheese.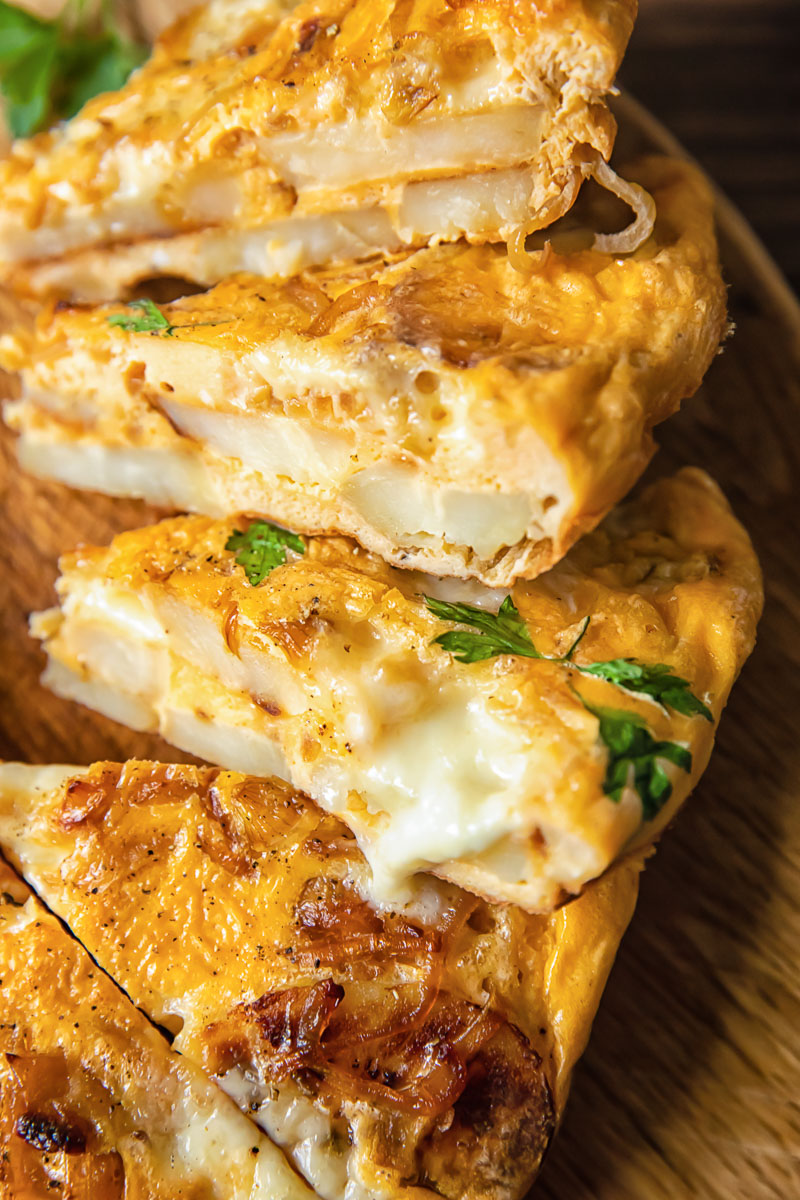 The addition or omission of dairy has a knock on effect on the texture. You'll find a traditional Spanish tortilla to be oozy in the centre, or no bien hecho (not well done), as the Spanish would say.
It's denser too, thanks to its more tightly packed potato slices, while Italian potato frittata is more set in the middle and lighter and airier.
Number two: Spanish tortilla is prepared entirely on the stove top. The end. While the laidback frittata is started on the stove top and then transferred to the oven for a bit of a relaxing bake.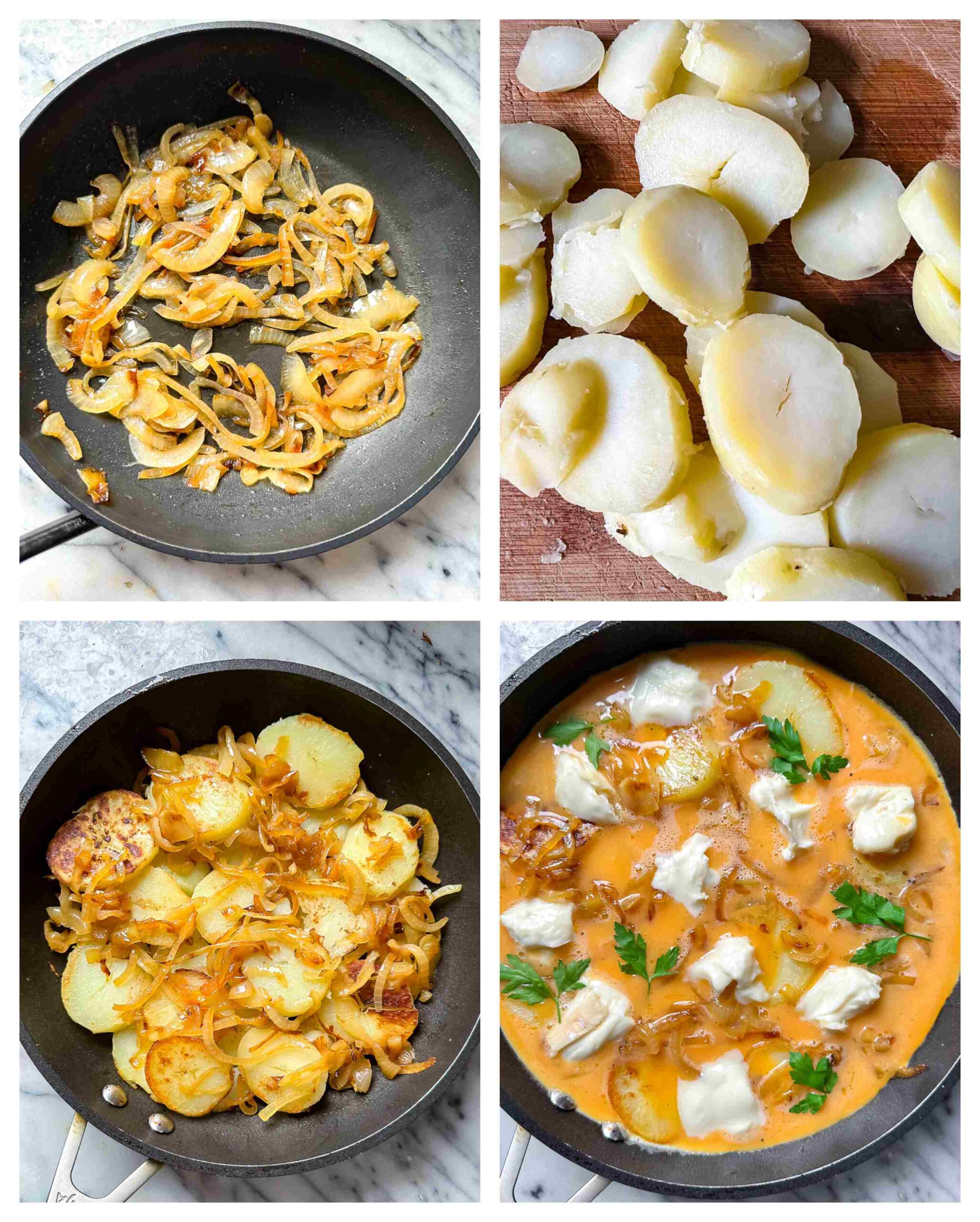 Recipe tips and notes
If the early start is putting you off your breakfast frittata, boil the potatoes and caramelise the onions a day or two in advance. It'll take the edge off!

Any cheese goes with potato so just use what you and your family prefer, or whatever is outstaying its welcome in the fridge. But if you can get your hand on Taleggio, you're in for a treat.

Before you begin, select a frying pan that is oven suitable. You definitely don't want to be transferring your frittata halfway through the job!

This recipe yields an 8 inch frittata. Choose your pan accordingly.
Storage and leftovers
So good both hot and cold, so make a day ahead and keep in the fridge or store any leftovers for a super filling frittata sandwich the next day. Crusty French bread is best for this! Either way, store your frittata in an airtight container and use within 3 days.
Favourite Recipes with Eggs: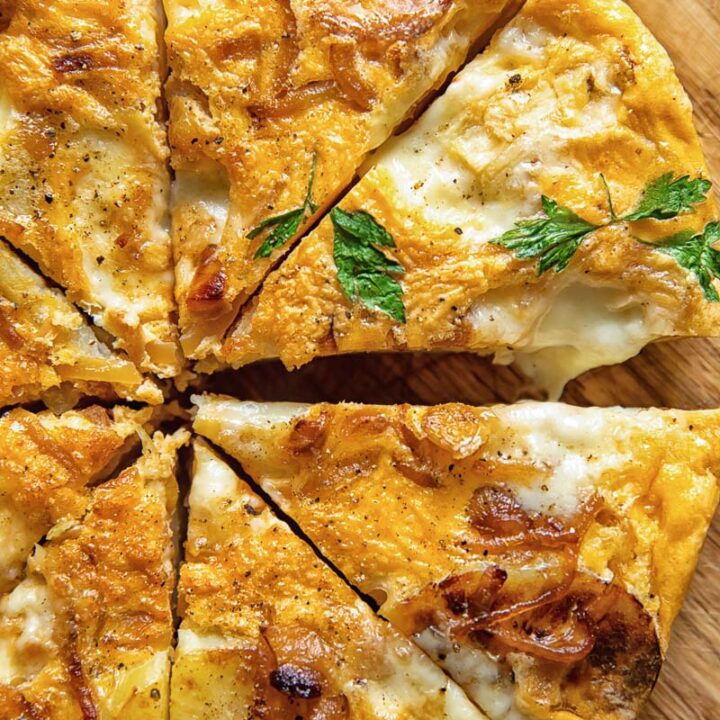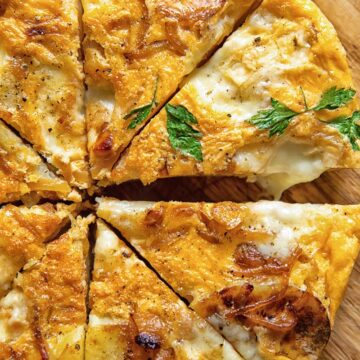 Potato Frittata with Taleggio Cheese
Get the recipe for a filling and protein-rich potato and onion frittata with Taleggio, perfect for breakfast, brunch or a light dinner.
Ingredients
2

tbsp

olive oil

1

onion

sliced

1

tbsp

apple cider vinegar

optional

3

medium potatoes

boiled

100g/3.5 oz

taleggio cheese or brie

6-7

large eggs

60ml/1/4cup

single cream/half and half

salt and pepper to taste

1

sprig

parsley
Instructions
Boil the potatoes until tender and are easily pierced with a knife. While the potatoes are cooking, slice the onion and cook in 1 tbsp of olive oil over very low heat in an 8 inch frying pan for 20 minutes with 1 tbsp of apple cider vinegar until soft and caramelised, stir once in a while. The onions should not have any crunch to them at the end. Remove to a plate. Preheat the oven to 200C/400F.

Cool the potatoes, then peel them and slice into rounds. Add 1 tbsp of olive oil to the same pan where you cooked the onions and add the potatoes. ( You can fry the potatoes until golden on the outside or you can skip that step. However, frying the potatoes adds more flavour.)

Mix the eggs with the single cream or half and half in the US and season with salt and pepper. Pour the egg mixture over the potatoes and onions in the pan, then top with pieces of taleggio cheese (rind removed) or brie and parsley.

Cook at 200C/400F for 15-18 minutes until puffed up and set. Serve warm or at room temperature.
Nutrition
Calories:
407
kcal
Carbohydrates:
31
g
Protein:
17
g
Fat:
24
g
Saturated Fat:
10
g
Polyunsaturated Fat:
2
g
Monounsaturated Fat:
9
g
Trans Fat:
0.03
g
Cholesterol:
282
mg
Sodium:
986
mg
Potassium:
823
mg
Fiber:
4
g
Sugar:
3
g
Vitamin A:
1022
IU
Vitamin C:
34
mg
Calcium:
209
mg
Iron:
3
mg