Easy and delicious salmon and potatoes baked in foil packets are the ultimate recipe to take on a camping trip! Or surprise your kids with a backyard sleepover and cook it in your home oven!
Serve with our Summer Tomato and Cucumber Salad!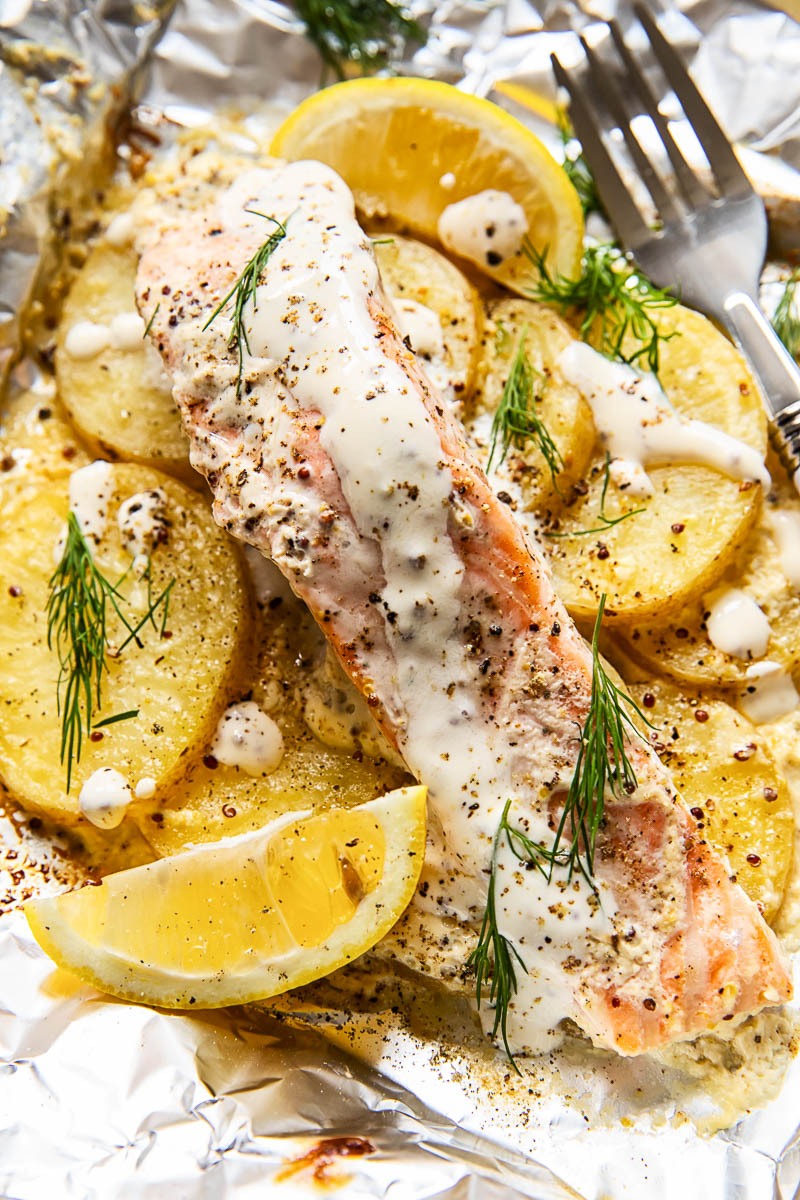 Camping season is here and this year, in which we are still dealing with restricted travelling, getting out in nature seems more important than ever.
Whether you are a fan of camping or not, I am sure you will agree that food always tastes better when cooked on a campfire and eaten outside.
This recipe for salmon and potatoes cooked in foil packets is the one to try ASAP. Minimal prep, loads of flavour plus endless conversation around the campfire while cooking it together. What's not to love?!!
Salmon in Foil Recipe
The idea came to me after I cooked salmon for a festive Christmas dinner one year. I cooked a whole side of salmon in foil with minimal seasoning, then served it with rosé wine and cream sauce.
Since it was a holiday recipe, it needed to be quite special, and I believe cooking salmon in foil was a huge part of its success. Due to the moist environment the foil packet creates, the fish ends up being perfectly cooked. Even Gordon Ramsay wouldn't call it dry!
Nope, my friends, salmon comes out juicy and beautifully flavoured with a touch of lemon. The light flavouring doesn't take away from the taste of salmon, which is a great thing!
That recipe gave me a lot of confidence. So I decided to push the envelope further and take it camping. I believe anyone can master salmon baked in foil, even the little chefs!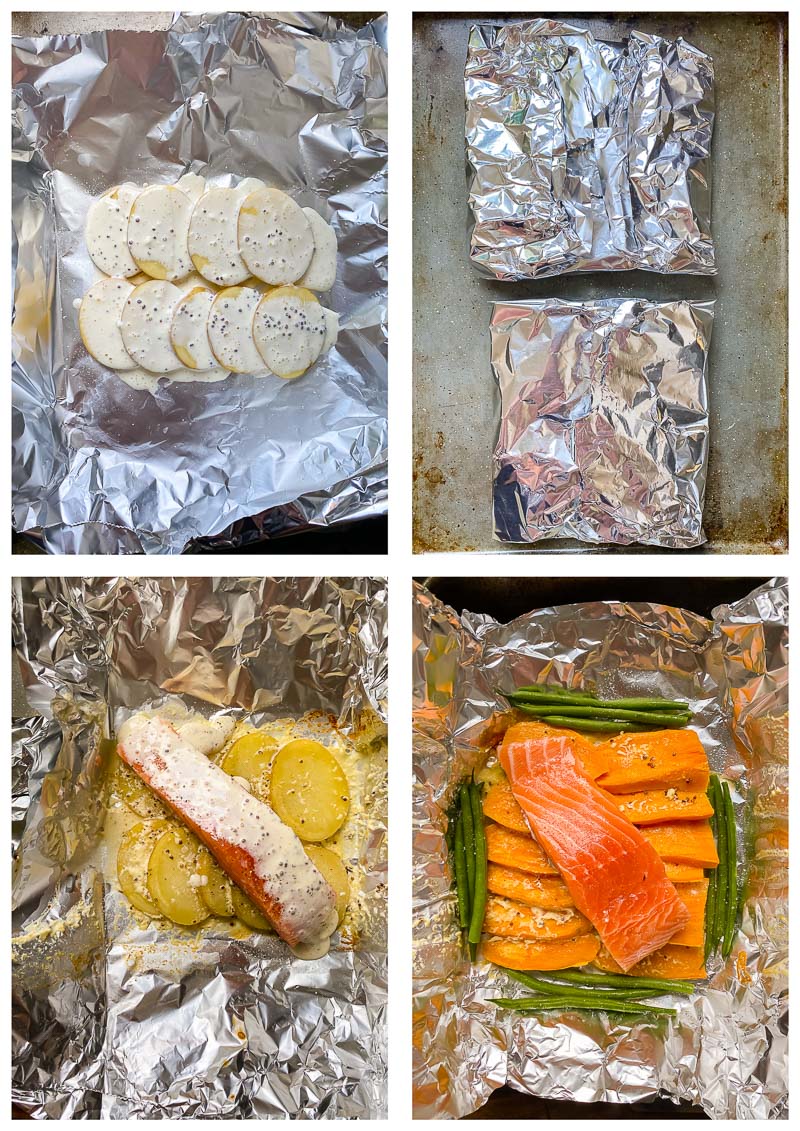 Camping Recipes
Cooking food in foil packets is a classic camping technique. Putting salmon inside those packets makes perfect sense because it cooks so fast, so you wouldn't have to spend ages waiting for your food.
Another great reason for making this recipe is that it's basically assembling, no cooking skills required. So your kids can take the lead. Giving them an easy recipe is a fantastic way to get them involved in cooking, which will set them up for success.
Finally, this recipe is so customisable. As you can see from the photos, I've used white and sweet potatoes, so you can choose what you prefer. I also added green beans to some of the packets. You can use other vegetables, that will cook within the same amount of time. Asparagus, sliced carrots or cut up in smaller pieces broccoli will also work.
Since each foil packet is an individual meal, the person making it can have lots of fun creating the meal according to their taste as long as you follow my tips below.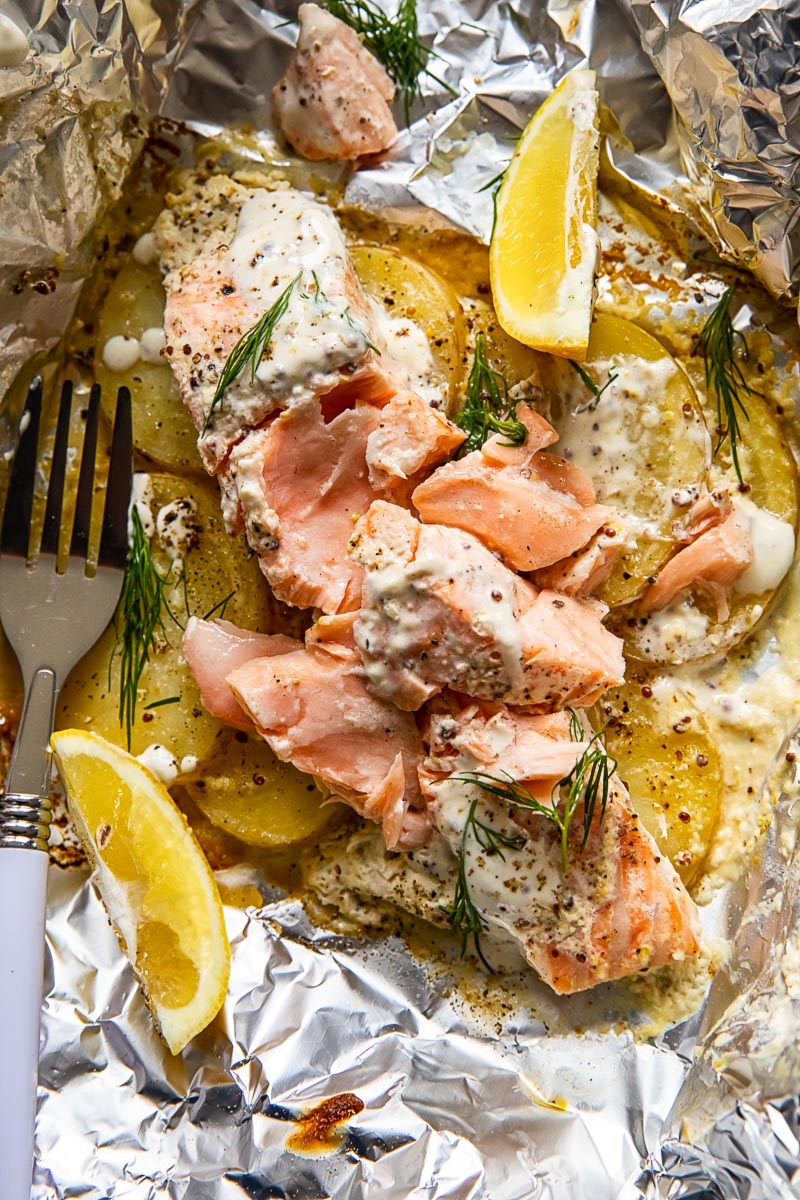 Recipe Tips and Notes
Make sure you cook these foil packets over coals and not flames. Wait for them flames to die down, then place the packets on top.
Double wrap your food in two sheets of foil.
This recipe is dead simple but you will need to cook it in two stages. Because potatoes take longer to cook than salmon they will need to spend some time over the fire first.
To flavour the fish I use a combination of sour cream, mayonnaise and whole grain mustard. This mix gives you a creamy sauce with a touch of spice from the mustard. Sprinkle with fresh dill and provide fresh lemon wedges when serving. Perfection!
If you decided to use green beans or other vegetables like broccoli or asparagus, add them at the same time as the potatoes.
After 20 minutes pull the packets out of the campfire, carefully open them and add salmon on top, close it up and put back in the fire to finish cooking. Use tongs to avoid burning your fingers!
If you love this recipe but not planning to go camping, fear not! I also provide oven baking instructions!
Favourite Salmon Recipe to Try at Home: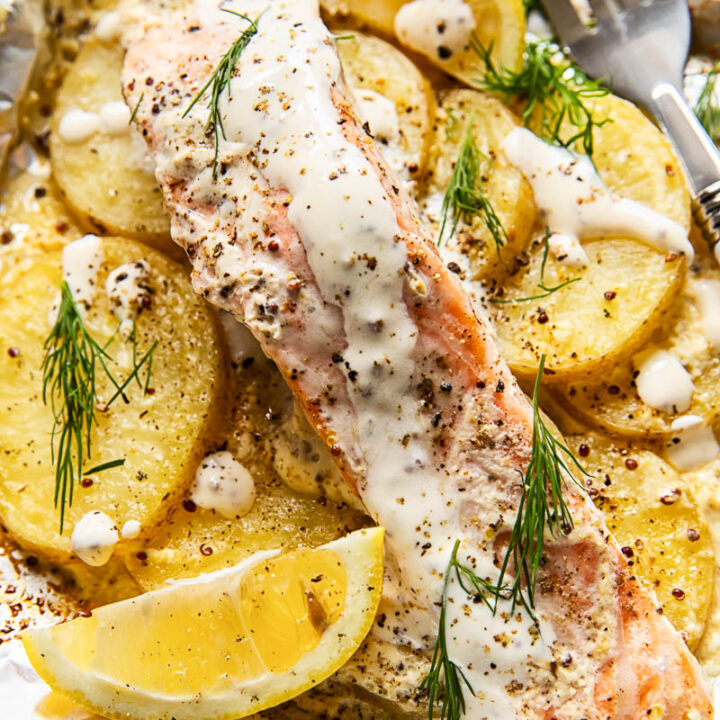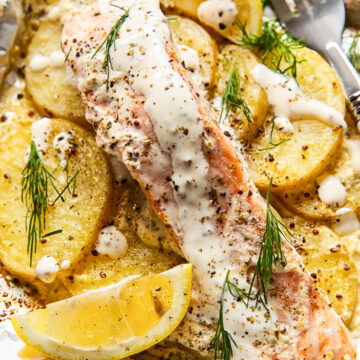 Salmon and Potatoes in Foil (Camping Recipe)
Easy and delicious salmon and potatoes baked in foil packets are the ultimate recipe to take on a camping trip.
Ingredients
125ml/1/2 cup

sour cream

full fat

80ml/1/3 cup

milk

2

tbsp

mayonnaise

1

tsp

whole grain mustard

4

potatoes

can also use sweet potatoes

½ lbs

green beans

optional

salt to taste

4X120g(4 oz)

pieces

salmon fillet

2-3

sprigs

dill

8

sheets

foil
Instructions
Campfire instructions: Make sure the fire is not blazing but have died down and you have a good amount of coals for cooking.

If using an oven, preheat to 200C/400F

Mix the sour cream, milk,mayonnaise and whole grain mustard. Set aside. Wash the potatoes, peel the sweet potatoes if using and slice them into thin ¼ inch slices.

Prepare the aluminum foil by cutting it into 8 sheets that are large enough to wrap slices of potato and salmon, then double layer them. On top of a double layer of foil arrange sliced potatoes overlapping them slightly, season with salt, then pour 4 tbsp of the sour cream mixture all over each potato, fold the side of the foil forming a packet. If using green beans, add them at the same time as potatoes diving them equally between 4 packets. Place on top of the burning coals and cook 20 minutes for sweet potatoes and 25 for regular potatoes. Or bake in the preheated to 200C/400F oven for the same amount of time.

Take them out and carefully open them up, top each packet with a piece of salmon fillet, season with salt and a drizzling of the remaining sour cream mixture. Use tongs to avoid burning your fingers. Fold loosely and put back in the fire/oven for 10 minutes longer. Serve with lemon and dill.
Nutrition
Calories:
424
kcal
Carbohydrates:
40
g
Protein:
29
g
Fat:
16
g
Saturated Fat:
5
g
Trans Fat:
1
g
Cholesterol:
85
mg
Sodium:
747
mg
Potassium:
1560
mg
Fiber:
5
g
Sugar:
4
g
Vitamin A:
293
IU
Vitamin C:
42
mg
Calcium:
99
mg
Iron:
3
mg