These chicken tenders have it all! Tender and juicy chicken in a flavour packed crispy coating, that delivers a satisfying crunch, while baked in your air fryer using just a tiny spray of oil. They sound too good to be true but they are are in fact sensationally good.
Serve these with my Chipotle Mayo Roasted Potato Wedges for a delicious and fun dinner!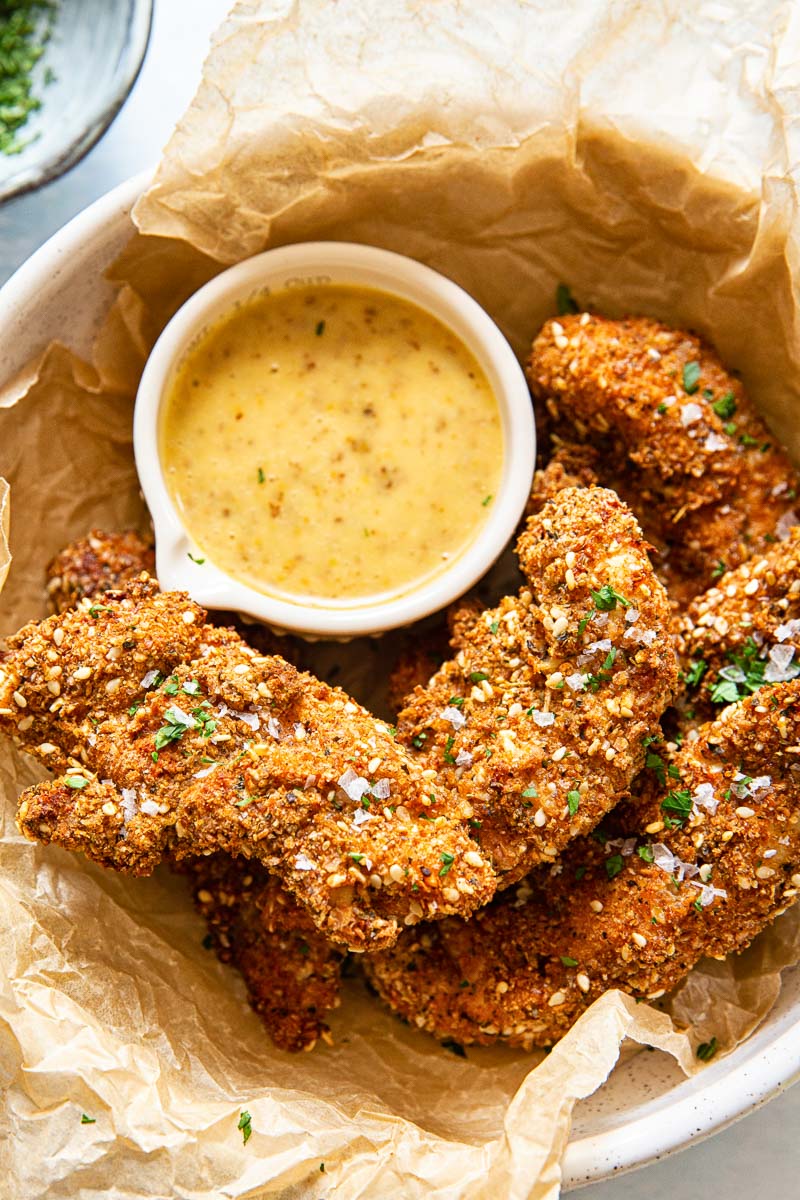 Air Fryer Recipes
Have you discovered an air fryer yet? I am not the one to talk about gimmicky appliances but this one is different. Air fryer is my favourite and the most used purchase in the last two years. Do you want to know why?
Because it allows me to indulge in "fried" foods guilt free! The clue is in the name. The appliance uses air circulation to produce crunchy exterior rather than copious amount of oil. This Chicken Katsu Curry is just one example of our favourite fried chicken recipe re-imagined.
For the longest time my favourite thing to cook in an air fryer was potato fries. That was until I discovered that I could make the best tasting chicken tenders in it! I did run several tests before I was ready to release the final recipe and I am so proud of it.
By the way, you can also cook an entire chicken in your air fryer in just 40 minutes! Or whip up these incredible air fried chicken wings for a game night.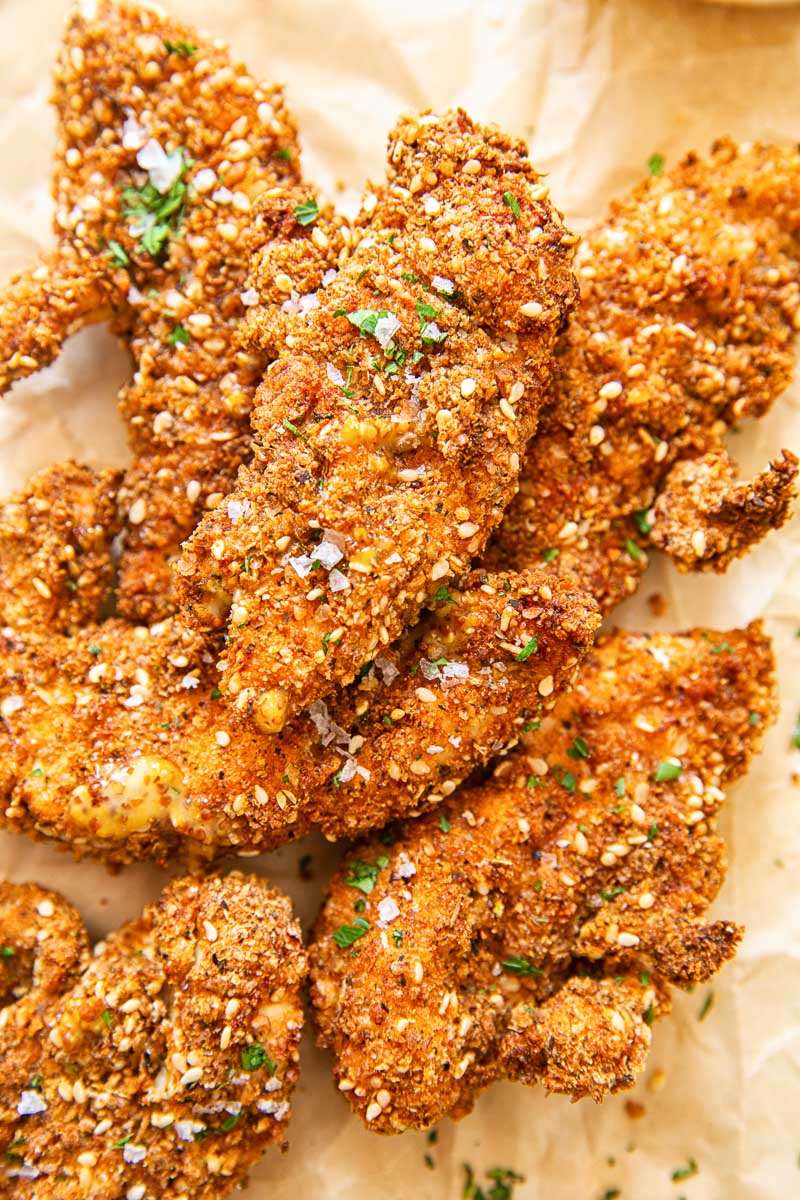 Chicken Tenders in Air Fryer
Trust me when I say this. These chicken strips do NOT taste like a healthified version of the original. They taste like the real deal.
Juicy chicken breast strips concealed in a crispy crumb and seed coating, which was spiced to perfection. Then served with easy homemade honey mustard sauce.
The best news is they are good for you! Stay with me as I tell how I made it possible.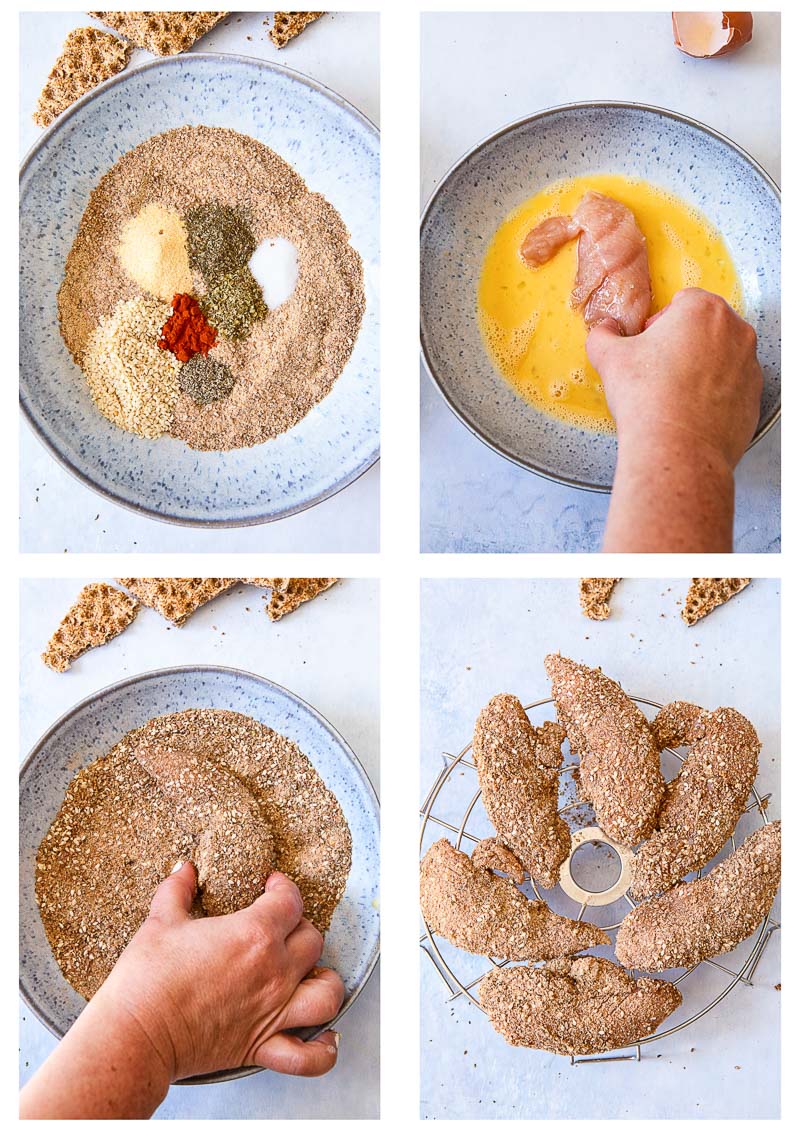 How to make them
Chicken breasts are well-known for being lean and nutritious but not famous for being extra flavorful, so here is where helps comes in.
By coating them in wholesome Ryvita cracker crumbs, mixed in with a blend of spices and sesame seeds, I improve the taste and texture of plain chicken breasts without losing the "good for you" factor!
You can definitely use your favourite crackers instead of rye crackers. Choosing a whole wheat variety will ensure extra fibre in your diet.
I chose Ryvita crackers for their nutritious benefits and extreme crunch, which contributed to the overall success of these chicken fingers. Throwing a handful of sesame seeds in the mix added more flavour and texture.
Now let's discuss the seasoning. You can choose your own but here is my blend. Garlic powder, salt, black pepper, basil, oregano and sweet paprika. Kids and adults alike will enjoy this!
The process is simple. Crush the crackers into crumbs and mix with the seeds and spices above. Dunk your chicken tenders into an egg mixture, then into the crumb one.
Shake off the excess and place on a wire rack of your air fryer. Spray with a low calorie spray. Bake for 10 minutes, flip spray again and cook for 10 minutes longer. Done!
I love this method so much but I am also love my chicken tenders grilled like these Dr Pepper BBQ Chicken Tenders.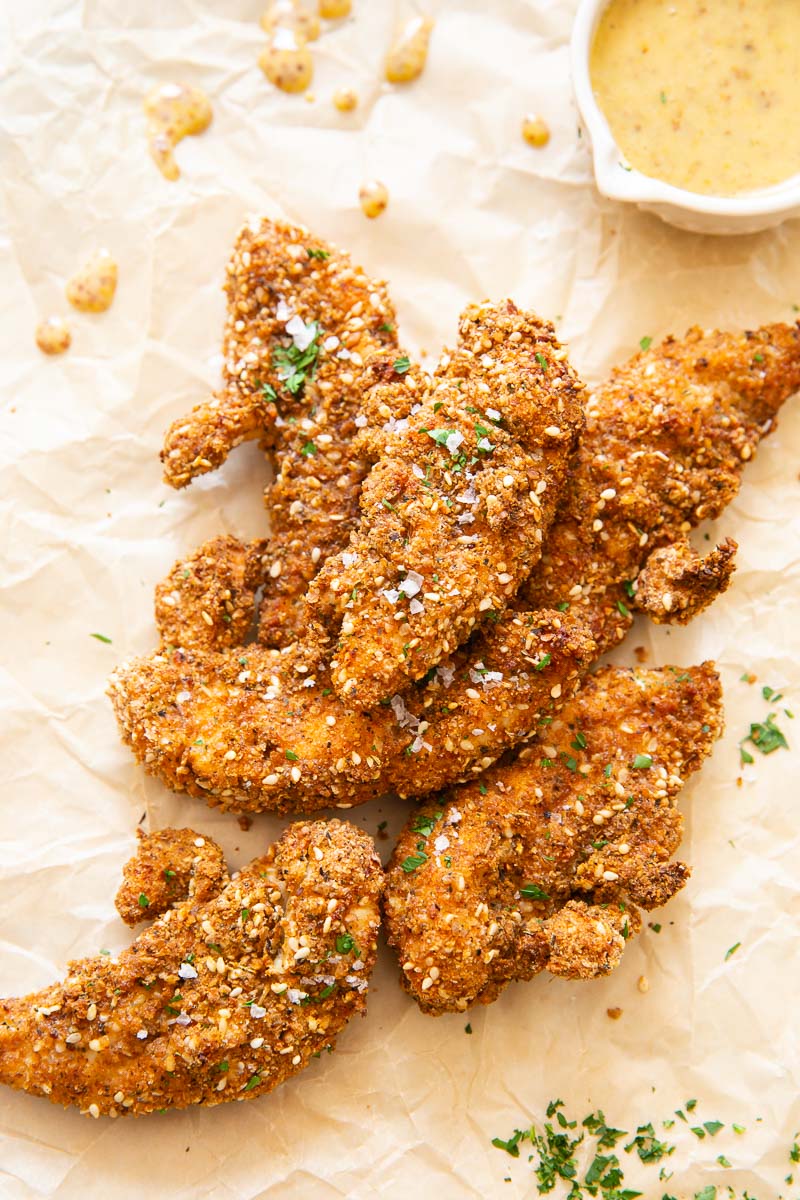 What to serve with chicken tenders
The suggestions are endless but here are my personal favourites. First of all, you will need my quick homemade Honey Mustard Sauce. The recipe for it included in the recipe card below.
Rainbow Slaw with Lemon Garlic Tahini Dressing is a fresh take on the traditional coleslaw and is a perfect partner for chicken fingers.
You can also make this delicious Dill Pickle Potato Salad or Green Goddess Pasta Salad. You won't regret it!
However, sometimes simplicity is the best thing, so in that case I recommend my zesty Carrot Salad or Summer Tomato and Cucumber Salad.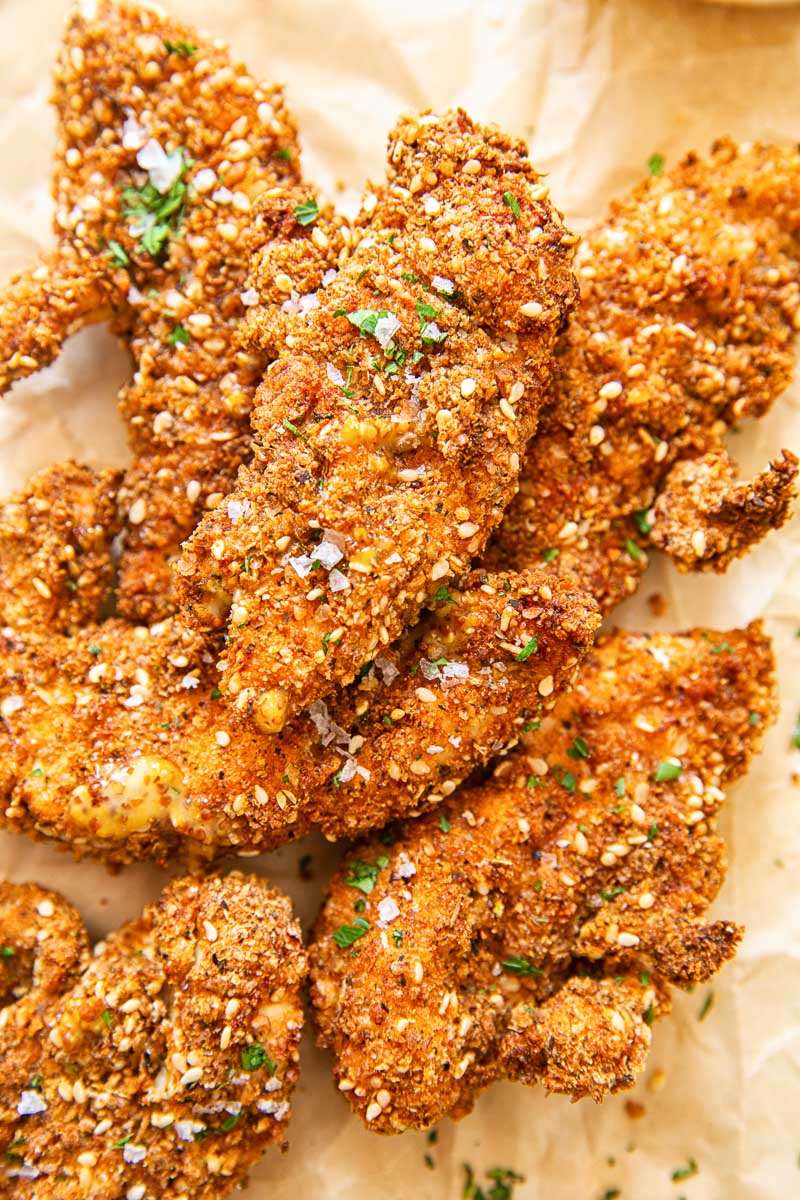 Ingredients
2

lbs

skinless boneless chicken breasts

cut into strips

1

tsp

salt

10 crackers/

1 cup

Ryvita crackers

to make up 1 cup/85 g crumbs

1

tbsp

sesame seeds

½

tsp

dried basil

½

tsp

dried oregano

½

tsp

black pepper

½

tsp

sweet paprika

1

tsp

garlic powder

1

tsp

salt

1

egg

beaten

1

tsp

oil
For Honey Mustard Sauce
2

tbsp

honey

2

tbsp

whole grain mustard

2

tbsp

mayonnaise

½-1

tsp

white wine vinegar
Instructions
Place Ryvita crackers in a food processor and pulse into crumbs. Alternatively, you can crush them by hand using a rolling pin. Simply put the crackers in a ziplock bag and gently pound with a rolling pin. Remove to a medium bowl and mix in with sesame seeds, dried basil, dried oregano, paprika, garlic powder, salt and pepper.

Cut chicken breasts into strips and sprinkle with 1 tsp of salt. Beat an egg in a medium bowl. Dunk chicken tenders into an egg mixture, then the crumb mixture and place on an air fryer rack. Spay with a low calorie spray and bake for 10 minutes, then flip on the other side, spray again and cook for 10 minutes longer. The chicken tender are done when juices run clear and the meat is cooked all the way through. You might want to cut one in half to check. (The exact timing may vary depending on the size of your chicken tenders and a brand of your air fryer.)

While the chicken tenders are cooking. In a small bowl mix the honey, whole grain mustard, mayonnaise and white wine vinegar and transfer to a serving dish. Serve with chicken tenders.
Notes
The exact timing may vary depending on the size of your chicken tenders and a brand of your air fryer.
You can use any type of whole grain crackers instead of Ryvita crackers.
You can also substitute sesame seeds with chopped sunflower seeds, poppy seeds or omit them.
Nutrition Facts
Air Fryer Chicken Tenders with Honey Mustard Sauce
Amount Per Serving
Calories 318
Calories from Fat 108
% Daily Value*
Fat 12g18%
Cholesterol 126mg42%
Sodium 1148mg50%
Potassium 638mg18%
Carbohydrates 17g6%
Protein 35g70%
Vitamin A 176IU4%
Vitamin C 2mg2%
Calcium 37mg4%
Iron 2mg11%
* Percent Daily Values are based on a 2000 calorie diet.