Rice noodles stir fried with vegetables, prawns, pork, eggs, then flavoured with a curry powder deliver an explosion of flavours in this recipe for Singapore noodles.
Loving these exciting flavours? Try our easy and delicious recipe for Shrimp Chow Mein.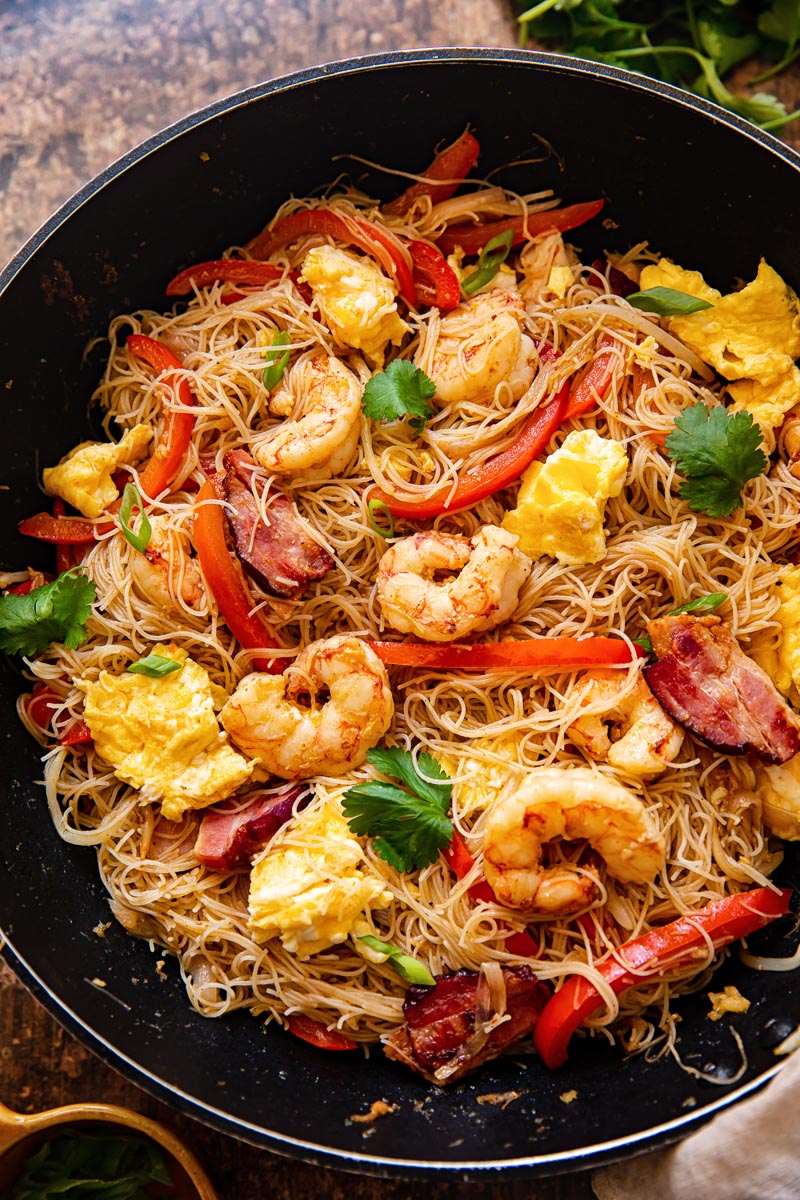 If you are not familiar with Singapore noodles, it's time you give them a try! This Chinese takeout favourite is a delightful, full on flavour and light on the stomach offering.
Despite the misleading name, these noodles are not really from Singapore. It's difficult to say how they came to be but the legend has it that a Hong Kong chef created the dish, and used an exotic name to upsell his stir fried noodles.
The most distinct feature of the dish is the use of a curry powder in the sauce. It might sound unusual for a Chinese dish but is easily traced to a plentiful supply of Indian spices via Britain, which colonised both Hong Kong and India.
Singapore noodles are not the only dish to use turmeric and other Indian spices. Another example of the curry powder used in a Chinese dish is this chicken curry. An absolute staple in every Chinese restaurant in the UK. My homemade version is a reader favourite and so easy to master!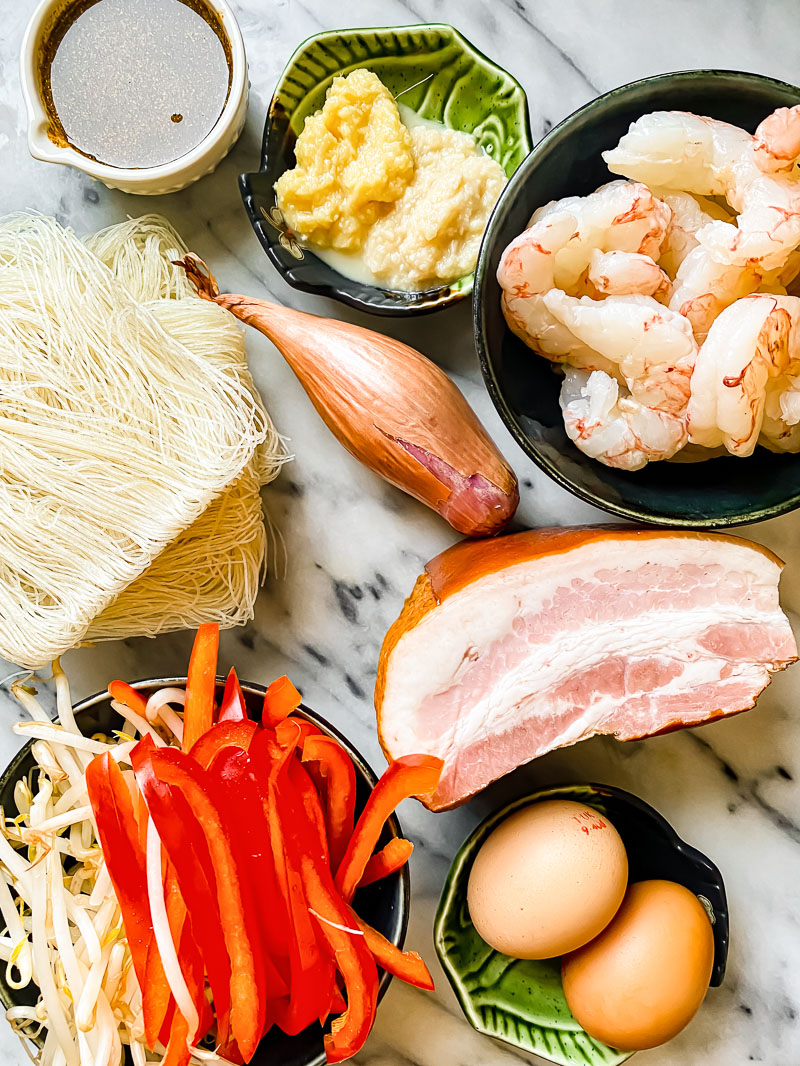 Ingredients
Apart from the curry powder, another distinct feature of this dish are thin rice noodles also called vermicelli noodles. They have a very delicate texture and only require a soaking in hot water rather than boiling to be ready to eat.
They are very popular in South East Asia, and that is probably why a Hong Kong chef used them in his Singapore inspired recipe. Take a look at my version of the popular Indonesian recipe Mee Goreng (Fried Noodles), which also uses rice vermicelli as another example.
The rest of the ingredients could vary depending on the cook but here is my version. I love to use a combination of plump prawns/shrimp and pork belly. Traditionally, barbecued pork Char Siu is used but unless you are Chinese, chances are you won't have it just kicking around your fridge. I didn't.
So instead of char siu, I used cured pork belly, which is basically a big slab of bacon. You can use bacon or pork loin steaks. Heck, you can use chicken if you want!
Eliminating pork belly will also significantly cut down on the calories in this dish, making it quite healthy. Needles to say, you can easily turn this recipe into a vegetarian one by using tofu.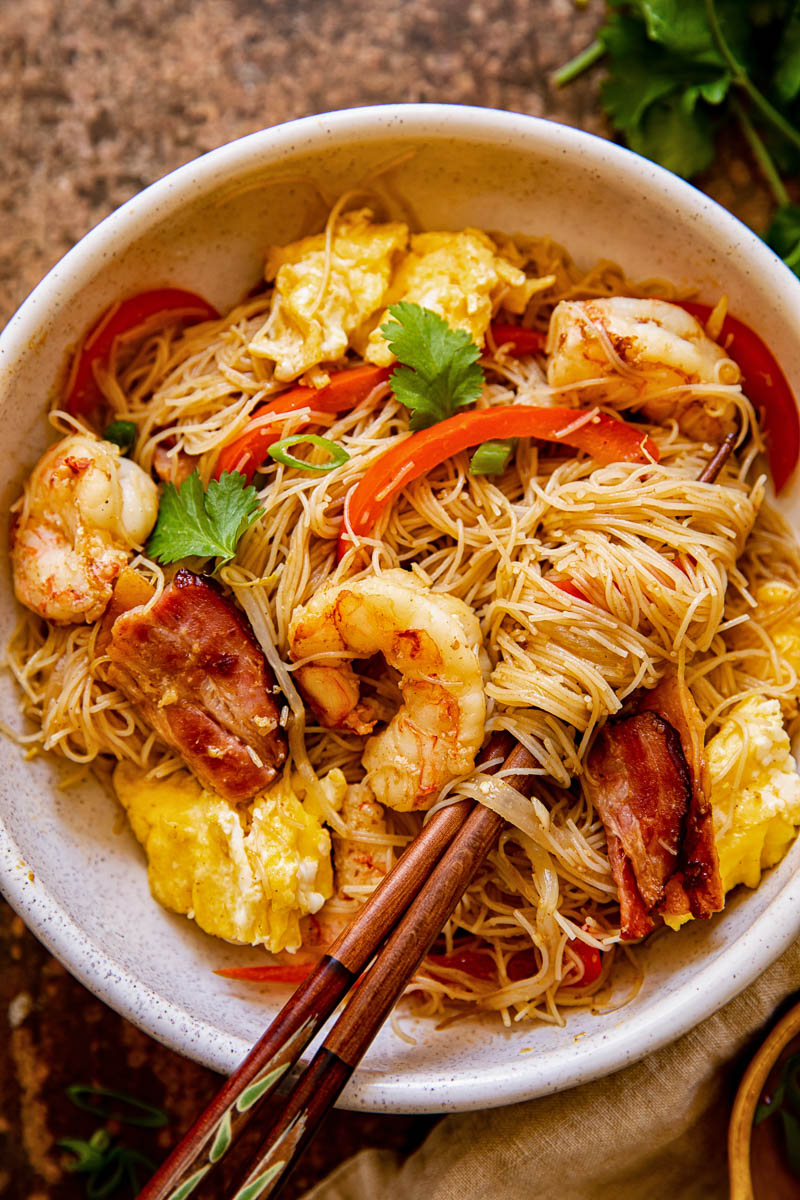 Scrambled eggs is another staple of most Singapore noodles recipes. The eggs are scrambled and mixed into the noodles at the very end, which is very similar to fried rice recipes.
I've also added a combination of sliced red peppers and bean sprouts as my choice of vegetables. Many other vegetables could be used from sliced cabbage, bok choy to green beans and broccoli!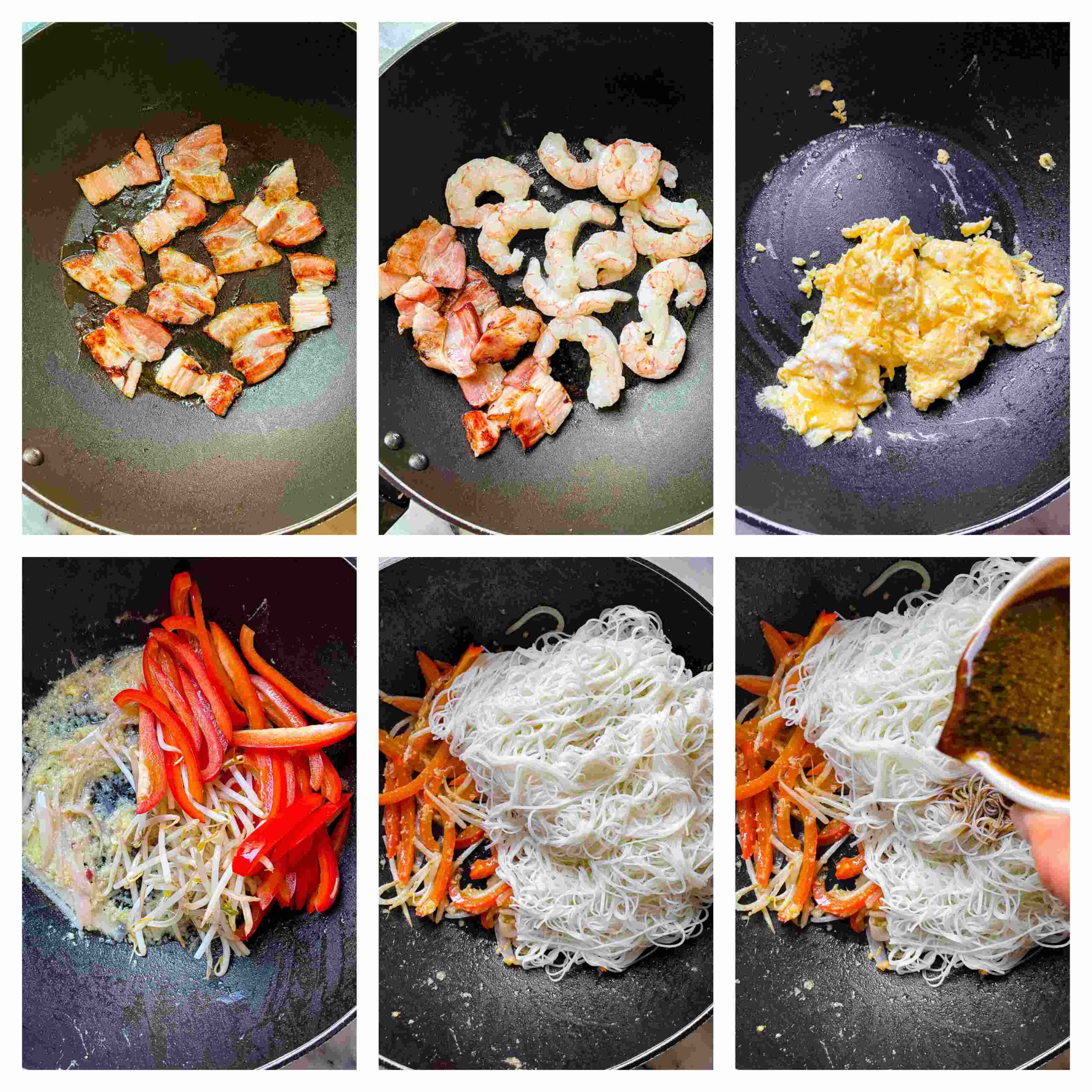 Recipe Tips and Notes
This recipe has quite a few components but all of them cook very fast. To succeed at this recipe I recommend getting every ready, chopped and sliced before the actual cooking begins.
You will also save yourself from getting overwhelmed if you measure out and mix the sauce ingredients beforehand as well.
There are many variation of this recipe but they all agree on two things. The noodles have to be thin rice vermicelli and the curry powder has to be hot, which makes this dish a little spicy!
If you are using pork or any other meat, make sure to slice it very thinly for the authentic taste. Thinly sliced meat will also cook within a couple of minutes!
Cook your scrambled eggs into large pieces. They will break up when mixed into the noodles, so we don't want them to turn into a mush.
Garnish your cooked noodles with sliced green onions and cilantro for a fresh flavour and visual appeal.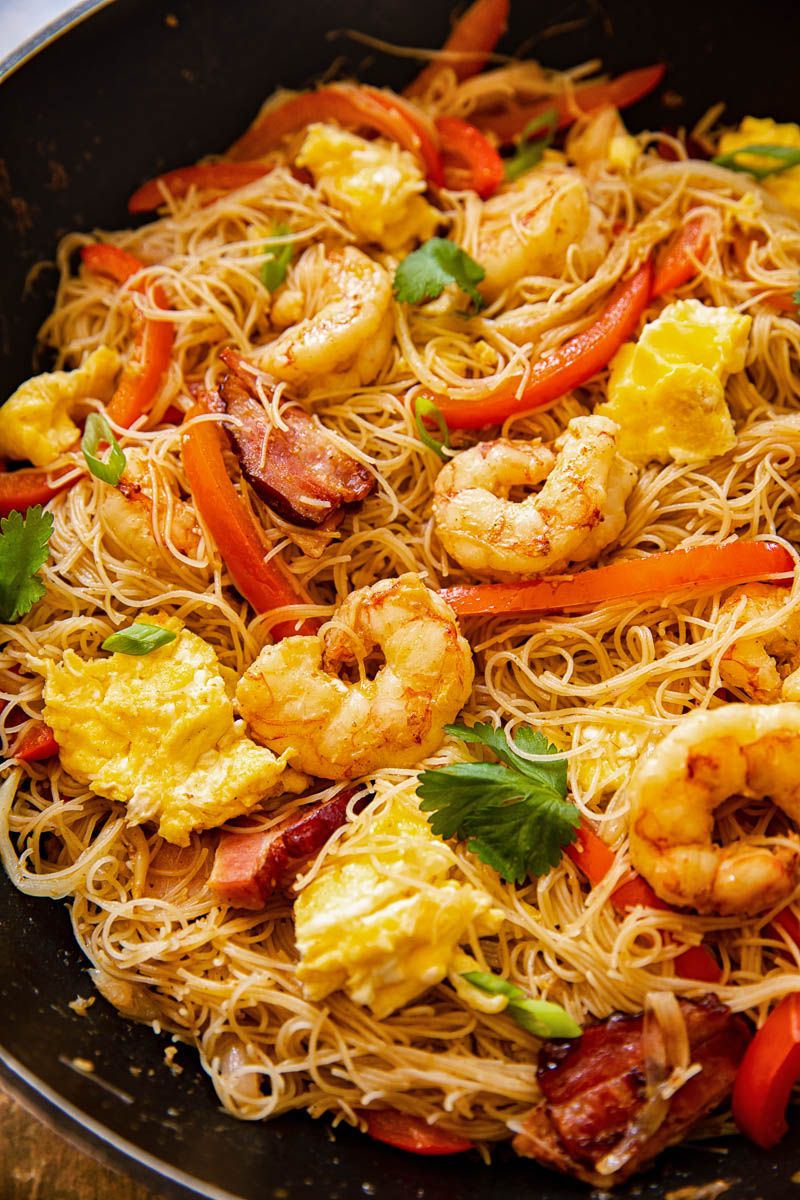 Favourite Asian Stir Fried Noodles to Try: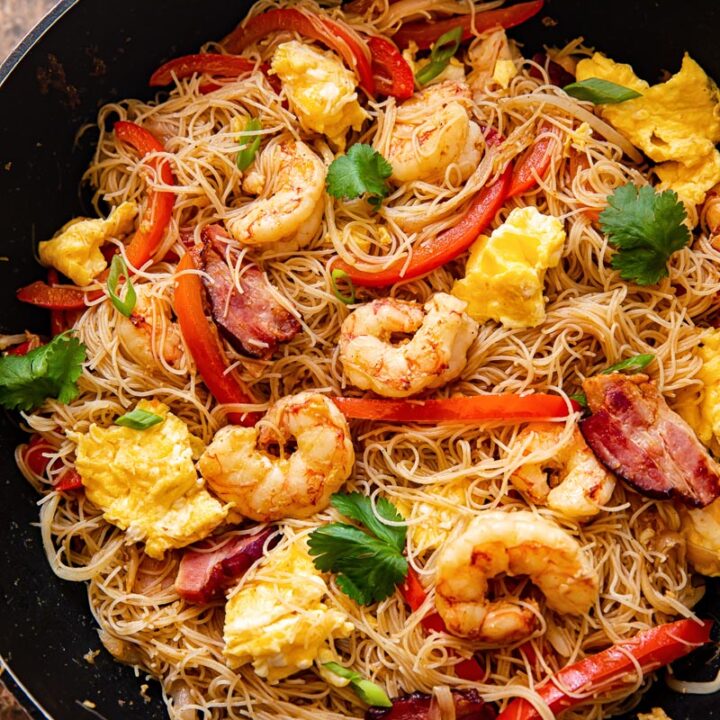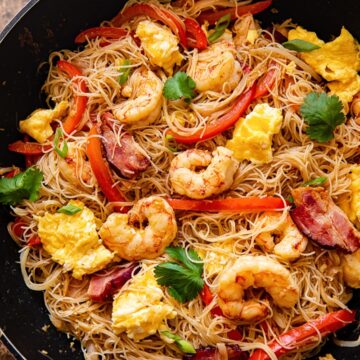 Singapore Noodles
Rice noodles stir fried with vegetables, prawns, pork, eggs, then flavoured with a curry powder deliver an explosion of flavours in this recipe for Singapore noodles.
Ingredients
3

tbsp

Chinese wine or dry sherry

4

tbsp

dark soy sauce

4

tsp

hot curry powder

1

tsp

white pepper or black pepper

1

tsp

salt

1

tsp

honey or sugar

300

g

thin rice noodles vermicelli

2

tbsp

vegetable oil

250g/1/2 lbs

thinly sliced cured pork belly or pork loin steaks

or use thickly sliced bacon

250g/1/2 lba

shrimp/prawns

2-3

eggs

½

onion or 1 shallot

3

cloves

garlic

1

tbsp

ginger

grated

1

red pepper or green pepper

100g/1 cup

bean sprouts

1

tsp

sesame oil

optional

green onions and cilantro for garnish
Instructions
In a small bowl mix the Shaoxing wine, soy sauce, curry powder, white pepper and honey, set aside. Soak the noodles in a boiling water according to package directions.

In a wok or a large frying pan heat the oil, then cook the sliced pork loin steak seasoned with salt or pork belly, then add the shrimp and cook for 1-2 minutes on each side. Remove to a plate and set aside.

Add the eggs and scramble them in large pieces. Remove to a plate and set aside.

To the same pan, add the sliced onion and cook for 2-3 minutes, then add the garlic and ginger, cook for 30 seconds longer while stirring. Then add the sliced red pepper and bean sprouts, stir fry for 5 minutes.

Bring the drained noodles into the pan and pour the sauce all over, toss to combine. Finally, bring back the pork, shrimp and eggs, and gently mix everything together, taste and add salt if needed. Garnish with green onions and cilantro.
Nutrition
Calories:
778
kcal
Carbohydrates:
62
g
Protein:
27
g
Fat:
45
g
Saturated Fat:
19
g
Polyunsaturated Fat:
5
g
Monounsaturated Fat:
18
g
Trans Fat:
1
g
Cholesterol:
284
mg
Sodium:
1991
mg
Potassium:
408
mg
Fiber:
3
g
Sugar:
5
g
Vitamin A:
1082
IU
Vitamin C:
46
mg
Calcium:
145
mg
Iron:
4
mg