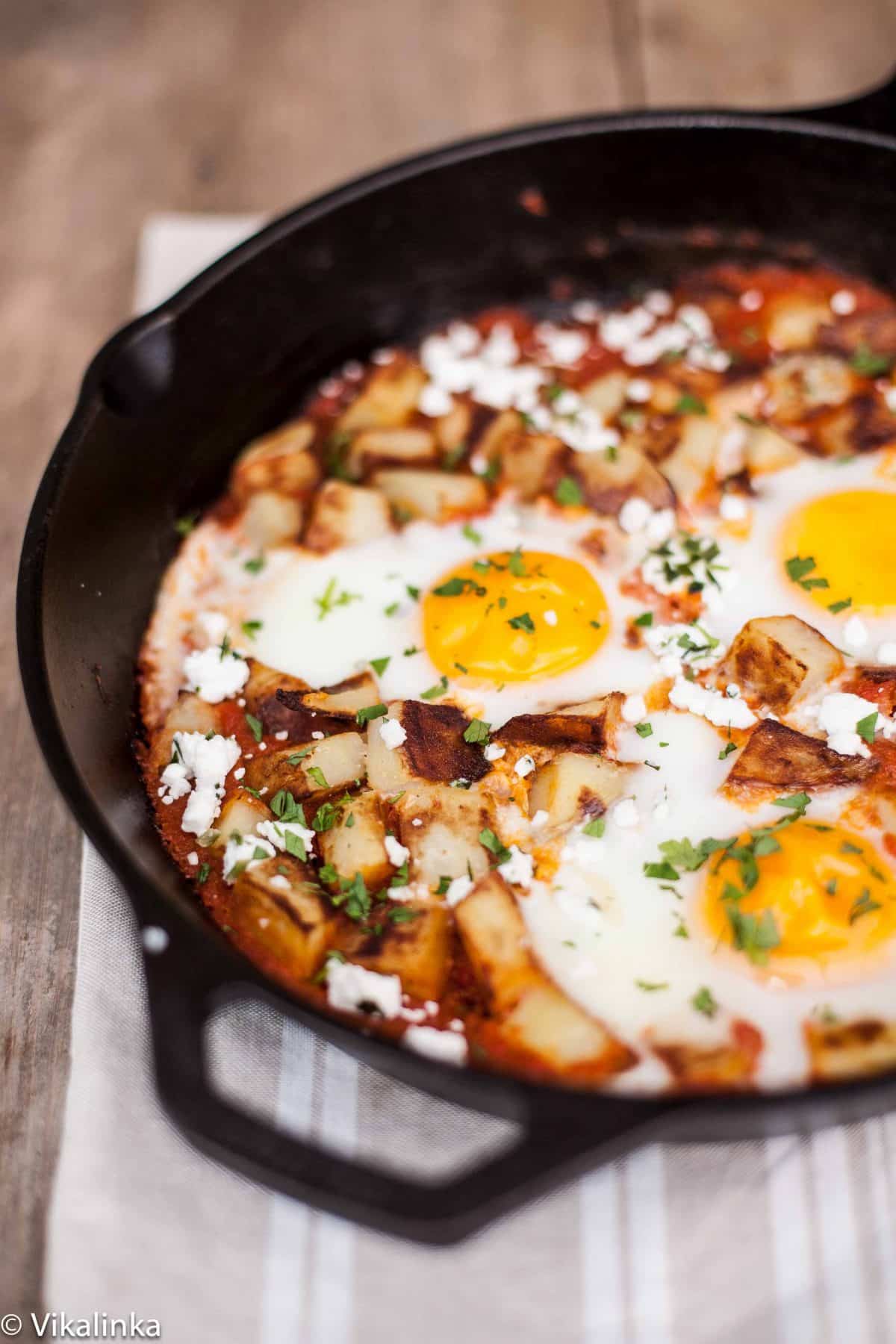 This recipe got created by accident which happens here A LOT. The night before Brad went on his trip we had a tapa night. I guess we were still in Spain in our spirits.
Stay-in dates are great when it's impossible to get a babysitter plus we can make any food we love for a fraction of the price at a restaurant. I love tapas but what I love even more is that we usually cook them together.
It's such a great way to start a date! Drinking wine while juggling multiple pots and pans and hot plates tends to infuse an everyday activity like cooking with much hilarity. Try it for yourself if you don't believe me. ( But be safe. Seriously.)
Patatas Bravas is one of the tapas that is "a must" for us. Fried potatoes served with spicy tomato sauce. Brilliant. "Bravas" means "fierce" in Spanish, apparently. How can you NOT love a dish that is fierce?!!!
Spanish Hash was born out of leftovers but it turned out to be such a beautiful and satisfying breakfast dish I decided it deserved a life of its own.
I am definitely reserving this for weekend breakfasts and brunches. It would take just a few minutes to throw together if you have potatoes boiled and sauce made the night before.
Ingredients:
( For the bravas sauce)
Olive Oil- 1 tbs.
Onion (chopped) -1
Garlic – 4 cloves, sliced
Red Chilli- 1, minced
Carrot- 1 medium, finely chopped
Fresh thyme- 2-3 sprigs ( you can also use dried thyme)
Chopped Tomatoes- 1 tin (400gr)
Red Wine Vinegar- 1tbsp.
Salt and pepper to taste
Note: The sauce recipe makes about 1 cup but you will only need ¼ cup for the breakfast hash. Reserve the rest to make "patatas bravas" or serve it with your favourite pasta.
Ingredients for the Hash: (Serves 2 but you can easily double or triple it)
Potatoes (boiled and cubed)- 2 medium
Olive Oil- 1 tbsp.
Eggs- 1-2 per person ( I used 3 because I eat 1 and Brad eats 2)
Goat Cheese (crumbled)- 1 tbs. (or use whatever cheese you like)
Parsley- 1-2 sprigs
Method:
As I mentioned earlier you can cook potatoes and the sauce the night before. This way your morning will be much smoother. If you are doing everything in one go here is what you need to do.
Half your potatoes and bring them to a boil in a pot full of water, then cook them for 6-8 minutes longer until soft but not falling apart. Drain and cool the potatoes.
Heat a tablespoon of olive oil in a saucepan and cook your chopped onion and sliced garlic over low heat for 5 minutes, then add minced chilli, chopped carrot and thyme (leaves only) and cook for 5 minutes longer. Then pour in your canned tomatoes, vinegar and a pinch of salt and pepper, turn the heat up and bring to a boil, then turn the heat down and let the sauce simmer for 10 minutes until it's thick. When you are satisfied with the thickness of the sauce take it off the heat, pour it in a food processor or a blender and blend until smooth. Scoop ¼ cup out and reserve the rest for a later use.
Preheat your oven to 350F/180C
Heat 1 tbsp. of oil in a frying pan and add your cubed potatoes into it, cook them until they are golden brown, then add ¼ cup of the bravas sauce. Make little wells in the sauce and potatoes and carefully crack your eggs into them and put the pan in the preheated oven for 6-8 minutes depending on how soft or firm you like your egg yolks. Once the the eggs are set, take them out, sprinkle them with crumbled goat cheese and chopped parsley.
I can't tell you enough how wonderful the bravas sauce is! It's like the most flavourful ketchup with a bit of a kick to it. I am absolutely in love with it and am currently adding it to everything. Enjoy!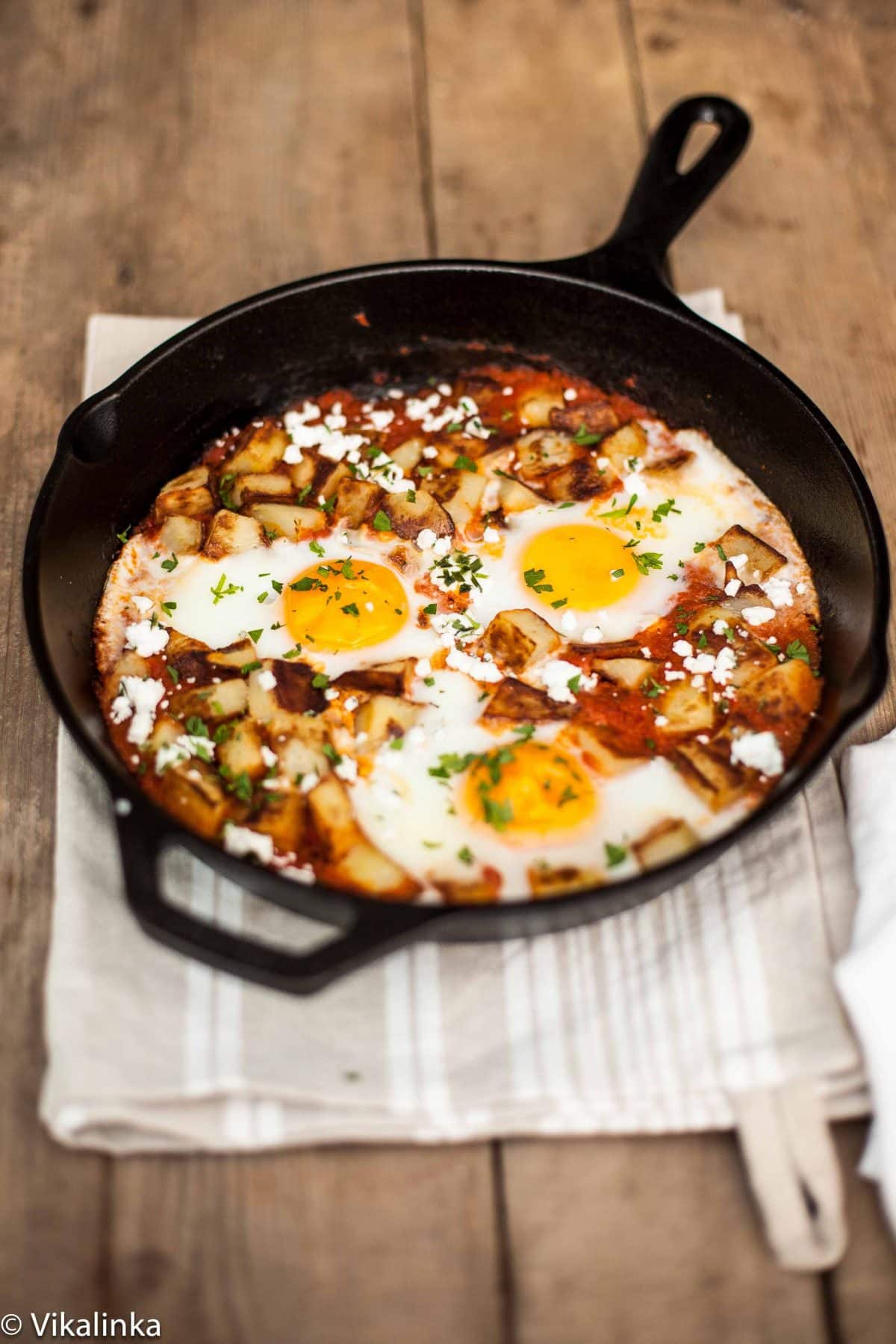 Note: The bravas sauce recipe was adapted from "Jamie Does Spain".