This Peri Peri rice is delicious and comes together in less than 30 minutes! Minimal ingredients and only 5 minutes of hands on time!
Serve with Spatchcock Chicken in Spicy Yogurt Sauce for an exciting dinner that is full on flavour.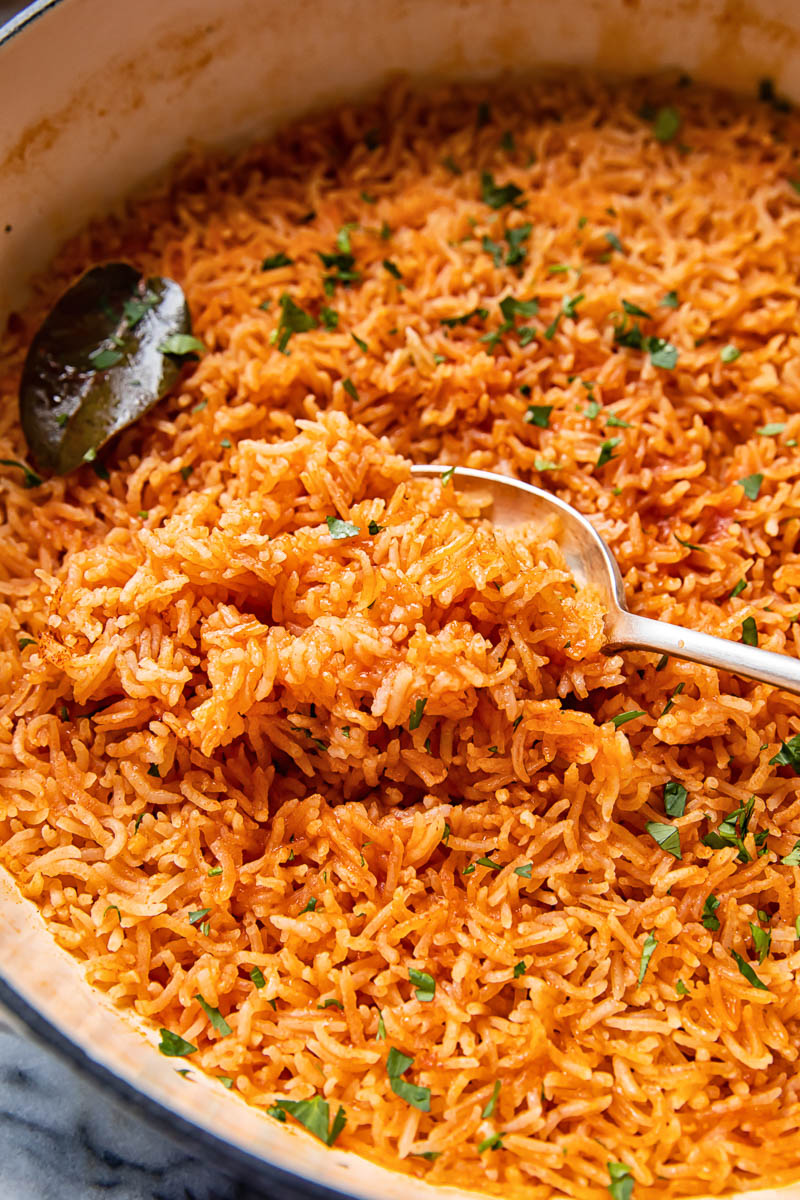 If you are an enthusiastic rice fan like my daughter, you will be absolutely delighted with this easy and scrumptious recipe.
Whenever I think of side dishes, my mind immediately turns to potatoes. That's how I was raised. But I also spent some time in Asia in my 20s, where I fell in love with rice.
Rice Recipes
Rice is crazy versatile. It's usually enjoyed as a side but could also become the main player as well. My Indonesian Fried Rice Nasi Goreng and Chicken Fried Rice are great examples of when rice shines on its own.
It's delicious plain when it's cooked properly. But if you want to infuse your rice with flavour, there are so many ways! Coconut rice for instance is a such a delicious accompaniment to Thai and Indian curries.
Or infuse your rice with Cajun spices and end up with a Southern classic Dirty Rice. Spanish Paella needs no introduction. It's the dish, which makes rice the star of the show and is famous all over the world.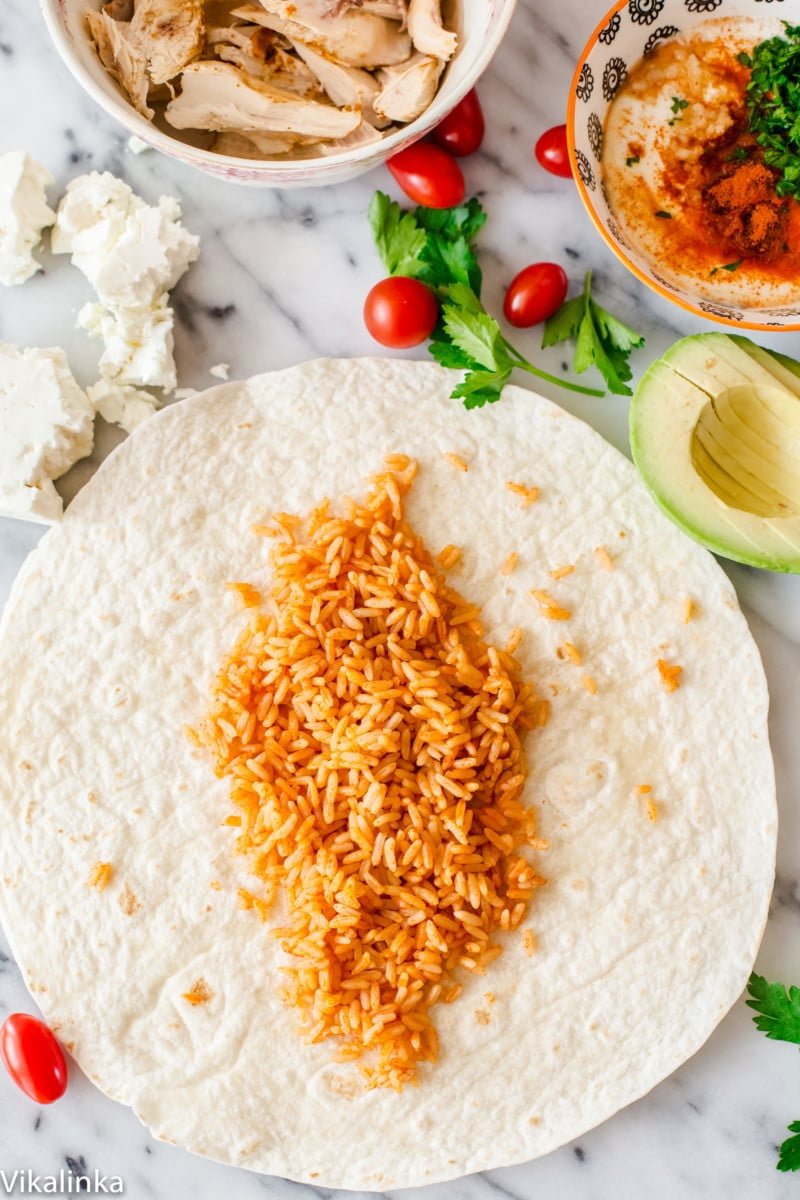 Peri Peri Flavour
If you have trouble making rice from scratch, you are probably familiar with pouches of pre-cooked rice often found in shops. All they need is a few minutes in a microwave. They are convenient and come in many flavours. That's how I first learned of Peri Peri Rice.
Spicy and full of vibrant flavours peri peri rice is so great to serve with the main dish. You can also throw it in wraps or salads for lunch. I used to buy it when I worked 2 jobs and was too busy for my own good. But I quickly learned it's so easy to make at home and so much tastier.
For those of you living in the UK, Peri Peri flavour needs no introduction. Popularised by the Nando chain in the UK, Peri Peri chicken is quite possibly the most common stop after a night out. Peri Peri sauce is originally Portuguese but uses peppers they found in Africa, called as you can guess peri peri peppers.
The sauces made with the peppers are often quite complex, and the secrets to family recipes are closely guarded. However, this recipe is easy! I use Nando's brand sauce to make my recipe, which delivered spicy and delicious results. You can buy the sauce in most supermarkets.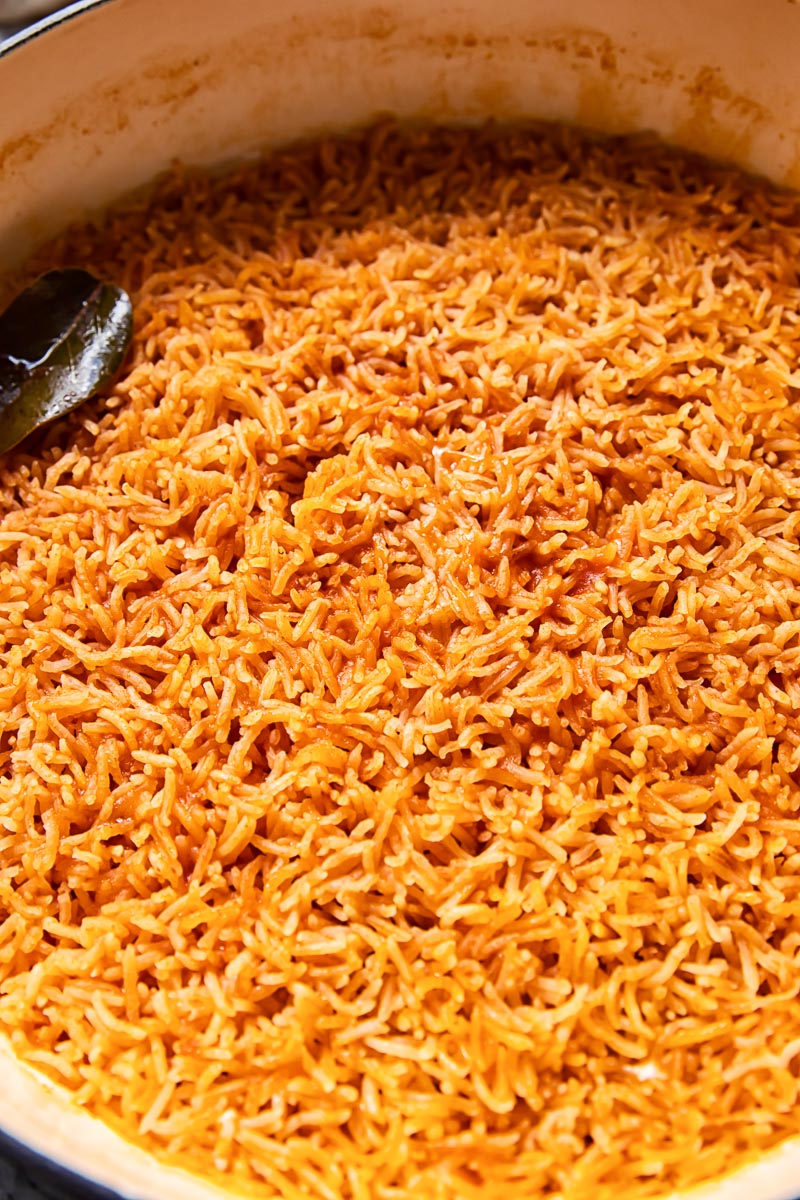 Recipe Tips and Notes
I used basmati rice but long grain rice will also work. Make sure you measure out the rice to water ratio correctly.
Use a pan, that you have a lid for.
The more Peri Peri sauce you use, the spicer it will be. I would start with 1 tablespoon, then increase if desired. I used Nando's Garlic Peri Peri Sauce but feel free to experiment with other flavours as well.
This rice is so delicious with a number of chicken dishes like Lemon Butter Chicken or Greek Whole Roast Chicken. It is also delicious in my Peri Peri Rice and Chicken Wrap.
Finally, if you don't feel confident making rice, take a look at my clear instructions for cooking rice in Instant Pot.
More rice recipes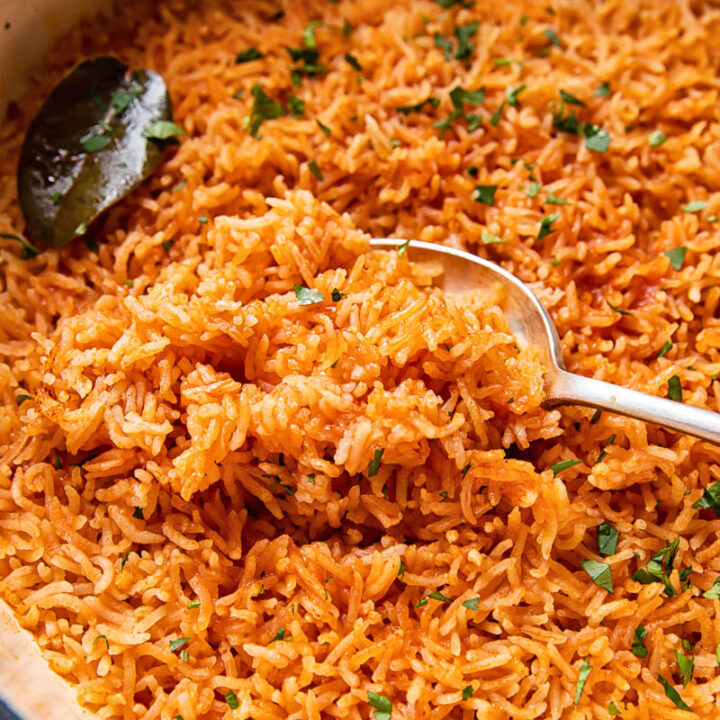 Easy Peri Peri Rice
This Peri Peri rice is so delicious and comes together in less than 30 minutes! Minimal ingredients and only 5 minutes of hands on time!
Ingredients
1

tbsp

vegetable oil

2

cloves

garlic

200g/1 cup

basmati rice

450ml/2 cups

vegetable stock

or chicken stock

125ml/1/2 cup

tomato passata/crushed tomatoes

1-2

tbsp

Nando's Peri Peri Sauce

I used Garlic Peri Peri Sauce

½

tsp

smoked paprika

1

bay leaf

1

tsp

salt

fresh coriander/cilantro for garnish
Instructions
Wash the rice until the water no longer looks milky. Heat the oil in a deep pan, then add the minced garlic and cook over low heat for 30 seconds. Then add the rice, vegetables stock, tomato passata or crushed tomatoes, Peri Peri sauce, smoked paprika and salt, stir to combine and bring to a boil.

Cover with a lid and cook for 10 minutes over medium heat, then turn the heat off but keep the pot on the stove still covered with a lid for 10 minutes longer. Stir and sprinkle with chopped coriander/cilantro. Add more salt if necessary.
Nutrition
Calories:
202
kcal
Carbohydrates:
44
g
Protein:
4
g
Fat:
1
g
Saturated Fat:
1
g
Polyunsaturated Fat:
1
g
Monounsaturated Fat:
1
g
Sodium:
1161
mg
Potassium:
166
mg
Fiber:
1
g
Sugar:
2
g
Vitamin A:
437
IU
Vitamin C:
6
mg
Calcium:
29
mg
Iron:
1
mg