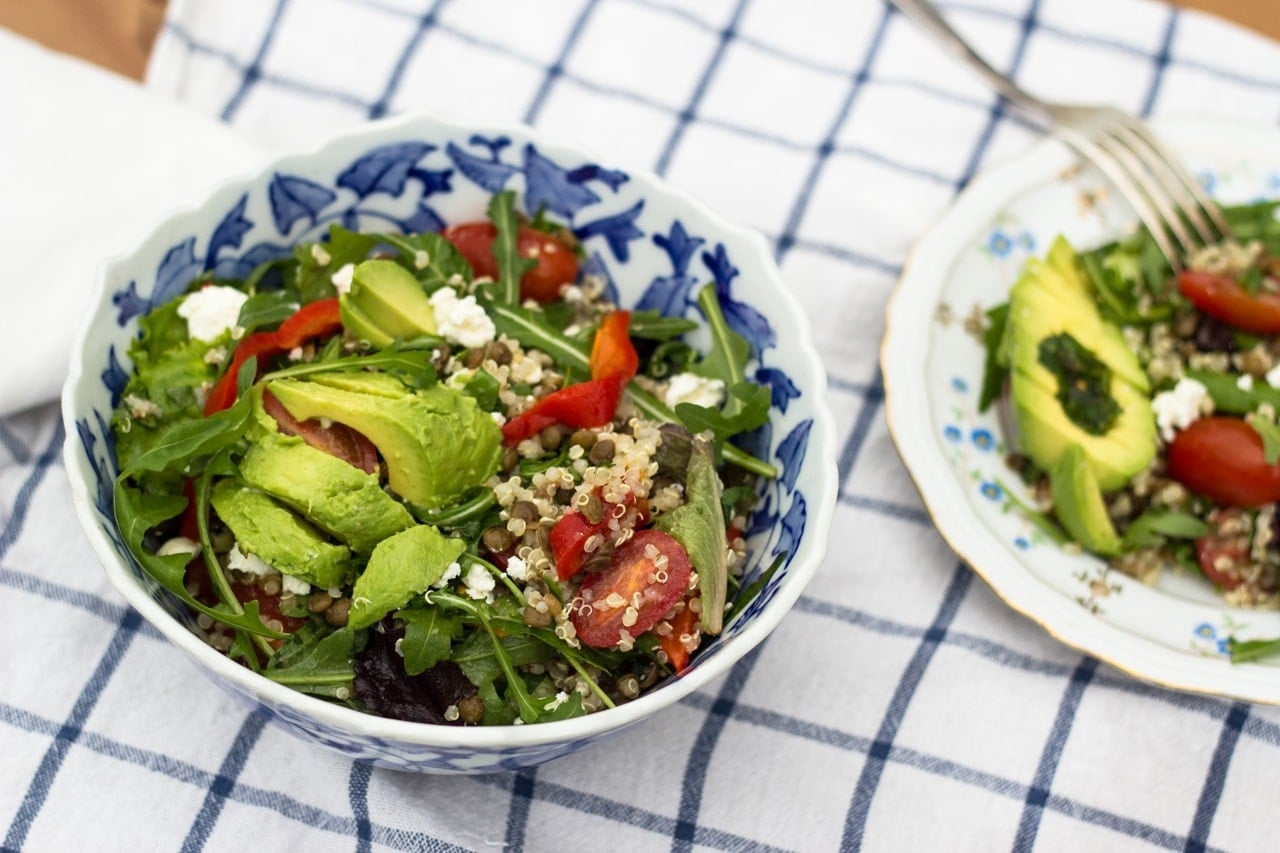 When I look outside all I see is grey misery but I can tell spring is not far away by the way my orchids are sprouting new shoots in preparation to bloom. Sometimes things are not what they appear and in those moments we need to apply faith, observe signs in nature and enjoy a springtastically healthy salad for lunch! With summer fast approaching I know I need to clean up my eating habits and get ready for the swimsuit season. Are you with me? I am excited to put away my pie plates and casserole dishes and employ my grill and salad spinner for the coming season. This Quinoa and Puy Lentil Salad is such a great mix of light and satisfying because nobody wants to starve by 3 o'clock and reach for that trusty pack of Timbits or a Walnut Crunch. Have I lost you with my Canadianisms? If you don't know what timbits and a walnut crunch are do yourself a favour and visit a Tim Hortons!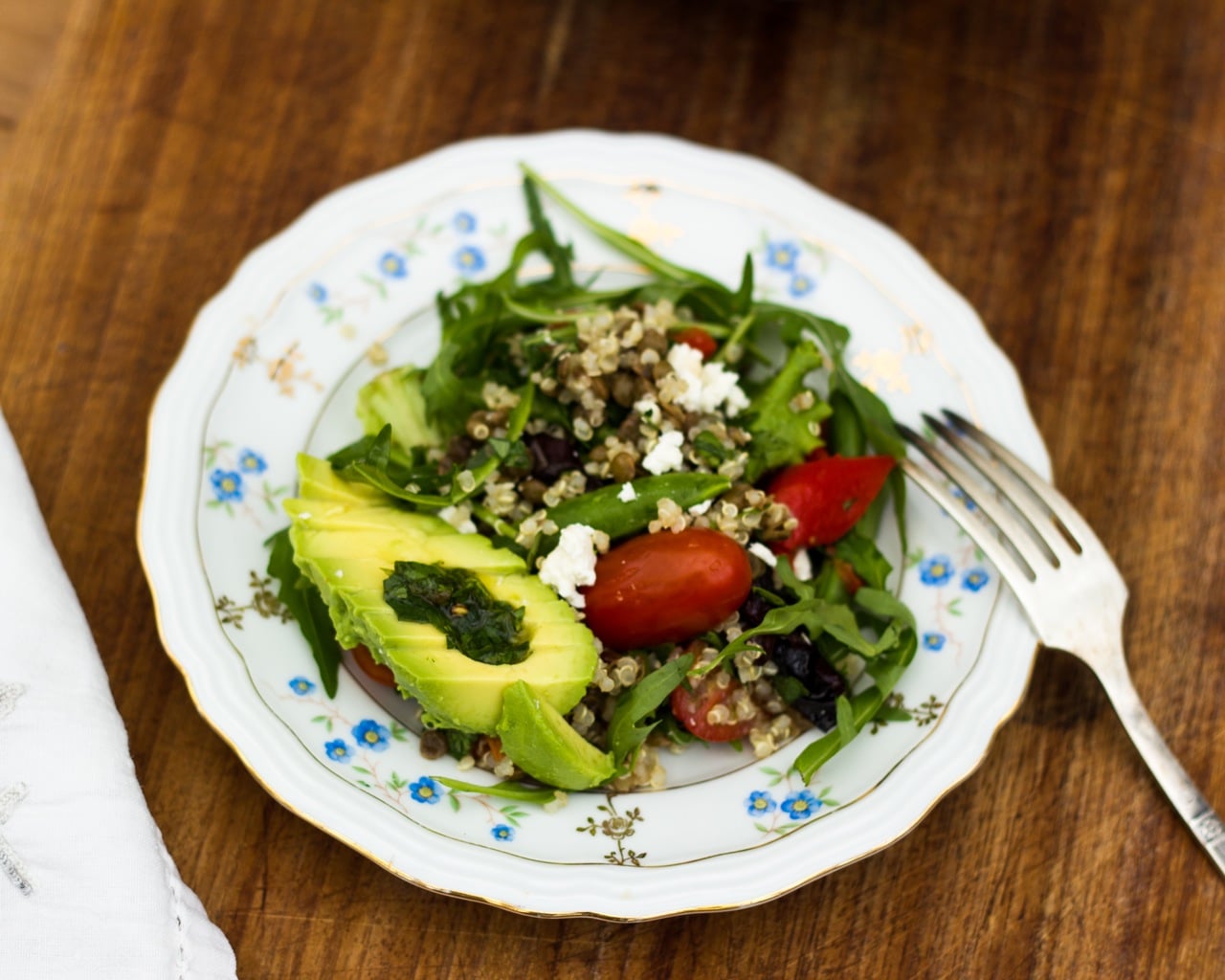 There is a salad bar place not far from my work where I like to go for lunch. There are dozens of options which allows you to taste different flavours and combinations. Although great, it's not too budget friendly and that is why I try to make my own salads at home and take them to work. What I learned from visiting the salad bar place is that I really love quinoa+lentil+feta cheese combo. When I make my salads at home I try to use it as the base and add whatever greens and vegetable I have in the fridge. Dressing is also very important for the overall success of the salad-my latest favourite is Lime Cilantro Vinaigrette.
Quinoa (cooked)-1 cup
Puy Lentils (cooked)- 1/2 cup
Pomodorino or Cherry Tomatoes( cut lengthwise)- 1/2 cup
Red Pepper- 1/2
Sugar Snap Peas – 1/2 cup
Mixed Salad Greens- 2 cups
Feta Cheese- 2 tbsp.
Fresh Cilantro/Coriander (chopped)- 2 tbsp.
Fresh Parsley (chopped)- 1 tbsp.
Lime (juiced)-1
Olive Oil- 1/4 cup
Salt and Pepper to taste
Avocado-1
Method:
Cook quinoa and lentils according to package directions, in separate pots, and cool completely. (This step could be done in advance. I usually cook more than I need and keep the ingredients in the fridge to use throughout the week.)
Chop up cilantro and parsley, juice the lime. In a mortar combine the herbs, salt and pepper and lime juice and crush the herbs with a pestle to a coarse paste, slowing add the olive oil while stirring. Set aside for the flavours to meld.
Combine all the remaining ingredients together except for avocado. Dress the salad with Lime Cilantro Vinaigrette and top with sliced avocado.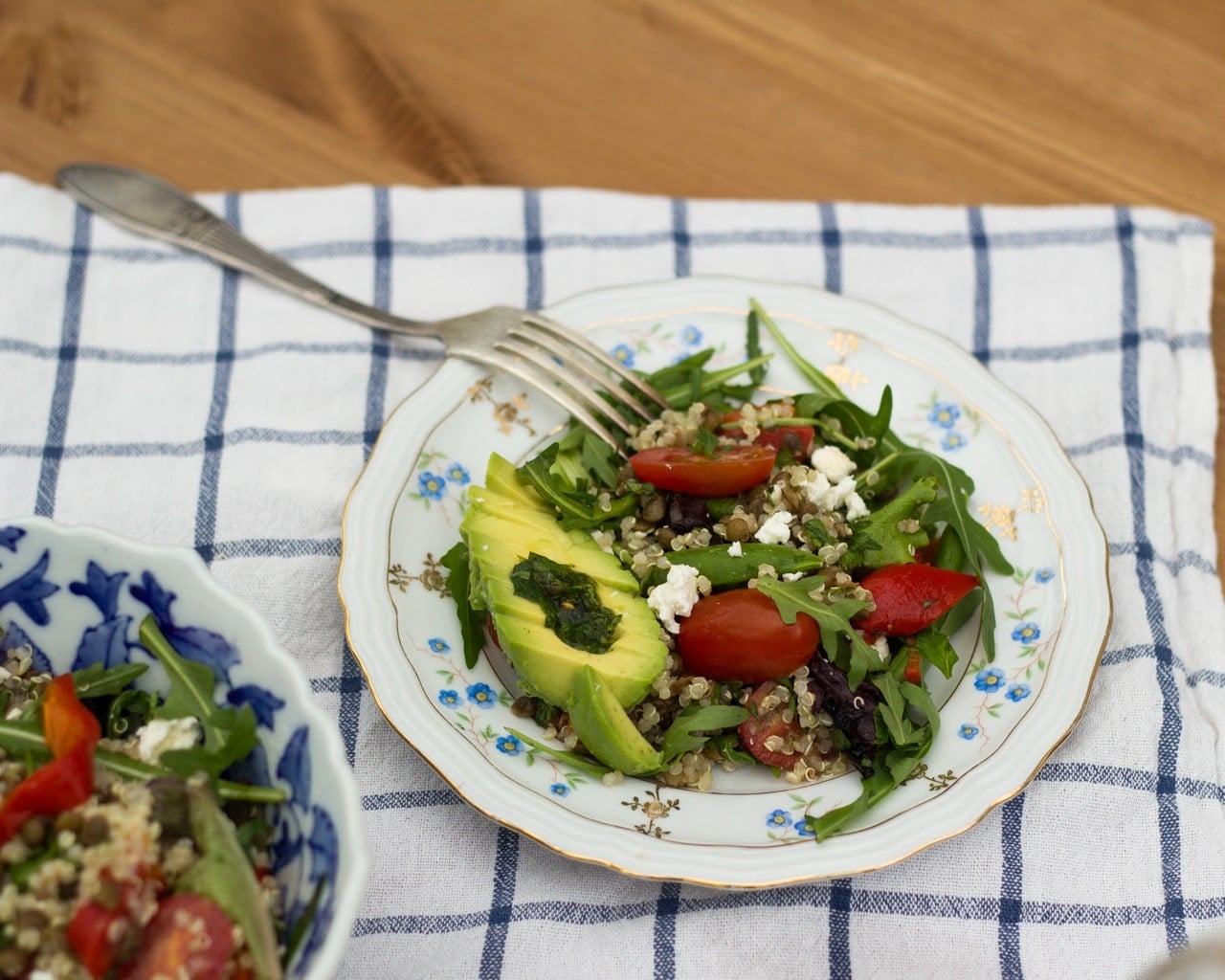 Note: As I mentioned earlier I use whatever vegetable I have in the fridge so go ahead and improvise. Make this gorgeous salad your own!