Pasta alla Norma is a Sicilian classic, that celebrates simplicity and good quality ingredients in one glorious dish. Rigatoni pasta is tossed with a tomato basil sauce and topped with fried eggplant slices.
For another dish from the south of Italy, take a look at our Spaghetti alla Siciliana.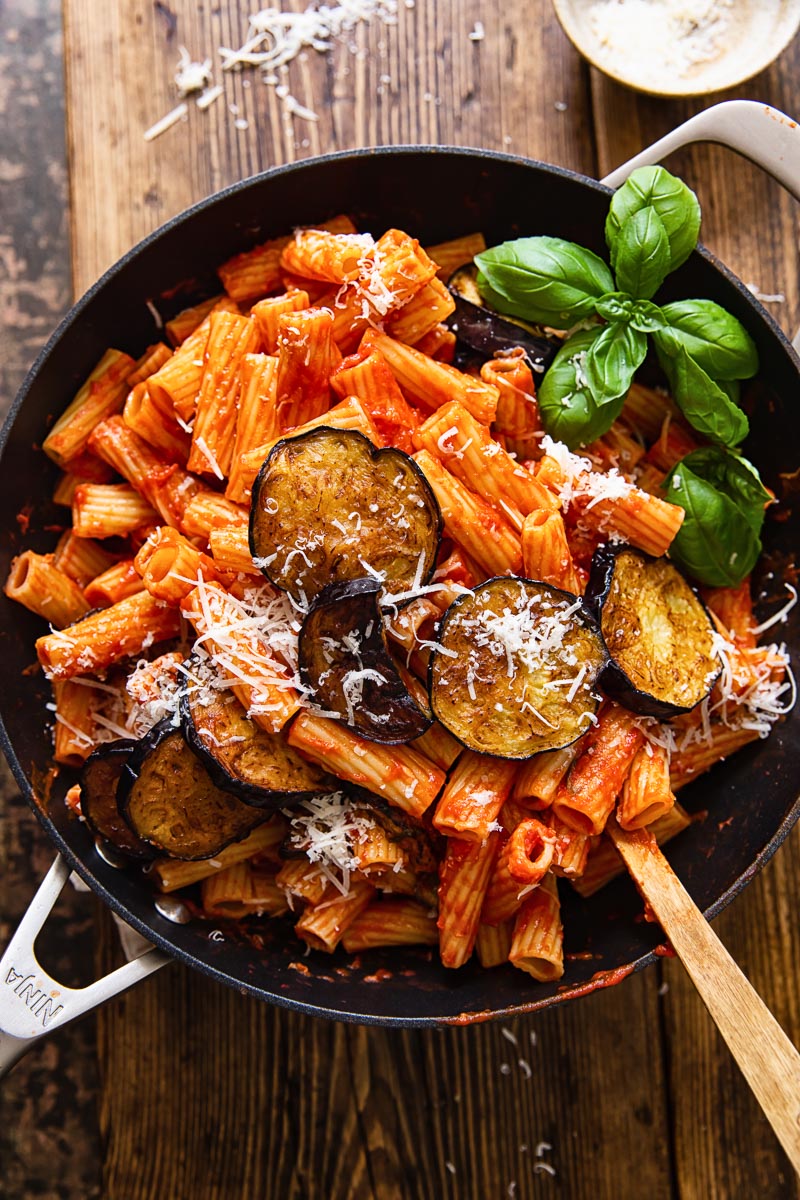 I have a huge Italian recipe collection on this website mostly because I adore the cuisine. I've lost count how many times I've visited Italy. And despite the beauty of the country itself, the food is the number 1 draw for me. I am not ashamed to admit it.
Apart from learning about Italian food during my visits, I also learned quite a bit from my friend Angela. She is a Londoner but but was born and raised in Sicily, and therefore one of the biggest advocates of the food she grew up eating.
The first recipe I learned from her is spaghetti carbonara. It's so simple I had to share it with my readers, which immediately became one of the favourites on the blog.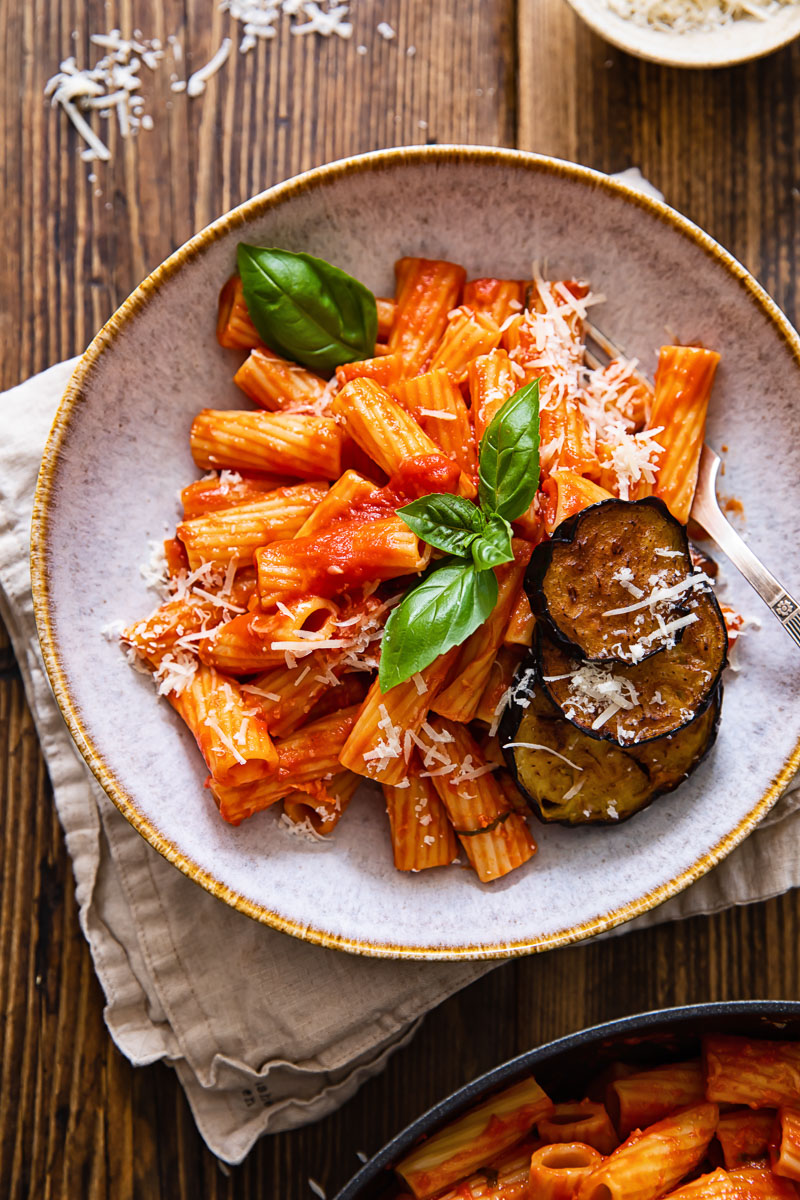 Classic Sicilian Pasta Recipe
Pasta alla Norma is a recipe Angela often mentions. Not only is it a well-known recipe, which hails from Sicily, its origin is in her native Catania. Inspired by Norma, an opera written by a Catania born composer, this dish is famous and mch loved far beyond Sicily.
The recipe itself seems easy. It's difficult to comprehend how such a simple dish of pasta, tossed in a tomato sauce and topped with fried eggplant, could become so iconic and representative of the region.
However, one of the principles of Italian cooking is simplicity and focus on the quality of ingredients. Southern Italy is known to produce the world's tastiest tomatoes. Sweet, fleshy and full of flavour. No wonder they shine in this seemingly plain recipe.
So if you want to experience the full beauty of pasta alla norma, hunt down the best ingredients you can find. Homegrown or farmers markets are always the best choice.
Another classic ingredient in this recipe is Ricotta Salata. Despite the familiar sounding word, it is not the soft and creamy ricotta we are all familiar with. Ricotta Salata is a semi hard sheep's milk cheese. It is grated on top of the finished Pasta alla Norma.
Since it is nearly impossible to find outside of Italy, I was recommended to use either Pecorino Romano or Parmesan. I suggest you do the same!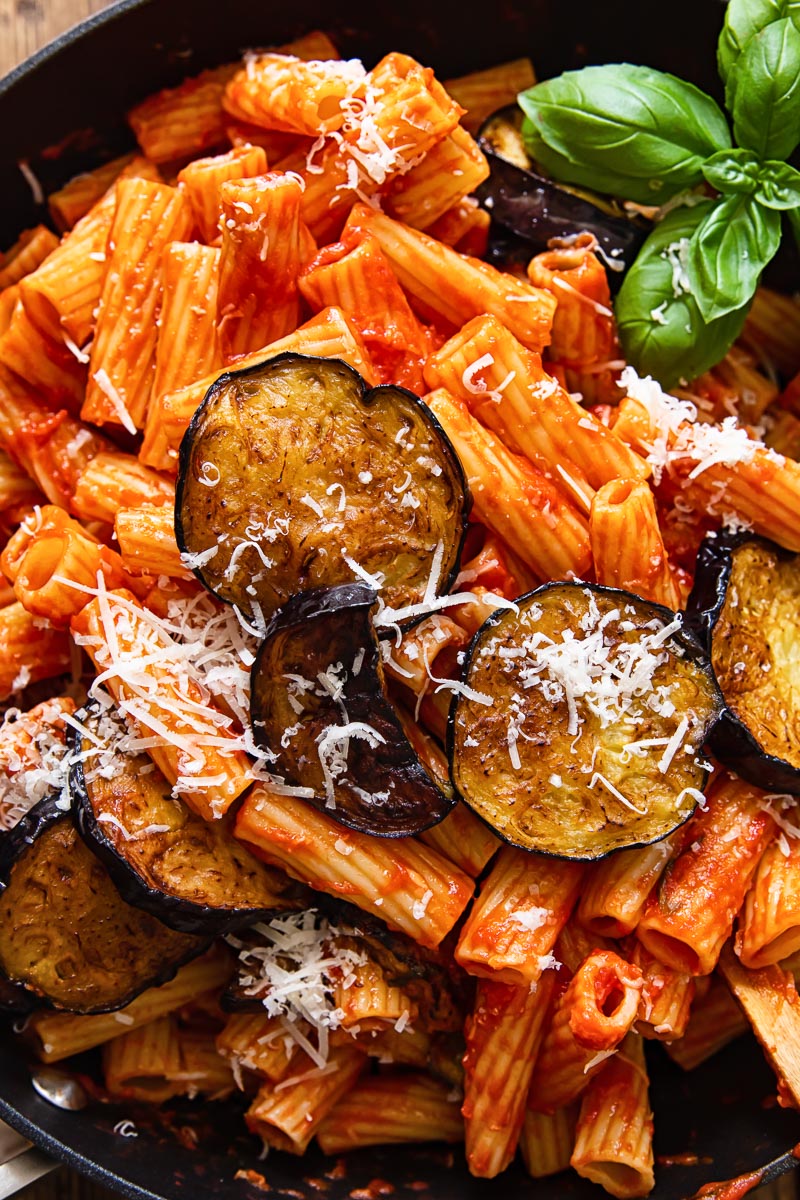 Recipe Tips and Notes
As I mentioned above, using the best quality ingredients will reward you with a dish that tastes outstanding. Cheap canned tomatoes of poor quality just won't do since the main flavour rests on the sweet and ripe tomatoes.
I also highly recommend making the sauce using fresh basil instead of dried. So much more flavour!
Frying eggplant could be tricky if it's not a vegetable you cook often. The texture of eggplant is similar to a sponge. It soaks up oil and the result could be greasy and heavy. What you could do instead is broil/grill the eggplant slices in the oven like I did for my Eggplant Parmesan. Similar result and very little oil used.
If you choose to fry the eggplant, do it in batches to avoid overcrowding, then place the fried eggplant on two sheet of paper towel to soak up excess oil.
More Authentic Italian Pasta Recipes to Try: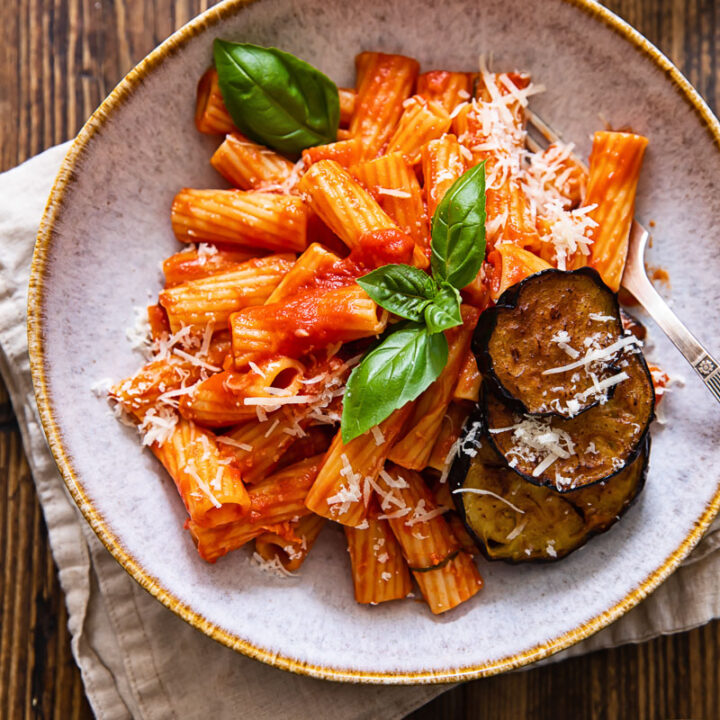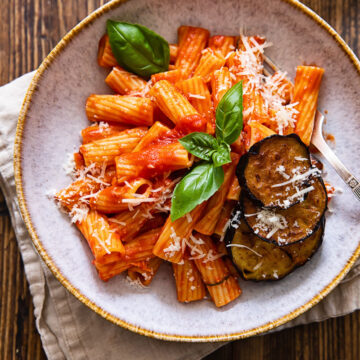 Sicilian Pasta alla Norma
Pasta alla Norma is a Sicilian classic, that celebrates simplicity and good quality ingredients in one delicious dish.
Ingredients
1

lbs

rigatoni

or other short pasta

2

eggplants

medium

3

tbsp

olive oil

divided

1

clove

garlic

500ml/2 cups

tomato passata or crushed tomatoes

4-5

basil leaves

salt to taste

1

pinch

sugar

2

tbsp

Pecorino Romano or Parmesan
Instructions
Set a pot of water to boil for the pasta. Next prepare the sauce. In a large pan heat 1 tablespoon of olive oil, then add 1 clove of minced garlic and heat for about 20 seconds, then add the passata and basil leaves with a pinch of salt and sugar. Cook for 15 minutes over low heat.

Add salt to boiling water together with rigatoni, cook according to package instructions.

While the pasta is cooking and the sauce is simmering, slice the eggplants thickly, then heat 2 tablespoons of olive oil in a frying pan and fry the eggplant slices. You might need to fry in batches add more oil as needed. Once cooked on both sides, which will take 2-3 minutes per side, remove from the oil and put on two sheets of paper towel to absorb excess oil.

Drain the pasta and add to the sauce, toss to combine, add salt if needed. Serve the pasta topped with eggplant slices and grated Parmesan or Pecorino cheese. (Or use grated Ricotta Salata if you are able to source it.)
Nutrition
Calories:
416
kcal
Carbohydrates:
72
g
Protein:
13
g
Fat:
9
g
Saturated Fat:
2
g
Polyunsaturated Fat:
1
g
Monounsaturated Fat:
5
g
Cholesterol:
2
mg
Sodium:
528
mg
Potassium:
772
mg
Fiber:
9
g
Sugar:
11
g
Vitamin A:
239
IU
Vitamin C:
11
mg
Calcium:
78
mg
Iron:
3
mg