We've had this cabbage salad recipe on repeat lately! It's so good and easily customisable to your taste!
If you are looking for a main dish to pair this cabbage salad recipe with, I highly recommend my Summer Party Mojito Grilled Chicken Thighs.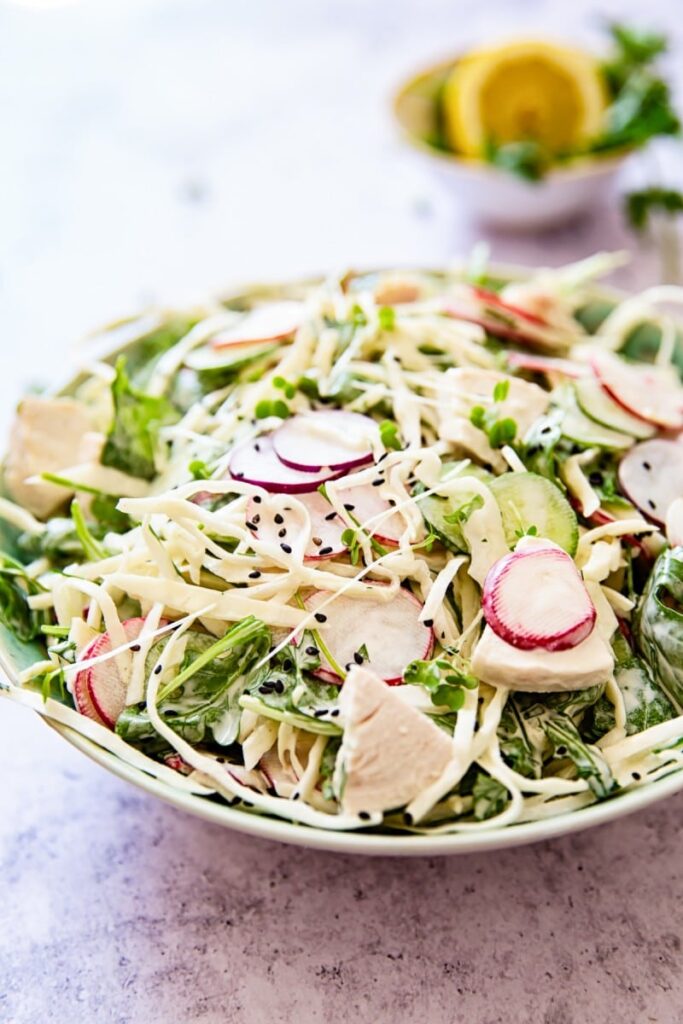 I've definitely been on a salad kick lately but it's summer and who wants to spend time cooking in a hot kitchen? Plus salads are great when you have a variety of recipes to pull from!
In the summer, my preferred spot for summer dinners are outside. When outdoors, having an easy side that doesn't go cold (because it's already is!) is pretty important to me!
Still, even though I love salads, I do find myself getting bored of them sometimes. That means I need to work extra hard to make sure I'm adding variety and keeping the flavours fresh!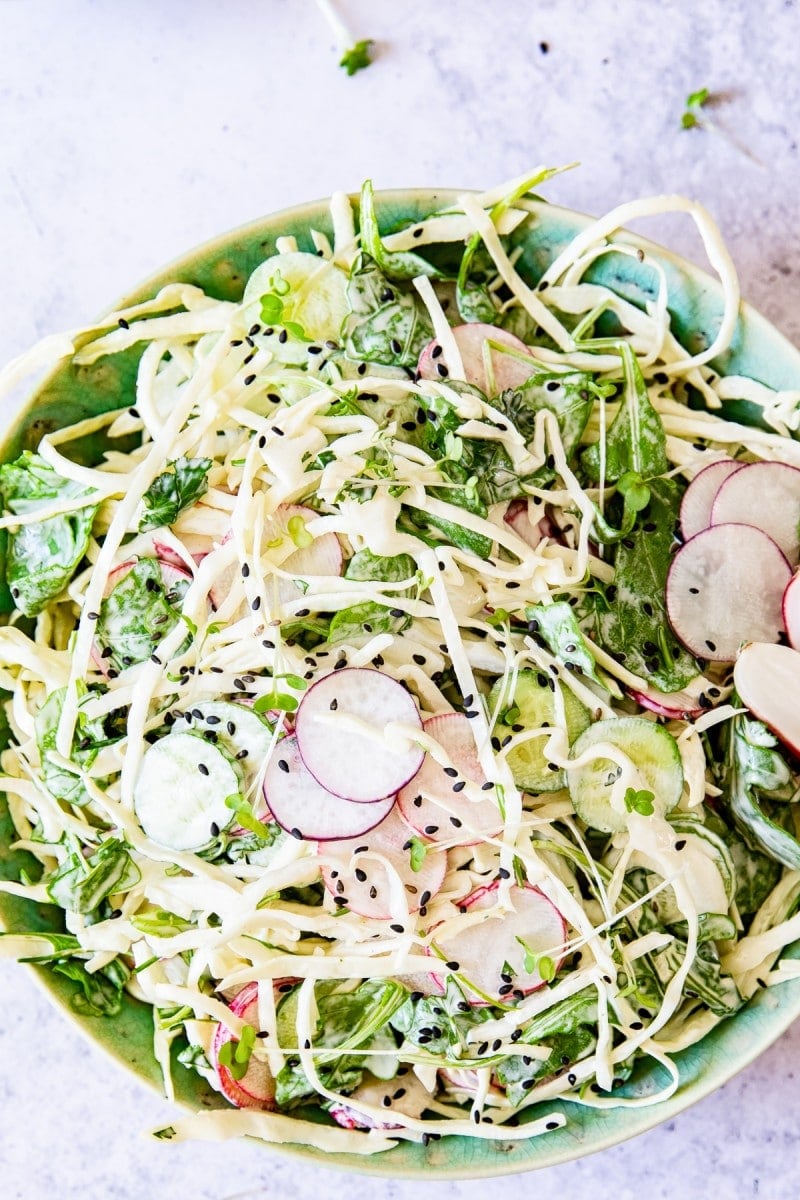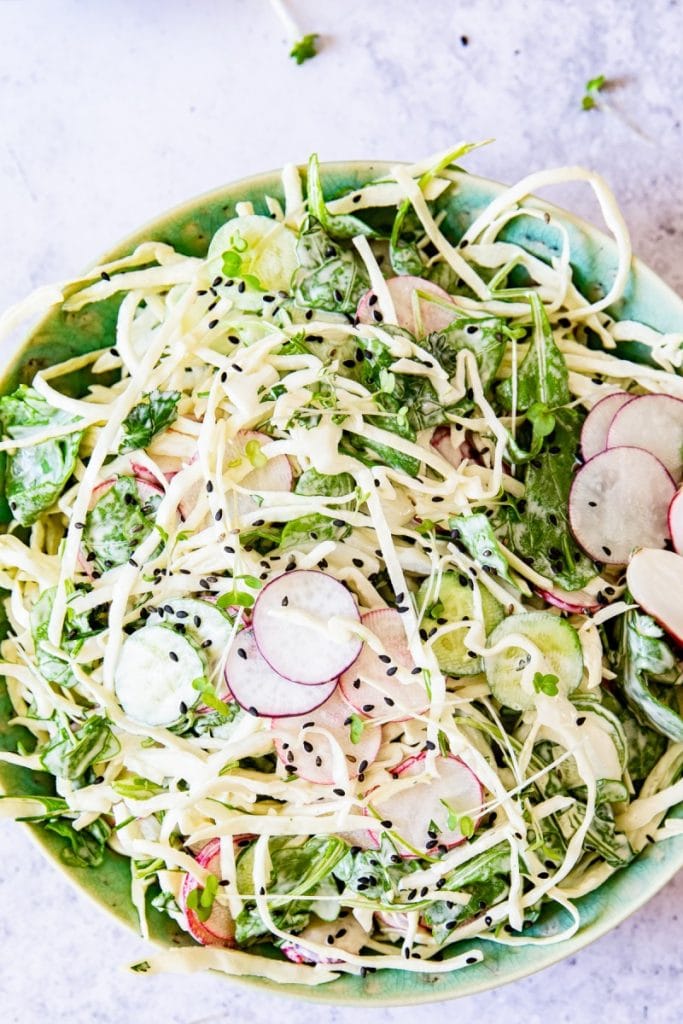 So let's talk about this cabbage salad recipe and why I love it so much!
If I am honest with you, I turned to cabbage because I needed a break from lettuce. And if I am completely honest with you, there was not a shred of lettuce found in my fridge.
So this recipe was born out of necessity. But I don't mind that because it's the greatest way to force a little creativity into cooking !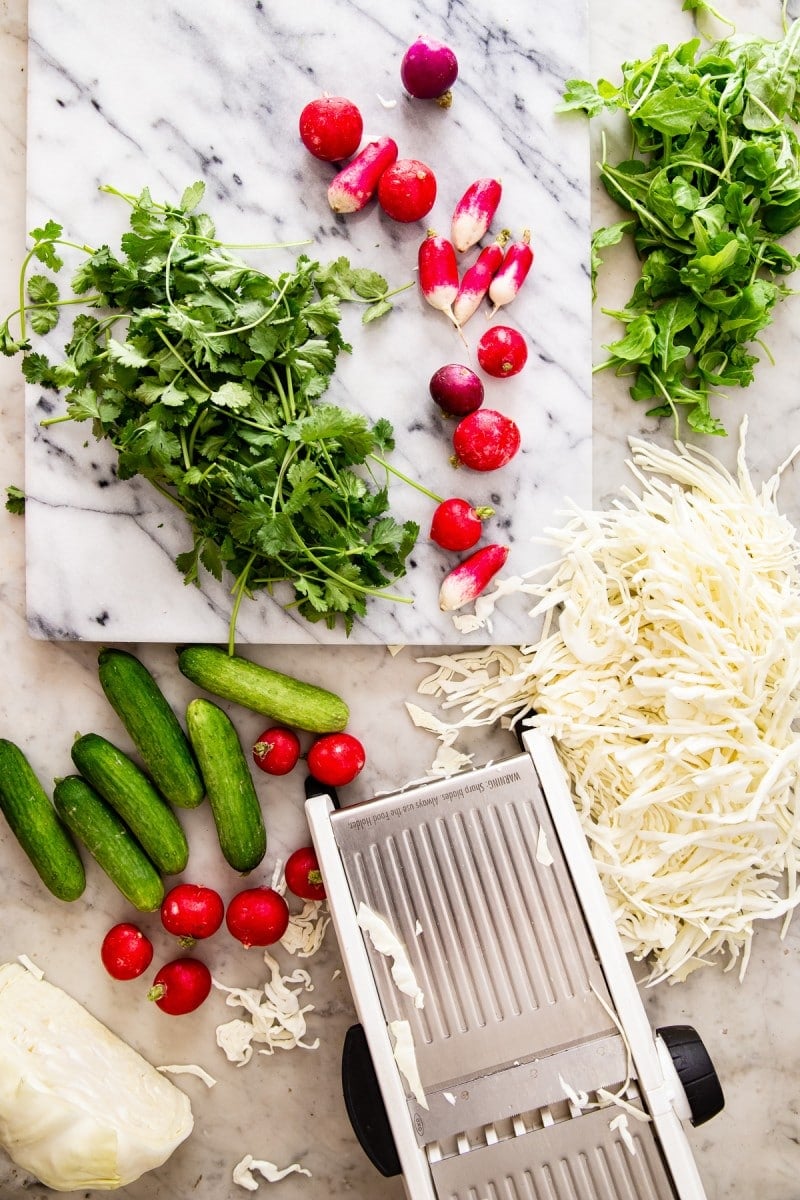 Using cabbage in salads
If I had to list all the best things in this salad in the order of importance, I would have to start with crunch! So many crispy, crunchy ingredients here and the cabbage is the main one. Your chomping with be heard by your neighbours!
Just kidding, it's not that loud but it is all the way fabulous.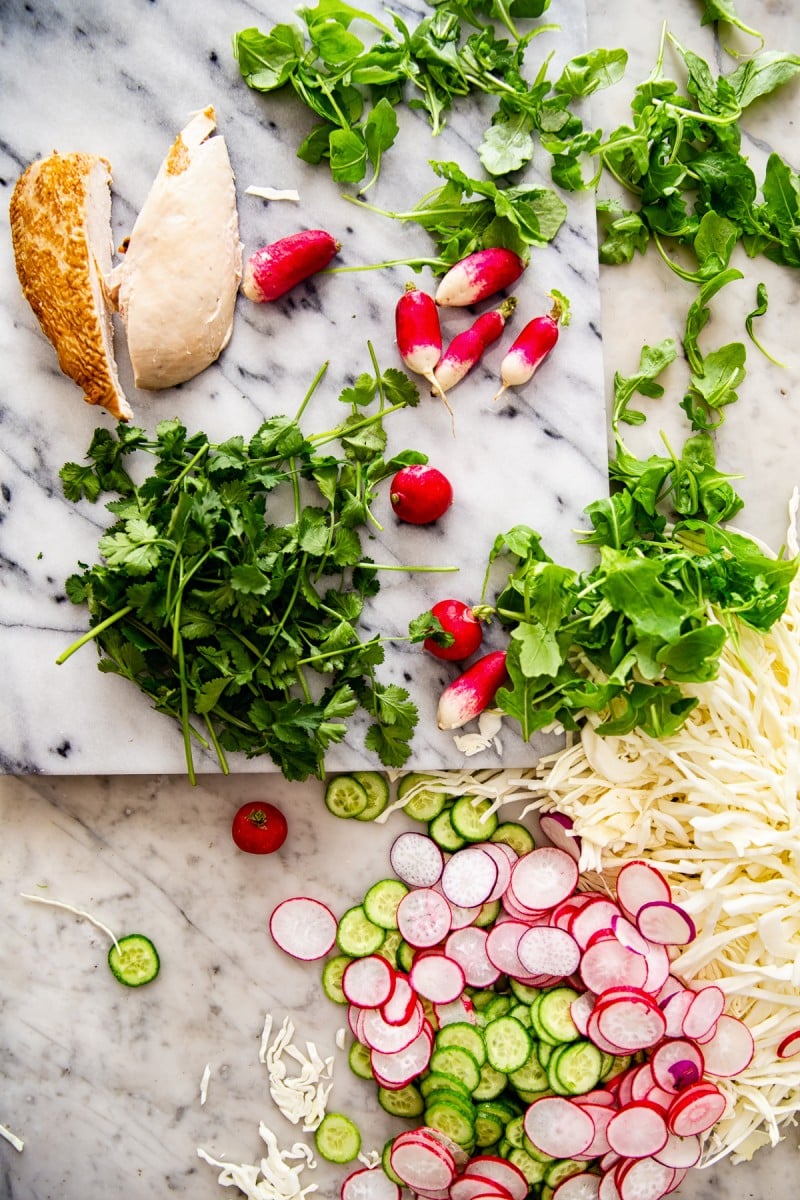 The close second is taste. This cabbage salad recipe is fresh, zesty, light, summery! Yes, it actually tastes like a crisp summer morning.
Just make sure to use the best of summer ingredients to maximise on the flavour. I love using small kirby cucumbers in my salads or thin English cucumbers.
I have also fallen in love with the crazy variety radishes come in and I've been buying them all! The long red and white ones are my favourite. They look so cool but if you want bolder, spicier taste, go for the traditional round ones.
And whatever you do, don't forget purple radishes. They just look SO pretty.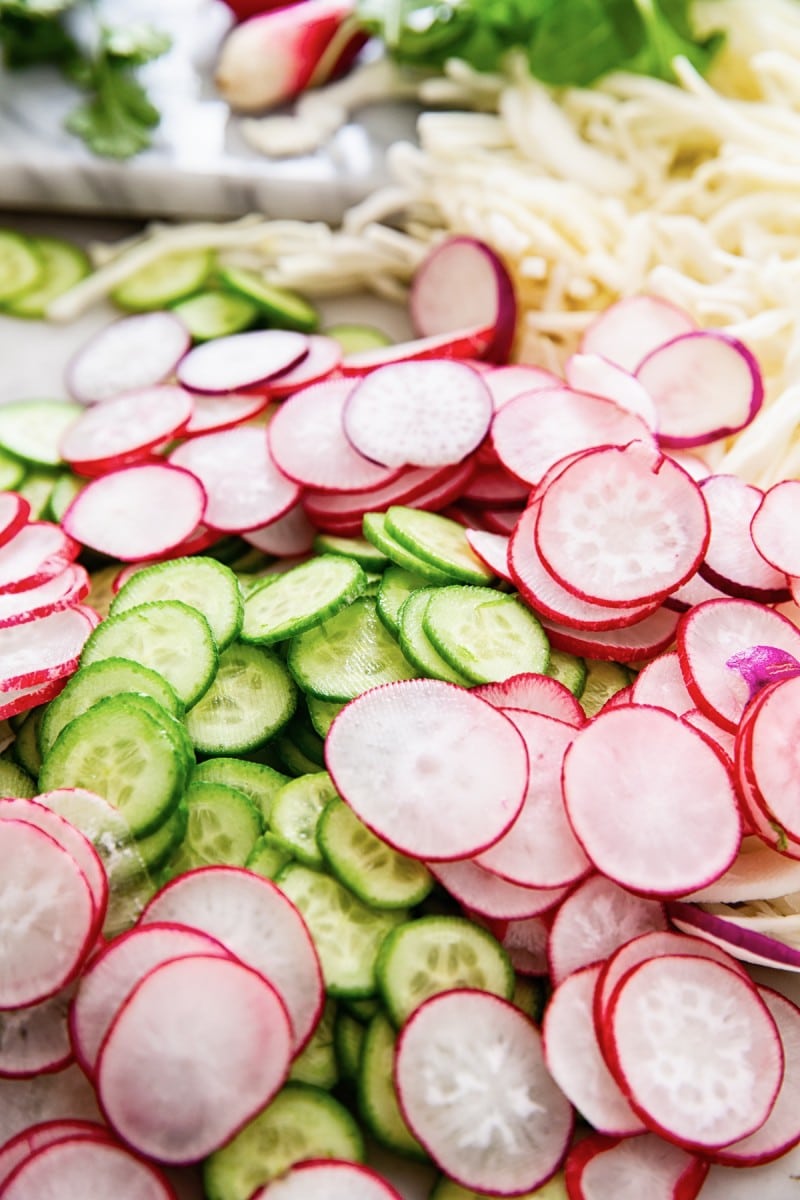 The third great thing about it is longevity. Perhaps it's an odd one when comes to food but hear me out.
Imagine, making this cabbage salad recipe in advance for a picnic, a BBQ, a family gathering or a dinner later that day. What this cabbage salad recipe does is LASTS. What it doesn't do is WILT.
Cabbage salads can stay fresh and remain crunchy up to 3-5 days in your fridge! Hello batch cooking!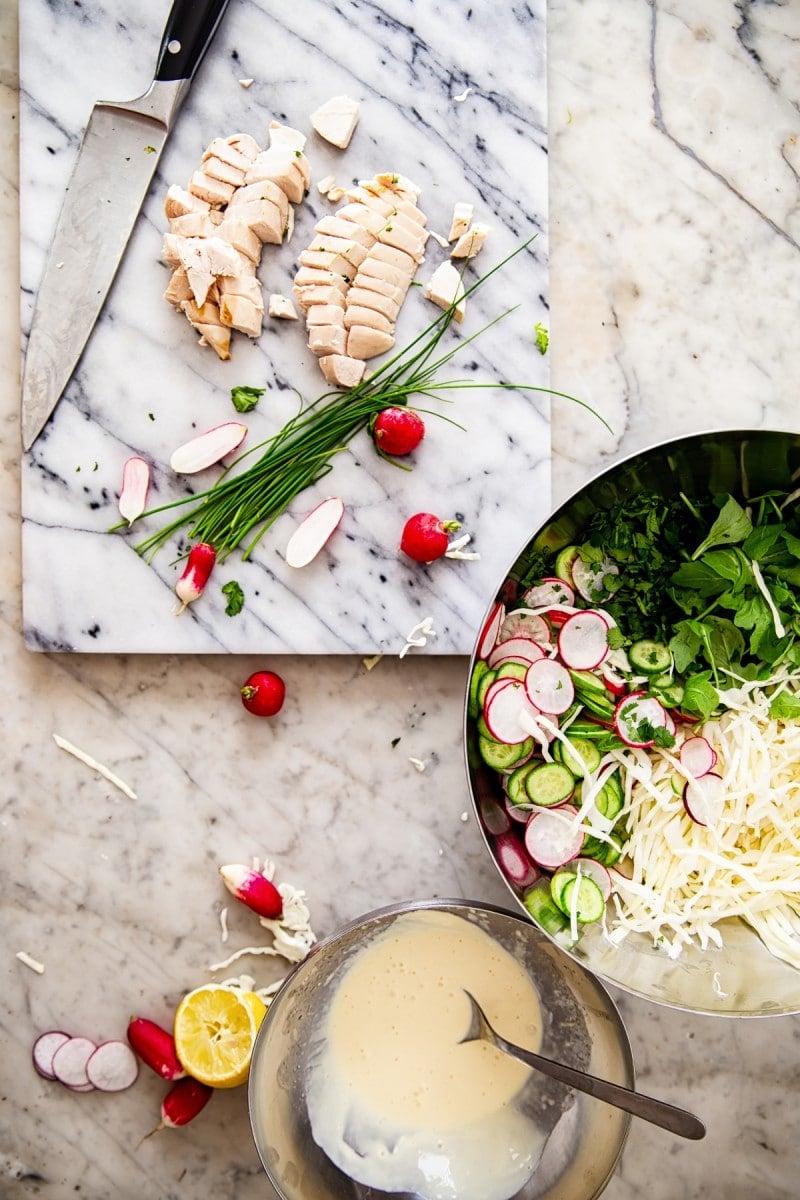 Mayonnaise and Dijon Dressing
The dressing I prefer to use for my cabbage salad is mayonnaise based. I always add a touch of dijon mustard, lemon juice or white wine vinegar to balance out the richness and add some zing to it!
Lastly this cabbage salad recipe is Keto friendly. With only 5 grams of carbs per portion you can enjoy your veggies to the max and a smaller dress size while you are at it!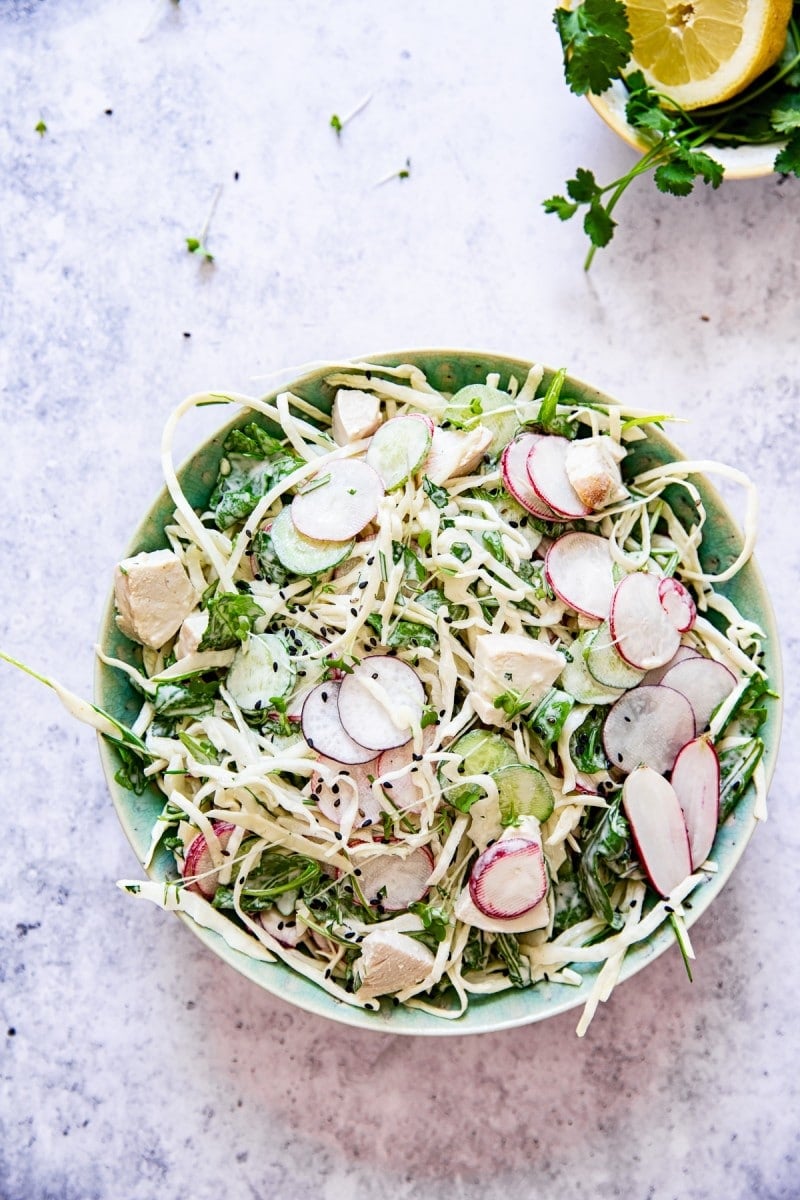 Recipe tips and tricks
Use a mandolin if possible when slicing the vegetables. This will allow you to slice them thinly and evenly.
Use low fat mayonnaise to reduce the calories even further.
This recipe keeps very well when refrigerated in an air tight container. It will remain crunchy and delicious for 3-5 days.
More cabbage salad recipes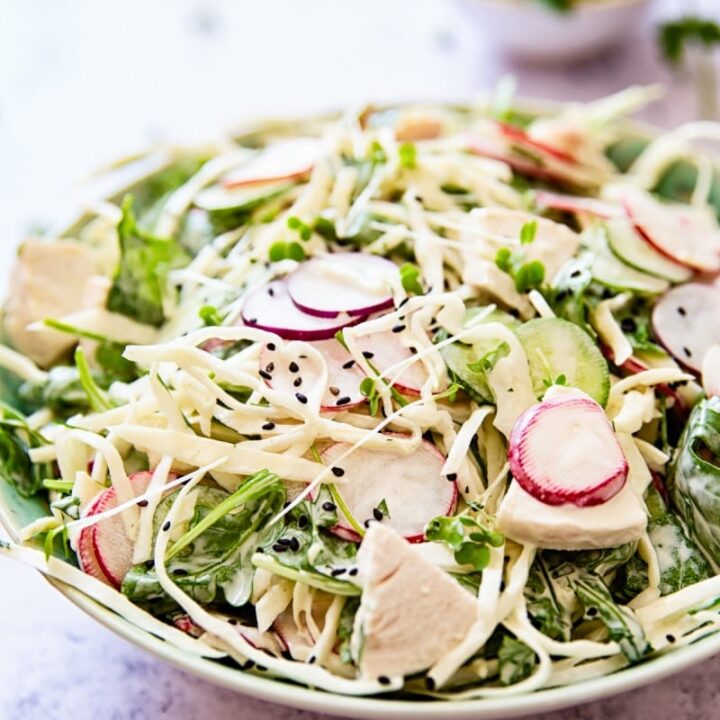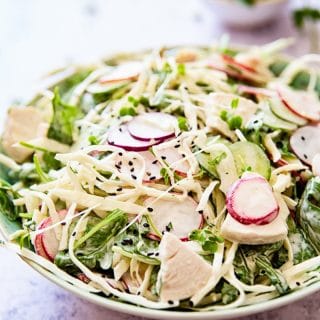 Best Keto Cabbage Salad Recipe
Creamy cabbage salad with cucumbers, radishes and cilantro. Chicken is optional but recommended! Keto friendly.
Ingredients
1.4

kg

/4 cupscabbage

sliced

100

g

/1 cup cucumbers

sliced

125

g

/1 cup radishes

sliced

40

g

/2 cups arugula

5

g

/ ¼ cup cilantro

chopped

2

tbsp

chives

1

tsp

black sesame seeds

1

tsp

salt

2

chicken breasts

optional
For the dressing
120

ml

/ ½ cup mayonnaise

1

tsp

Dijon mustard

½

lemon

juice only
Instructions
Slice cabbage, cucumbers and radishes thinly. Use mandolin if available.

In a large bowl combine sliced cabbage, cucumbers, radishes, arugula, chopped cilantro, chives and coked chicken if using.

In a small bowl mix all dressing ingredients together until smooth. Pour the dressing over the cabbage salad ingredients and mix gently, add salt to taste. Sprinkle with black sesame seeds and serve.
Nutrition
Calories:
237
kcal
Carbohydrates:
5
g
Protein:
17
g
Fat:
16
g
Saturated Fat:
2
g
Cholesterol:
56
mg
Sodium:
621
mg
Potassium:
470
mg
Fiber:
1
g
Sugar:
2
g
Vitamin A:
345
IU
Vitamin C:
28.1
mg
Calcium:
47
mg
Iron:
0.8
mg