Party, picnic or packed lunch the humble egg salad sandwich is a classic cornerstone. Brimming with protein rich egg and a sprinkling of greenery, this healthy and humble hero makes for a quick meal or snack any time, anywhere.
The sun is out and you're picnic-packing! But will it be complete without Caramelised Onion Sausage Rolls? Oh, go on then!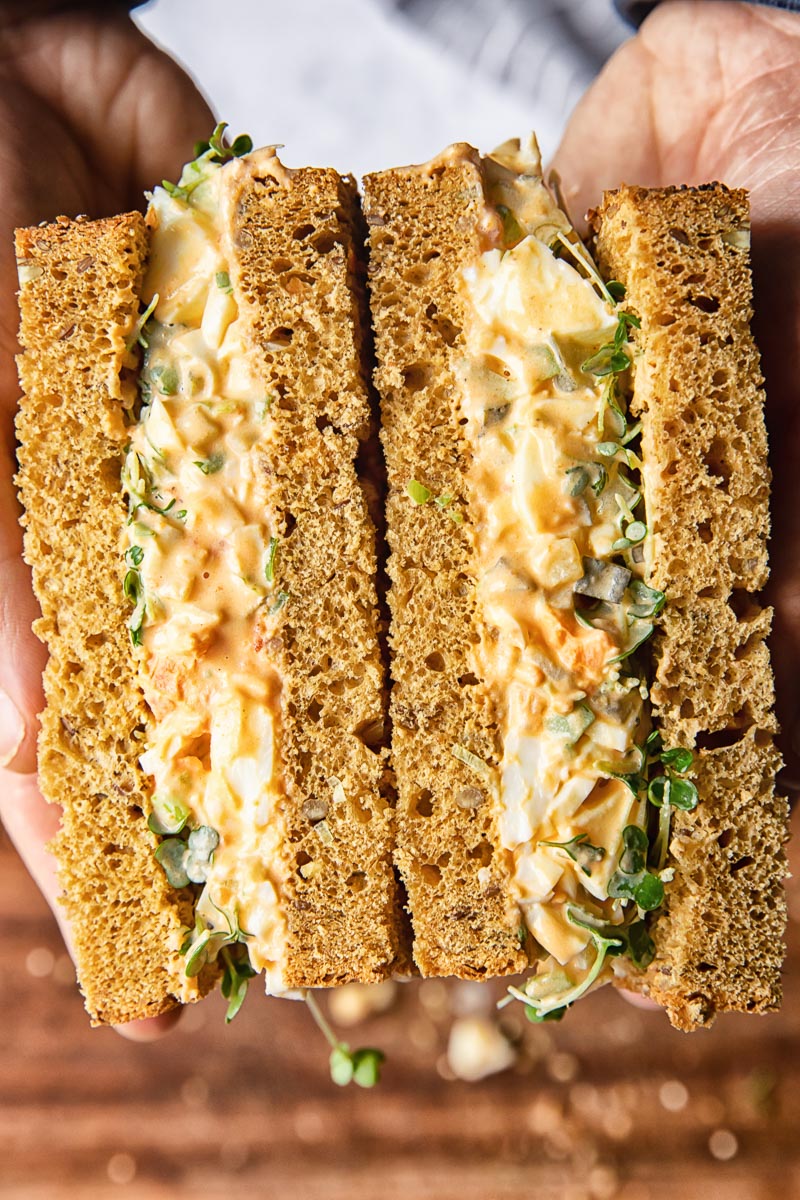 While I'm not claiming the classic Egg Salad sandwich to be British, I know it exists in North America and even Japan. There is something quintessential British about it.
Whether presented elegantly in a tower at afternoon tea, or served on your favourite plate for a quiet lunch on a deck chair in the garden, it's just so British.
It feels like summer is in touching distance. Soon we'll be eating outside, be it a family picnic or a quick break from work so I'm looking to the recipes that will maximise those outdoor opportunities. They can be few and far between in the UK!
This indulgently creamy, dreamy egg mayonnaise sandwich is as restorative as sunshine itself. With only a few minutes to put together, it is the quickest way to a mini picnic as soon as the sun pops out.
What is an egg salad sandwich?
Firstly, it's not to be confused with an egg sandwich (US), or a fried egg sandwich (UK). These eggy brothers are served hot, either between two thick slices of bread or toast, and are breakfast fare. Our egg salad sandwich is a delightful lunch, or snack, and a little more refined.
Although the list of ingredients is simple, the result can be as decadent or as modest as you make it. Essentially, it's a rich mix of chopped boiled egg and mayonnaise, slathered thickly between two slices of bread.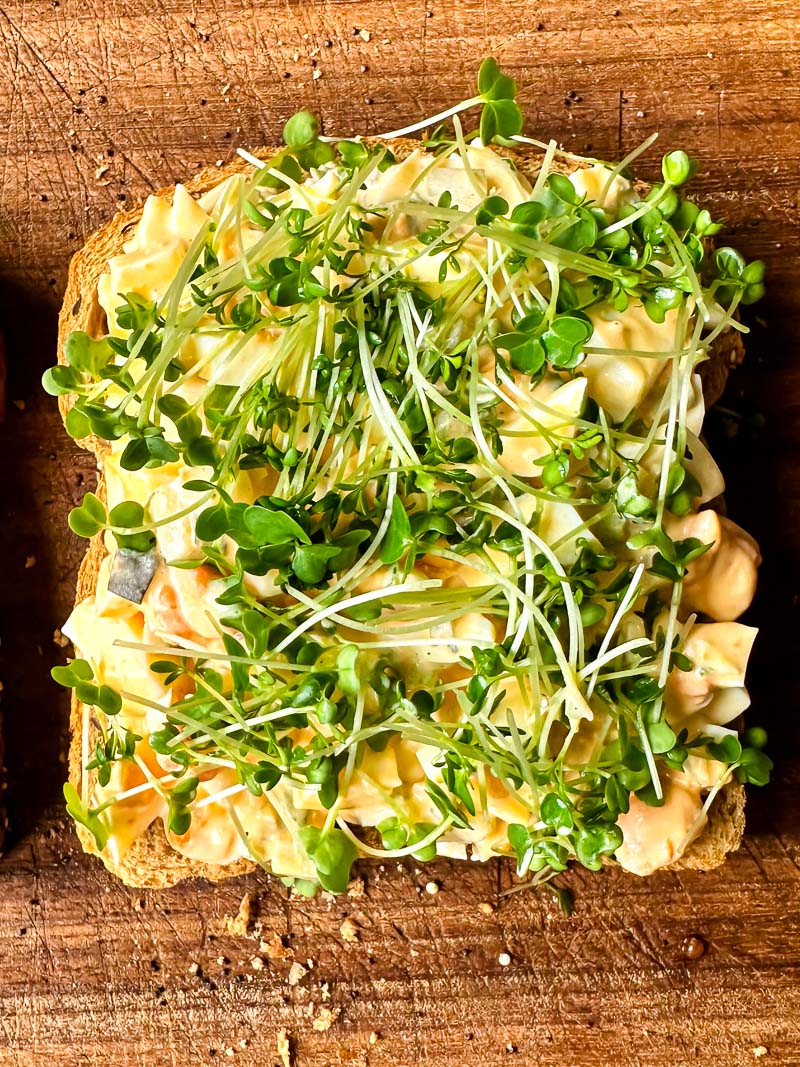 Recipe variations
There are so many opportunities to individualise this traditional sandwich:
Greens – my recipe calls for garden cress and a pinch of dill. Other options are vigorous rocket (arugula) or watercress, or a milder small-leafed lettuce like lamb's lettuce or spinach. If you like a little more crunch, slice up a radish or cucumber.
Spices – I don't think you can beat a thread of nose-tingling mustard to cut through the creaminess. But you could try curry for a similar effect, or paprika for smokiness.
Extras – I suppose a chopped dill pickle is my signature! Perhaps yours is bacon (cold, of course), or tomato. Smoked salmon? Avocado? What will your sandwich say about you?
Obviously, the bread you use can be switched up too. And even whether or not you use mayonnaise!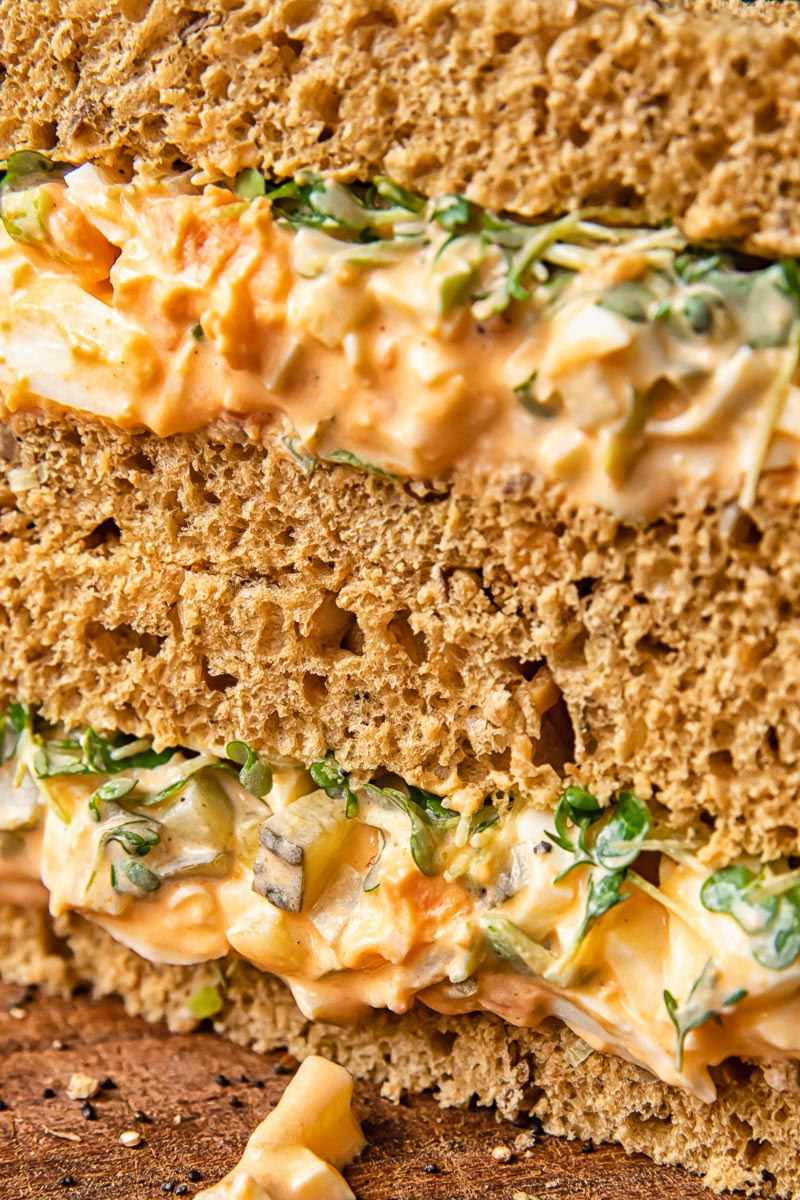 Recipe tips and notes
I always use free range eggs. The hen's welfare is important to me! And the better the egg, the better the egg mayonnaise. The yolks will be a vibrant yellow, or even orange if organic.

The aim is for a firm but creamy yolk. There is a temptation to overcook- but resist! Be diligent in timing to avoid the tell-tale blue ring around the yolk. It's a sure sign you've overdone it.

Using an Instant Pot guarantees a good egg if you can't clock watch. Set it to high pressure for 5 minutes then use the manual pressure release. The added bonus is that the eggs make for an easier peel. Don't ask me why!

An egg salad sandwich is a very personal thing. With all the possibilities out there, why would you go for just plain egg and mayo? There is no escaping my love for dill, so my go-to recipe includes both a sweet and vinegary dill pickle (or gherkin) and a just pinch of the fresh herb.

As well as high quality eggs, I choose a quality mayonnaise. I want my sandwich to make an impression!

Bread. Again, this is down to individual preference. For me, the bottom line is that it has to be pillow soft. No sourdough here! I choose a healthy multigrain or rye. But you might opt for a traditional light-as-a-feather white.

Finally, the greens. Traditional salad cress is delicate in its pepperiness and its light texture won't interfere with the smoothness of the egg filling. But if you prefer something more robust, watercress or rocket up the pepper ante.
Storage and leftovers
Party, picnic or packed lunches, you can make a big batch of egg mayo ahead of time and store in the fridge for up to 3 days. Cover it tightly with cling film to refrigerate then and assemble on the day, not forgetting to add your cress!
Always eat sandwiches on the day they are made. That's when they are at their absolute best!
Favourite Boiled Egg Recipes to Try: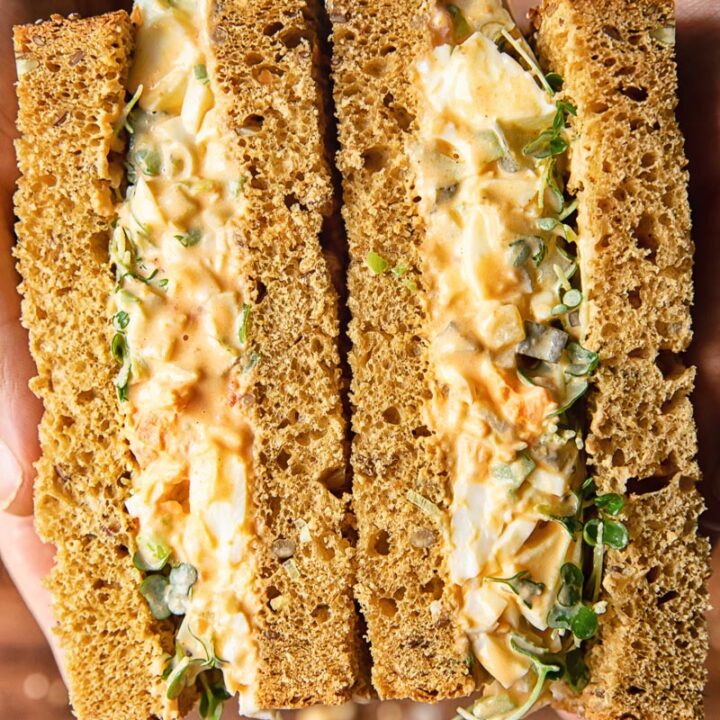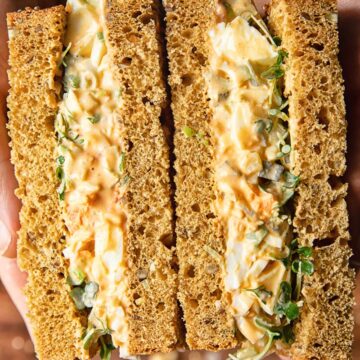 Egg Salad Sandwich
Party, picnic or packed lunch the humble egg salad sandwich is a classic cornerstone.
Ingredients
6

eggs

1

dill pickle

diced finely

2

green onions

green parts only or chives

6

tbsp

mayonnaise

2

tsp

lemon juice

½-1

tsp

dijon mustard

salt and pepper to taste

4

tbsp

salad cress sprouts

or any greens of your choice

6

slices of bread
Instructions
Boil the eggs, then immediately put them in cold water and cool. I cook my eggs in Instant Pot at high pressure for 5 minutes, then use manual pressure release. You can do that or use your favourite method.

Peel the eggs and chop them. I prefer texture in my egg salad, so I don't chop them too finely. Then dice the dill pickle and slice the green onions. If you are using fresh dill, add it now as well.

Mix the mayonnaise with the lemon juice and Dijon mustard. Add the salad dressing to the egg mixture and mix gently. Season with salt and pepper to taste.

Spread the egg salad between two slices of bread with salad cress sprouts or lettuce.
Video
Nutrition
Calories:
359
kcal
Carbohydrates:
32
g
Protein:
18
g
Fat:
17
g
Saturated Fat:
4
g
Polyunsaturated Fat:
6
g
Monounsaturated Fat:
5
g
Trans Fat:
0.1
g
Cholesterol:
332
mg
Sodium:
1585
mg
Potassium:
380
mg
Fiber:
3
g
Sugar:
6
g
Vitamin A:
1980
IU
Vitamin C:
17
mg
Calcium:
156
mg
Iron:
4
mg