Chicken, braised in paprika sauce until meltingly tender, then finished off with a generous dollop of sour cream, is a real winner. This recipe for Hungarian chicken paprikash is classic and timeless.
Take a look at another Hungarian favourite also using paprika, Beef Goulash.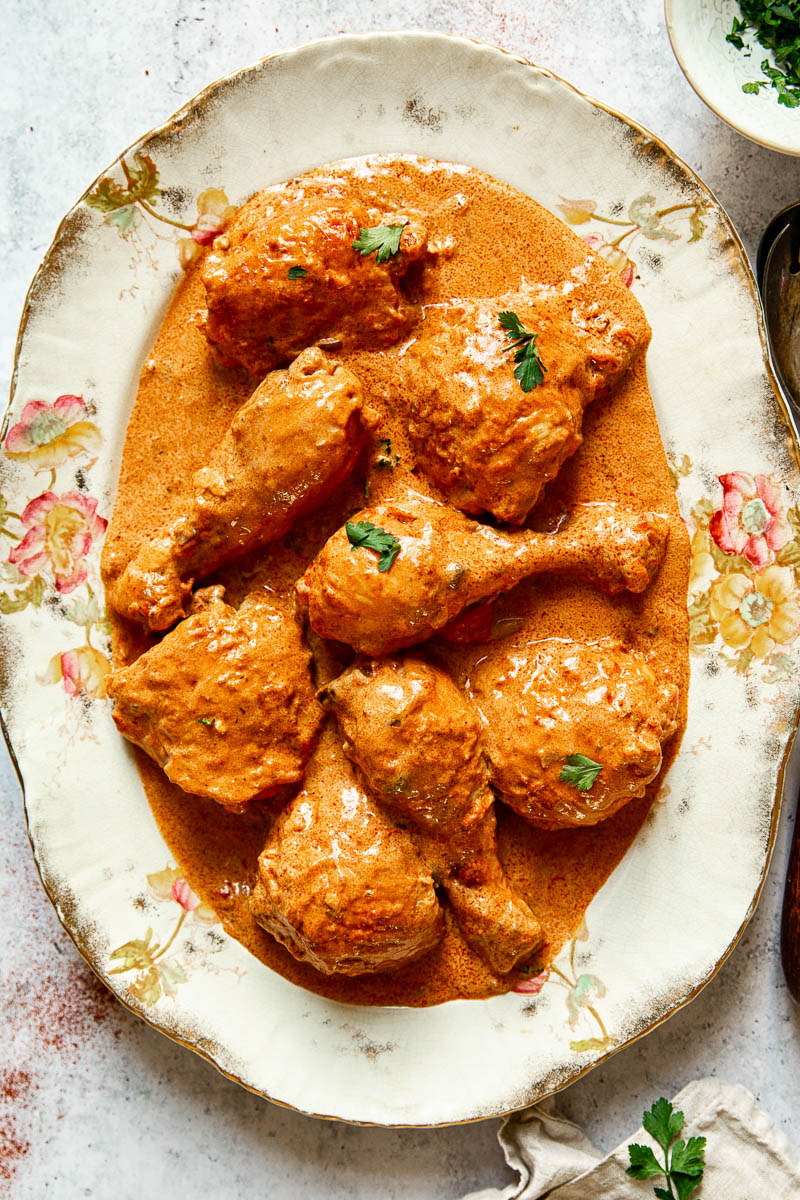 I believe our bodies naturally know what they need to warm up. And the reason I think that is because whenever winter strikes, I start to dream of chicken and beef braises. These meals bring us comfort and warm us up from the inside.
This recipe for chicken paprikash is one of those magic recipes. It doesn't just taste delicious, it also makes us feel good afterwards. How? I have no clue. The spell of comfort food I suppose.
My family has been enjoying chicken paprikash for years. One of my attempts to simplify the classic recipe led to Easy Chicken and Chickpea Paprikash, which has become a readers' favourite. If you are after a quick and leaner version for this iconic dish, check it out.
However today is all about the classic version, the authentic paprikash or chicken paprikas as it is also known.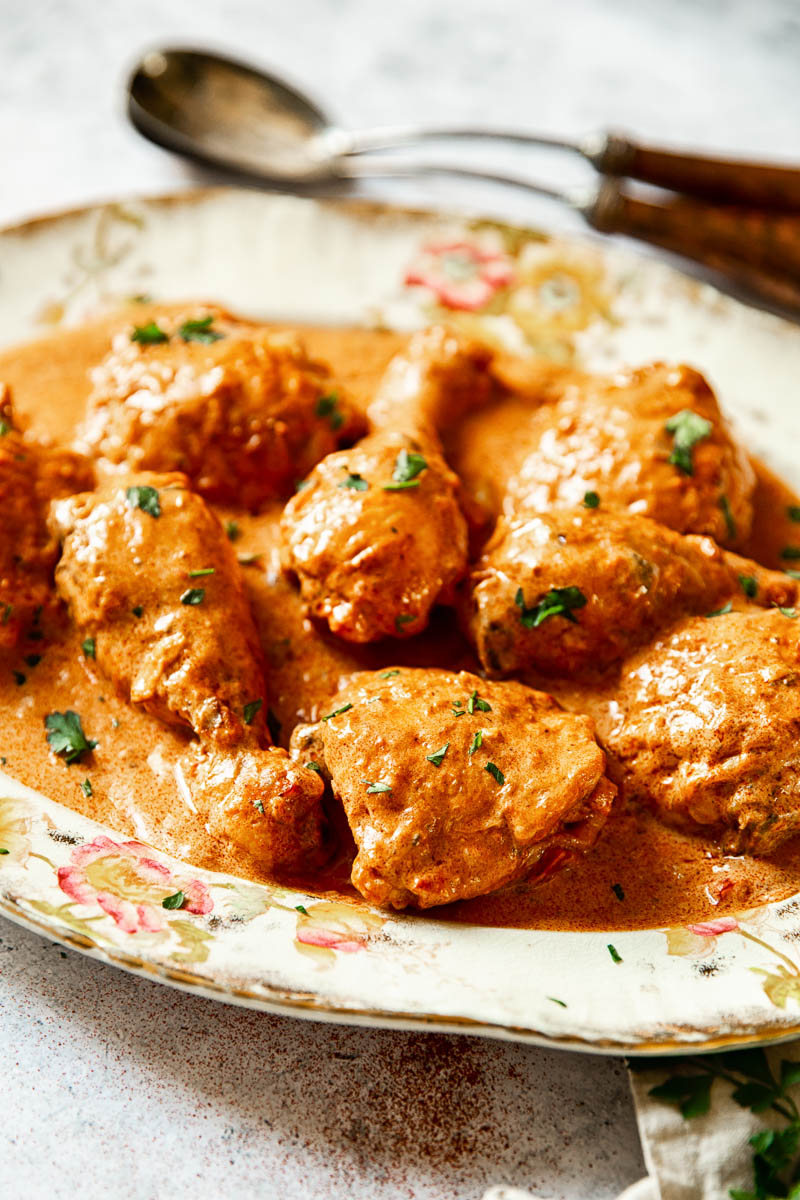 Chicken paprikash
This dish is the most famous food export from Hungary but is also common all over Eastern Europe. It has, for good reasons, become famous in many parts of the world.
Like many legendary peasant dishes, the origin to chicken paprikash has been lost to time. But it does seem to have been a way for farmers to make something tasty from old, tough chicken meat.
Over time, the paprika-flavoured broth became richer and more creamy with the addition of flour and sour cream. It may be a simple dish, but making the dish with the help of beautiful, delicate paprika means that it is packed with flavour and sweet aromas.
Classic recipe
The classic recipe is quite simple actually, as is usual with old style European cooking. It uses a whole chicken, cut up into smaller parts, which is browned. And finally it is slowly cooked in Hungarian paprika sauce until very tender.
Many recipes use tomatoes but surprisingly the original recipe didn't include them. Tomatoes are a late addition.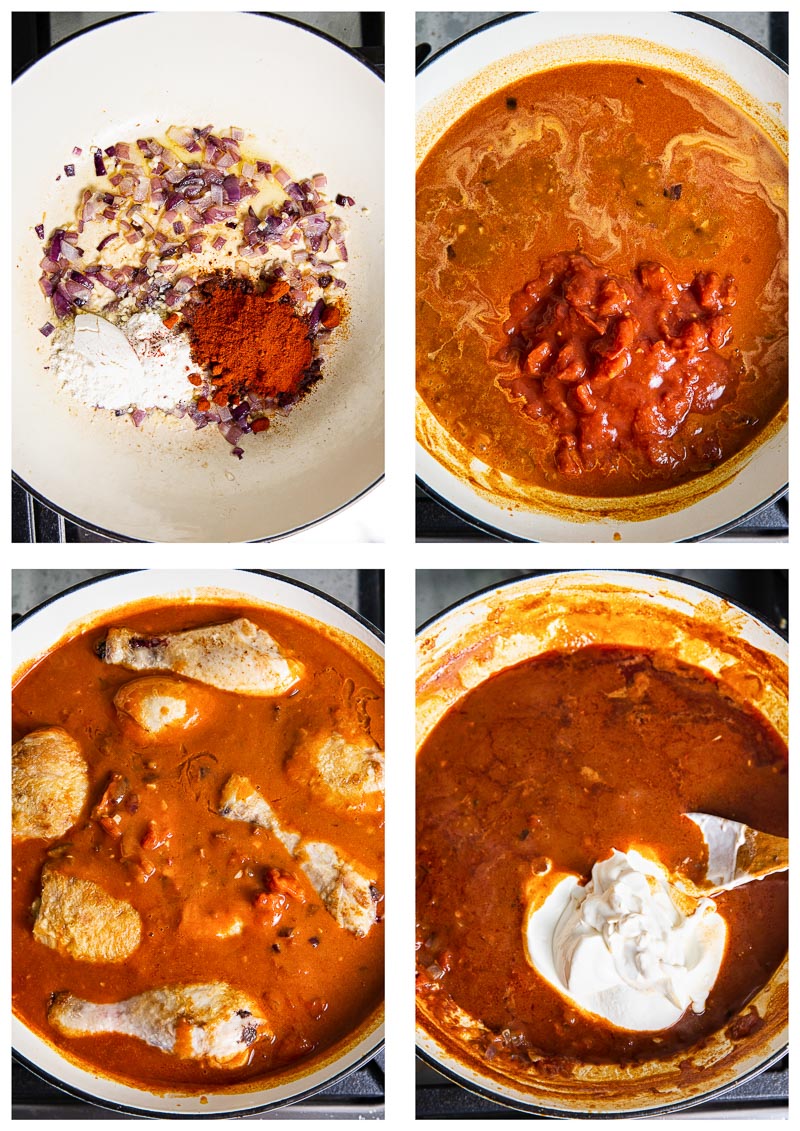 At the end of the cooking process, tangy sour cream is added for some creaminess. It also tames the strong paprika flavour.
Chicken paprikash is often served with dumplings. I usually serve it with rice but egg noodles are a great substitute for dumplings.
Cooking the dish will take about 1 hour from start to finish. However, only 15-20 minutes of that time is active. The rest is letting the chicken happily bubble away in the delicious paprika sauce.
How to get authentic flavour
The answer is simple. It's paprika! If you want to make the best tasting chicken paprikash you have to make sure your paprika is fresh and fragrant. Contrary to many beliefs, dried spices do NOT last forever. In fact, they lose their fragrance quite quickly.
The best test would be to smell your spices to determine whether they are still useable. Generally dried spices last for 2-3 years but your nose will still be the best indicator!
Hungarian sweet or hot paprika is traditionally used for this recipe. However, I prefer using Spanish sweet paprika which has a slightly smoky aroma and delicious flavour.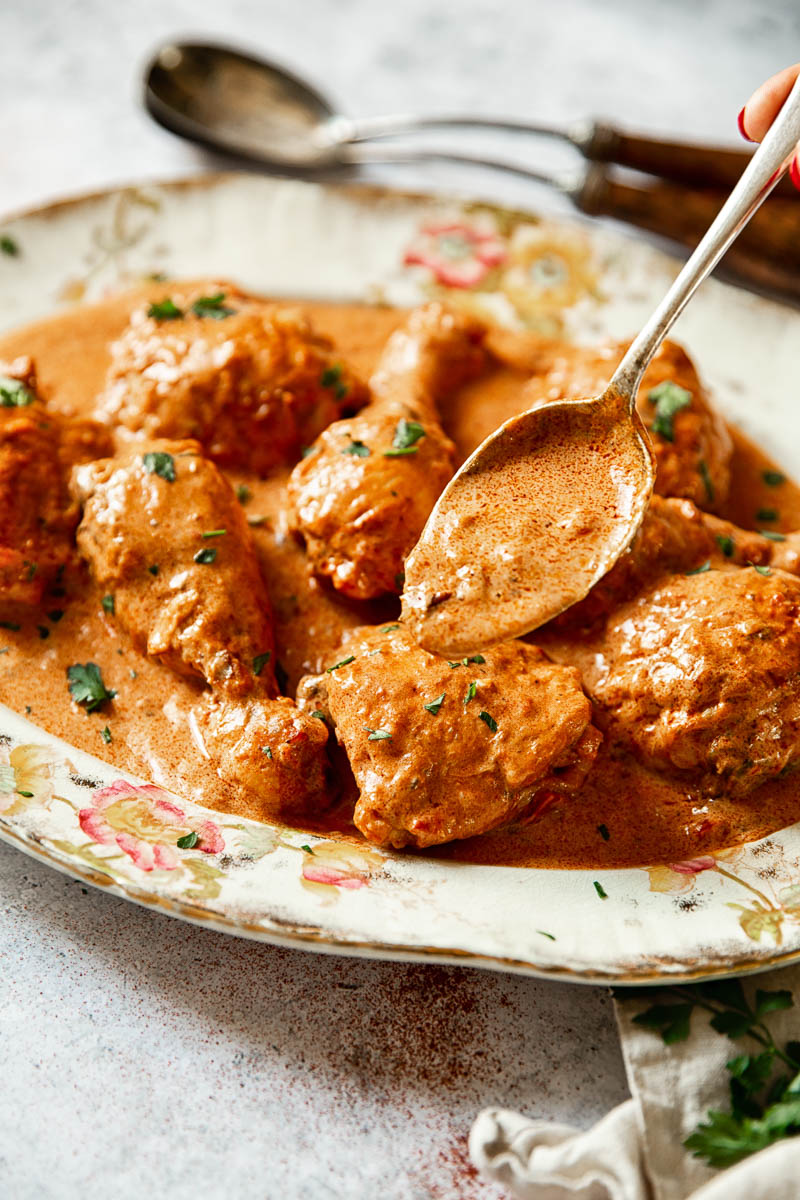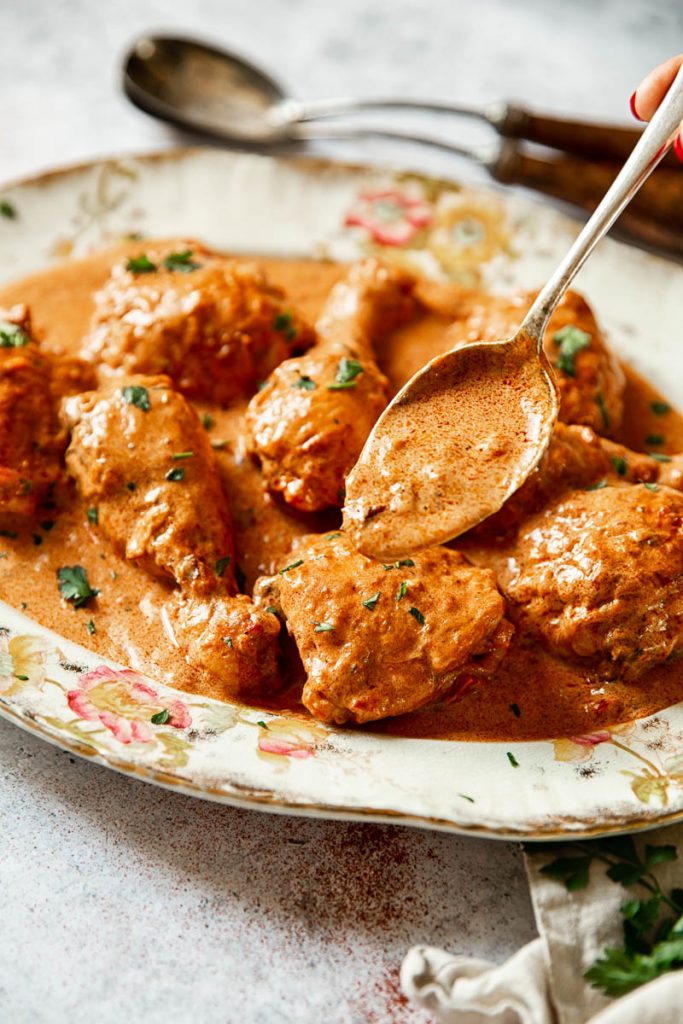 Recipe tips and tricks
Make sure the heat is turned up when adding the chicken to the pan. This will add flavour to the chicken and the sauce.
Paprika can be sweet, hot or smokey. Sweet paprika is the best and most authentic choice for this recipe.
Be sure to use full fat sour cream for this recipe. Low fat sour cream is likely to separate when added to sauces like this one. Take the pan off the heat quickly after stirring in the sour cream to prevent it from curdling.
This recipe can be served with dumplings, rice, egg noddles or mashed potatoes.
More braised chicken recipes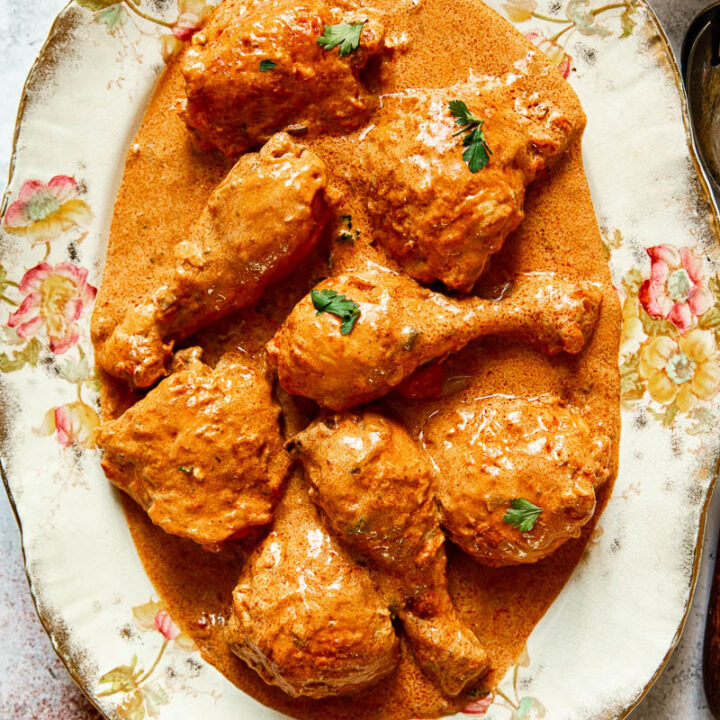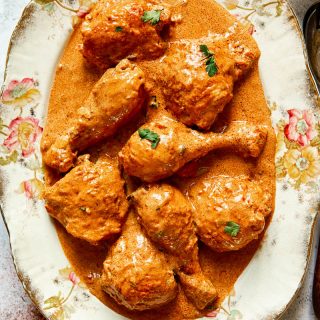 Chicken Paprikash
A classic Chicken Paprikash recipe with chicken sautéed in creamy paprika sauce until meltingly tender.
Ingredients
1

tbsp

olive oil

extra virgin

900

g

/2 lbs chicken thighs and legs

1

onion

chopped

3

cloves

garlic

2

tbsp

sweet paprika

2

tbsp

flour

400

ml

/1 ½ cups chicken stock

400

g

/14 oz tinned chopped tomatoes

crushed tomatoes in the US and Canada

250

ml

/1 cup sour cream

full fat

Salt and pepper
Instructions
In a large pan heat 1 tbsp of olive oil and brown seasoned with salt and pepper chicken parts over medium-high heat until golden but not cooked all the way through. Remove to a plate and set aside. Discard most of the chicken fat but 2 tbsp.

To the same pan add chopped onion and cook over low heat for 5-7 minutes without browning it, then add garlic and briefly cook for about 30 seconds while stirring. Then add paprika and flour, stir to combine until you have a paste. Slowly add the chicken stock while stirring to avoid lumps, then add the canned tomatoes, turn the heat up and bring to a boil. Once boiled return the chicken with its juices back to the pan, cover with a lid, lower the heat and simmer for 40-45 minutes. Stir occasionally to prevent from burning.

At the end of cooking time, stir in sour cream and take it off the heat. Serve sprinkled with some fresh parsley.
Nutrition
Calories:
488
kcal
Carbohydrates:
12
g
Protein:
28
g
Fat:
36
g
Saturated Fat:
11
g
Cholesterol:
170
mg
Sodium:
719
mg
Potassium:
688
mg
Fiber:
2
g
Sugar:
5
g
Vitamin A:
1650
IU
Vitamin C:
6.9
mg
Calcium:
87
mg
Iron:
2.7
mg