These dinner rolls brushed with herb and garlic butter fresh out of the oven are what you want to serve with your meals. Soft, enriched dough produces the fluffiest rolls, which happen to be so easy to make!
These rolls are a must for holiday and special occasion dinners! Add this recipe to your Easter table to round off your festive meal.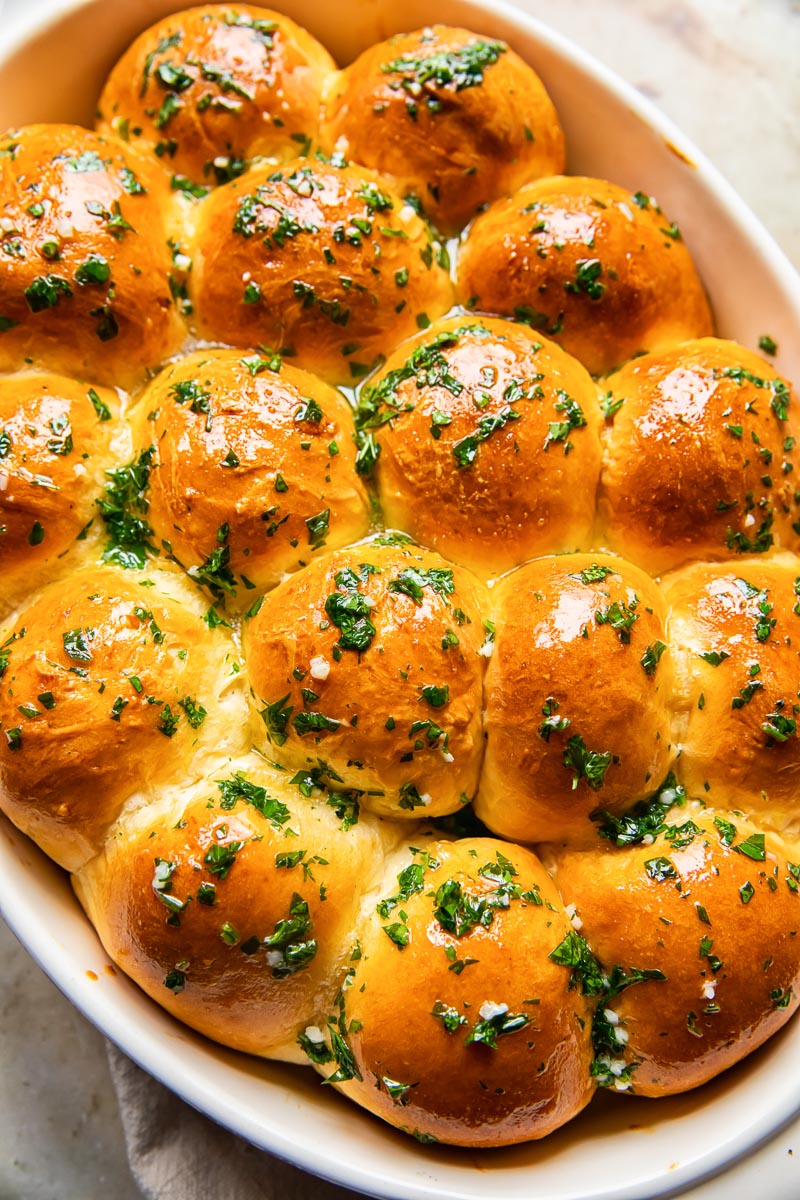 Do you love a buttery roll with your dinner?! If you are that person, who doesn't feel like their meal is complete without a healthy serving of carbs, this recipe is for you.
These garlic butter rolls are absolutely incredible. What do they taste like? Like garlic bread and brioche buns rolled into one.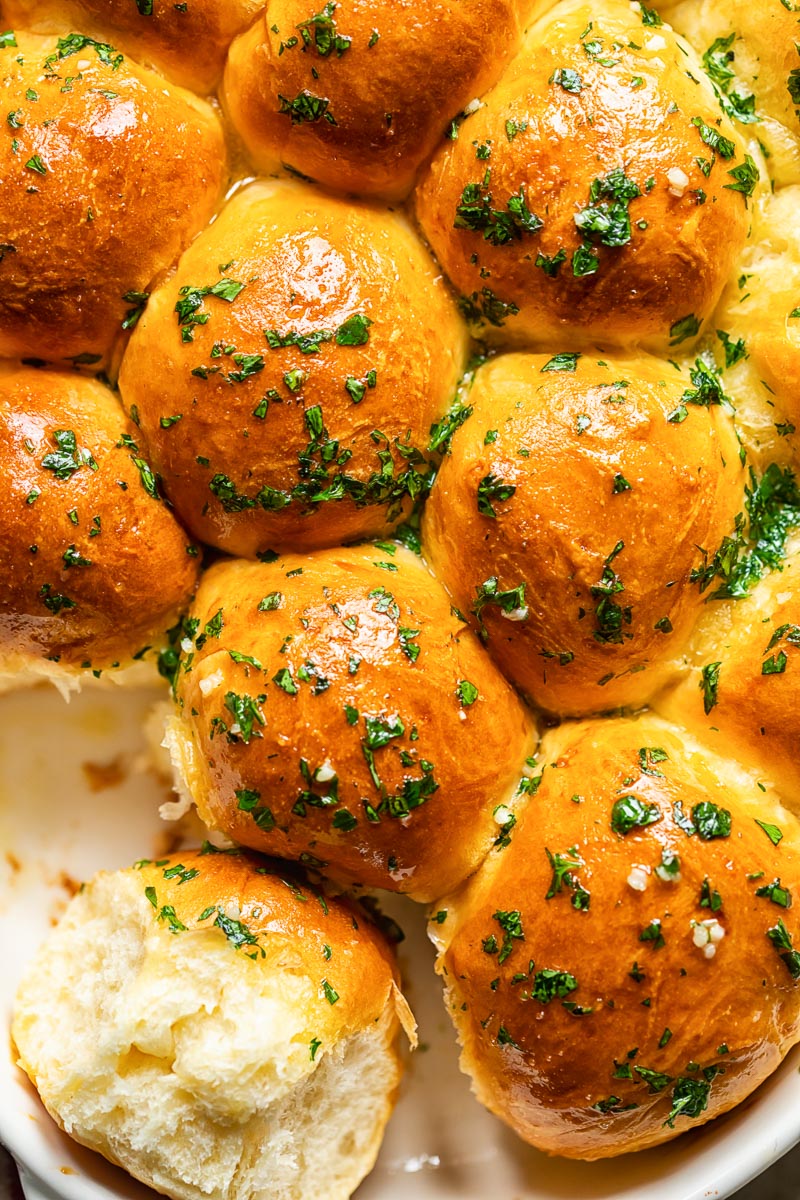 Easy Bread Baking
If you always wanted to start making your own bread rolls but felt intimidated I promise I am with you. I felt that way for many years.
I watched my grandmother and mother bake through my childhood and always assumed you need special skills, lots of knowledge and years of experience to get there.
Some of it is true but you have to remember people baked without recipes and clear instructions for centuries, which left much room for error. This is not the case anymore. I will provide you with all essential information needed to succeed.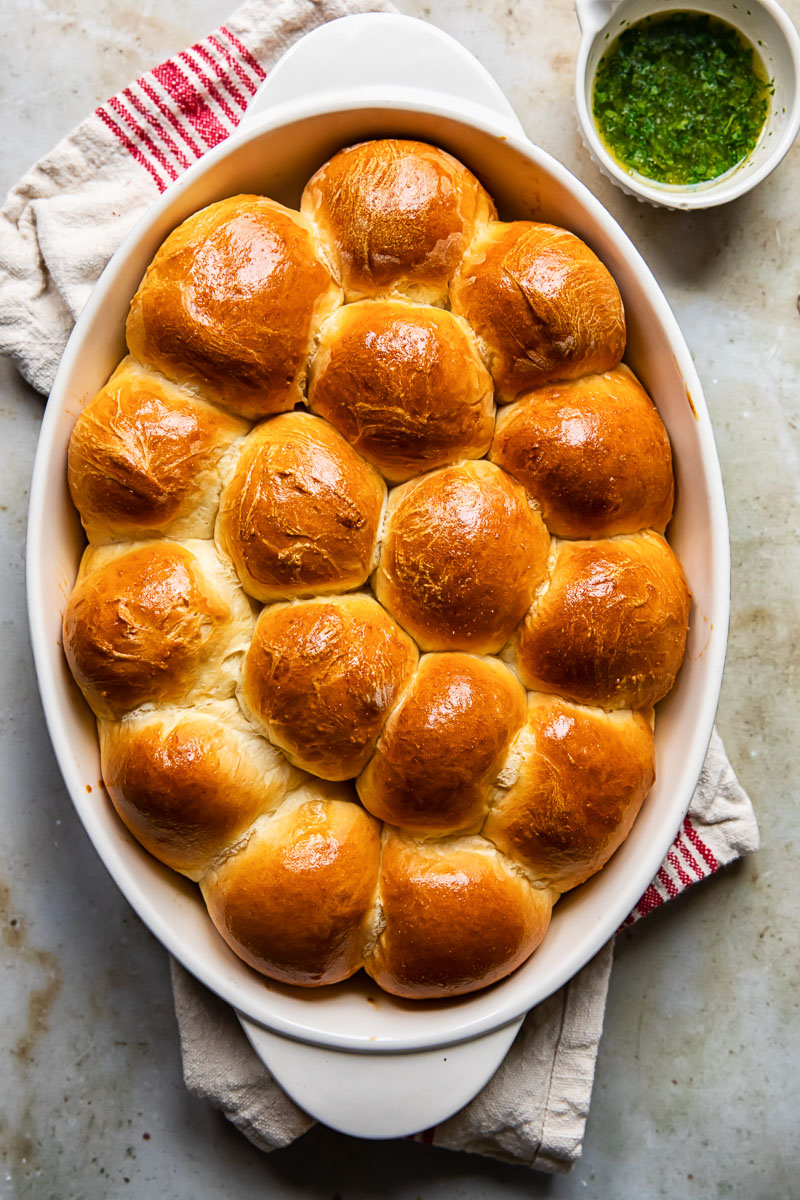 Dinner Rolls vs Bread Recipe
Over the years I shared many bread recipes. This No-Knead Dutch Oven bread is particularly popular because of its ease of preparation. My Sourdough Bread takes a bit of commitment but my guide and the bread shaping video will help you along the way.
You can also try my flatbread recipe. No yeast, just 4 ingredients and 30 minutes of your time.
If you tried making bread, you will know that dinner rolls are not very different in the method of preparations. The main difference is in the dough itself.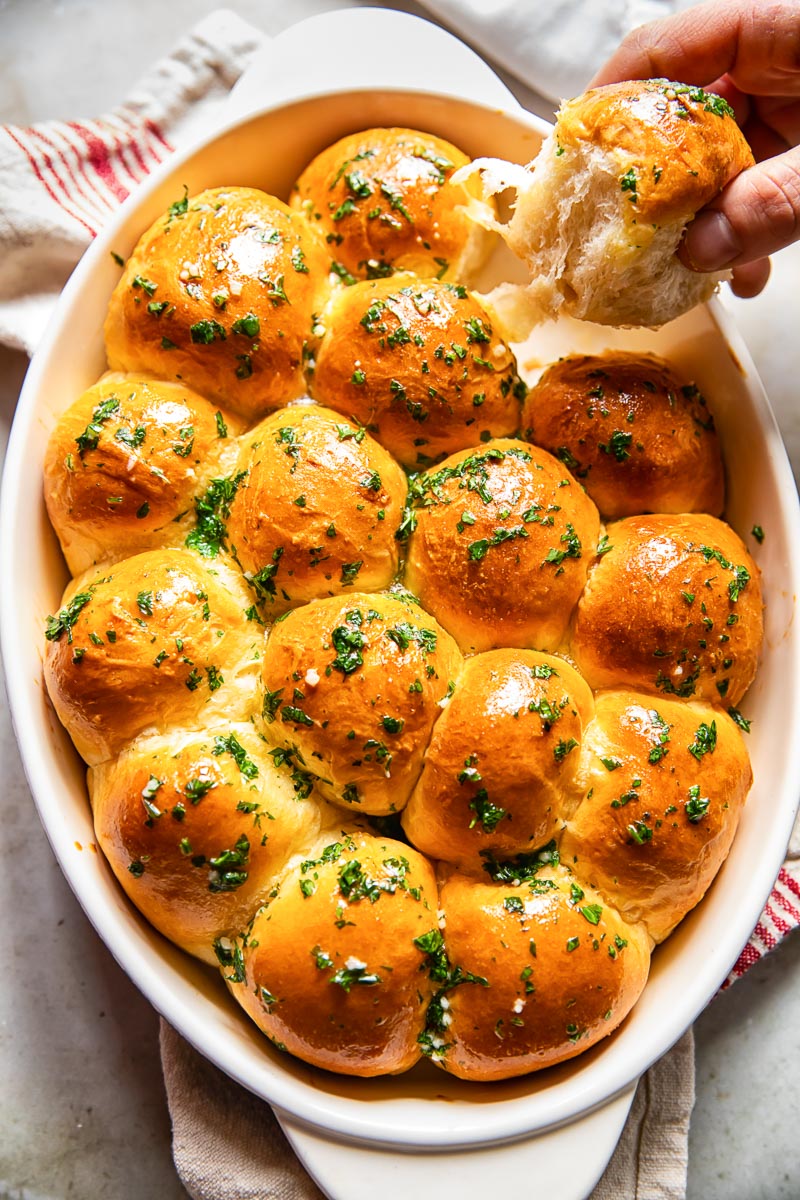 The Ingredients
Bread dough only needs water, flour and yeast. These ingredients produce plain, crusty bread while dinner rolls come from enriched dough, which makes them soft, buttery and fluffy.
All we need to do is to add fat and eggs to the basic bread dough to achieve that. The usual ingredients used for that purpose are butter or oil, milk or water, eggs.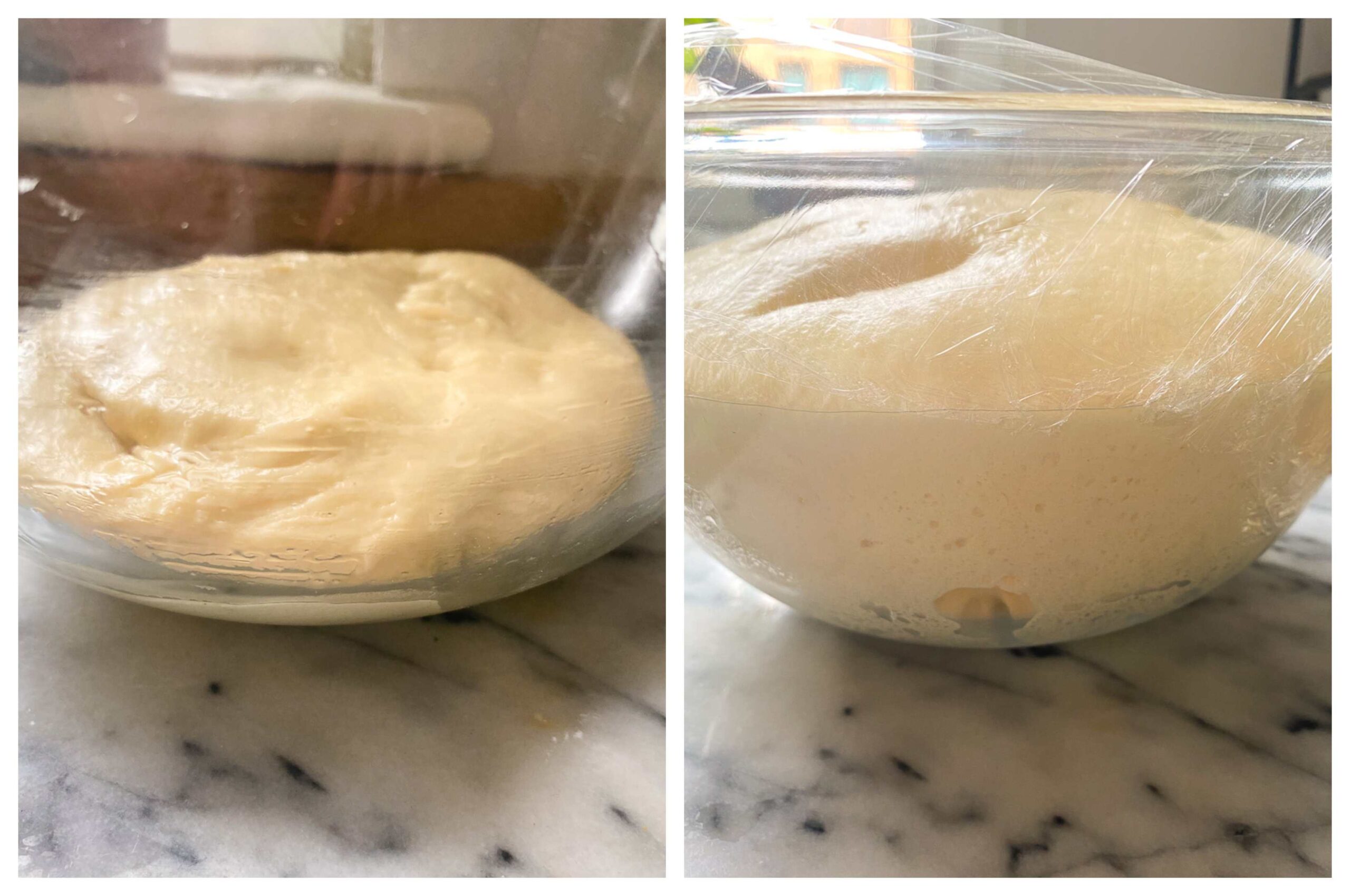 Once you master a basic dinner roll recipe you can make your own Hamburger Buns, European Style Cinnamon Buns or luxurious Nutella Rolls.
You can also mix in 80g/1 cup of grated cheese into these rolls for a fun cheesy twist on the classic!
Recipe Tips
It's important to follow the recipe and measure all ingredients accurately.
Use a stand mixer and a dough hook for easy kneading. However, it's also very easy to mix this bread roll dough by hand as the recipe produces very soft dough.
At the end of kneading your dough should be soft and not sticky when touched with clean hands.
It's also important to use your own judgement when needed. It takes anywhere between 1 hour and 1.5 hours for the dough to proof. However, the exact time depends on how warm your house is. Watch your dough. It needs to triple in volume. That's your main marker not the minutes passed.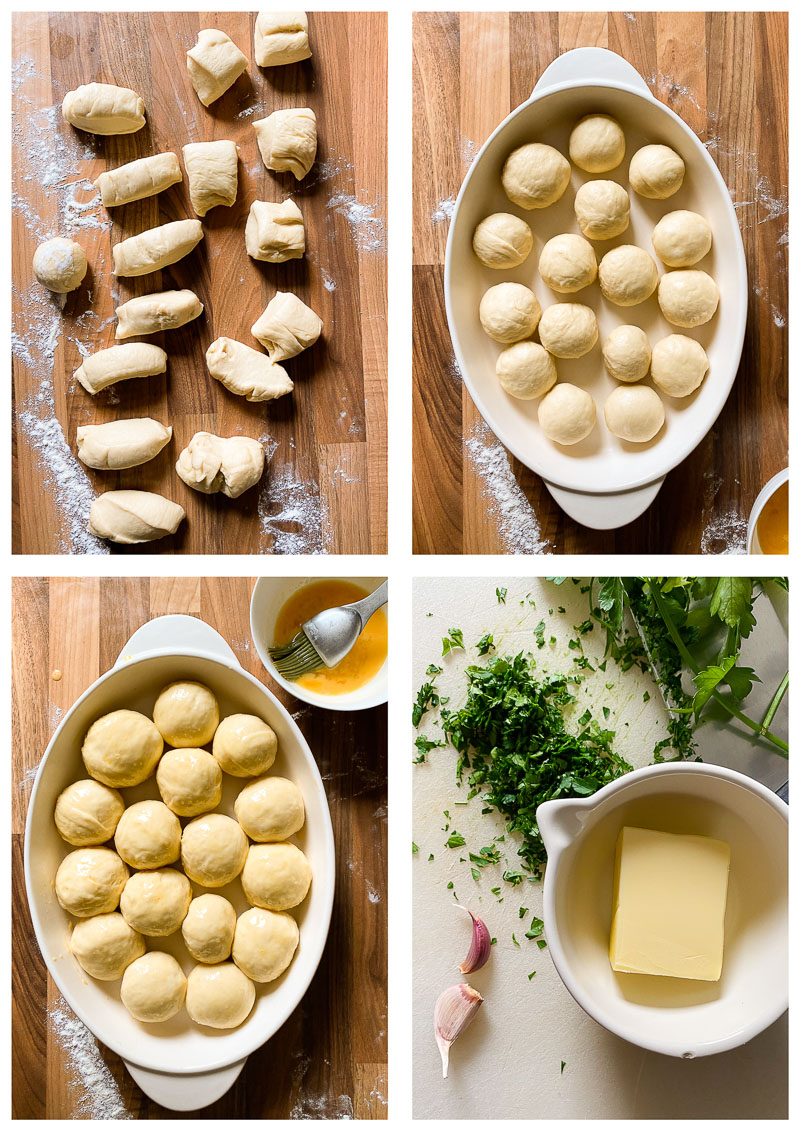 Use bread flour for best results. However all purpose flour will also work.
You can also use whole wheat flour if that is your preference.
Brush the rolls with melted garlic butter straight out of the oven. That will allow them to get fully infused with the flavours and for the butter to soften the crust creating very soft rolls.
Can I freeze dinner rolls?
Yes you can! Cool them completely and remove from the pan. Freeze in an airtight container until needed. They should keep in a freezer for up to 2-3 months.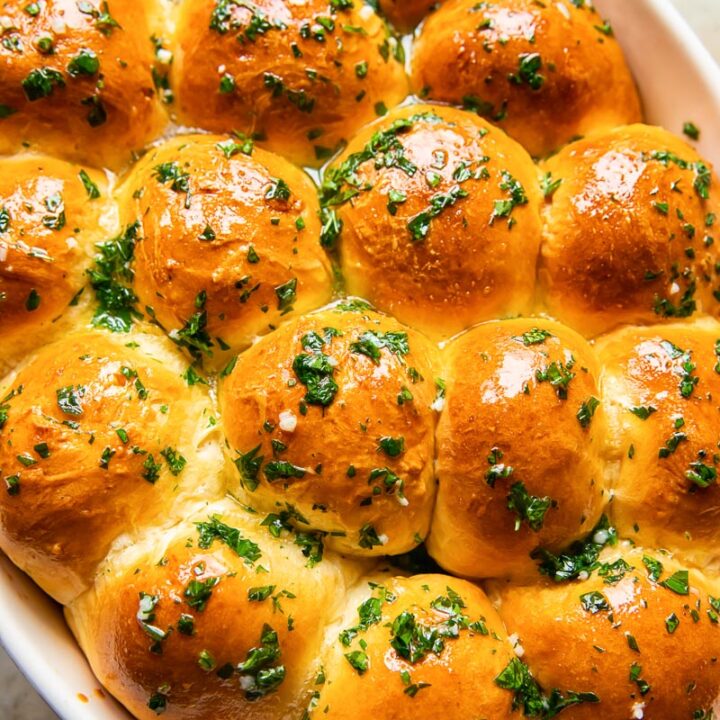 Garlic Butter Dinner Rolls
These dinner rolls brushed with herb and garlic butter fresh out of the oven are what you want to serve with your meals.
Ingredients
220ml/1 cup

warm milk

whole or skimmed

1.5

tsp

sugar

7g/1 tbsp

active dry yeast

3

tbsp

vegetable oil

1

egg

large

0.5

tsp

salt

400g/3 cups

bread flour or all purpose flour

1

egg for brushing

1

tbsp

butter

melted

1

clove

garlic

1

tbsp

fresh parsley

chopped
Instructions
In a small bowl combine the warm milk, yeast and sugar and let it stand for 5 minutes until you see the yeast bloom. Then add the oil, salt and 1 egg. Mix with a fork.

Add the liquid to the flour, mix until rough dough forms, then take it out of the bowl onto a floured surface and start kneading until smooth and elastic dough is formed for approximately 8-10 minutes. If using a stand mixer, knead using a dough hook attachment for 1 minute on low speed, then switch to medium and kneed for 4 minutes longer.

Take the dough out of the bowl and rub the bowl with vegetable oil, then return the dough to the bowl, cover with plastic wrap and a towel and let it rise for 1 hour to 1.5 hours in a warm place until it triples in volume. Preheat the oven to 180C/350F.

Take the dough out of the bowl onto a floured surface and divide into 16 equal parts. (You might want to weigh them to ensure they are all the same but eyeballing is also fine.) Roll into balls and place into a well-buttered 9x13 inch baking pan 1 inch apart from each other. Cover with a tea towel and let them rise one more time for 30 minutes.

Brush with a beaten egg and bake for 20-25 minutes or until golden. Meanwhile melt 1 tbsp of butter together with pressed garlic, then add fresh chopped parsley to the mix.

Once the rolls are done, brush them with the garlic butter mixture.
Nutrition
Calories:
139
kcal
Carbohydrates:
19
g
Protein:
4
g
Fat:
5
g
Saturated Fat:
3
g
Trans Fat:
1
g
Cholesterol:
24
mg
Sodium:
94
mg
Potassium:
57
mg
Fiber:
1
g
Sugar:
1
g
Vitamin A:
95
IU
Vitamin C:
1
mg
Calcium:
23
mg
Iron:
1
mg