Do you ever wonder what goes into that delicious beef stir fry that we enjoy when we dine out? This recipe is here to help!
Fair warning. This is a personal post, so if you don't know me and are here for the recipe only, skip to the bottom!
There are good days and there are horrific days, sadly the last two were of the latter kind. Monday started off with a text from Brad telling me that he was knocked off his bike by a car on his way to work. We live in London, where there are cycling lanes and many people commute to work on their bikes.
It's cheaper, more convenient and a great exercise but it is also dangerous. I can't be bothered to pull up the stats right now but people get killed every year, and Brad has been very lucky to get away with a few bumps, scrapes and a fat lip, and what later turned out to be a light concussion.
All of this would've been fine if my husband wasn't as responsible as he is and didn't proceed to his office and spent his day in meetings, and then a quick trip to the Russian Visa office to pick up our passports and visas for an upcoming family trip to Russia.
When he got home though, the passports weren't in his backpack. The rest is a blur. We spent the next day anxiously waiting for each phone call, email and knock on the door to be someone returning our passports but nothing of the sort happened. Not everything ends wrapped up neatly and pulled together in a beautiful bow. Life is messy and our life is no exception.
And although everything is replaceable, not everything is easy. Being Canadian in the UK our passports take at least a month to replace (our trip is in 3 weeks), then we need to re-apply for visas.
Then there is the money question. How to pay for all of this. Again. I am writing this in the middle of not knowing the answers. In the middle of the mess of trying to figure it out although I would've loved to know it all, I am struggling to see clearly right now.
Why is this trip so important? Because my kids have never been to the country I was born in. My family in Russia has been counting days to our arrival, so many dreams are in danger of being crushed. I can't even… it's just too painful.
How can I even talk about food now? Well, I didn't feel hungry for one minute all day yesterday and then when dinner rolled around, I felt lost and pulled up my laptop to order a takeaway, then stopped. It's expensive. I didn't even feel hungry to enjoy it.
What takes no effort at all? This Beef, Mushroom and Snow Pea Stir Fry.
I made this beef stir fry a few days ago and it was scheduled to be posted when we are away in Russia BUT…
This stir fry is the meal you want to have up your sleeve when the last thing on your mind is cooking because it's easy, quick and feels like you ordered in without the expense or unhealthy ingredients.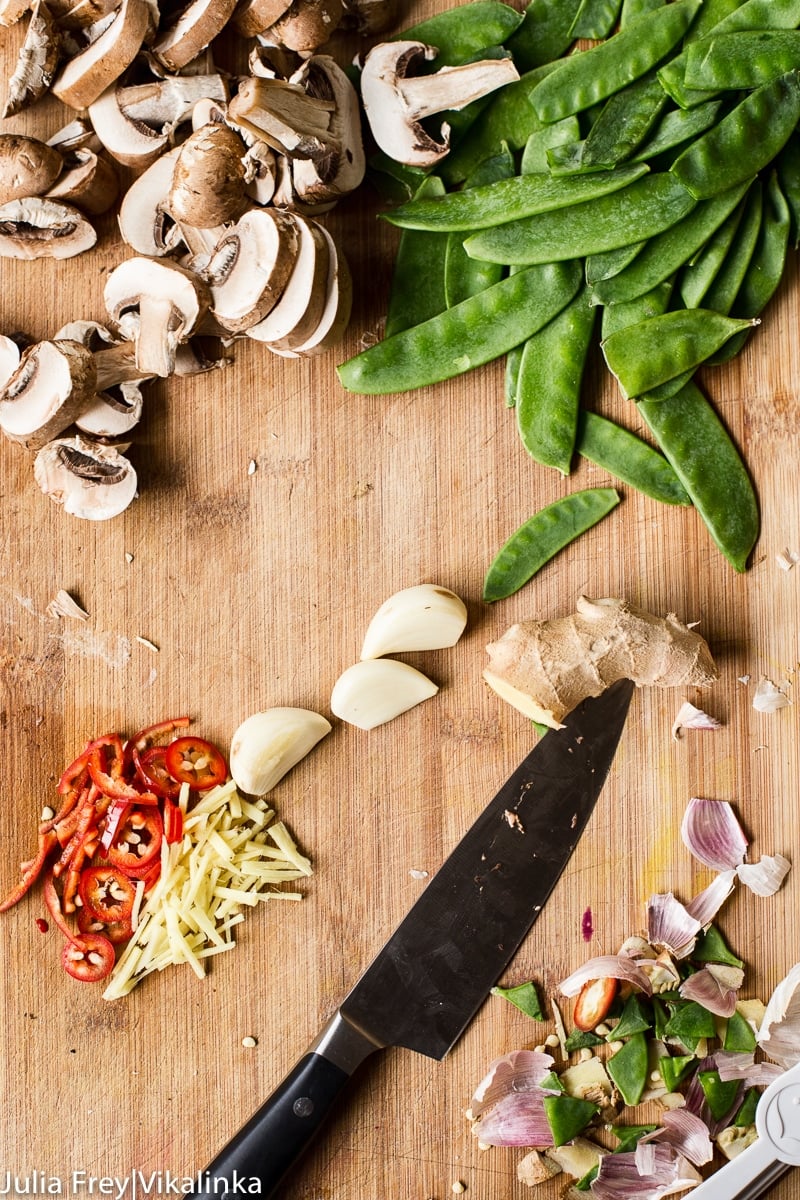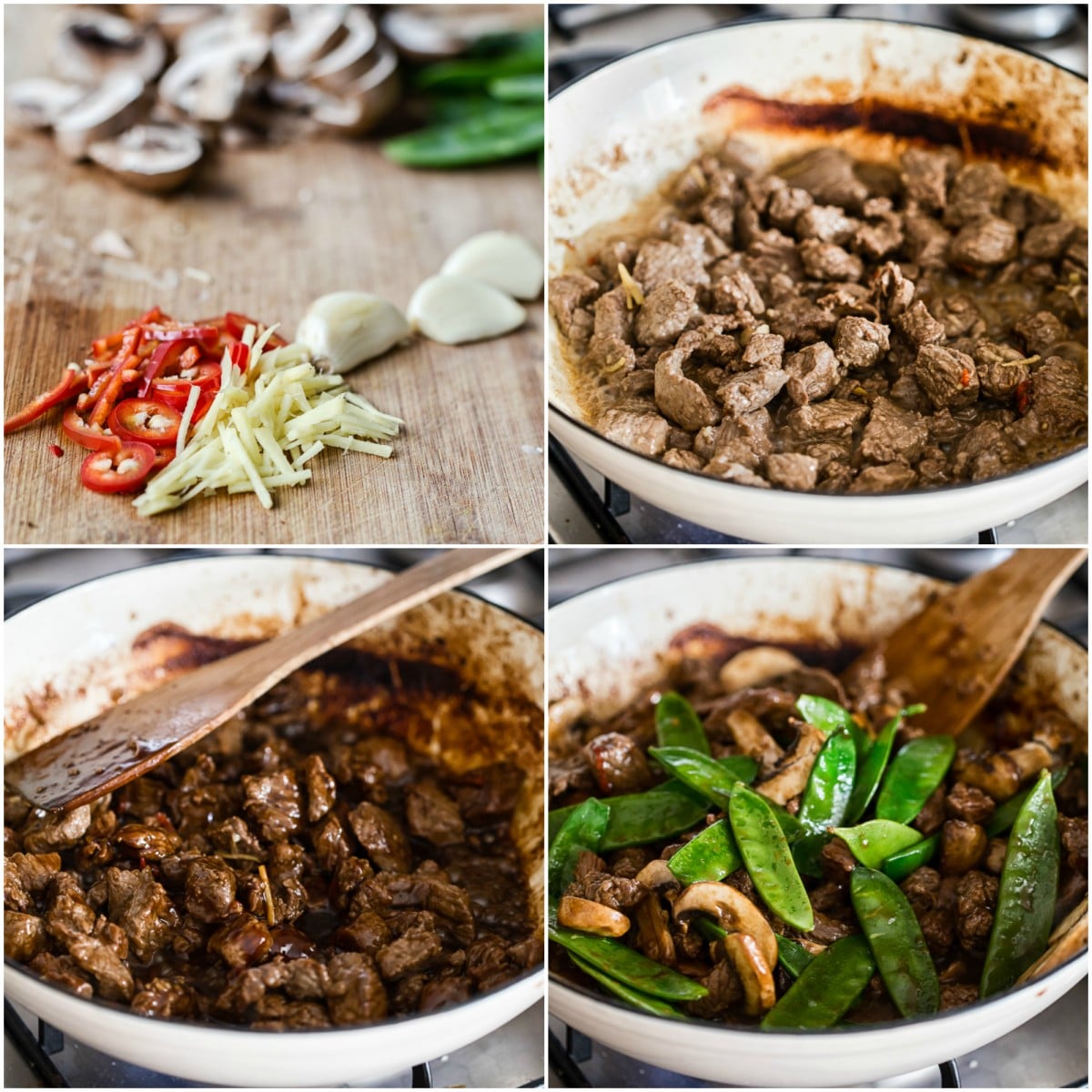 Tips for making the most flavourful beef stir fry:
First, use fresh ingredients like real ginger, garlic and chillies.
Secondly, cut ginger up in matchsticks, slice your red chilli, and mince your garlic. Their taste comes through beautifully when they are not all grated in a mush.
Thirdly, make sure you have all ingredients listed to create that savoury beef stir fry sauce. Leaving out one small ingredient will make the taste less complex and definitely not as satisfying.
Lastly, turn your heat up to high, which allows your vegetables to cook beautifully while staying crunchy instead of stewing!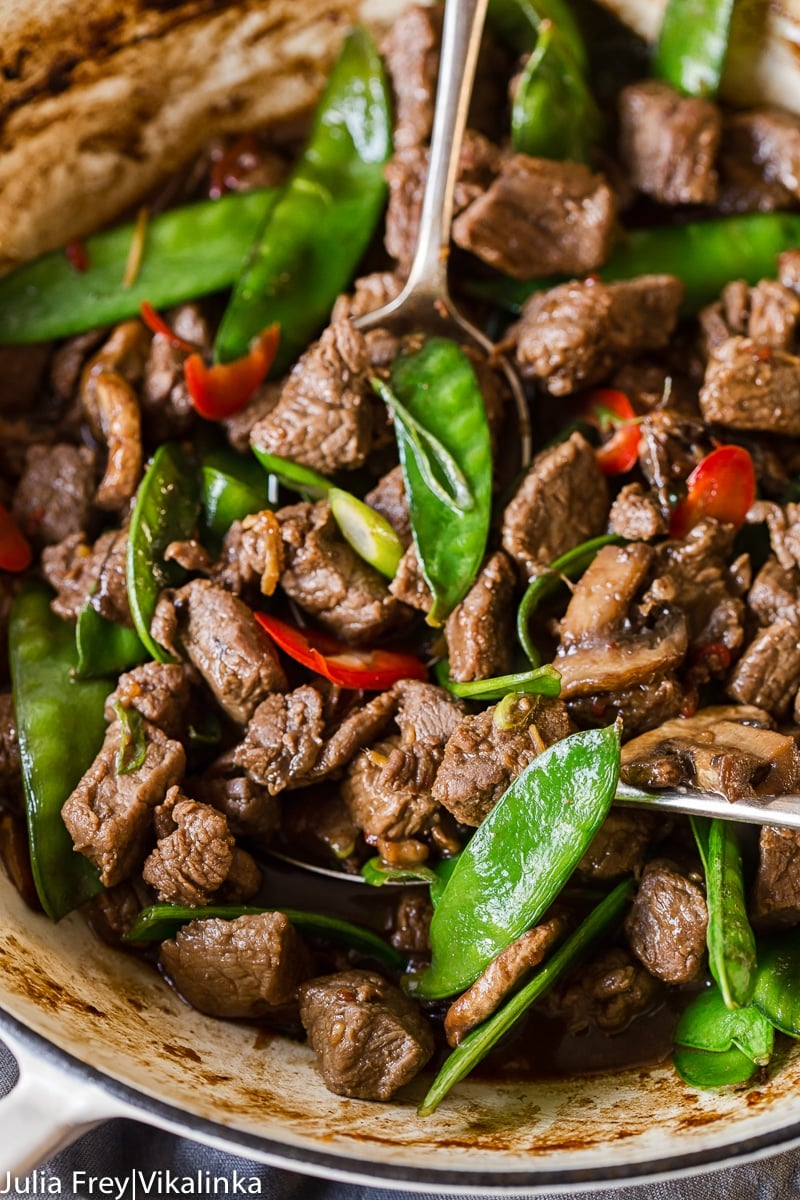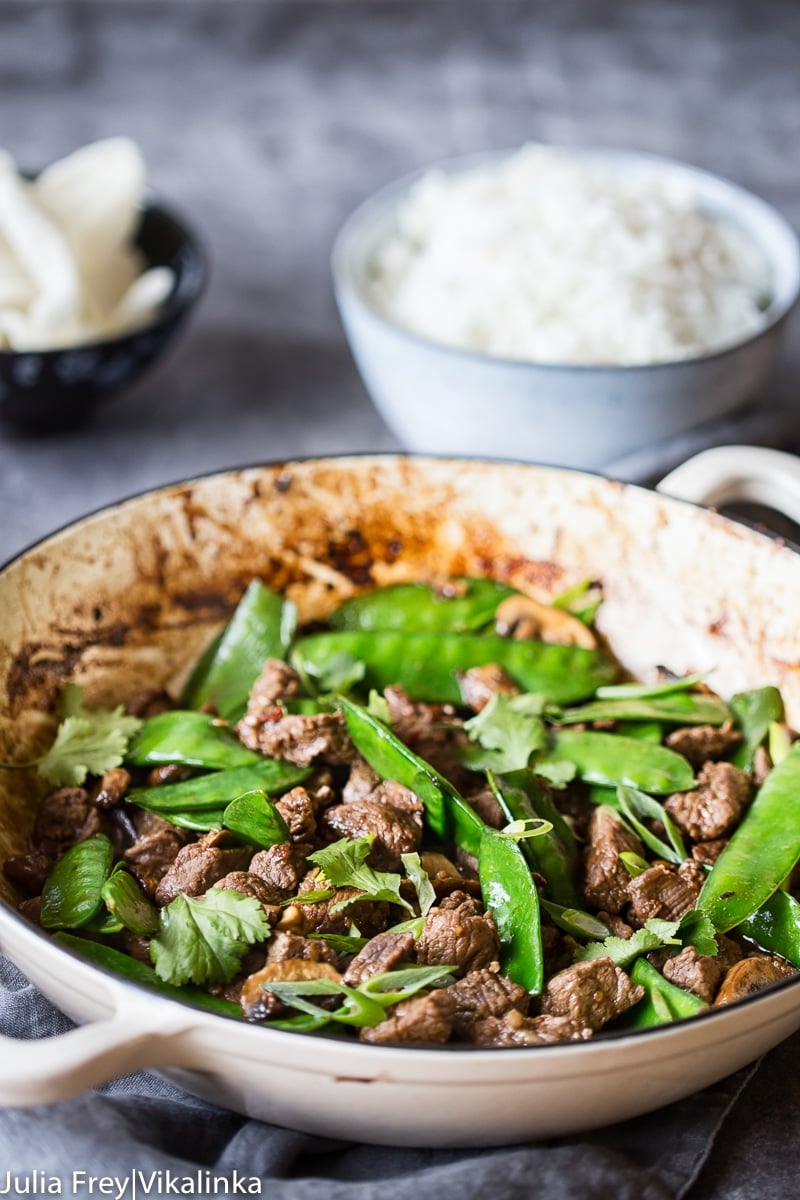 Also don't forget to add a teaspoon of sesame oil at the very end instead of the beginning.
It's meant to be used as a flavour enhancer rather than a cooking oil. Garnish with fresh cilantro leaves and sliced green onions before serving for extra oomph!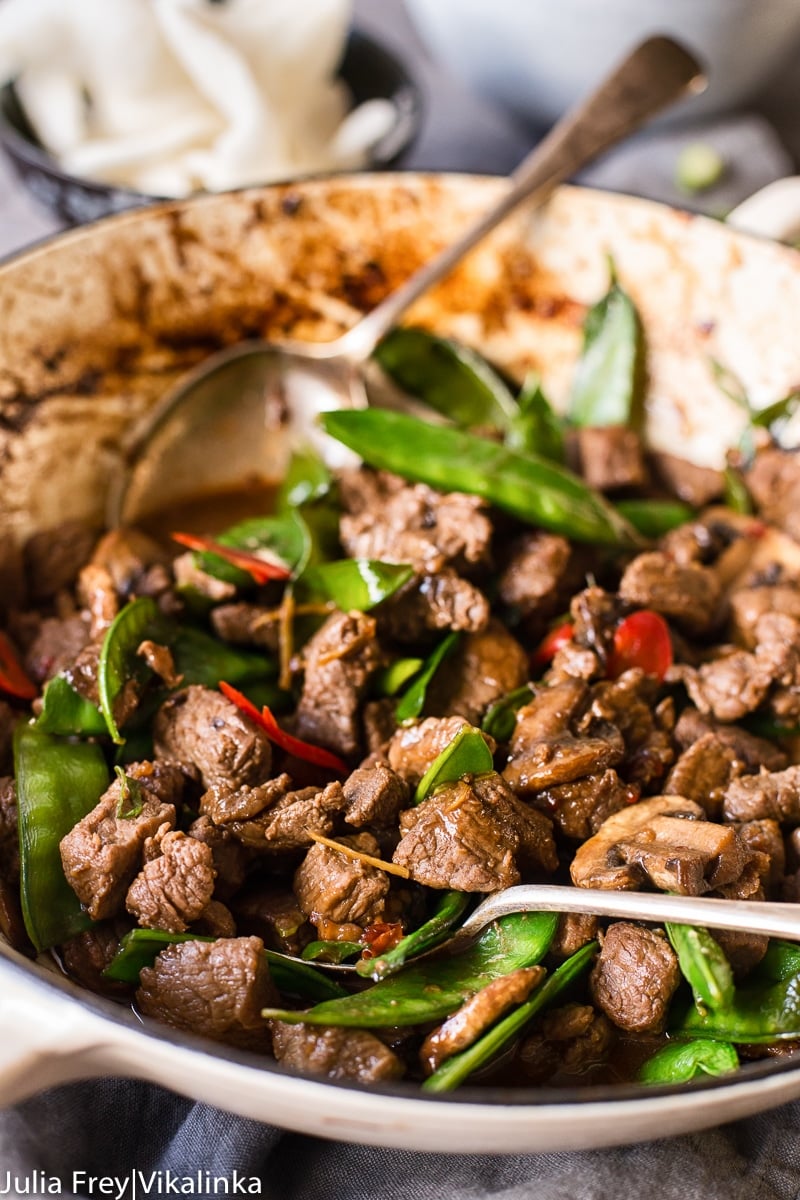 This beef stir fry could be enjoy with rice or noodles. My kids also crunched on some prawn crackers.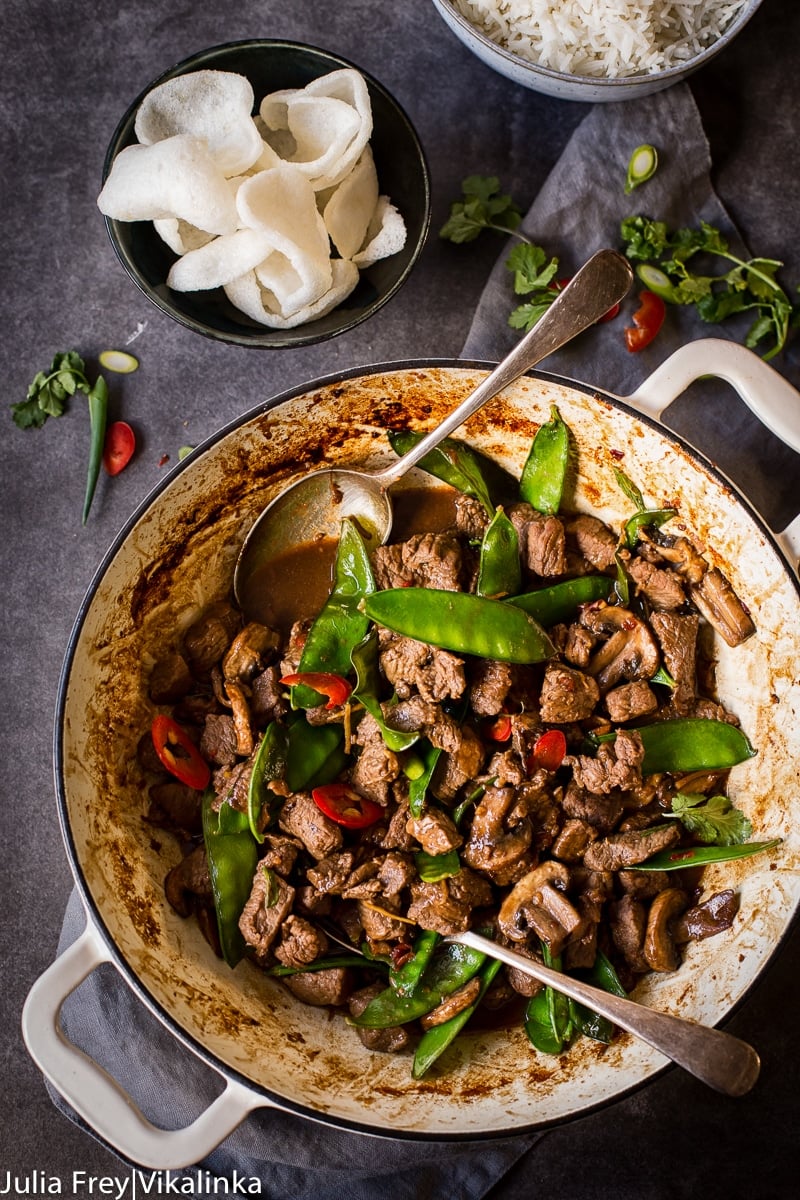 For more Asian inspired recipes, check out
Asian Salmon with Carrot and Cucumber Slaw
If you make any of this these recipes, I would love to see you photos! Simply tag @vikalinka in your Instagram snaps to share your creations!
Ingredients
2

tbsp

vegetable oil

1

"/2.5 cm long piece of fresh ginger

peeled and cut into matchsticks

3

large or 5 medium garlic cloves

minced

1

red chilli

sliced, seeds removed

1 1/2

lbs/700 g beef steak

sliced

4

tbsp

oyster sauce

3

tbsp

soy sauce

8-10

mushrooms

sliced thickly

2

cups/150g snow peas/mangetout

1

tsp

sesame oil

2

tbsp

fresh cilantro leaves

2-3

green onions

sliced diagonally

salt to taste
Instructions
In a large frying pan or a wok heat the oil and add ginger, chilli and garlic, cook over medium heat for 1 minute until golden and fragrant.

Add beef and cook for 5-7 minutes over high heat until the beef is sealed, add oyster sauce and soy sauce, stir to coat.

Add mushroom and snow peas and stir fry for 2-3 minutes over high heat, you might need to add a splash of water if your pan is getting too dry but bare in mind that mushrooms will also release liquid, add sesame oil and take off the heat. The snow peas should be bright green and still crunchy but cooked.

Garnish with sliced green onions and cilantro leaves before serving with rice or noodles.