An easy, tried and true recipe for homemade Russian Sauerkraut aka Kvashenaya Kapusta.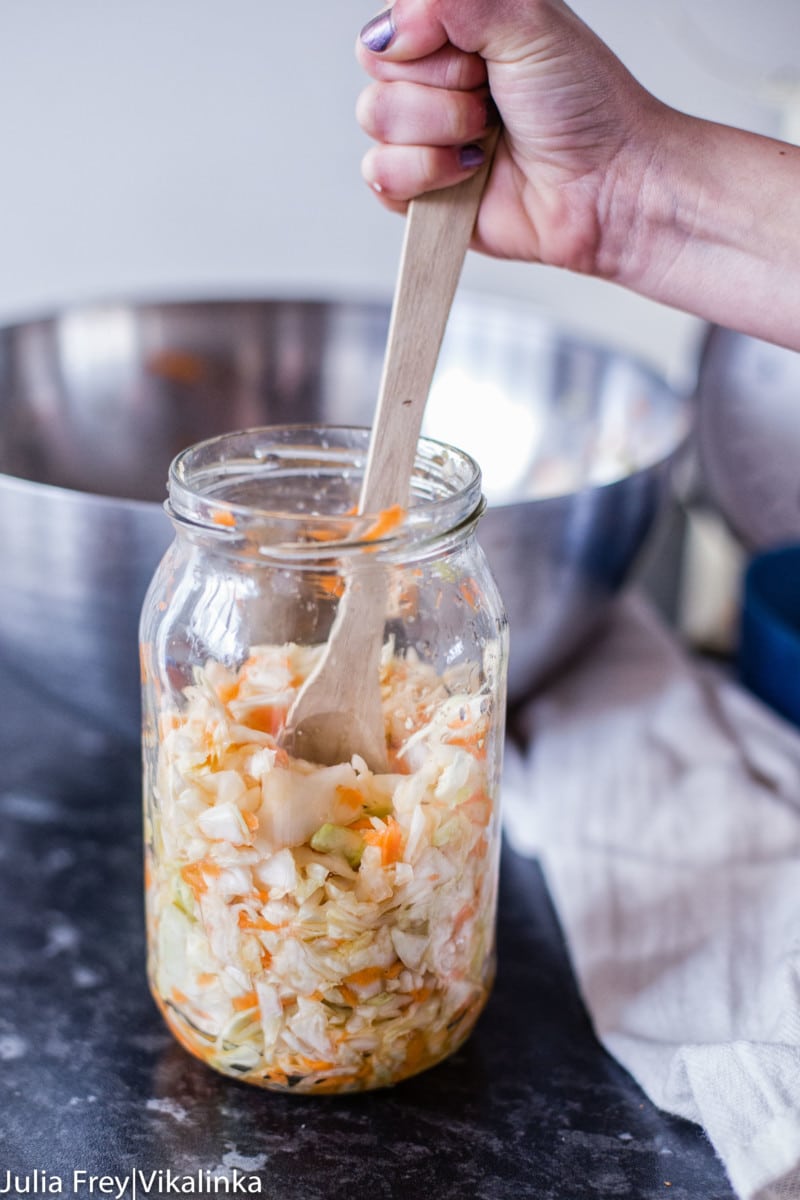 I still remember the time when I first started discovering the world cuisine although it was nearly 20 years ago when I moved to the US from Russia.
I had no idea the variety of flavours I would learn about while attending college in Minneapolis, the period in my life I believe hugely influenced the way I eat now.
I learned so much about Mexican food, Chinese food, Indian food and good old American food, of course, which for those living in the Midwest comprised mostly of casseroles or as they call them "hot dish".
As much as I loved tasting exotic flavours of the world I missed the food I grew up with, which wasn't too easy to reproduce in Minnesota. I had no car and no idea where one goes to buy 'Kvashenaya kapusta' aka Russian sauerkraut as it was something everyone made at home!
To add to the problem I lived in a dorm without a kitchen! So I dragged Brad to the only Russian restaurant I knew in St Paul-Moscow on the hill.
There I felt right at home although sadly their prices didn't quite allow me to fully set up camp there. This Russian sauerkraut recipe was one of the first things I made when Brad and I got married and I finally had a kitchen of our own. I was really nervous making my first batch.
Sauerkraut making was the territory where only all-knowing babushkas went and I wasn't sure I could make it as good as they did. It turned out that the recipe was as easy as boiling an egg and the result was just as delicious.
And, most importantly, familiar and nostalgic, which made me feel settled and comfortable in my new home, at that point in Canada.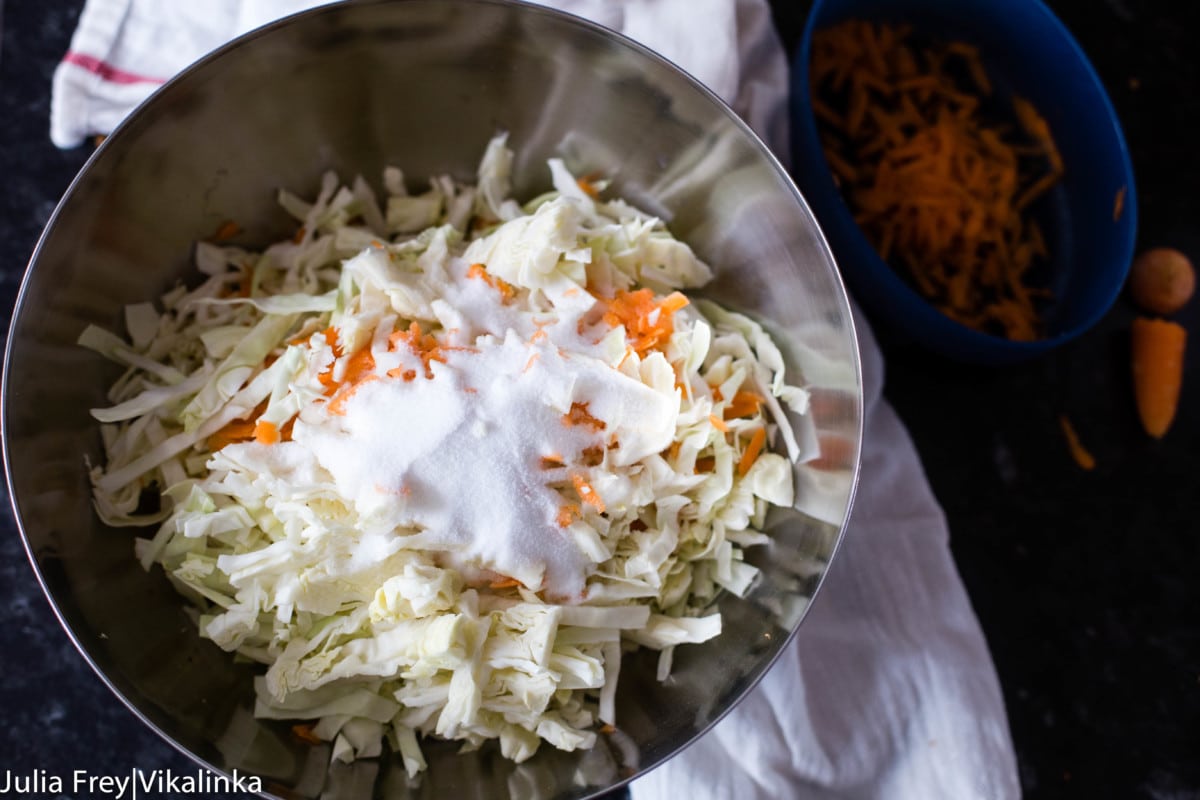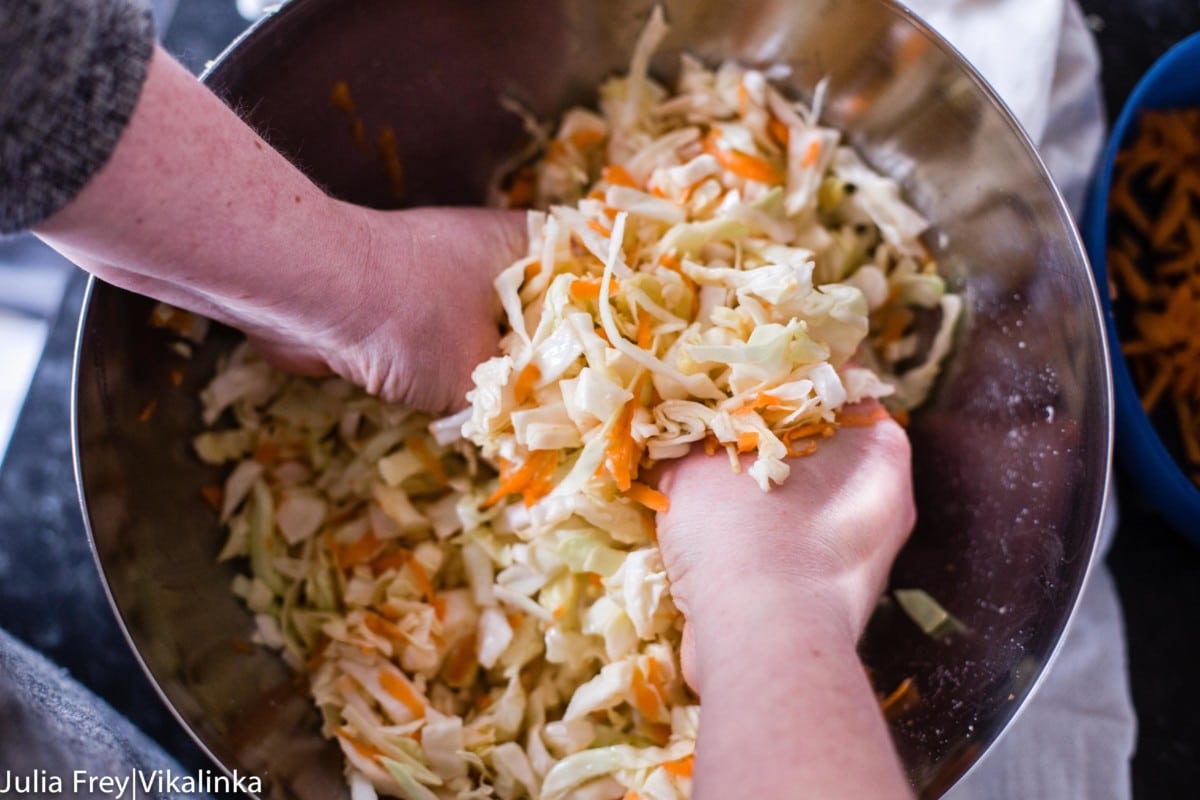 What is Russian Sauerkraut?
I call this recipe Russian sauerkraut for the lack of a better word an English speaking audience would be familiar with. I suppose kimchi would be a better one to fully describe what it is but I don't want you to think the recipe is Korean.
Essentially 'kvashenaya kapusta' is cabagge and carrots fermented in naturally occurred lactobacillus, the same bacteria found in yogurt and other cultured products.
How is it eaten?
Sauerkraut is something Russian, Ukrainians and Belorussians have enjoyed for centuries. It is eaten cold as a salad, it is delicious and contains gut-healthy bacteria as well as insane amount of vitamin C.
I haven't made sauerkraut for years but decided to bring it back into our diet in attempts to lead a healthier lifestyle. Interestingly enough I did it for the health reasons but as soon as I had the first spoonful I remembered just how much I loved the taste and especially this Russian sauerkraut and beet salad here!!!
Once I made it I couldn't stop making it!! I hope this will be your experience as well!!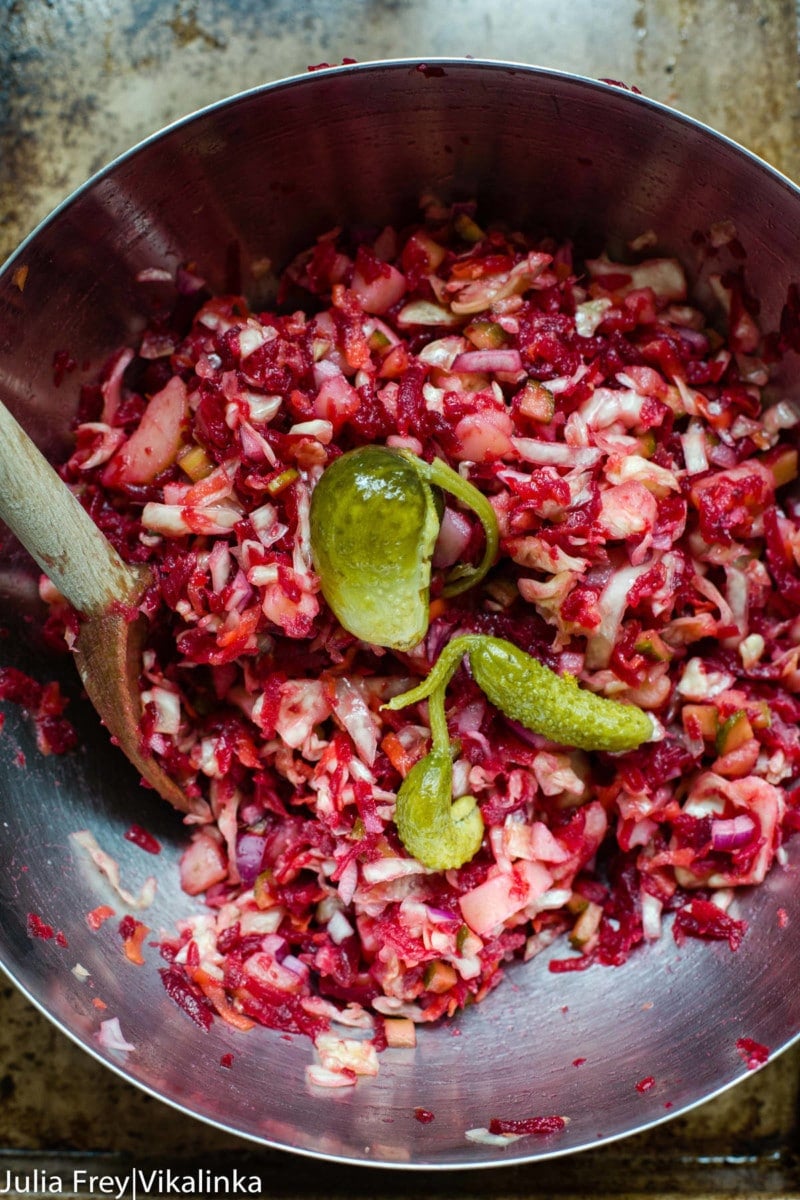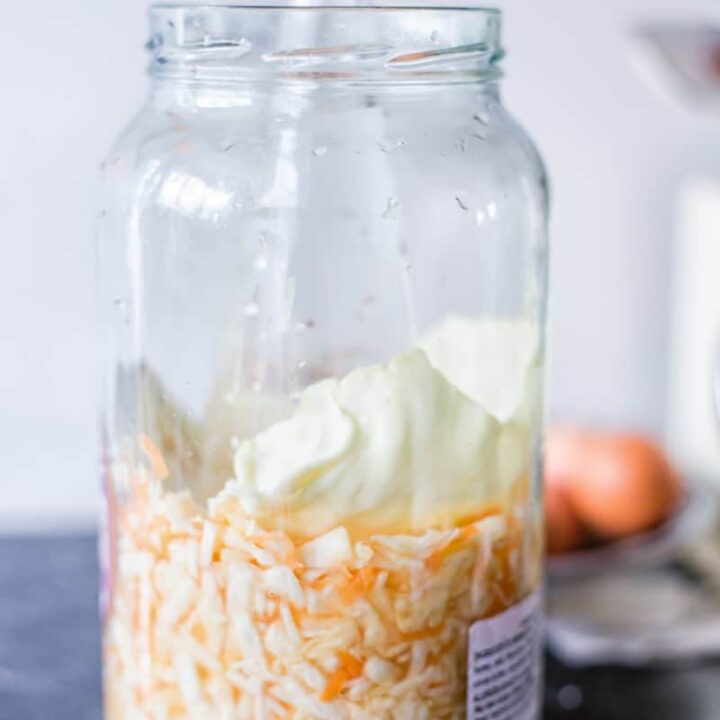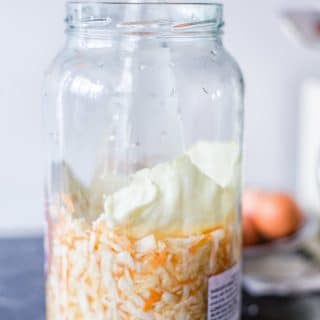 Homemade Russian Sauerkraut
A nutritious traditional sauerkraut recipe.
Print
Pin
Rate
Ingredients
2.5

lbs/ 1 small head of white cabbage

sliced

2

carrots

grated

1.5

tbsp.

salt

1

tsp

sugar
Instructions
Wash the cabbage and peel carrots. Remove a large outer leaf and set aside. Cut the cabbage in half and then in quarters, remove the core and tough outer ribs with a sharp knife, then slice the cabbage in approximately ¼" thin slices and grate the carrots.

In a large mixing bowl combine the cabbage, carrots, salt and sugar, then start mixing ingredients with your hands while massaging them to soften the cabbage and allow it to release its juices for 2-3 minutes.

Pack the cabbage and carrots tightly in a sterelised jar, use a long-handled wooden spoon to pack your cabbage and to release more juice. When your jar is full the liquid should cover the cabbage completely, which will preserve it from harmful bacteria. Cover the surface with a reserved cabbage leaf and weigh it down with a water-filled jar, then cover with a layer of cheesecloth. Leave your sauerkraut out to ferment for approximately 3 days. Each day pierce it with the handle of a wooden spoon to release gas, then cover it back up with a cheesecloth.

Refrigerate the sauerkraut after three days and eat within a week.
Notes
This recipe yields a 1.5 litre jar of sauerkraut.
Nutrition
Serving:
20
g
|
Calories:
32
kcal
|
Carbohydrates:
7
g
|
Protein:
2
g
|
Fat:
0.1
g
|
Saturated Fat:
0.04
g
|
Polyunsaturated Fat:
0.03
g
|
Monounsaturated Fat:
0.02
g
|
Sodium:
454
mg
|
Potassium:
213
mg
|
Fiber:
3
g
|
Sugar:
4
g
|
Vitamin A:
1130
IU
|
Vitamin C:
42
mg
|
Calcium:
48
mg
|
Iron:
1
mg