This lazy version for cabbage rolls is less fiddly but just as delicious, if not more! You get the same taste of the classic recipe of cabbage leaves, stuffed with meat and rice filling and baked in a creamy tomato sauce, but made considerably easier.
Serve with our fluffy mashed potatoes or sweet potato and swede mash.
Don't you resent the notion that we have to choose between comfort food and healthy food? I am usually the one torn between something warm, creamy and delicious and a bowl of salad, especially in the winter.
Cabbage rolls are one of those nostalgic dishes, that many of us love, and despite their "stick to the bones reputation", they happen to be quite healthy!
Cabbage is packed full of vitamins and minerals while being extremely low on calories. And when stuffed with a mixture of lean beef and rice, it turns out to be a very nutrient dense dish as well as very economical.
This recipe, for example, only uses 1 small head of cabbage, 2 lbs of extra lean beef and 1 cup of rice and it will easily feed 10 people. How is that for a low budget dinner? Eastern European cuisine is all about frugality as well as rich and delicious flavours.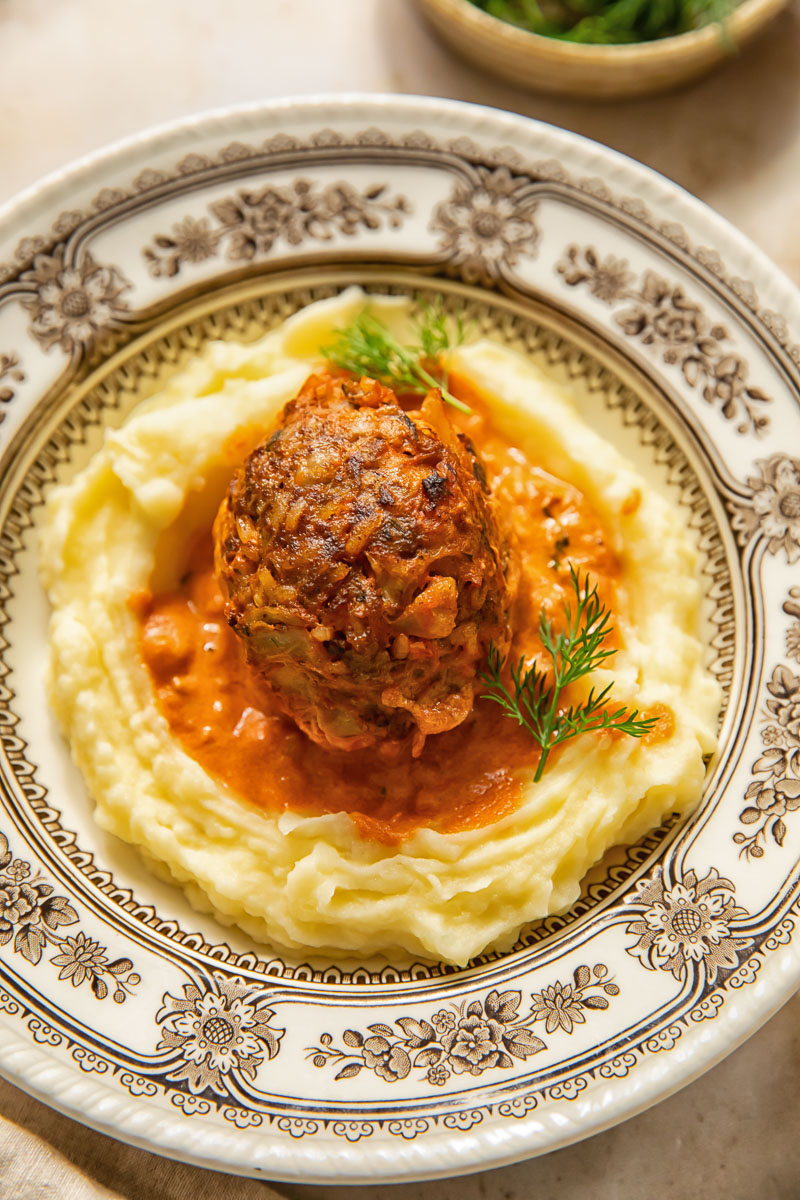 As delicious the traditional cabbage rolls are, they are a major pain to roll! The old fashioned recipe is time consuming and takes a bit of skill to master.
However, that didn't seem to deter many of your from making them. When I posted my family's recipe you guys went crazy. It's been re-pinned on Pinterest alone 189,000 times, which makes me very happy.
So I decided to do something even better and bring you a "lazy" version of this deliciousness, which is also a classic. Many women before us, my mother included, knew that a simpler version was necessary for busy people.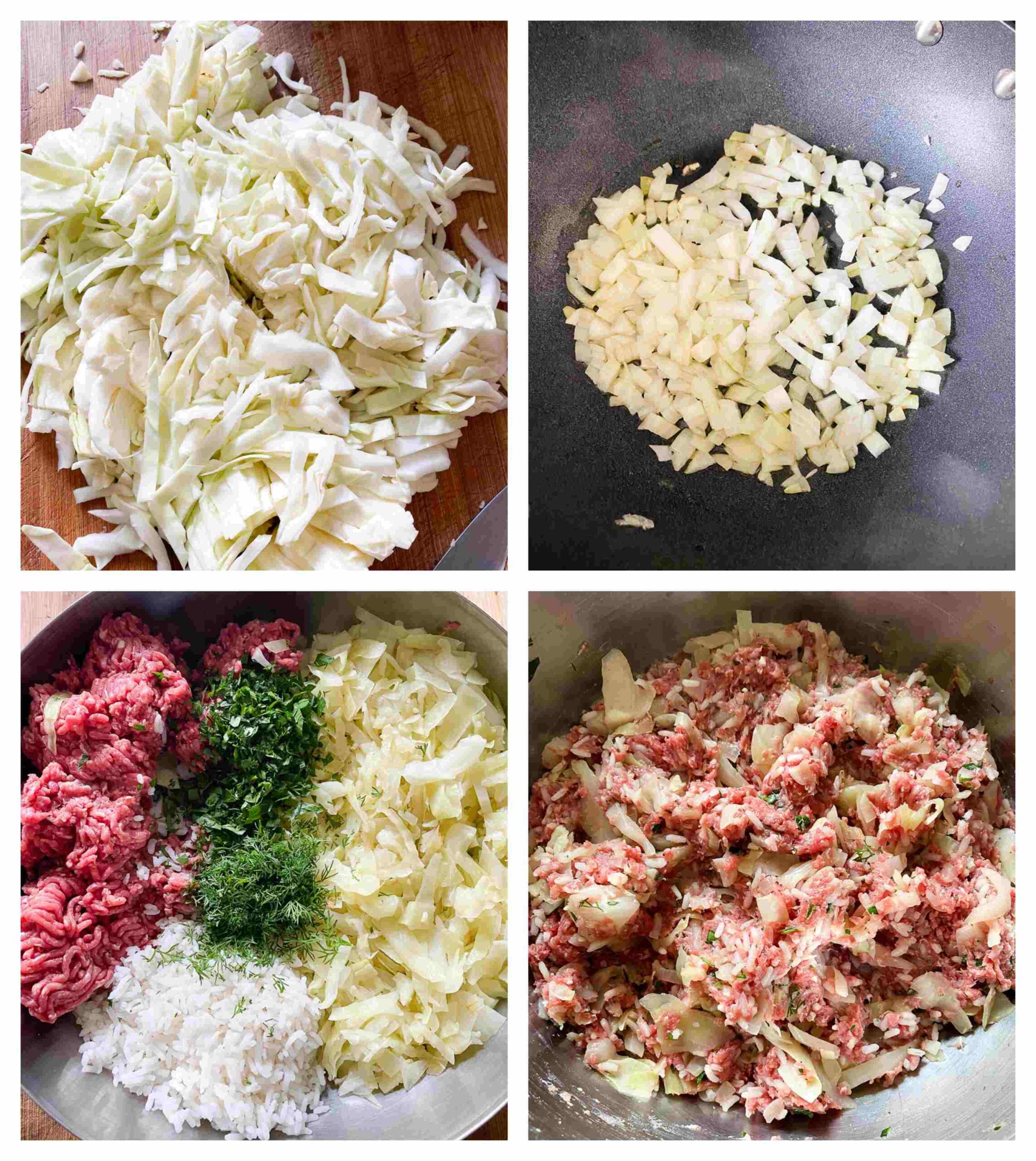 What are lazy cabbage rolls?
The concept for the lazy version is quite simple. Instead of separating a head of cabbage into leaves, and then stuffing each of them with a meat and rice filling, the cabbage gets chopped and folded into the meat mixture.
From that we shape patties, made of the same ingredients, and cook them in the tangy tomato sauce. I always add a healthy dollop of sour cream into my sauce for a creamy texture.
Cultured dairy like sour cream accomplishes two important things. Apart from making the sauce creamy and delicious, it also tenderises the meat and thickens the sauce without any flour or cornstarch.
While the traditional looking cabbage rolls are really good looking, I find the lazy version to be tastier. Why? The cabbage, which gets mixed into the patties, infuses them with moisture while baking. This creates juicy and delicious rolls!
While not exactly fast food as they do take a little bit of time to prep, they are definitely less fussy than the classic recipe. Shaping these doesn't require any more skill than shaping meatballs. Easy!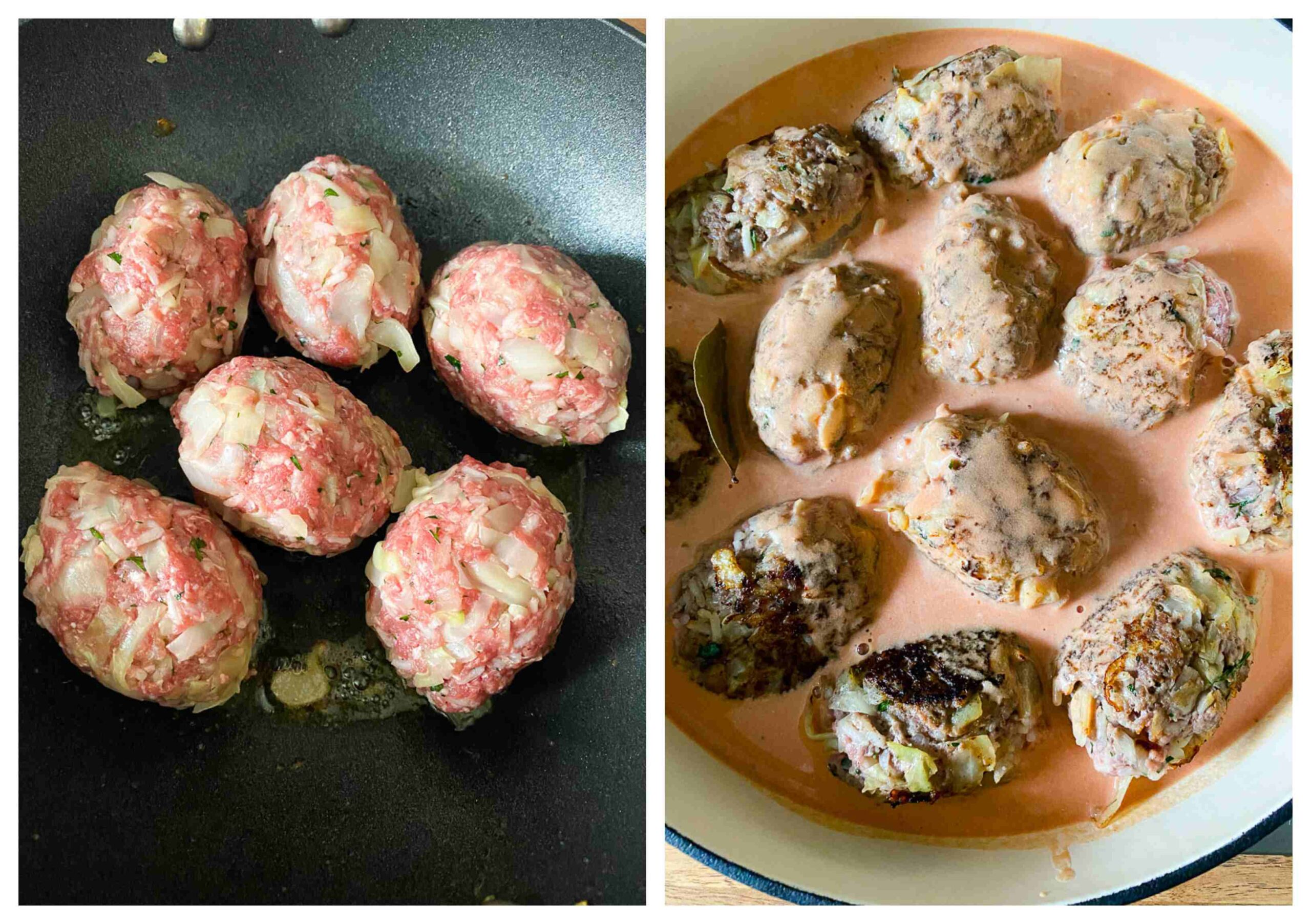 Recipe Tips and Notes
Apart from the main ingredients of the cabbage, meat and rice, it is important to add onions, garlic and herbs to the mixture to enhance the natural flavours. I added fresh dill and parsley but you can also use dried herbs. Go easy on dried dill as it tends to be a lot more potent than its fresh counterpart.
You will also need to cook the onions, garlic and cabbage before mixing them with the meat and rice, which is also precooked. Cooked onions and garlic add a touch of caramelised flavour and is easier on digestion than when added raw.
The sauce is a mix of crushed tomatoes, chicken or beef stock and full fat sour cream. I don't recommend using low fat dairy as it tends to split the sauce.
Season the sauce with salt, peppers and bay leaves. Simple and effective.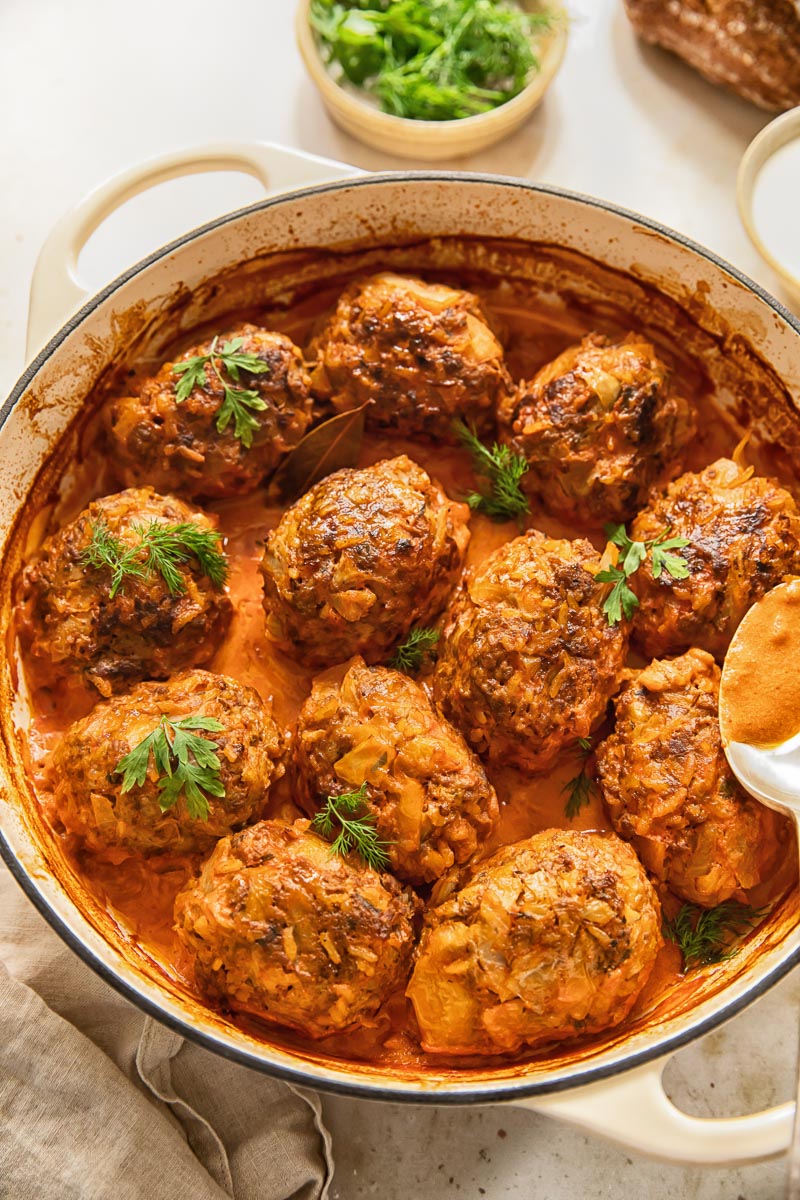 Storage and Reheating
This recipe makes enough to feed 10 people. If you have a small family, you can either half the recipe or freeze one half for later.
If you decided to freeze them, I would do that before baking. Pop them in a freezer bag uncooked and keep in a freezer for up to 1 month. Take them out of the freezer and defrost in your fridge overnight. Never on your counter!
Then make the sauce and follow the cooking instructions as written. Make sure the internal temperature of fully cooked cabbage rolls registers 165F/74C.
Favourite Eastern European Recipes to Try: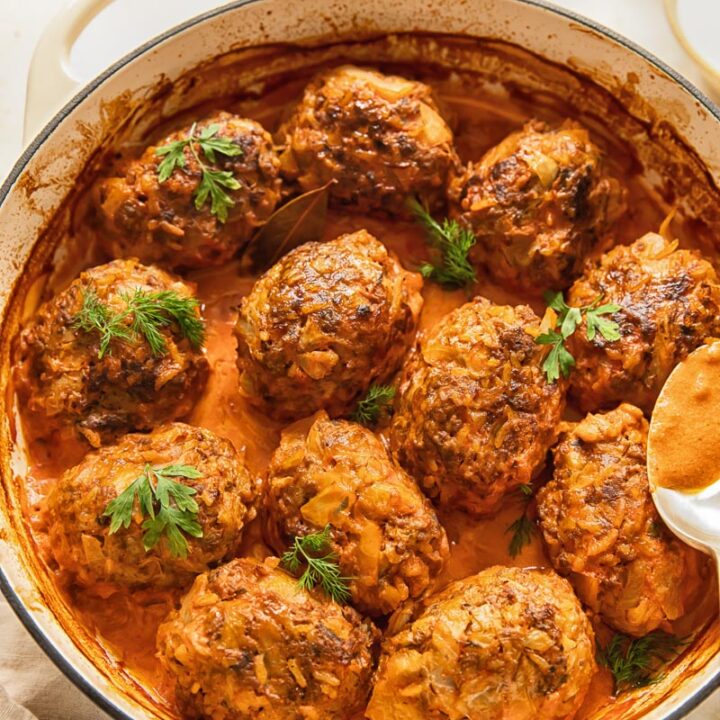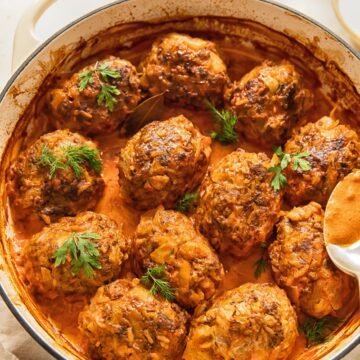 Lazy Cabbage Rolls
Makes approximately 20 cabbage rolls.
Ingredients
200g/1

cup

long grain rice

2

lbs

ground beef

extra lean 5% fat

2

tbsp

olive oil

divided

1

tbsp

butter

1

large onion

chopped finely

2

cloves

garlic

800g/1

small head of cabbage

cored and sliced

1

tbsp

flat leaf parsley

fresh or dried

1

tbsp

chopped dill

1

tsp

salt

pepper

800

g/28oz

canned crushed tomatoes or tomato passata

1

container of concentrated chicken stock by Knorr or a bullion cube

250ml/1 cup

water

250ml/1 cup

creme fraiche or sour cream

full fat

2

bay leaves
Instructions
Cook rice according to package instructions and cool slightly. Or use leftover rice!

Chop an onion finely and slice the cabbage, discard the core. Cook the onions and cabbage in 1 tbsp olive oil and butter over low heat until soft but not coloured for 7-10 minutes, add the minced garlic in the last 30 seconds before taking if off the heat.

Preheat oven to 350F/180C. In a large bowl, combine the cooked rice, onion, cabbage, raw ground beef, dill and parsley. Add salt and pepper and mix well to combine. (Using hands works best here.)

Shape patties the size of a golf ball but instead of round shape, make them oblong. Then brown them in 1 tbsp of olive oil. The patties should be browned, so they hold shape but don't need to be cooked all the way through. The patties are quite fragile, so take care when flipping them. Work in batches to avoid overcrowding.

In a small saucepan combine the crushed tomatoes or passata and concentrated chicken stock with water. Heat while stirring continuously until the chicken stock dissolves into the sauce. Take off the heat and stir in creme fraiche or sour cream.

Arrange the browned cabbage rolls in a baking dish, for which you have a lid. Pour the sauce over the lazy cabbage rolls, add bay leaves and cook covered in the preheated oven for 40 minutes, then uncover and cook for 10 minutes longer. (Alternatively you can cover with aluminium foil).
Nutrition
Calories:
337
kcal
Carbohydrates:
29
g
Protein:
24
g
Fat:
14
g
Saturated Fat:
6
g
Polyunsaturated Fat:
1
g
Monounsaturated Fat:
6
g
Trans Fat:
0.4
g
Cholesterol:
74
mg
Sodium:
527
mg
Potassium:
785
mg
Fiber:
4
g
Sugar:
8
g
Vitamin A:
475
IU
Vitamin C:
38
mg
Calcium:
102
mg
Iron:
4
mg