A delicious and incredibly easy yellow split pea soup with ham and a sprinkling of fresh herbs. Simple to make yet so satisfying in cold weather! Serve this soup with our no knead 2 hour Dutch Oven Bread for a tasty lunch or dinner.
If you are a fan of comforting soups, take a look at our Soup archives. An array of recipes featuring different flavours are waiting for you!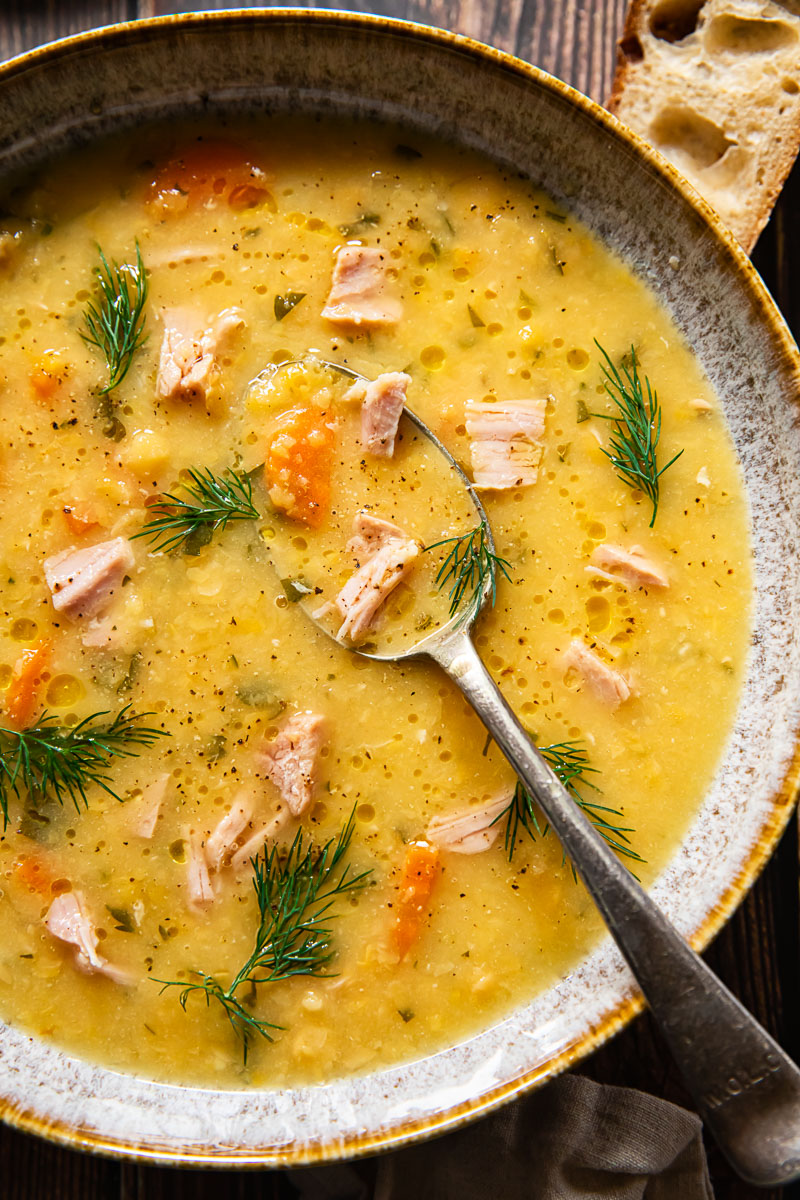 We have officially reached the "soup weather" and soup we've had! This recipe for yellow split pea soup comes from my mother. As easy as this soup is, it is quite fabulous.
I grew up in a Russian household, where soup had to be consumed "to stay healthy" for every lunch. As a little girl I hated all soups except this one, which came as a big surprise to my mother. After all, split peas are traditionally thought to be a "poor man's food". Cheap and plain.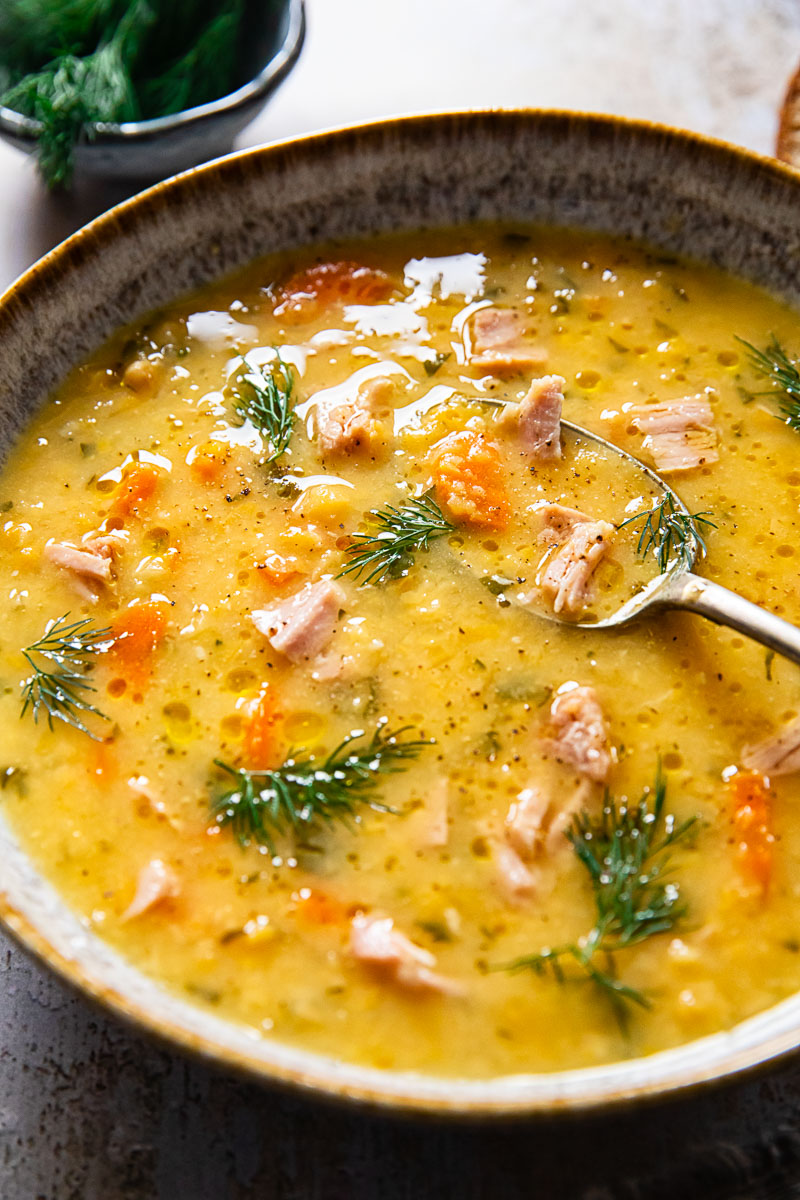 As plain as split peas are, they transform beautifully in this soup. Enhanced by the flavour of ham and herbs, they turn into a hearty and thick medley. It makes a wholesome and nourishing lunch or dinner.
How to make split pea soup
I had to recall my mother's recipe as I didn't want to mess with perfection. Don't be put off by the short ingredient list. Quality ingredients and longer cooking time are responsible for this soup success.
This recipe uses yellow split peas, unsmoked gammon steaks (uncooked ham) or pork shoulder, onions, a bit of garlic and carrots. It's also made fragrant with dill and parsley.
One hour of slow simmering infuses the broth with so much goodness, which gives this split pea soup its distinct flavour. What else? It's extremely filling and economical!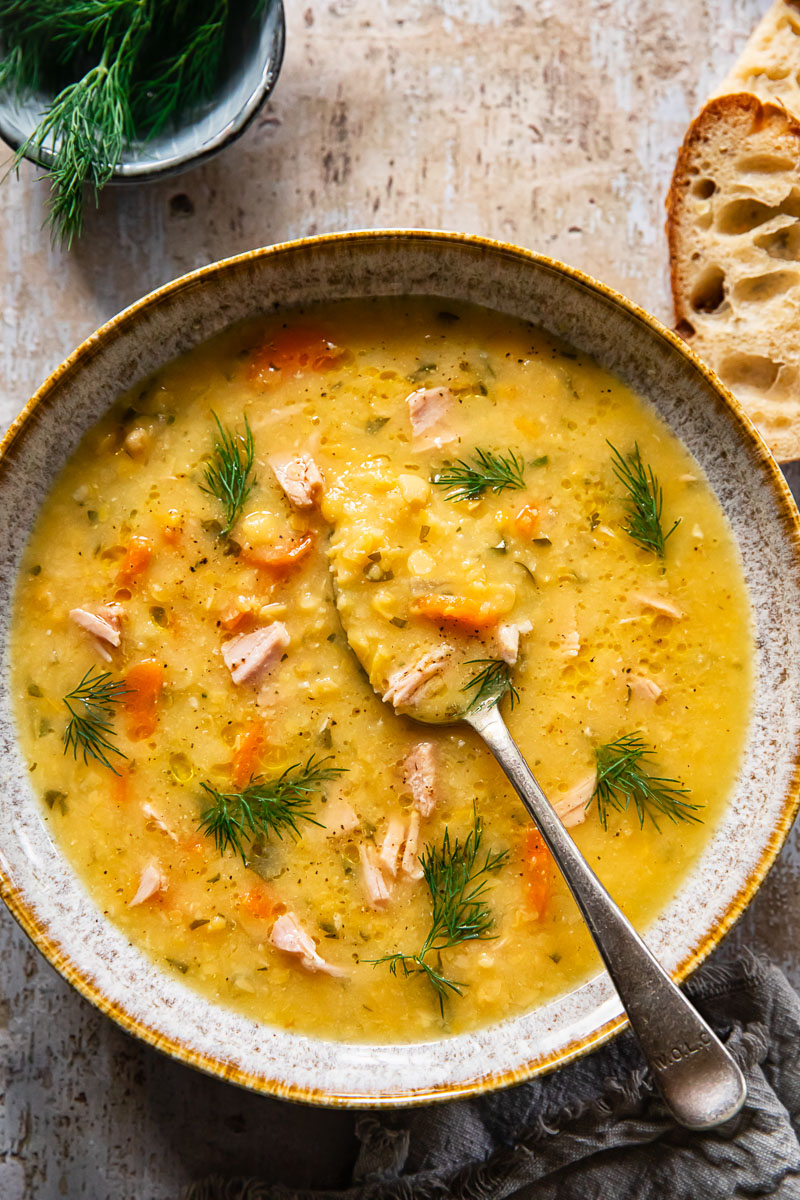 Do split peas need to be soaked before cooking?
While pre-soaking the split peas shorten the cooking time, it is not necessary. You can soak them the night before if you remember ,and it will only take about 30-40 minutes of simmering to get them fully cooked.
If not they are not pre-soaked, just follow the recipe as written.
More Favourite Soup Recipes to Try:
This recipe was originally published in 02/2016. Updated with new photos and text and republished in 11/2020.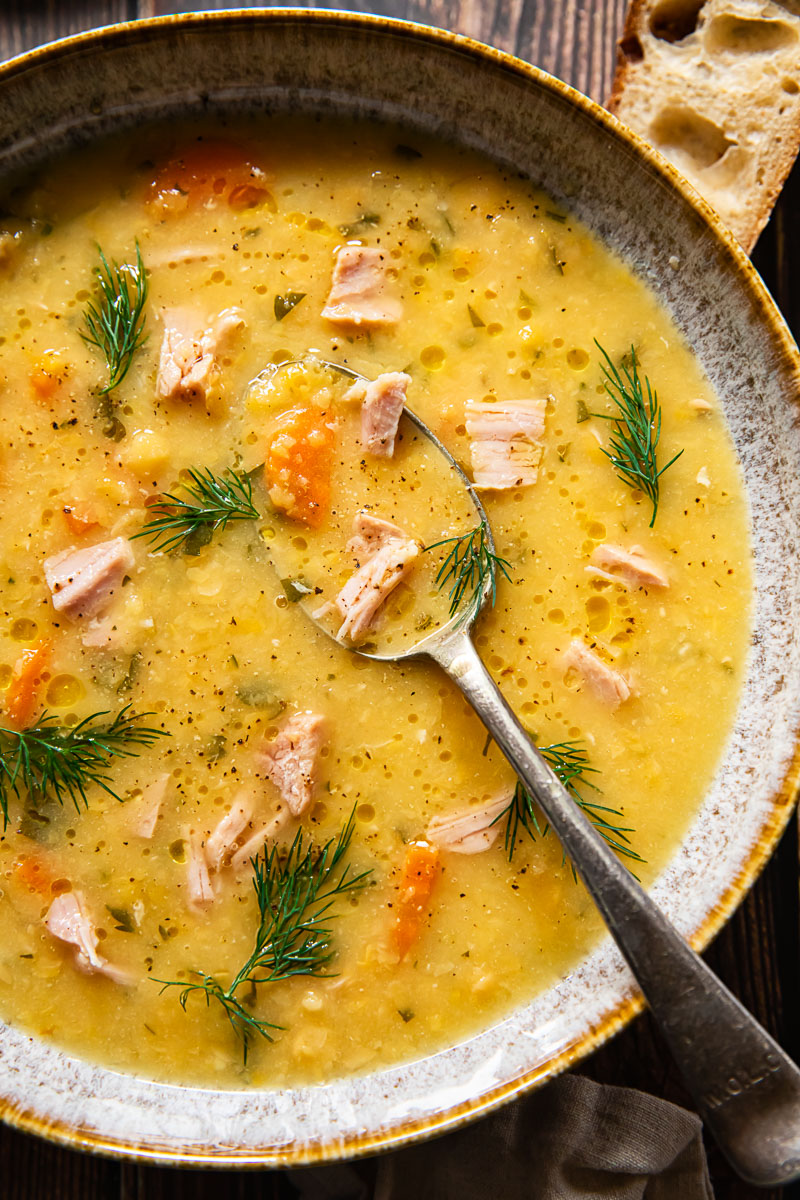 Ingredients
3

litres/ 3 quarts water

450

g/ 2 cups yellow dried split peas

450

g/1 lbs unsmoked gammon steaks or pork/beef

fat trimmed

1

tsp

salt

1

tsp

Vegeta seasoning

optional

1

bay leaf

1

tbsp

olive oil

2

carrots

sliced

1

onion

chopped

2

garlic cloves

minced

1

tbsp

of each dill and parsley

chopped

black pepper to taste
Instructions
In a large pot add water, yellow dried split peas, unsmoked gammon steaks or pork/beef, a bay leaf and bring to a boil. Add salt and Vegeta seasoning and turn the heat down to allow the soup to simmer.

You will see a lot of foam forming at the top of the pot, remove with a slotted spoon and discard. Continue doing so until all foam is removed and the broth is clear.

Let the soup simmer for 50 minutes. While the soup is simmering chop the onion and slice the carrots, saute together over low heat in a pan with olive oil for 10 minutes until soft and fragrant. Add minced garlic and cook for 1 more minute, then take off the heat.

By now your split peas should be soft and some may be partially falling apart. Remove your gammon steaks or pork/beef from the soup if using and shred it with two forks in a shallow bowl or cut it with a knife. Return to the pot and add the sautéed carrots and onions.

Add chopped herbs, black pepper, taste and adjust seasoning if needed.
Nutrition Facts
Yellow Split Pea and Ham Soup
Amount Per Serving
Calories 289
Calories from Fat 45
% Daily Value*
Fat 5g8%
Cholesterol 25mg8%
Sodium 1166mg51%
Potassium 804mg23%
Carbohydrates 37g12%
Protein 25g50%
Vitamin A 2674IU53%
Vitamin C 22mg27%
Calcium 43mg4%
Iron 3mg17%
* Percent Daily Values are based on a 2000 calorie diet.