These Nanaimo Bars are a classic Canadian confection that needs to conquer the world as much as it did with its home country!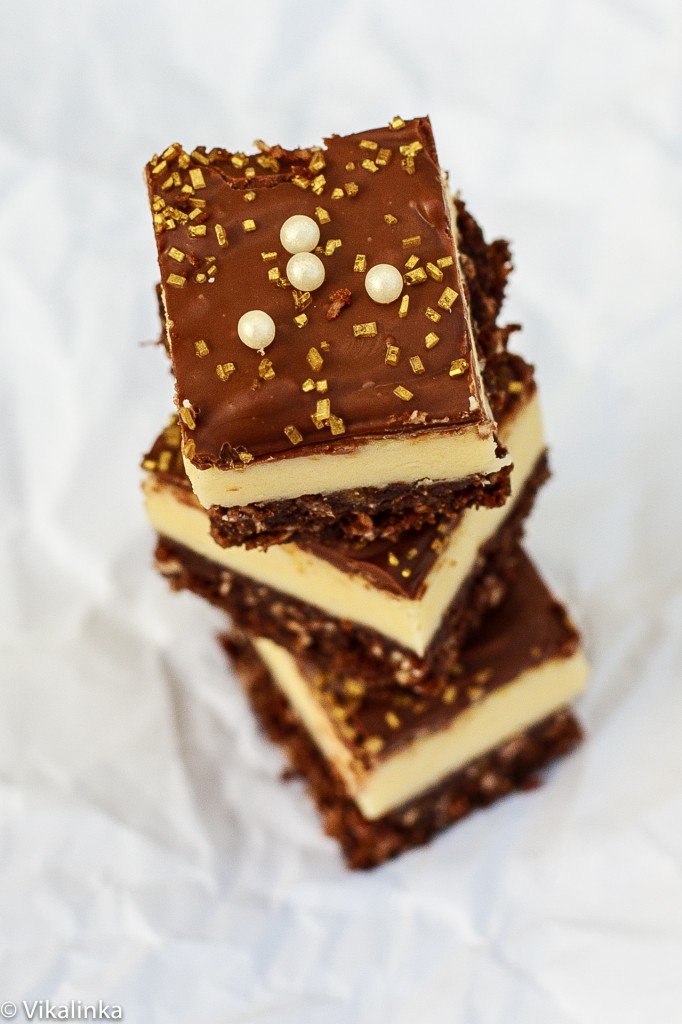 Do you want one? You do but don't know what they are? It's okay go ahead and make them anyway! It seems that I am going off my husband's wish list this Christmas season.
Butter Tarts and now Nanaimo Bars. Both oh so Canadian. We wish we could be home with family this holiday season but it's not in the cards so instead I am baking up a storm of all Canadian treats.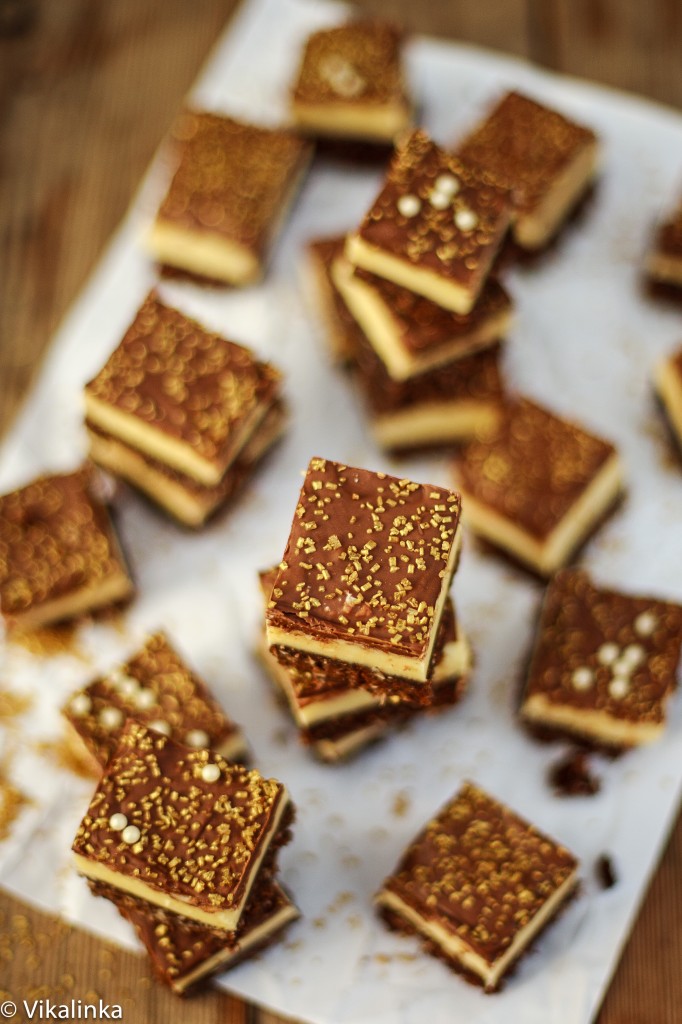 What are Nanaimo Bars?
Nanaimo Bars are very traditional in Canada. I only made them once before because chances are they would be served at 3 out 4 homes we'd be visiting around Christmas.
Now that we live in England we feel like we NEED to have things that remind us of home, and thus bring comfort and joy.
That's right. I said that food brings us comfort and joy.
I am not taking it back and when you try a Nanaimo Bar you'd be forever sold on this triple layer confection with a chocolate-coconutty base, creamy center and a chocolate glaze crowing this heavenly creation of some brilliant Nanaimo baker. (It's a city in British Columbia where Nanaimo bars proudly came from, if you are wondering what the heck I am talking about).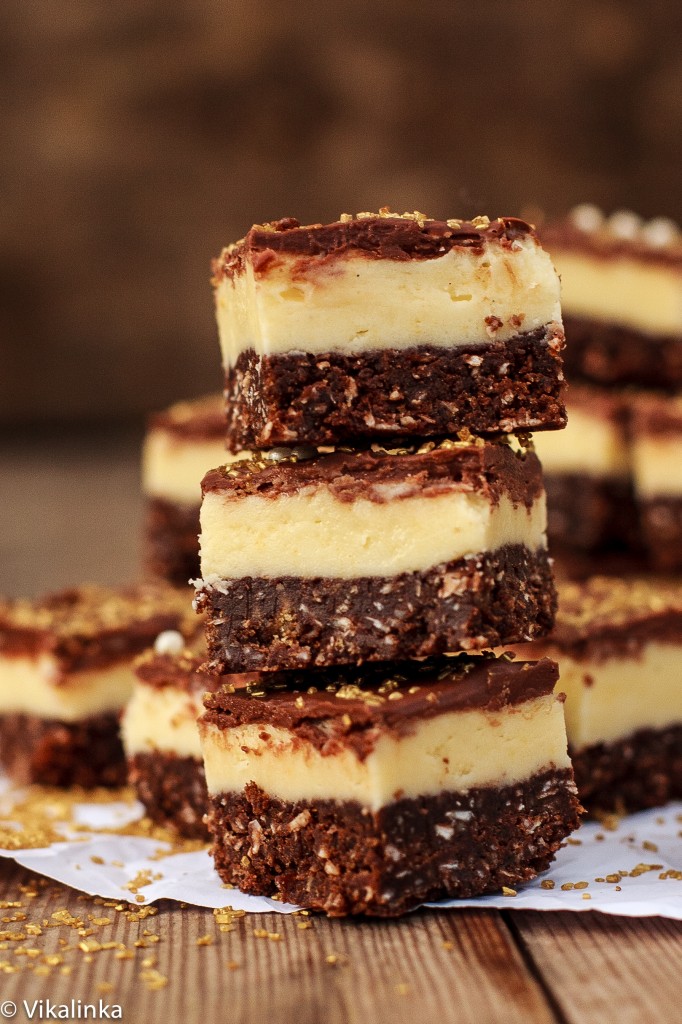 How do you make Nanaimo Bars?
They are quite easy to make, the hardest part being the wait for the layers to set so you finally dive into them! The process is pretty similar to a cheesecake – the base is a mixture of graham cracker crumbs, cocoa, butter, sugar, coconuts and an egg.
All you do is mix everything and bake quickly for 10 minutes, then add a no-bake cream layer and top with melted chocolate. Done!
Please, don't forget to score your chocolate top while it's still melted so that it won't crack when you cut it into bars later.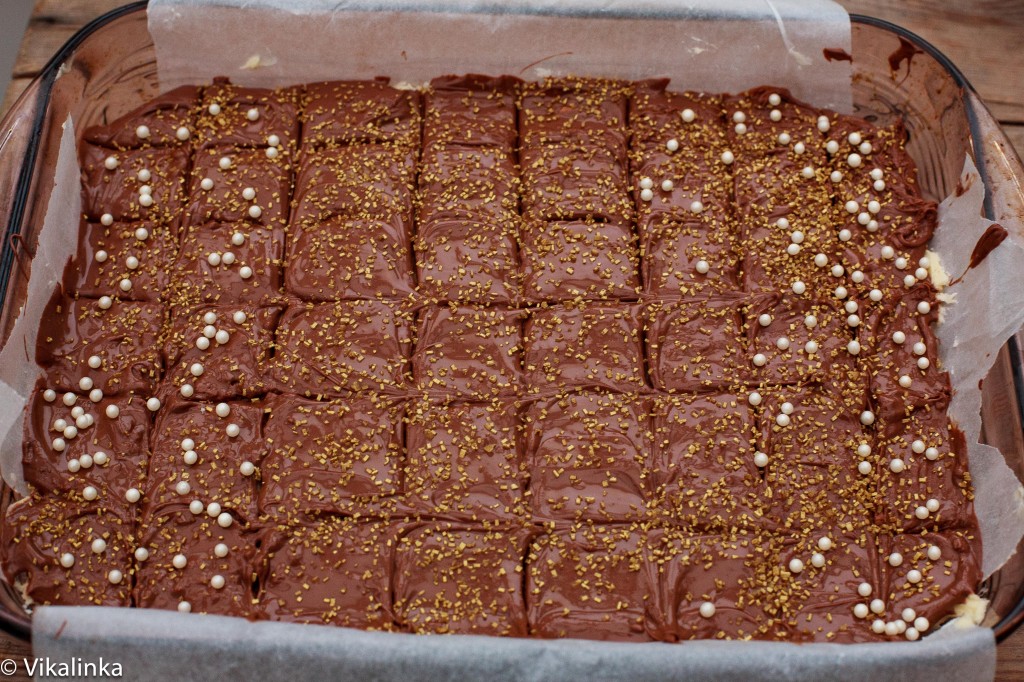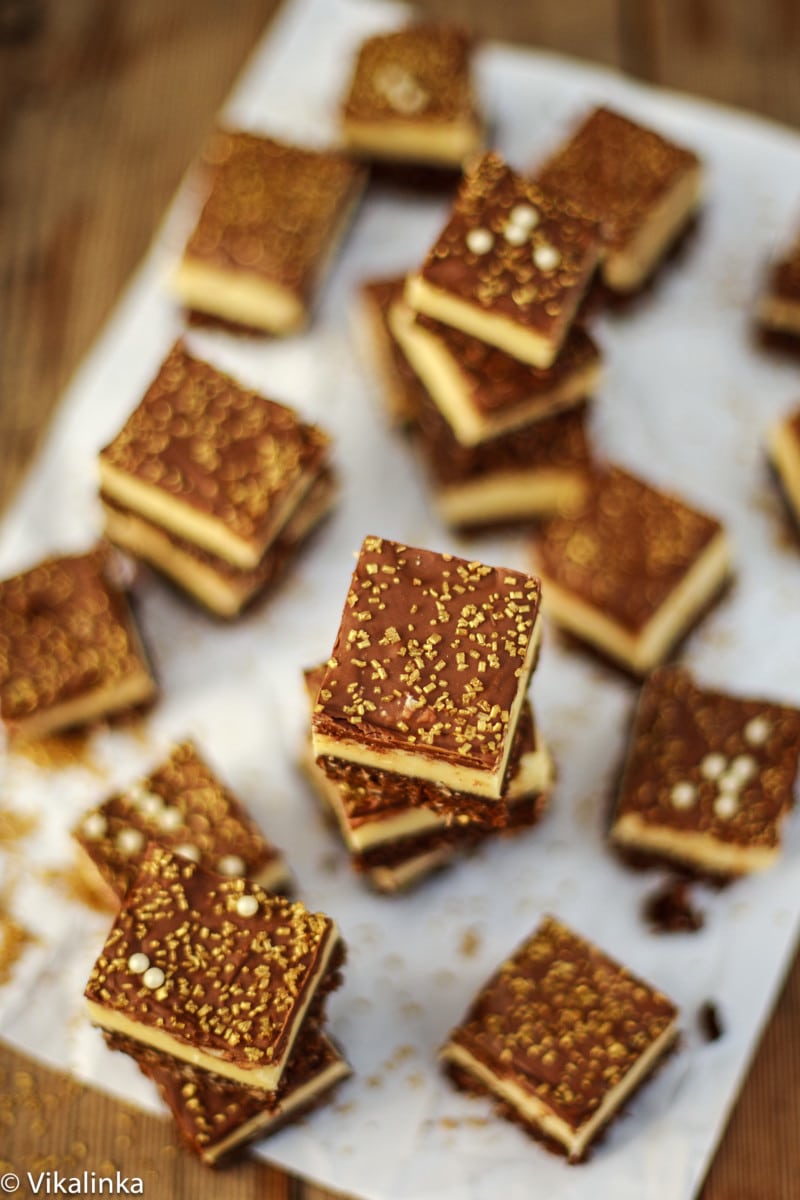 Ingredients
Base
Butter

melted-3/4 cup

Sugar- 1/4 cup

Cocoa- 6 tbsp.

Egg- 1 large

Vanilla- 1 tsp.

Graham Cracker Crumbs-2 cups

I used Digestive biscuits in the UK

Coconut- 1 cup
Middle Layer
Butter

softened-1/2 cup

Milk-6 tbsp.

Custard powder-4 tbsp.

I used Bird's Custard powder

Icing Sugar- 4 cups
Top Layer
Chocolate

chopped-250 gr/8 oz

Butter- 1 tbsp.
Instructions
Preheat your oven to 350F/180C.

Mix all ingredients for the base in a large bowl.

Line your 9"X13" pan with parchment paper and pack your crumb mixture firmly into the pan. Bake for 10 minutes. Set aside to cool in the pan.

While the base is chilling beat the middle layer ingredients until smooth and spread over the base. Chill for 60 minutes.

Melt chopped chocolate with a tablespoon of butter in a double boiler or if you don't have one set a bowl with chocolate over a pot of simmering water and melt your chocolate this way.

Spread melted chocolate over the cream layer. Trace the lines for your bars so your chocolate layer won't crack later when you cut it.

Chill until set, then cut into small bars.
Nanaimo Bars usually have a smooth chocolate finish but I felt especially festive so I dusted them with a bit of gold sugar and pearl beads.