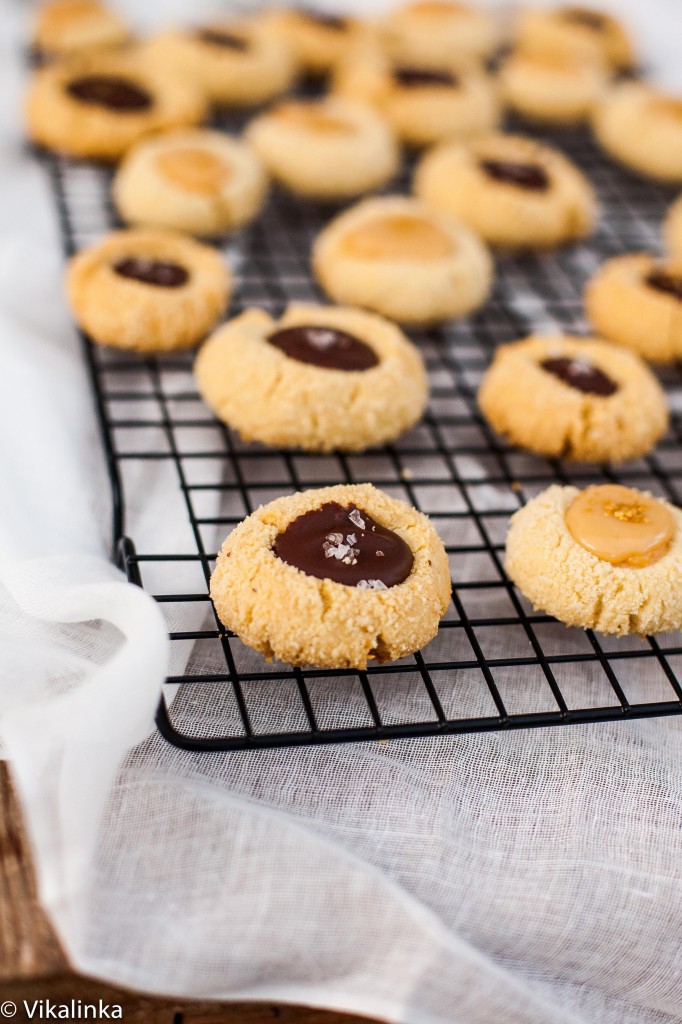 I have tried to fight the Christmas cookie obsession that has swept through Pinterest but in vain. It's not going away, it seems cookies is what you guys want. That's what my kids want. And there is no way I would turn down a good cookie with my afternoon cup of tea.
I am not one for overly sweet, fudgy, dripping with chocolate and caramel things. I am ALL about savoury. When it's time to hit dessert I feel like going for another piece of chicken! But these cookies…oh these cookies. Soft. Buttery. Fragrant with almond. Filled with chocolate. Filled with dulce de leche. Pure loveliness.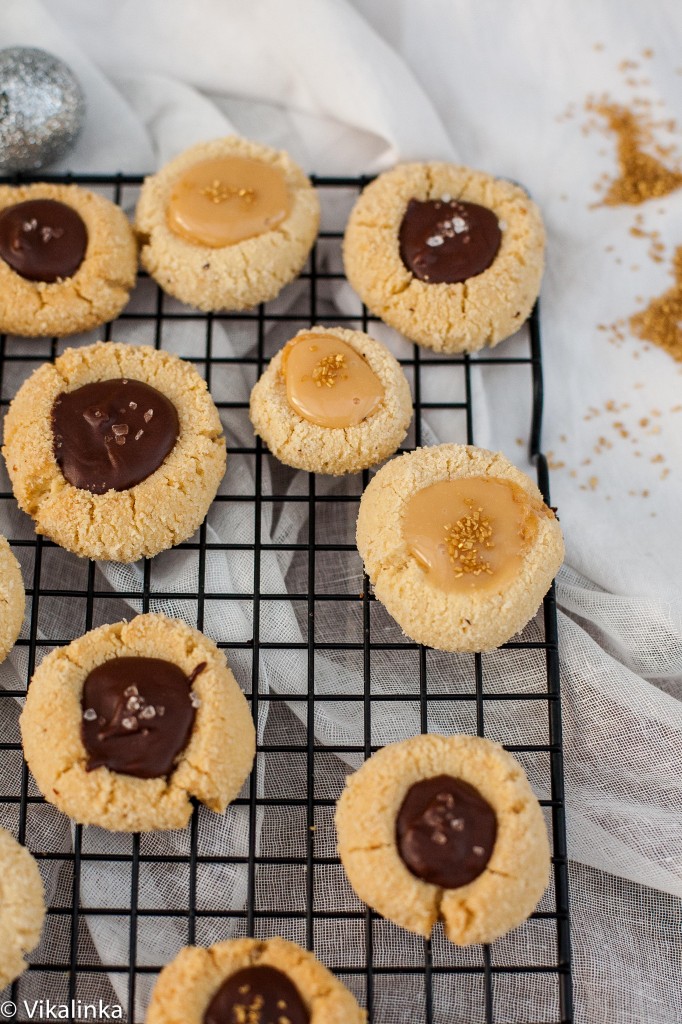 These little beauties are a sophisticated take on jam thumbprint cookies which also happens to be one of my favourite Christmas treats. This recipe was slightly adapted from Food52. The only three things I changed was rolling them in ground almonds, filling half of them with dulce de leche and omitting lemon zest. I also doubled the recipe.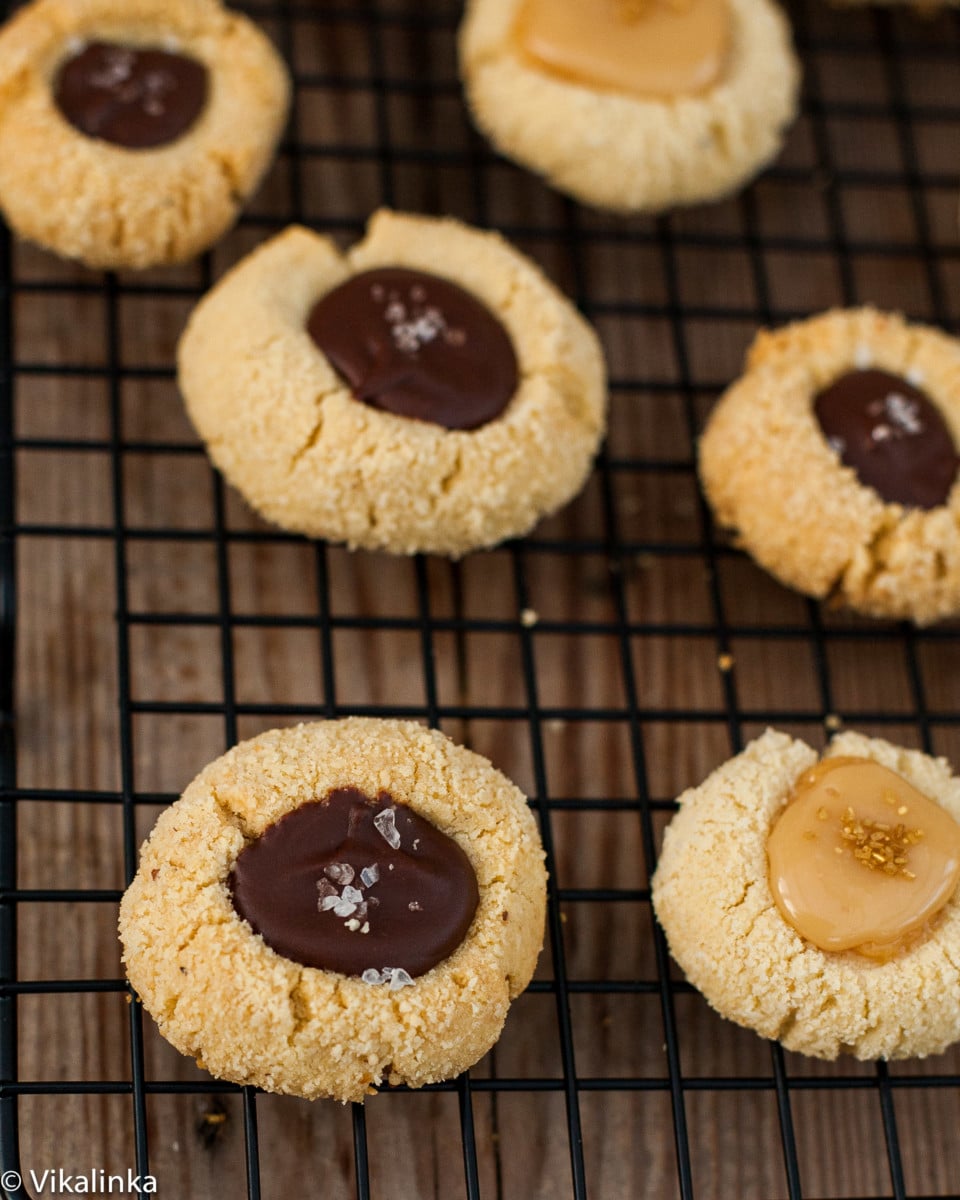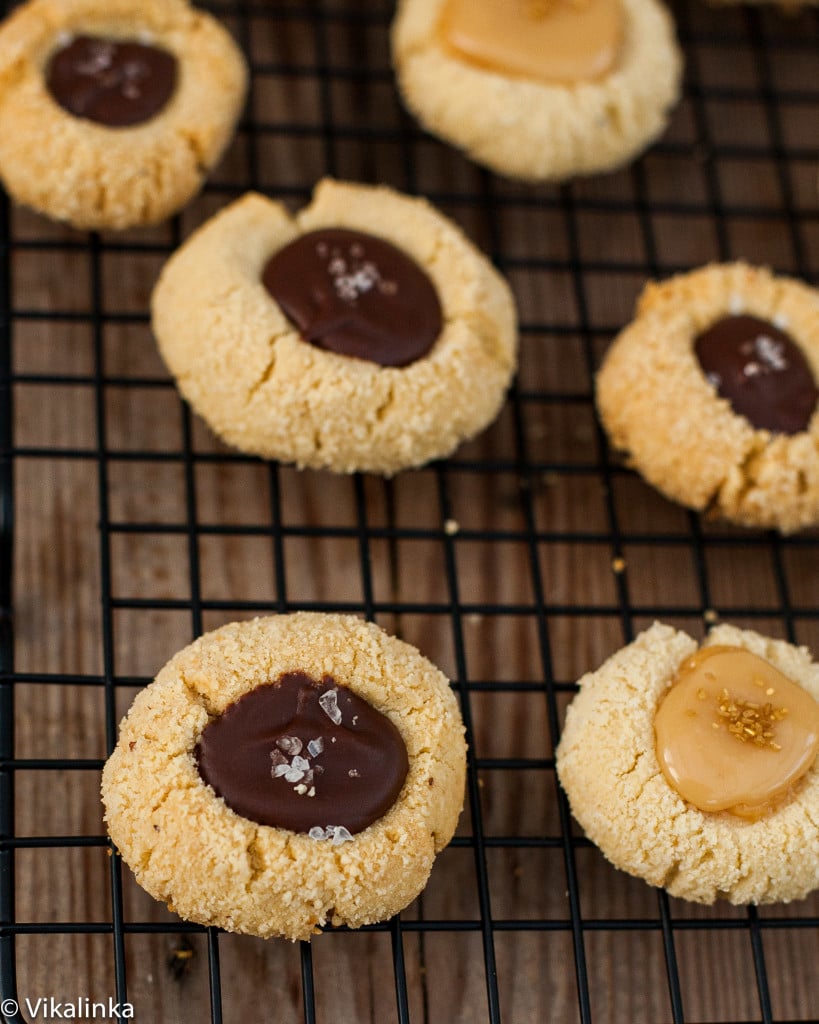 I was absolutely thrilled with what I got in the end. Not only were the cookies delicious they were also a joy to look at! Don't you think sea salt looks like pure crystals?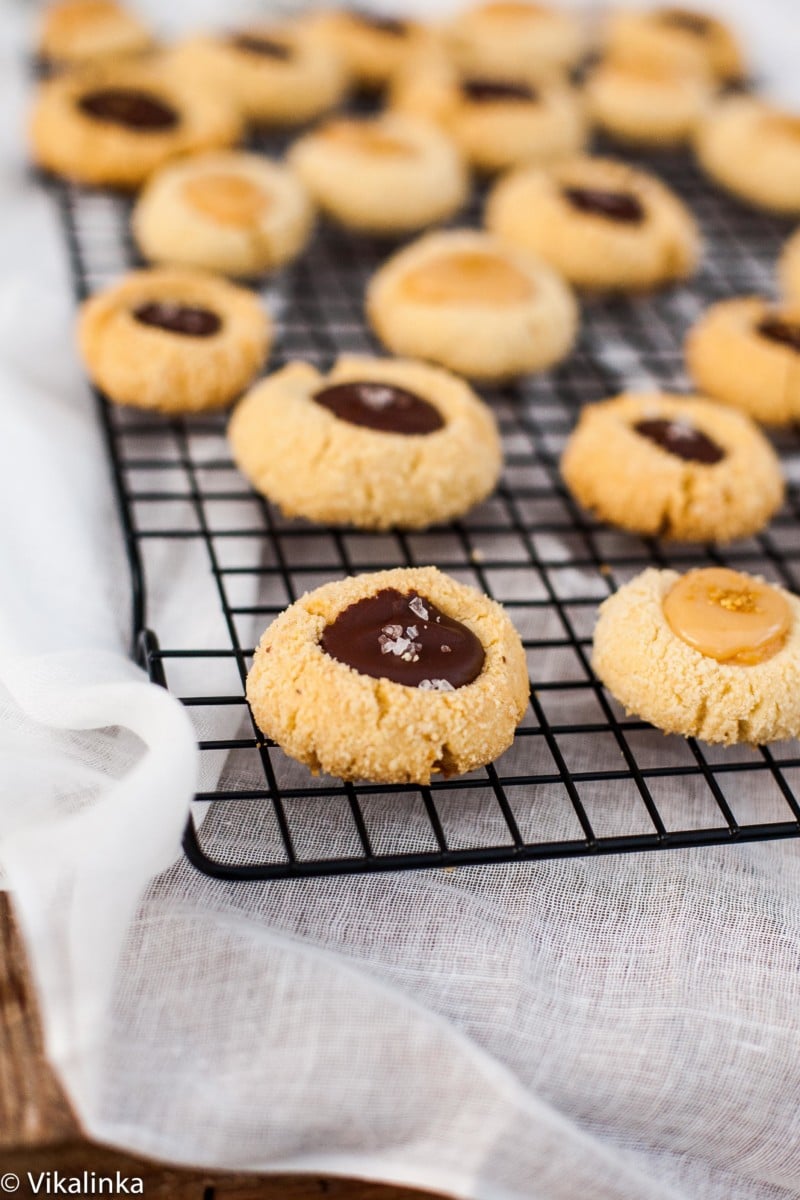 Ingredients
Flour- 2 cups

Ground Almonds-1 1/2 cups plus 1/2 cup for rolling

Butter

unsalted- 250 gr/8 oz

Sugar- 1/2 cup

Vanilla extract- 2 tsp.

Dark Chocolate

chopped

Golden Syrup

or corn syrup- 2 tsp.

Butter- 2 tbsp.

Sea salt- a pinch

Dulce de leche

prepared- 1/4 cup
Instructions
Preheat oven to 350F/180C.

In a large bowl bowl cream butter and sugar until light and fluffy, add vanilla and mix well.

With a motor of a stand mixer still running add slowly add flour and ground almonds, continue mixing until a smooth dough forms.

Form cookies by rolling little pieces of dough in your hands and then roll them in ground almonds.

Place on a parchment lined cookie sheet and make an indentation in the center of each ball with your thumb or a teaspoon.

Bake for 10 minutes, then take the cookies out of the oven and check if the thumbprints on your cookies have become too shallow. If that is the case, gently push on them with a teaspoon.

Bake for additional 5-7 minutes until the edges of the cookies are slightly coloured.

Meanwhile melt your chopped chocolate with butter and golden syrup in a double boiler or in a bowl set over a pot of simmering water.

Take the cookies out of the oven and fill half of them with chocolate and another half with dulce de leche or your favourite jam.

Sprinkle with sea salt and let cool on a wire rack.