These cute coconut meringue kisses filled with mascarpone cream are perfect little treats for the festive season.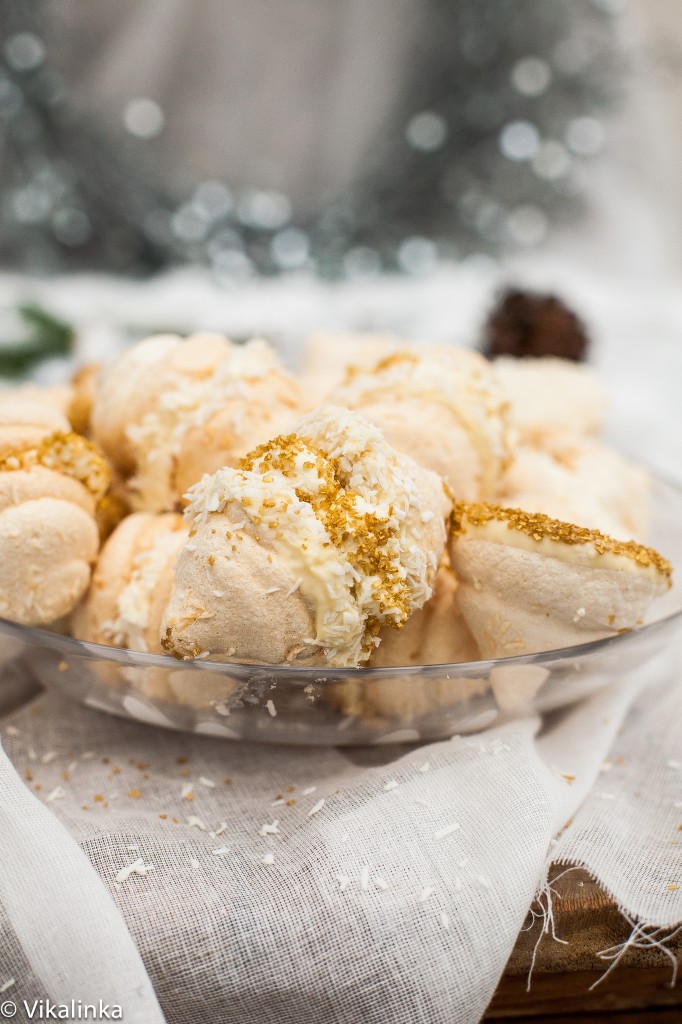 As I promised in my previous post I am bringing you another meringue recipe, and if you are a meringue lover you are going to adore this one.
It's arguably the best way to eat meringue. It used to be my favourite cookies growing up in Russia where it's called "beze" (pronounced "bezay"), which apparently comes from the French 'baiser" translating as 'to kiss'.
Its very light, almost etherial substance is a brilliant culinary expression. Each 'beze' cookie is two meringue kisses held together by vanilla cream.
It's delicately crispy on the outside with a featherlight interior that immediately melts on your tongue. I stayed true to the recipe, or my memory of it, with the exception of dusting my meringue kisses with coconut flakes and gold sugar for a festive touch and adding mascarpone to my vanilla cream for more stability and flavour.
I also dipped some of them in white chocolate but it is entirely optional.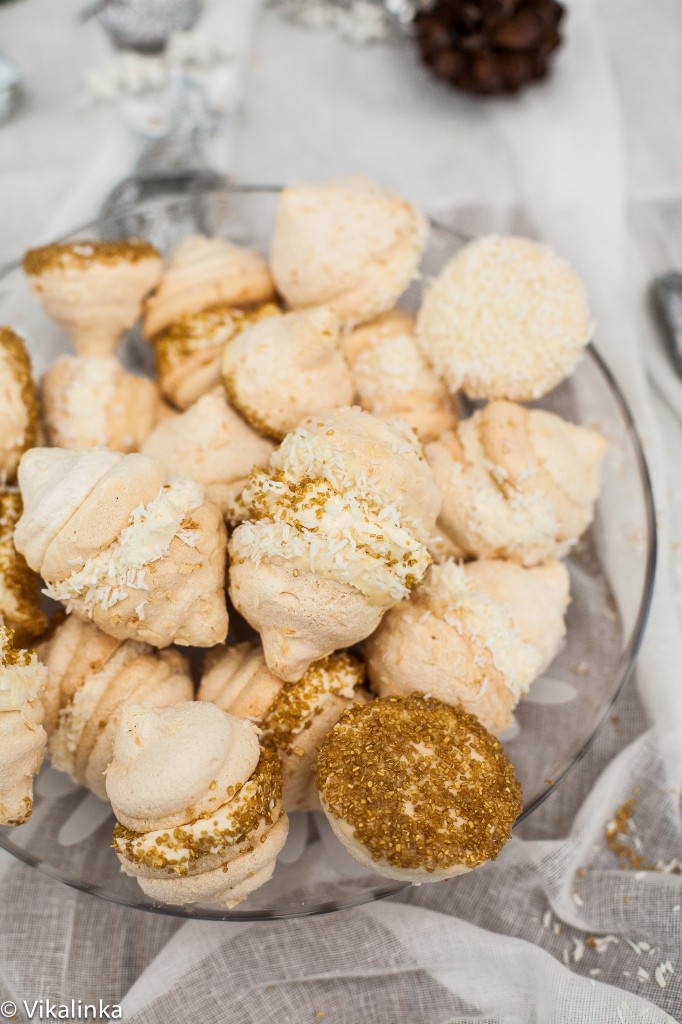 I was delighted that the taste was just as gorgeous as I remember them from my childhood. Of course, my own children loved them! Wouldn't you?
They are so perfect for a lighter after dinner dessert, especially true for this holiday season. Serve them with tea or coffee as your petit fours and everyone's sweet tooth will be satisfied without feeling stuffed.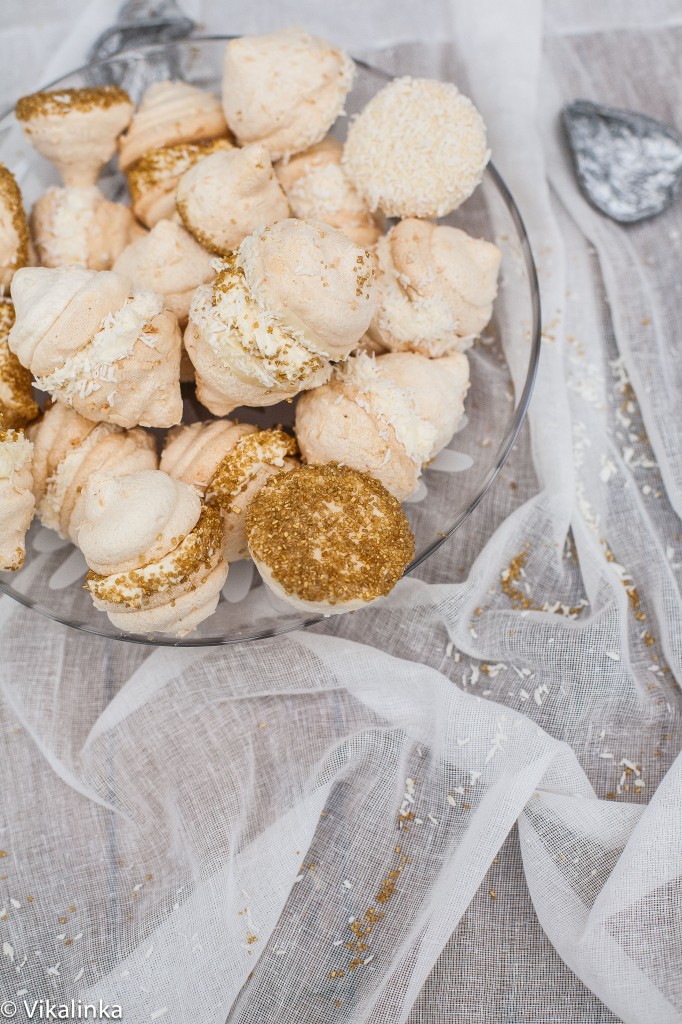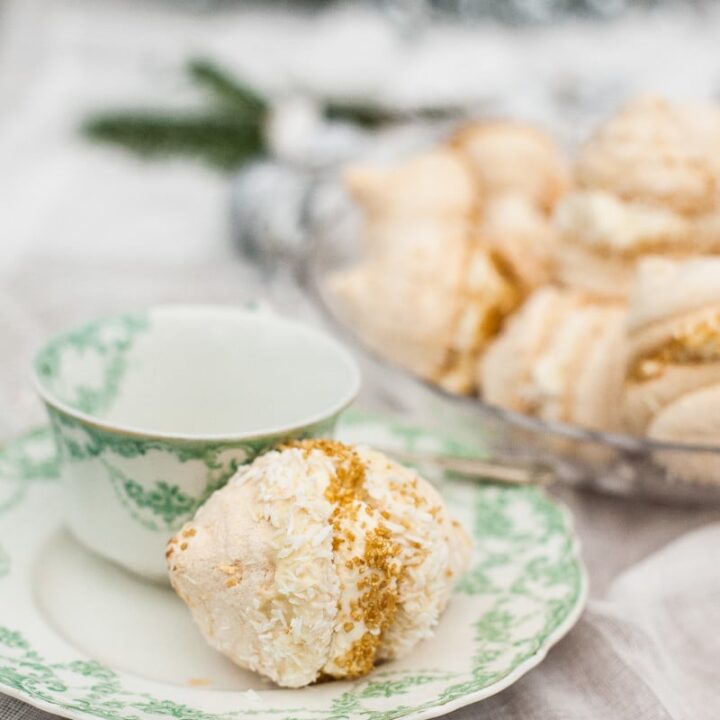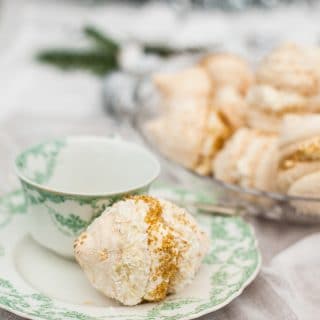 Coconut Meringue Kisses with Mascarpone Cream
Makes around 35 kisses
Ingredients
For Meringue Kisses
Egg whites- 5 medium/150 gr

Fine/Caster Sugar- 1½ cups/300gr

Coconut- 1 tbsp.
For Mascarpone Cream
Mascarpone- 1 cup/250gr

Whipping Cream- ½ cup/125 ml

Icing Sugar- 4 tbsp.

Vanilla- 1 tsp.

Coconut and Gold Sugar for decorating- 2-3 tbsp. of each

White Chocolate

chopped and melted (optional)- 50 gr
Instructions
For Meringue Kisses
Line a baking sheet with parchment paper.

Preheat oven to 400F/200C. Spread sugar on your baking sheet and heat it in the oven for 5 minutes until the edges start to melt.

While your sugar is in the oven put your egg whites in the bowl of a stand mixer (it should be grease-free) and start whisking first on slow and then on high speed until stiff peaks form.

Your sugar should be ready by now. Take it out of the oven and turn the temperature to 200F/100C.

With the motor of the stand mixer running start adding hot sugar to the egg whites 1 tbsp. at a time, avoid large caramelised clumps of sugar. Hot sugar dissolves much quicker in egg whites. Your goal is to have a smooth, free of grit mixture. Rub a small amount between your fingers to make sure sugar is completely dissolved.

Load the meringue mixture into a piping bag and pipe a bite-sized kisses using a plain tip or a star tip. It's your choice. Squeeze, pull and release. Don't worry if they are not perfect and uniform. Mine weren't!

Dust a tablespoon of coconut over meringue kisses.

Bake for 40-60 minutes depending on the humidity outside. As soon as you can peel them easily off parchment paper they are done.

Cool completely.

Melt white chocolate and dip the bases of meringue kisses into it, then dip in coconut flakes or gold sugar. (This step is optional)
For Mascarpone Cream
In a large bowl combine mascarpone, whipping cream, icing sugar and vanilla.

Whip until smooth and stiff for about 3-5 minutes.

Spread a tablespoon of mascarpone cream on the bottom of a meringue kiss and attach another kiss to it. Sprinkle some of them with coconut and some with gold sugar.