Is it even possible to improve on delicious and moist banana bread recipe? Yes, it is if you swirl nutella into the top and create an amazing chocolate crust!! Nutella banana bread will have your whole family in awe!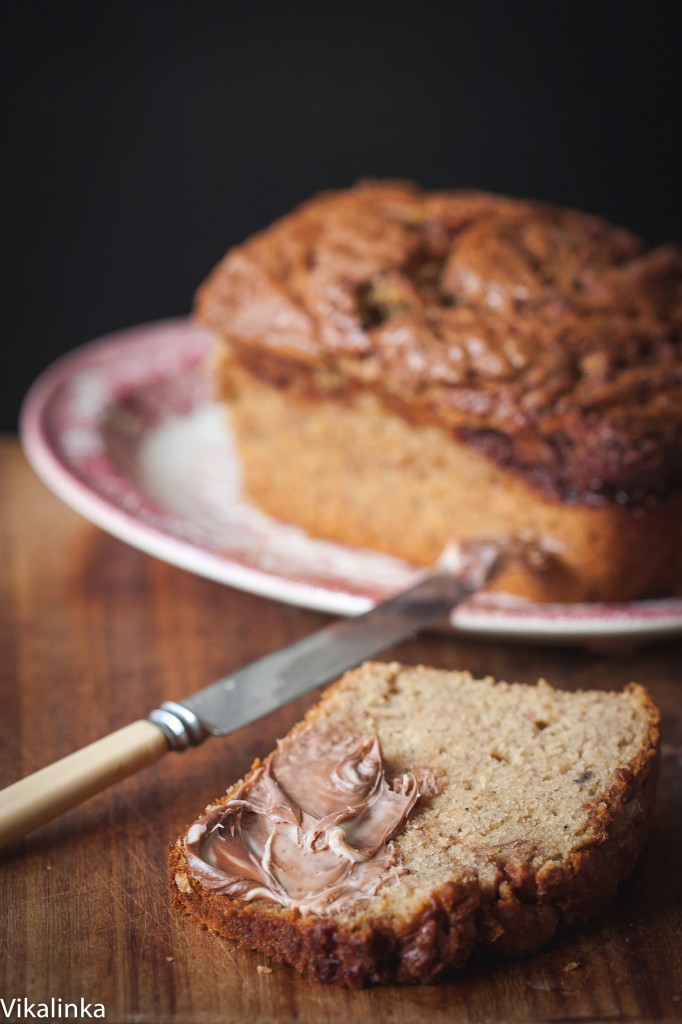 The kids are back to school and are happily settling into their usual routine; getting to know new teachers, making sleepover plans and, in Mitchell's case, getting ready for an exam that will become the first step of transitioning from childhood to adolescence.
I am wincing even as I am writing this and picturing my firstborn with a fresh haircut, dressed in a school blazer entering secondary school. But not quite yet…still one more year of primary school. I can still breathe without a brown bag.
This summer took me by surprise and not only because of all the talk and preparation for secondary school and the exams that come with it, but also because it was the first summer in a while when I worked full time instead of spending it with my kids.
Now that it's over I am struck with realisation that we, as a family stepped into a new stage. The children are growing and Brad and I are getting busier and busier. How life's changed- from me being practically inseparable from my little ones to me desperately trying to catch little moments of "togetherness"!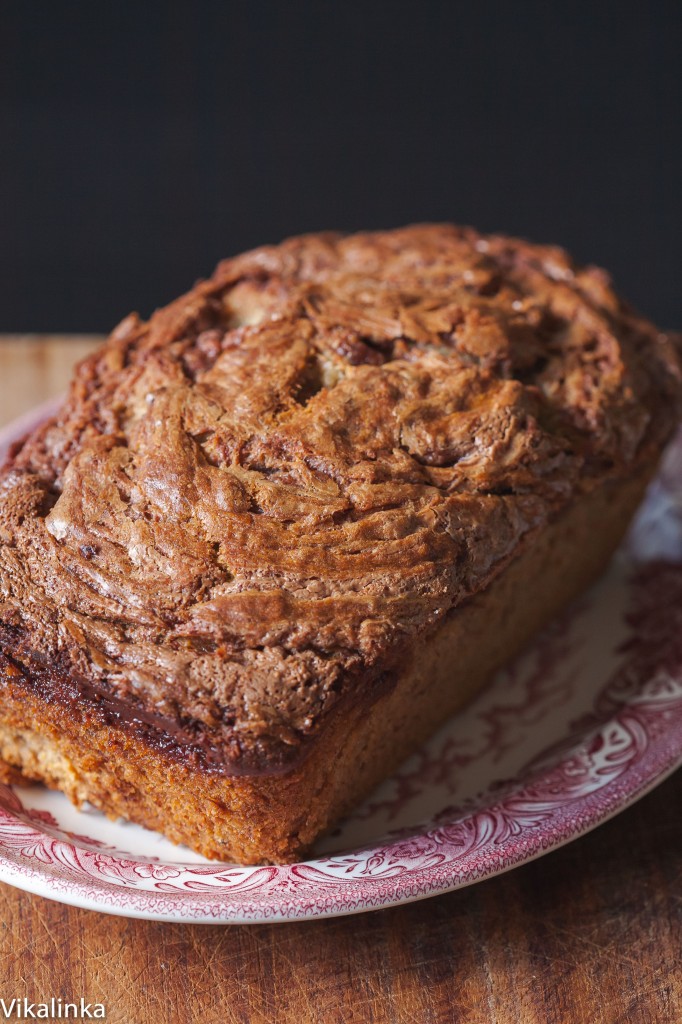 I took two days off work right before the kids went back to school so we could hang out and do something fun.
You can see that apples don't fall too far from the tree when I tell you that I  out of all options that were given to them of how we could spend those days they chose baking with mummy!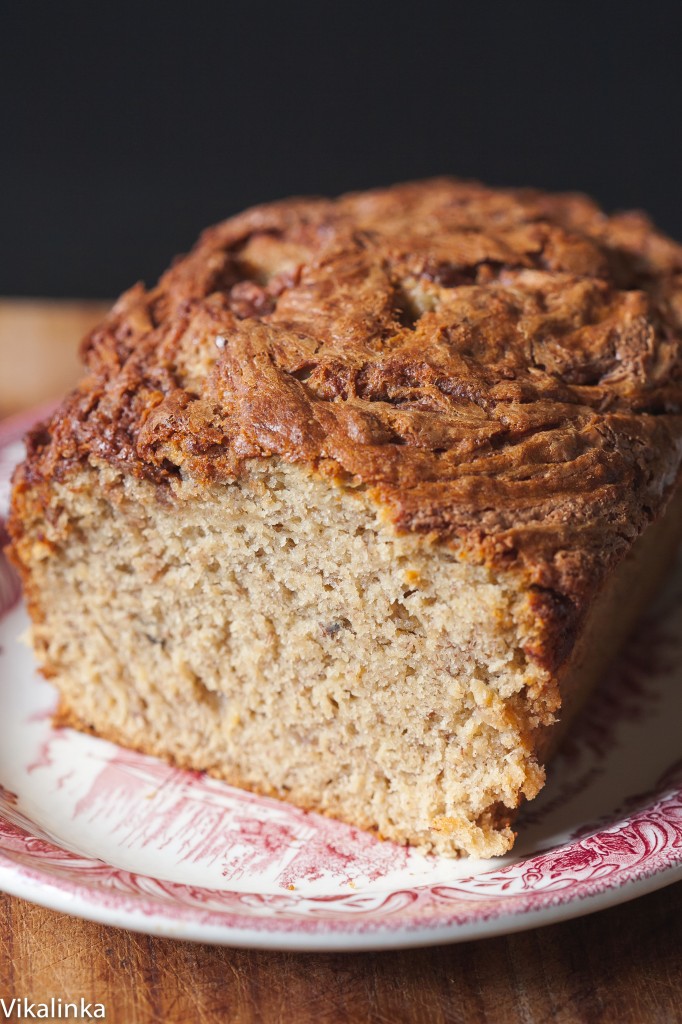 We decided to bake a nutella banana bread because a) it's DELICIOUS and b) we had a banana surplus in the freezer.
I can honestly say this banana bread recipe is the BEST banana bread recipe. No need to look any further. It's right here.
The incredibly tender and flavour-concentrated loaf comes from 5 bananas and only 1/2 cup of butter.
It's low-fat, people! The best part, however, is the crust. Do you want to know the secret? Nutella, baby! Would you just look at swirls and craters it created!!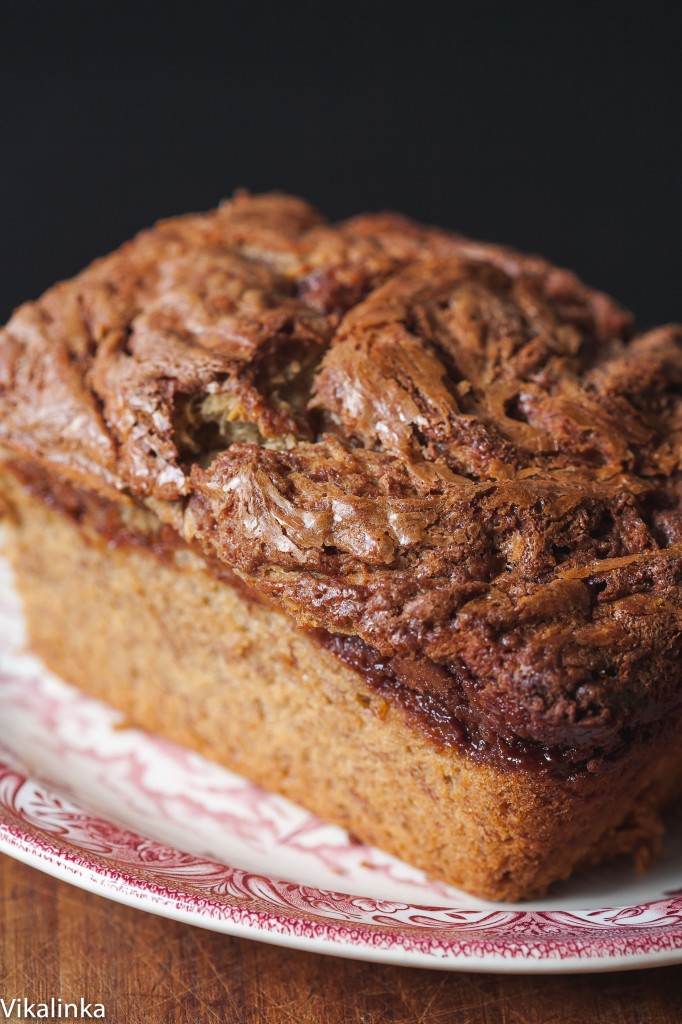 If you are the type who doesn't bake, have no fear. This beauty was baked entirely by a 10 and an 8 year old. All I did was take pictures. The recipe is full proof, I promise, and is a very easy nutella banana bread recipe!
Total Time:
1
hour
15
minutes
Ingredients
1

cup- white sugar

1/4

cup- brown sugar

1/2

cup- butter

softened

2-

eggs

large

5-

bananas

mashed

1/2

cup-buttermilk

1

tsp-vanilla

2 1/2

cups- all purpose flour

1/2

tsp- baking soda

1

tsp- baking powder

1

tsp-salt

1/4

cup- Nutella

warmed
Instructions
Preheat your oven to 350F/180C and move your oven rack to a lower position. Grease the bottom only of a large or two medium loaf pans.

Cream softened butter and both sugars in a large bowl. Stir in eggs one at a time until well blended. Stir in mashed bananas (if bananas were previously frozen drain all liquid, this will produce more concentrated flavour in your loaf), buttermilk and vanilla, beat until smooth.

Stir in sifted flour, baking soda, baking powder and salt until just combined. Do not over beat.

Put Nutella in a microwave and heat for 30 sec. to loosen it.

Pour the batter in the prepared pan(s) and drizzle Nutella on top, swirl lightly with a knife.

Bake for 90 minutes if baking one large loaf or 50-60 minutes if baking two loaves or until toothpick comes out clean.

* Adapted from Betty Crocker's Cookbook