This chocolate strawberry mousse cake might look like it came from a patisserie shop but is easy to make at home and tastes divine!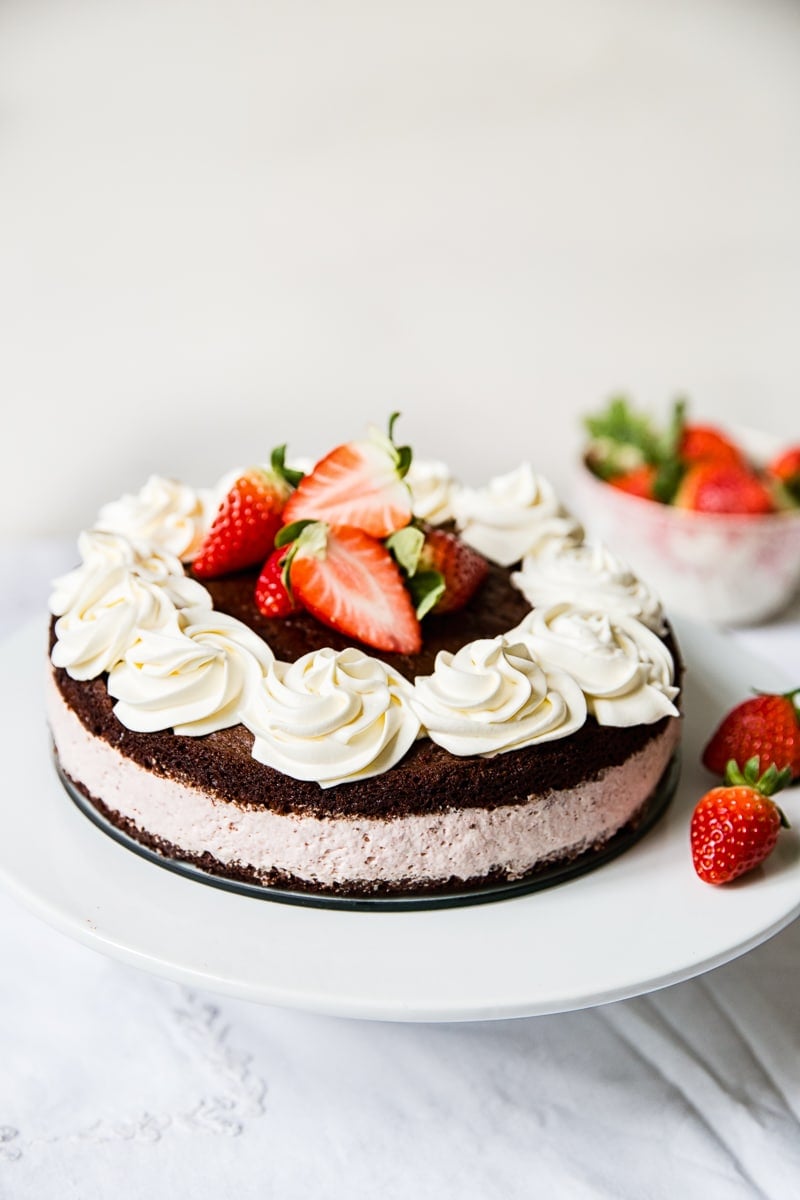 We've been back from Canada for 4 days now but the jet lag won't relent. Coffee is my best friend at the moment. That and anxiety that I am permanently behind on my work.
Those two are keeping me going. I really wish I could say this Chocolate Strawberry Mousse Cake is also a part of the equation also it was baked and eaten weeks ago! What a shame!
I could really use a slice of this chocolatey and berry-creamy goodness to brighten my day!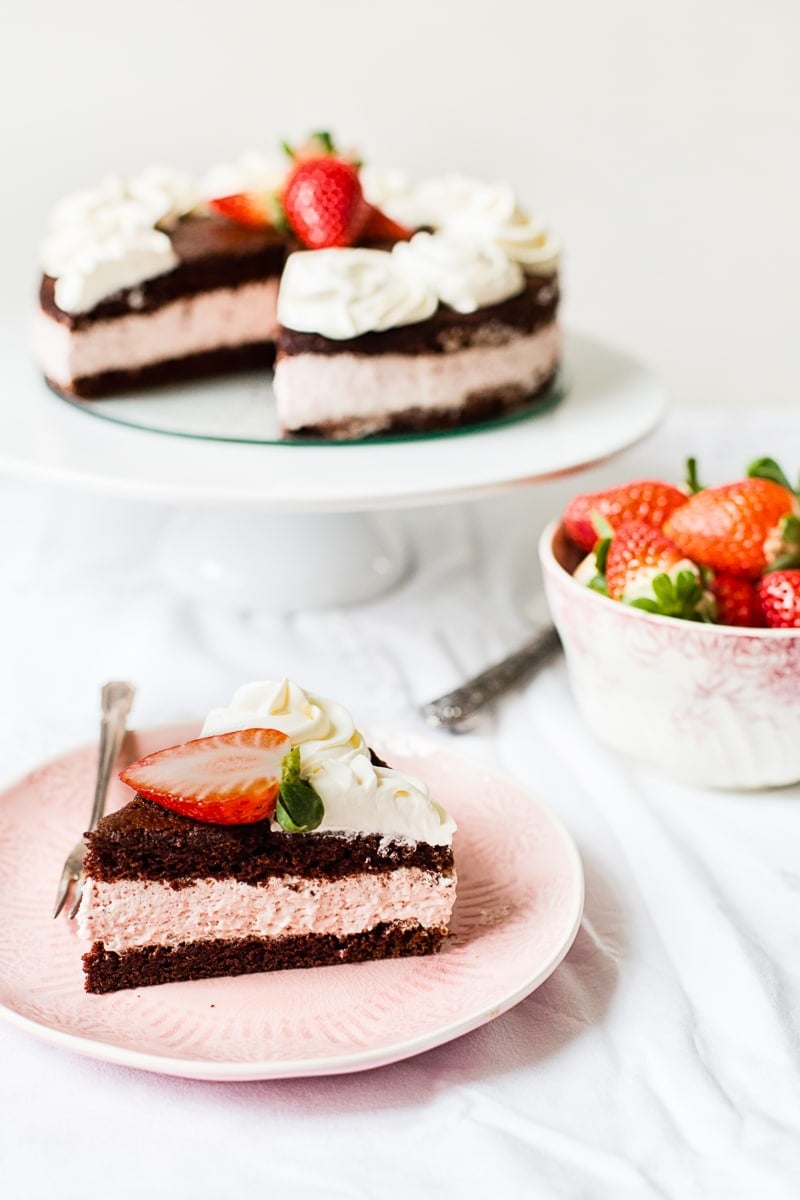 This masterpiece of a cake has been in my baking arsenal for at least a decade, and it's safe to assume I will never get tired of making it.
My family will never get tired of eating it. This chocolate strawberry mousse cake has gone through multiple changes throughout the recipe tasting process over the years and I am confident that this version is final.
You can't improve on what's truly perfect!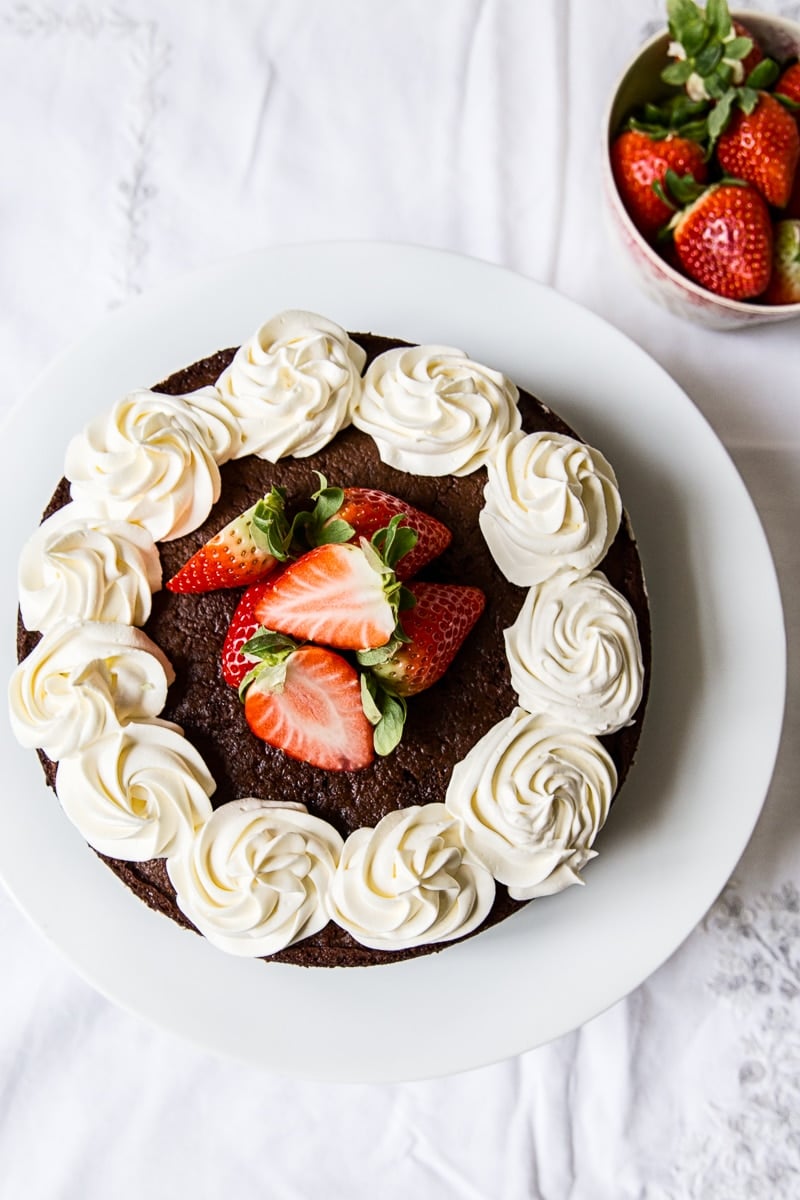 I am especially excited to share this cake now as we are in the last days of February and the spring is ever so close. I can almost smell it even though I did have to turn up the heat in the house today.
But…if you bake this cake over the weekend you will too feel lighter, more hopeful, in other words…'springy'!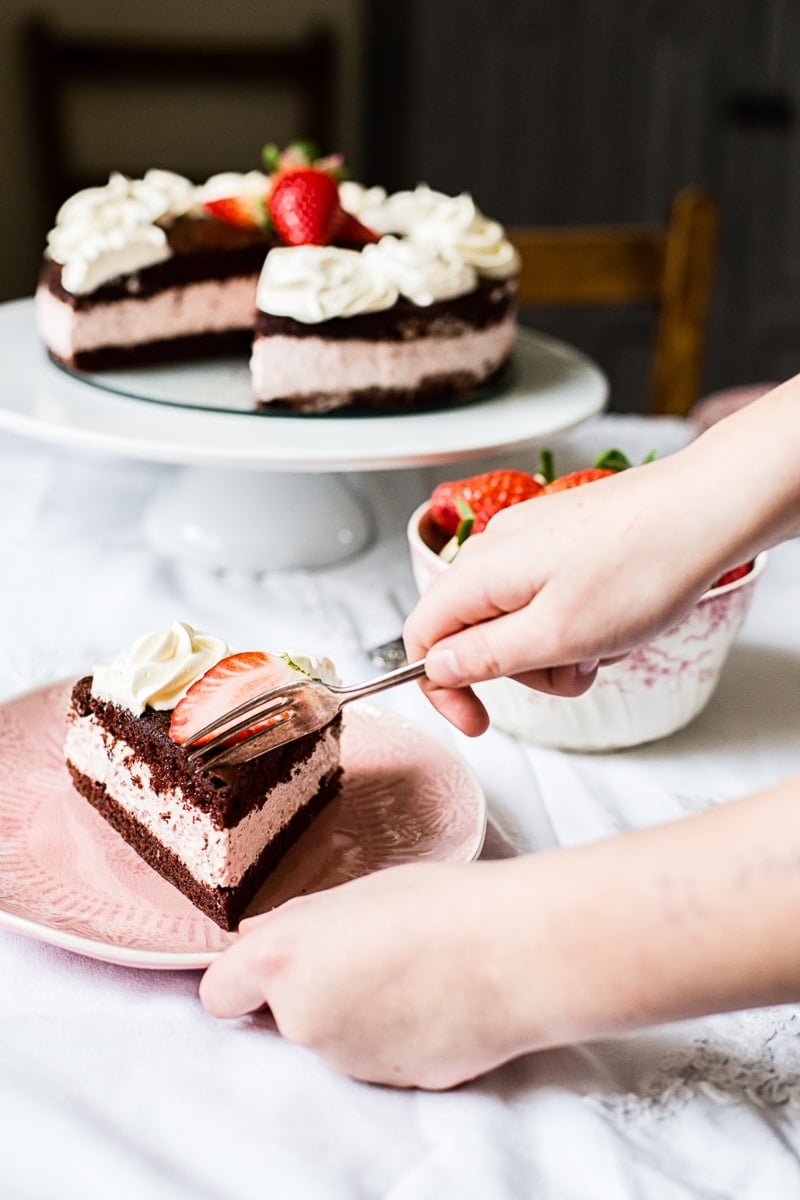 What is Chocolate Strawberry Mousse Cake?
This amazing cake is as light as a cloud. Thin chocolate layers are rich yet delicate. The strawberry mousse, that is sandwiched between the delicious chocolate layers, is infused with the flavour of real strawberries and made airy with egg whites and whipped cream.
This chocolate strawberry mousse cake is truly dreamy! I am thinking Mother's Day dreamy!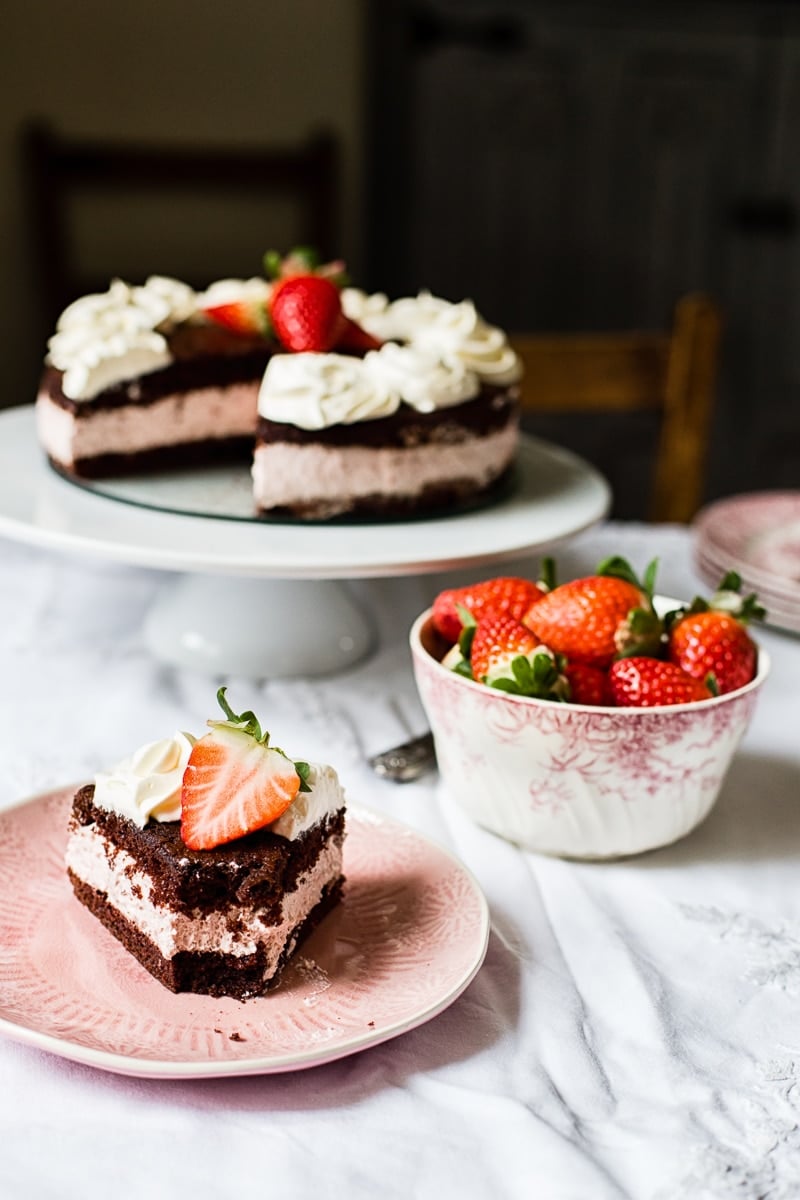 How to make Chocolate Strawberry Mousse Cake
I am sure at this point you are thinking all of it is great, I am totally into this cake but it looks difficult to make. Here is where my clear and detailed instructions come in.
Don't fret even for a second! The chocolate cake recipe itself is so easy. All you need to do is to just mix everything in a bowl and bake!
The mousse recipe is not difficult as long as you follow the steps religiously! So I would say that the most challenging part is cutting the cake in two thin layers but even there all you need is a long sharp knife and a steady hand!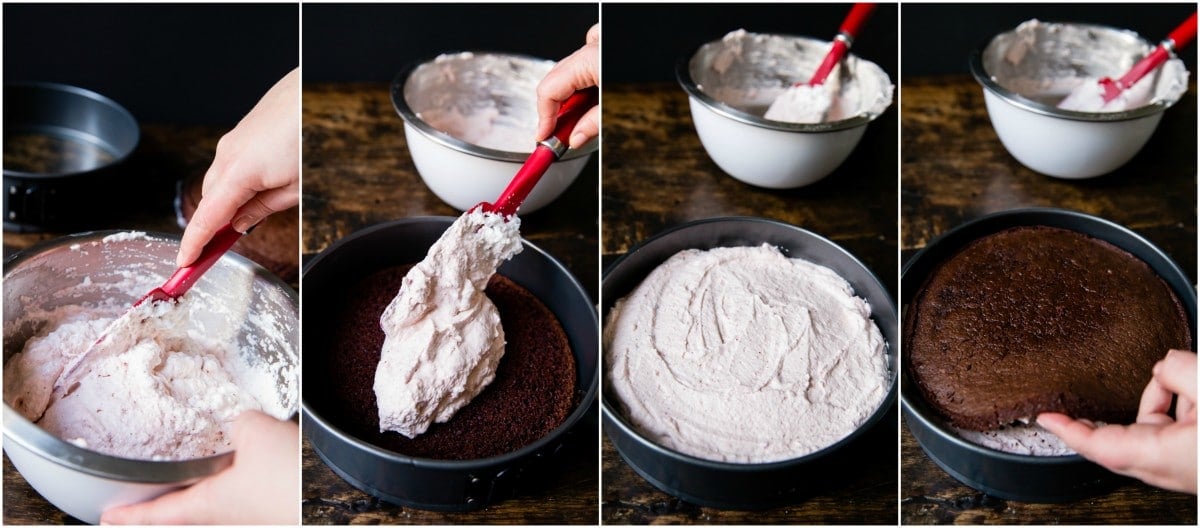 So what you end up with is a cake that is incredibly light and not overly sweet due to the absence of frosting yet the silky strawberry mousse layer makes it feel truly indulgent.
Double win!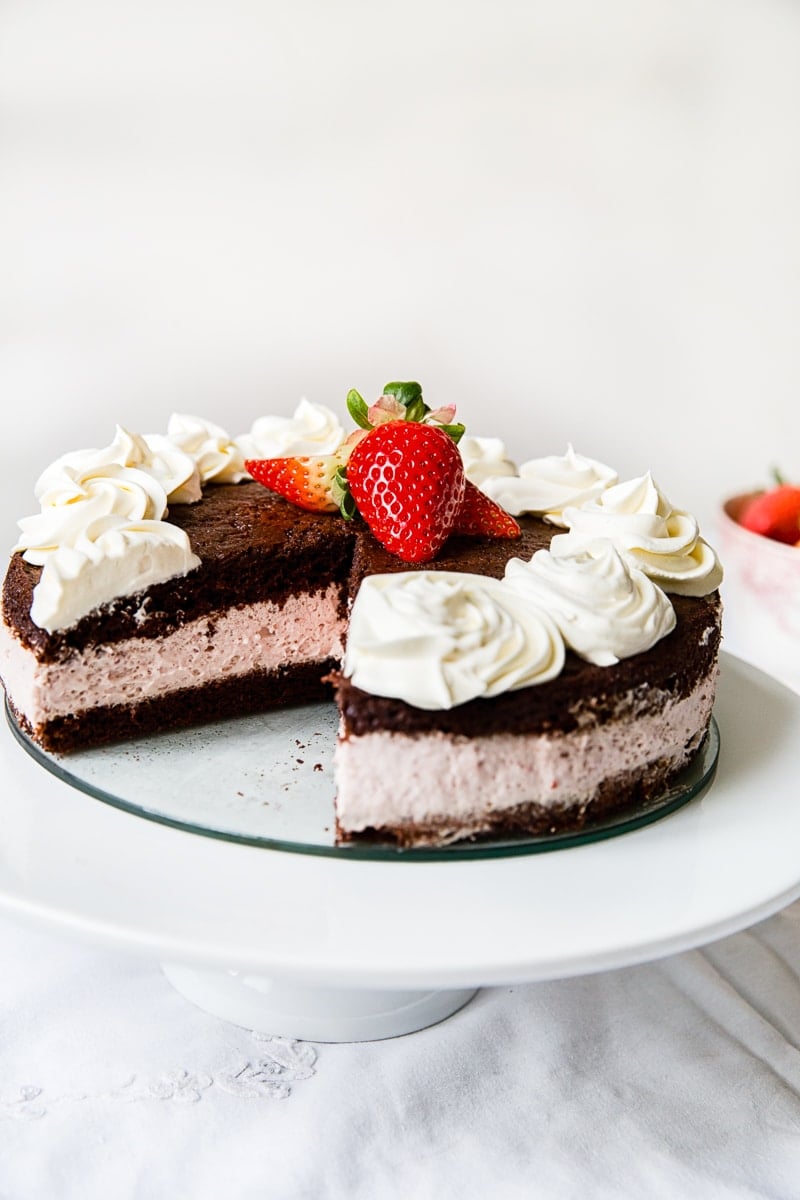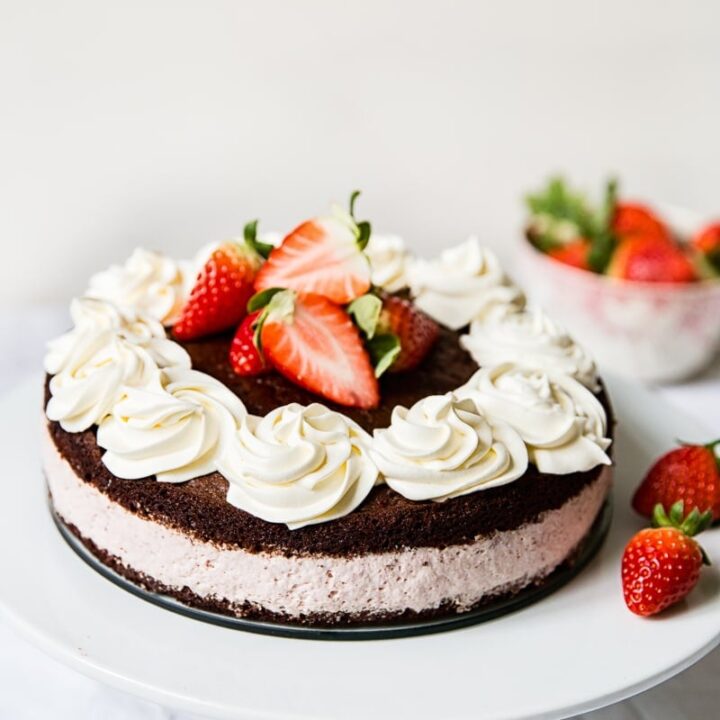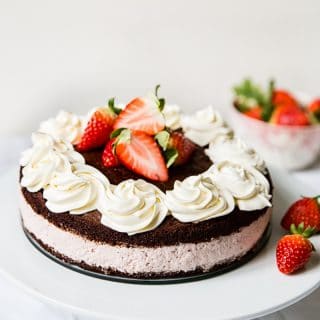 Ingredients
For the chocolate cake
90

g/3/4 cup flour

170

g/3/4 cup sugar

35

g/1/3 cup cocoa powder

¾

tsp

baking soda

¾

tsp

baking powder

½

tsp

salt

1

egg

125

ml/1/2 cup milk

60

ml/1/4 cup vegetable oil

1

tsp

vanilla
For the strawberry mousse
2

large eggs

separated

4

tbsp

superfine/caster sugar

190

ml/3/4 cup blended fresh or frozen and thawed strawberries

3

tsp

gelatine

3

tbsp

water

250

ml/1 cup double cream/whipping cream
For the decoration
125

ml/1/2 cup double cream/whipping cream

2

tbsp

icing sugar

½

tsp

vanilla

3-4

strawberries

halved
Instructions
For the chocolate cake
Preheat your oven to 350 F/180 C, butter and line a 9 inch cake pan with parchment paper.

Mix together flour, sugar, cocoa, baking powder, baking soda and salt in a large bowl until combined. In a separate bowl mix eggs, milk, oil and vanilla essence. Add the wet ingredients to the dry ones and beat with an electric mixer until well incorporated.

Pour into the prepared pan and bake in the preheated oven for 25-30 minutes or until a toothpick comes out clean.

Cool in the pan for 10 minutes, then remove the cake from the pan and cool completely on a wire rack.
For the strawberry mousse
Separate the egg yolks from the egg whites. Process the strawberries in a blender or a food processor until smooth. If using frozen strawberries, thaw them first and drain the liquid before processing.

Beat the egg yolks and sugar until light, then whisk in the processed strawberries.

Sprinkle the gelatin over the water in a small bowl and allow to go spongy, then put in the microwave for 30-40 seconds until the gelatin has dissolved. Stir in the strawberry, egg yolk and sugar mixture.

Whip the cream until holding its shape and fold into the mousse. Whisk the egg whites until standing in soft peaks, then fold in. Let stand in a cool place until starting to set; between 10-15 minutes.

Cut the cake into 2 layers with a long, sharp knife.

Place one layer back in the springform pan and pour in the mousse (it shouldn't be runny!) and let it set for 1 hour in the refrigerator. Place the top layer directly on the mousse layer and continue chilling for 2 more hours or until ready to serve. Whip the cream with icing sugar and vanilla.

Decorate the top of the cake with fresh strawberries and pipe cream rosettes around the edges.
Note: As the eggs in the mousse are not cooked, however tempered by the hot gelatine mixture, I have used free-range and organic eggs to be on the safe side.