This classic apple and blackberry crumble recipe is taken to the next level by infusing the crumble topping with the toasted brown butter aka beurre noisette.
Can't get enough of fruit crumbles? Take a look at our Rhubarb Crumble.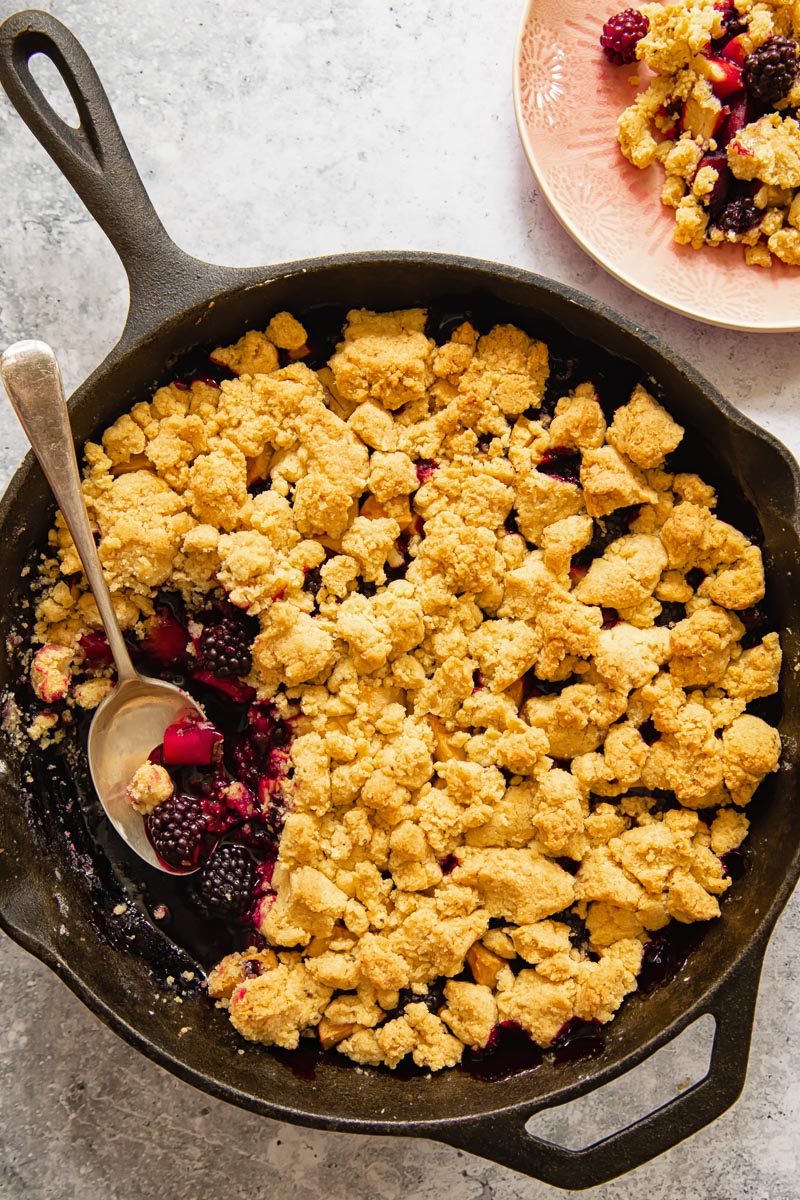 If I have to choose between a pie and a crumble, I will always go with a crumble! So much easier to make and even more enjoyable to eat!
I used to wonder why the mix of blackberries and apples is the traditional English combo until I moved to London more than a decade ago. Those two are as English as an apple pie.
Wild blackberries grow literally everywhere her, and they ripen at the same time as apples. Combining the two seems perfectly logical once you understand the context.
The classic recipe, which consists of just butter, flour and sugar for the crumble topping is hard to beat. However, I have found a way to give it a tasty update, which enhances the dish while staying true to the tradition.
What is my secret? Brown butter.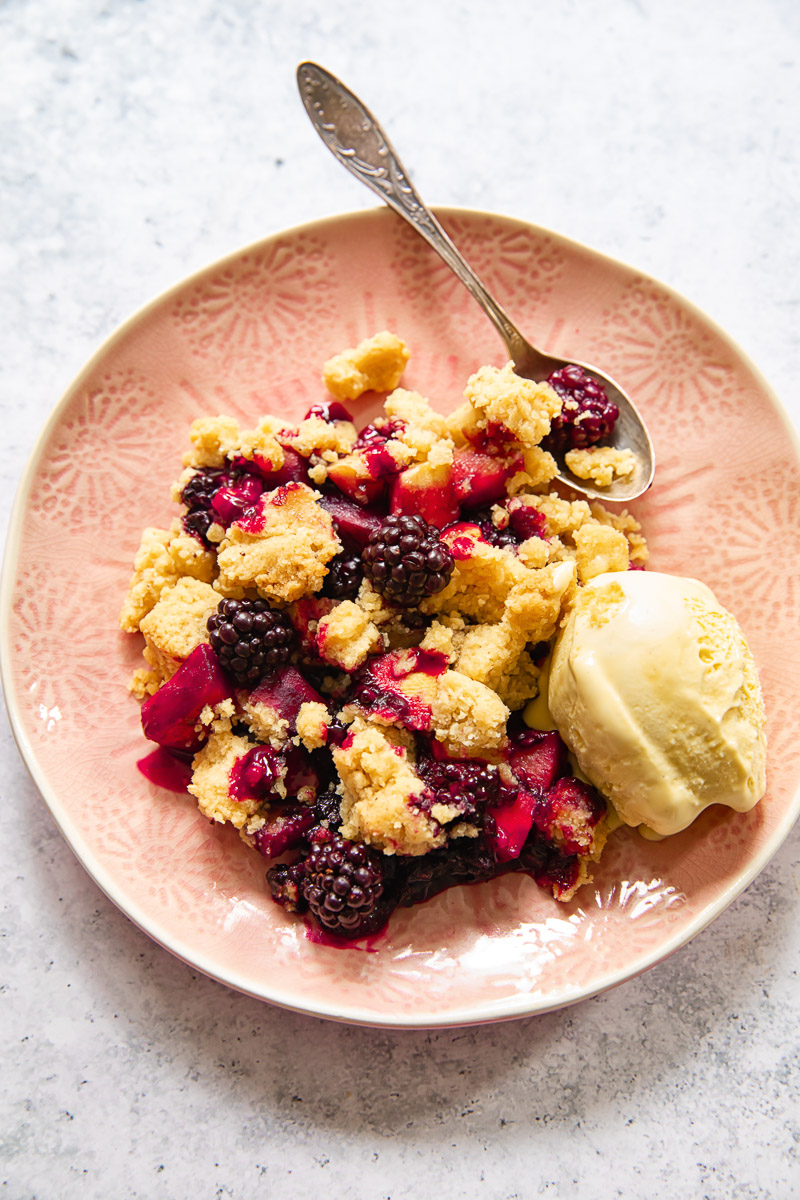 Brown Butter Crumble
Beurre noisette aka brown butter, is a French technique of heating butter in a saucepan until the milk solids turn toasty brown. This gives the melted butter a wonderful nutty aroma, which can elevate any dish!
The process itself is not very different from clarifying butter but instead of stopping once the milk solids are nearly evaporated, brown butter gets heated further until it gets caramelised.
And while it may sound complicated, it is extremely easy. The most important part is staying near and monitoring the process closely. The butter needs to be removed from the heat as soon as it turns brown, otherwise it will burn. And that's not what we want.
The uses of brown butter are endless. Whenever you use regular butter, brown butter can be replaced. You will be delighted by a more nuanced, deeper and richer flavour of any dish.
You can try using it in when making Bearnaise or Hollandaise Sauce, drizzling it over mashed potatoes or even pancakes! The possibilities are endless.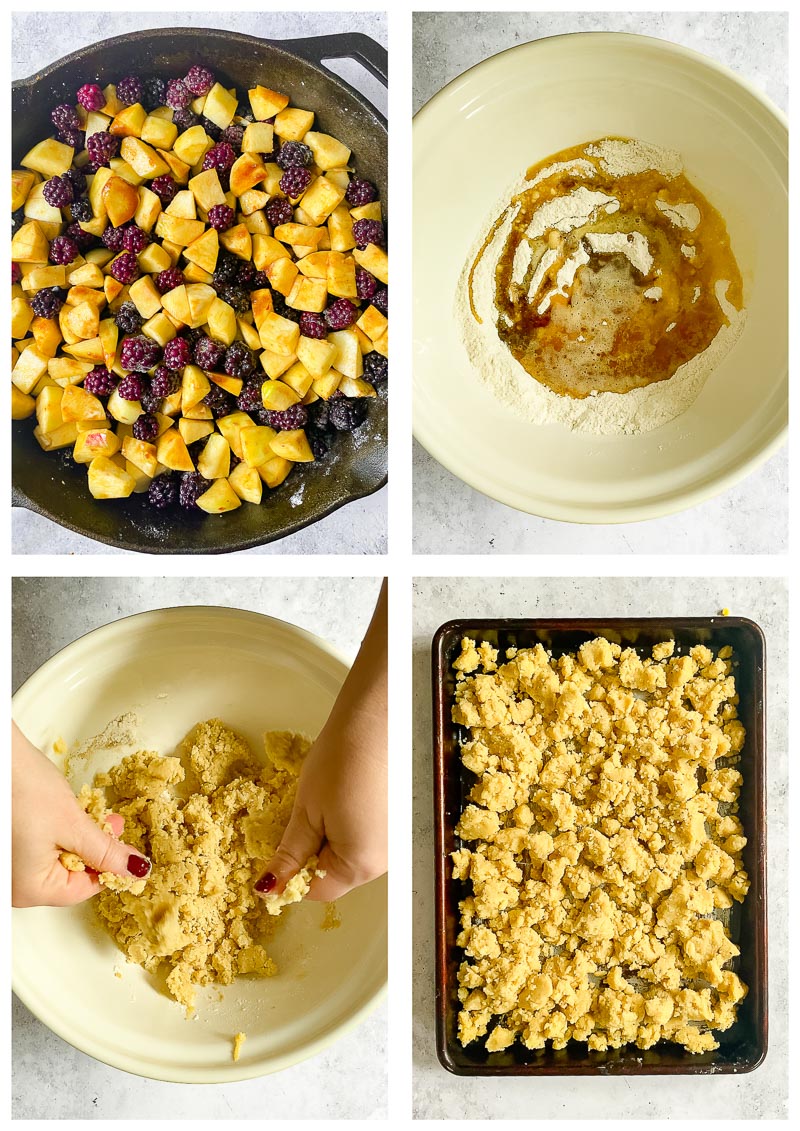 Recipe Tips and Notes
It is well known that in order to achieve a good crumble topping, we need to mix cold butter with flour, which is an issue since we melted our butter while browning it. What I recommend is mixing the crumble ingredients and forming large crumbs with your fingers. Then freezing them for 20 minutes before baking. This is an important step in this recipe. Do not skip it.
Now let's talk about the apple blackberry filling. As you know, blackberries will cook faster than apples. That is why I recommend cutting the apples into a small dice to make them cook faster.
You will also need to add a tablespoon of cornflour(corn starch) to the mix in order to control the juices in the filling.
Use ANY apples you happen to have. I used Royal Gala apples and frozen blackberries I picked last summer.
Definitely serve this crumble with ice cream or custard. They are made for each other.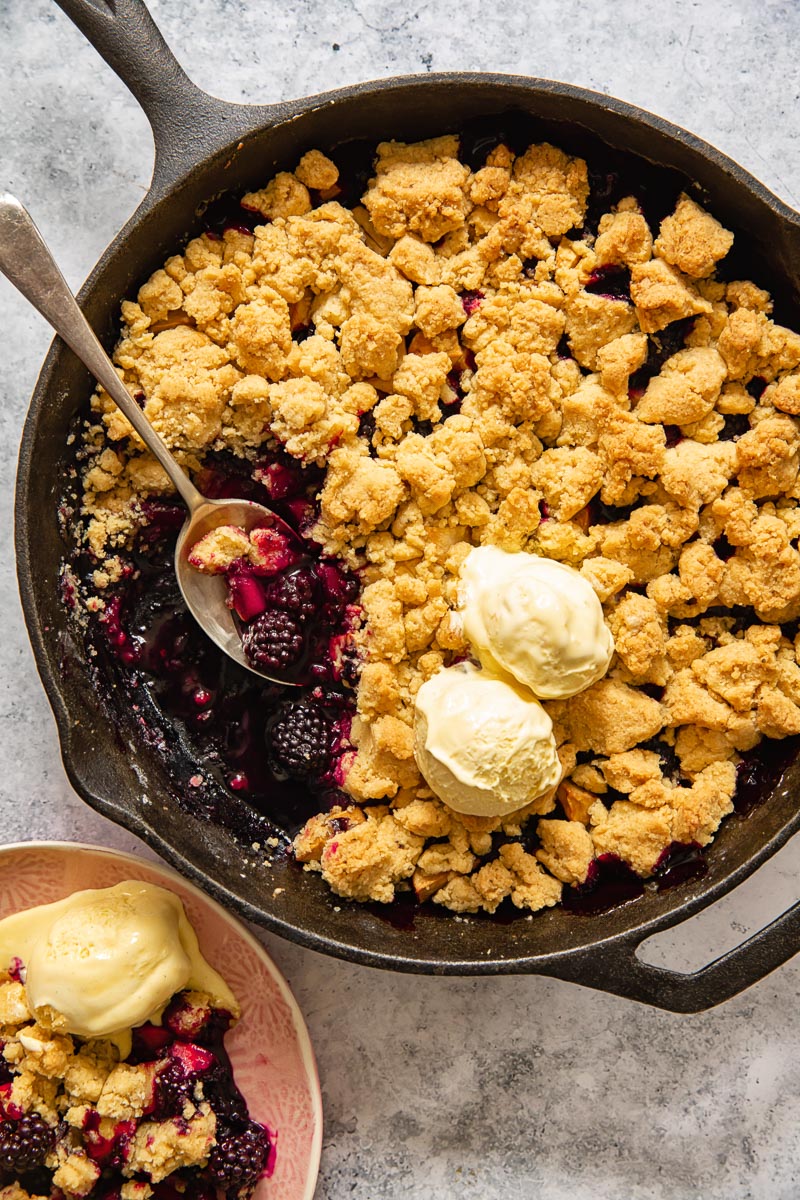 More Apple and Blackberry Desserts to Try: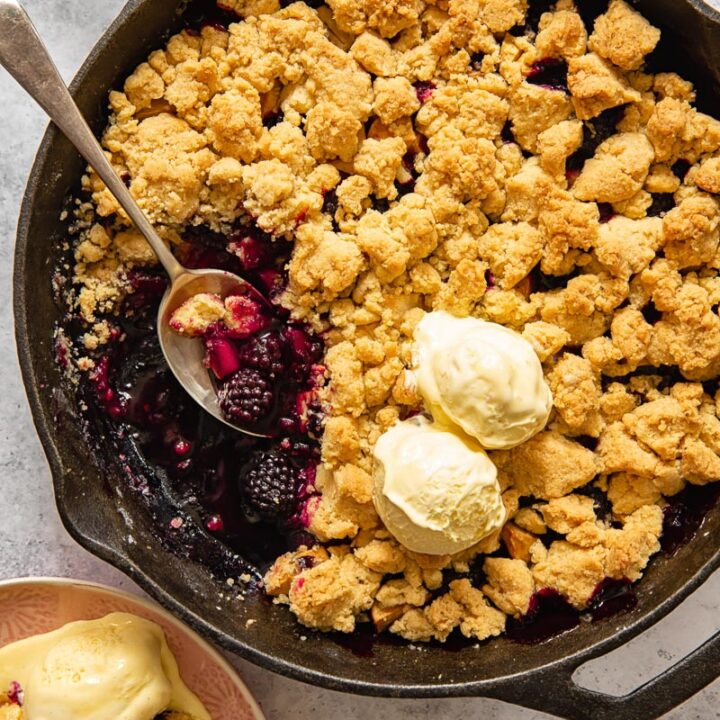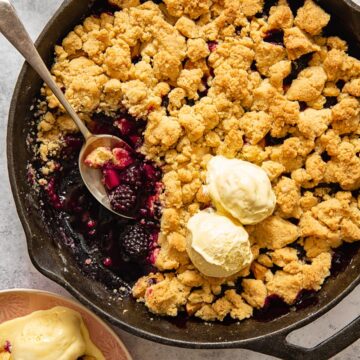 Apple and Blackberry Brown Butter Crumble
This classic apple and blackberry crumble recipe is taken to the next level by infusing the crumble topping with the toasted brown butter.
Print
Pin
Rate
Ingredients
200g/ 1 cup

butter

200g/1 cup

white granulated sugar

280g/2 cups

plain flour

60g/1/2 cup

ground almonds

or hazelnuts

1

tsp

salt

5

medium apples, peeled, cored and diced

I used Royal Gala

100g/1/2 cup

brown sugar

400g/2 ½ cups

blackberries, frozen

or fresh

1

tbsp

cornstarch/cornflour

2

tsp

vanilla
Instructions
Start by browning the butter. Add the butter to a small saucepan and start heating it over medium heat. The butter will go through several stages before it will turn into "brown butter", be patient and don't walk away from it. First your block of butter will melt, then it will turn frothy. Start stirring it once you see the foam, which will eventually go down and reveal brown, nutty smelling melted butter. Once you see that, take it off the heat and cool.

Preheat the oven to 200C/400F. In a mixing bowl combine the brown sugar, plain flour, ground almonds (or hazelnuts) with the salt, pour the cooled brown butter over it and with your hands start forming little clumps of batter. Make sure all dry ingredients have been moistened with the melted brown butter. Spread he crumble chunks over a baking sheet and put them the freezer for 20 minutes.

Meanwhile peel, core and dice the apples, then toss the apples with the frozen blackberries, brown sugar, cornstarch and vanilla. Transfer the mix to a buttered 9X13 inch baking dish or a large cast iron pan. Take the crumble out of the freezer and scatter all over the fruit. Bake in the preheated oven for 40 minutes.
Nutrition
Calories:
402
kcal
|
Carbohydrates:
87
g
|
Protein:
6
g
|
Fat:
5
g
|
Saturated Fat:
0.4
g
|
Polyunsaturated Fat:
0.3
g
|
Monounsaturated Fat:
0.1
g
|
Trans Fat:
0.004
g
|
Cholesterol:
0.3
mg
|
Sodium:
298
mg
|
Potassium:
257
mg
|
Fiber:
7
g
|
Sugar:
52
g
|
Vitamin A:
172
IU
|
Vitamin C:
16
mg
|
Calcium:
53
mg
|
Iron:
2
mg