This simple apple cake Sharlotka will amaze you and your guests! Feather light sponge topped with golden apples, this cake only has FOUR ingredients but tastes divine!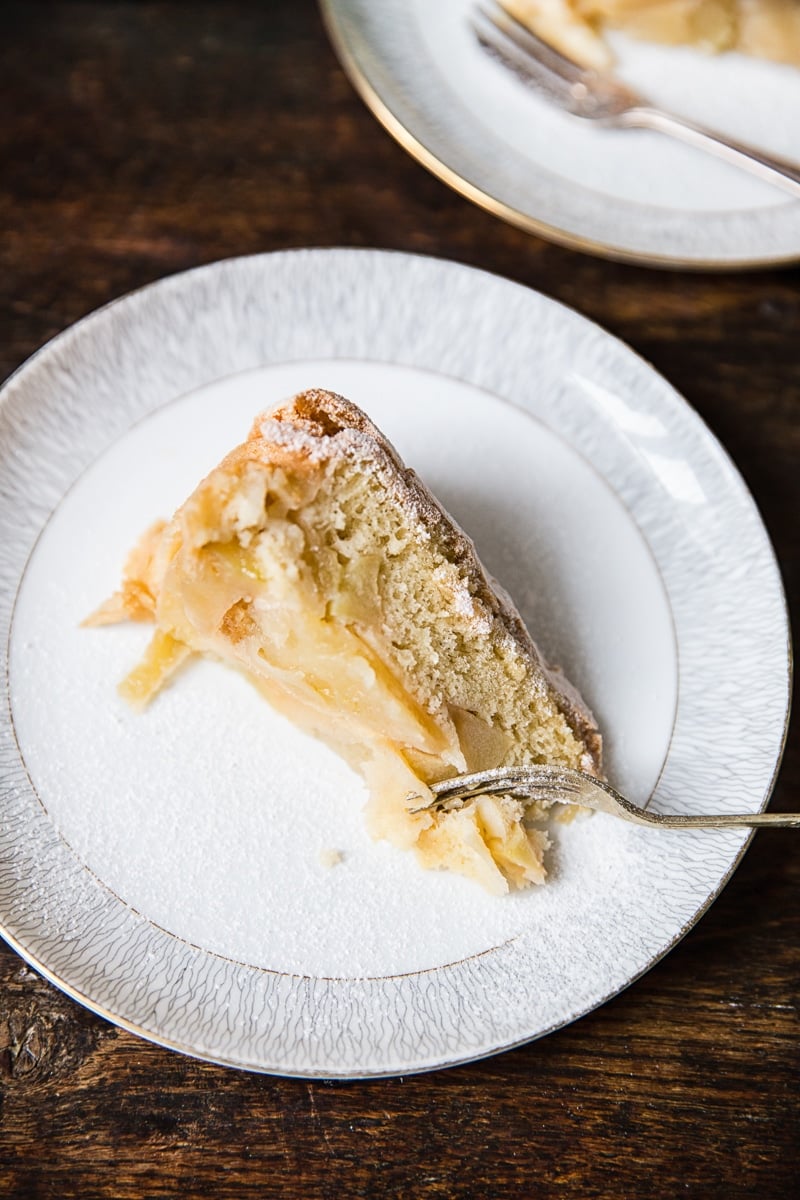 One year ago on this day I published my first post. Vikalinka is ONE YEAR OLD and I am very proud of my little blog. Besides a sense of pride, I feel incredibly grateful for what this space has become for me.
What has started out as a tiny homegrown blog, a place to chronicle my recipes, has come to be a little less tiny and ever so growing place to be creative, a place to meet new friends and a place to learn.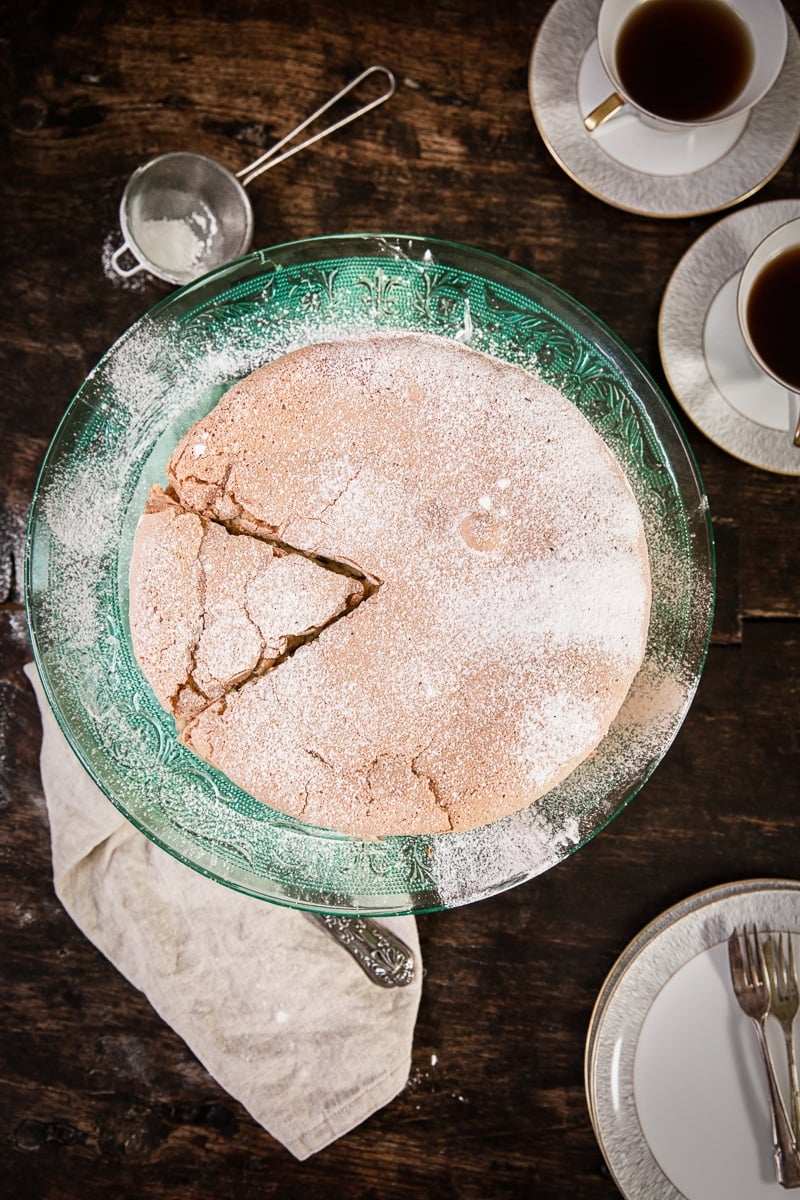 It came into my life at such a challenging time and it saved me. When things were blurred and unclear and I wasn't sure where to apply myself I turned to the only thing I knew how to do well – cooking.
While I was working with my hands God was working in my heart. So today I celebrate. 🙂
And I would be remiss if I didn't thank those who encouraged me to start and persevere. You know who you are!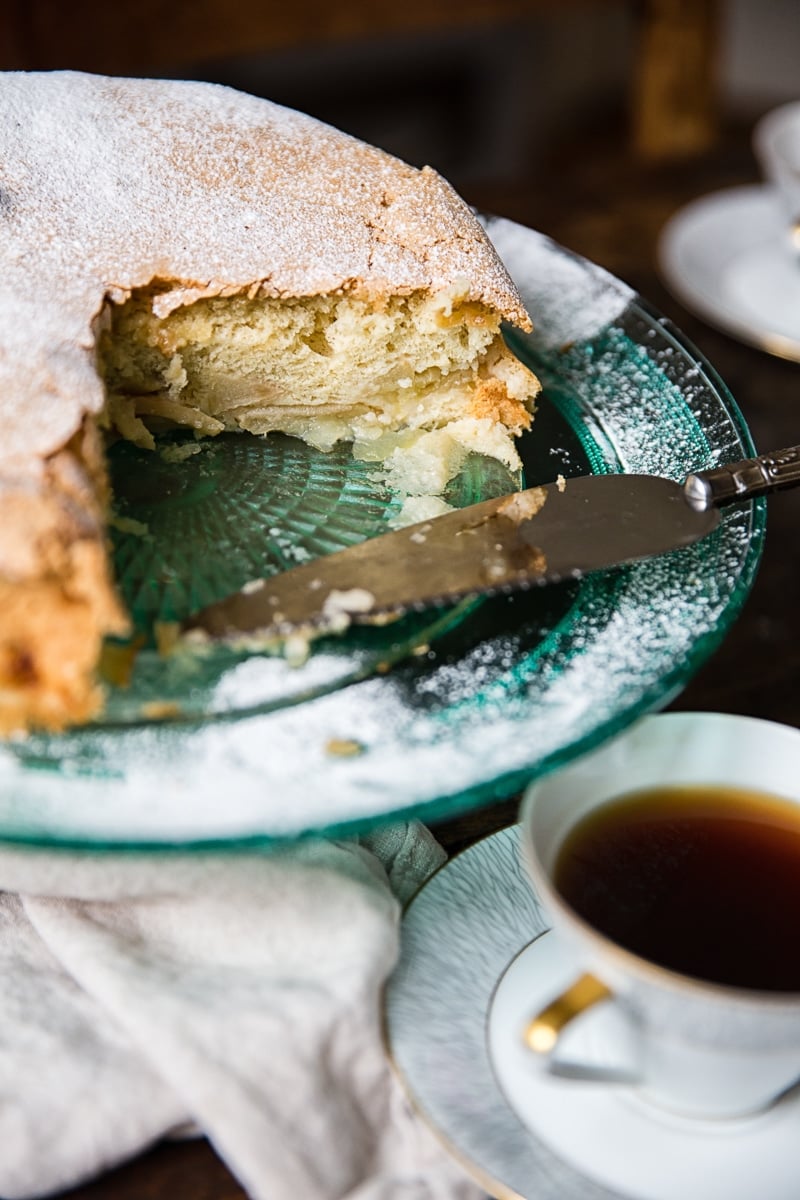 I knew I wanted to bake a cake to celebrate one year but what cake was a different matter. I have literally hundreds of recipes on my "to try list" so the decision wasn't easy. When I actually stopped for a moment to think I realized that I didn't want the cake to be fancy or complicated.
The idea behind Vikalinka is to inspire home cooks to try easy, accessible recipes that truly WOW! So my mind turned to the cake that is the most common in Russian households. Apple Cake Sharlotka.
An apple sponge cake that has only 4 ingredients. Not bad considering the height of the sponge and a delicate taste that will blow you away!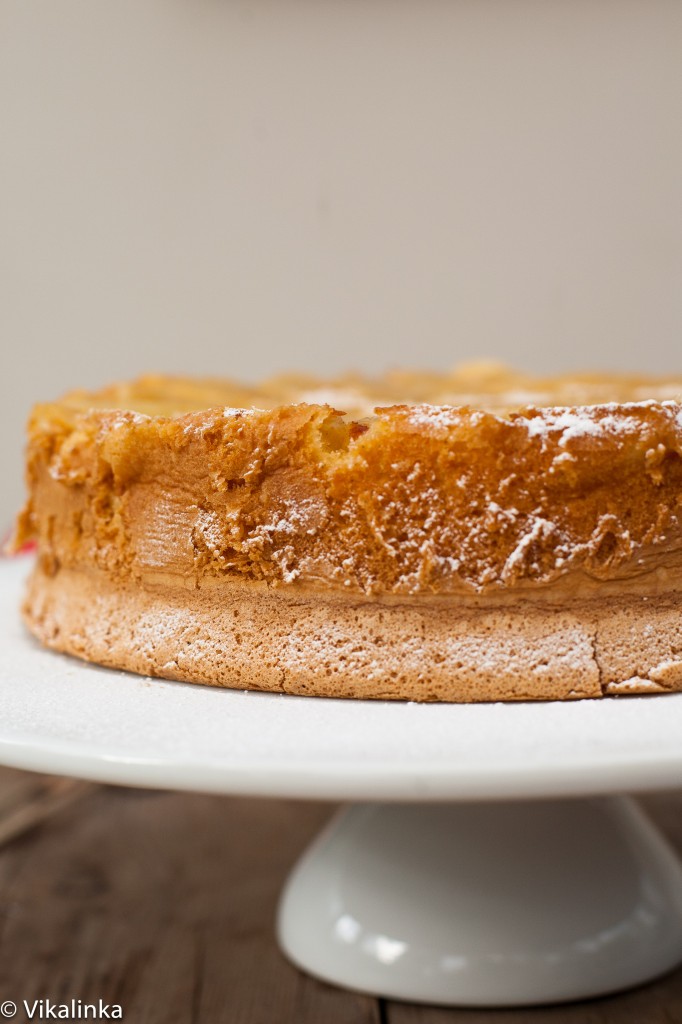 What is in Apple Cake Sharlotka?
I learned to make this cake when I was 10 and have been making it ever since. The beauty of it is in its simplicity and down to earth ingredients that are staples in everybody's kitchen.
No, I am not forgetting anything. That's it. And the proportions are also so easy to remember.
4 apples, 4 eggs, 1 cup flour, 1 cup sugar. Pure brilliance! You can of course add vanilla as I did or a lemon zest but the basic recipe is that simple.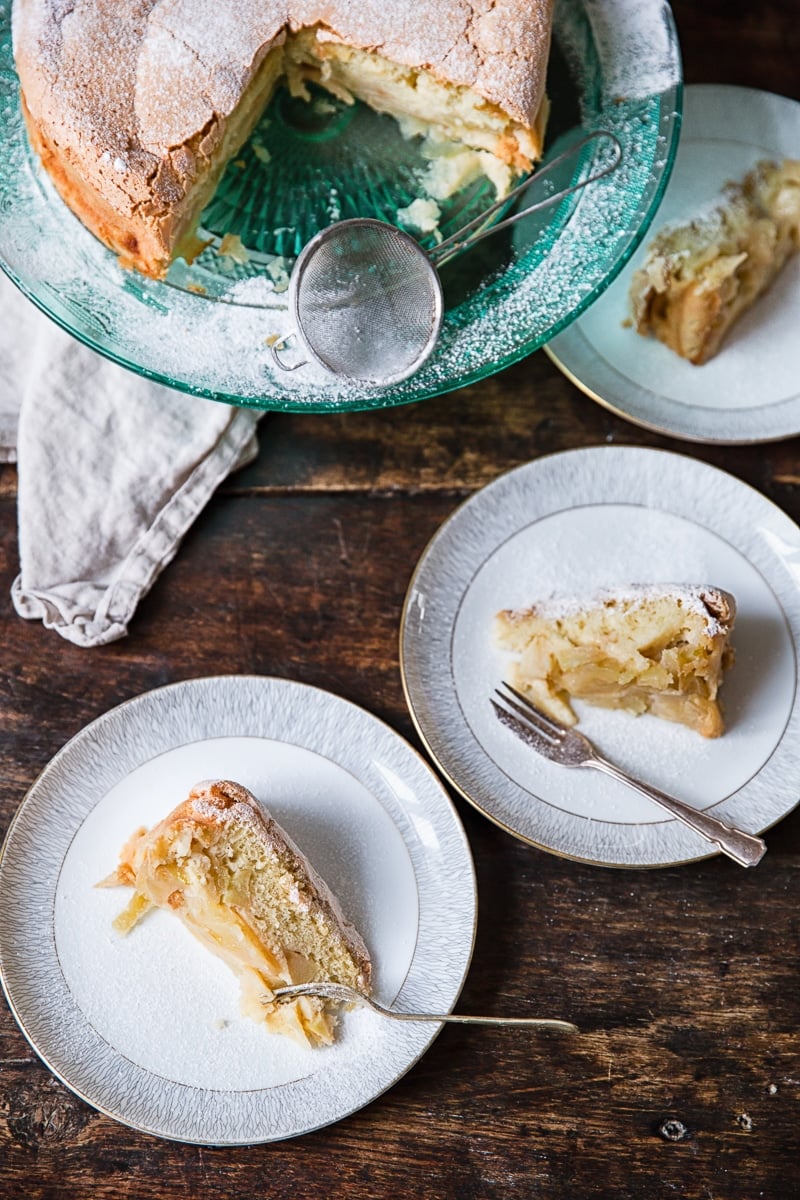 Tips for making the best Russian Sharlotka
Key to a good Russian sponge is well whipped eggs and sugar and an even oven temperature. If you are not sure of the accuracy of your oven temperature purchase an oven thermometer to be on the safe side.
Put room temperature eggs and sugar in the bowl of a stand mixer and whip at high speed for 10 minutes until tripled in size. If you use vanilla or lemon zest add your flavouring at this stage.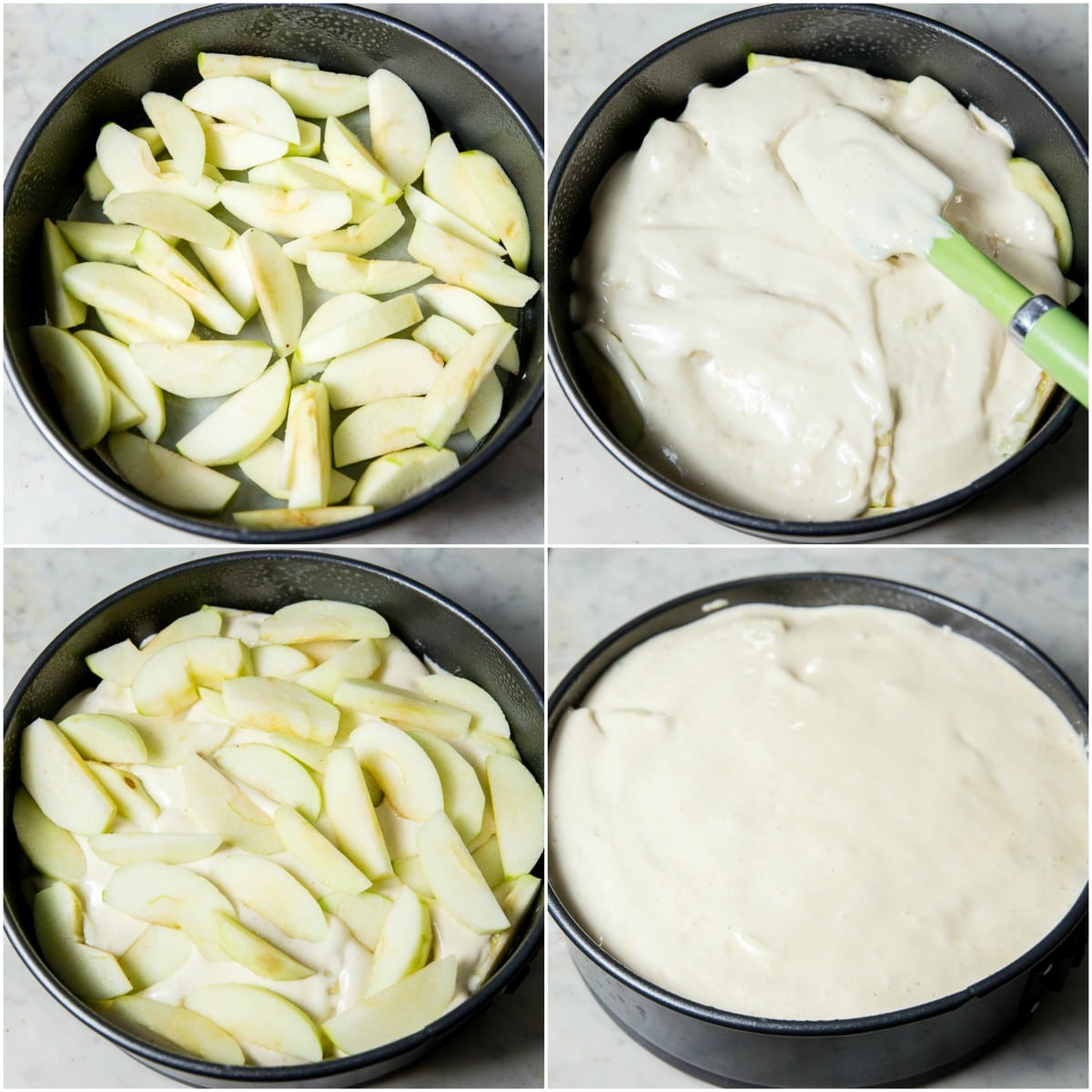 Cool the cake completely before you take it out of the pan as the sponge is incredibly delicate and will get crushed easily if it's still warm.
To this day, I can still hear my grandma's words, "Air, pure air!" as she reaches for another slice. 🙂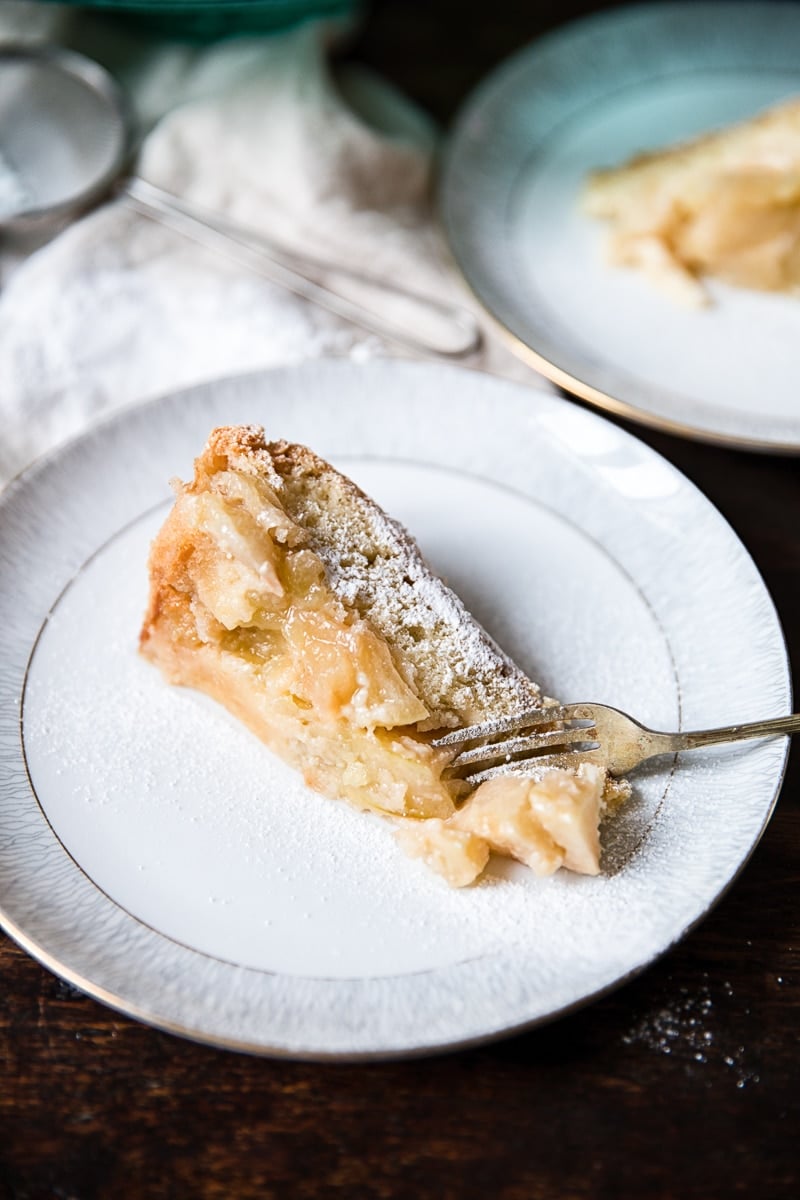 In Russia it's usually served with tea with lemon and honey and because it's an everyday cake it's usually eaten plain with a light dusting of powdered sugar.
It is also incredibly delicious with a light drizzle of a caramel sauce.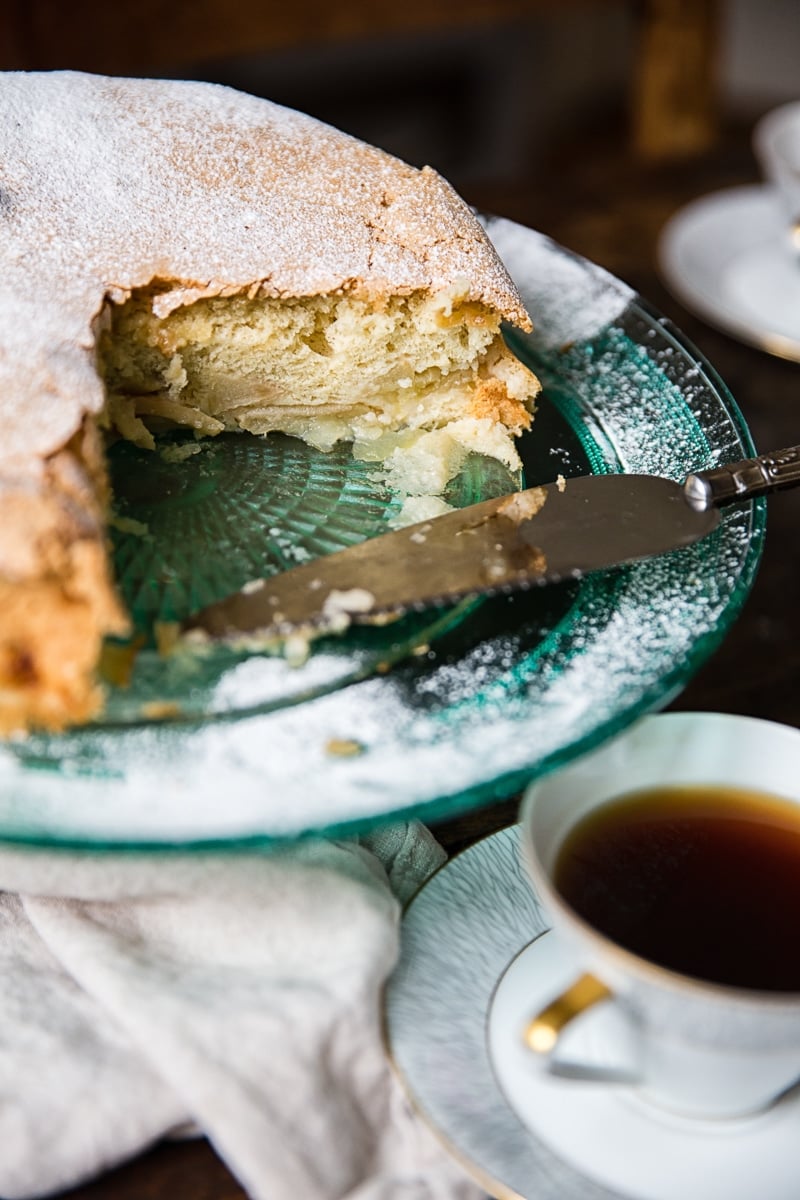 Ingredients
Apples -4 medium

Eggs- 4 large

Sugar- 1 cup

Flour-1 cup

Vanilla- 2 tsp.
Instructions
Preheat your oven to 350F/180C

Peel, core and slice your apples. Arrange them on the bottom of a buttered and floured 9" spring form pan.

Whip eggs, sugar and vanilla until tripled in size for 10 minutes.

Add sifted flour to the egg mixture in 4 additions, blending each addition gently.

Pour the batter into the pan and smooth the top.

Bake in the preheated oven for 50-60 minutes or until a cake tester comes out clean.

Let cool for 20-30 minutes and then remove the sides of a springform pan