For those days when you're feeling just so French, and hungry, try this Classic Croque Madame. It's a like deluxe grilled cheese sandwich, but French! It's a salty stack of ham, and melty creamy cheese filling, crowned with a super chic fried egg headpiece. Pour yourself a glass of wine and bon appetit!
I will certainly be sharing this grande sandwich and serving it with an elegant side of Celeriac Remoulade for a little lunchtime je ne sais quoi!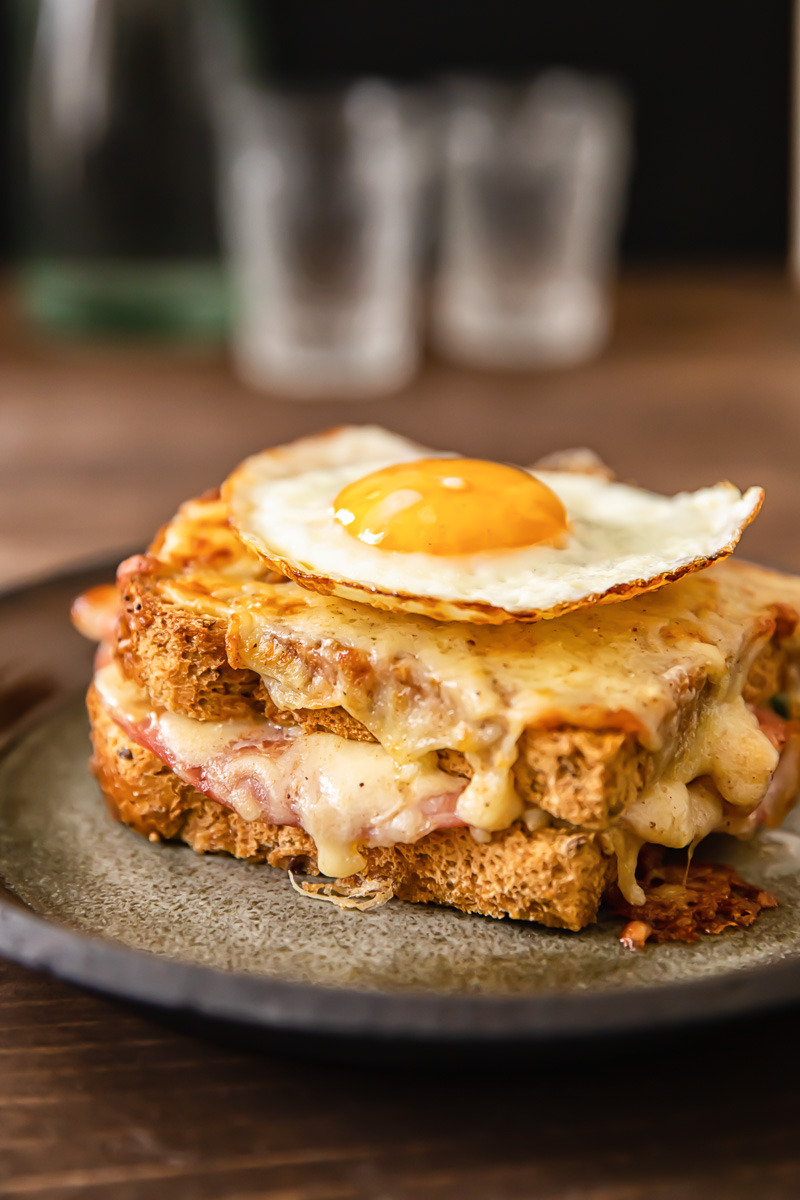 French women are world renowned for their intelligence, strength and style. Simone de Beauvoir, Joan of Arc, Coco Chanel and the Croque Madame. The French female is a force to be reckoned with so, naturally, she should be honoured in sandwich form.
What is a Croque Madame?
The Croque Madame is the female counterpart of the famous Croque Monsieur. Think grilled cheese sandwich, cheese toasties, but French! Both classic toasted sandwiches contain a creamy cheesy filling made with béchamel sauce, and sliced ham.
Both are either grilled or oven-baked for their signature crunch. But the difference is the Madame is rightfully adorned with a golden-yolked eggy crown.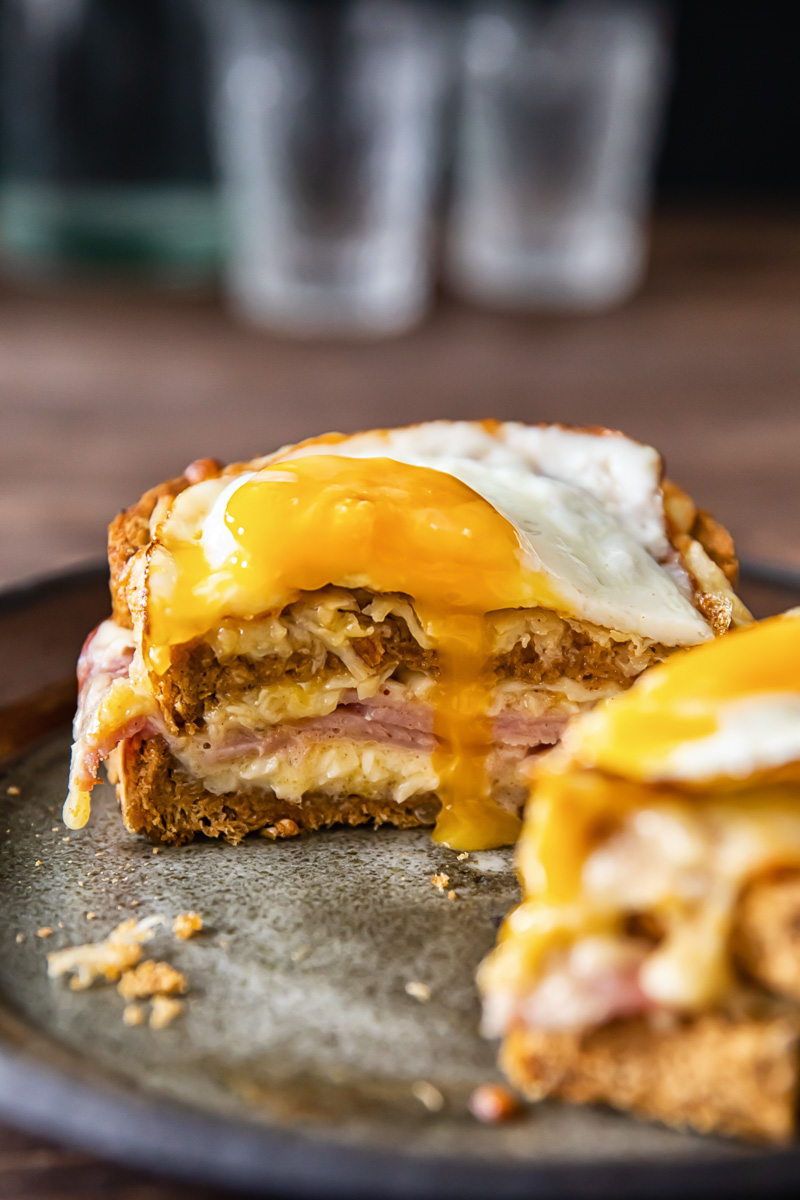 Cheat béchamel sauce
Let's be real here. Who has the time to make a béchamel sauce for just one or two Croques? Being a busy woman with a family and a job, not me. And being a resourceful woman, I have a quick workaround to share: double (heavy) cream, grated cheese and a pinch of nutmeg, mixed. Voila!
If you're planning on making a batch of little madams and want to follow the Croque Madame recipe to the letter, you can find my recipe for béchamel here.
Let me know which you prefer!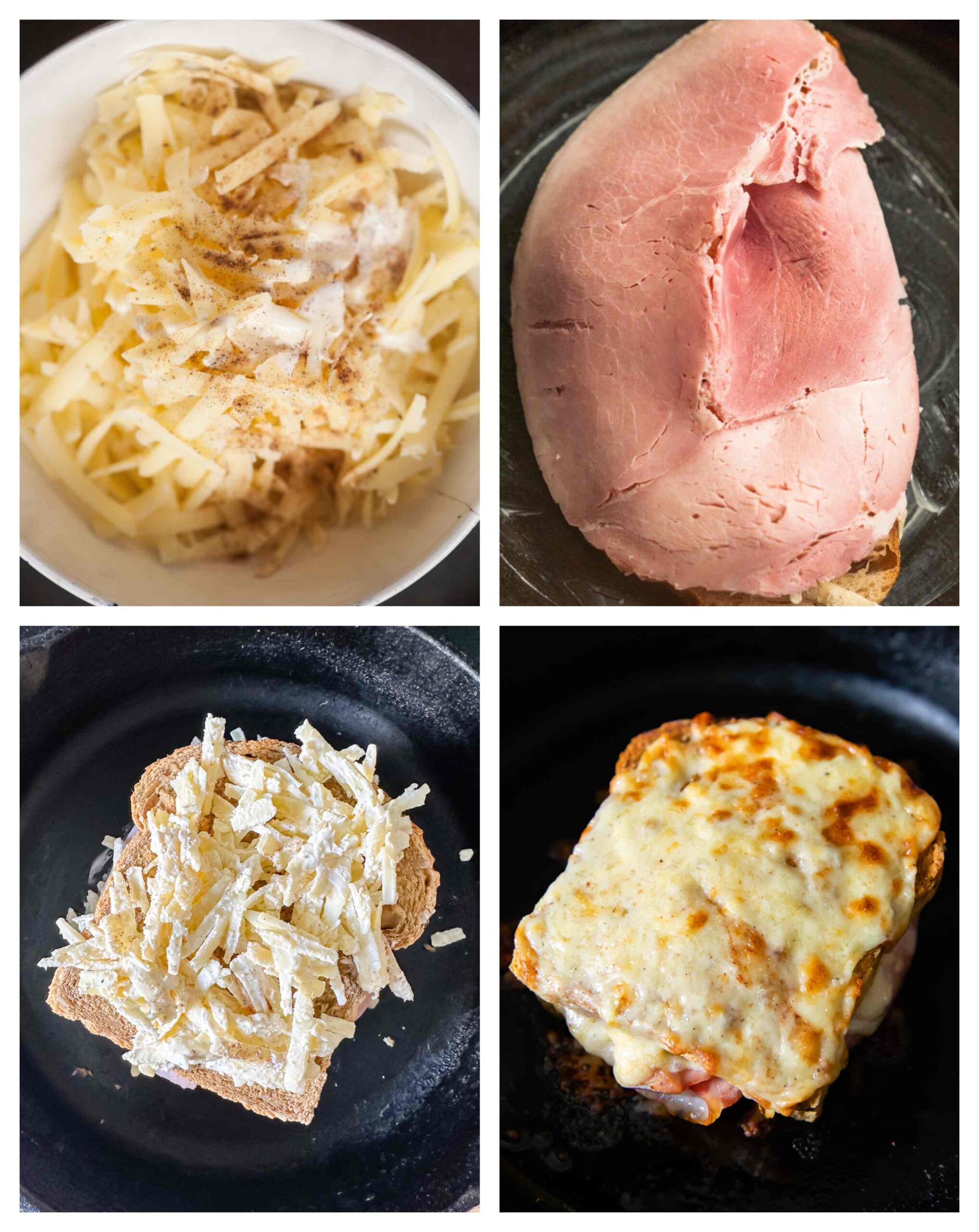 Recipe tips and notes
Quality ham and cheese make all the difference to this little

coquette

. If available to you, go for Gruyere cheese and a thicker slice of ham. Wafer-thin ham and a plastic-wrapped cheese slice will be lost between the dense bread doorstops. And they're not very, well, French.

Traditionally, a mild and nutty Gruyere is used, but if it's what you have to hand, cheddar is a worthy substitute. It will pack a sharper punch!

Béchamel sauce is the standard for a Croque Madame. If you're willing to make the investment of time, knock yourself out with my recipe found in my

Best Lasagne

. Bear in mind that the amount of sauce in this recipe should be quartered for an individual sandwich.

Slice your bread thick. It will better absorb the ooziness from your filling and egg yolk making every mouthful luscious and moist.

Be patient. Don't rush the oven time. 15 minutes will melt the cheese in the middle and crisp the edges nicely. It is all about the crunch after all!

Elegant in name, but of giant proportions; rich and mighty! Share with a best girlfriend in the name of female solidarity. Or

a man friend. We're not exclusive here!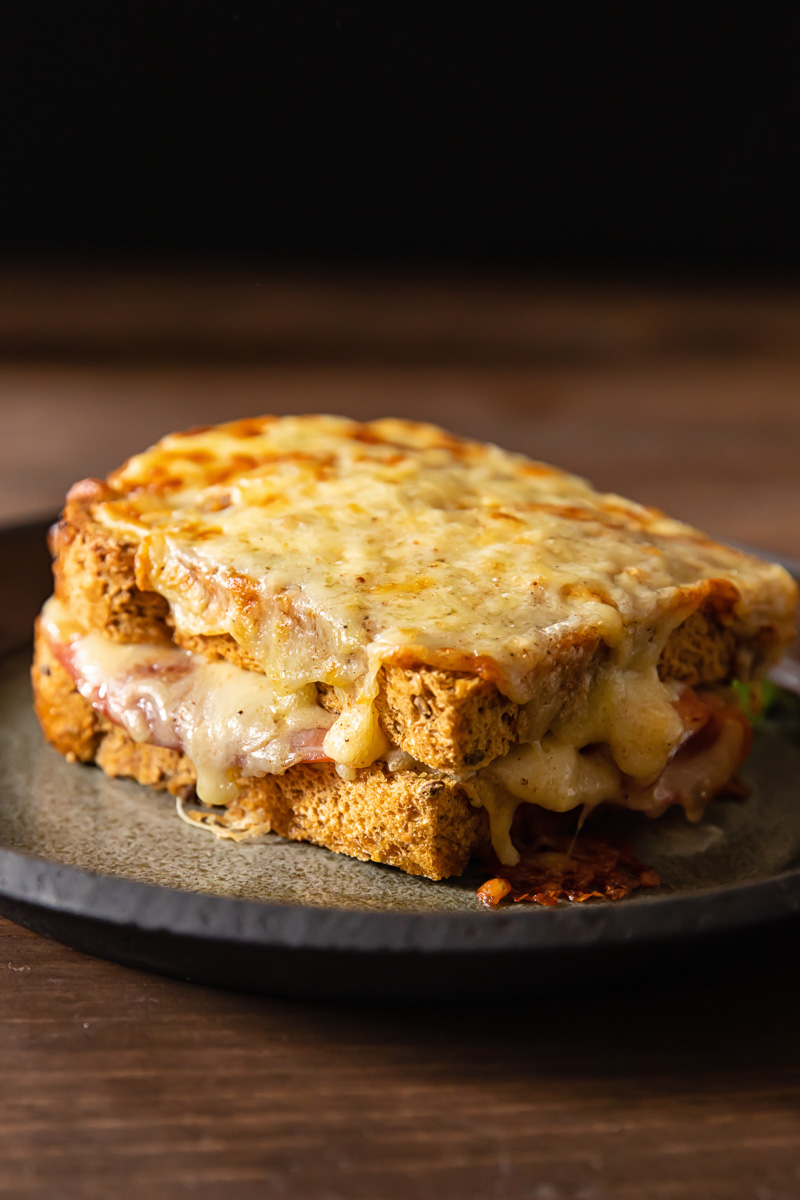 Storage and leftovers
This is a great sandwich to make ahead of time. Assemble the cold sandwich as per the instructions then cover with cling film and put in the fridge. I don't recommend storing for more than a day.
When ready preheat the oven, cook the croques and while they're cooking fry your egg for the crowning glory.
Other sandwich recipes: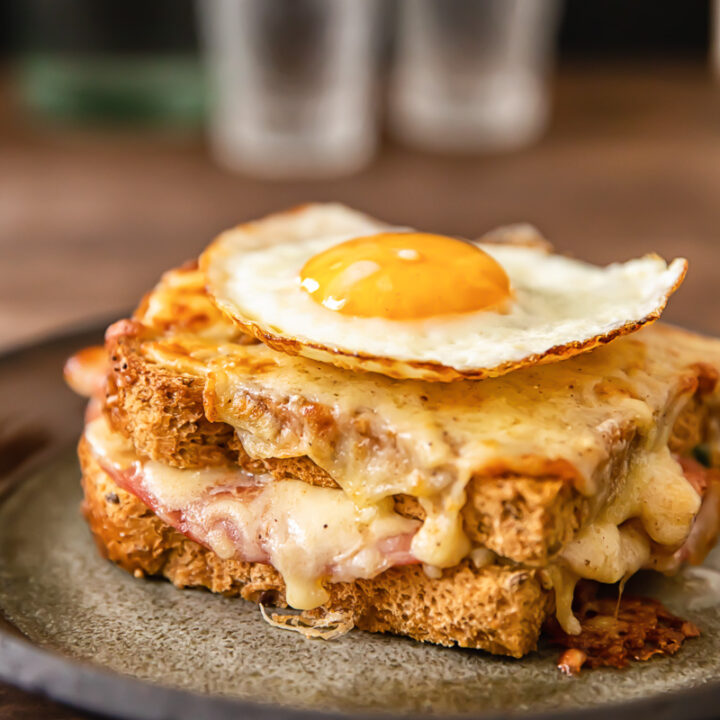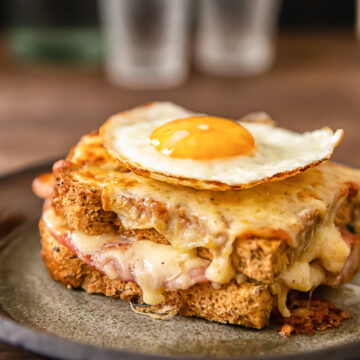 Classic Croque Madame
This Croque Madame sandwich is a salty stack of ham, and melty creamy cheese filling, crowned with a super chic fried egg headpiece.
Ingredients
4

tbsp

whipping cream/double cream

50g / ¼ cup

gruyere or mature cheddar

⅛

tsp

grated nutmeg

2

thick bread slices

1-2

slices ham

1

tbsp

oil

1

egg
Instructions
Preheat the oven to 200C/400F. Grate the cheese and mix it with the cream and grated nutmeg.

Slice the bread and top each slice with the cheese mixture. Transfer to a buttered baking dish.

Top one of the bread slices with the ham slices and a bit more cheese. Then sandwich the bread together finishing with the cheese side up.

Bake in the preheated oven for 15 minutes or until the cheese is melted and golden on top.

While the sandwich is in the oven, fry the egg in olive oil.

Take the sandwich out of the oven and top it with the fried egg.
Video
Nutrition
Calories:
370
kcal
Carbohydrates:
13
g
Protein:
14
g
Fat:
29
g
Saturated Fat:
13
g
Polyunsaturated Fat:
4
g
Monounsaturated Fat:
11
g
Trans Fat:
0.03
g
Cholesterol:
70
mg
Sodium:
473
mg
Potassium:
119
mg
Fiber:
1
g
Sugar:
2
g
Vitamin A:
680
IU
Vitamin C:
0.2
mg
Calcium:
328
mg
Iron:
1
mg