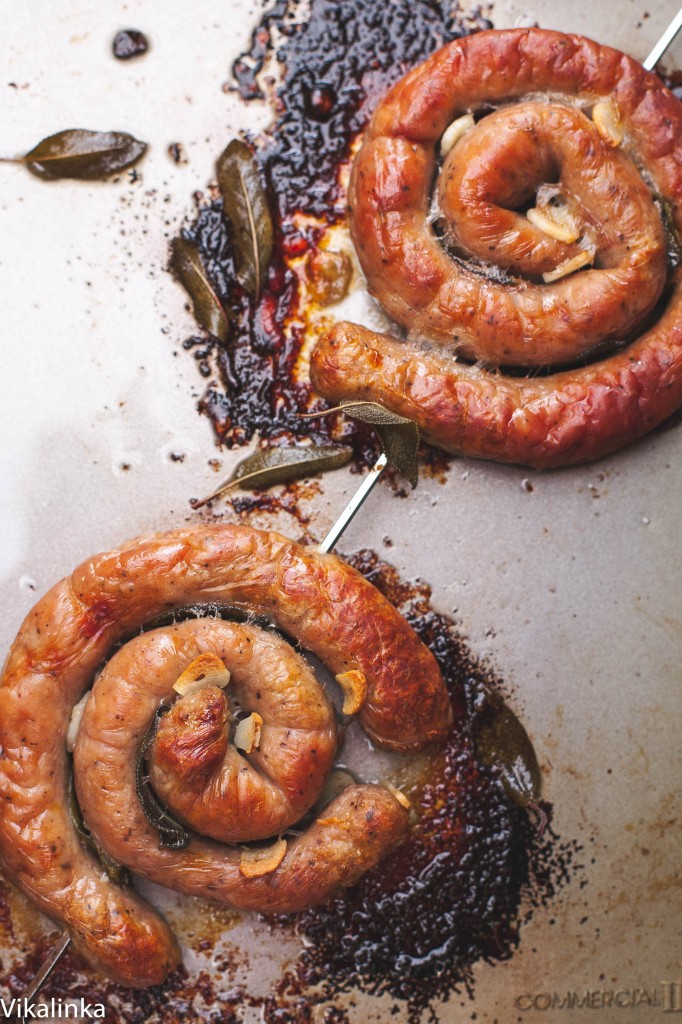 So I've decided to start something new as a homage to the country I call home. British Friday. What do you think? Aren't you curious at all to learn more about what people actually eat here? Forget Fish'n Chips, there is so much more to British food and I want to share it with you. I will be posting a gem of a British recipe once a month or so. It won't be just any recipe, it will be a tried and true recipe that is a staple in our house. I am starting with a famous Sausage and Mash, a meal every British family eats at least once a week. It's delicious, filling, inexpensive and the best thing of all is true comfort food!
We usually just fry up sausages, they are absolutely delicious in this country, and make some mashed potatoes and gravy but last night Brad was on a cooking duty and he was showing off. Instead of just cooking sausages the usual way he decided to turn them into Catherine Wheels, something he saw in one of Jamie Oliver's cookbooks. The sausages were twisted into a wheel, studded with garlic and sage and then skewered on a metal skewer. Was it worth the effort? The verdict is a passionate "Yes". Not only did they look gloriously rustic and manly but they were also infinitely more flavourful and tasted leaner since most of the fat got drained through baking instead of frying.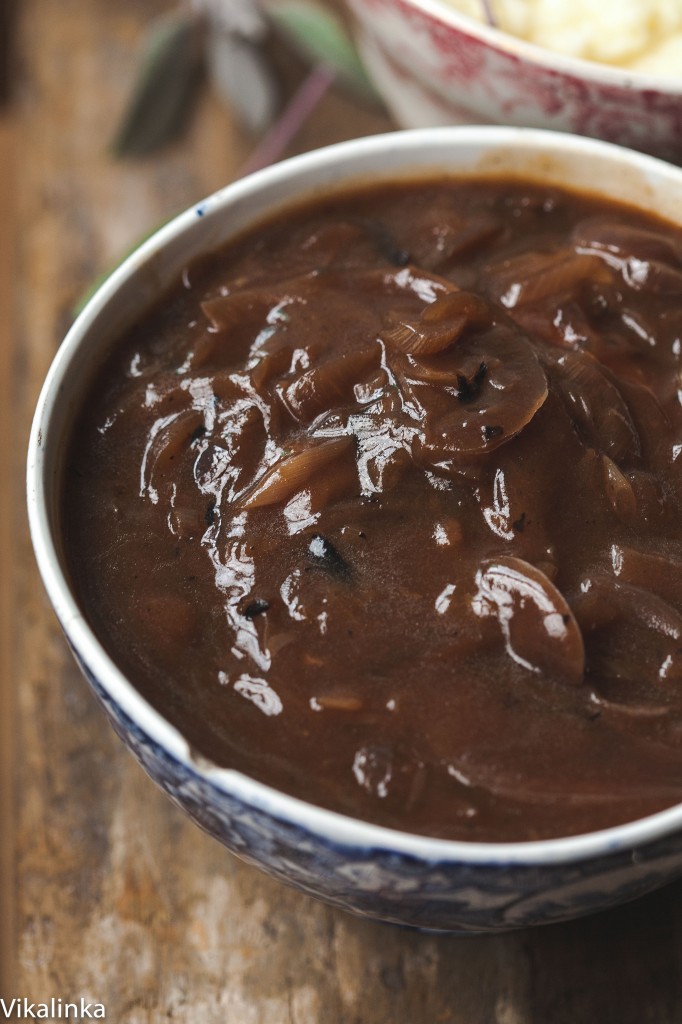 He also made cider onion gravy to douse the sausage with and creamy horseradish mash and a brussel sprout hash with bacon and honey. As I mentioned above, the man wasn't holding back. I will surely share these recipes at some point but today let's get back to the star of the show-the Catherine Wheel. So easy and so impressive you can serve it for a dinner party. Maybe.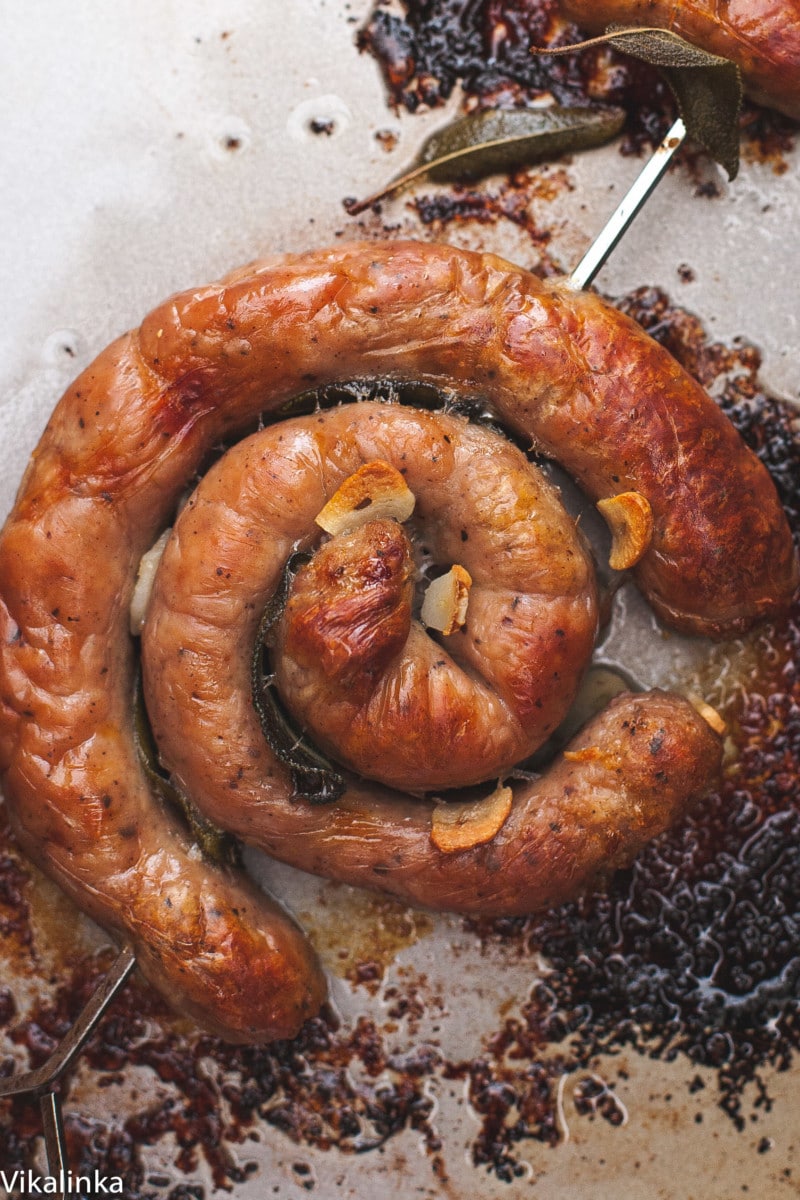 Ingredients
8-

sausages

2-3

cloves- garlic

6-7-

sage leaves

olive oil
For the gravy
3-

medium red onions

sliced

2

tbsp- olive oil

3

tbsp- dry cider

2-

chicken gravy pots

I used Knorr or chicken stock pots+ 1 tbsp flour for thickening

2

cups- water

1

tbsp-butter
Instructions
Preheat your oven to 400F/200C.

Peel and thinly slice the garlic cloves.

Cut the sausage links into two strings of four sausages each.

Allow each string to unravel so there is no division between the sausages, and massage them with your hands to even out the distribution of the meat.

Roll each string into a spiral shape onto a baking sheet with raised edges, inserting garlic slices and sage leaves at intervals inside the Catherine wheels. Insert a skewer through each Catherine wheel to hold the shape when cooking.

Cook on a middle rack for 20 min or until crispy on top. With 5-10 min remaining remove from the oven and sprinkle with olive oil and any remaining sage leaves, then put back in the oven for additional 5 minutes.

While sausages are cooking make onion gravy.

Cook sliced onions in olive oil over low heat until tender for 10-15 minutes, then turn the heat up and brown them for 2-3 minutes.

Add cider and cook onions until it evaporates.

Add chicken gravy pots and water, bring to a boil, then turn the heat down and cook the gravy until desired consistency. (If you are using chicken stock pots add flour to thicken the gravy).

When the gravy is done stir in a tablespoon of butter.

Serve hot with Catherine wheel sausage.