This braised savoy cabbage with bacon, mushrooms and sour cream number is flavourful and filling enough to be the star of the show or an extra special side dish!
Serve this cabbage dish as a side to another Russian favourite Meat Patties Kotlety. Or serve this dish as a main with our fluffy Mashed Potatoes.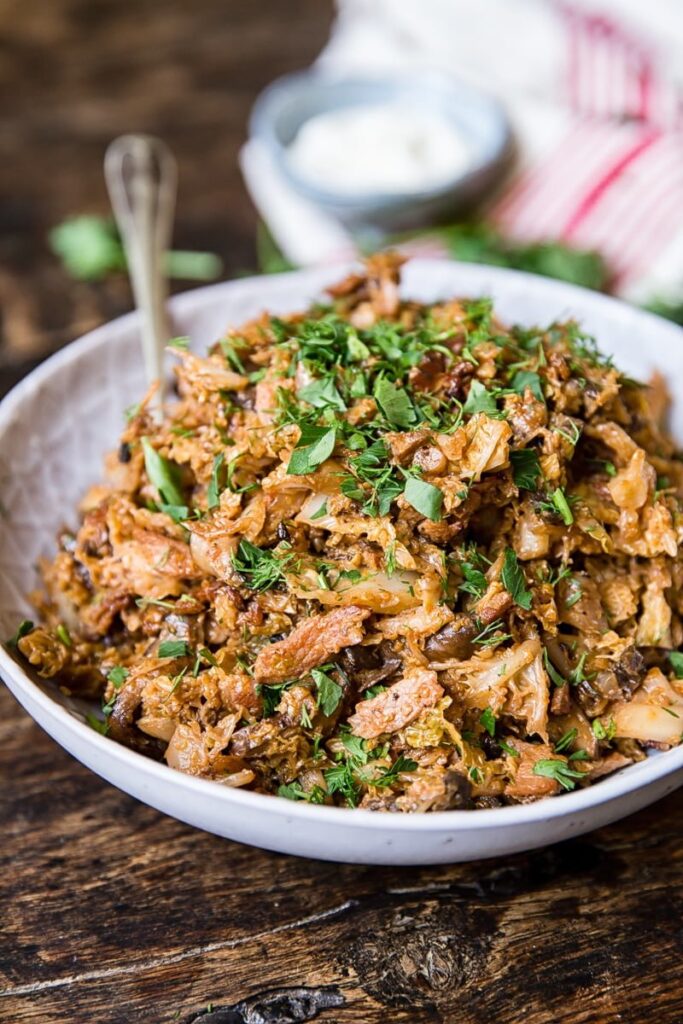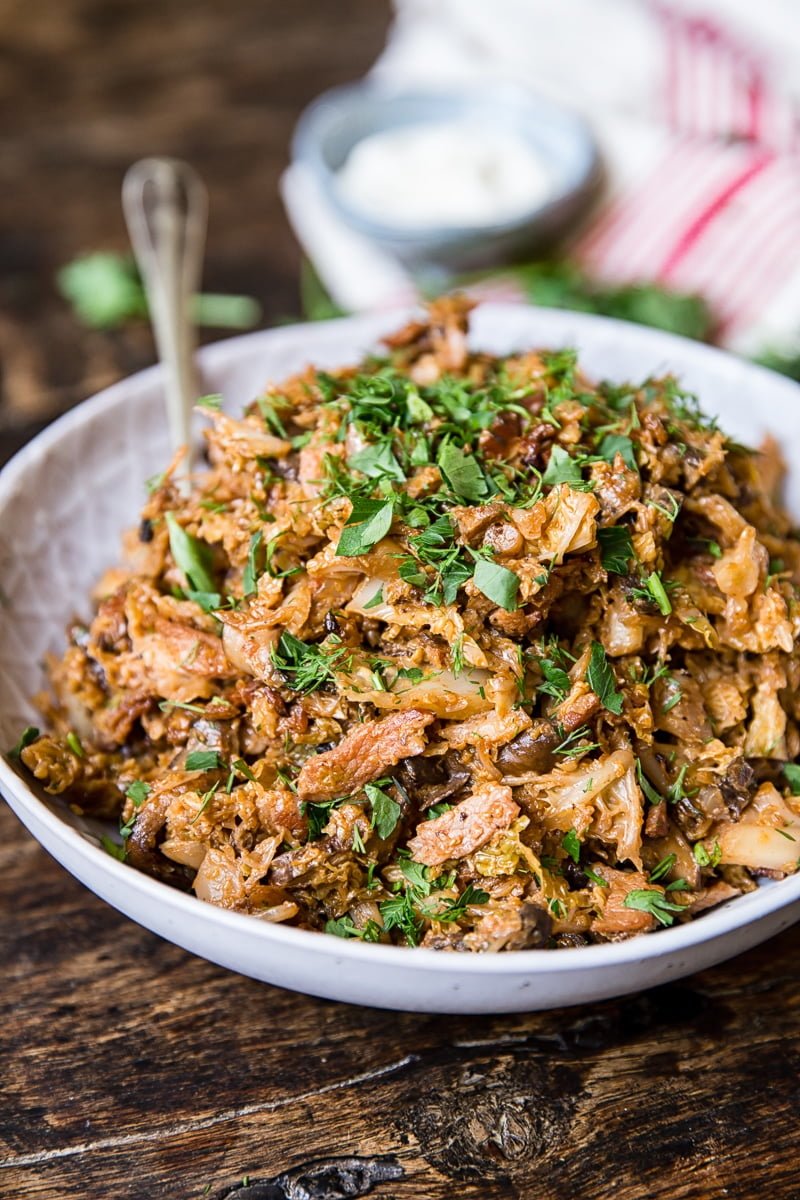 Cabbage is definitely not given enough appreciation as far as vegetables go and it's a real shame! It's extremely affordable, very versatile and don't even get me started on the nutritious value of that humble vegetable.
It offers crazy amounts of vitamins and minerals. Google "cabbage" and see for yourself!
I suppose no one argues with what I just said, but doubts about cabbage linger. I think the main reason for it is people are not convinced cabbage is delicious enough.
To those doubts I present this recipe for braised savoy cabbage with bacon, mushrooms and sour cream!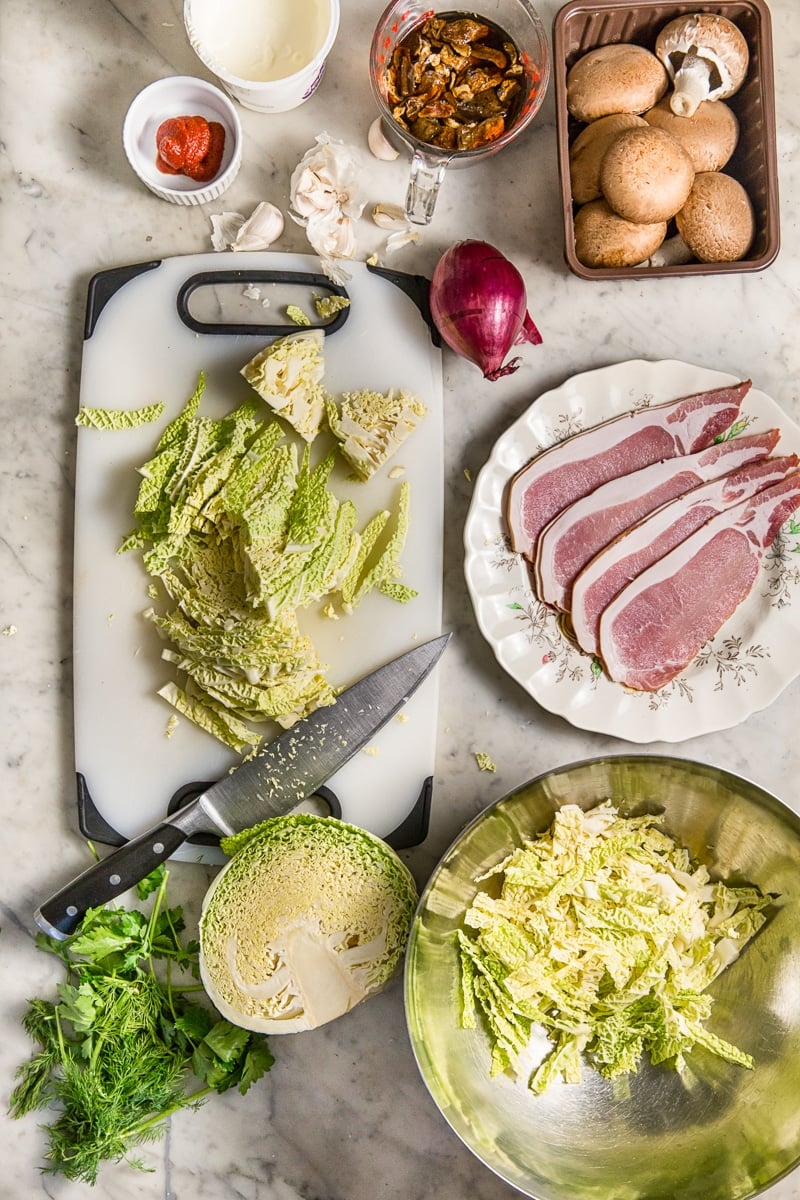 Braised Cabbage Recipe
This recipe is my take on my mother's way of cooking cabbage. She made it often and I loved it just as much as her famous cabbage rolls.
I used bacon instead of beef for the smokiness it adds to the dish, and savoy cabbage instead of white cabbage since I find the taste of the savoy cabbage a bit milder and I love its texture.
The trick to building a rich and complex savoury flavour is not to rush the process. Braising takes time but the end result of a creamy and luscious dish is well worth it. I guarantee this recipe will convert any cabbage hater into a faithful fan.
Why this recipe works
First of all, the long process of braising really mellows out the sharp taste we associate with cabbage and turns it into something sweet and buttery.
Bacon needs no spokesperson. You know what it does. It makes every dish ultimately more tasty.
A winning combination of dried porcini mushrooms and fresh chestnut/brown mushrooms flavour this dish in a unique and tasty way.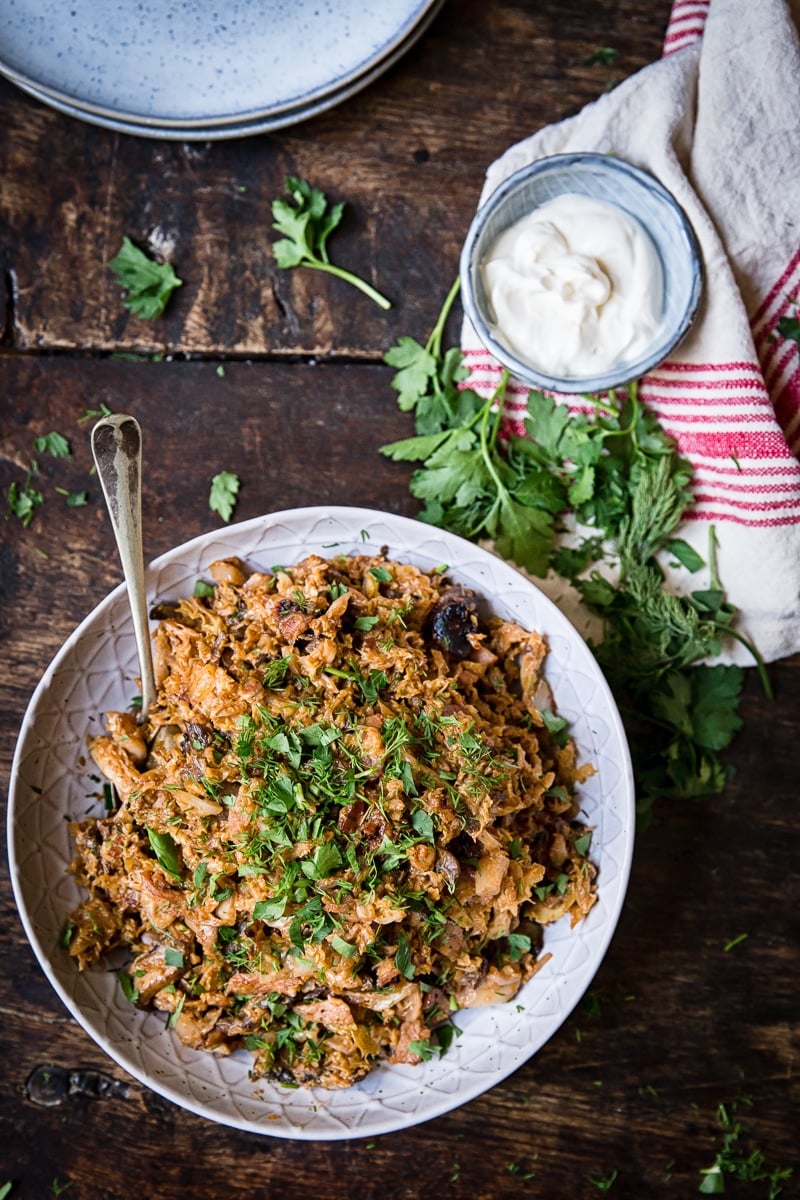 If you can't find dried mushrooms, you can omit them but they are a secret force behind the success of this recipe. They add a touch of earthy and nutty flavour. In other words, they add depth. And that's what you will taste with each bite.
Sour cream stirred in at the end makes this dish impossibly creamy and extra luxurious! You can also use creme fraiche or heavy cream instead.
Lastly don't forget the fresh herbs. I am going with parsley and dill as it is the Russian way.They add so much freshness, and of course extra aroma.
I would not recommend using dried herbs here as I find dried parsley almost tasteless. And dried dill can acquire a very different taste during the drying process. Just skip the herbs altogether if you don't have the fresh variety.
I am providing the steps for my braised savoy cabbage as they are quite important to follow accurately for the success of the dish.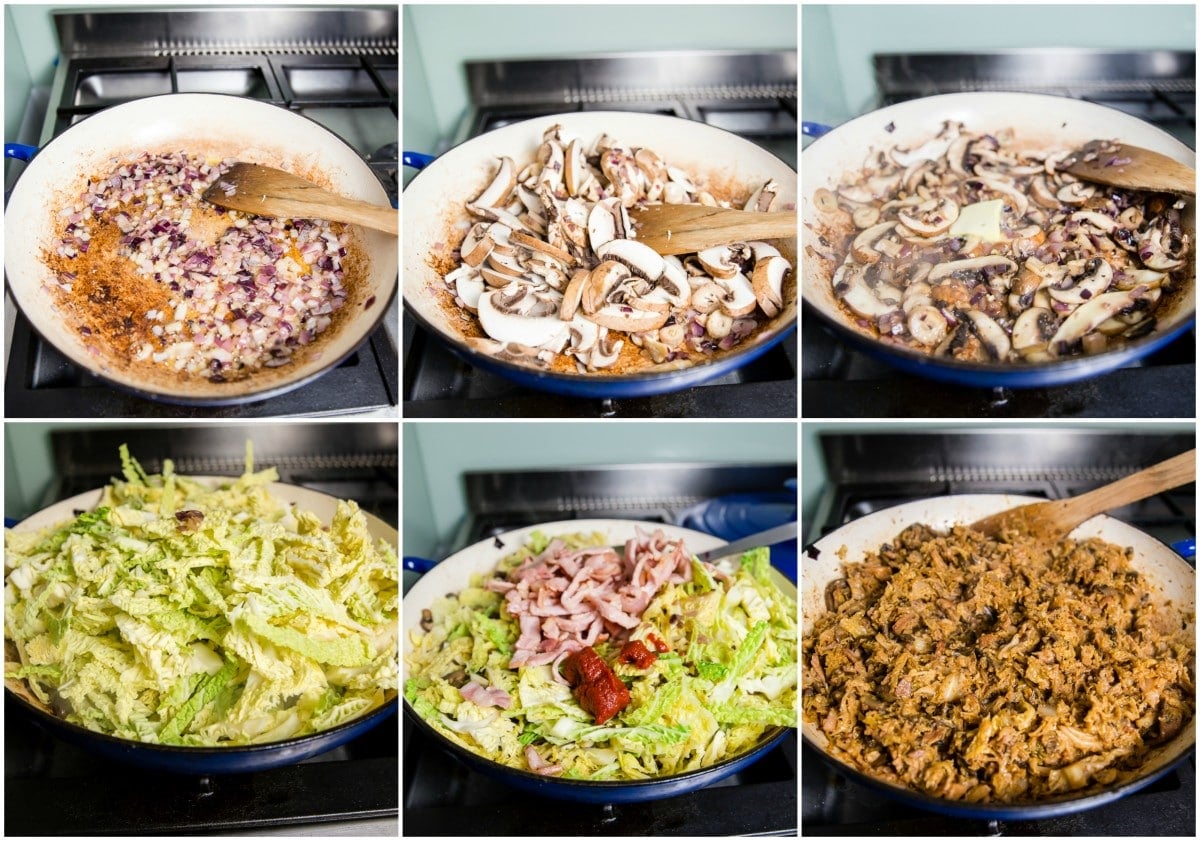 Storing and leftovers
Braised cabbage stores well for a few days in the fridge. Keep it in an airtight container and warm in a microwave or over low heat in a deep pan.
Cabbage freezes very well and any leftovers can be kept frozen afterwards if you want to save them for use at a later date. Again, use an airtight container.
Recipe Tips and Notes
Sautéing onion, garlic and mushrooms before adding the cabbage is what makes it tastes caramelised.
I also wanted to show you the dramatic colour and texture change from the beginning to the end. That golden brown colour is going to be your visual marker.
It's important to continue braising cabbage with the lid on until it collapses and turns deep brown. And that will take anywhere from 1 hour to 1 hour 15 minutes on low heat.
Use fresh herbs for the best possible taste. If fresh herbs are not available they can be left out of the recipe. Dried herbs are not a good substitute.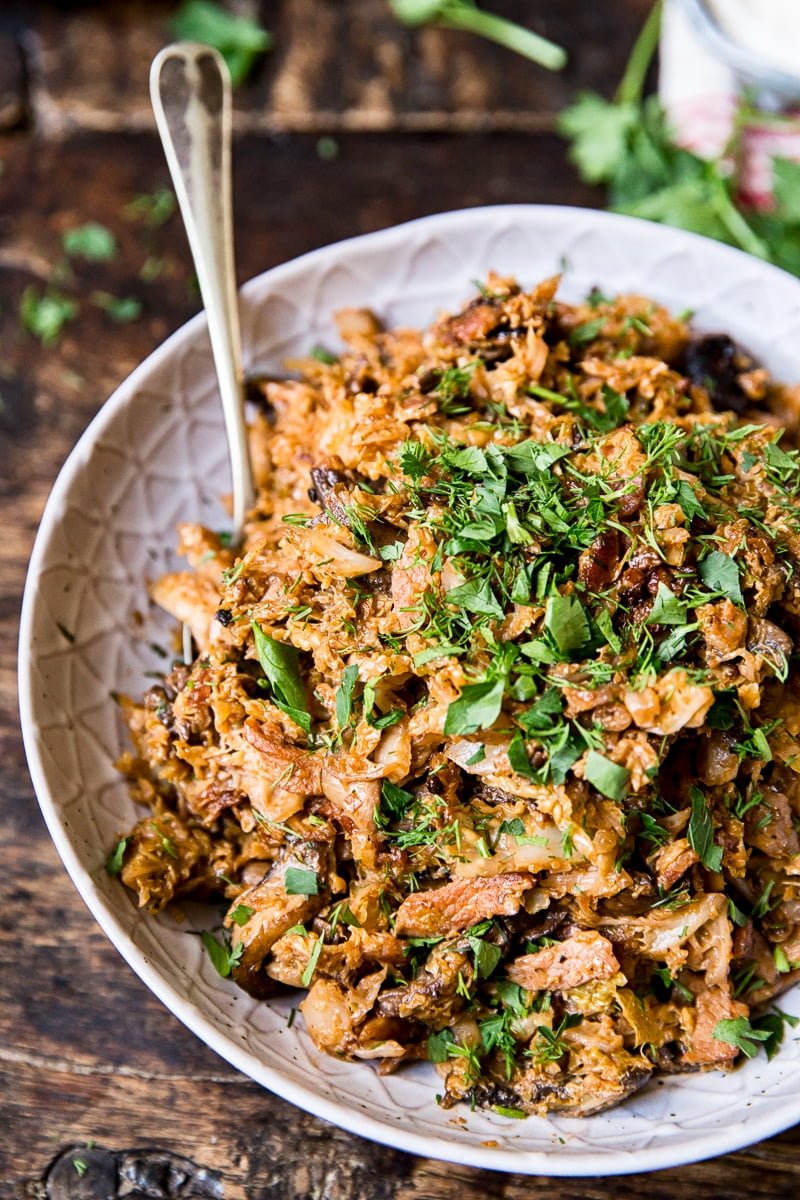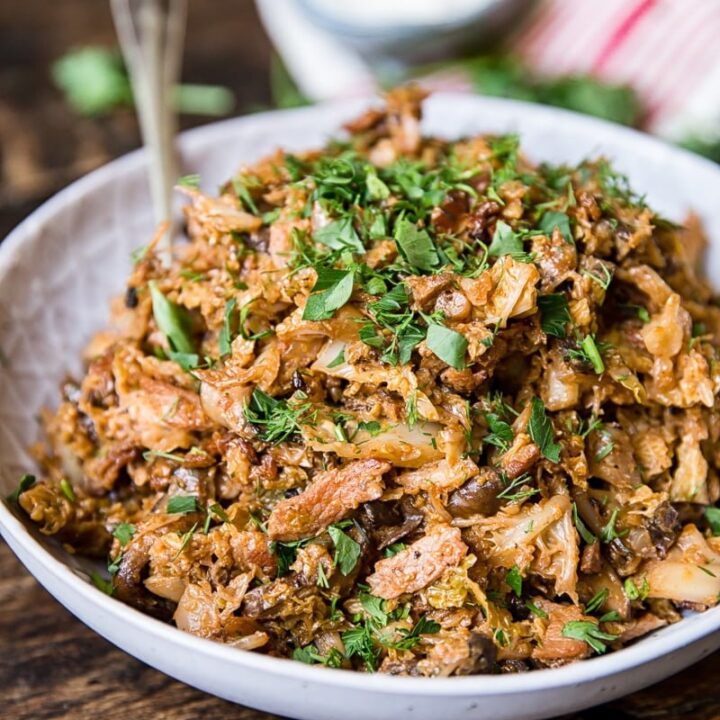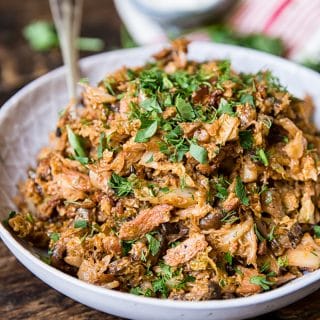 Braised Savoy Cabbage with Bacon, Mushrooms and Sour Cream
This braised savoy cabbage dish is flavourful and filling enough to be the star of the show!
Ingredients
10

g

-15g/1/4 cup dried porcini mushrooms

1

tbsp

olive oil

250

g

/8oz bacon/back bacon

sliced

1

medium onion

diced

1

clove

garlic

minced

250

g

/8oz fresh chestnut/brown mushrooms

sliced

1

tbsp

butter

125

ml

/1/2 cup chicken or vegetable stock

750

g

/medium Savoy cabbage

cored and sliced

2-3

tbsp

tomato paste

1

bay leaf

3

tbsp

sour cream

full fat

salt and pepper to taste

1

tbsp

of each fresh chopped parsley and fill
Instructions
Soak the dried mushrooms in 250ml/1 cup boiling water and set aside.

In a large and deep pan cook bacon in olive oil, remove from the pan with a slotted spoon and set aside.

To the same pan add onions and cook on medium heat for 5-7 minutes until slightly coloured, add garlic and mushrooms with a tablespoon of butter, saute until the mushrooms are soft. Add the stock and scrape the bottom of the pan with a wooden or plastic spatula to release the brown bits into the stock.

Add sliced cabbage, drained and chopped dried mushrooms, bacon, tomato paste and bay leaf, stir to combine, lower the heat and cover with a lid. (If the cabbage doesn't fit in the pan, add ⅔ of the amount and cover with a lid for 10 minutes, then add the rest when the volume of the cabbage in the pan goes down.)

Braise the cabbage for 1 hour-1 hour 15 minutes with a lid on while stirring once in a while to prevent the bottom from burning.

At the end of the cooking time the volume of the cabbage reduces by roughly a half and the colour turns from bright green to golden brown. There should be no liquid left in the pan. Stir in sour cream and warm through for 1 minute.

Season with salt and pepper last as it's easy to oversalt in the beginning stage when the volume of cabbage is significantly higher.
Nutrition
Calories:
172
kcal
Carbohydrates:
14
g
Protein:
13
g
Fat:
9
g
Saturated Fat:
3
g
Polyunsaturated Fat:
1
g
Monounsaturated Fat:
4
g
Trans Fat:
0.1
g
Cholesterol:
29
mg
Sodium:
905
mg
Potassium:
687
mg
Fiber:
5
g
Sugar:
5
g
Vitamin A:
1452
IU
Vitamin C:
41
mg
Calcium:
68
mg
Iron:
1
mg