This summer berry tart is truly special. Buttery tart, broken meringue and whipped cream topped with berries.
There are few things better than baking with seasonal summer berries. Try out my Summer Peach Cake with Red Berries!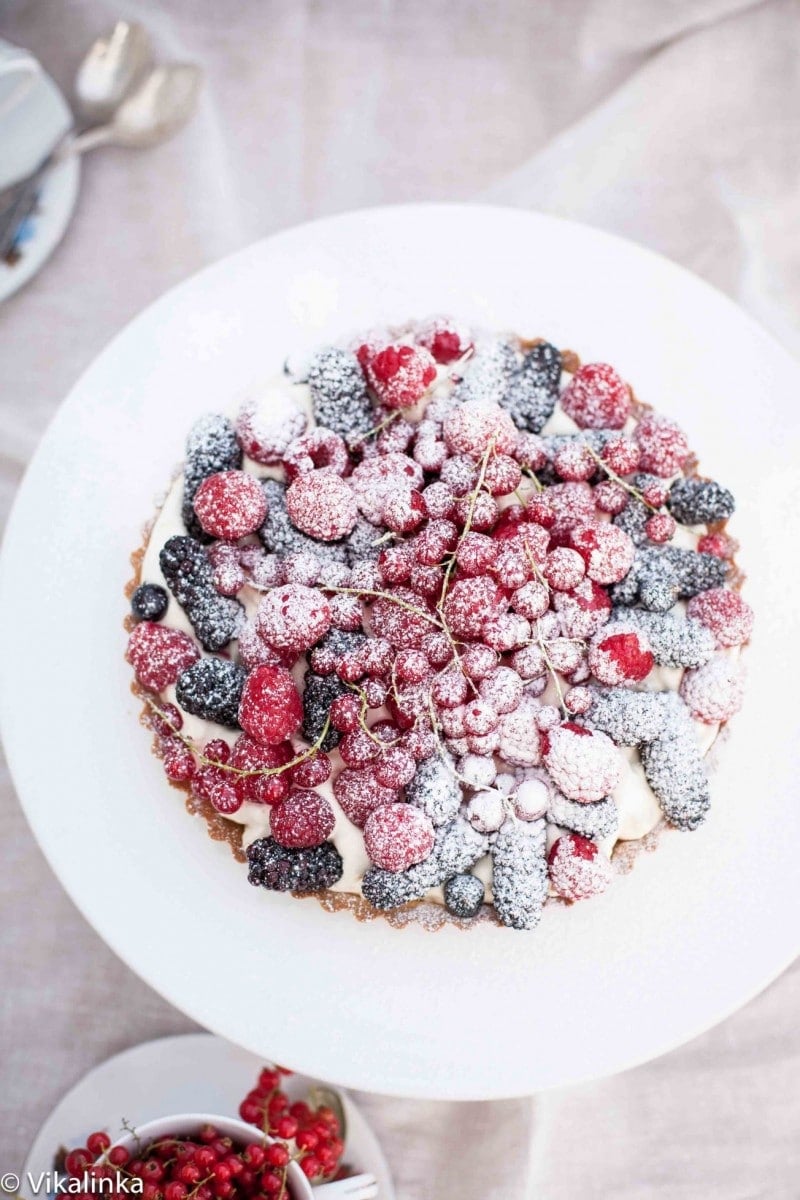 Berries are quite possibly THE thing I love the most about summer. The presence of berry desserts signals holiday for me more than anything else.
This tart makes the most of summer berries, giving them the chance to shine on top of a light tart. The berries are the stars, so choose the most seasonal and fresh berries you can get your hands on!
Choosing berries
As every Russian child that grew up in the city I loved going away to a "dacha" on weekends. We would get lost in the garden picking and eating copious amounts of fruits and berries.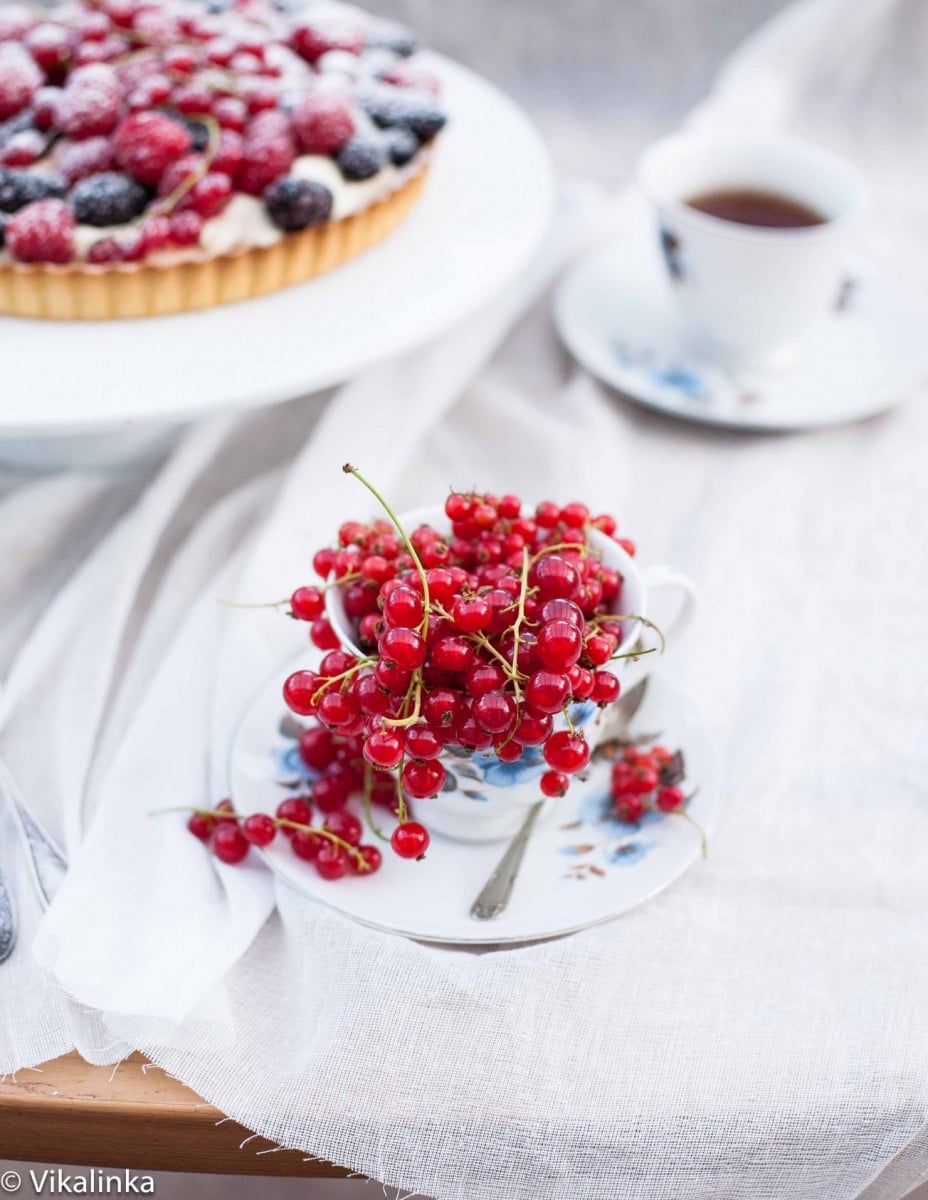 There are so many berries in the world, each with something special to bring. It's a shame that most of the berries in our stores are strawberries, blueberries and raspberries, and perhaps blackberries if really lucky.
In my world there were so much more! What about gooseberries, wild strawberries. black, red and white currants?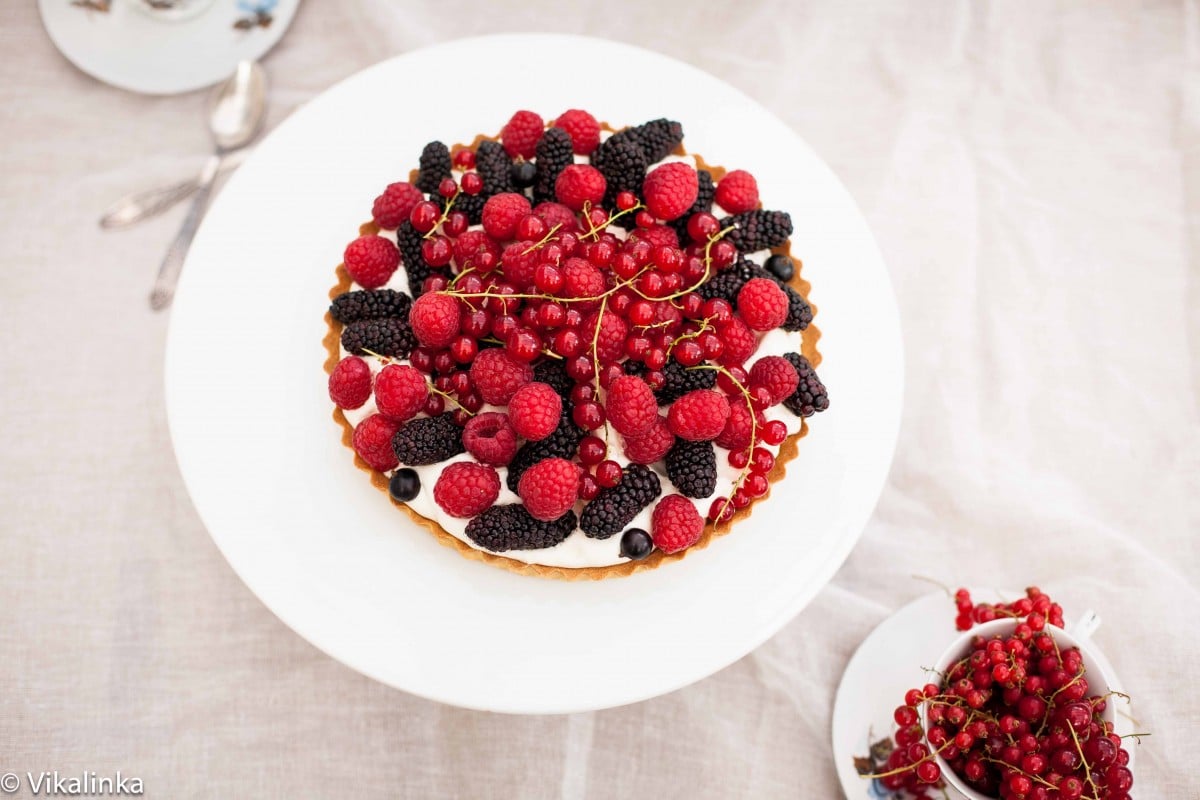 Thankfully, due to the resurgence of farmer's markets and people's general interest in gardening my little summer heroes are popping up all over the place. This means we get to experience natures diversity and lots of desserts for me!
I've chosen blueberries, raspberries and blackberries the first time I made this tart. Then a few days later I went to a farmer's market and found red currants.
I had to make another Summer Berry Tart using a generous amount of red currants! Choose whatever you can find and any berries that will make you happy!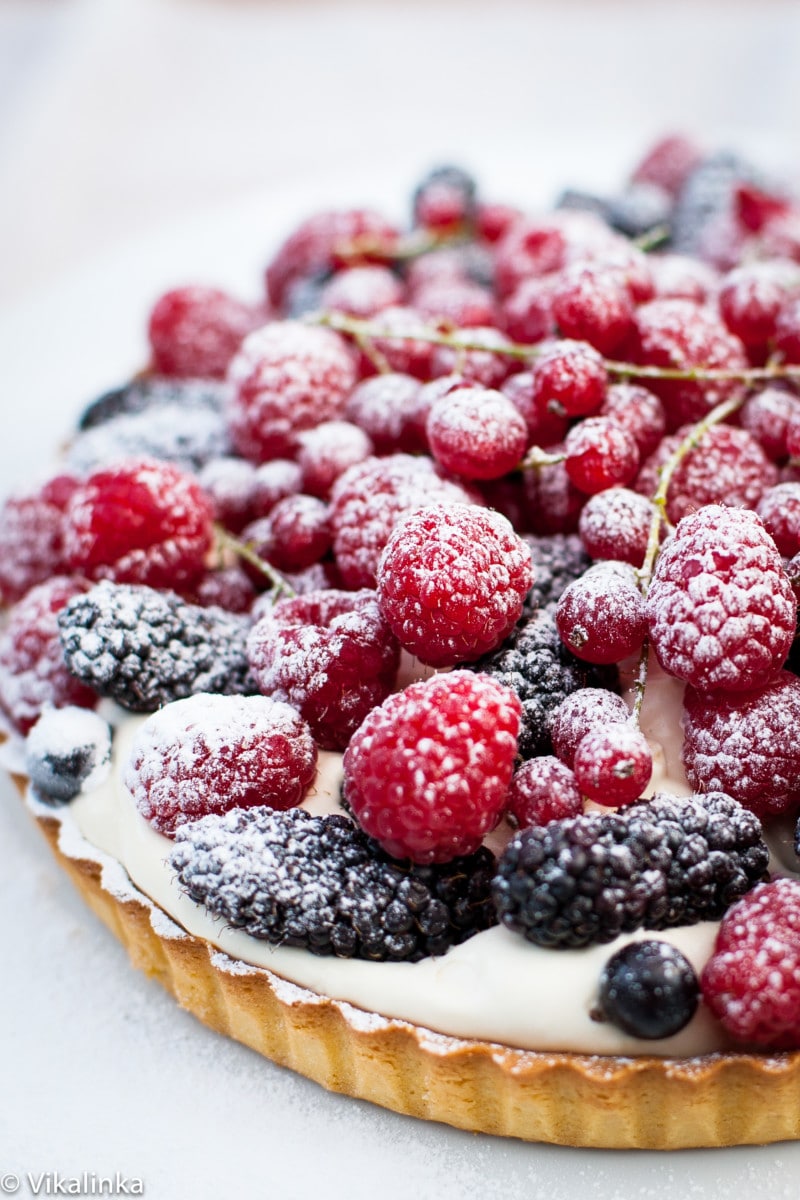 Making the berry tart
First off, if you can find a great tasting all butter pre-made tart and it's blazing hot outside, go ahead and purchase one! I am all about shortcuts in the kitchen as long as it doesn't compromise the taste.
If you need to make your own, make sure you leave enough time for the dough to rest in the fridge. It needs 30 minutes when first made, and another 30 minutes when added to the tart pan.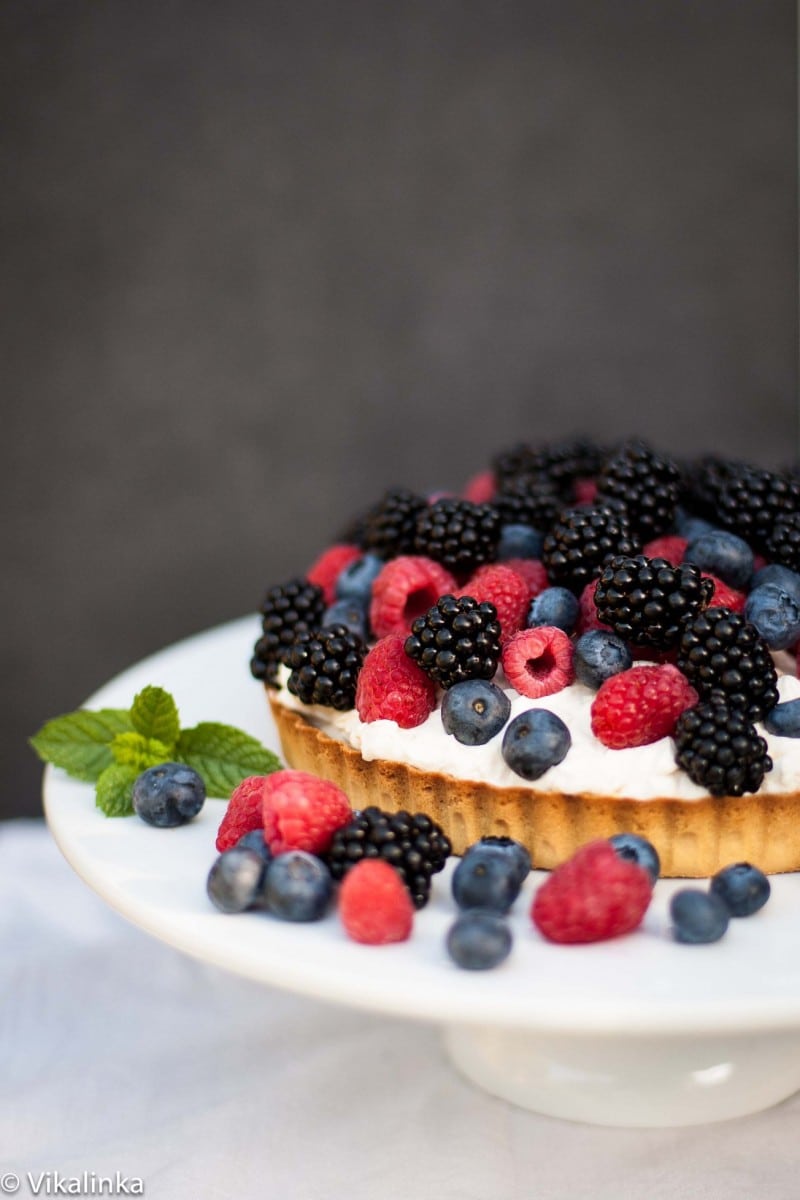 Resting the dough gives the glutens a chance to rest, which results in less shrinking when baked and a better texture. The dough also gets more time to soak up liquids so they are more evenly dispersed.
Now blind bake the tart shell, which means that it is partially or fully baked before moving on with recipe. In this case, it is the only part of the tart that is baked, with other layers added on top.
Before blind baking, cover the tart with parchment paper, pushing it right into the edges. Fill it with beans or rice and put it in a pre-heated oven first for 10 minutes, and then for 10 more minutes without the parchment paper and beans or rice.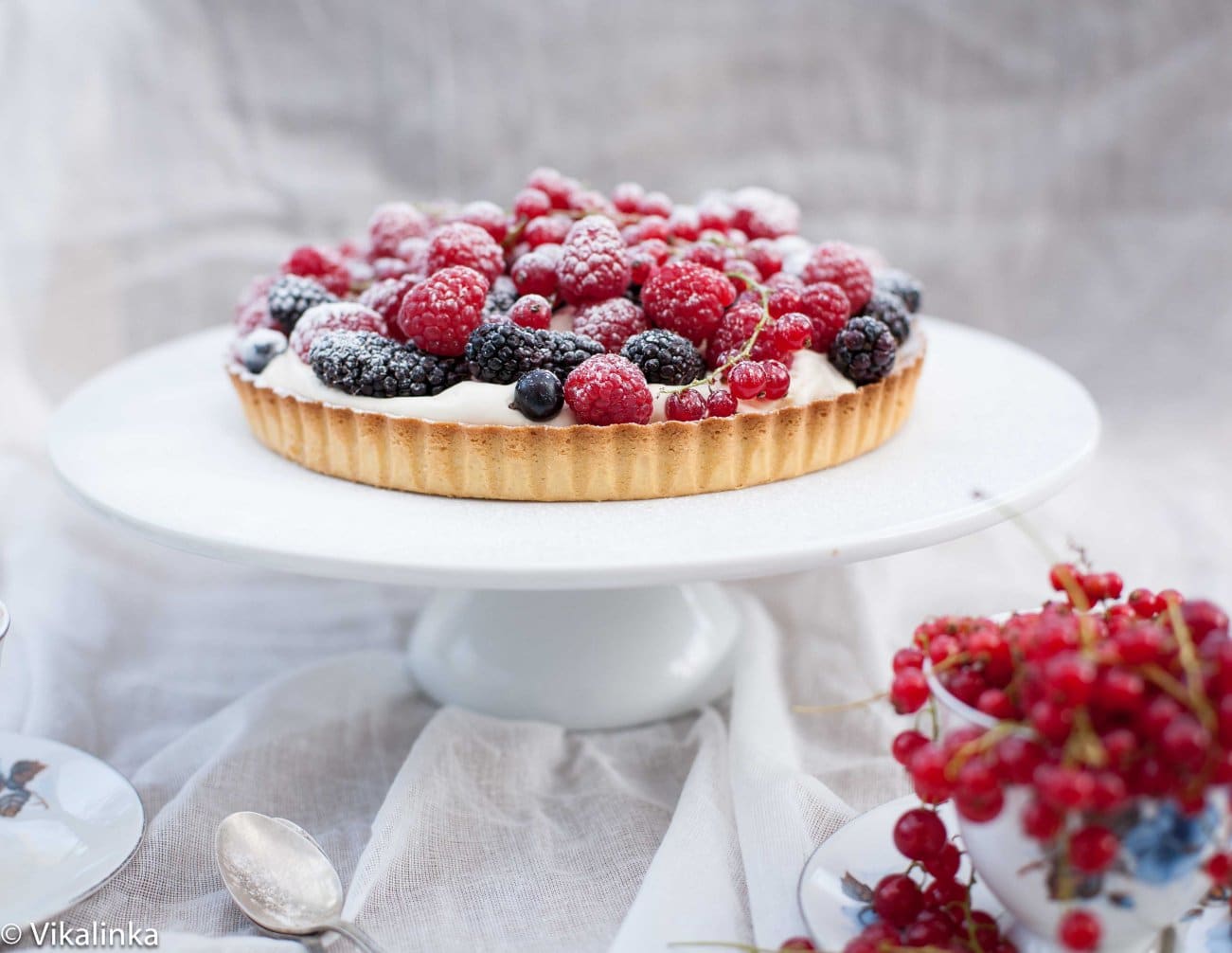 While this is happening, whip the cream or creme fraiche with vanilla beans, icing sugar and rum until peaks begin to form. Crumble meringue nests into the cream for added sweetness and texture.
Pile your chosen berries generously on top. I like to dust with icing sugar for added drama!
Recipe tips and notes
Any berries will work for this recipe. Choose whatever you can find that is in season.
Using a pre-baked tart is a great way to make this recipe even quicker and easier. Make sure you pick a tart that is of high quality and doesn't sacrifice taste or texture.
If making your own tart, don't forget to give it time in the fridge prior to baking. This is an important step and will result in a better tasting tart with a more pleasing texture.
Brandy or port could be substituted for rum.
Note: This recipe was adapted from Jamie Oliver's "Jamie Does Sweden".
More Fruit Tart Recipes to Try: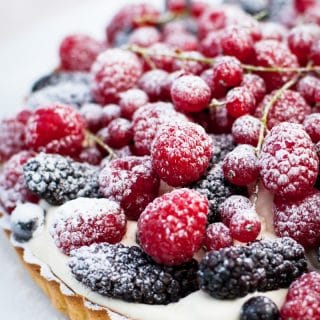 Summer Berry Tart
This summer berry tart is truly special. Buttery tart, broken meringue and whipped cream topped with berries.
Ingredients
600g/3 cups

mixed seasonal berries

4

meringue nests

broken

250ml/1 cup

double/heavy cream

125ml/ ½ cp

creme fraiche or sour cream

full fat

25g/1/4 cup

Icing Sugar

1

vanilla bean or 1 tsp vanilla

seeds scraped out

1

tbsp

rum

optional
For the tart
250g/ 2 cups

flour plus extra for dusting

25g/1/4 cup

icing sugar

125g/1/2 cups

unsalted butter

cut into small cubes

1

egg

large

Milk- a little splash

Butter for greasing the tart tin
Instructions
Mix the flour and icing sugar in a large bowl, add cubed butter and work it in the mixture until it resembles coarse crumbs. Add the egg and a bit of milk just to bring the dough together, form it into a ball. Wrap it in a plastic wrap and put it in the fridge for 30 min.

Sprinkle your work surface and the rolling pin with some flour, take the dough out of the fridge and roll it out big enough to fit a 9″ loose bottomed tart tin.

Grease the tart tin with some butter, drape the dough over the rolling pin and transfer it into the tart tin making sure it comes up the sides. Trim off the extra bits and prick it with a fork all over, cover it with a plastic wrap and put it back in the fridge for 30 minutes.

Pre-heat the oven to 180C/350F. Take the tart dough out of the fridge and line it with parchment paper pushing it into the sides, fill the tart with baking beans or rice and bake it "blind" for 10 minutes, take it out, removes the baking beans and parchment paper and bake for 10 minutes longer until firm and golden, cool completely before filling it. (Note: Don't be tempted to skip the blind baking step, otherwise your tart shell will shrink. I've learned the hard way.)

Before serving whip the double cream and creme fraiche with icing sugar, vanilla bean seeds and rum until soft peaks form. Mix it with broken meringue nests and fill your tart with the mixture. Top with mixed berries.
Nutrition
Calories:
440
kcal
Carbohydrates:
41
g
Protein:
5
g
Fat:
29
g
Saturated Fat:
17
g
Cholesterol:
105
mg
Sodium:
35
mg
Potassium:
127
mg
Fiber:
3
g
Sugar:
13
g
Vitamin A:
1011
IU
Vitamin C:
2
mg
Calcium:
55
mg
Iron:
2
mg