Are you daydreaming of sunny terraces, ice cold beers, and a pile of crisp French fries dipped in rich and creamy truffle aioli? Me too! But I'm having nightmares about the price tag. Make your own delightfully dreamy truffle mayo for a fraction of the price and in less time than it takes to say "Dos cervezas, por favor!"
So about those truffle aioli fries. Make the most golden and crunchy, truffle mayo-worthy ones ever with this recipe for air fryer fries.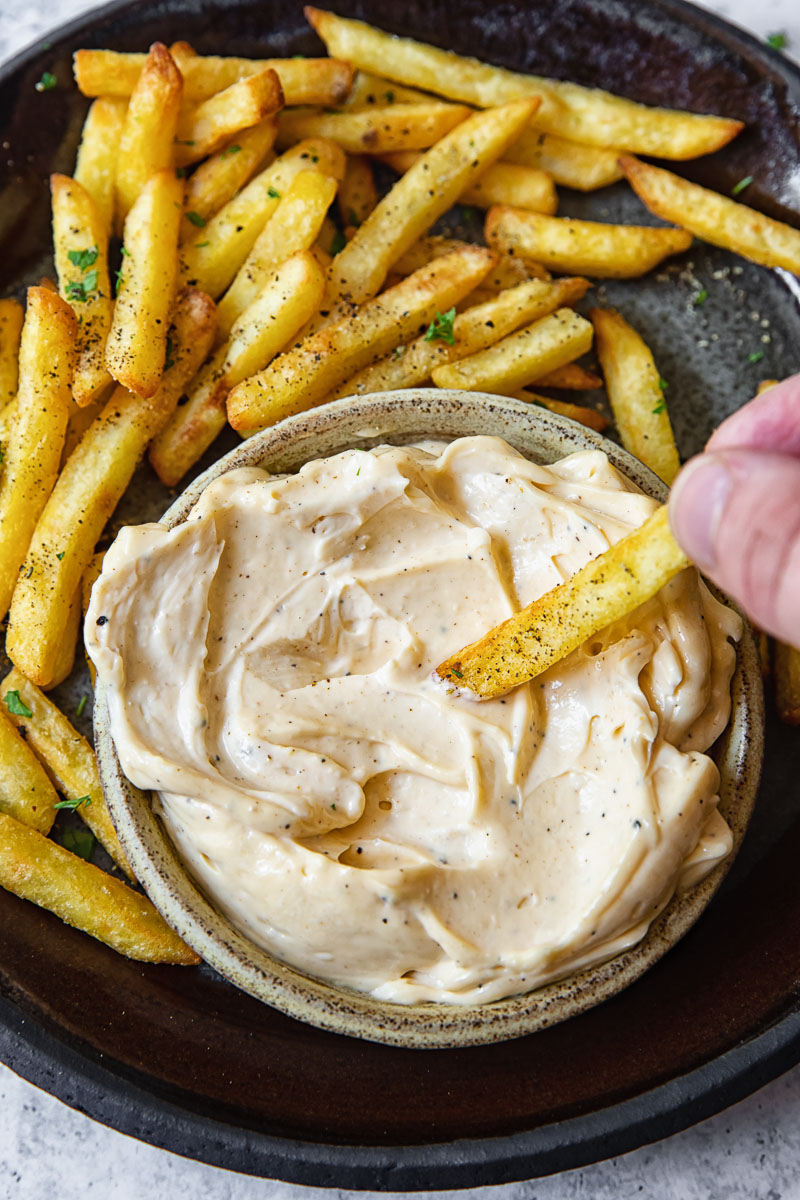 What is aioli?
It's mayo plus, right? Mayo plus paprika. Mayo plus pesto. Mayo plus sriracha. Mayo plus truffle. Well, no. But you'd be forgiven for thinking that.
The original aioli is actually oil plus garlic. That is IT! And a pinch of salt. It's an intense, nose-tingling, meeting-cancelling, vampire repellant in condiment form.
But who can go around cancelling meetings every time they dip a cheeky fry into a pot of aioli? These days, no-one. So the recipe has been altered over time to produce the equally moreish, mouth-watering version of aioli your are more familiar with. The mayo-based kind.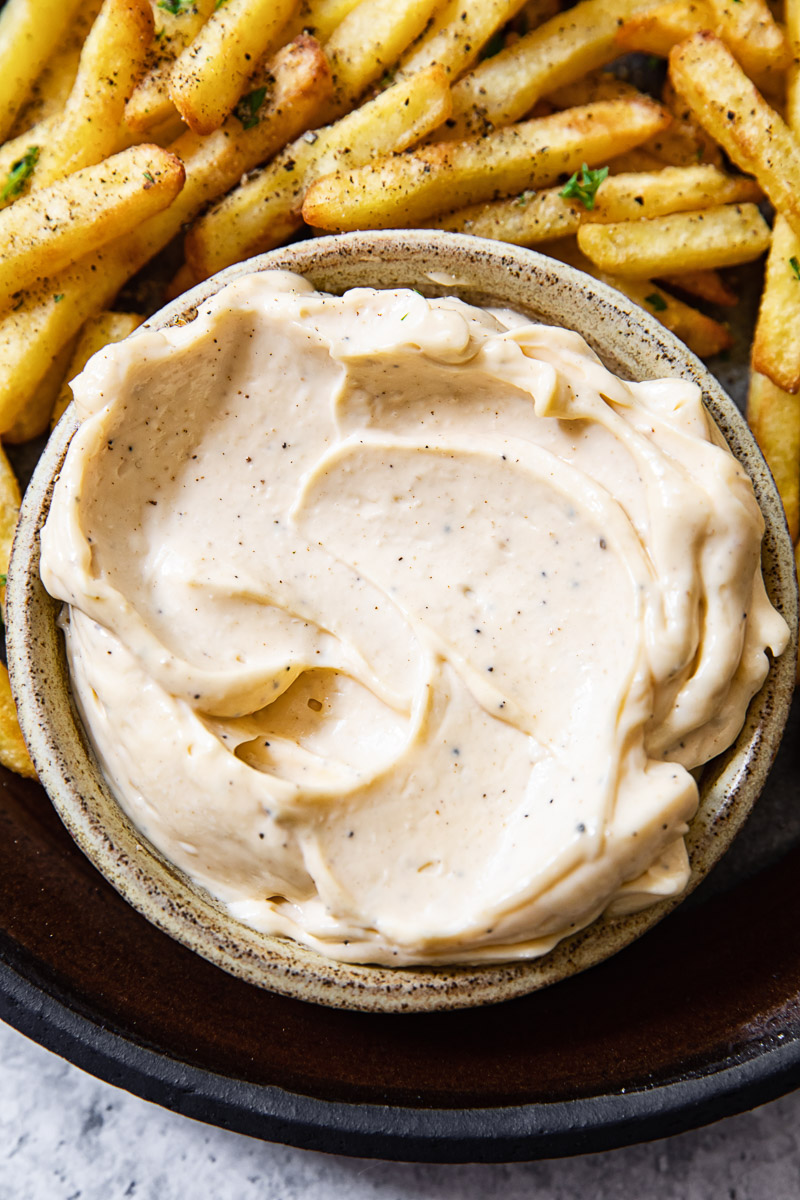 Mayonnaise vs Aioli
As we know, aioli is just oil and garlic. Emulsified. (We'll get to that in a minute.) Mayo is oil, lemon juice or vinegar, mustard and egg yolk. No garlic! Emulsified. So what is 'emulsified'? Basically, it means violently blended together.
Oil tends not to mix well with other liquids- imagine the gorgeous little bowl of olive oil and balsamic vinegar you get to dip your bread in at Spanish restaurants.
So, to achieve that smooth, almost creamy texture of mayo and aioli, the oil and other liquid components need to be whipped into a frenzy forcing the two together.
In actual fact, they do not merge entirely, but are broken down into teeny tiny bubbles of themselves that give the appearance of oneness.
But whichever you choose, mayo or aioli, you can expect a gloriously luscious dip for your chips, spread for your sandwich, or whichever of the 1001 ways you like yours.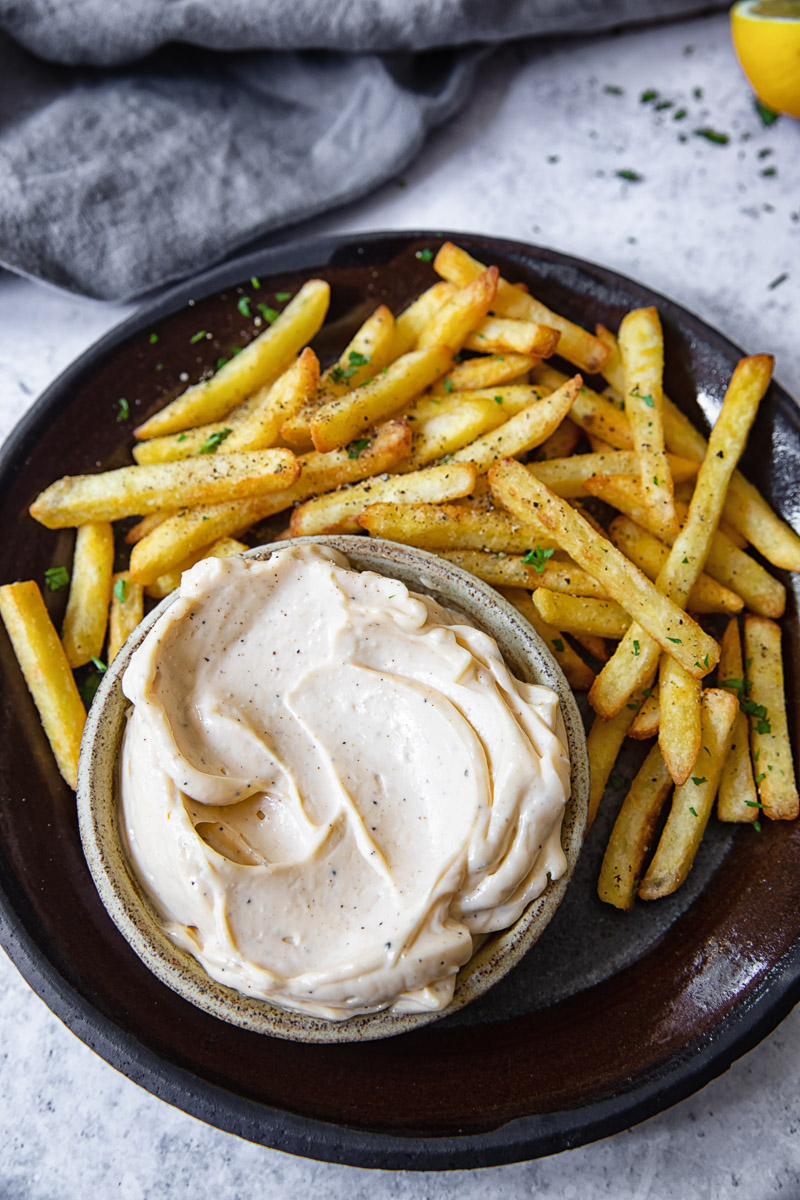 Truffle aioli uses
This versatile little condiment will instantly elevate any eating opportunity. Here are some of my go-tos:
Snacks: crudités, crostini, potato wedges or fries. Dip. All. Day. Long.
Sides: drizzle over air-fryer potatoes. Drench roasted vegetables.
BBQ: make an über homemade burger; either beef or chicken, with this sauce oozing out the sides.
Dinner: swap your standard béarnaise sauce and serve with grilled tomahawk or rib eye steak
Light lunch: slather on your sourdough sandwich, try with hot roast beef or your fave cheese. Lots of lettuce, lots of tomato.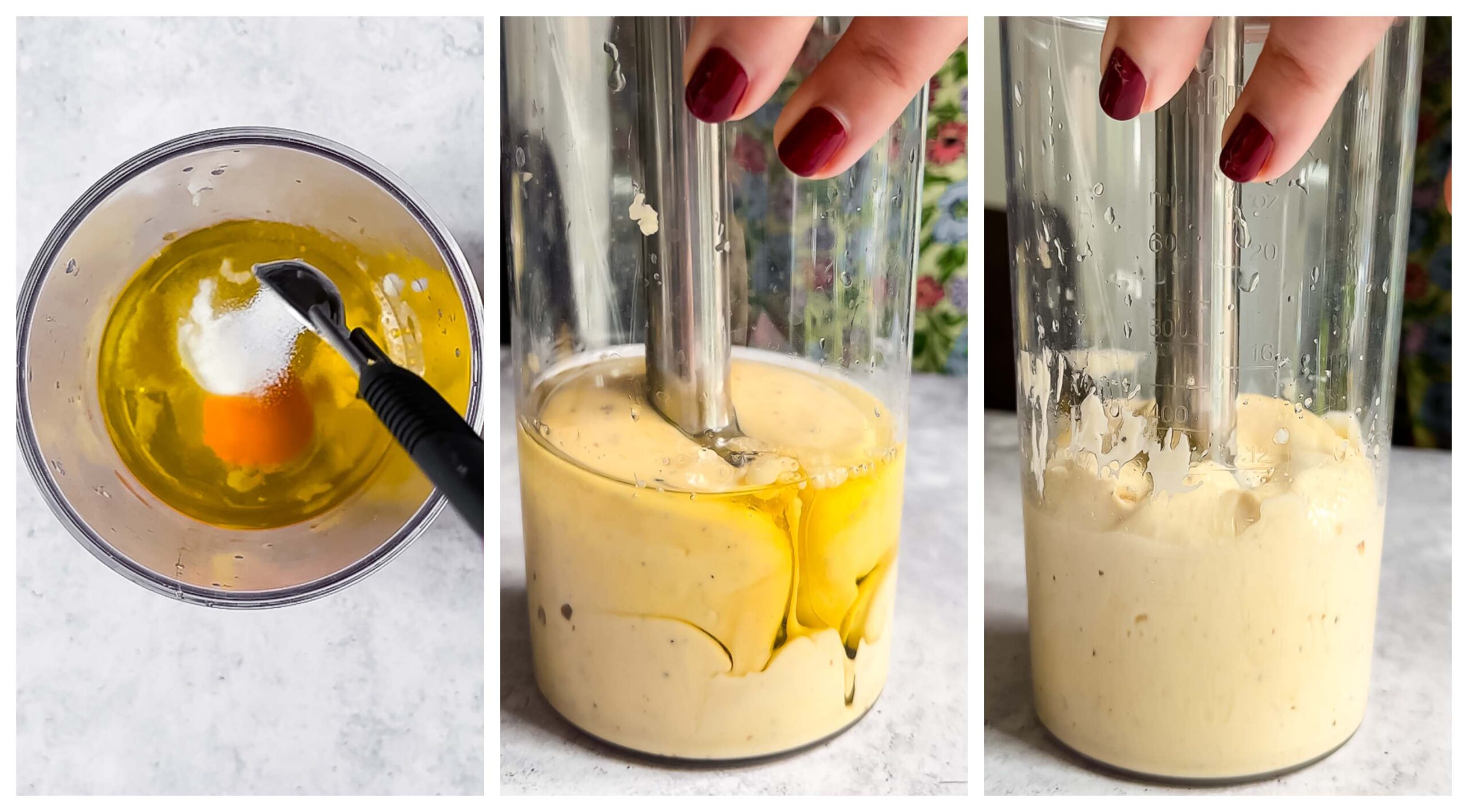 Recipe tips and notes
If you have an immersion (stick) blender, you can whip up your own bubble-light batch of truffle mayo in 30 seconds!

The egg is raw. It's important to use high-quality eggs to avoid salmonella. I always use organic.

Pasteurised liquid eggs are a conscience-soothing alternative to boxed eggs. You can be sure that these have been treated and they are safe to eat raw.

We all love olive oil, but take it from me, for this recipe it is too strongly-flavoured and can make the overall taste bitter. Use a neutral-flavoured vegetable or sunflower oil.

Take your eggs out of the fridge 30 minutes before you're ready to prep your truffle mayo. All the ingredients should be at room temp.

Whole black truffles are a decadent expense. In some dishes there's no replacing them. But thankfully, a decent natural truffle oil will do the job nicely here. Just as well, as I guarantee you'll be guzzling this by the litre!
Storage and leftovers
Give your fresh truffle aioli no more than 4 days in the fridge. As it's made with raw egg, the fresher the better. And it's a hard no on freezing. The oil-based condiment will separate when thawing and you'll be left with a sludgy puddle. Not great on fries.
Other dips to try: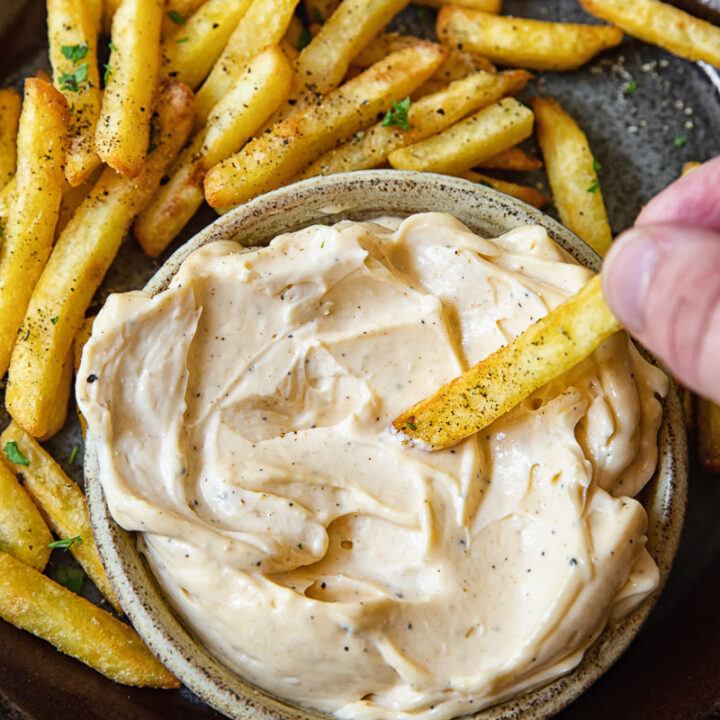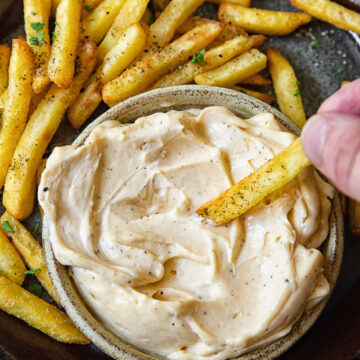 Truffle Aioli
Truffle aioli is a delightfully dreamy mayo based sauce made from a perfect concoction of truffle, garlic and lemon.
Ingredients
1

egg

150ml/2/3 cup

neutral tasting oil

1

tsp

Dijon mustard

1

tbsp

lemon juice

2

cloves garlic

2

slices black truffle with oil or 2 tsp truffle oil

¼

tsp

salt
Instructions
The easiest way to make it is using an immersion blender and a tall and narrow container. Combine the vegetable oil, an egg, salt , Dijon mustard, lemon juice, grated or pressed garlic cloves and the truffle slices.

Insert the immersion blender and process for a few seconds while moving the blender slightly until the ingredients turn into a thick mayonnaise.
Nutrition
Calories:
326
kcal
Carbohydrates:
1
g
Protein:
0.1
g
Fat:
37
g
Saturated Fat:
5
g
Polyunsaturated Fat:
4
g
Monounsaturated Fat:
27
g
Sodium:
157
mg
Potassium:
12
mg
Fiber:
0.1
g
Sugar:
0.1
g
Vitamin A:
1
IU
Vitamin C:
2
mg
Calcium:
4
mg
Iron:
0.2
mg