Prepare to have your senses lulled and exhilarated by my Tagliatelle with Truffle Sauce. Exotically scented, smooth on the tongue, intriguing. In mere minutes you have entered the world of the black truffle…
Complement the soft creaminess of the pasta truffle sauce with a crunchy green side of Lemon Garlic Green Beans with Parmesan Cheese.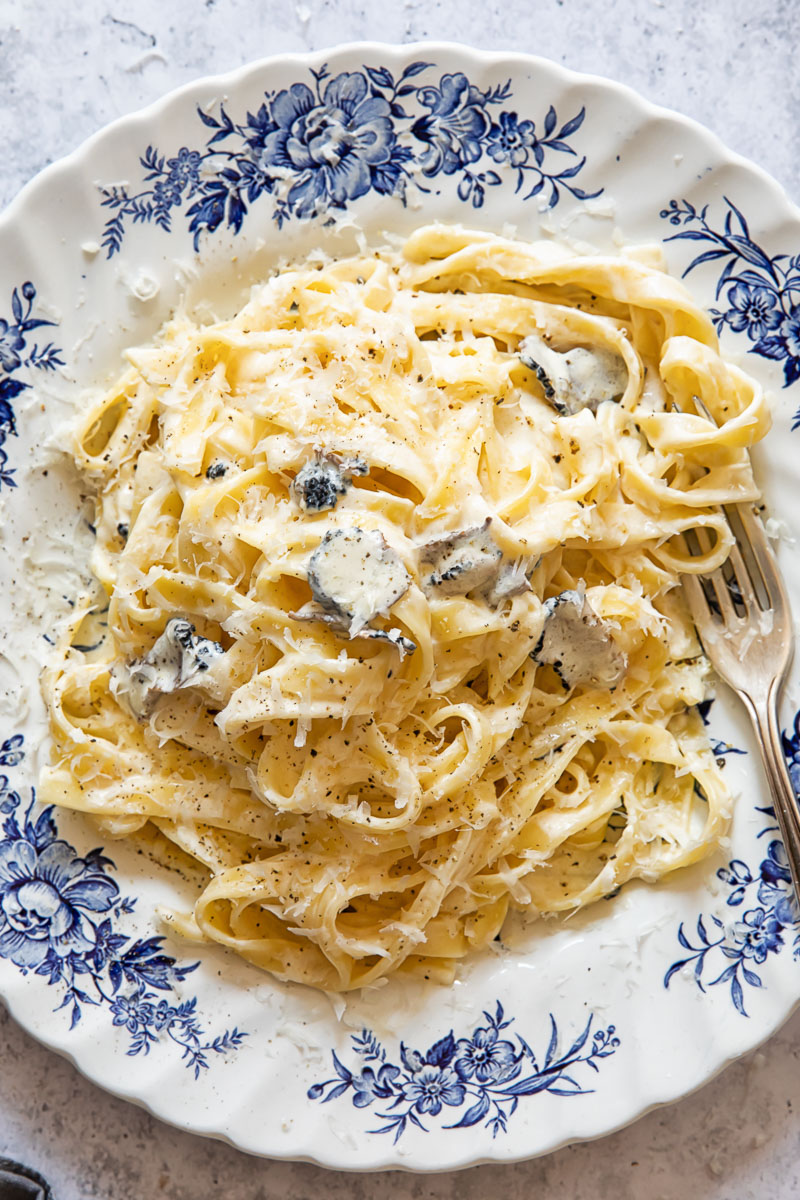 Why you'll love it
A luxurious meal in minutes! A creamy pasta dish is an indulgent treat any day of the week, but when you add a shaving of truffle it becomes an extravagance that sighs hedonism.
And, honestly, this is one of my simplest recipes yet! Easy to use ingredients and straightforward steps mean you'll be fine dining in your own home in the time it takes to boil the pasta.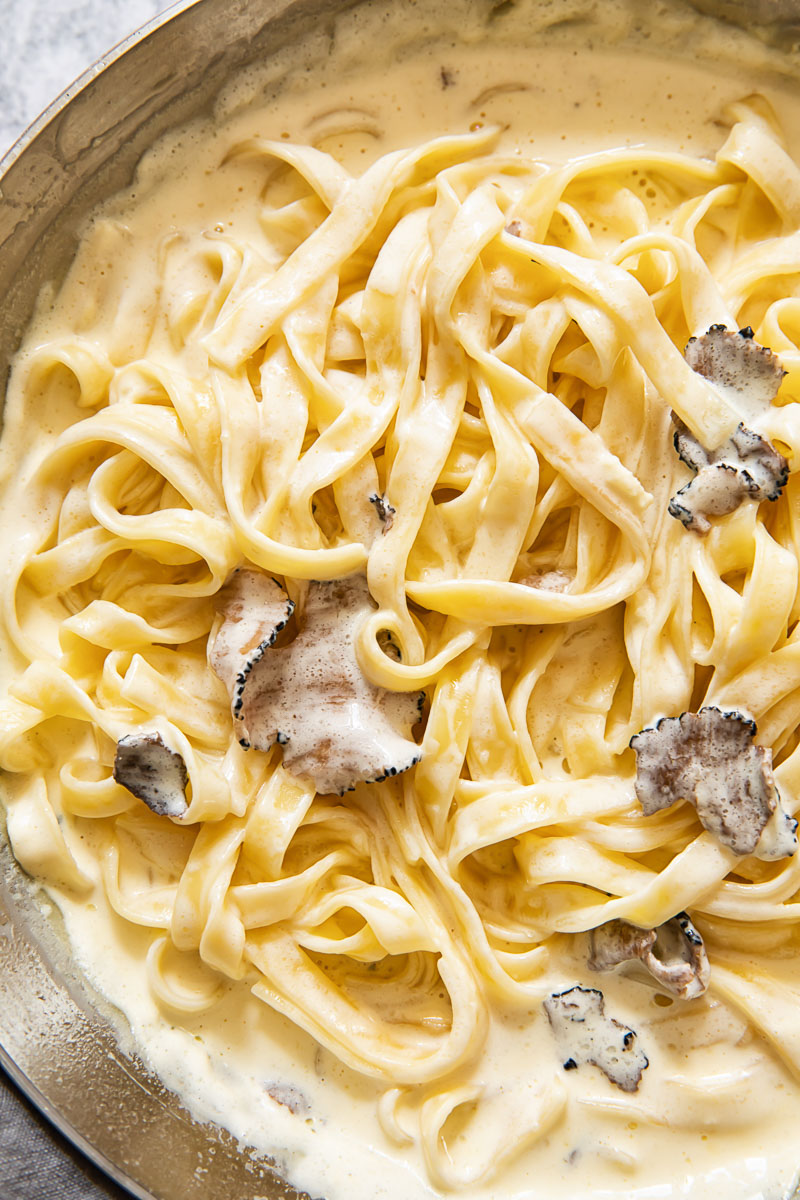 What is truffle sauce?
My black truffle sauce is a heady concoction of musky black truffle slices, smooth and velvety double cream, and sharp fresh Parmesan. It is decadence on a plate.
In case it's your first flirtation with truffles, they are of the mushroom variety but of superior status. They come in black, white or burgundy.
The black being the easiest, and more affordable, to source. In appearance they are eminently missable; small knobbly charcoal-like lumps, with a pale flesh inside.
More of an aroma than a flavour, the truffle scent appeals to the most base of senses which is why they have earned a reputation for having aphrodisiacal properties. It is pungent, earthy, intoxicating. And a little goes a long way. A few paper-thin shavings will suffice.
Paired with cream and Parmesan cheese, this is a beautifully balanced pasta sauce that will have every diner begging for more.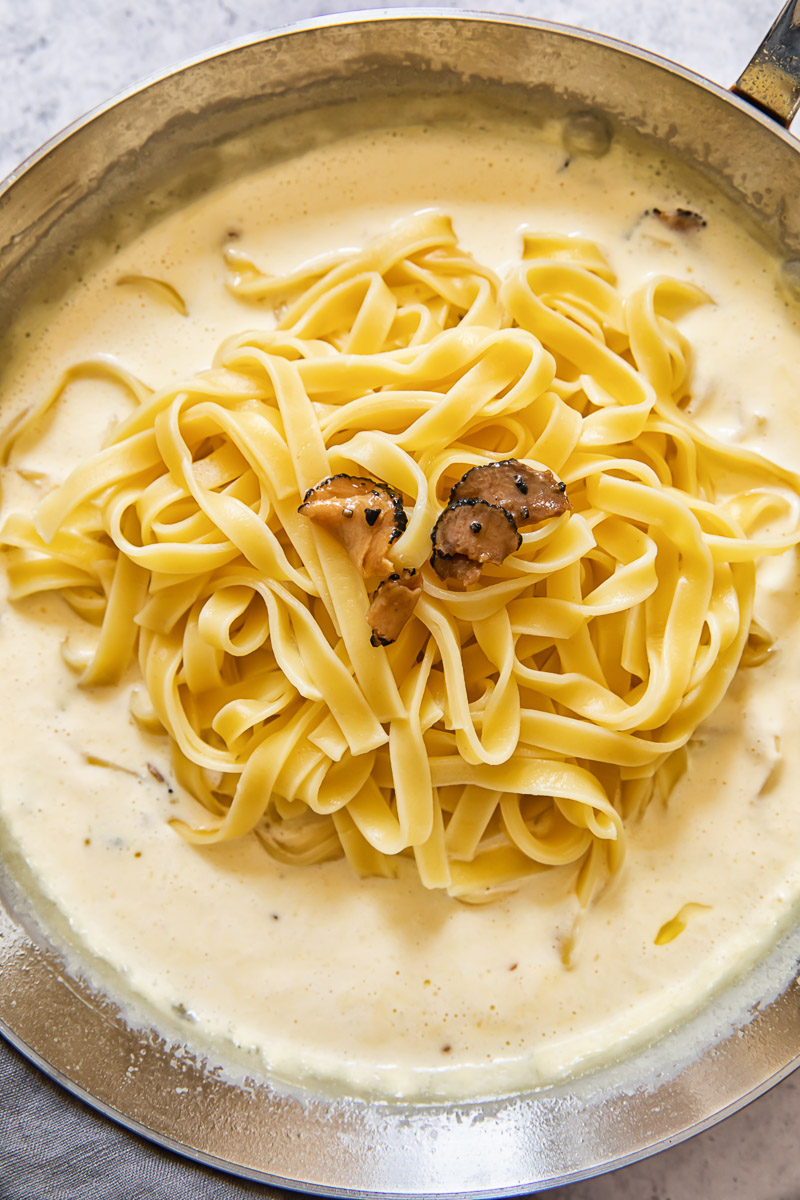 Which truffles to buy
Choosing your truffles is a crucial step. As they are such a valued ingredient, there are some imposter products out there to be aware of and avoid. You don't want to spoil the integrity of the special dish.
Although the most expensive, bar fresh black truffles, whole truffles preserved in oil are the most reliable option for top quality. These can be bought easily online.
However, if you choose to use truffle butter or truffle oil, it's important to read the list of ingredients before making your purchase.
Some of these products are artificially created and contain chemicals that assimilate the truffle flavour but leave a synthetic taste. Look for the words 'real truffle' or for actual truffle pieces in the oil itself.
Truffle oil will be a more affordable option and if you do choose to go that route, take a look at our Creamy Tagliatelle with Bacon, Mushrooms and Truffle Oil recipe.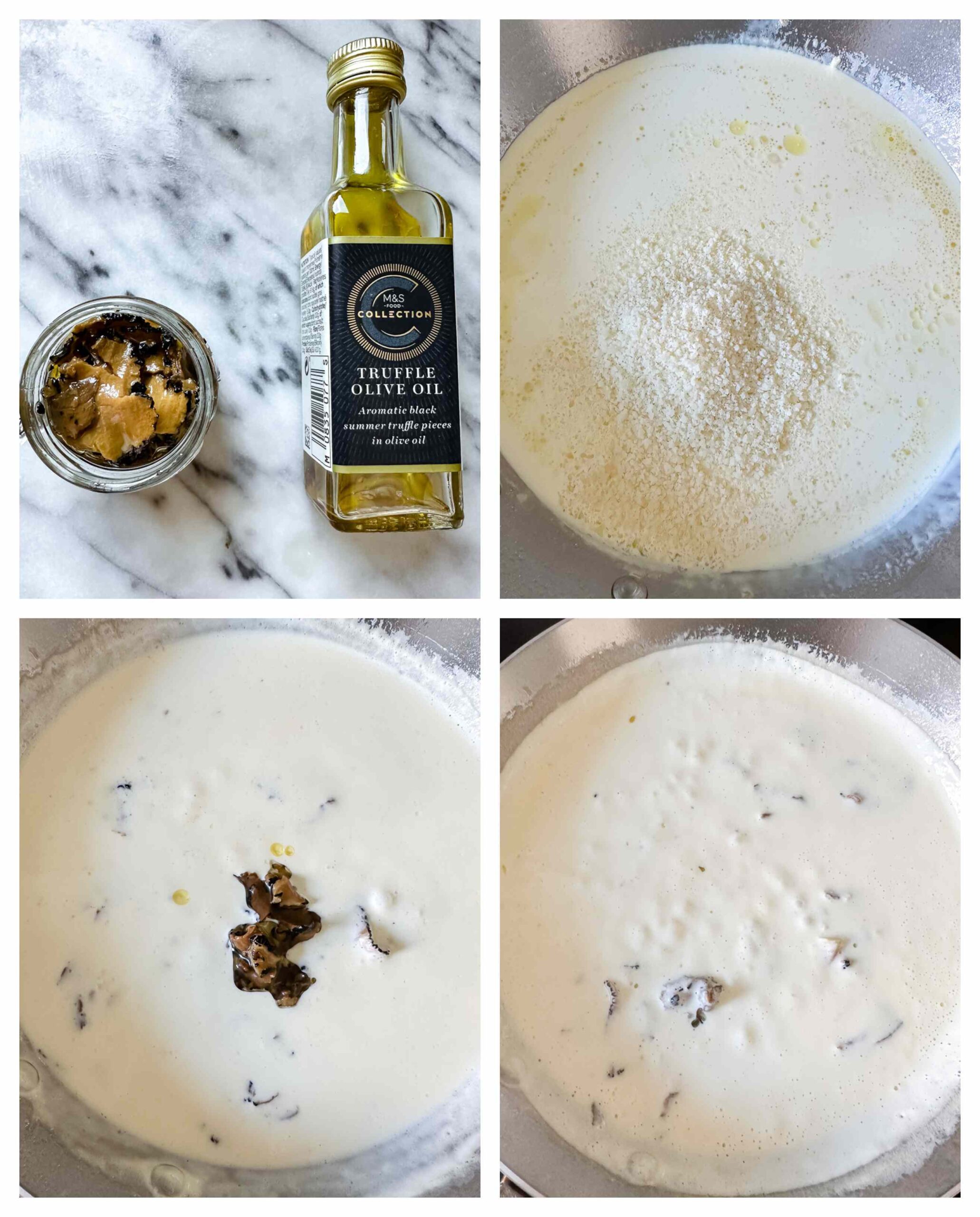 Recipe tips and notes
This will not be an inexpensive meal, but it will be memorably exquisite.

The essence of this dish relies on the quality of its few ingredients. Seek out fresh tagliatelle, or a high end dry one. Choose a decent truffle oil, as mentioned above. Invest in a Parmesan block and grate your own.

Fresh Parmesan is a fridge staple of mine. It is infinitely more flavoursome than its pre-grated counterpart. If stored correctly once opened, it will last for up to two months and can be added to many a dish to elevate. So it's well worth the investment!

I want the purest truffle cream sauce so my recipe will not call for thickeners like flour or cornstarch. It will be silky, fluid and lightly coating the pasta.

Truffle is a potent ingredient. I adore it so I use 50 grams' worth of slices in my recipe. However, if you prefer a more subtle truffle, use a little less.

Finally, even if you don't usually, you need to add salt to taste. Trust me!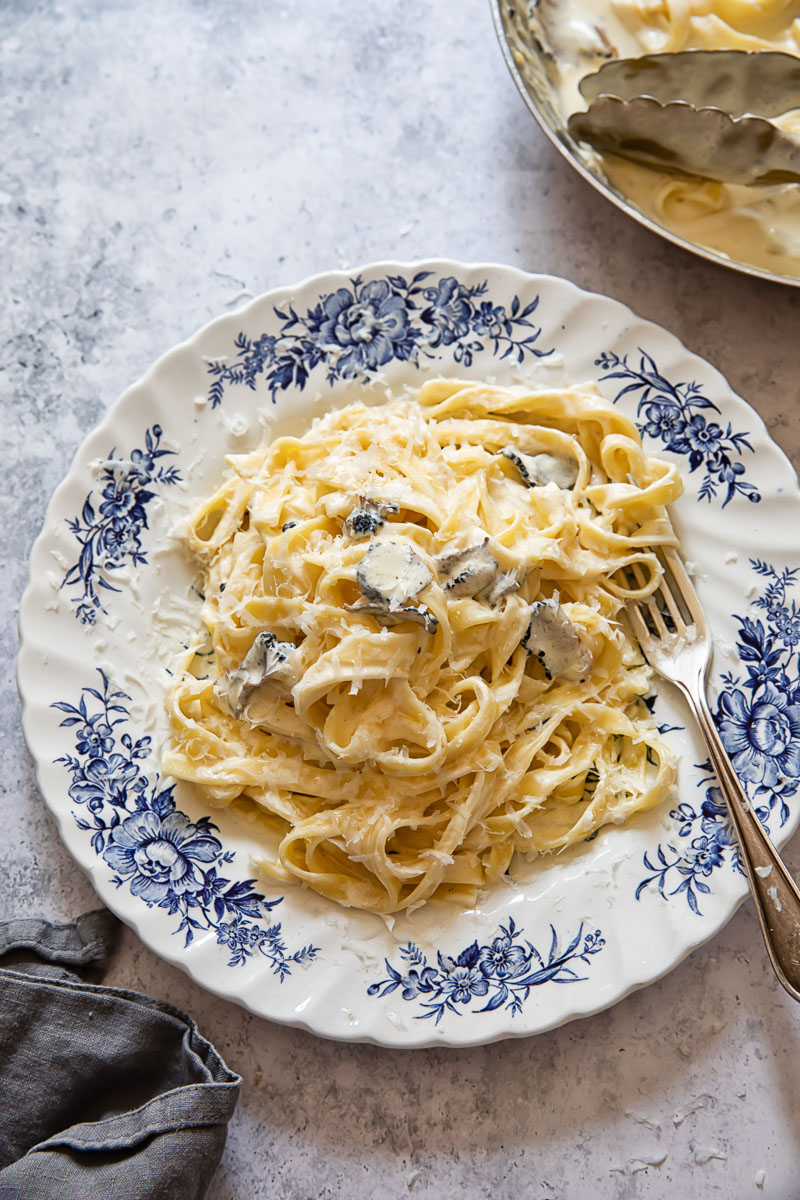 Storage and leftovers
It would be sacrilege to leave a single morsel of this divine dish uneaten! It must be prepared and consumed on the day. I can say no more.
More pasta dishes to try: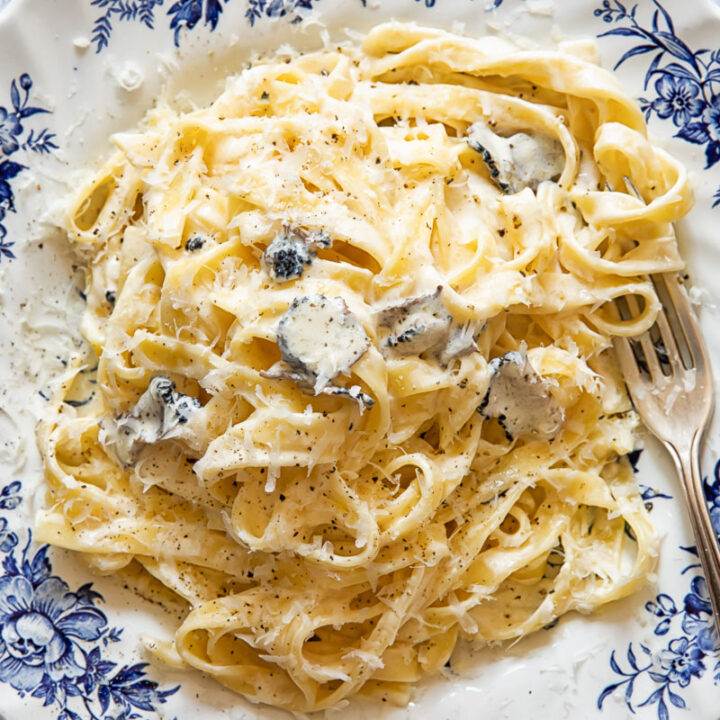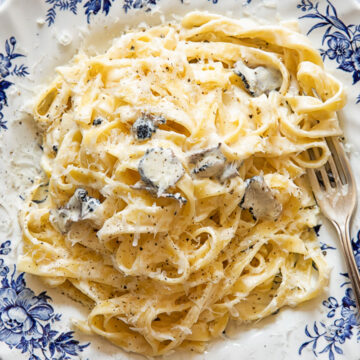 Tagliatelle with Truffle Sauce
Black truffle sauce is a heady concoction of musky black truffle slices, smooth and velvety double cream, and sharp fresh Parmesan
Ingredients
1

lbs

tagliatelle

1

tbsp

truffle oil or truffle butter

2

cloves garlic

500 ml/2 cups

heavy/double cream

50g/1/2 cup

freshly grated Parmesan cheese

50 g/2 tbsp

black truffle slices in olive oil

Salt and pepper to taste
Instructions
Cook the tagliatelle in a large pot of salted boiling water according to package instructions.

In a pan heat the truffle oil from the jar, in which the truffles were preserved or truffle butter if using, then add the minced garlic and cook over low heat for 20 seconds without colouring it. Take a ladleful of water from the pasta pot and add to the pan together with the heavy cream and freshly grated Parmesan cheese, bring to a simmer and allow the cheese incorporate into the sauce over low heat. The add the truffle slices and stir.

Drain the tagliatelle but reserve ½ cup of pasta water. Add the pasta to the sauce and toss to coat,add a splash of water if needed. Add salt and pepper to taste.
Nutrition
Calories:
630
kcal
Carbohydrates:
58
g
Protein:
17
g
Fat:
38
g
Saturated Fat:
22
g
Polyunsaturated Fat:
3
g
Monounsaturated Fat:
11
g
Trans Fat:
0.05
g
Cholesterol:
164
mg
Sodium:
566
mg
Potassium:
320
mg
Fiber:
3
g
Sugar:
4
g
Vitamin A:
1344
IU
Vitamin C:
1
mg
Calcium:
185
mg
Iron:
2
mg