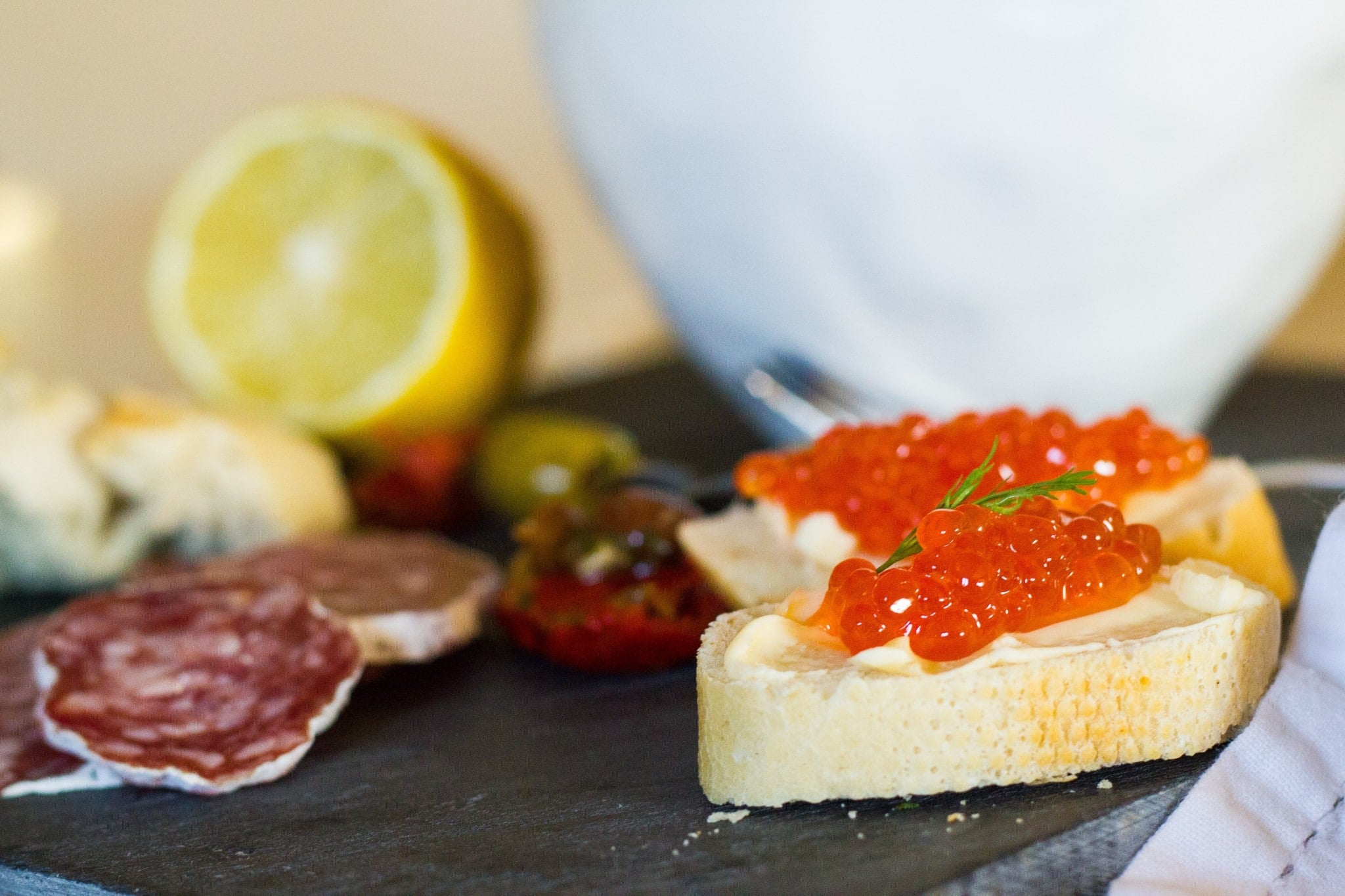 Yesterday was Russian Orthodox Christmas celebrated according to the Gregorian calendar, and as done as I was with all the holidays I couldn't resist making a special meal. Our festive fare was an exact replica of what my mum would have made- Roasted Chicken and Savoury Buckwheat with Caramelised Onions and Mushroom as the centrepiece but surprisingly that is not what my post is about. Today I will be talking about the sidekicks of Russian holiday meals known as "zakuski", which if translated into English, would mean "little bites". Little they might be but their presence is absolutely essential and marks every special meal in every Russian household. Zakuski (pl) serve the same purpose as Italian antipasti-they are meal starters and are meant to whet your appetite and are traditionally offered with a selection of flavoured vodkas, liqueurs and, more commonly nowadays, wines.
Although Zakuski are just there to tease you before the main course arrives, they are so incredibly delicious and oftentimes people can't resist eating just a little and are usually already stuffed to the brim when it's time to move to the next course. In Russia there is a vast variety of foods that are known to be served as zakuski-from simple pickled and brined vegetables to cured meats, variety of cheeses, caviar and salads.
I will be sharing two main salads that no Russian holiday goes without- Shuba and Olivier. You are probably wondering if I've lost my mind trying to promote salads as some sort of a delicacy. Don't worry; for Russians holiday salads are something entirely different- no lettuce leaf in view!
Shuba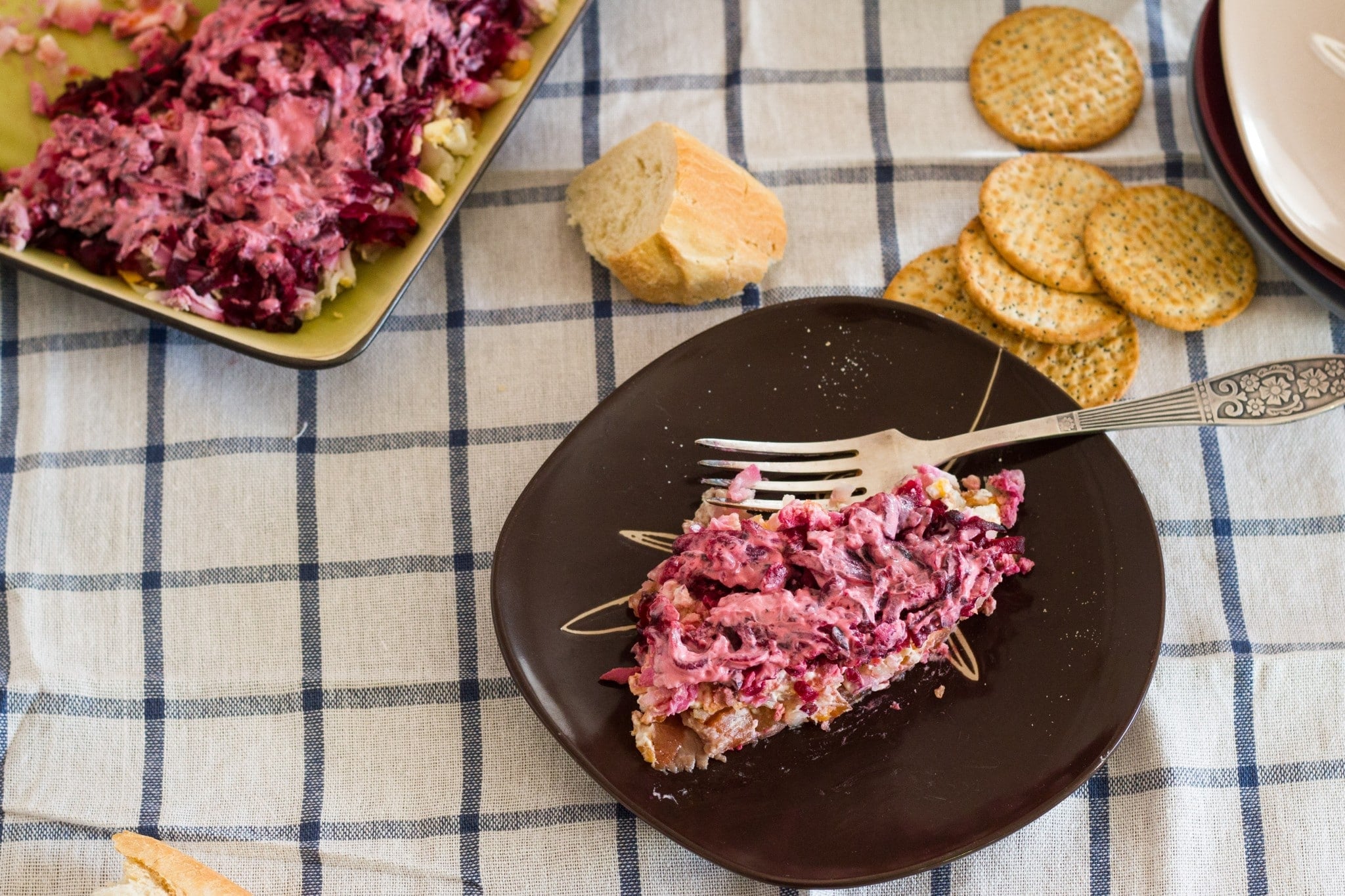 Shuba Ingredients:
Smoked Salmon -200 gr. ( I prefer cold smoked salmon)

Potatoes- 2 medium
Onion- ½ medium
Carrots- 2 medium
Eggs-3
Beets-3 small
Dressing Ingredients for both Shuba and Olivier:
Mayonnaise – ¾ cup
White Wine Vinegar- 1 tbsp
Dijon Mustard (no yellow French's mustard please)-1 ½ tsp.
Milk- 1-2tbsp (to losen the dressing)
Pepper -a pinch
Method for Shuba:
Put potatoes, carrots (don't worry about peeling) and eggs in the same pot and cook until tender but not falling apart. Cook beets with the skin on in a different pot as they will take much longer to cook and will colour the water bright purple. Alternatively, you can roast them in the oven at 375F/190C for about 30 min., pierce them with a knife to test for doneness, your knife should easily go all the way through.
Cool the vegetable.
While the vegetables are cooling prepare your dressing. In a medium sized bowl mix together mayonnaise, white wine vinegar, mustard, milk and pepper with a wire whisk until well combined. Add more milk if necessary to ensure your dressing is somewhat runny.
Peel your eggs and vegetables and grate them on a vegetable grater separately without mixing with each other. Set aside in separate small bowls. Dice the onion finely. Set aside.
Chop the smoked salmon and cover the surface of your serving plate with it. This recipe will fit on a regular dinner size plate.
This salad is assembled by layering the ingredients on top of each other. The order of the layers is not as important as long as you start with the salmon and finish with the beets. This is how I usually arrange my layers:
Salmon-a drizzle of dressing all over

Potatoes-a little more of dressing
Onions-still more dressing
Carrots-and a bit more
Eggs-a teensy more
Beets- and the last bit of dressing
You get the idea, right? Each layer of the salad gets covered with the dressing, just drizzle lightly with a spoon and smooth it out. I recommend using no more than 1 tbsp per layer, otherwise it becomes too stodgy! Reserve the rest of the dressing for Salad Olivier.
This salad is the best enjoyed a few hours after it's prepared as time allows the dressing to seep through the layers and produce almost magical and very unusual flavours.
Note: Traditionally Shuba is prepared with pickled herring but I started making it with cold smoked salmon for the lack of the right kind of pickled herring I found that I like it even better. I've also made it with adding yams/sweet potatoes as another layer, it was simply delicious.
Olivier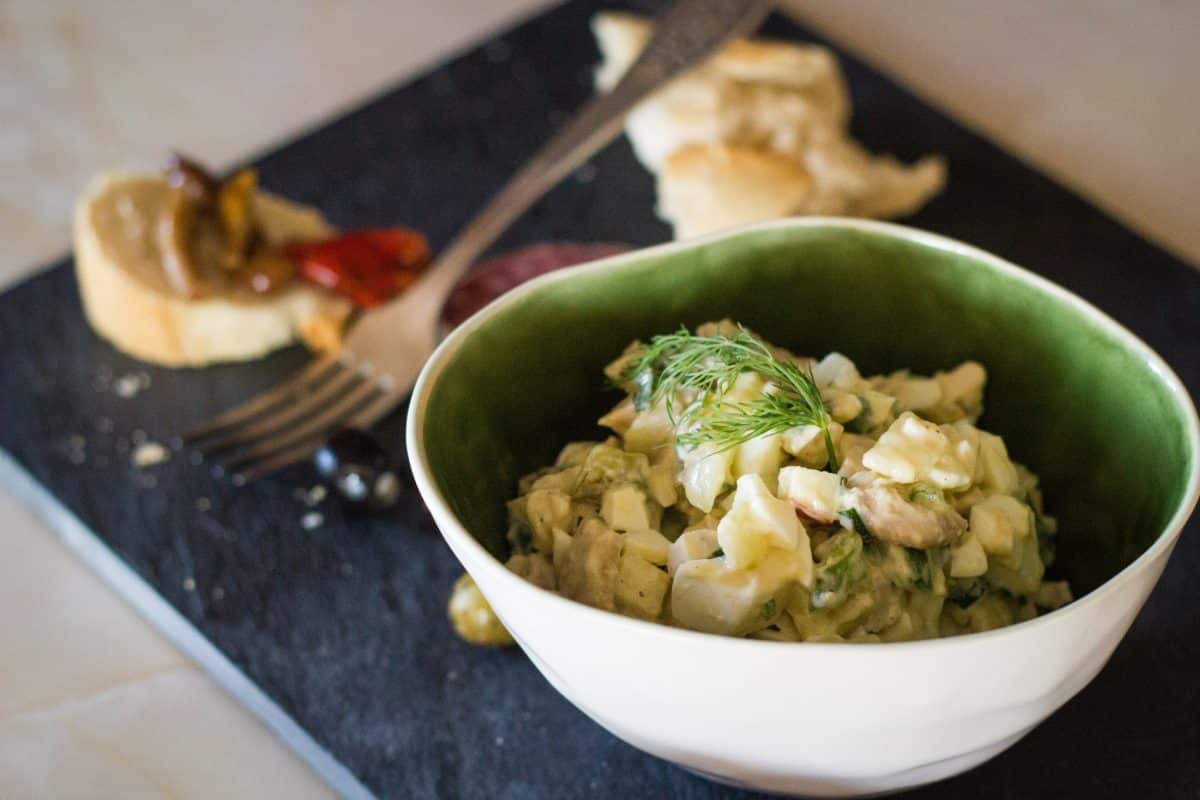 Salad Olivier is a Russian favourite and as I am discovering quickly becoming a salad of choice for anyone I've ever cooked it for. I often bring it to barbecues as it goes ideally with grilled meat. Overtime it became known among my friends as "Russian Potato Salad" and one of the most requested items. The original recipe was invented in 1860s in Moscow by a French chef and a fashionable restaurateur M. Olivier. It was so wildly popular they could never take it off the menu. Many other chefs tried to duplicate it without success as chef Olivier never revealed his secrets and took the dressing recipe to his grave while the salad lived on. The modern day recipe is not exactly the same as in the 19th century and my version will take you even further from the widely accepted one.
Ingredients for Olivier:
Potatoes-4 medium

Eggs-6
Cooked Chicken-(I usually use Rotisserie Chicken from a supermarket) ½ of whole chicken
Dill Pickles/Gherkins- 4 medium
Green Onions- one bunch
Apple- ½ of a medium
Salt and Pepper to taste
Method:
Cook potatoes and eggs until potatoes are tender but not too soft and cool both. Cook chicken if not using already prepared, set aside to cool.
Dice all the ingredients into ½″ dice and empty into a large bowl. Add the reserved dressing and gently mix everything together making sure not to mash the cooked ingredients. At this point give it a try and add salt and pepper to taste. Refrigerate for a couple of hours to allow all the flavours to blend. Don't skip that step, it does make a big difference.
If you would like to experience a true Russian zakuski table serve some salami, a variety of cheeses, olives, crusty bread with butter and caviar in addition to the lovely salads I shared with you and don't forget VODKA!