These rainbow carrots, roasted with aromatic spices, are delicious, vibrant and fuss free. Sprinkle them with toasted pistachios before serving for an added texture and taste.
These carrots will taste outstanding on the side of our Bacon Wrapped Pork Tenderloin.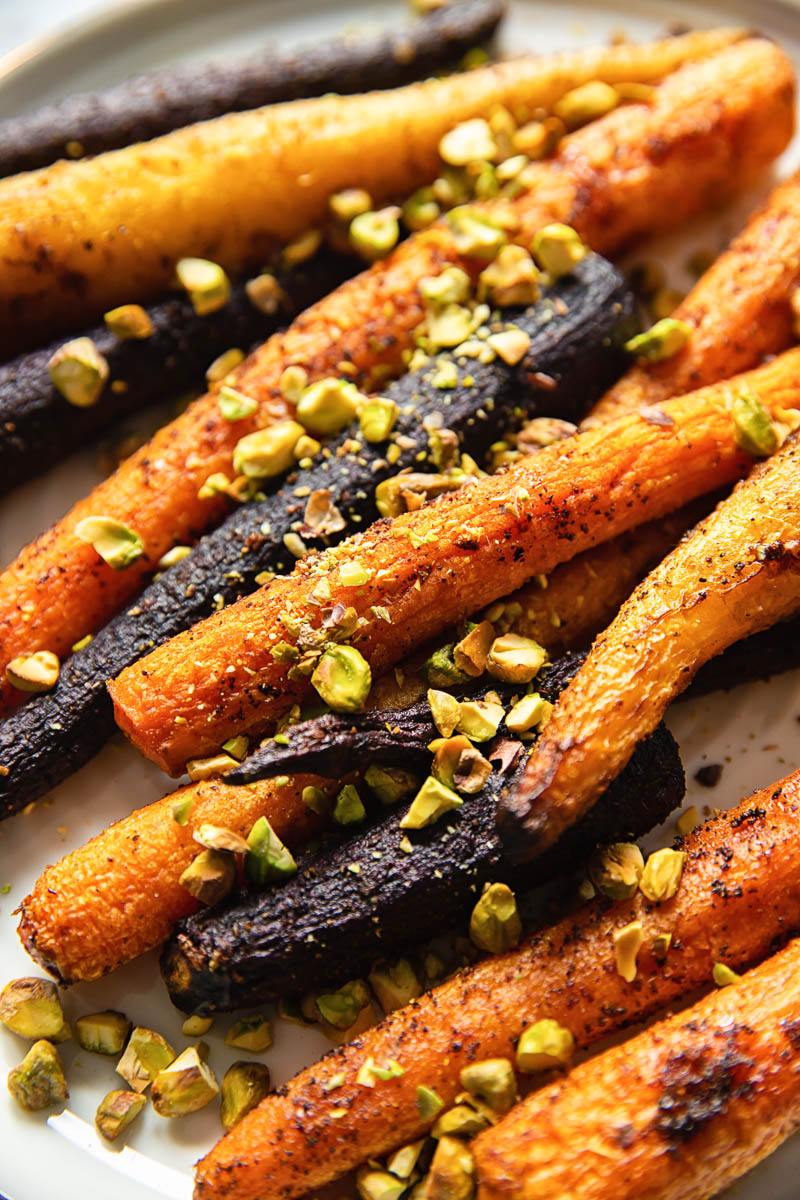 Isn't it fun that we are seeing much more varied produce in recent years?! Multi-coloured tomatoes, radishes and carrots are readily available in most supermarkets nowadays.
And not only are they a joy to look at but also a pleasure to eat! The difference is not only aesthetic, the colour also affects the taste of the vegetables.
Take these rainbow carrots for example. Orange, yellow and purple varieties all come with specific taste notes. And together they create such an interesting dish, which is both familiar and nostalgic but also new and exciting.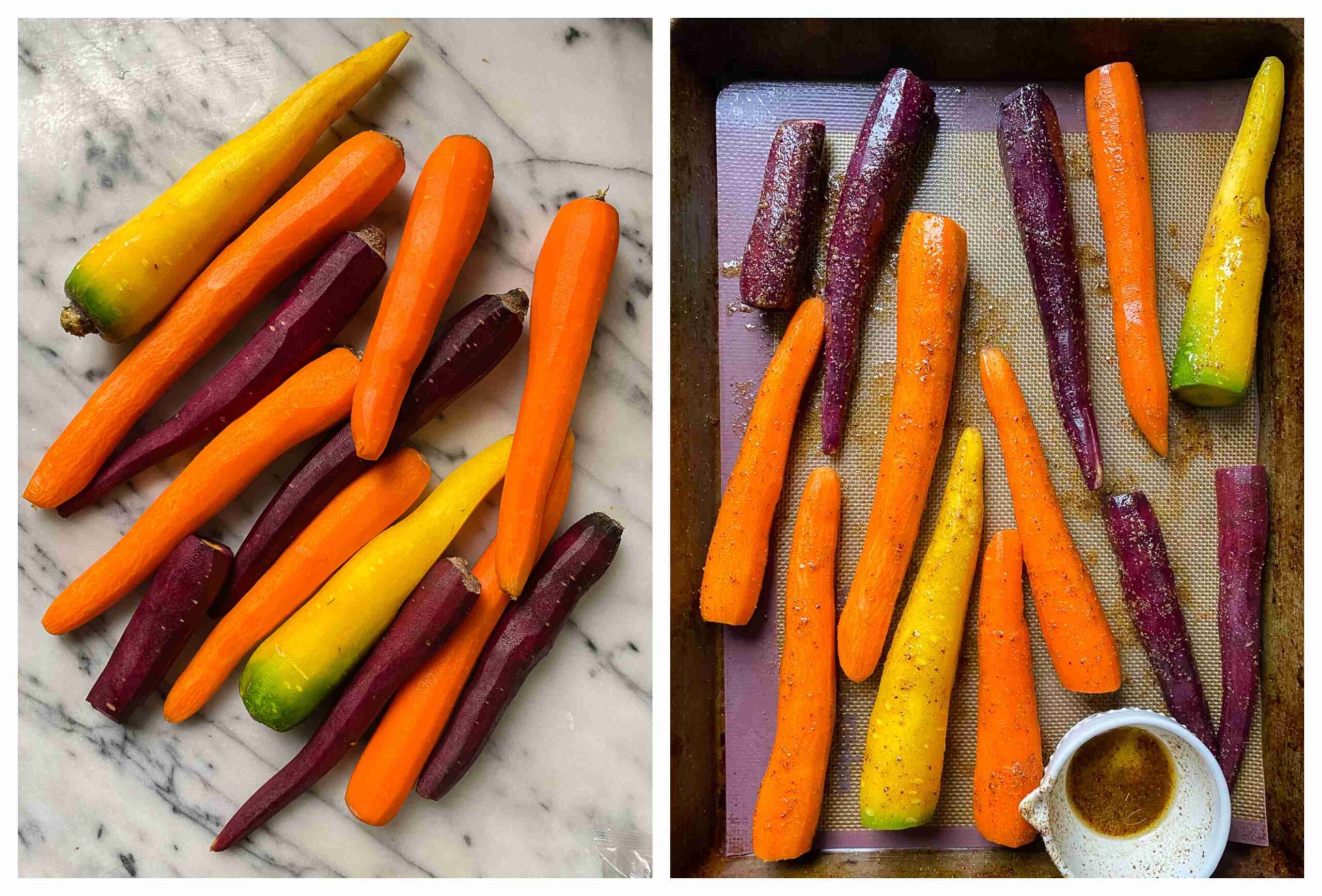 Roasted Carrots
I am a huge fan of roasting root vegetables like carrots, parsnips or potatoes. Roasting does what boiling or steaming can never do. It intensifies flavours and brings out the vegetables' natural sweetness.
Not to mention the texture! Prolonged time in the oven makes root vegetables crispy on the outside and fluffy on the outside. Such a glorious combination and a wonderful side to your roast beef, pork or chicken.
One of the best things about roasting vegetables is the ease of preparation. Once you seasoned them they can be in the oven on their own until done. No need to fuss!
While I like my roasted vegetables in any shape or form, I love adding interesting spices to my creations for holidays. The flavours of this carrot recipe were inspired by the Middle East. Aromatic and full of bold flavours but not spicy.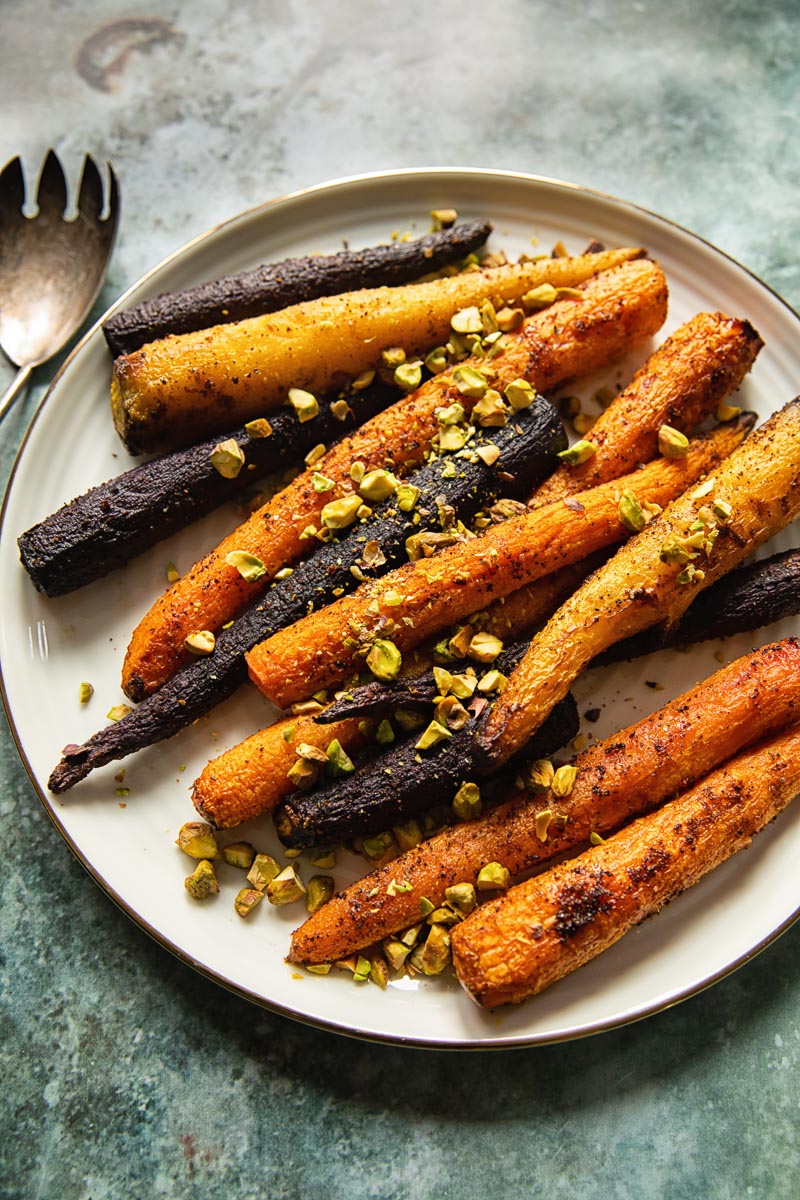 Recipe Tips and Notes
While many people no longer peel their carrots, I recommend doing so for this recipe. Peeling rainbow carrots reveals their vibrant colours.
The spice mix I used for this recipe is a combination of cumin, nutmeg, garlic and sumac. If you are not familiar with the last one, don't worry. It's easy to love. Sumac looks like a dark red powder and has a nice lemony taste to it.
Finally, I sprinkled the carrots with toasted pistachios right before serving. They add a nice crunch, taste and a gorgeous colour.
If you are looking for a sauce to serve with these carrots, take a look at my Garlic Lemon Tahini Sauce.
More Vegetable Side Dishes to Try: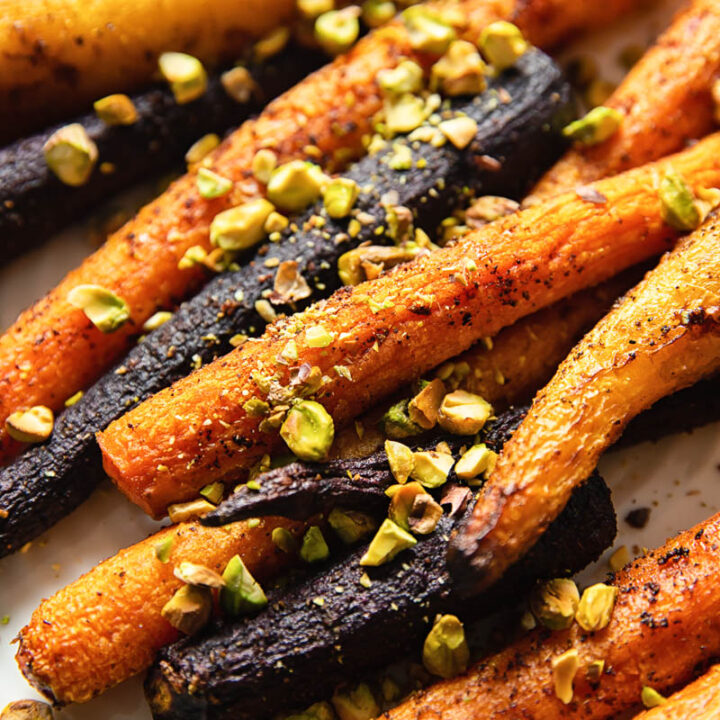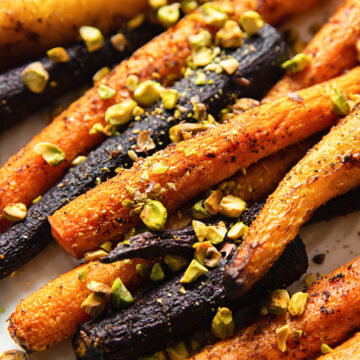 Roasted Rainbow Carrots with Pistachios
These rainbow carrots, roasted with aromatic spices of cumin, sumac and nutmeg, are delicious, vibrant and fuss free.
Ingredients
2

lbs

rainbow carrots

a mix of orange, yellow and purple carrots

2

tbsp

olive oil

1

tsp

cumin

1

tsp

garlic powder

½

tsp

sumac

¼

tsp

nutmeg

½

tsp

salt

4

tbsp

chopped pistachio nuts
Instructions
Preheat the oven to 400F/200C. Mix the olive oil, salt, cumin, garlic powder, sumac and nutmeg in a small dish. Peel the carrots to reveal the vibrant colours. The carrots should be similar in size to ensure even cooking. If some of the carrots are too thick, cut them in half lengthwise. Toss the carrots with the spice rub and roast in the preheated oven for 40-45 minutes. Check on them halfway through and flip the carrots.

Toast the pistachios on a hot dry pan until aromatic, for about 5 minutes, shake the pan once in a while to prevent burning. Take off the heat, allow to cool, then chop and scatter over the roast carrots before serving.
Nutrition
Calories:
101
kcal
Carbohydrates:
12
g
Protein:
2
g
Fat:
6
g
Saturated Fat:
1
g
Polyunsaturated Fat:
1
g
Monounsaturated Fat:
4
g
Sodium:
79
mg
Potassium:
411
mg
Fiber:
4
g
Sugar:
6
g
Vitamin A:
18963
IU
Vitamin C:
7
mg
Calcium:
44
mg
Iron:
1
mg